Restaurant Report Card: How Healthy is Your Fast Food Meat?
Is Papa John's living up to their motto of "Better Ingredients. Better Pizza"?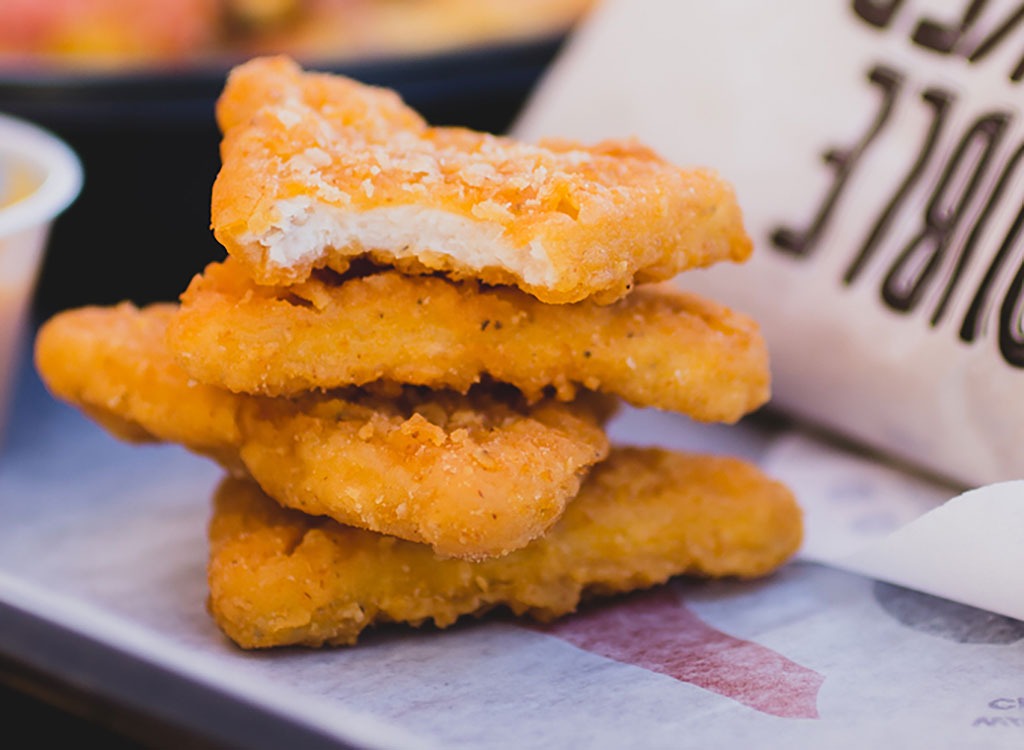 Will your next order of a burger and fries come with a side order of penicillin? A recent survey conducted by a group of public health and environmental organizations graded 25 of the largest fast food chains in the U.S. based on their stance on injecting meat with antibiotics. The survey found that almost all of America's chain restaurants use beef, chicken, and pork that's been routinely treated with antibiotics. And advocates say the continual use of these drugs helps create bacteria that's immune to standard antibiotics. The potential result: The next time you get really sick, there may no longer be a drug that can make you healthy.
While agriculture conglomerates claim that routine antibiotics help maintain the health of animals—and the CDC says "antibiotics should be used in food-producing animals only under veterinary oversight and only to address animal health needs, not to promote growth"—many advocates refute that position. Sick cows, for example, are removed from the food chain, per the USDA. And in fact, antibiotics actually help the animals grow faster, packing on pounds so they're ready for market sooner. Fortunately, some restaurants, like Chipotle and Panera, have already taken a leadership position against this potentially harmful farming method.
Where does your favorite restaurant stand? Read on for the report's grades (you'll be shocked at which chains scored an F)—accompanied by essential Eat This, Not That! advice about how to make the healthiest choice when it comes to calories, fat, and sodium. And to see the shocking results of our most popular fast food story, don't miss our eye-opening report: Every Menu Item at McDonald's—Ranked!
Chipotle
Antibiotic Report Grade: A
We've always commended Chipotle for the integrity of its ingredients and the flexibility of its menu (despite the recent foodborne illness scares)—and they've offered antibiotic-free meat and pork for years (founder Steve Ells has testified before Congress in favor of reducing antibiotics given to farm animals). In response to the report, Chipotle has every right to brag. "While many people are just starting to pay attention to the issue," they said, "we have known for a long time that it is the right thing to do, and we are pleased to see others taking even small steps to curb antibiotic use in livestock." Because Chipotle makes efforts to nix antibiotic use in poultry, beef, and pork, the Mexican grill scored an A.
Make the Smart Choice: Chipotle is all about customization. With fresh salsa, beans, lettuce, and grilled vegetables, you can get a nutritionally solid meal. Choose a bowl over a burrito, skip the white rice and sour cream, and you'll do just fine.
Eat This: Soft Corn Tortilla Tacos with Steak, Cheese, Lettuce, and Fresh Tomato Salsa, 530 calories, 14 g fat (7 g saturated), 750 mg sodium
Not That!: Burrito with Steak, Black Beans, White Rice, Cheese, Sour Cream, and Roasted Chili-Corn Salsa, 1,090 calories, 40 g fat (15 g saturated), 2,165 mg sodium.
Panera Bread
Antibiotic Report Grade: A
Panera, armed with a new tagline, "Food as It Should Be," proudly serves chicken raised antibiotic-free, and has previously vowed to remove 150 artificial ingredients by 2017. Currently, they ensure that their pork and beef, in addition to poultry, are all raised antibiotic-free. Hence that A grade. Their menu features a roster of mostly great salads and soups, and between the 340-calorie Power Sandwich and the steel-cut oatmeal, a first-rate breakfast is there for the taking. But antibiotic-free or not, some meals pack on the pounds. The bakery puts out little not tainted by refined carbs. Even its "whole-wheat" bread is more than 50 percent white flour.
Make the Smart Choice: For breakfast, choose between the Egg & Cheese sandwich and 310-calorie granola parfait. Skip the stand-alone sandwich lunch. Instead, pair soup and a salad, or order the soup and half sandwich combo.
Eat This: Half Asiago Steak Sandwich on Asiago Cheese Demi, 480 calories, 24 g fat, 740 g sodium
Not That!: Chicken Cobb, with Avocado and Low Fat Thai Chili Vinaigrette, 710 calories, 50.5 g fat (11 g saturated), 1,150mg sodium.
Chick-Fil-A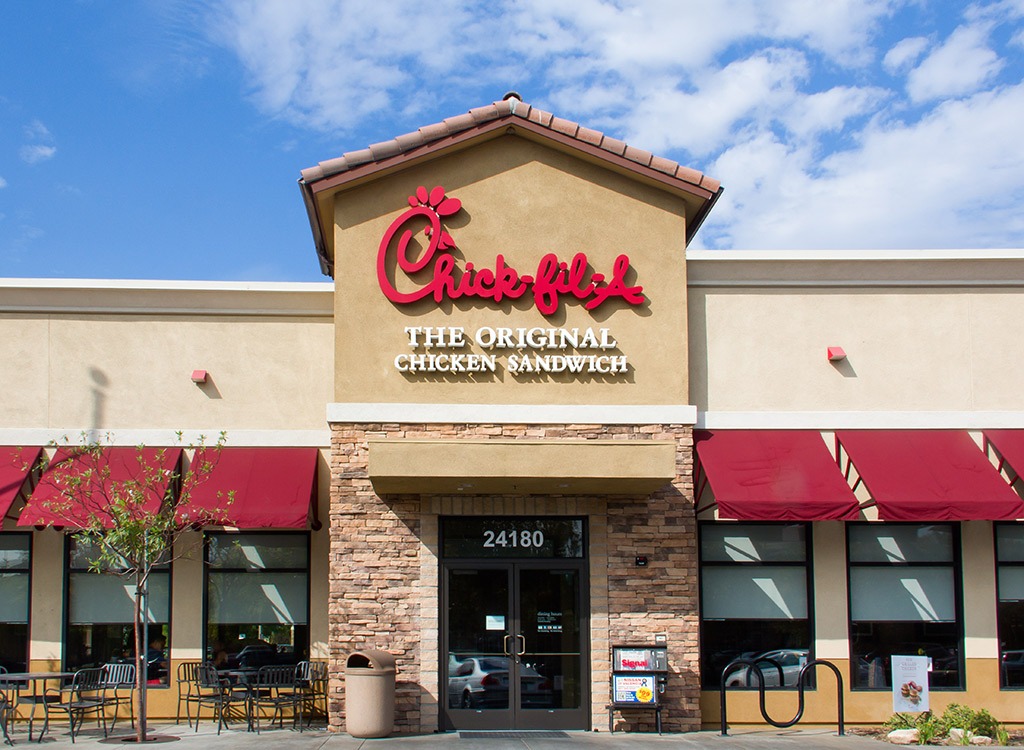 Antibiotic Report Grade: B
Chick-fil-A ranks among the best of the country's major fast-food establishments, thanks to a line of low-calorie chicken sandwiches and an impressive roster of healthy sides like yogurt parfaits and various salads. They get a B grade because they've committed to serve only antibiotic-free chicken by 2019, and 20 percent of its chicken is antibiotic-free now.
Make the Smart Choice: Instead of nuggets or strips, look to the grilled chicken sandwiches or the classic fried chicken sandwich. And sub in a healthy side—a salad or soup—for the standard fried fare. Just don't supplement your meal with a shake—none has fewer than 500 calories.
Eat This: Chick-fil-A Chicken Sandwich, 440 calories, 16 g fat (3.5 g saturated), 1,400 mg sodium
Not That!: Cobb Salad with Avocado Lime Ranch Dressing, 740 calories, 54 g fat (12 g saturated), 1,890 mg sodium. And fill up, but don't fill out: Use these Eat This, Not That!-recommended Top 20 Daily Habits That Blast Belly Fat!
Dunkin' Donuts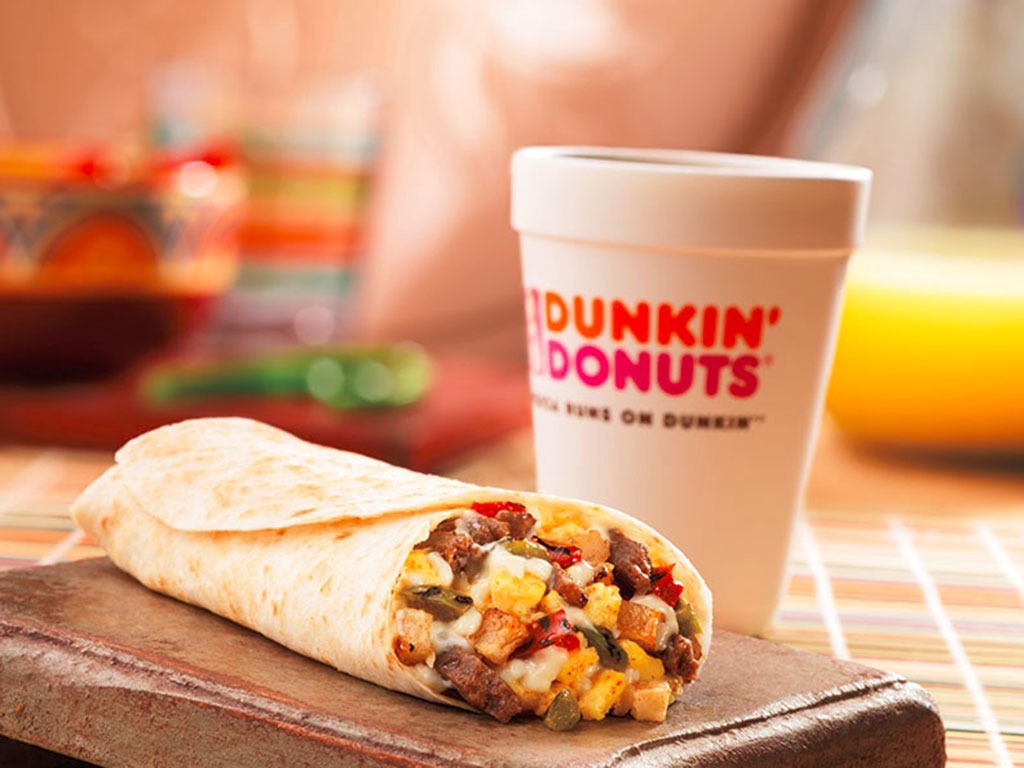 Antibiotic Report Grade: D
The doughnut king cast out the trans fats in 2007, and it's been pushing the menu toward healthier options ever since—including the DDSmart Menu, which emphasizes the menu's nutritional champions. But DD still scored a D because of its unclear plans regarding when it will use antibiotic-free poultry. It might have gotten a higher grade in the report if it made public a timetable for going antibiotic-free with its meats, a plan announced but not yet scheduled.
Make the Smart Choice: Use the DDSmart Menu as a starting point, or stick to the sandwiches served on flatbread or English muffins. Beware: Beverages like Coolattas and souped-up coffee drinks can do even more damage than the food here, so keep your joe as plain as possible.
Eat This: Sugar Raised Donut and Ice Latte (small, with skim milk), 300 calories, 14 g fat (6 g saturated), 14 g sugar
Not That!: Sesame Seed Bagel with Plain Cream Cheese, 500 calories, 19.5 g fat (10 g saturated, .5 g trans fat), 880 mg sodium
McDonald's
Antibiotic Report Grade: C+
The world-famous burger baron has come a long way since the publication of Fast Food Nation—at least nutritionally speaking. The trans fats are gone from its oils, the number of calorie bombs has been reduced, and there are more healthy options, such as salads and yogurt parfaits, than ever. But the chain scored a D. Although it updated its "Vision for Antibiotic Stewardship" in August, announcing plans to cut unnecessary antibiotic use in all of its meats, but failing to give specific deadlines for pork and beef. "We remain committed to making meaningful reductions in the use of antibiotics in beef and pork and will share our progress on beef in 2018," Marion Gross, senior vice president for McDonald's North America supply chain, said in a statement.
Make the Smart Choice: At breakfast, look no further than the Egg McMuffin—it remains one of the best ways to start your day in the fast-food world. Grilled chicken and Snack Wraps make for a sound lunch. Splurge on a Big Mac or Quarter Pounder, but only if you skip the fries and soda.
Eat This: McChicken, 370 calories, 17 g fat (3.5 g saturated), 650 mg sodium
Not That!: Premium Grilled Chicken Bacon Clubhouse Sandwich, 610 calories, 26 g fat (9 g saturated), 1,720 mg sodium.
Subway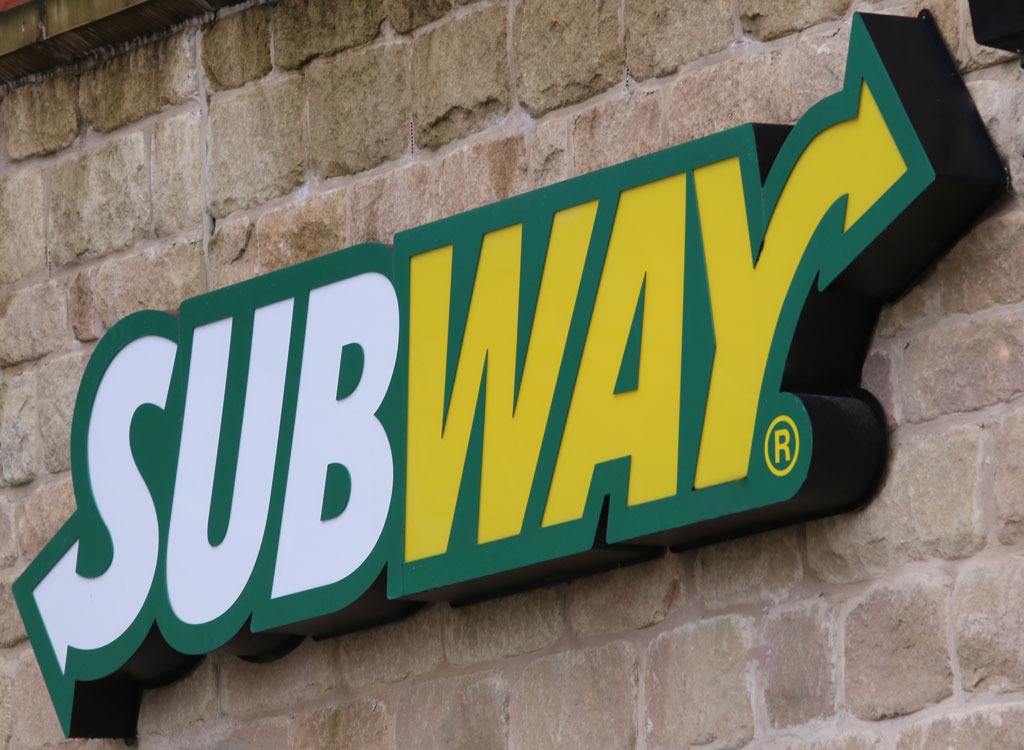 Antibiotic Report Grade: B+
One of the "healthiest" fast food chain earned a B+ for making it a priority to nix antibiotics in poultry and meat. So why didn't it score an A? Subway's plan to prioritize pork and beef was unclear. Despite some laudably healthy strides—they're the first major fast-food chain to carry avocado, and in 2014, the chain removed the creepy plastic dough conditioner azodicarbonamide from its breads.
Make the Smart Choice: Trouble lurks in three areas at Subway: 1) hot subs, 2) footlongs, 3) chips and soda. Stick to 6-inch cold subs made with ham, turkey, roast beef, or chicken. Load up on veggies, and be extra careful about your condiment choices.
Eat This: Steak and Cheese Toasted Sandwich (6") and Veggie Delite Salad, 525 calories, 11 g fat (4.5 g saturated), 1,105 mg sodium
Not That!: Turkey Italiano Melt (6") and Veggie Delite Salad, 794 calories, 26 g fat (9 g saturated), 1,565 mg sodium.
Starbucks
Antibiotic Report Grade: D+
Once upon a time, Starbucks was a fine place for coffee, but a dangerous place for fancy drinks and food. The 'Bux earned a shocking D+ for addressing use of antibiotics in poultry, but failing to acknowledge its pork or beef.
Make the Smart Choice: There's no beating a regular cup of joe or unsweetened tea, but if you need a specialty fix, stick with fat-free milk, sugar-free syrup, and no whipped cream. As for food, go with the Perfect Oatmeal or an Egg White, Spinach, and Feta Wrap.
Eat This: Reduced Fat Turkey Bacon Sandwich, 230 calories, 6 g fat (2.5 g saturated), 560 mg sodium
Not That!: Carrot Cake Muffin with Pecans, 370 calories, 20 g fat (4 g saturated), 170 mg sodium. And click here for 20 Ways to Lose 20 Pounds at Starbucks!
KFC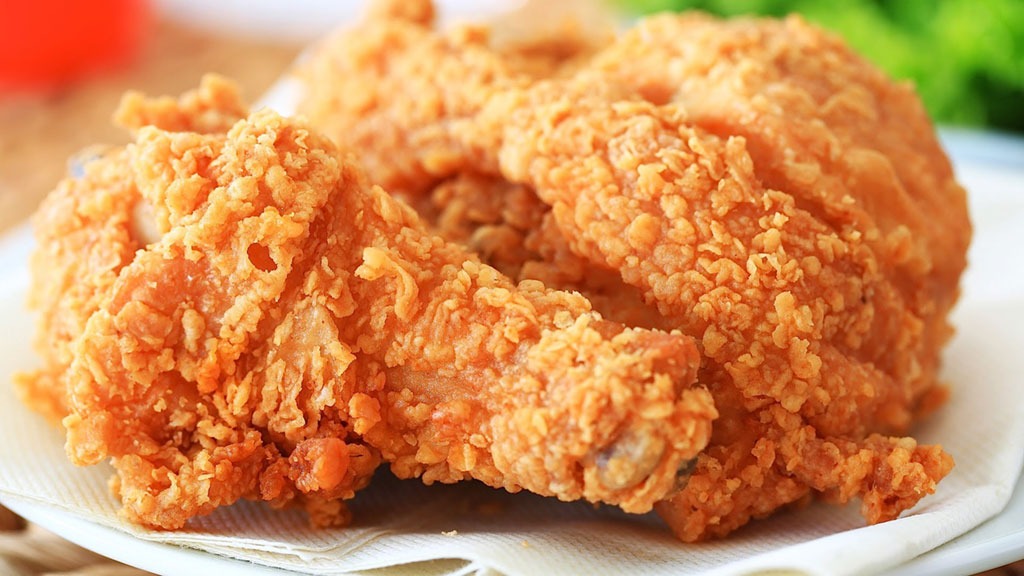 Antibiotic Report Grade: B-
Surprisingly enough, KFC has more than a few things going for it. The menu's crispy bird bits are offset by skinless chicken pieces, low-calorie sandwich options, and a host of sides that come from beyond the fryer. This year, KFC scored a B-, which may not be ideal but is definitely a significant improvement from last year's F. KFC vowed to nix "medically important" antibiotics out of its poultry by the end of 2018.
Make the Smart Choice: Avoid the bowls and pot pies, and choose your chicken smartly: The difference between an Original Recipe breast and an Extra Crispy is 170 calories; order Kentucky Grilled and you'll save another 100 calories. Then adorn your plate with one of the Colonel's healthy sides.
Eat This: Original Recipe Chicken Breast with Cole Slaw, 490 calories, 24 g fat (4.5 g saturated), 1,310 mg sodium
Not That!: Chunky Chicken Pot Pie, 790 calories, 45 g fat (37 g saturated), 1,970 mg sodium.
Domino's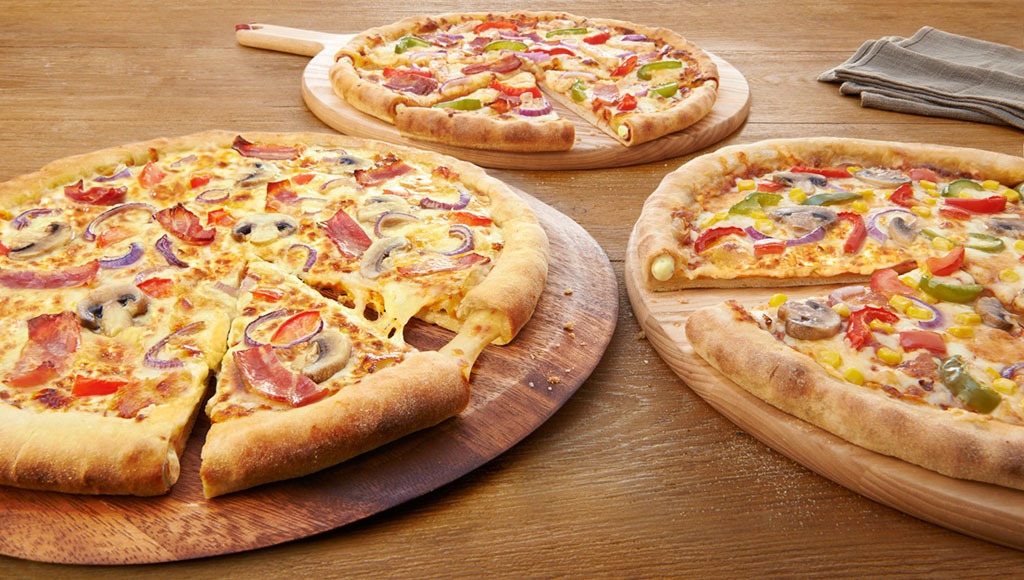 Antibiotic Report Grade: F
Domino's has been busy these past few years, first successfully rolling out bolder sauce and better seasoned dough, then adding the new Artisan line of pizzas, which, along with the Crunchy Thin Crust pizzas, provide some of the lightest slices in America. But there is still plenty of trouble afoot at the pizza juggernaut, which scored a failing F because of it hasn't taken any "(discernible) action to reduce use of antibiotics in their supply chains," according to the report.
Make the Smart Choice: The more loaded a pie is at Domino's, the fewer calories it tends to pack. That's because more vegetables and lean meats mean less space for cheese. It doesn't hold true for greasy meats, so choose wisely.
Eat This: Thin Crust with Grilled Chicken and Roasted Red Pepper Pizza (2 slices, large pie), 430 calories, 20 g fat (7 g saturated fat), 900 mg sodium
Not That!: Hand Tossed Crust Buffalo Chicken American Legends Pizza (2 slices, large pie), 680 calories, 34 g fat (16 g saturated), 1,700 mg sodium.
Taco Bell
Antibiotic Report Grade: B-
"Taco Bell breakfast" is sort of like "ax murderer babysitter." It's an inherently bad idea, proven by the insane products the Bell brought out in its attempt to start charging you money earlier and earlier. Waffle Taco is all we have to say, really. But the Bell wasn't satisfied with ruining all three meals—the chain tried to invent the Fourth Meal, which is something you eat after a late night of doing whatever works up your appetite. Regardless of their innovations, the Bell scored a B- because of its efforts to reduce antibiotic use in chicken.
Make the Smart Choice: Stay away from anything "smothered" or "XXL," and be skeptical of the salads. Instead, order any two of the following: crunchy tacos, bean burritos, or anything on the Fresco menu. Those items are why the Bell gets the B. And for more about what to order, don't miss our definitive report: Every Menu Item at Taco Bell—Ranked!
Eat This: Beef Gordita Supreme and Fresco Chicken Soft Taco, 530 calories, 16.5 g fat (6 g saturated), 950 mg sodium
Not That!: Fiesta Taco Salad with Beef, 770 calories, 41 g fat (10 g saturated, 1 g trans), 1,590 mg sodium
Applebee's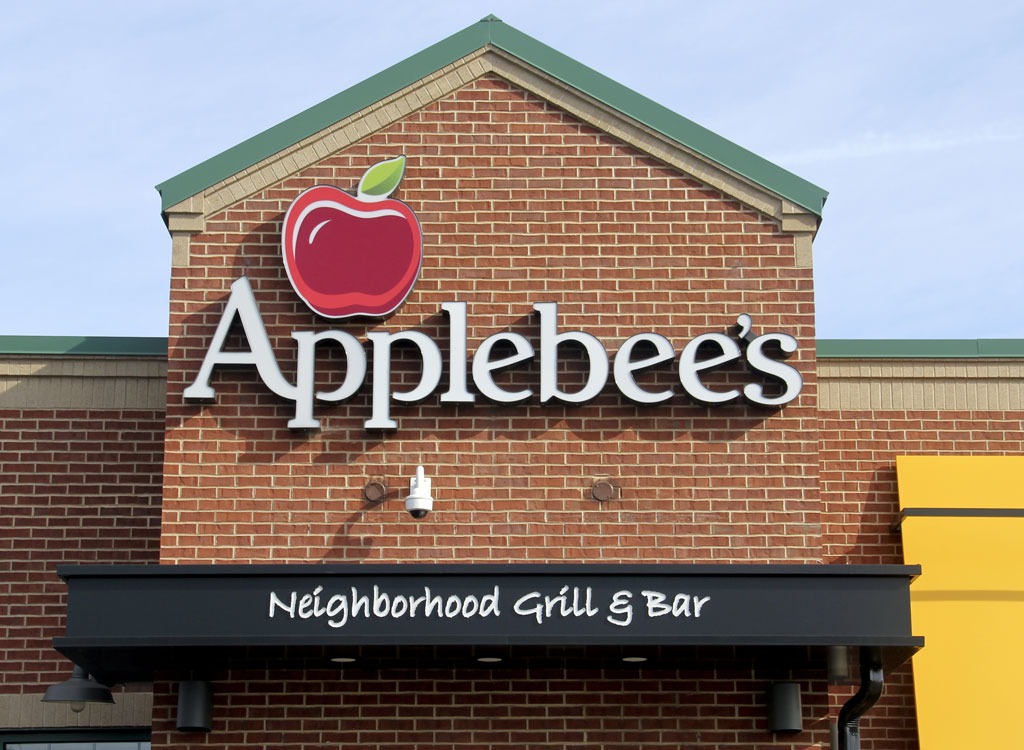 Antibiotic Report Grade: F
So far, they have not mentioned any plans to reduce antibiotic use. And it's easy to see why it took Applebee's so many years to release its nutritional information period. The 1,540-calorie Riblets Platter and the 1,830-calorie 4-Cheese Mac with Honey Pepper Chicken Tenders are just a few of the little nightmares lurking on the menu. The bright spots include the steaks and the ever-expanding 550-calorie-or-less "Have It All" menu, but even that has some serious sodium issues. But it failed because it didn't make moves to reduce antibiotics in the chicken.
Make the Smart Choice: Skip the meal-wrecking appetizers, pastas, and fajitas, and be very careful with salads, too; more than half of them top 1,000 calories. Concentrate on the excellent line of lean steak entrées, or anything from "Have It All."
Eat This: Northern Walleye, 690 calories, 36 g fat (13 g saturated), 1,770 mg sodium
Not That!: New England Fish & Chips, 1,970 calories, 136 g fat (24 g saturated), 4,180 mg sodium.
Burger King
Antibiotic Report Grade: D
BK scored a D because it plans to limit antibiotic use in some or all of its poultry, but its plans were unclear. Newfangled options like 400-calorie wraps, sugar-loaded smoothies, and coffee drinks with nearly as many calories as a Whopper only make eating well more difficult. Thankfully, standbys like the Whopper Jr., basic hamburgers, and apple slices give you a way out.
Make the Smart Choice: Start your day with a Muffin Sandwich. For lunch, match the regular hamburger, the Whopper Jr., or the Tendergrill Sandwich with apple slices and water, and you'll escape for about 700 calories.
Eat This: Bacon Cheeseburger Deluxe, 290 calories, 14 g fat (6 g saturated), 720 mg sodium
Not That!: A.1. Ultimate Bacon Cheeseburger, 810 calories, 49 g fat (22 g saturated), 1,400 mg sodium.
Wendy's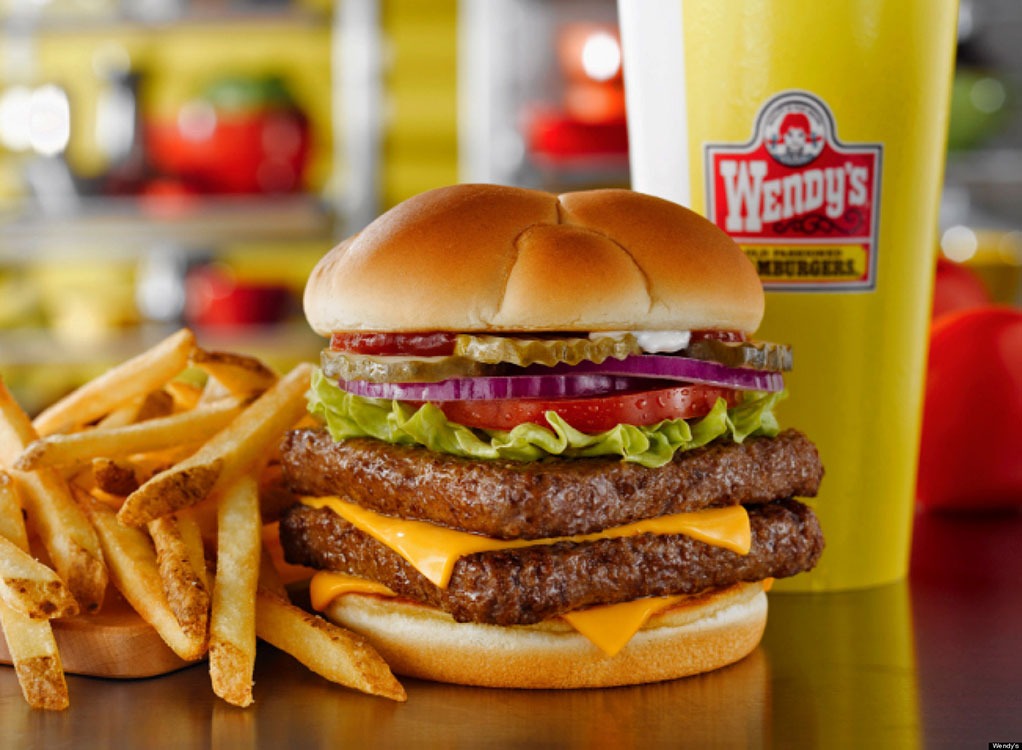 6254a4d1642c605c54bf1cab17d50f1e
Antibiotic Report Grade: C
Scoring a decent meal at Wendy's is just about as easy as scoring a bad one, and that's a big compliment to pay a burger joint. Options such as chili and apple slices offer the side-order variety that's missing from less-evolved fast-food chains. Plus,
Wendy's offers a handful of Jr. Burgers that stay below 400 calories. Where Wendy's errs is in the trans fats and the roster of double and triple-patty burgers. Thankfully, Wendy's is trying to reduce antibiotics in its chicken.
Make the Smart Choice: Choose a grilled chicken sandwich or a wrap—they don't exceed 320 calories. Or opt for a small burger and pair it with chili or a side salad.
Eat This: Chicken Nuggets (10) with BBQ sauce, 450 calories, 30 g fat (7 g saturated), 870 mg sodium
Not That!: Asiago Ranch Homestyle Chicken Club, 670 calories, 32 g fat (9 g saturated), 1,610 mg sodium
Pizza Hut
Antibiotic Report Grade: D+
Recent, healthful advancements—like Skinny Slice Pizzas, a gluten-free line and new ingredients like fresh spinach—earn this chain applause from Eat This, Not That!, but they still rated an D+ on the antibiotic report. That's because Pizza Hut "made a token effort," according to the report, to reduce antibiotics in just a portion of its chicken.
Make the Smart Choice: The key to the Hut lies in the crust: Pan Pizzas cost you 80 more calories per slice over Thin 'N Crispy, and 40 more per slice than the Stuffed Crust.
Eat This: Buffalo State of Mind Thin 'N Crispy Pizza (2 slices, medium pie), 400 calories, 14 g fat (7 g saturated), 1,420 mg sodium
Not That!: Buffalo State of Mind Original Stuffed Crust Pizza (2 slices), 660 calories, 24 g fat (12 g saturated), 1,940 mg sodium. And fill up, but don't feel bloated: Witness the 42 Ways to Lose 5 Inches of Belly Fat!
IHOP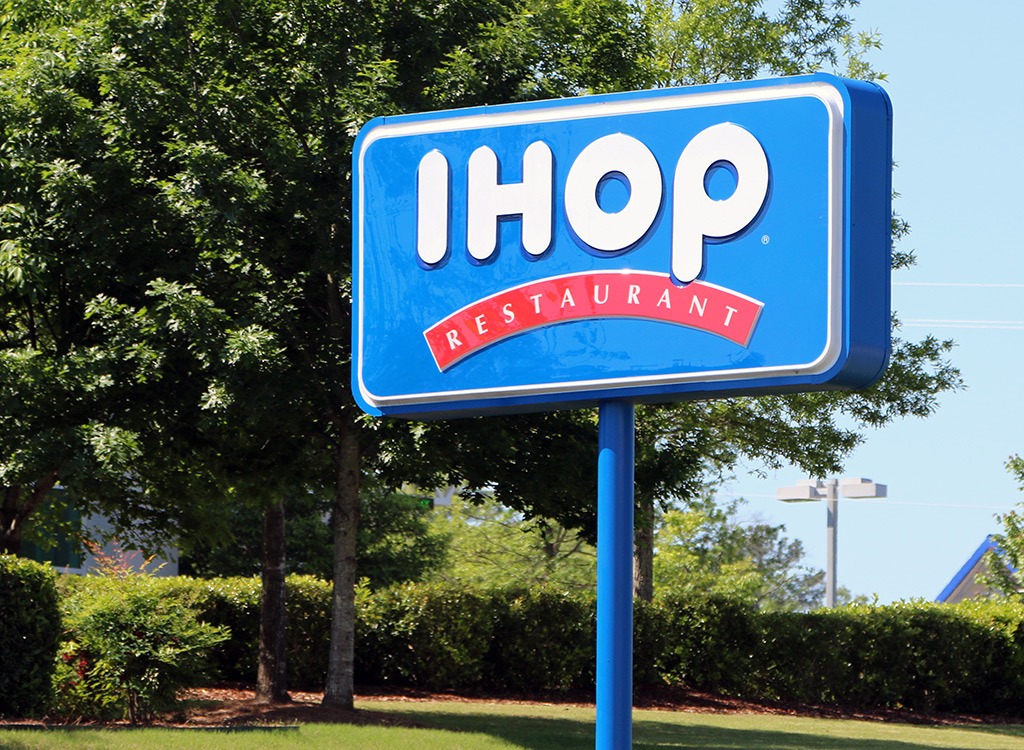 Antibiotic Report Grade: F
IHOP was one of the last chains to release its nutritional numbers, so don't expect any word on antibiotics anytime soon. And given the national-debt-level calorie counts on much of its menu, we see why. Factor in the new line of bacon burgers and the absolute worst breakfast menu in America and it's hard to find much to like about IHOP. The best thing we can say is that lunch and dinner aren't nearly as calamitous as breakfast.
Make the Smart Choice: IHOP's full name includes the word "cake," and it seems to take that seriously, piling on the carbs at every turn. You'll have a hard time finding a regular breakfast with fewer than 700 calories and a lunch or dinner with fewer than 1,000 calories. Your only safe bet is to stick to the Simple & Fit menu, where you'll find a small selection of healthier items.
Eat This: Two x Two x Two with Bacon, 680 calories, 39 g fat (13 g saturated, .5 trans), 1,790 mg sodium
Not That!: Quick Two-Egg Breakfast with Bacon, 910 calories, 58 g fat (19 g saturated, .5 trans), 1,420 mg sodium
OTHER FAILING RESTAURANTS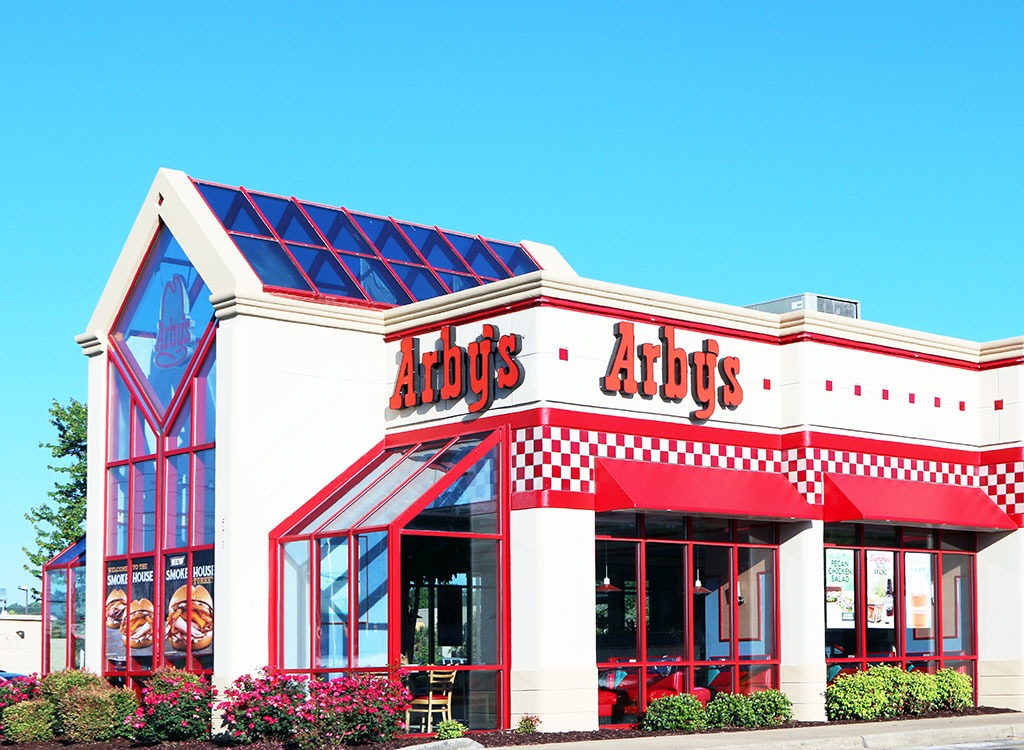 Also getting F-bombs for antibiotic usage are many of the country's other top chains, including burger joints Sonic and Jack in the Box, family-favorites Arby's and Dairy Queen, pizza palace Little Caesers and sit down restaurants Chilis, Cracker Barrel, Buffalo Wild Wings, and Olive Garden.
April Benshosan
April is a born-and-raised Brooklynite who has a passion for all things health, wellness, and tastebud-related.
Read more about April