The Best & Worst Restaurants If You're on the Keto Diet
You'll want to read the menu carefully if you're on the keto diet.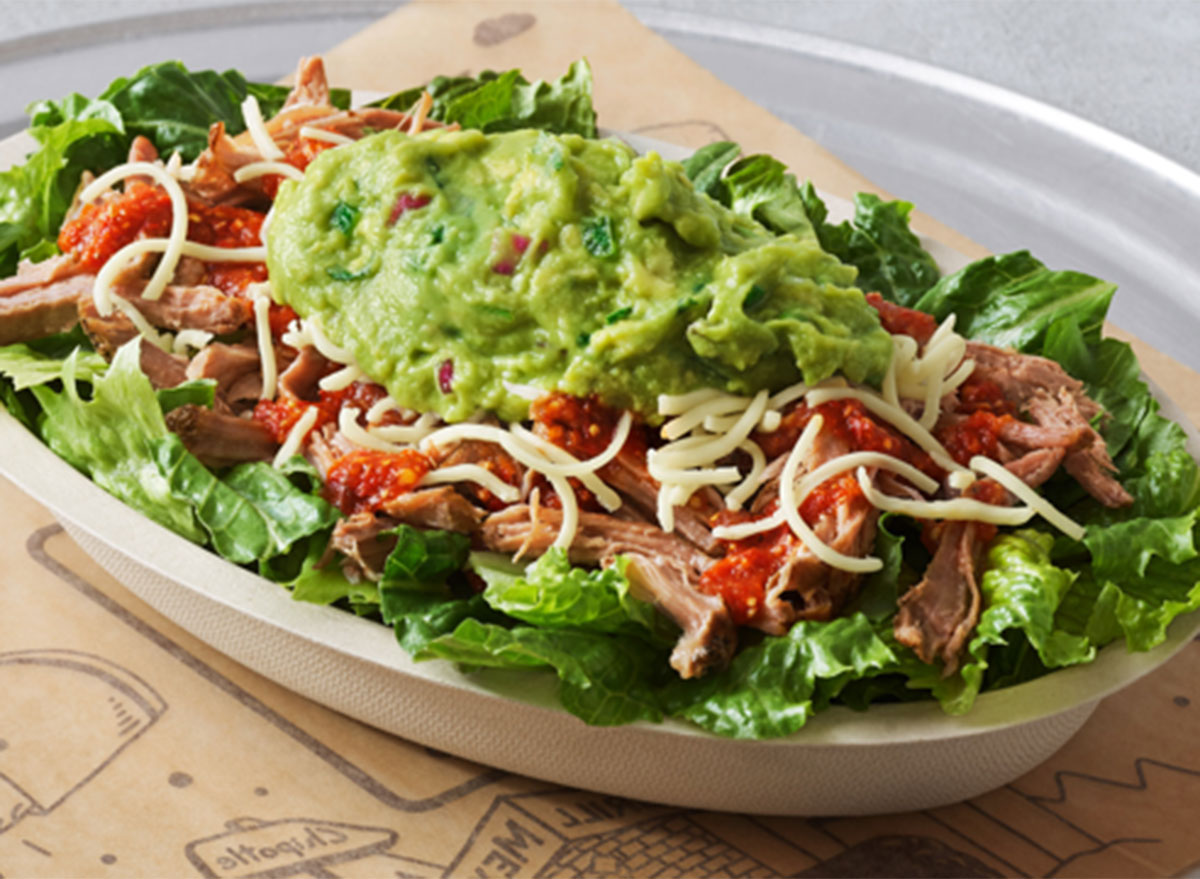 The scenario: You follow the keto diet, and you're going out to eat for dinner.
Your first mission, should you choose to accept it (and really, you need to if you want to keep your body in its precise fat-burning ketogenic state), is to shun the breadbasket. Say buh-bye to those fluffy, buttery Texas Roadhouse rolls; not today, garlicky Olive Garden breadsticks.
Now, for the main event: You're tasked with finding a keto-friendly option on the menu. But, which restaurants will make this task an easy one and which dining spots will be notoriously tough for those subscribing to the low-carb, high-fat diet?
First, a quick primer: Meat, eggs, poultry, seafood, cheese, low-carb veggies, butter, nuts, and seeds are among the foods that get the green light on the keto diet. But if you order a cheeseburger, you'll need to skip the bun and sub those fries for a salad (ahem, no croutons). Grains, beans, most fruits, starchy vegetables, and carb-heavy snacks are all no-gos on keto.
Admittedly, the restrictive nature of keto makes dining out difficult—yet not impossible. We called in the experts to make some restaurant recommendations for those who have joined the keto craze.
Here are five of the best (and worst) restaurants to eat at if you're doing keto, along with some menu suggestions.
The Best Keto-Friendly Restaurants
Plot twist: This restaurant—which is known for unlimited breadsticks as a prelude to carb-heavy meals—is actually great for those adhering to keto. "While you may think of the Olive Garden as only having pasta-filled meals loaded with carbs, they actually have several meat and fish dishes that suit the keto diet and that don't contain a stitch of pasta or bread," explains Tammy Lakatos Shames, RDN, CDN, CFT, one of The Nutrition Twins.
One of the best options at Olive Garden is the salmon, which is naturally high in good-for-you omega-3 fatty acids. And the meals also include low-carb green veggies, she says. "Olive Garden steams its broccoli and flavors other veggies with keto-friendly options like butter or cheese," Lakatos Shames says.
What keto menu items to order at Olive Garden: The Herb-Grilled Salmon is perfect for the keto diet because it provides good-for-the heart fat, Lakatos Shames says. And it comes with a side of broccoli, all for just nine grams of carbs.
Olive Garden also has another salmon, Salmon Picatta, for just two more grams of carbs, she points out. More keto-friendly Olive Garden menu items include the sausage and meatballs, which are high in fat and low in carbs.
The chain also has two chicken dishes, Chicken Margherita and Chicken Piccata, with lunch and dinner portions. These chicken dishes contain 10 to 12 grams of carbs and aren't low in fat, which is helpful for those following keto, Lakatos Shames says. A low-carb veggie option is a parmesan-crusted zucchini, she suggests.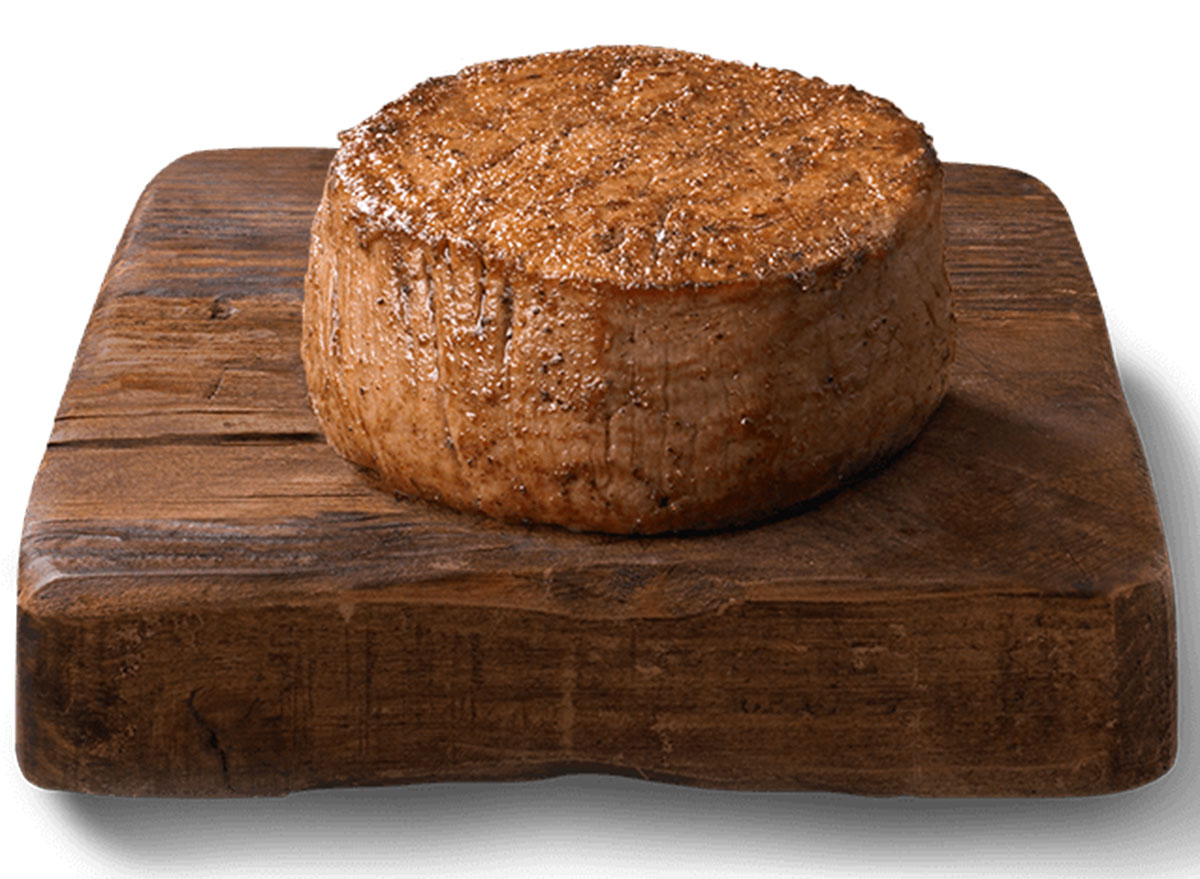 If you're on the keto kick, steakhouses like Outback are some of the easiest places to eat while following the diet's rules. "Here's a place where you can easily order a satisfying protein, such as a steak or fish, with some green veggies and skip the carbs," says The Nutrition Twins' Lyssie Lakatos, RDN, CDN, CFT, who, with her sister, co-authored The Nutrition Twins' Veggie Cure. While you probably know to avoid keto traps like coconut shrimp, tacos, and fries, you'll also want to steer clear of the Teriyaki Marinated Sirloin because it has 27 grams of carbs, Lakatos says.
What keto menu items to order at Outback Steakhouse: To ace your keto diet here, skip the potatoes, fries, and rice. Instead, opt for the veggie options, like broccoli or fresh mixed veggies, when it comes to sides, Lakatos says. Big appetite? She suggests starting with a house salad that clocks in under two carbs, and dress it with bleu cheese, Caesar, or ranch dressing. For a surf-and-turf combo, you could order the Sirloin with Grilled Shrimp on The Barbie and steamed broccoli and be within the keto boundaries.
Best: The Cheesecake Factory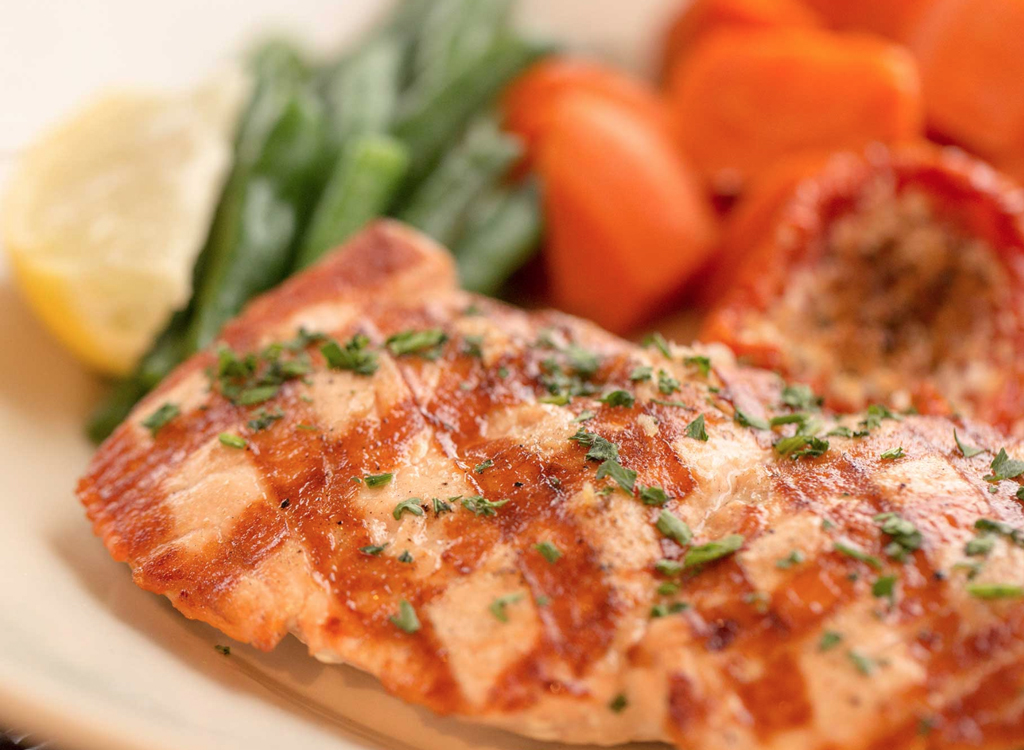 Like many places, you'll need to bypass the breadbasket that gets auto-delivered to the table. And, of course, you won't be able to end your meal with a gargantuan chunk of cheesecake. But with a menu that seems as thick as a book (it's got a whopping 250 items on it!), this chain restaurant known for its huge portions has lots of variety of its menu. "There are lots of options to leave out carbs," Lakatos assures.
What keto menu items to order at The Cheesecake Factory: If you end up at The Cheesecake Factory for a weekend brunch, you can order an omelet with cheese, avocado, and fresh veggies, Lakatos says. For lunch and dinner, you could go with a protein-heavy option like grilled fish or bunless burgers, and choose broccoli, green beans, or asparagus as your sides. Lakatos' picks for great keto dishes at The Cheesecake Factory include the Grilled Branzino with Mediterranean Salsa, the Skinnylicious Grilled Salmon, and the Tuscan Chicken.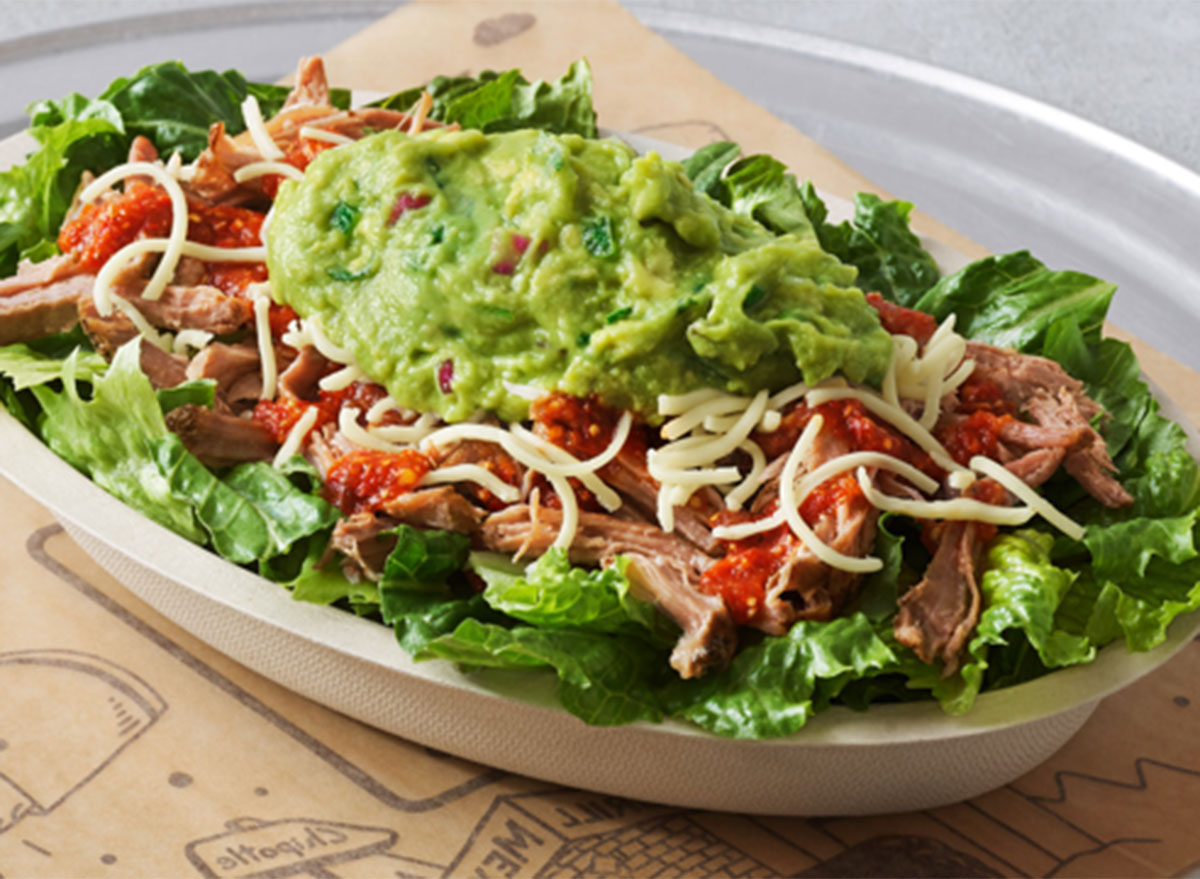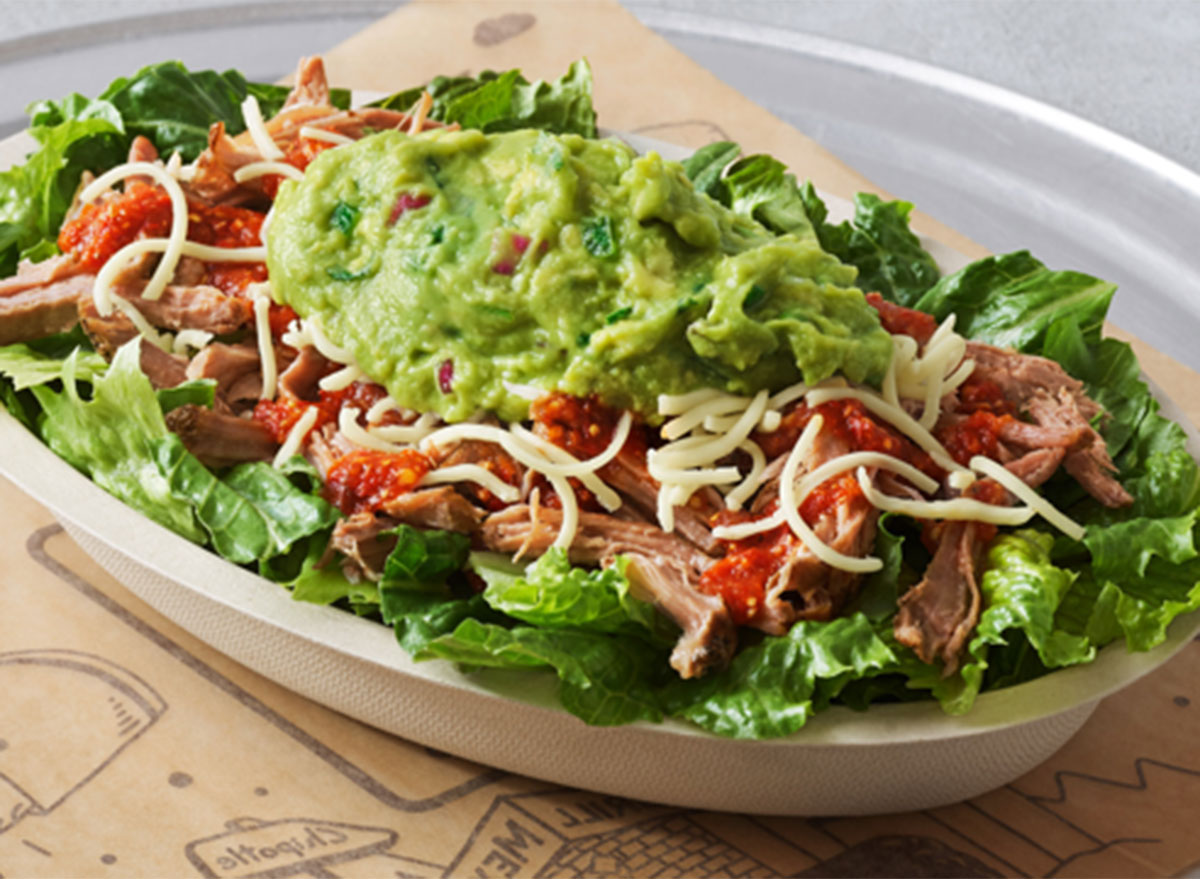 Truth be told: Eating out when you're following a strict diet like keto can be tough because you're hoping the server (and then the kitchen) gets your substitutions right. That's what makes restaurants like Chipotle easy for keto followers: You get to control exactly what goes into your bowl.
"I recommend Chipotle bowls to my clients on keto, mainly because they can choose how much fat they can add to their bowls," says Andres Ayesta, MS, RD, CSCS, and a nutrition coach in Tampa, Florida. Plus, Chipotle has recognized the popularity of keto and added a bowl that suits the diet.
What keto menu items to order at Chipotle: Most options at Chipotle can be made keto-friendly as long as they leave out the rice, corn, beans, and, of course, tortillas, says Ayesta. Chipotle has a "keto bowl" on the menu with romaine lettuce, carnitas, red salsa, cheese, and guacamole that Ayesta recommends. You could sub out the carnitas for steak as well.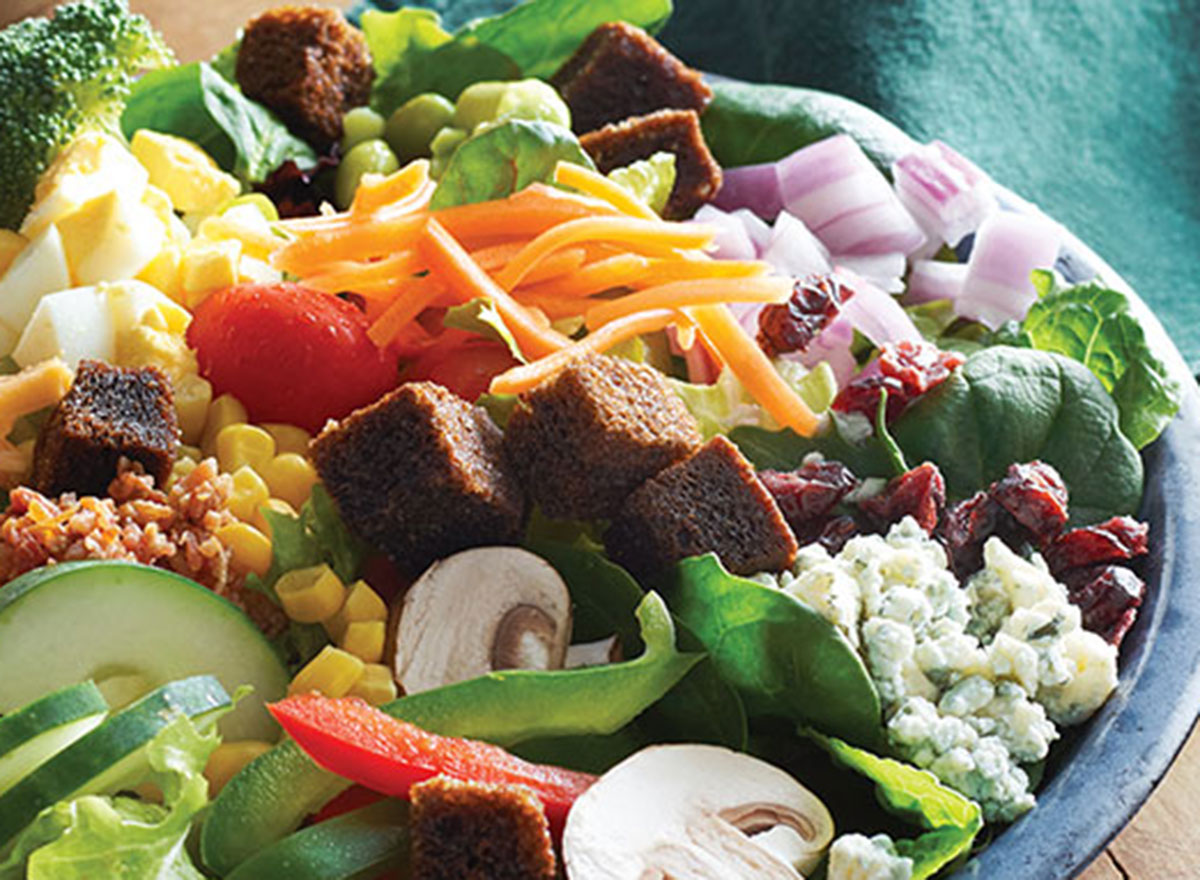 Veggies! House-made dressings! Cheeses! Nuts! Ruby Tuesday has a "Garden Bar" with more than 50 items at it, making it easy for those on keto to have access to diet-friendly options and also practice portion control, Ayesta says. "They also have tons of keto-friendly options on the menu," he says.
What keto menu items to order at Ruby Tuesday: In addition to the salad bar having keto-compliant options, there's a Cobb Salad on the menu that would work well. "The only modification needed would be to get regular ranch instead of barbecue to avoid unwanted sugars," Ayesta says. Another option is the Asiago Peppercorn Steak with a side of steamed broccoli and a garden salad with ranch or another type of creamy dressing, he suggests.
The Least Keto-Friendly Restaurants
Waffle House locations are open 24 hours and year-round, and, according to the company's fun facts page, 145 waffles are served every single minute. But with waffles as the star of the menu, this chain restaurant (there are more than 1,500 of them nationwide) is tough if you're on keto and don't want a hamburger for breakfast. "Most of the options come with carb-heavy bread, biscuits, hashbrowns, or waffles," Lakatos Shames says.
What keto menu items to order at Waffle House: If you end up here, you're going to need to take an a la carte approach. "You'll have to order carefully; stick to eggs with cheese or to eggs and bacon and ask that no bread or other carbs show up on your plate," Lakatos Shames says.
6254a4d1642c605c54bf1cab17d50f1e
At other chicken restaurants, you can get away with getting keto-friendly dishes. (Exhibit A: The grilled nuggets at Chik-Fil-A). But, Kim Yawitz, RD, LD, who is based in St. Louis, points out that Raising Cane's menu consists of just five items: chicken tenders, a chicken sandwich, French fries, coleslaw, and Texas toast.
"One chicken tender with no sauce provides six grams of carbs, and one serving of coleslaw has 11 grams," she says.
What keto menu items to order at Raising Cane's: Do not pass go; do not collect the chicken. If you're on keto, you'll need to steer clear of this fried chicken joint. Technically, Yawitz says, you might be able to stay within your daily carb limit, but you'd barely have any carbs (if any) left for the day. Plus, you're not going to find a balanced meal here. "It's probably best to look for other alternatives," she says.
If you can leave Panera without eating bread, you deserve a willpower badge. "Temptation aside, the menu is very heavy on sandwiches, bagels, and baked goods," Yawitz says. "Even items that may seem keto-friendly have hidden carbs, like a bowl of broccoli cheddar soup, which has 30 grams of carbs per serving."
What keto menu items to order at Panera: Your best bet is to stick with the salads, Yawitz says, modifying them as needed to reduce the carb count. A half chicken Caesar salad contains eight grams of carbs. You can save an extra gram by skipping the dressing, and possibly a couple of extra grams by skipping the croutons. You might also want to try the half Asian Sesame with Chicken salad, with no fried wontons or dressing. "Be sure, also, to pass on the chips, bread, or apple side, none of which are keto-friendly," she says.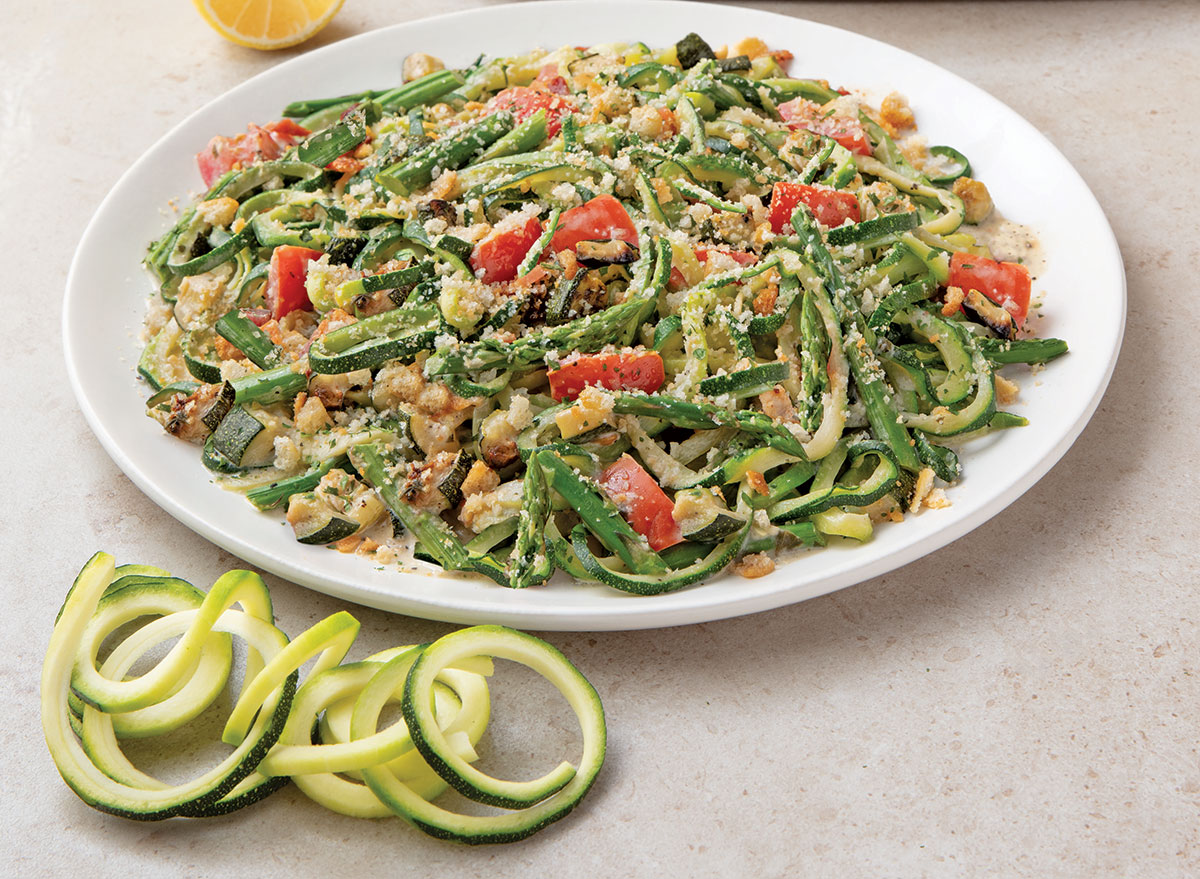 As the name suggests, noodles are the star of the show here. Though, as the low-carb craze continues, this fast-casual restaurant is adapting with zoodles joining its menu and salads remaining a staple, too.
What keto menu items to order at Noodles World Kitchen: The menu is tricky, but it's not impossible to find a dish here to enjoy if you're on the keto diet, says Toby Amidor, MS, RD, CDN, FAND award-winning nutrition expert and author of The Healthy Meal Prep Cookbook. She suggests the Chicken Veracruz Salad, which is made with mixed greens, topped with tomatoes, red onion, chili-lime chicken, bacon crumbles and pork topped with crispy jalapenos, fresh avocado and cilantro.
Amidor also suggests swapping the jalapeno ranch dressing for a low-carb balsamic vinaigrette. Another option? The Zucchetti Garlic and Wine Sauce with Balsamic Chicken. The "zucchetti" is a combo of zucchini noodles and spaghetti. "Ask for zucchini noodles only," Amidor suggests. If you don't want the carbs in the wine sauce (most sauces use starches to thicken like cornstarch or flour). then ask for tomato sauce or no sauce.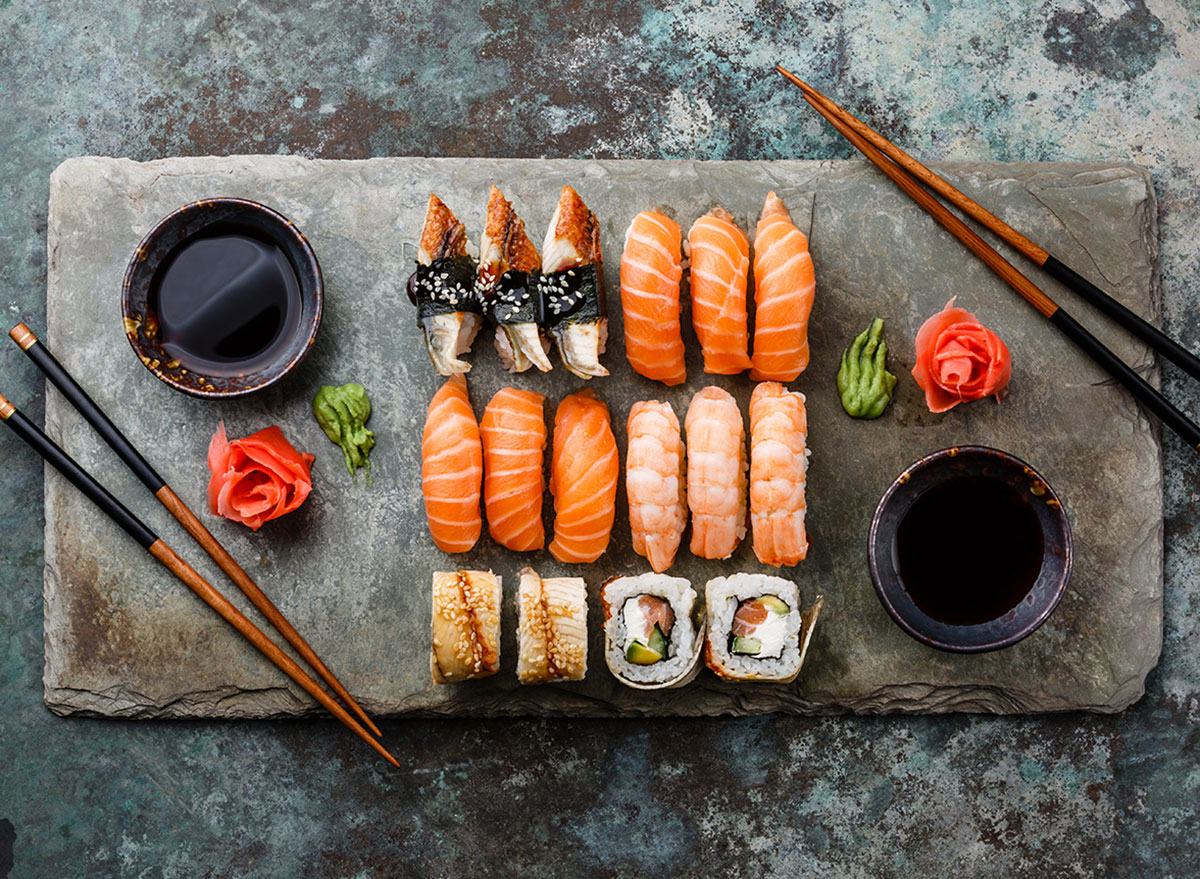 One of the most difficult places to stick to keto is a sushi restaurant, says Khalid Saeed, D.O., a private practitioner in the Tampa Bay, Florida area who works with several patients on weight loss. Rice is ruled out on keto, he says, and you'll also need to steer clear of tempura, noodle dishes, and sticky sauces like teriyaki.
What keto menu items to order at a sushi place: If you do end up at a sushi restaurant, Saeed says you may be able to find some menu items that are in line with the diet, like miso soup. "The broth has no thickeners, and it's filled with keto-friendly vegetables like cabbage, mushrooms, or onions," he says.
While your dining companions enjoy sushi, you could opt for sashimi, which consists of just the fish without the rice. Negikami, thin-sliced grilled beef, is also OK for keto, Saeed says, if you're at a restaurant that serves it.
The takeaway here: Yes, carbs reign supreme at many restaurants. But because keto allows for foods like cheese, meat, and bacon, dining out is definitely do-able when you're on the low-carb diet.