The Best Keto Fast-Food Orders at 12 Top Chains
Don't stress about eating keto at fast-food restaurants! You have more options than you may realize.
Fast food might be tasty and convenient, but when you're also trying to adhere to a diet where success hinges on certain restrictions that limit your dining possibilities, these places may seem more like intimidating havens of temptation. This is especially true if you're on a keto diet, considering that French fries, crispy batters, and bread-based items like pizza or burgers are a hard "no" if your aim is to trigger ketosis and lose weight by converting your fat and protein stores into energy. While finding keto fast food may seem as impossible as searching for a needle in a pile of haystack onion rings, it's actually easier to place a keto-friendly fast food order than you may realize.
In fact, many fast-food chains have made the effort to diversify their menu options to accommodate most dietary preferences. This includes making menu options more customizable and being flexible with modifications to ensure your meal hits the right spot without throwing you off course with your goals. So, no need to stress over making substitutions, especially when you pull up to the drive-thru with a solid sense of the keto fast-food options that are available to you.
What does it mean to 'eat keto'?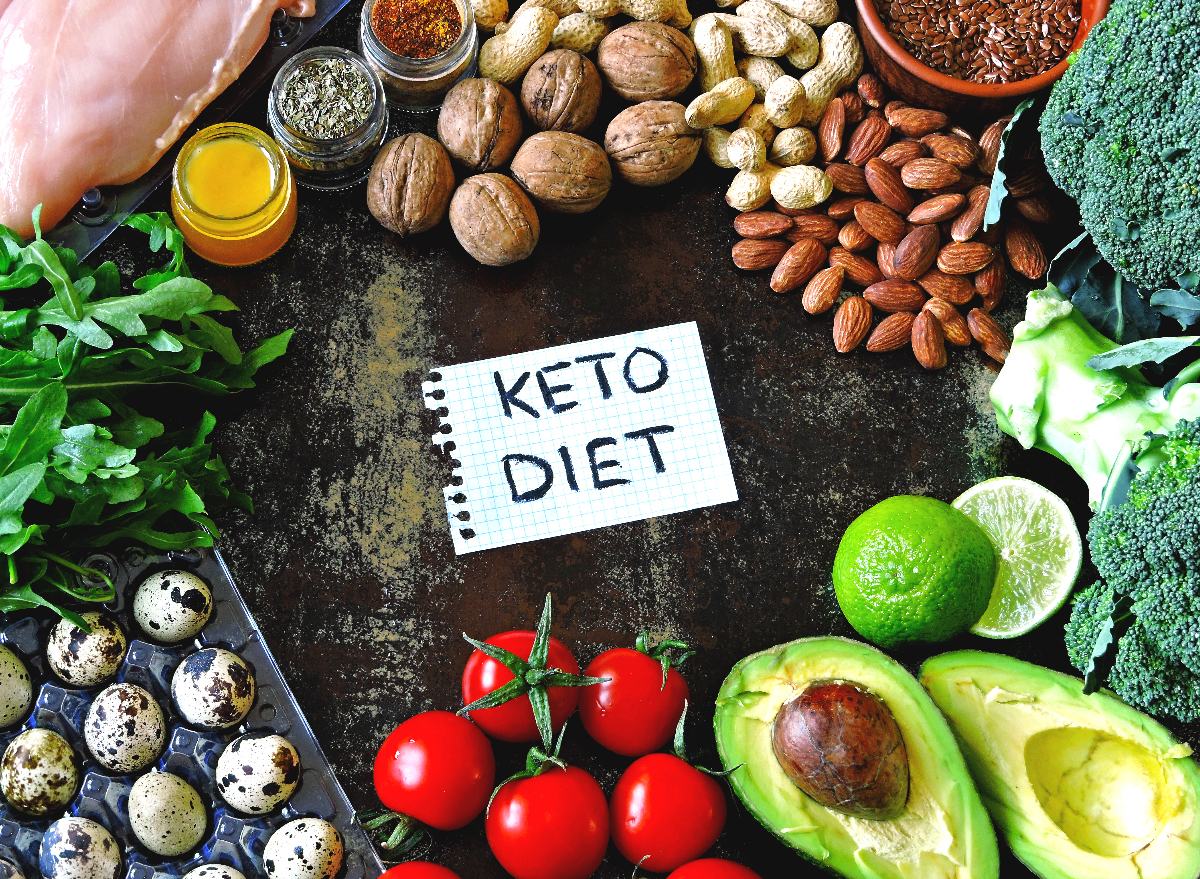 A basic keto diet consists of low-carb, high-fat foods and drinks, and modest protein consumption. While historically used for epilepsy treatment in children, "[the keto diet has] become more popular since low-carb diets became a trend in the 1990s," according to registered dietitian Caroline Thomason, RD, LDN, CDCES.
The goal of the diet is to get into ketosis, a metabolic state where the body burns fat for energy instead of glucose.
"To get into ketosis, the macros consumed needs to be 70–75% of calories from fat, 20–25% of calories from protein, and 5–10% of calories from carbs," explains Toby Amidor, MS, RD, CDN, FAND, award-winning nutrition expert and Wall Street Journal bestselling author of The Family Immunity Cookbook.
"Some folks follow keto by counting net carbs which should be less than 35 grams per day. Net carbs are calculated by subtracting grams of fiber from total grams of carbs," Amidor adds.
What are some pros and cons of following a keto diet?
"The benefits of eating keto are similar to the benefits of other calorie-restricted eating plans," says Thomason. "For folks who enjoy eating in a low-carb diet pattern, they often report increased feelings of satisfaction and decreased feelings of hunger. This makes it easier for them to regulate their calorie consumption and lose weight over time."
That said, Thomason is also very candid about the potential drawbacks of following a strict keto diet.
"However, there's nothing magical about keto. It's simply another way to manage your calorie intake—and if it works for you, great! Largely, I see that it does not work for the majority of my clients. The reason is that they feel too restricted and crave the carbohydrates that they feel they are unable to eat. This can result in yo-yo dieting or periods of calorie restriction followed by periods of overindulging."
So while eating keto can be effective for some, it's not a "one-size-fits-all" dieting solution. If you know you're a carb craver and have a bad history with yo-yo dieting, don't self-sabotage and set yourself up for failure by trying to fit a square peg into a keto hole. Before going all in on eating keto, consult your healthcare provider to see if it's the best fit for you.
Tips for ordering keto fast-food anywhere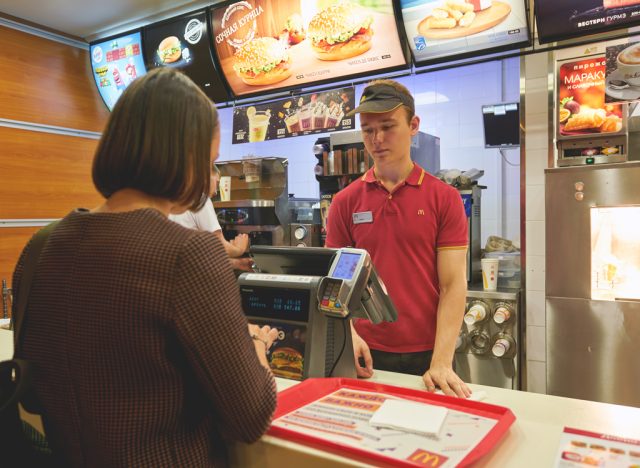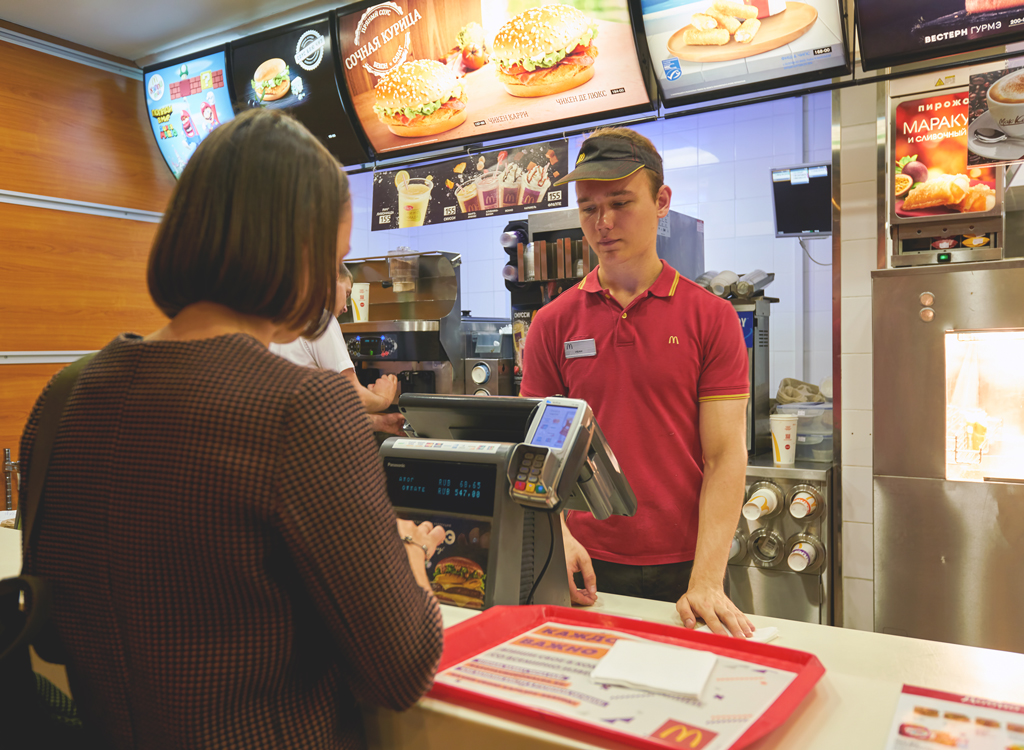 There are a few easy things to keep in mind when trying to identify keto-friendly fast food options, according to Amidor as well as Trista Best, MPH, RD, LD, a registered dietitian at Balance One Supplements:
Keep your order simple: "A piece of grilled chicken or salmon is usually a safe bet as is a bowl of steamed broccoli," suggests Amidor.

Remember that drinks count: "Stick to water, unsweetened iced tea, or black coffee instead of sugary sodas or shakes," recommends Best.
Ditch the buns: "Many fast food chains offer the option to order burgers without the bun," advises Best. "Simply ask for the burger patty, cheese, lettuce, and tomato, and skip the ketchup and other sauces."
Forget fried and go for grilled: "Avoid breaded or fried meats, and opt for grilled or roasted chicken, beef, or fish," says Best.
Swap out classic high-carb sides for keto-friendly alternatives: "Instead of fries, look for low-carb sides like side salads, broccoli, green beans, or a side of bacon," says Best.
Ask questions: "If you think ordering a burger without the bun is keto—it probably isn't," says Amidor. "Many fast food chains add flavors, fillers, or marinades to their food to help them taste better or bulk them up. These ingredients may contain carbs, which if eaten in too high amounts can make you not feel well or take you out of ketosis if eaten regularly. Always ask to see the nutrition info or ask to see an ingredient list," she advises.
When in doubt, check the nutrition info: "Many fast food chains have nutrition information available online or in-store. Check the carbohydrate and fat content of menu items to make informed choices," says Best. "If you're on the go, bring some keto-friendly snacks like nuts, cheese, or jerky to help you stay on track between meals."
Consider a modified keto diet: "Most folks are actually following a modified keto diet with less strict guidelines with 55% of calories from fat, 35% of calories from protein, and 15% of calories from carbs," explains Amidor. "This less strict plan allows more room for carbs and more room for nutrient-filled foods you may be missing out on if you're following a strict keto diet." This is also a great deterrent against the risk of falling into an unhealthy cycle of yo-yo dieting Thomason previously mentioned.
"Eating keto at fast food restaurants can be challenging, but it is possible with a little planning and careful menu selection," adds Best.
Still unsure of exactly how to narrow down fast-food menus to just the keto-friendly dining options? To help you with this planning, we've rounded up a list of some of the best keto fast-food menu items you can order. Next time you find yourself in line at your fave fast food joint, consider ordering any of these keto-friendly fast food picks.
The best keto fast-food options at 12 popular chains
1. Burger King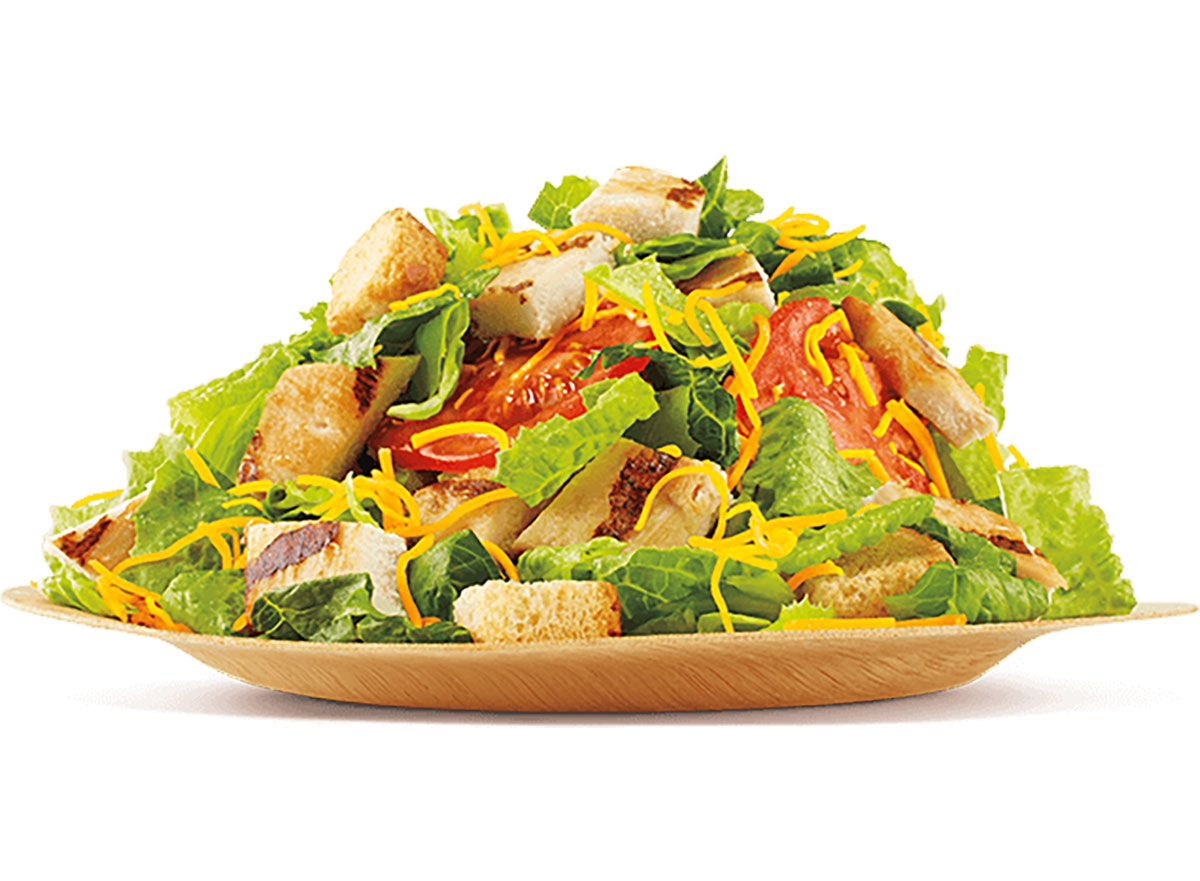 When Burger King claims to let you "have it your way," it's not just lip service. From the Crossan'Wich to the Whopper (holding the croissant and the buns, of course) here are a few keto-friendly menu options from Burger King.
Double Croissan'Wich with Sausage & Bacon or Ham & Sausage, without the croissant
Bacon & Cheese Whopper, hold the buns and ketchup
Single, Double, or Triple Whopper, hold the buns
2. Subway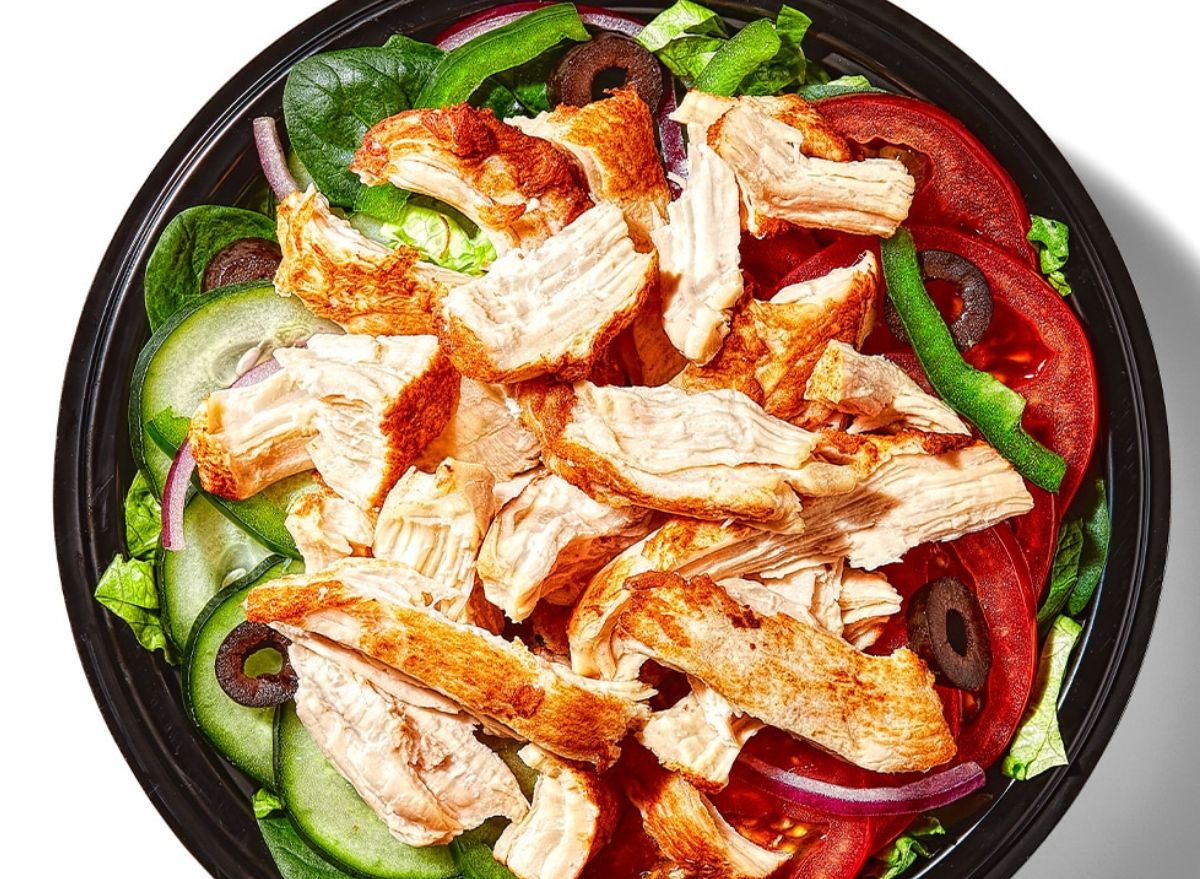 You probably know that Subway promises diners that they can "eat fresh," but I bet you didn't realize it was this simple to eat keto, too! Covert any of your favorite subs into a salad or a "No Bready Bowl" to avoid the temptation of the intoxicating fresh bread.
Black Forest Ham No Bready Bowl or Salad
Buffalo Chicken No Bready Bowl or Salad
Meatball Marinara No Bready Bowl or Salad
Italian B.M.T. No Bready Bowl or Salad
Cold Cut Combo No Bready Bowl or Salad
Chicken and Bacon Ranch No Bready Bowl or Salad
Steak and Cheese No Bready Bowl or Salad
Oven Roasted Turkey No Bready Bowl or Salad
Spicy Italian No Bready Bowl or Salad
Tuna Protein No Bready Bowl or Salad
Veggie Delite No Bready Bowl or Salad
Rotisserie-Style Chicken No Bready Bowl or Salad
Roast Beef No Bready Bowl or Salad
3. Arby's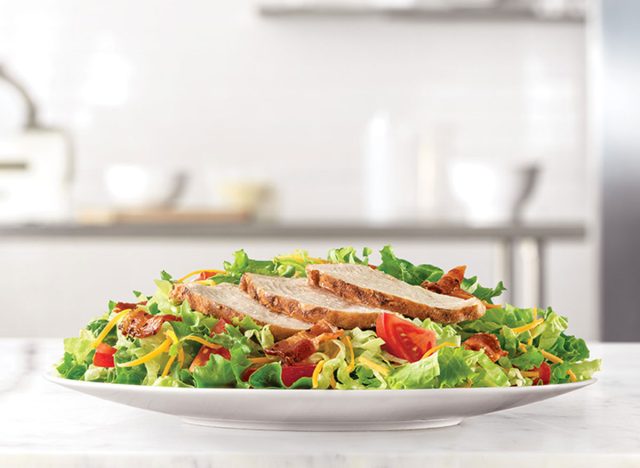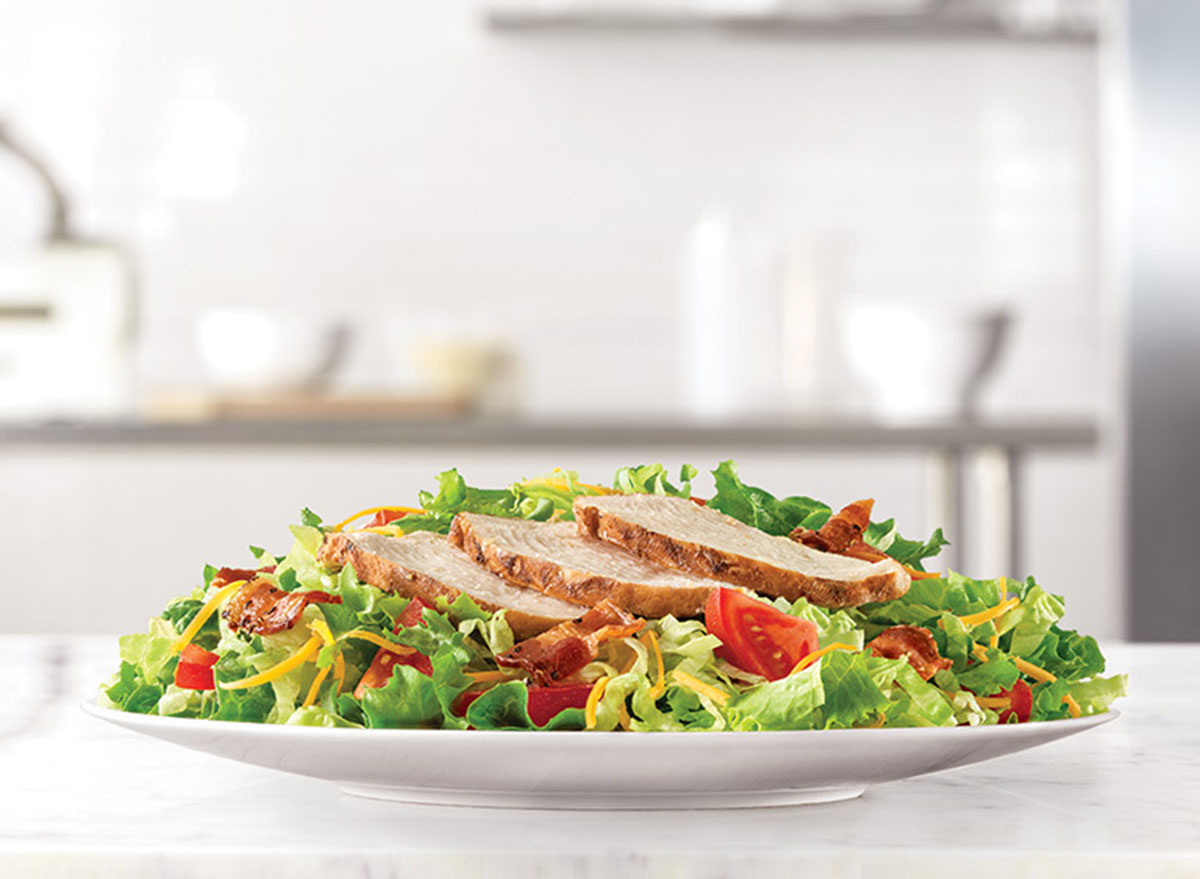 If you're following a keto diet, going to Arby's where they "have the meats" is a safe bet for striking a healthy balance of protein and healthy fats without having to worry about too many carbs.
Roast Beef Gyro, hold the wrap
Classic Roast Beef, hold the buns
Smokehouse Brisket, hold the buns
4. Jack in the Box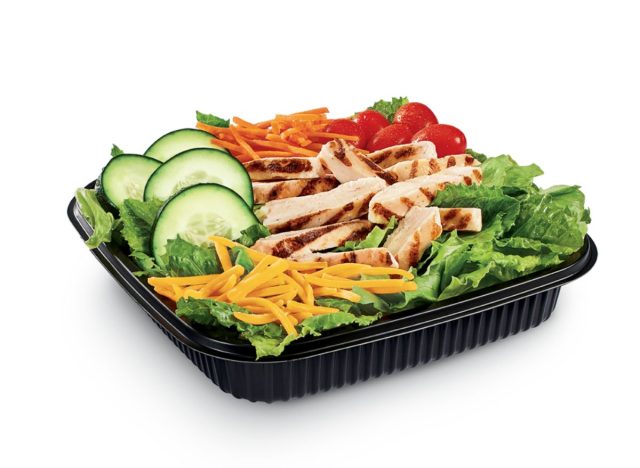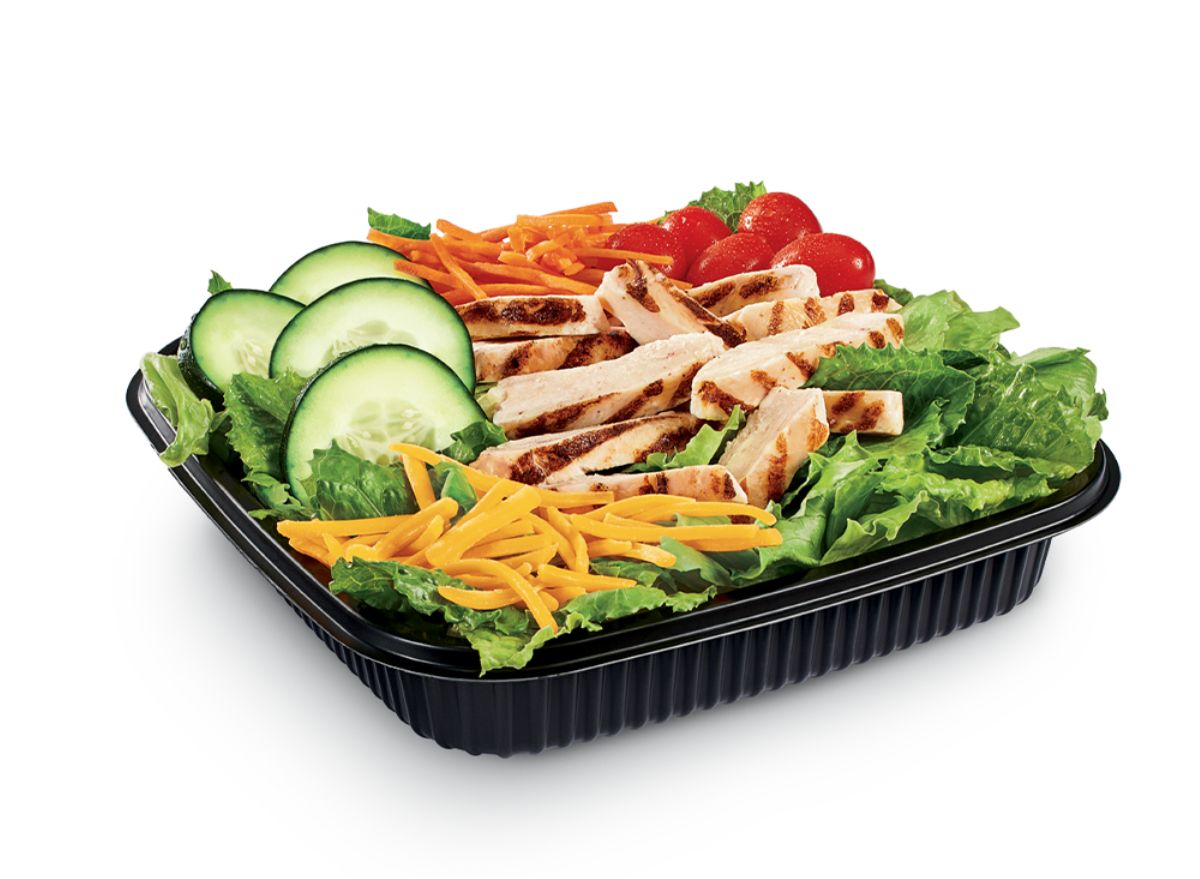 If there's one thing Jack in the Box has cornered the market on, it's offering a wide variety of menu options able to cater to all appetites and diets—and those who are trying to eat keto are no exception. Here are some of the best keto-friendly options you can get from Jack in the Box.
The Ultimate Breakfast Sandwich, hold the bun
Grilled Chicken Salad with Lite Ranch Dressing
The Ultimate Bacon Cheese Burger, hold the bun and ketchup
5. Chick-fil-A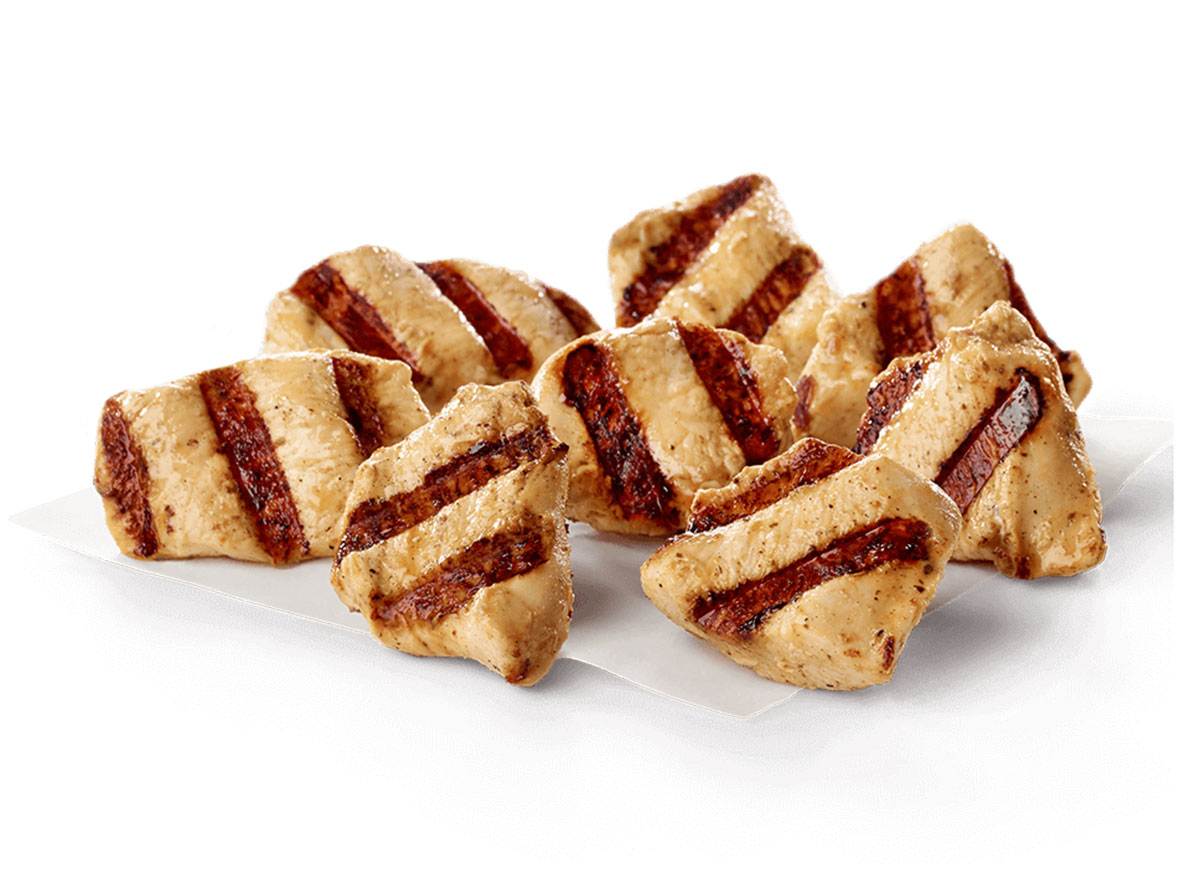 Though fried, breaded, crispy chicken will counter your keto dieting goals, Chick-fil-A's selection of grilled chicken entrees and menu modifications makes it one of the easiest fast-fast food chains to order a filling keto-friendly meal.
Egg White Grill, hold the English muffin
Bacon, Egg, and Cheese, hold the biscuit or egg muffin
Sausage, Egg, and Cheese, hold the biscuit or egg muffin
Grilled Chicken Sandwich, hold the bun
Grilled Chicken Club, hold the bun
Grilled Nuggets
6. McDonald's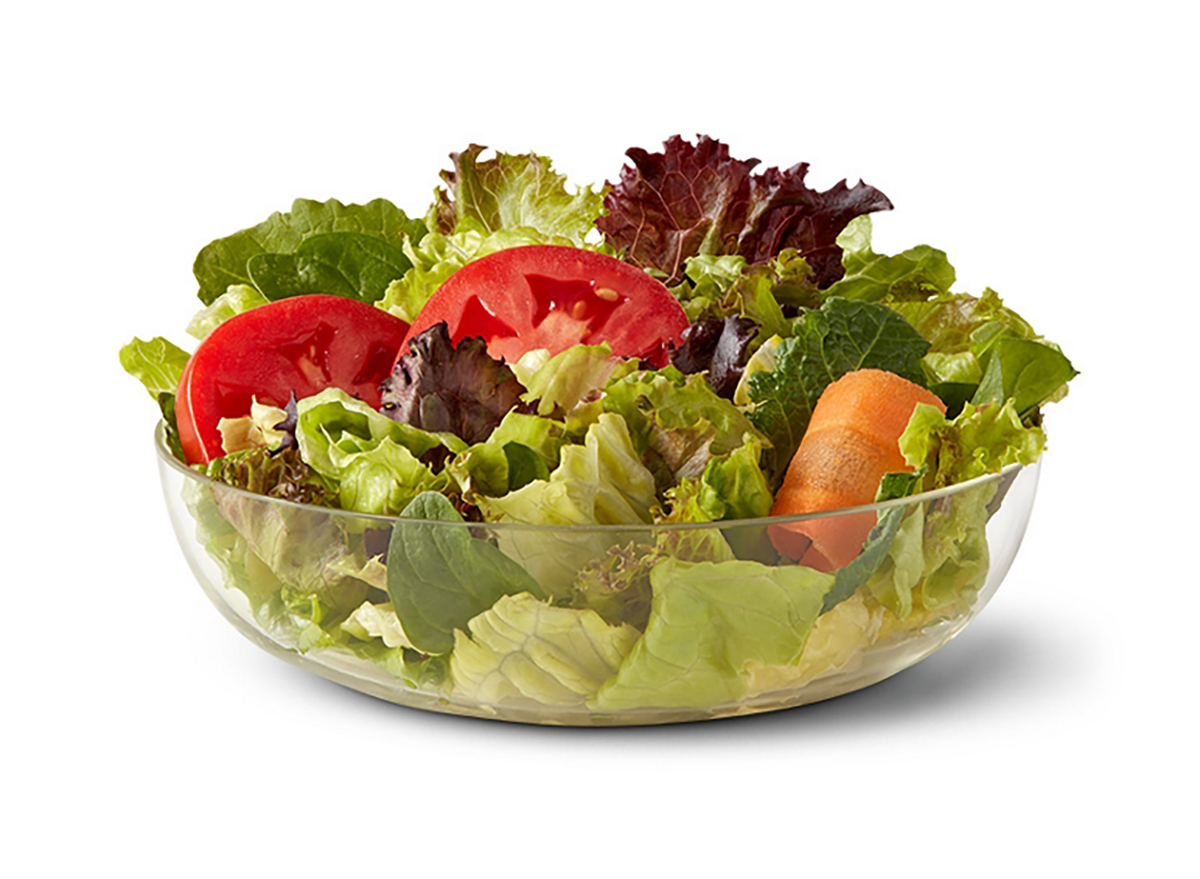 The Golden Arches may be best known for its classic burger and fries. However, for keto-conscious eaters can still find themselves satiated and "lovin' it" with any combination of these keto-friendly McDonald's orders.
Egg McMuffin, hold the English muffin
Sausage McMuffin With Egg, hold the English muffin
Bacon Egg and Cheese, hold the biscuit, bagel, or McGriddle
Sausage Biscuit With Egg, hold the biscuit
Sausage Burrito, without the tortilla
Quarter pounder, hold the buns
McDouble, hold the buns
Cheeseburger, hold the buns
Double Cheeseburger, hold the buns
Hamburger, hold the buns
Side salad
7. Wendy's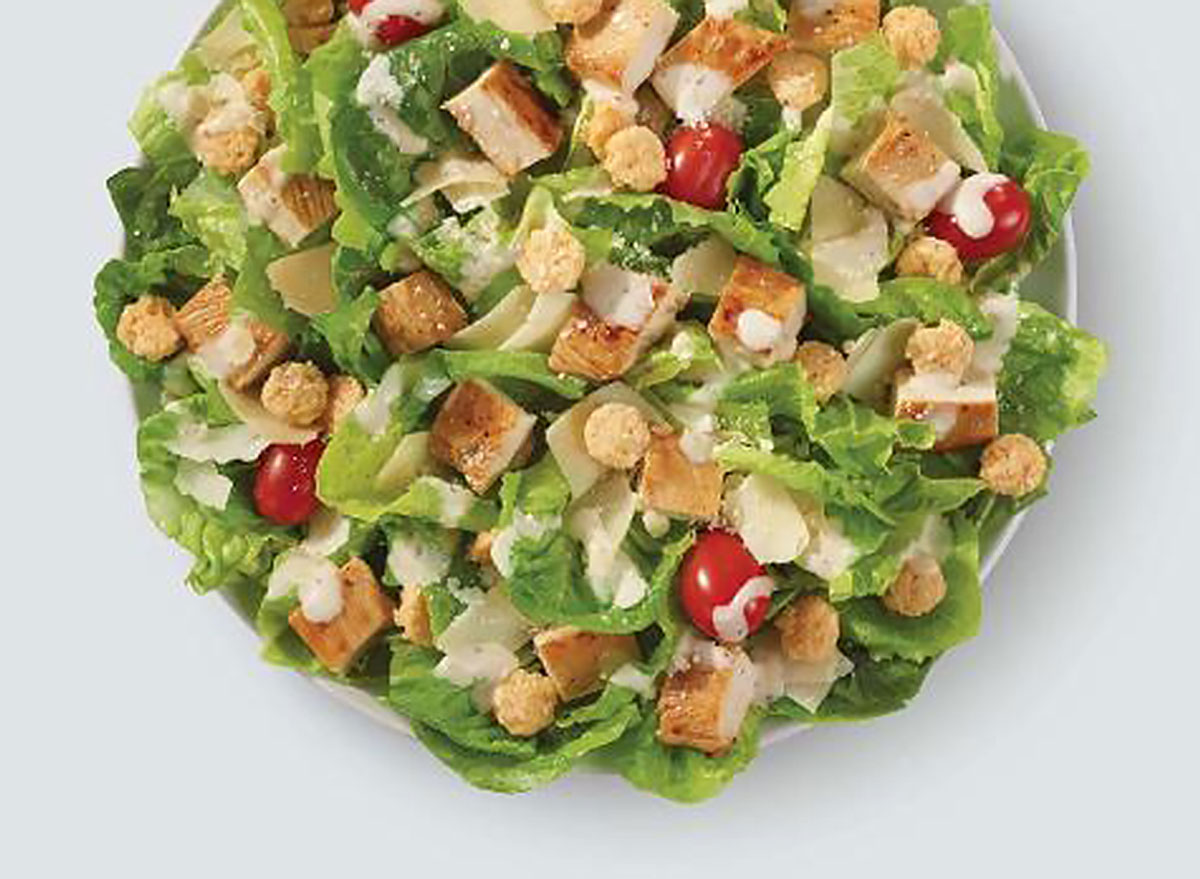 Wendy's menu may read like a novel, but don't worry! We can help you get your keto kicks by narrowing your choices down to a few delicious keto-friendly options.
Breakfast
Lunch or Dinner
8. Taco Bell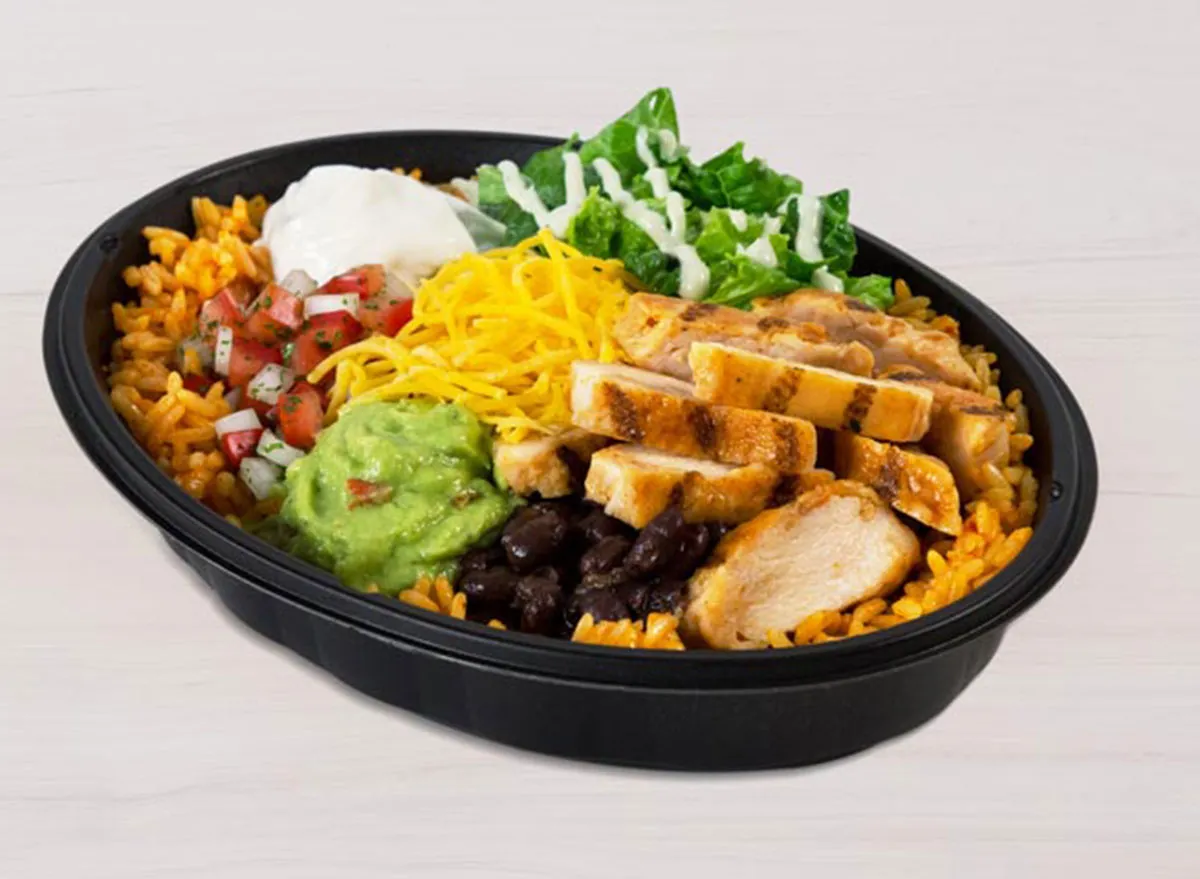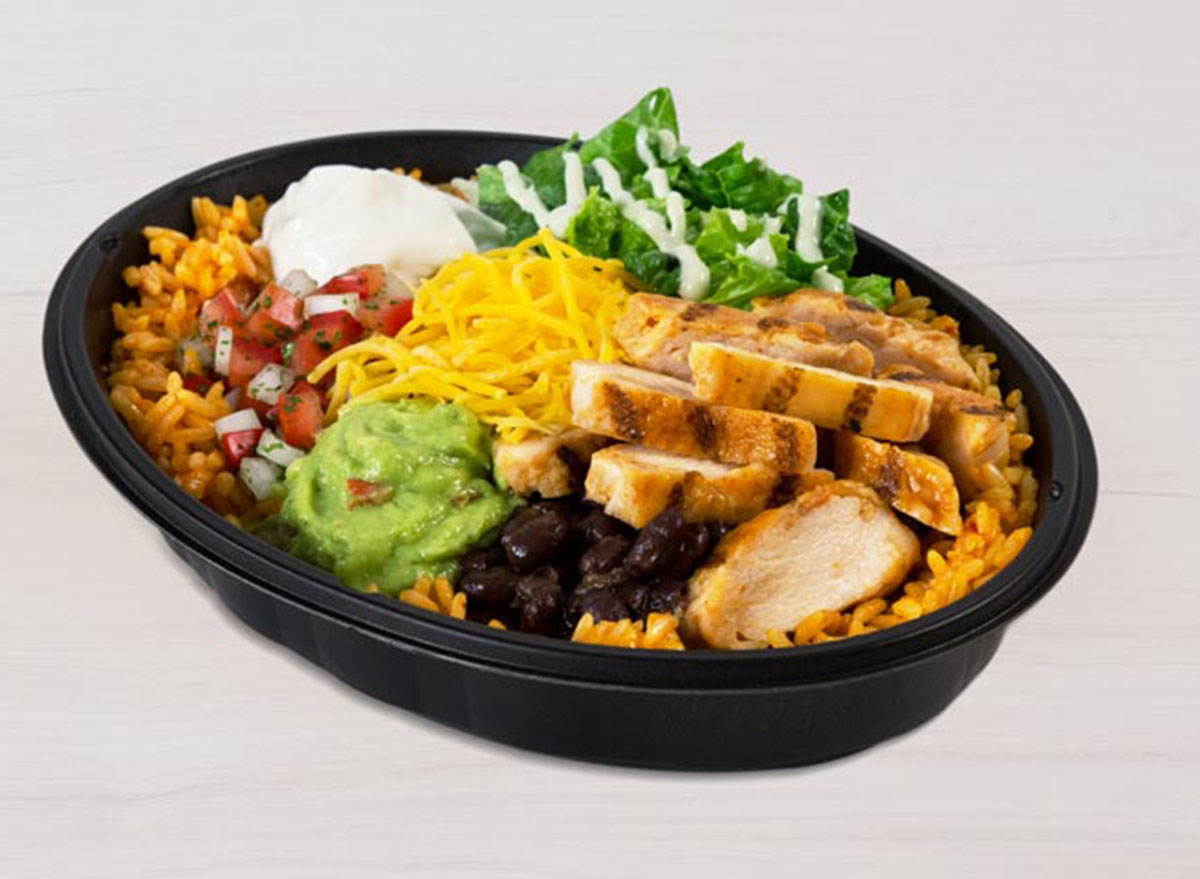 Yes, corn and flour are big no-nos when on a keto diet, so tortillas are out of the question. However, Taco Bell offers a wealth of options that makes it easier to be flexible about keto-based meal modifications.6254a4d1642c605c54bf1cab17d50f1e
Cheesy Toasted Breakfast Burrito (bacon or sausage), ask for it in a bowl instead of a tortilla
Grande Toasted Breakfast Burrito (bacon, sausage, or steak), ask for it in a bowl instead of a tortilla
Power Menu Bowl, remove the rice and beans; add extra lettuce and double the grilled chicken or guacamole
Fiesta Taco Salad, ask for it in a bowl instead of the fried tortilla shell, nix the rice and black beans, add more lettuce, a little extra sour cream, and cheese
Beefy 5-Layer Burrito, ask for it in a bowl instead of a tortilla
9. Shake Shack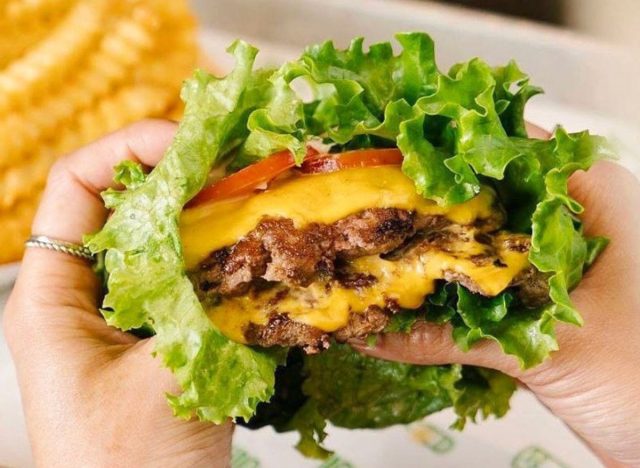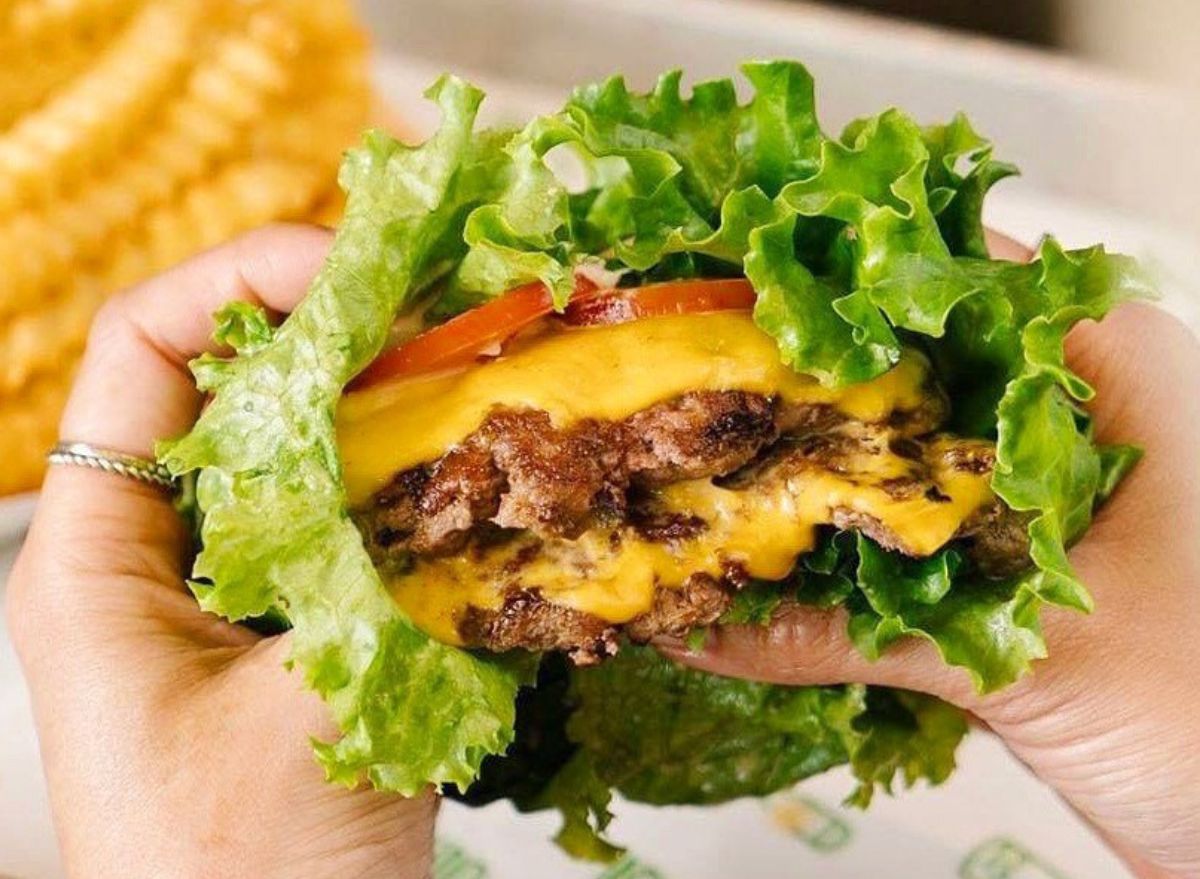 Shake Shack's carefully curated menu may appear to provide limited keto options. However, the chain's combination of quality ingredients and flexibility around meal modifications makes sticking to your keto dieting goals a (tasty) breeze. You can sub out any bun for a lettuce wrap free of charge, and pile on the keto-friendly toppings of your choice.
Lunch or Dinner
Double ShackBurger, in a lettuce wrap
SmokeShack, in a lettuce wrap
Hot Dog, hold the bun; with cheese sauce
10. Five Guys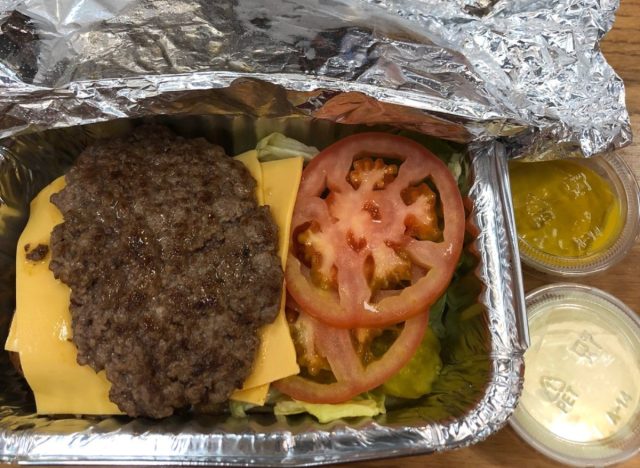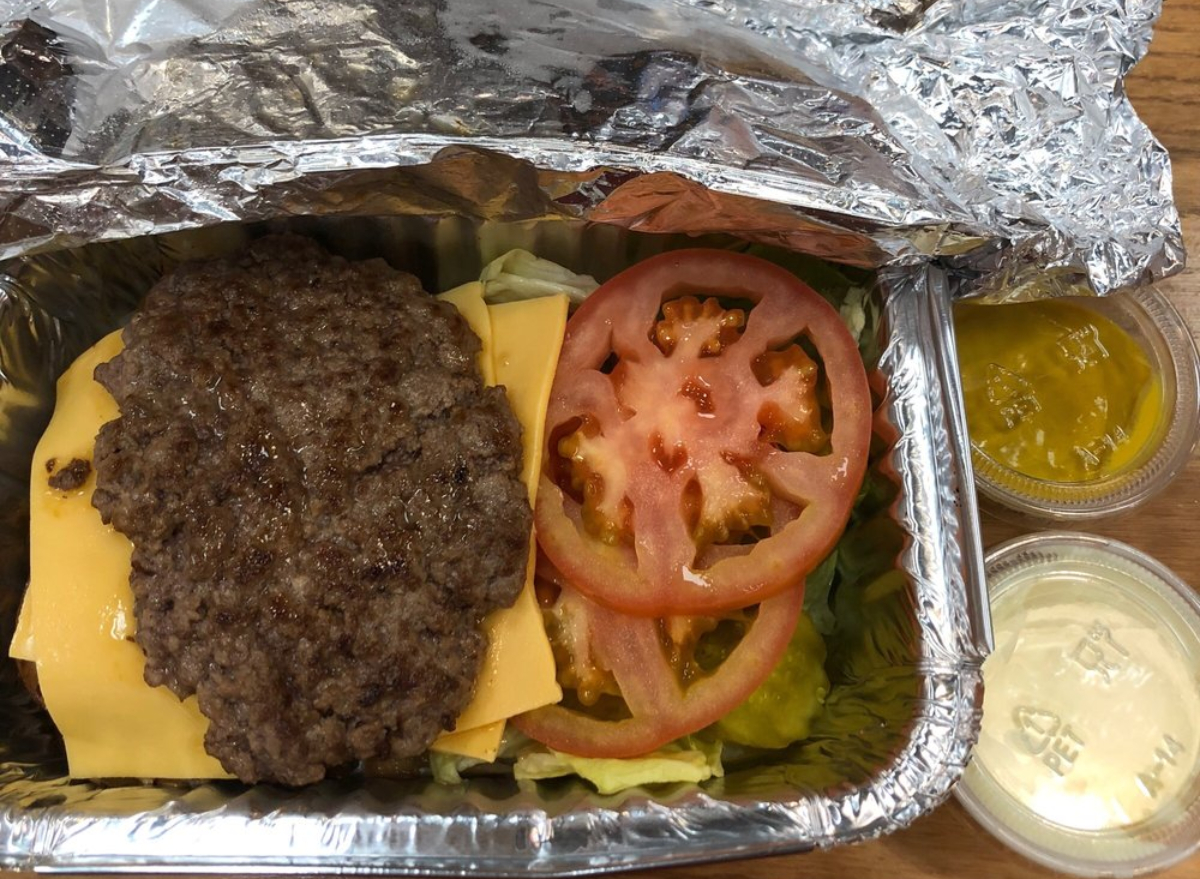 If you're looking for a way to keep things simple while eating on a keto diet, look no further than Five Guys. What could be easier than a basic burger or hot dog, fresh ingredients, and holding the buns?
Cheeseburger, hold the bun
Hamburger, hold the bun
Hot dog, hold the bun
Toppings: Grilled onions, mushrooms, bacon, grilled peppers, jalapeño peppers, pickles, tomatoes
Condiments: Hot sauce, mustard, mayo
11. KFC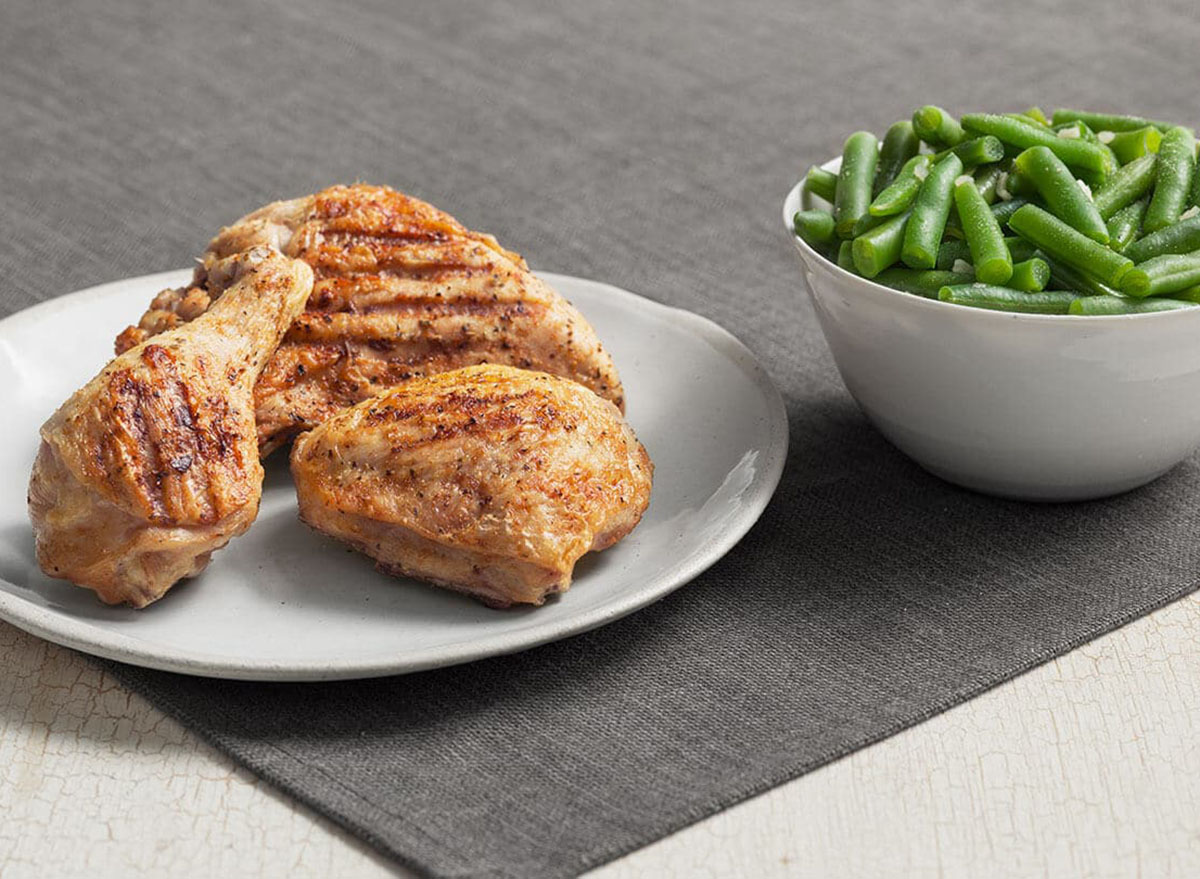 Though the allure of crispy chicken fried up by the Colonel may sound tempting, KFC's grilled chicken is also a great way to satisfy this craving while also avoiding all carbs. Wing, breast, leg, or thigh, your grilled meat options still clock in at zero calories a pop. Pair this with one of KFC's low-carb sides, and you're keto prayers are answered while your belly fills up with veggies and quality lean protein.
Kentucky Grilled Chicken
Green beans
Coleslaw (Note that this side contains 10 grams of carbs, so only eat if you're doing a modified version of keto with low-carb intake.)
12. Chipotle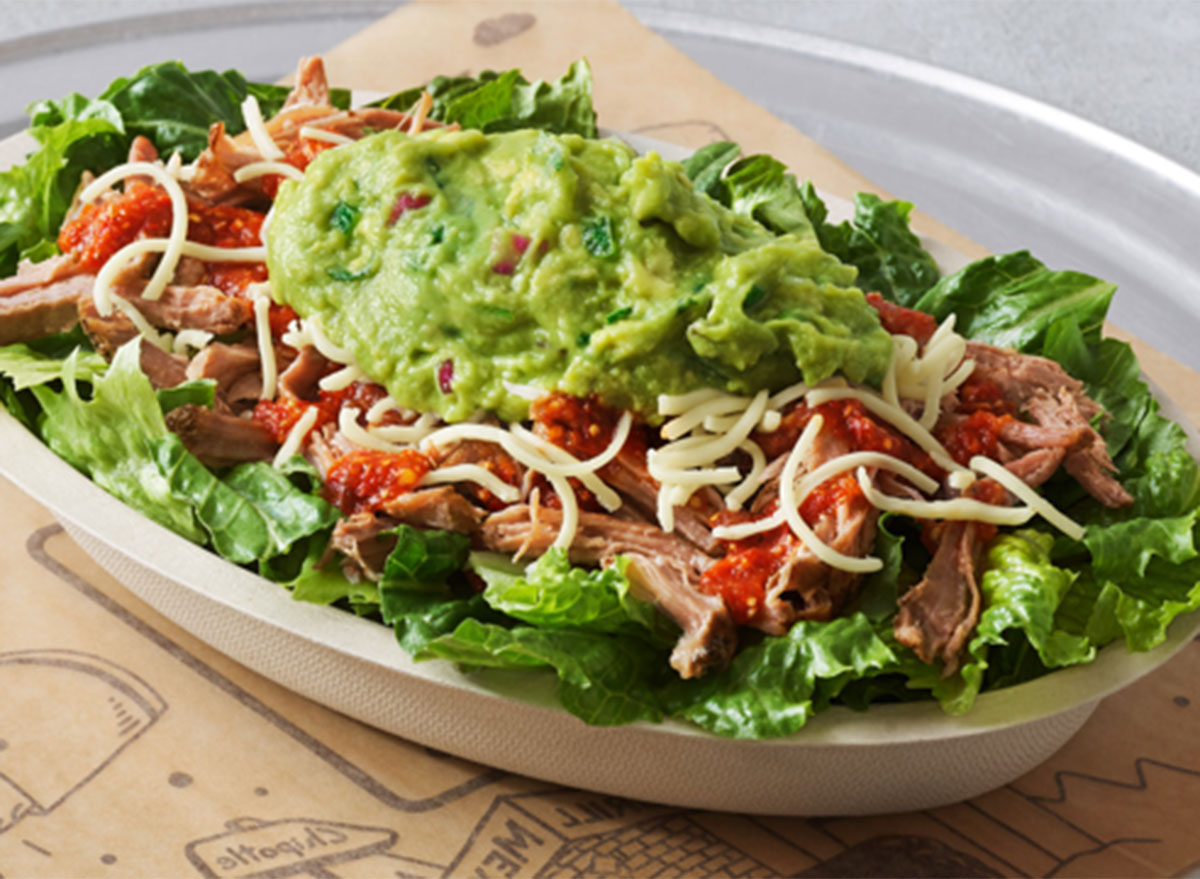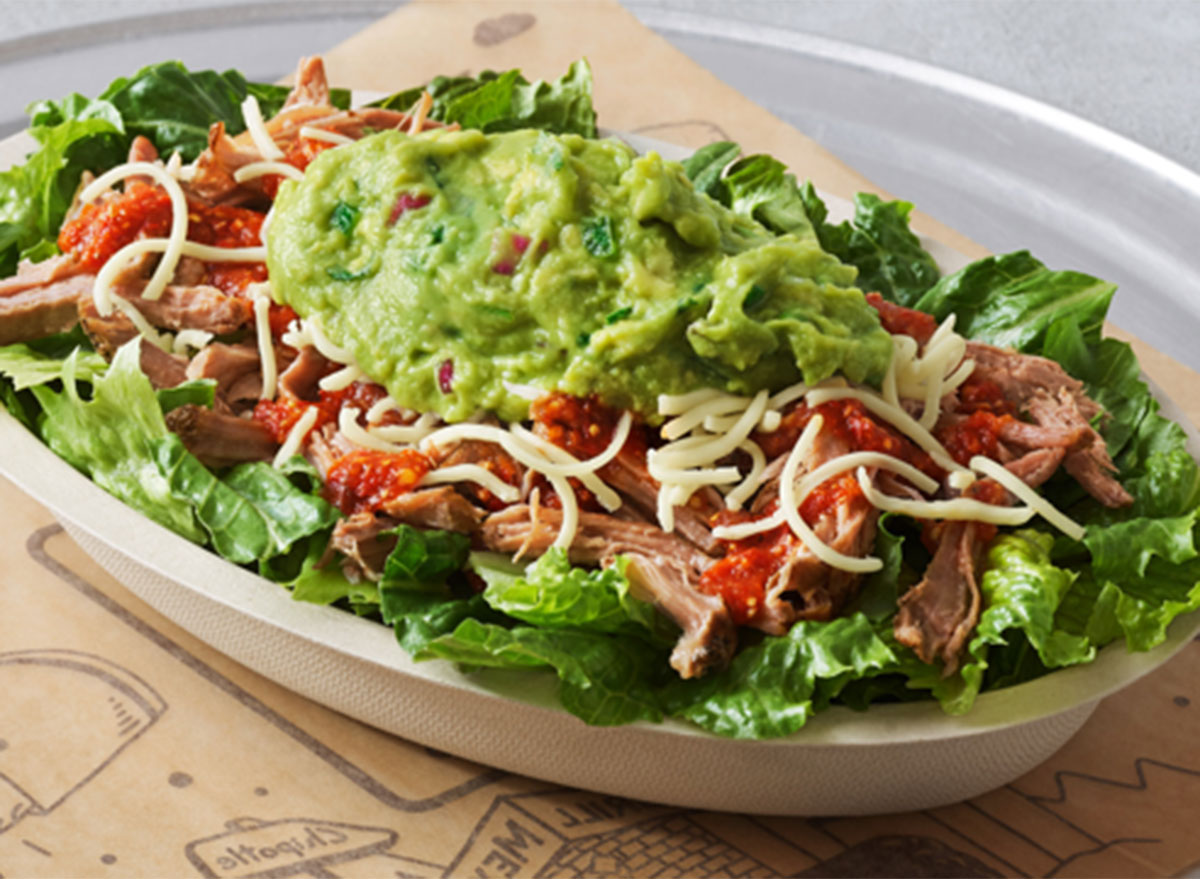 With all the customizable choices at Chipotle, you can literally have the burrito bowl of your dreams—and eat it too! Just compensate for the lack of rice and beans you'll be passing on with extra lettuce, sizzling fajita veggies, a mix of proteins, and don't forget to load up that cheese and guacamole.
Burrito or salad bowls with chicken, chicken al pastor, steak, pollo asado, garlic guajillo steak, barbacoa,  or carnitas, hold the rice and beans; add fajita veggies, salsa, sour cream, cheese, queso, guacamole, and lettuce