16 Major Changes at Walmart That Are Here to Stay
The store has drastically changed its operations this year.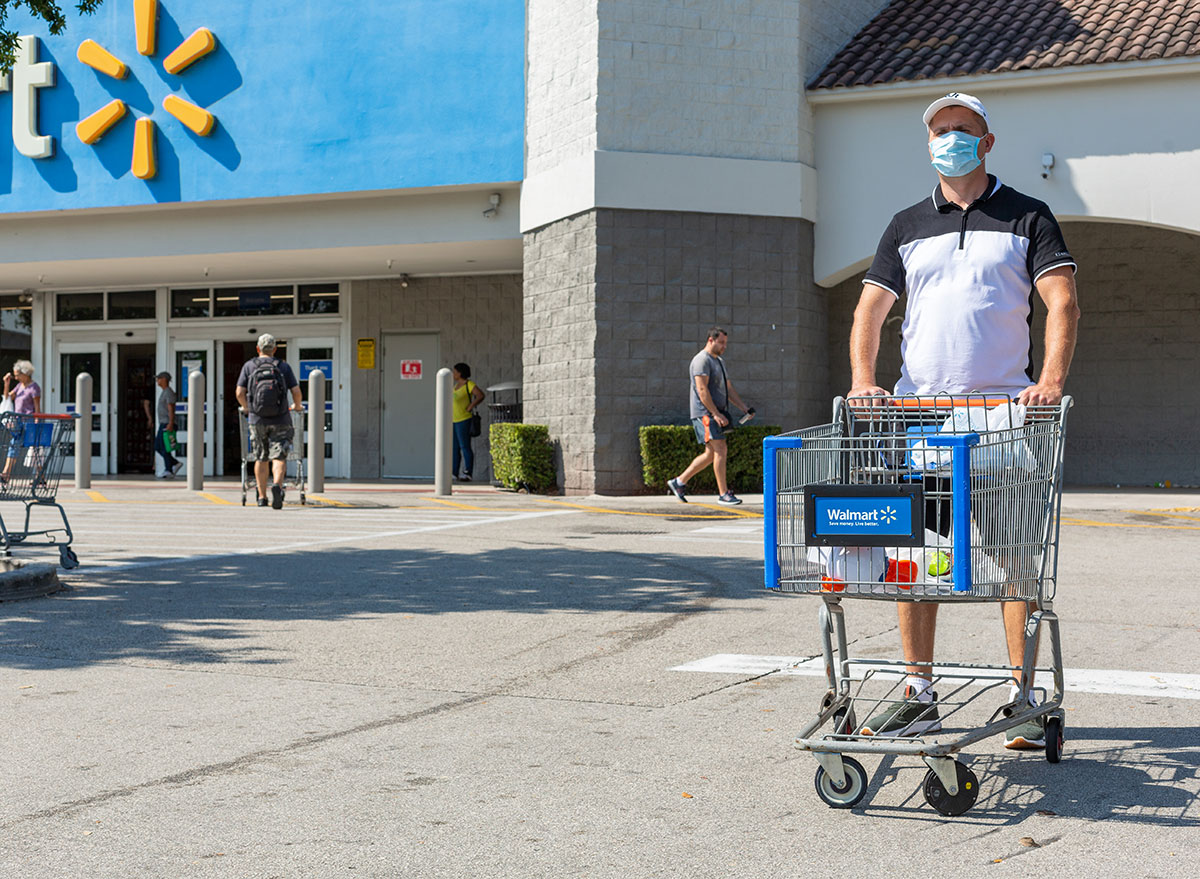 This year has thrown some major curveballs at retail businesses, but if anyone knows how to roll with the punches, it's Walmart. The industry giant started implementing innovative solutions to social distancing and online shopping early and often, and was able to avoid a major coronavirus impact on their business.
While some changes happened overnight, others were already in the making but expedited by the new circumstances. Here are the biggest things that changed at Walmart this year, and that are not going away any time soon. Don't forget to sign up for our newsletter to get the latest grocery news and deals delivered straight to your inbox.
Employees Wearing Masks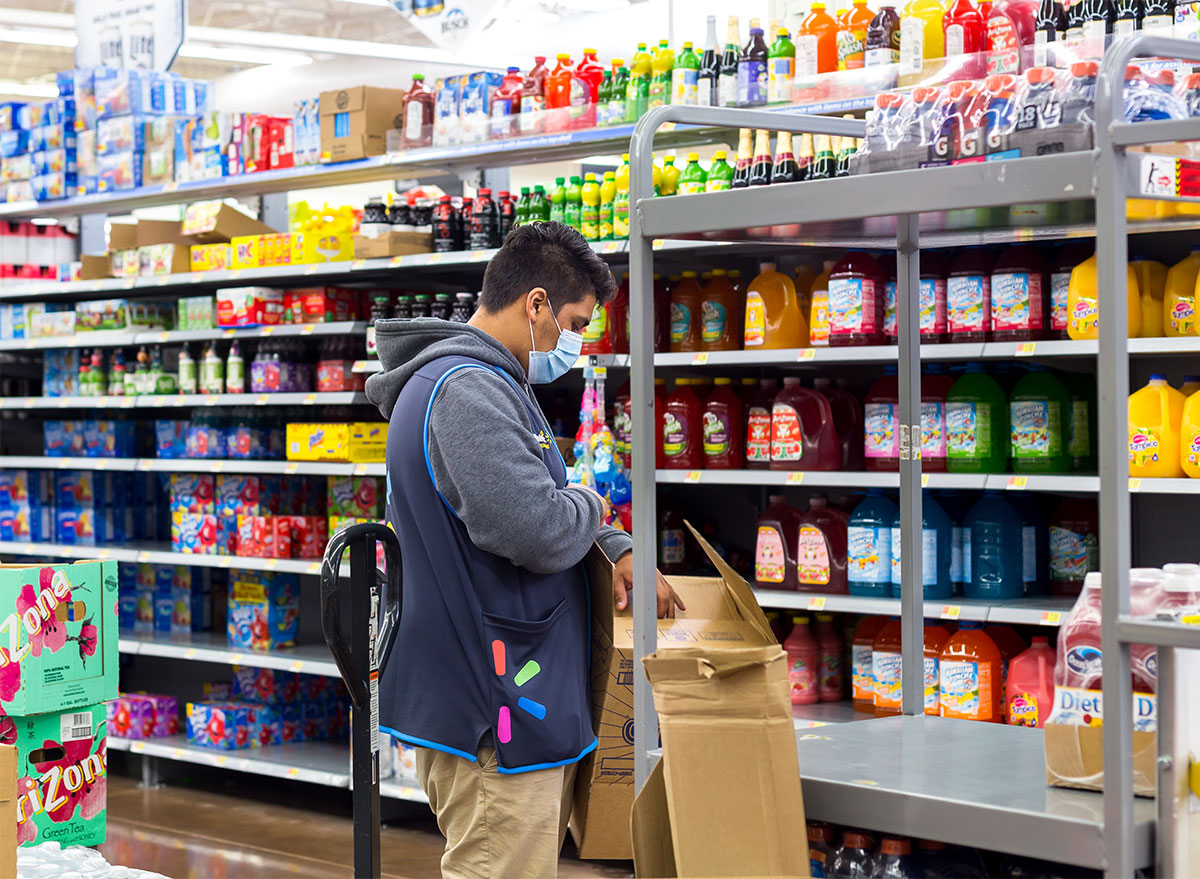 Mask wearing is here to stay. Employees at Walmart were some of the first grocery employees mandated to wear face masks, and we don't see this rule going away any time soon. Here are 7 Things Dr. Fauci Does When He Shops for Groceries.
No Mask, No Service
It isn't just up to the employees to wear masks—customers have to comply with the same rule while inside Walmart. In recent weeks, as coronavirus cases are back on the rise, the chain has been refusing service to anyone not wearing a mask at their stores. If you don't want to be asked to leave, put that mask on for your own safety! Here are 10 Reasons You Must Wear a Face Mask Right Now.
No Crowds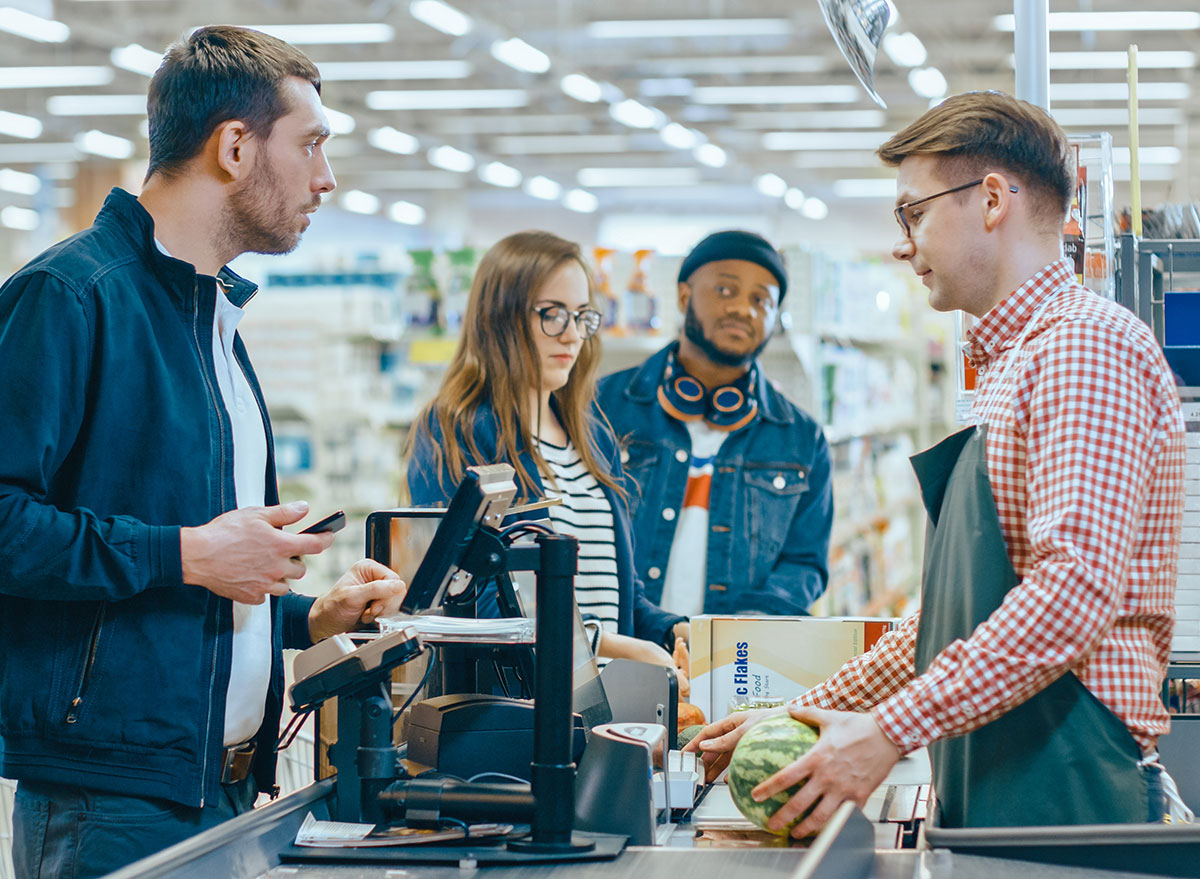 Walmart's policy of limiting the number of customers allowed in their store at a time is still in effect. The current rule allows no more than five customers for each 1,000 square feet at a given time, or roughly 20 percent of a store's capacity. It will be a while before you see a crowded Walmart again.
No More Shopping for Fun
Before coronavirus, browsing aisles upon aisles of merchandise you don't really need but kind of want was a favorite pastime for many of us. But right now, you wouldn't dream of spending more time than you need to at a Walmart (or really any store). Research has shown that people are spending less time at the store per grocery trip, which means they're thinking of shopping as a get-in-get-out activity. And it'll likely be a while before a Walmart run goes from being an essential errand to a leisurely activity again.
Big Improvements to Online Shopping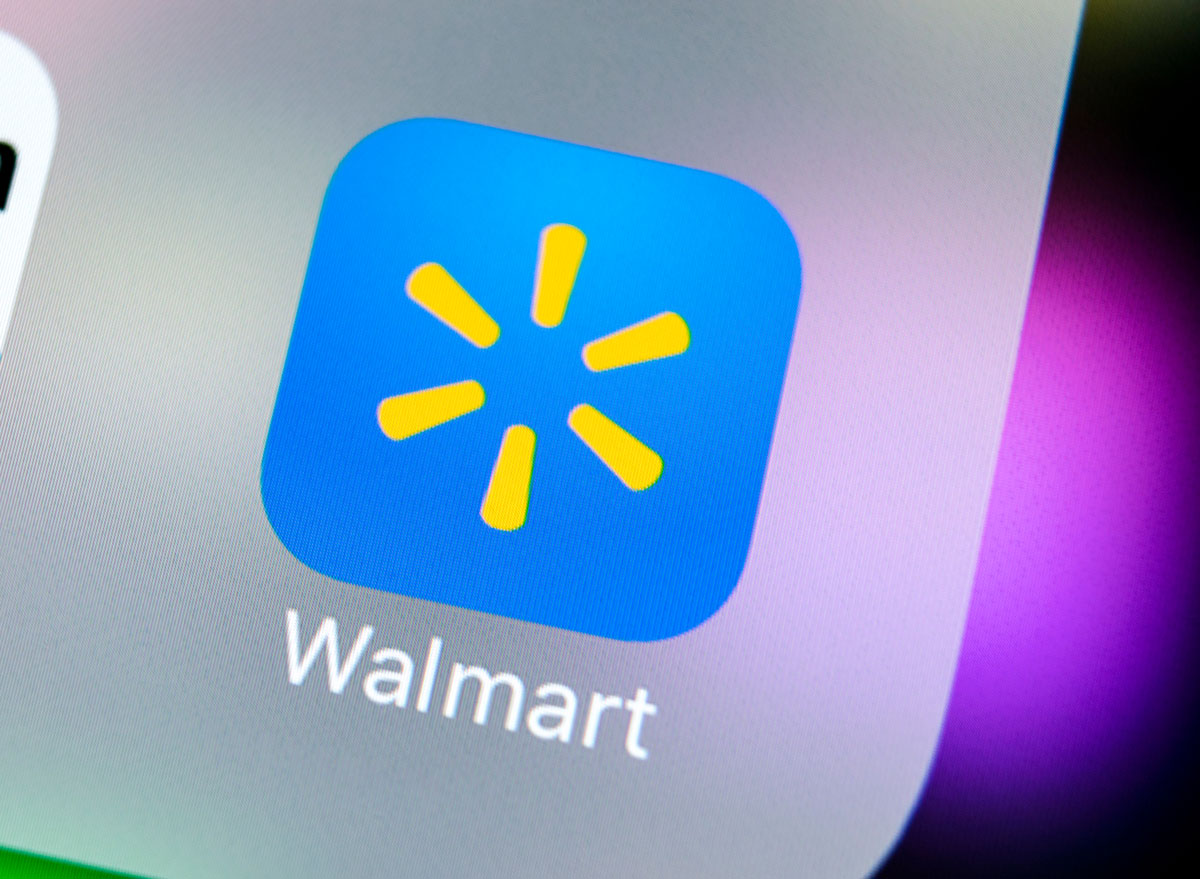 Due to the pandemic, Walmart has implemented a robust curbside pickup and delivery service. The retail giant kept improving their e-commerce offer through the pandemic—in March they combined their two online shopping apps (grocery and everything else) into one cohesive marketplace, while in May they launched an Express Delivery option where customers can get their goods within two hours of purchase. These strategies are paying off in a big way, as a report published in June noted that 48% of online grocery shoppers shop at Walmart.
Thousands of New Items Available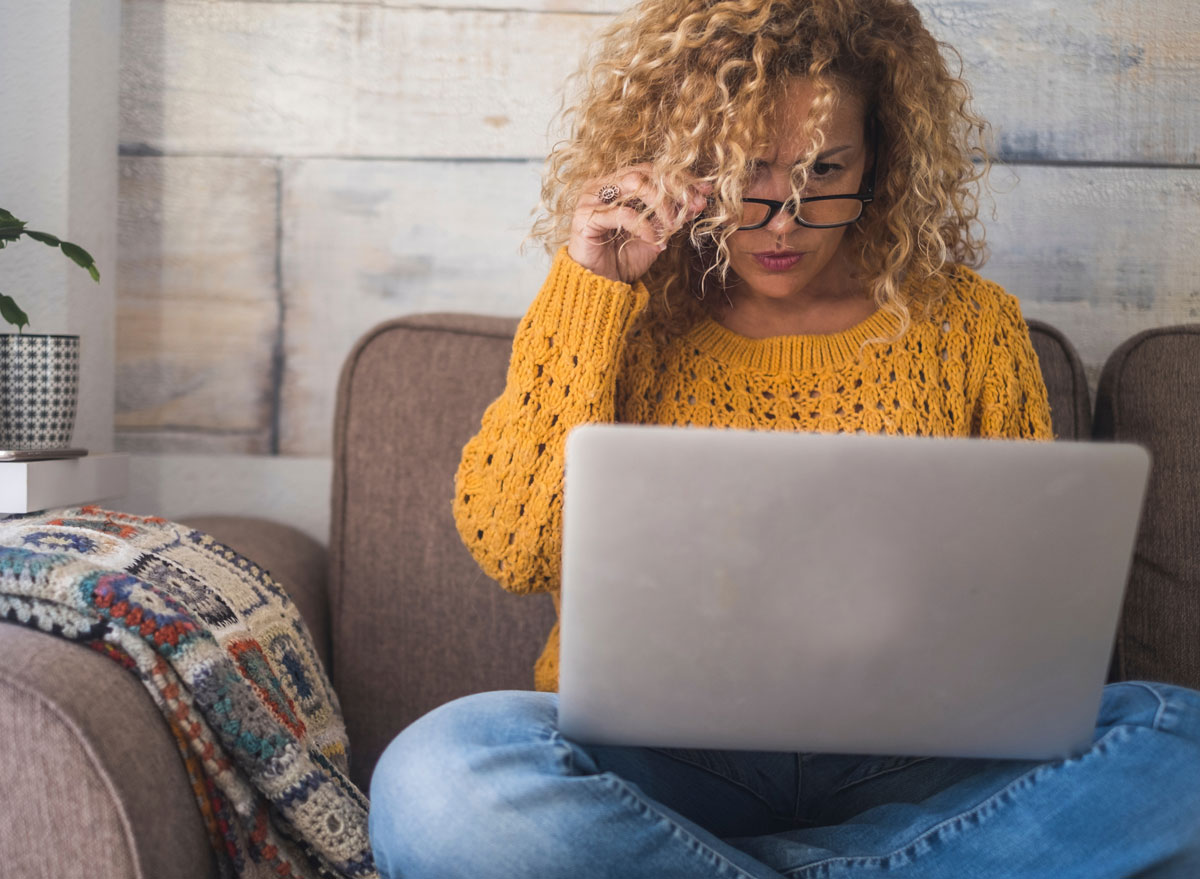 Another major expansion came from Walmart's new partnership with Shopify, an online retail platform with thousands of third-party sellers. Through this deal, Walmart Marketplace will be expanded with thousands of new items that were previously unavailable from Walmart. This move earn them comparisons to Amazon.
New Senior Shopping Hours
At the height of the pandemic in March, Walmart rolled out senior shopping hours in an effort to protect those most vulnerable to coronavirus. These special hours are still very much in place at all locations, and they take place on a weekday (usually Tuesdays), an hour before the store's regular opening hours. Pharmacies and vision centers are part of senior hours too, so customers aged 60 and older can have a safer and more pleasant shopping experience.6254a4d1642c605c54bf1cab17d50f1e
Social Distancing Signage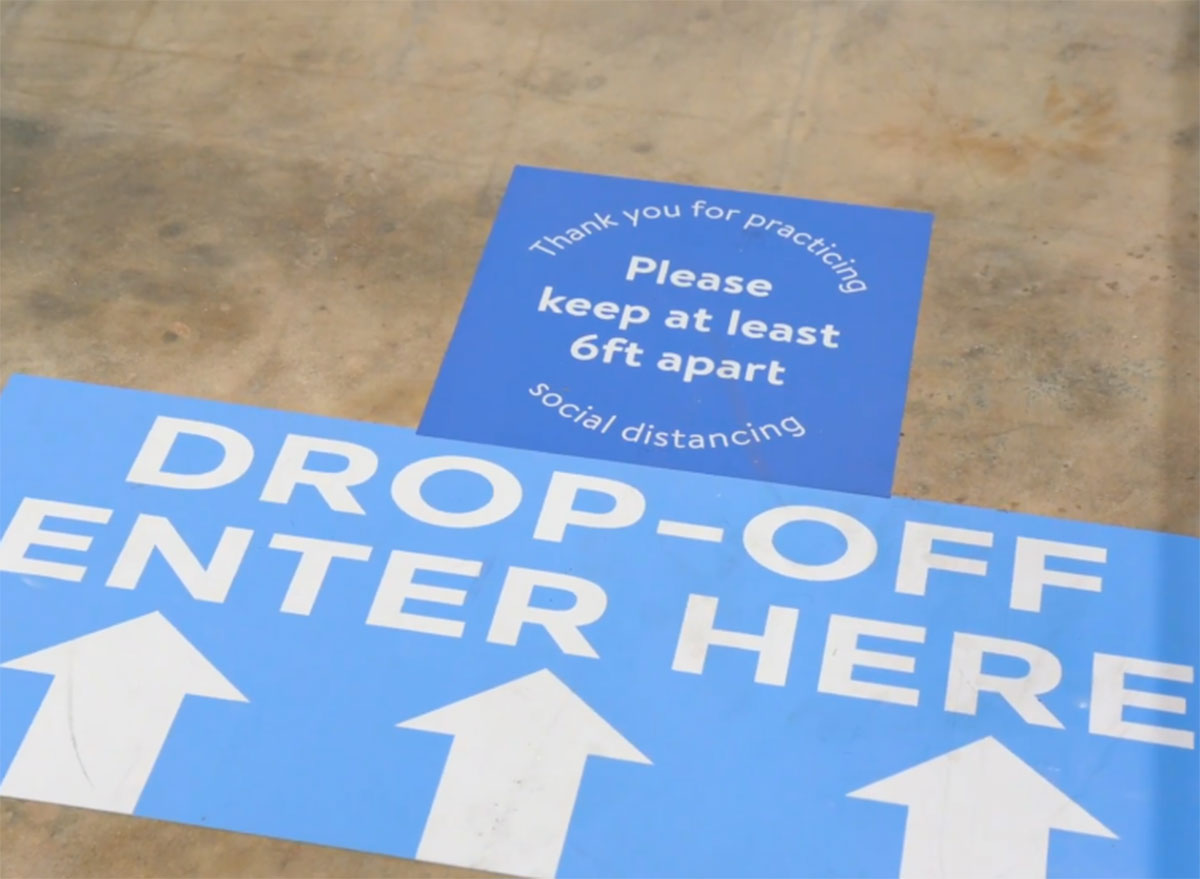 Walmart has been using floor decals to instruct customers on best social distancing practices. Those blue stickers showing you how far apart from the other person you should be standing at the checkout aisle, and which direction you should be pushing your cart in the grocery aisles, are going to be around for a while.
A Deep Cleaning Every Day
The chain has dedicated extra associates for more frequent cleanings of high-traffic, high-touch areas like checkouts and shopping carts. FYI, here are the 7 Worst Grocery Stores That Are Too Unsafe to Shop.
Limited Store Hours
In fact, even the hours have changed for certain Walmart locations in order to give associates more time to clean the store properly and restock the shelves. Neighborhood Markets have limited their hours of operation and are only open from 7 a.m. to 8:30 p.m. Keep that in mind when you plan your next shopping trip. Here are some other Grocery Stores That Have Added Seniors-Only Hours in Midst of Coronavirus.
Sneeze Guards Throughout the Stores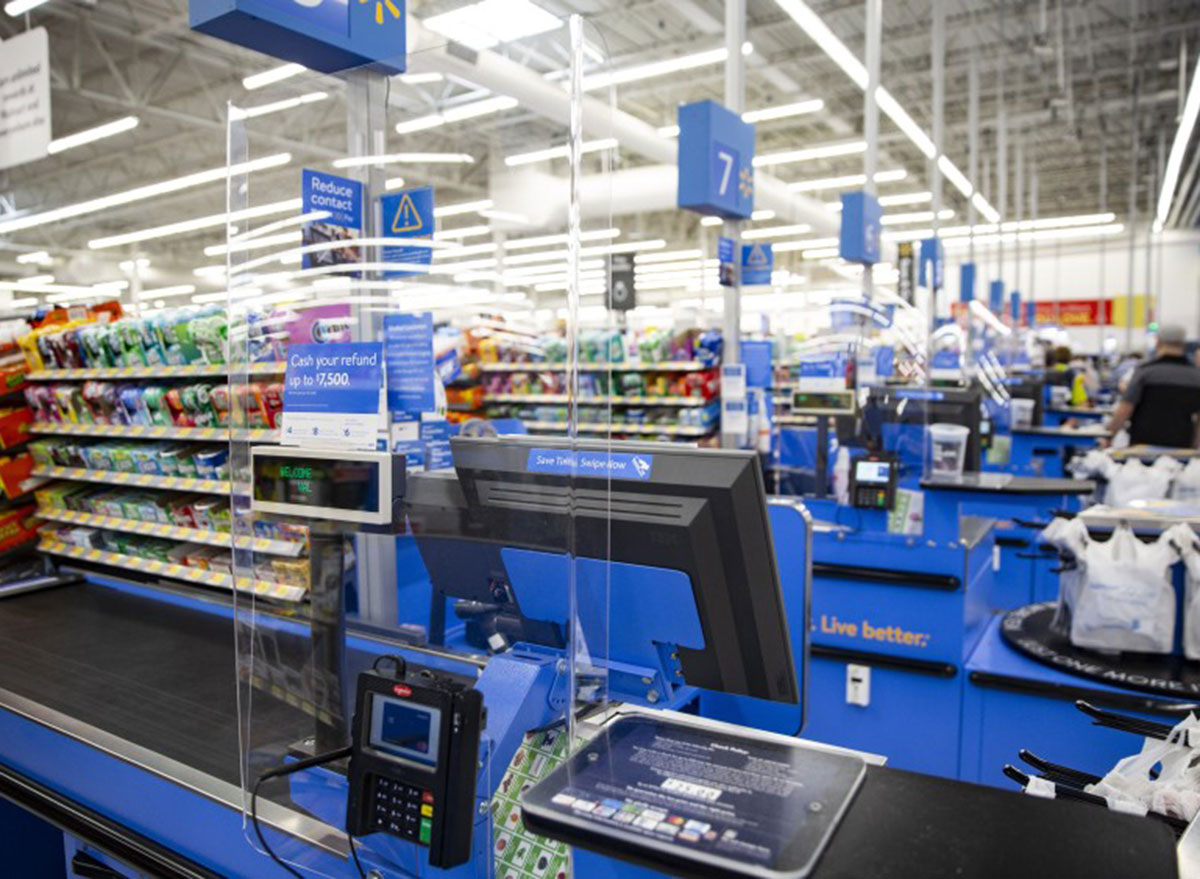 "Sneeze guards" is just a fancy way of saying plexiglass barriers, but in any case, Walmart has added them to their register lanes and pharmacy areas.
Only One Entrance and Exit
Each Walmart store limited the numbers of their entrances and exits to only one, so they can better control crowds and avoid people closely passing each other in opposite directions.
Contactless Payment Methods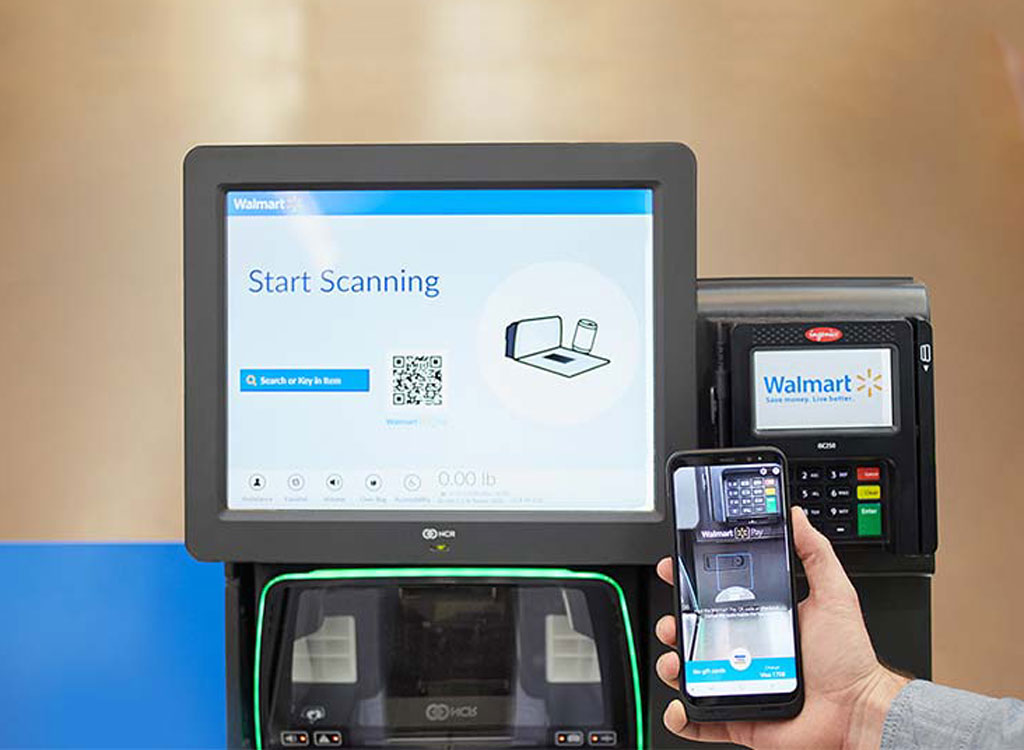 The retail giant has made strides toward contactless paying. You can download the Walmart Pay app on your phone and use it for a touch-free checkout by simply scanning your phone at the register. This innovation may have been prompted by coronavirus and the need to limit human contact, but it is definitely here to stay.
Self-Checkout Stations
In June, Walmart took contactless checkout even further and announced they would consider replacing all register lanes with self-checkout counters. While this isn't a new concept for Walmart, the idea of completely eliminating human cashiers is. The company started with a limited trial run at locations in Fayetteville, Arkansas. If the experiment is deemed successful, this could be a nationwide change at all Walmart stores.
New Subscription Service with Perks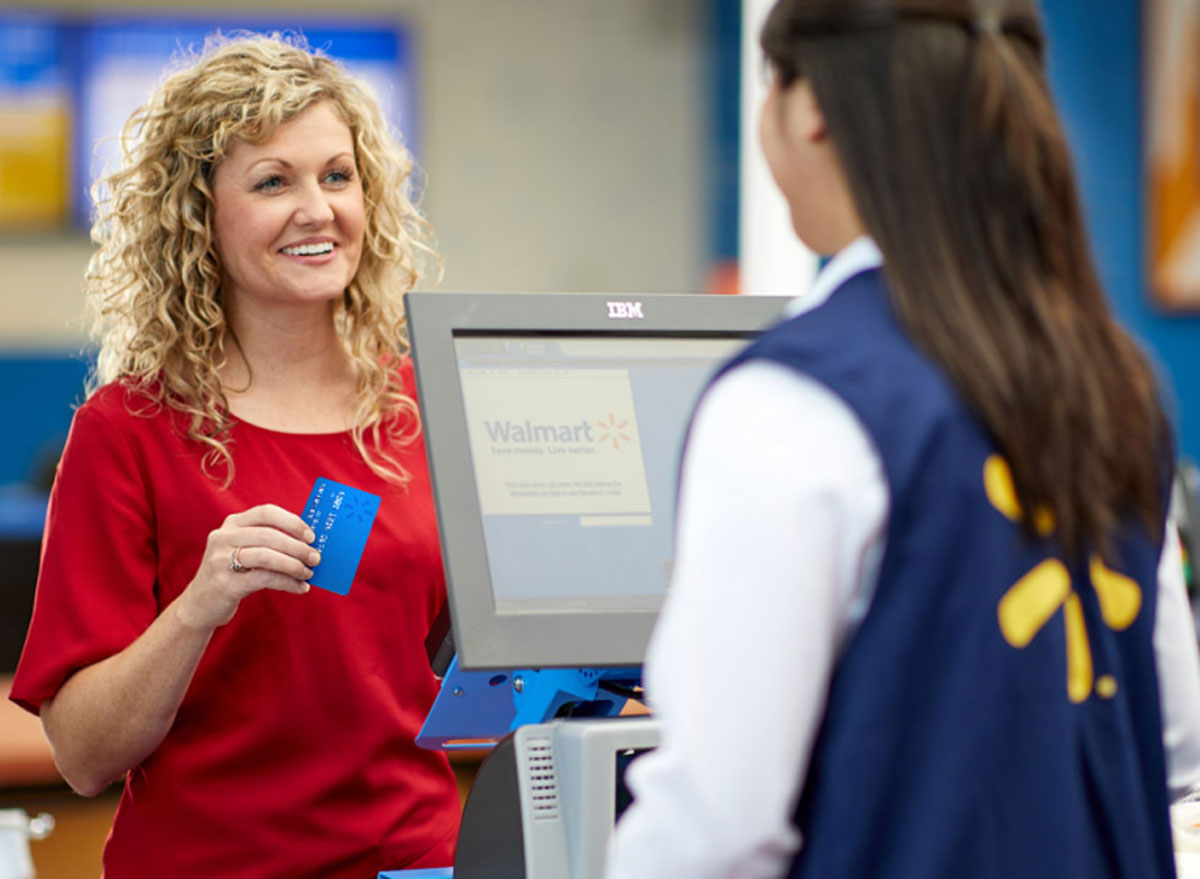 And in a bid to give Amazon a run for their money, reports emerged about the company starting their own subscription service that would rival Amazon Prime. An annual $98 subscription will provide members with a number of perks, including "same-day delivery of groceries and general merchandise, discounts on fuel at Walmart gas stations, and early access to product deals," according to multiple sources reported by Vox's Recode.
Parking Lot Movie Theaters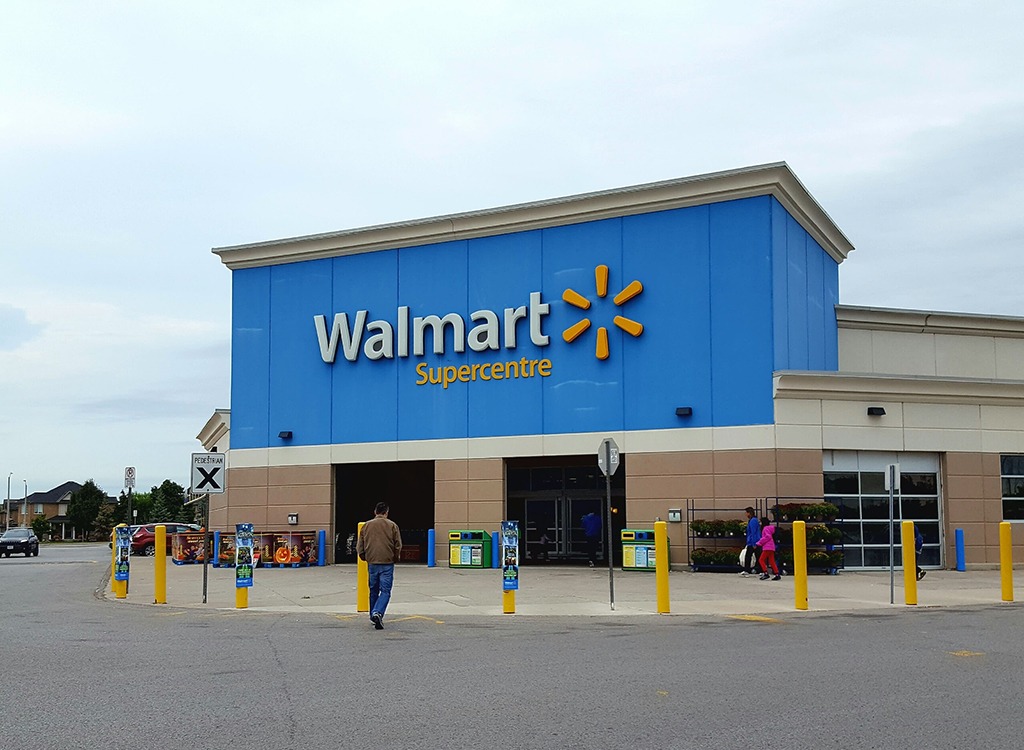 Just a few days ago, Walmart announced some fun plans that include safe and socially distanced family time. The company is turning the parking lots of some of their Supercenters into drive-in movie theaters. The initiative will begin rolling out in early August, while it's still unknown how long it will last.
Mura Dominko
Mura is ETNT's Executive Editor, leading the coverage of America's favorite restaurant chains, grocery stores, and viral food moments.
Read more about Mura