5 Best Steaks to Buy at BJ's Right Now, According to Customers
Club members are raving about these affordably priced, tasty cuts of beef.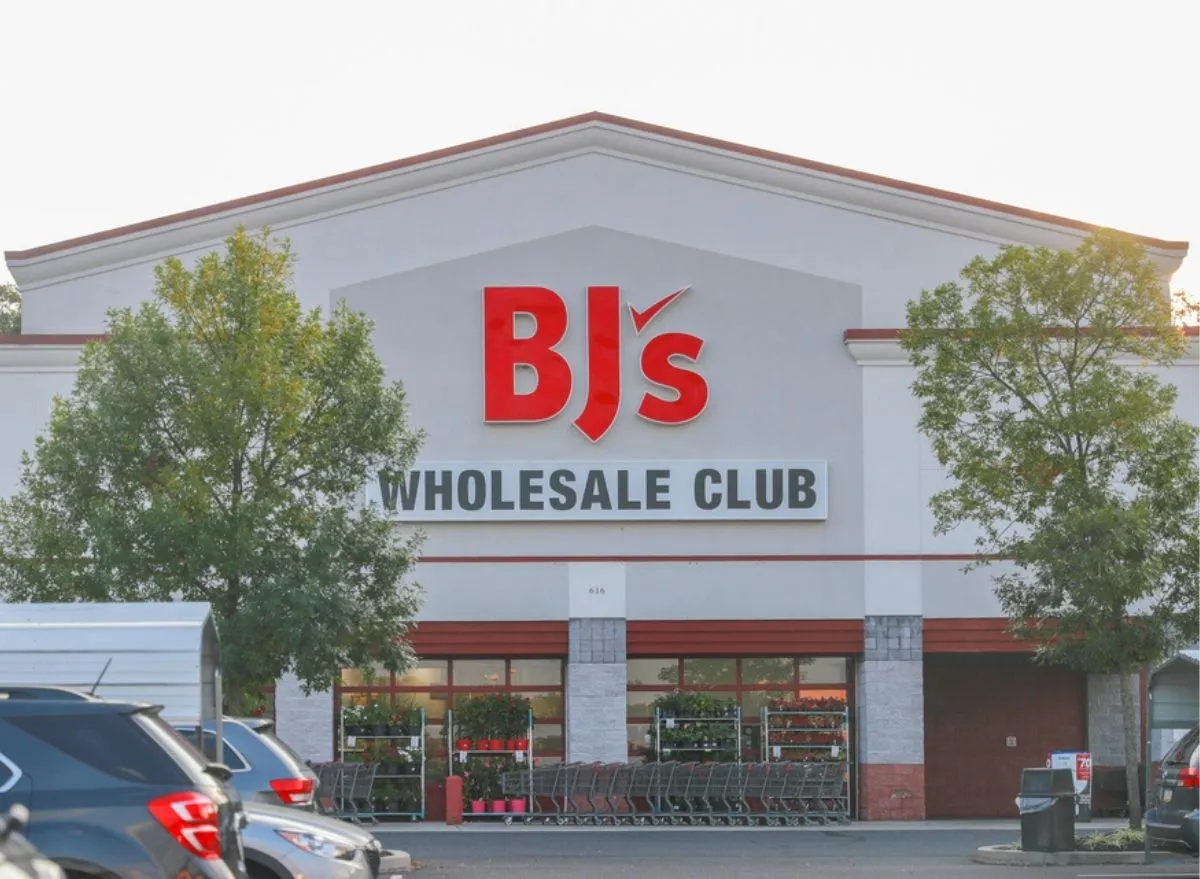 The product recommendations in this post are recommendations by the writer and/or expert(s) interviewed and do not contain affiliate links. Meaning: If you use these links to buy something, we will not earn a commission.
It's grilling season again: a time when every dad in America is either working a grill or hovering over a grill giving unsolicited pointers to a different dad, a time when people eat off paper plates and enjoy the beautiful flavors that only charcoal can provide. 
Aside from the classic hamburger and hot dog combo, one thing that really elevates a cookout is a big, juicy steak. And one of the best places to get high-quality steaks at affordable prices is BJ's Wholesale Club.
With 238 locations across 19 states, the New England-based warehouse chain prides itself on offering big savings compared to traditional supermarkets, and its meat department is no exception.
Here's a mouth-mouthing look at the top-rated steaks that BJ's members are currently raving about online. All prices and cuts shown come from the BJ's location in Millsboro, Del. Prices and cuts may differ at other locations.
Strip Loin Steak
The classic strip is a staple of summertime grilling, and the USDA Choice strip loin steak from BJ's private label Wellsley Farms, priced at just $7.99 per pound, is a customer favorite. "The meat is always tender and flavorful," wrote one online reviewer. "Nothing like a good steak on the grill. We have never gotten a bad piece of meat from BJ's. When ever we want steaks we head to our local BJ's for a great selection and delicious meat." 6254a4d1642c605c54bf1cab17d50f1e
Added another, "These steaks were the best by far that we ever had!! Needed very little seasoning and had very little fat! They were very big and my husband and I were able to split one, so a package of 4 gives us 4 meals, and the price is excellent."
Boneless Beef Ribeye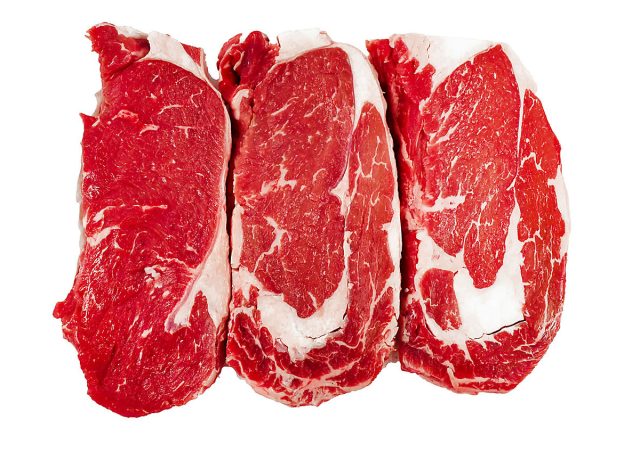 Ribeye at $12.49 per pound is as good as it gets, and BJ's sells these AAA-rated cuts from Canada in packs of three. If you're out for a nice steak dinner, be prepared to spend at least $30 on a ribeye and upwards of $100 if you want the cowboy/tomahawk variety. 
But there's a reason that the ribeye is as expensive as it is. Unless you're in the market for high-end A5 Wagyu, your grocery store won't have a steak in stock with better marbling and fat content, short of a strip. A ribeye thrives on the simple fact that it's an extremely fatty piece of meat that retains the tenderness necessary for traditional grilling. 
"These steaks were the perfect thickness," raved one buyer. "When grilling I was surrounded by good comments and compliments. Don't think it ended at the cooking area! Prepare for table salutes, 'this is so tender!' Wow, 'this steak is the best I've ever had!' Etc, etc.. Thank you for offering such a quality product. We can not thank you enough!"
Chuck Steaks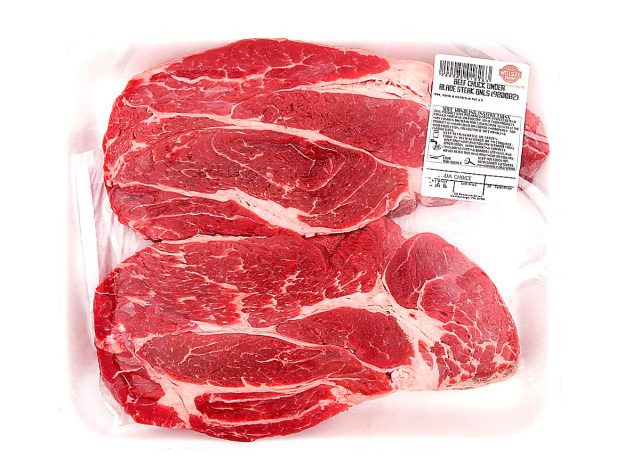 Chuck steaks are becoming more popular because they're incredibly cheap with high fat content. If you're not on a ribeye-level budget, chuck is your next best bet. At only $6.69 per pound at BJ's, chuck steaks will provide you with that high fat content that makes a ribeye so desirable without breaking the bank. It might not be quite as tender as a ribeye, but it'll be just as tasty. 
"Once I found the type steak I like at BJs I have not bought anywhere else," a reviewer wrote. "I don't eat steak often so when I want to enjoy with no disappointment it's the steak at BJ's. No other store can compare or even get close to this."
Short Ribs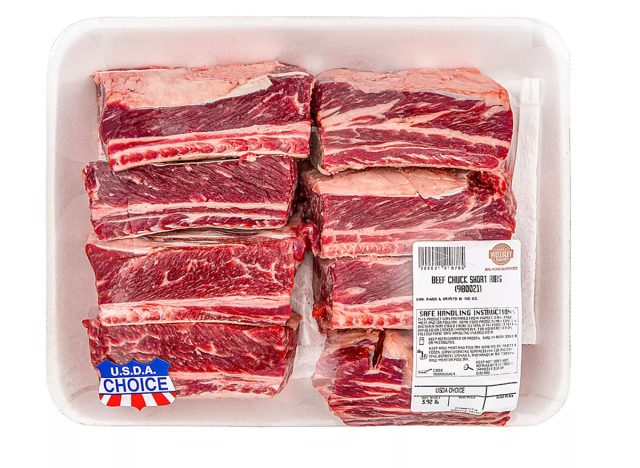 Short ribs in the United States are typically thought of as a hearty, wintertime dish that needs to be slow-cooked for hours. But you don't have to wait until the cold months to enjoy these tender cuts of beef. Instead, try preparing your short ribs the Korean way. Korean short ribs, or Galbi, are broken down in a soy sauce-based marinade, then grilled for a bite with intense char and great fattiness. 
Priced at only $6.99 a pound at BJ's, short ribs make an insanely flavorful meal on the grill for a small amount of money. "Very meaty and tender ribs," one online reviewer wrote. "[D]elicious when cook on a Primo ceramic grill."
Flank Steak
A flank steak marinated to perfection is your best friend on the grill. BJ's sells this pre-trimmed Rumba flank steak from Texas for $12.49 per pound.
"We purchase the flank steak often at a great price from BJ's," noted one verified buyer. "It is always beefy in flavor and works well in sous vide, instant pot or even the grill. We like to marinate it and serve it up fajita style."
Robby Haynos
Robby loves eating as much as he loves writing. After graduating from Bates College, Robby is turning his passion for food writing, found during his time with the college newspaper, into a career. He has written for Celebrity Page TV and runs a blog reviewing restaurants in his home towns of Takoma Park, Md., and Rehoboth Beach, Del.
Read more about Robby