The Best & Worst Menu Items at Boston Market
A registered dietitian gives insight on what's best to order and what's a potential threat to your waistline.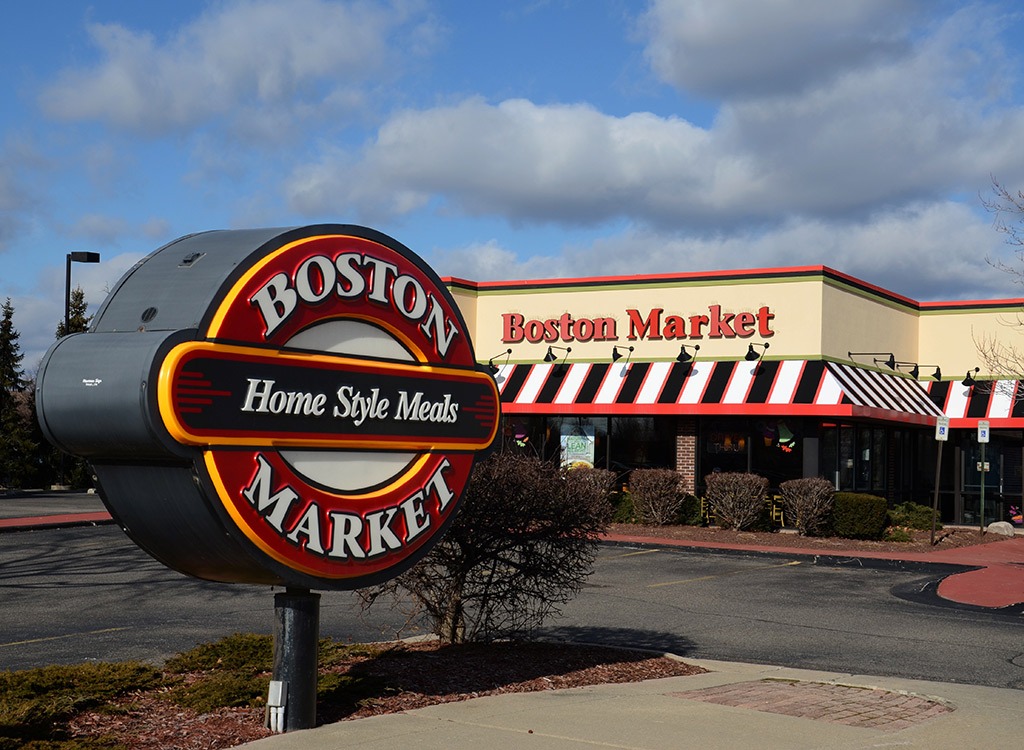 Craving a nice heaping of rotisserie chicken? Then Boston Market has been the answer to your savory cravings since its inception in 1984. (Of course, back then it went by the name Boston Chicken.) Since changing its name to Boston Market in 1995, the eatery-slash-rotisserie has only grown its presence in the Northeast and Midwest, even branching out to states like California, Florida, and Texas. With 450 locations throughout the U.S., it's safe to say that people love the rotisserie foods they can order off the Boston Market menu, whether it's chicken, turkey, or meatloaf.
With so much regional popularity, it begs the question: Just how healthy are the meals, sides, and desserts at Boston Market? Can you eat out at Boston Market and still be "eating healthy?"
We turned to nutrition expert Jacqueline Iannone, MS, RDN, CDN of Rite Bite Nutrition Counseling, PLLC, who helped us determine what are some of the best and worst options on the Boston Market menu.
Rotisserie Chicken
Worst: Southwest Chicken Carver
1,110 calories, (65 g fat, 19 g saturated fat, 0 g trans fat), 2,330 mg sodium, 76 g carbs (7 g fiber, 5 g sugar), 57 g protein
Boston Market may be known for its chicken, but there are much healthier chicken options on the menu than the Southwest Chicken Carver. It sounds healthy, but the name is rather misleading. Though it almost tied with the Chicken Avocado Club, the Southwest Chicken Carver is worse in a few key areas. For starters, it has more sodium than any other chicken menu option: a whopping 2,330 mg of sodium.
"That's more than the maximum 2,000 milligrams recommended amount of sodium consumption for an entire day," Iannone says.
As far as chicken dishes go, the Carver also contains the most amount of saturated fat (other than the Chicken Avo, which has the same amount of saturated fat). The Southwest Chicken Carver features Cholula bacon, Tillamook pepper jack, and chipotle aioli, all of which add to that overall high sodium and fat content.
"Many would think to look directly at 'total fat.' However, from a nutrition standpoint, we actually care less about the total fat grams (this number includes both good and bad fats) and more about the saturated fat grams," Iannone explains. "Saturated fat is considered a less desirable type of fat that everyone should look to reduce due to its links with decreased cardiovascular health such as high cholesterol and atherosclerosis."
Best: Rotisserie Chicken—Quarter White, Skinless
210 calories, (5 total fat, 1.5 saturated fat, 0 g trans fat), 480 mg sodium, 1 g carbs (0 g fiber, 1 g sugar), 40 g protein
You can still have your chicken and eat it, too. Just go for the healthier, skinless option: the quarter white rotisserie chicken that comes in at 210 calories compared to the quarter white chicken with the skin that tacks on an additional 60 calories. The skinless option is a sensible portion size, and overall is a chicken dish offered that is less than half of the calories of the Southwest Chicken Carver.
"You can easily make this into a balanced meal by skipping on the cornbread and instead having a side of their fresh steamed vegetables and garlic dill new potatoes for a meal under 400 calories," Iannone says. "And bonus: only 2 grams of saturated fat and 600 milligrams of sodium!"
Ribs & Meatloaf
Worst: Meatloaf Mac + Cheese Bowl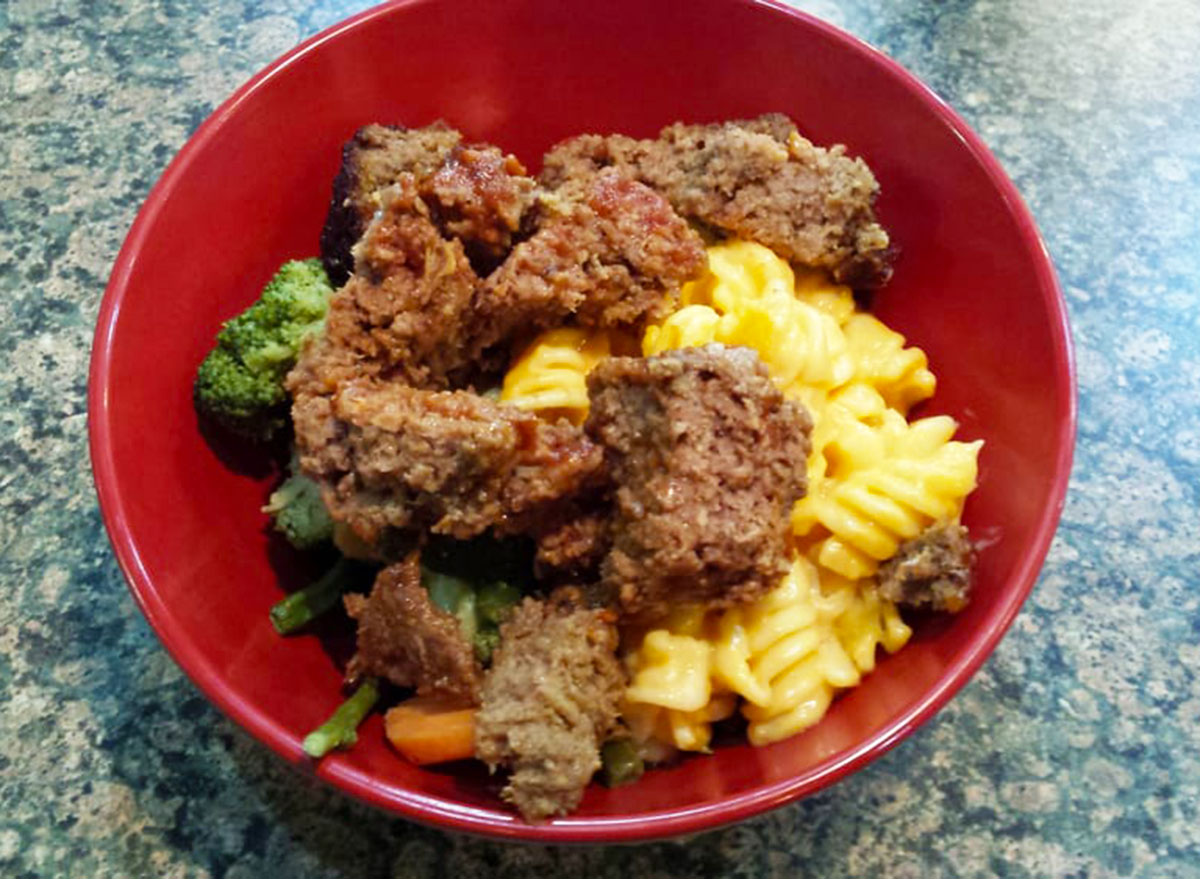 760 calories, (39 g fat, 19 saturated fat, 1.5 g trans fat), 2,280 mg sodium, 62 g carbs (3 g fiber, 15 g sugar), 38 g protein
Don't let that high protein content fool you: the Meatloaf Mac + Cheese Bowl is certainly a menu item to stay away from. In fact, this bowl has over 100 calories more than the Rotisserie Prime Rib. Not what you'd expect, huh? The Meatloaf Mac is also high in saturated fat and basically skyrocketing with sodium.
"This is an interesting one because a lot of individuals think that if an item has a lot of protein then it is automatically a better option," Iannone explains. "In this case, too much of a good thing isn't always a good thing. In reality, the majority of Americans tend to overdo it when it comes to protein. Having a well-rounded diet within all of the food groups is a better mindset to have rather than just honing in on one food group."
It may be delicious, but we recommend you pass on this one, or at least save it for a special occasion if you choose it!
Best: St. Louis Style BBQ Ribs,¼ Rack
430 calories, (32 g fat, 10 g saturated fat, 0g trans fat), 960 mg sodium, 12 g carbs (0 g fiber, 10 g sugar), 21 g protein
If you have to go with the St. Louis Style BBQ Ribs, getting the quarter rack is the way to go. First of all, the quarter has half the amount of calories, total fat, sodium, and carbohydrates that the half-rack does. Sure, you're agreeing to a smaller portion, but the nutritional value is well worth it. We promise a quarter rack of ribs will keep you full, though we do wish ribs had more (or any!) fiber.
"You can make this meal more filling by adding some sweet corn to the side for only an additional 140 calories and a bonus of 5 grams of fiber! Fiber has many health benefits in general, but I always encourage increased fiber because it helps keep us fuller for longer (say hello to less overeating!) and not to mention more fiber means keeping our gastrointestinal health up to par," Iannone says.
Turkey
Worst: Rotisserie Turkey Pot Pie
710 calories, (38 g fat, 18 g saturated fat, 0 g trans fat), 1,670 mg sodium, 64 g carbs (3 g fiber, 10 g sugar), 28 g protein
Generally, turkey has a good rep in the nutrition community. It's seen as a lean protein, meaning it has less saturated fat and more protein per ounce. That makes for a lower caloric payoff. But mix it into a pot pie, and it for sure makes it on the "worst" list.
"Aside from the turkey, their pot pie has other healthful ingredients such as carrots, green beans, peas, and potatoes," Iannone says. "The unfortunate part is that according to their label, these healthy ingredients are last on the list, meaning they're not as abundant as they could be. Plus, any pot pie falls short nutritionally, thanks to pie crust, which is notoriously loaded with saturated fat from butter and empty carbohydrates from white flour."
While it may be a quality source of protein and a somewhat decent source of fiber, it might be in your best interest to skip anything that ends with "pot pie." You know, unless you're indulging on Thanksgiving or something!
Best: Roasted Turkey Carver, Half
480 calories, 250 calories from fat (28 total fat, 8 saturated fat, 0g trans fat), 70 cholesterol, 960mg sodium, 37g carbs (2g fiber, 2g sugar), 23g protein
The half-size of the Roasted Turkey Carver is exactly why we said earlier that turkey has a good rep. Because it can, in fact, be healthy! The half sandwich has almost half the amount of calories as the Turkey Pot Pie and has very little sugar (just 2 grams). You're still getting a healthy dose of protein, and the sodium isn't nearly as high as some of the other menu options. Pair it with a nutritious side—say, a heap of steamed vegetables—and you can feel good about your dinner tonight.
Sides
Worst: Sweet Potato Casserole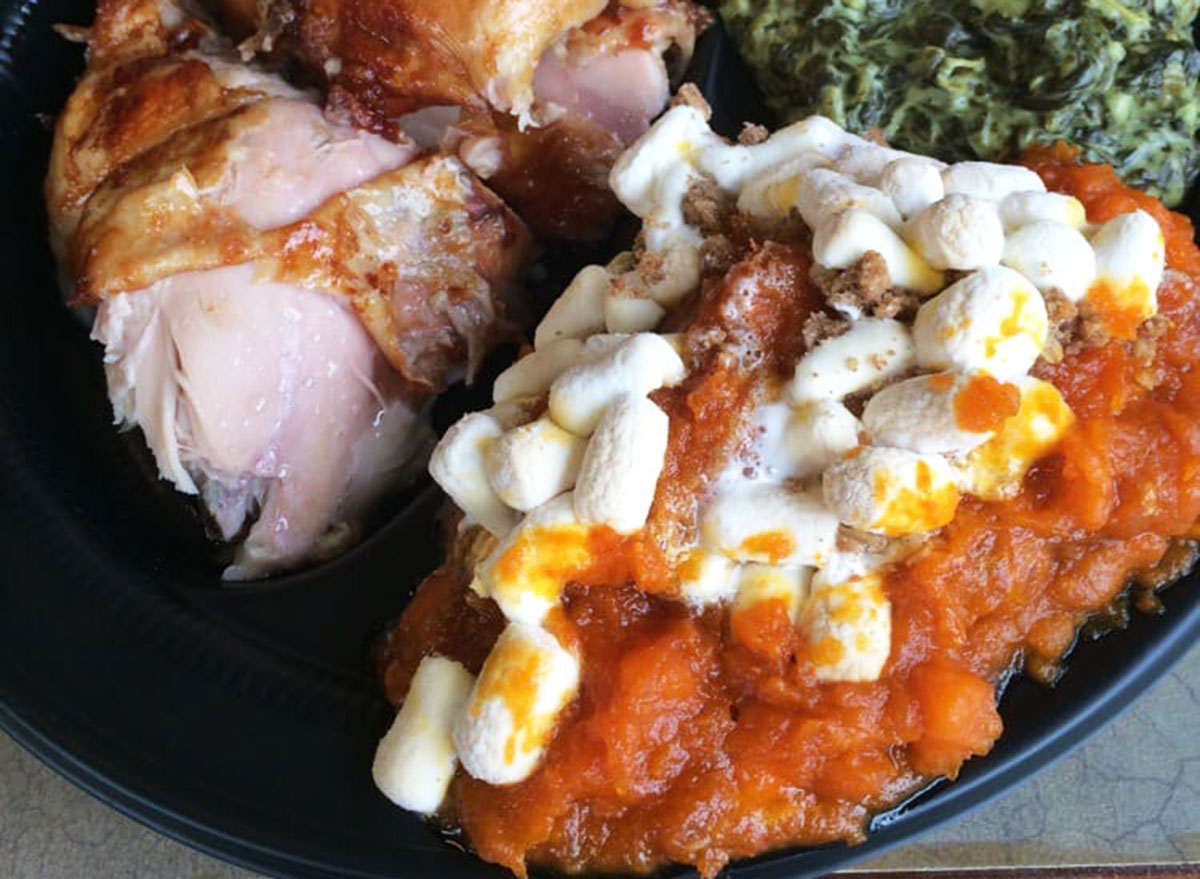 440 calories, (12 g fat, 3 g saturated fat, 0 g trans fat), 210 mg sodium, 83 g carbs (4 g fiber, 53 g sugar), 3 g protein
They call sweet potatoes soul food for a reason, and that reason is sugar! (At least, in this particular case.) Relatively low in protein and relatively high in everything else, the Sweet Potato Casserole contains 53 grams of sugar, making it the food with the highest sugar levels—that isn't a dessert—on the menu.
"Contrary to their name, sweet potatoes really aren't that sweet on their own," Iannone explains. "With only 5 grams of naturally-occurring sugar per sweet potato, it's shocking to note that this is not where 90 percent of the sugar is coming from this dish. Added sugar in the ingredients actually appears 6 different times within the ingredient lists in the forms of sugar, molasses, brown sugar, and corn syrup. Yikes!"
If you order this one, you might want to skip dessert altogether.
Best: Fresh Steamed Vegetables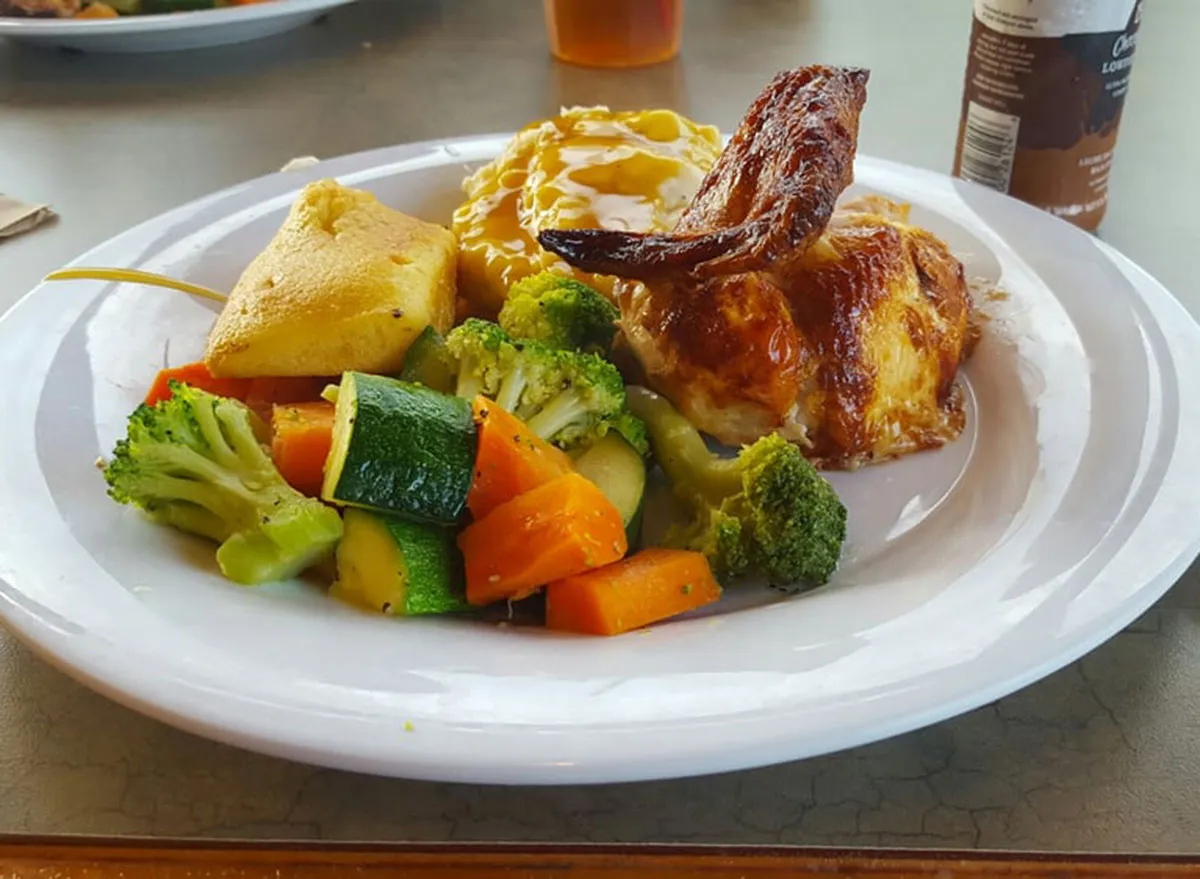 60 calories, (3.5 g fat, 0 g saturated fat, 0 g trans fat), 40 mg sodium, 7 g carbs (3 g fiber, 3 g sugar), 2 g protein
It's pretty much a no-brainer, but the side of fresh steamed vegetables is easily the healthiest option on the menu. Low in calories, fat, cholesterol, carbs, sodium, and sugar, you'll get the most bang for your nutritional buck by ordering a steaming hot side of broccoli, carrots, and zucchini. All the veggies are tossed in is a small amount of olive oil, salt, and pepper, so it's just enough to give it some good flavor, while still maintaining the nutritional value.
Salad Bowls and Soup
Worst: Chicken Caesar Salad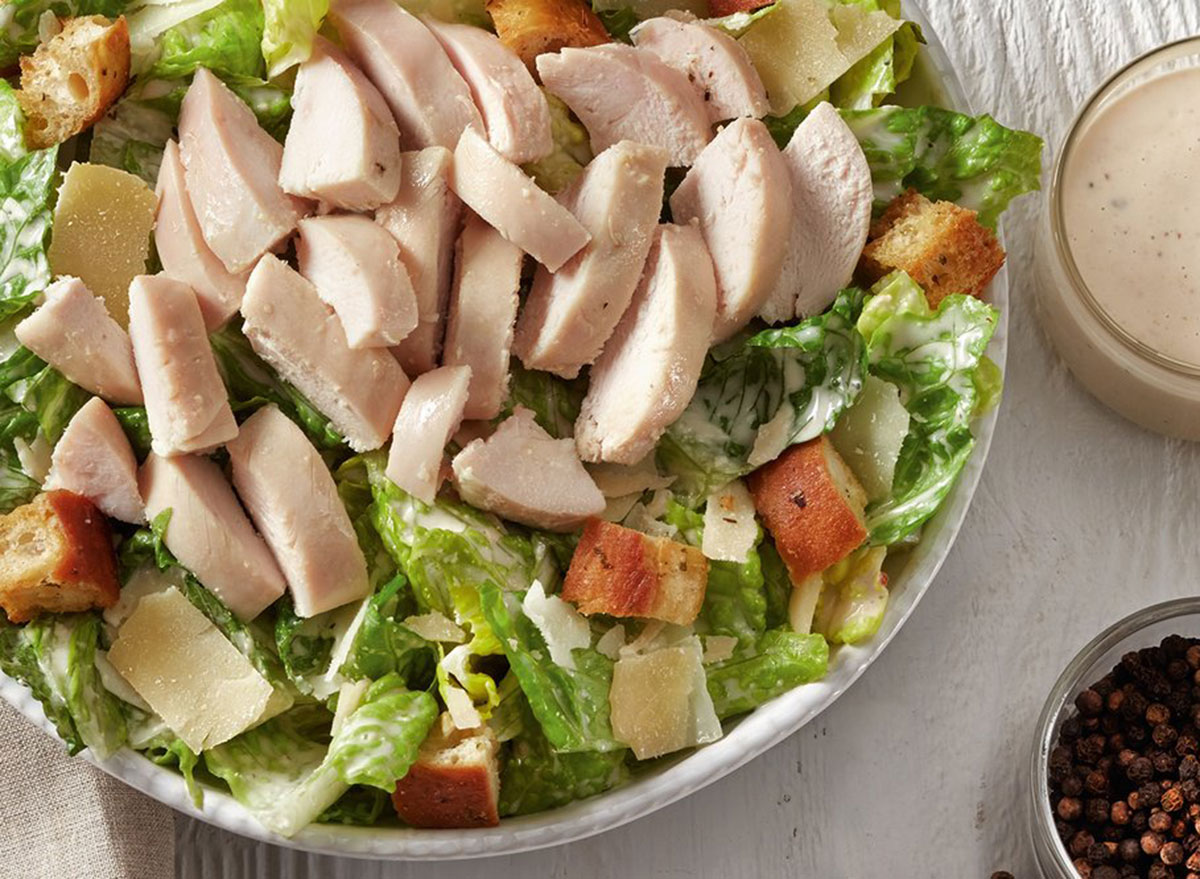 770 calories, (51 g fat, 13 g saturated fat, 0.5 g trans fat), 2,060 mg sodium, 33 g carbs (6 g fiber, 6 g sugar), 49 g protein
Caesar salad is not your friend, we repeat, Caesar salad is not your friend. Despite sometimes getting a healthy reputation—you know, because it's lettuce leaves—the Chicken Caesar Salad at Boston Market really isn't doing your waistline any favors. Why, you ask? Well, you partly have the Caesar dressing to blame (180 calories and 540 milligrams of sodium on its own), as well as the additional croutons and cheese as it's a meal-sized portion. These ingredients really ramp up the carbs, cholesterol, and fat. The good news is that it also ramps up the protein, too, so while this dish made the naughty list, the protein content is certainly its most redeeming quality.
"Although there are some undesirable qualities about this salad, the leafy greens contribute to the 6 grams of fiber, and the chicken makes it still salvageable," Iannone says. "If you were a patient coming to my office, I'd encourage you to half this meal into two and only mix in half of the dressing. By halving the meal and reducing the dressing, you'll get the appropriate amount of protein, carbohydrates, and the fat a meal should have."
Best: House Side Salad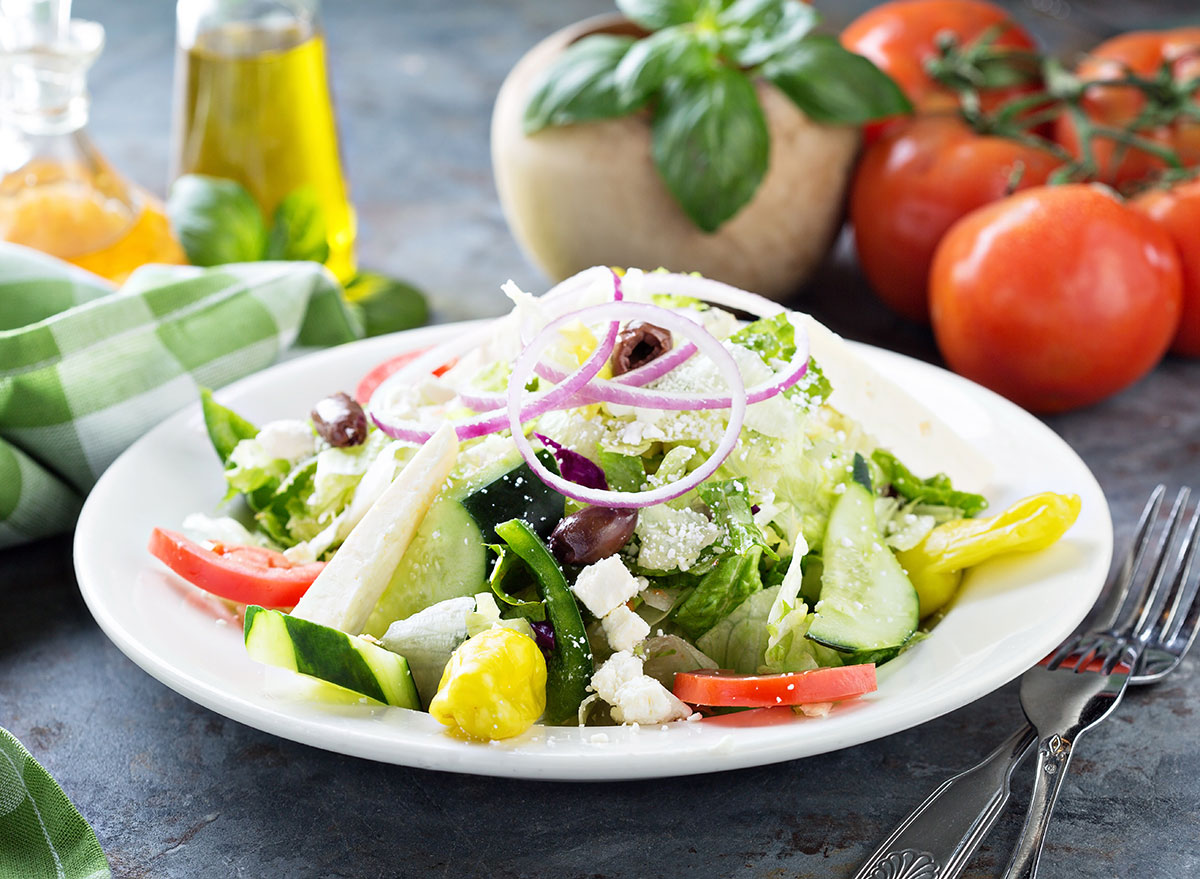 6254a4d1642c605c54bf1cab17d50f1e
200 calories, (16 g fat, 3 g saturated fat, 0 g trans fat), 350 mg sodium, 10 g carbs (2 g fiber, 3 g sugar), 4 g protein
There's probably no surprise here. What it may lack in fiber and protein, the Homestyle House Side Salad makes up for in low caloric content, total fat, and even sodium. In fact, the Chicken Caesar Salad has nearly 20 percent more sodium than the House Side Salad. You have ample veggies and a low caloric house dressing to thank for that!
Desserts
Worst: Carrot Cake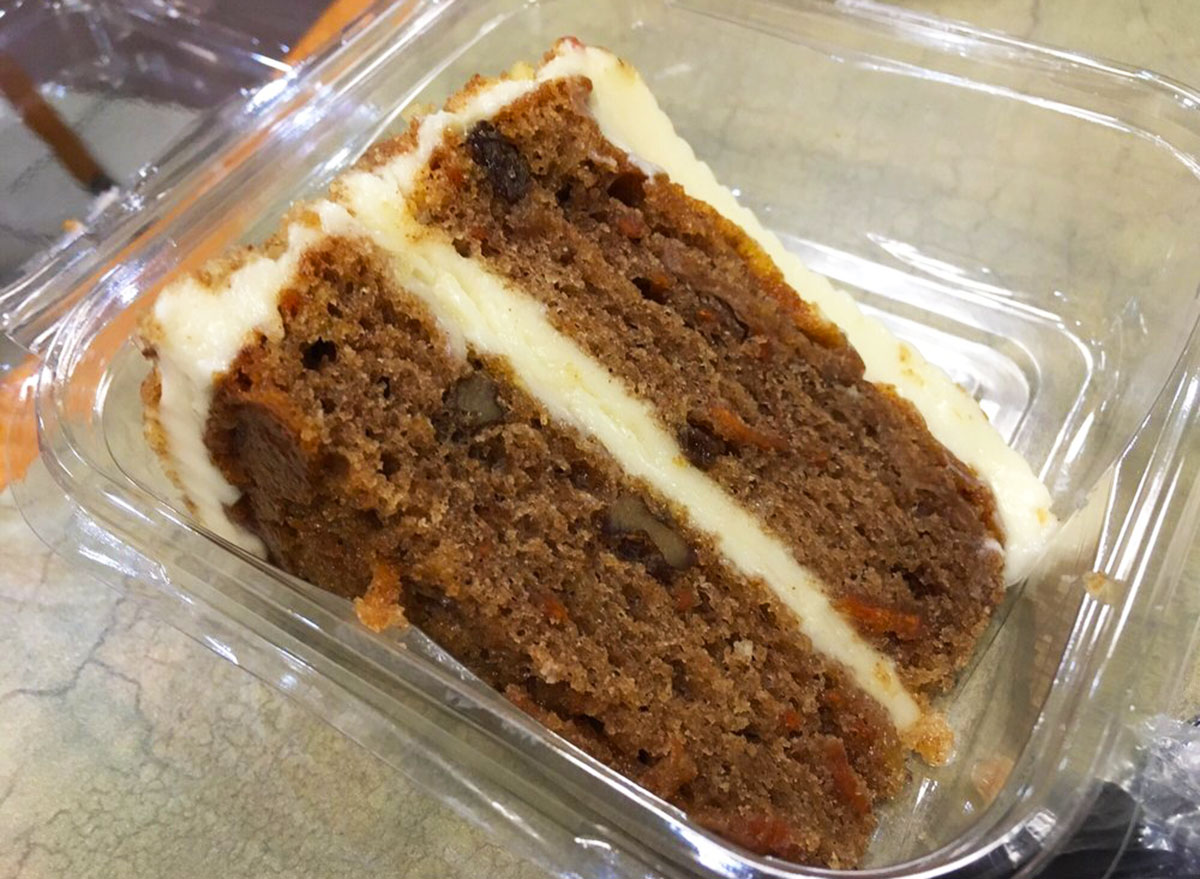 730 calories, (35 g fat, 13 g saturated fat, 0.5 g trans fat), 520 mg sodium, 99 g carbs (1 g fiber, 79 g sugar), 5 g protein
It may have a vegetable in the title, but that doesn't mean that it's on its best behavior. In fact, the Carrot Cake slice quite literally takes the cake as the worst option on the dessert menu. Not only does it have the highest number of calories of any of the dessert options, but it also contains nearly 80 grams of sugar—the highest sugar amount of all the desserts.
Keep in mind if you do decide to indulge, sharing is the best option, but know you'll most likely suffer from a sugar high (and then eventual crash) that comes with it.
Best: Chocolate Brownie, Single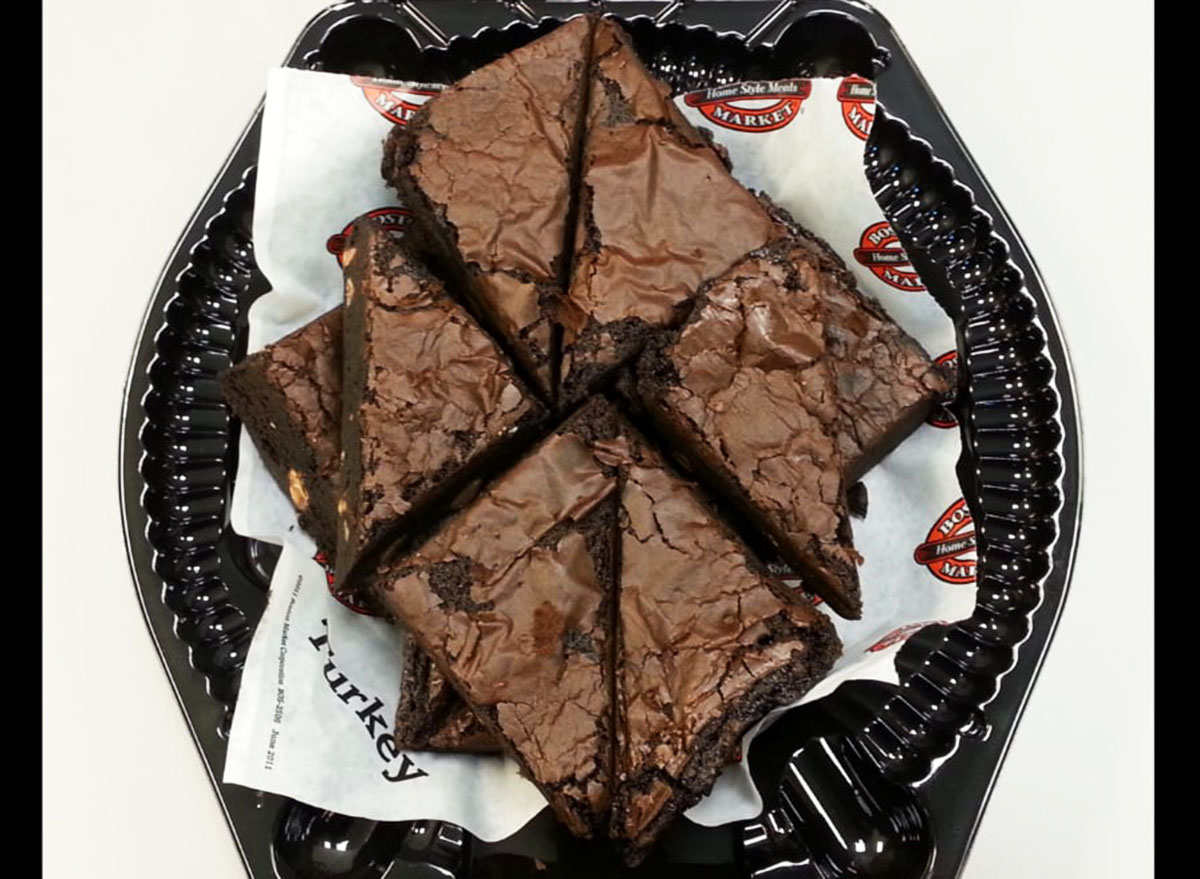 340 calories, (14 g fat, 3.5 g saturated fat, 0 g trans fat), 180 mg sodium, 53 g carbs (3 g fiber, 39 g sugar), 5 g protein
Though the Single Chocolate Brownie and Carrot Cake have 5 grams of protein in common, the chocolate brownie really trumps the Carrot Cake in a few main categories. For one, the brownie has more than half the calories the cake does and way less total fat. With significantly less sodium and carbs, too, the real win here is the 39 grams of sugar. The only dessert item on the menu with less sugar is the Chocolate Chip Cookie. Who would've thought?!
"Restriction is never the answer, so I encourage the 80:20 rule, where 80 percent of the time my patients are striving for healthful food items and 20 percent of the time, they are able to enjoy a portion-controlled soul food," Iannone says. "The 'win' on the desserts here is that they are portion controlled and don't leave us with tempting leftovers throughout the week. It's a 'one and done' type of mindset that works well for anyone trying to improve their diet quality."