Spicy Mashed Sweet Potatoes Recipe
Your tastebuds will thank you for this dish—it's the perfect combination of heat and sweet.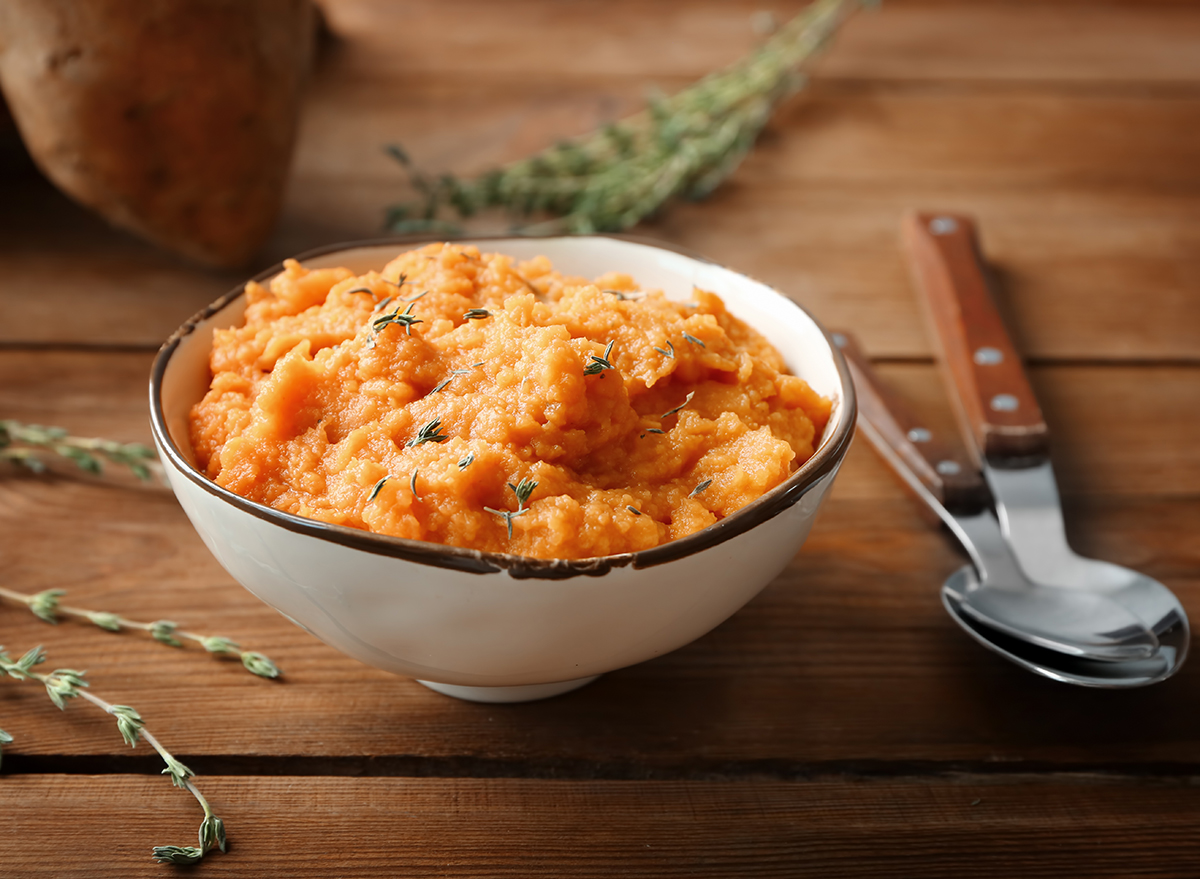 Sometimes potatoes get a bad rap when it comes to calorie counting, don't they? But a potato is not unhealthy in and of itself, but rather the way it is prepared alters the amount of fat it tends to pack on. Think of any local restaurant chain or fast food joint and you'll find that most potato dishes come fried in heavy amounts of unhealthy oils, slathered in melted butter, deep fried, and by the time they reach your plate they often contain more calories than your main course. You would think it'd be harder to tamper with mashed potatoes, but often they are the biggest culprit, filled with funky ingredients that are more often created in a lab than in a kitchen. In this recipe, we employ the sweet potato instead of the regular kind of spud and cut back on the fat, using all real, whole food ingredients to flavor these mashed sweet potatoes.
The sweet potato allows for a great opportunity to use heat and sweet to keep your tastebuds on their toes. The result makes one of our favorite side dishes of all time, and soon to be yours too, we think! Great to serve these as a bed for our grilled pork and peaches recipe, or our turkey meatloaf, or any other grilled or roasted meat. Or better yet, you could bring this to your next holiday meal as a great, spicy spin on a timeless classic favorite.
Nutrition: 130 calories, 6 g fat (4 g saturated), 360 mg sodium6254a4d1642c605c54bf1cab17d50f1e
Serves 4
You'll Need
2 large sweet potatoes, peeled and cut into quarters
Salt and black pepper to taste
1 cup milk
2 Tbsp butter
1 Tbsp minced chipotle pepper
How to Make It
Place the sweet potatoes in a pot and fill with enough cold water to cover.
Add 1 teaspoon salt and bring to a boil.
Cook until the sweet potatoes are tender, but not mushy, about 15 minutes.
Drain and return to the pot.
Heat the milk and butter in a small saucepan.
Slowly stir into the sweet potatoes, using a wooden spoon to vigorously incorporate the liquid (this will help create a smooth puree).
Stir in the chipotle pepper and season with salt and pepper.
This recipe (and hundreds more!) came from one of our Cook This, Not That! books. For more easy cooking ideas, you can also buy the book!