Low-Calorie Bourbon-Glazed Ham With Peach Chutney Recipe
You don't have to wait until the holidays to pop one of these in the oven.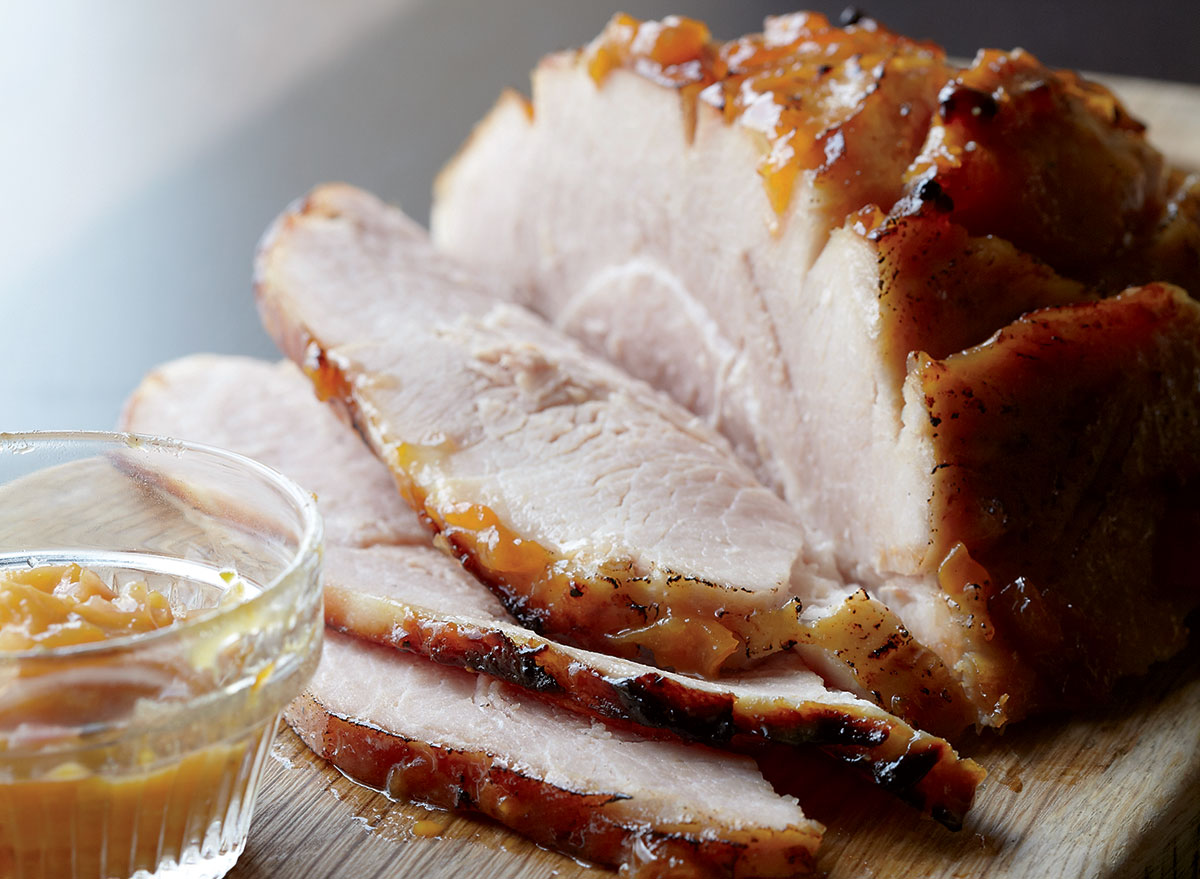 For most people, a baked ham is as rare a tabletop guest as a roast turkey—it's the kind of dish you're likely to see just once a year, around Christmastime. But unless you're brining and smoking your own (why would you, when amazing ready-to-cook hams await you at most supermarkets across the country?), ham's ease and overall awesomeness is tough to top. All you need to do is apply a glaze (in this case, a sweet-spicy mustard-bourbon sauce) and pop it in the oven for 45 minutes. And like that holiday turkey, the best thing about this bourbon glazed ham is what's waiting for you in the fridge the next day.
Nutrition: 350 calories, 11 g fat (5 g saturated), 920 mg sodium
Serves 16
You'll Need
1⁄2 cup apricot or peach marmalade
2 Tbsp bourbon
2 Tbsp Dijon mustard
Black pepper to taste
1 (9-pound) bone-in smoked ham (such as Smithfield)
3 peaches, pitted, peeled, and chopped
1⁄2 small red onion, diced
1 clove garlic, minced
1 jalapeño pepper, minced
1 cup orange juice
1 Tbsp apple cider vinegar
How to Make It
Preheat the oven to 400°F.
Combine the marmalade, bourbon, mustard, and plenty of black pepper in a mixing bowl.
Use a knife to score the skin side of the ham, cutting 1 inch down into the meat to create diamonds.
Spread the glaze all over the ham, rubbing into the cracks created by the scoring.
Place on the middle rack of the oven and bake for 45 minutes, until the glaze caramelizes and browns on the surface of the ham.
While the ham cooks, make the chutney: Combine the peaches, onion, garlic, jalapeño, juice, and vinegar in a saucepan over medium heat.
Bring to a boil, then turn the heat down just enough to maintain a bare simmer.
Cook for about 15 minutes, until the fruit is soft and most of the liquid has evaporated.
Slice the ham and serve with the chutney.
Eat This Tip
Leftover Love:6254a4d1642c605c54bf1cab17d50f1e
Both the meat and the bone, suffused with smoky intensity, contain incredible next-day potential. Here are a few of our favorites.
Scrambled eggs with ham, scallion, and sharp Cheddar
Ham, arugula, and peach marmalade sandwich
Baby spinach salad with ham, dried cranberries, pumpkin seeds, and goat cheese
Split pea soup, the perfect follow-up to this dinner.
This recipe (and hundreds more!) came from one of our Cook This, Not That! books. For more easy cooking ideas, you can also buy the book!