This Is Why We Eat Ham on Easter
From practical considerations, tradition was born.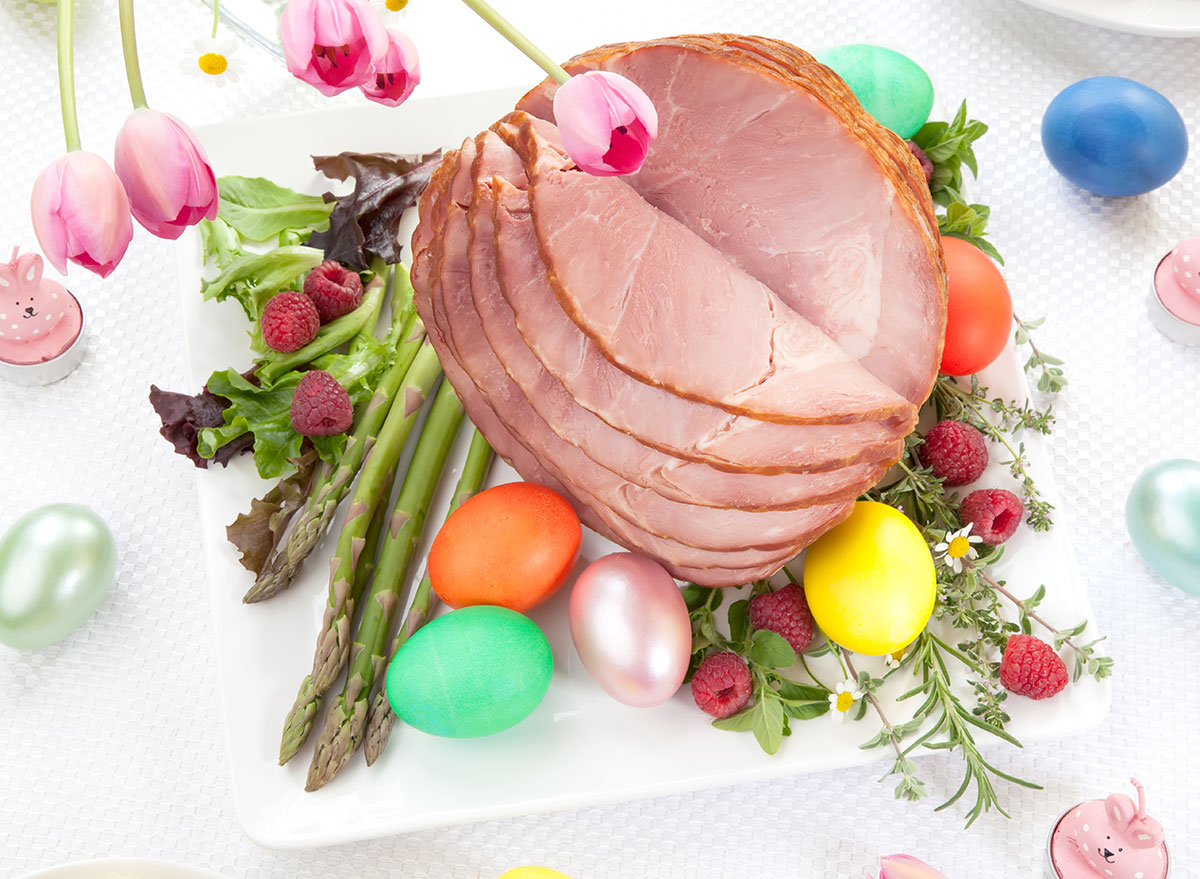 On Easter tables around the world, you're most likely to see lamb—that is, everywhere in the world except the U.S., of course. Easter ham is about as ubiquitous as the Easter Bunny in America. It's just a sliver of the 50 pounds of pork we eat a year per capita. So, how did the U.S. come to change up the traditional Easter meal? Well, it's all a matter of practicality and taste. Read on to find out why most Americans eat ham on Easter, not lamb.
The traditional Easter meal
The significance of lamb dates back to the times before Christianity. It's actually connected to the story of Passover, which is still celebrated by Jewish families today.
"According to the biblical Exodus story, the people of Egypt suffered a series of terrible plagues, including the death of all firstborn sons," explains Stephanie Butler of the History channel. "Jews painted their doorposts with sacrificed lamb's blood so that God would 'pass over' their homes while carrying out the punishment. Accustomed to eating roast lamb on Passover, Jews who converted to Christianity continued the tradition at Easter."6254a4d1642c605c54bf1cab17d50f1e
Out like a lamb
Travel to New Zealand or Eastern Europe, and you'll find that lamb—particularly in spring—is still plentiful, but it has never experienced the level of popularity in America that it sees elsewhere.
Indeed, in 2017 American meat companies produced 25.6 billion pounds of beef compared to 150.2 million pounds of mutton and lamb (the only meat we eat less of is veal, while chicken is at the top of our list).
The average American eats less than a pound of lamb a year, Megan Wortman, executive director of the American Lamb Board, told The New York Times' Kim Severson in 2017.
Lamb tends to be pricey, tricky to cook, and an acquired taste for American palates. Those who did grow up eating lamb at home probably associate it with copious amounts of mint jelly, meant to mask the gamey flavor and leathery texture that comes from overcooking it.
From lamb to ham
But this wasn't always the case. "Lamb used to be more common when wool was in higher demand," explained Severson. In the past 75 years, she noted, the number of sheep in the U.S. has gone from 56 million to just six million.
As synthetic fabrics began to emerge in the 1940s and wool was no longer needed for World World II uniforms, the need for sheep decreased as well.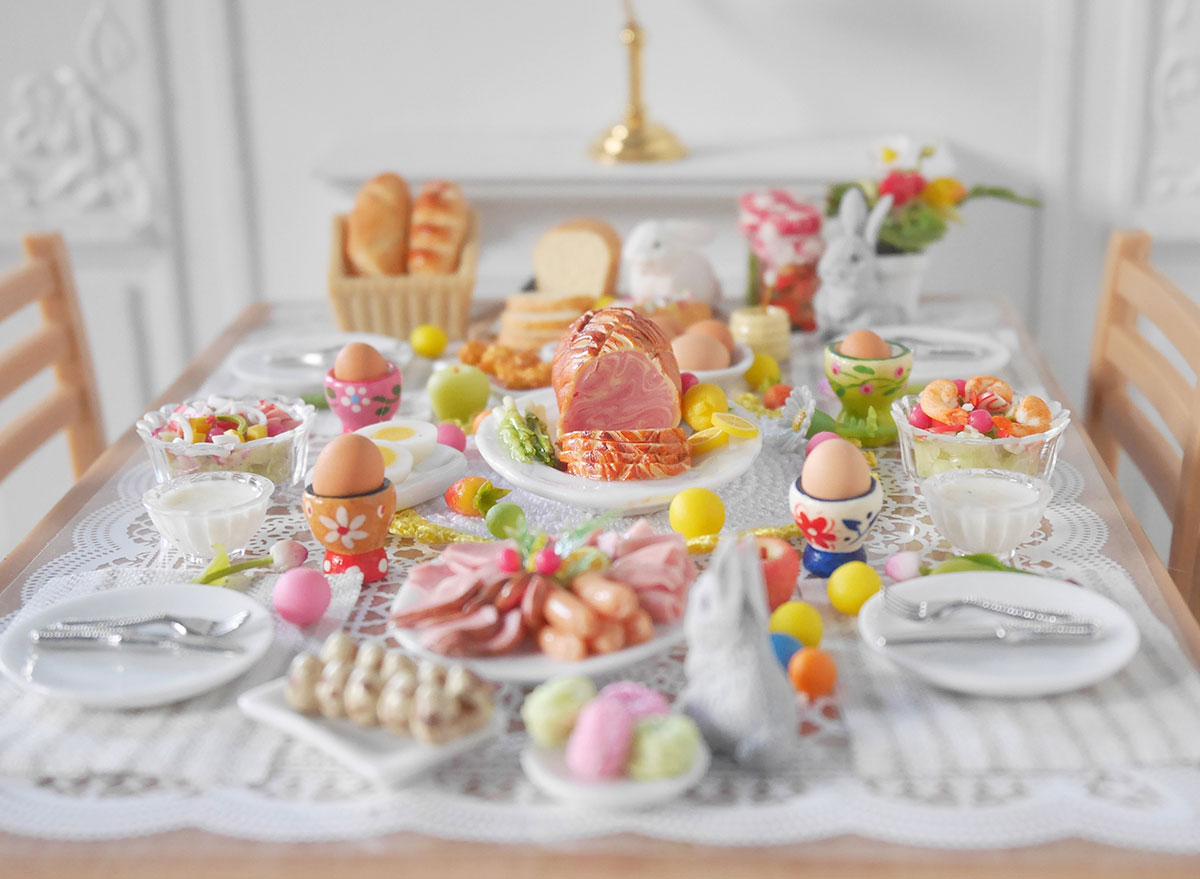 Additionally, military rations of canned mutton (which is meat from a mature, as opposed to a young, sheep) during the war killed America's appetite for lamb a bit, Wortman told The Times. She said that after living off the stuff for years, soldiers had vowed never to eat it again.
In like a pig
With lamb popularity waning, the door was wide open for a new star of the Easter meal. And the timing for ham to step in was perfect.
Traditionally, pigs are slaughtered in the fall when it starts to become cold and the meat could stay fresh in the lower temperatures as it was broken down. Back when there wasn't refrigeration, farmers would set aside the meat they hadn't sold to be cured throughout the winter to preserve it (and their income).
By spring, the cured meat was ready to eat—just in time for Easter! Ever since, it's been a popular choice for the holiday's brunch or dinner meals.
So, from practical considerations, tradition was born.
Investing in the piggy bank
There are plenty of reasons why ham is so popular stateside. Not only is it readily available and affordable, but it comes in an array of options—honey baked, smoked, country, glazed, bone-in, boneless, spiral-sliced…the list goes on.
Hams are also larger than lamb and easily serve a crowd. You can buy it fresh or frozen, prepared or ready to add your own flourishes (brown sugar and pineapple anyone?).
Any way you slice it, ham is a big seller on Easter. According to the National Retail Federation, an estimated 81 percent of Americans celebrate Easter, and of that 87 percent have a dedicated Easter meal—and spend a collective $5.7 billion on the food.
So the big question is: will you be eating ham or lamb this Easter?
Katherine Martinelli
Katherine Martinelli is a recipe developer and award-winning journalist who spends her days dreaming and writing about food.
Read more about Katherine