The 18 Best Finds From Brandless
Grab healthy finds ranging from olive oil to ketchup to quinoa at super-low prices.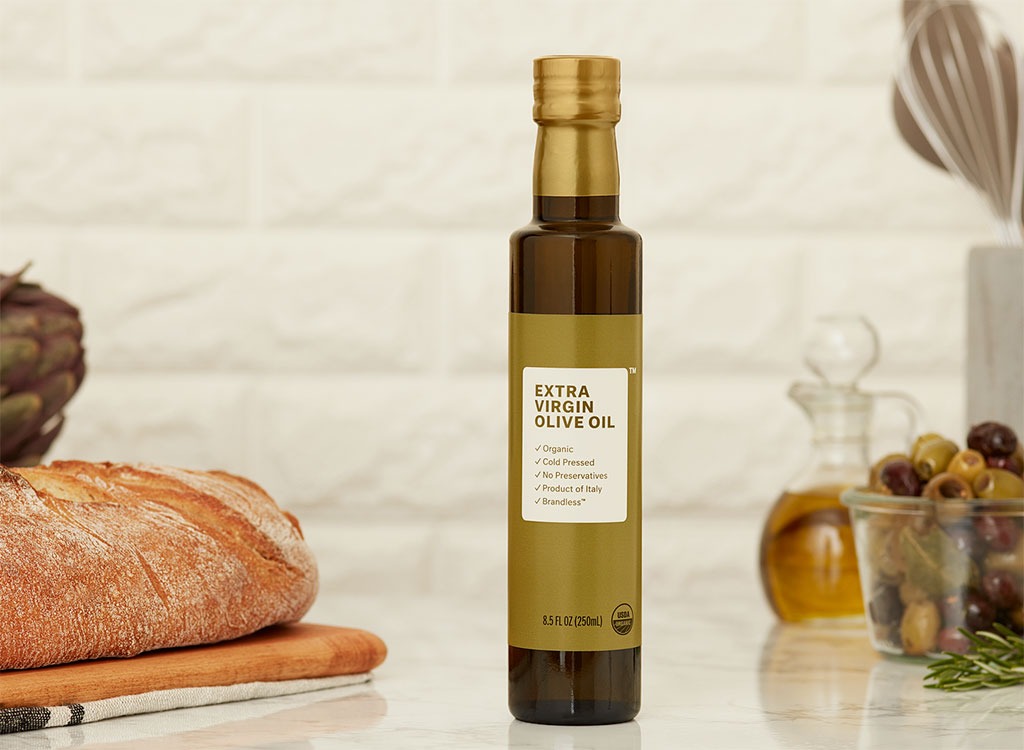 Amazon lovers, healthy food finders, anyone on a budget — we've found your new best friend. Meet Brandless, an online grocery store selling food and other healthy living must-haves for a max price of $3 per item. Seriously.
But don't be fooled. This isn't your basic dollar store. The online market sells basic household items such as plates and mugs, cleaning products, bottle and can openers, and even beauty products such as lotions, face wash, and hand soap. There's also a wide variety of food including coffee, oatmeal, condiments, and gluten-free baking mixes. Even products you'd think would need to be pricier — honey and EVOO (both organic) — still toe the $3 line.
How is this possible? On its recently-launched website, the San Francisco-based company chalks the lower prices up to a BrandTax™ that Brandless consumers escape. That tax, they say, is the hidden costs you pay for a national brand. In other words, by not paying for things like shelf space and the middleman (or retailer), they pass the savings onto you. Brandless also targets core products that the average Joe uses every day. But not in the way that, say, Amazon does. "There aren't 100 pasta sauces to compare, there are three," write founders Tina Sharkey and Ido Leffler in their introductory blog post. That way, you don't have to spend more time trying to pick a pasta sauce than actually cooking it.
And the best part: You can't go wrong with the majority of the choices. All food is GMO-free, more than 50% is organic, and none of it contains artificial preservatives, flavors, or colors. Every product they make is certified by the Global Food Safety and Good Manufacturing Practices organizations. Meaning, they are held to the highest expectations for safety, quality, and social ethics. Need another reason to start shopping? For every order made, the company promises to donate a meal to a person in need through its collaboration with Feeding America. If you're eager to give Brandless a try, we found the company's best offerings!
Organic Virgin Coconut Oil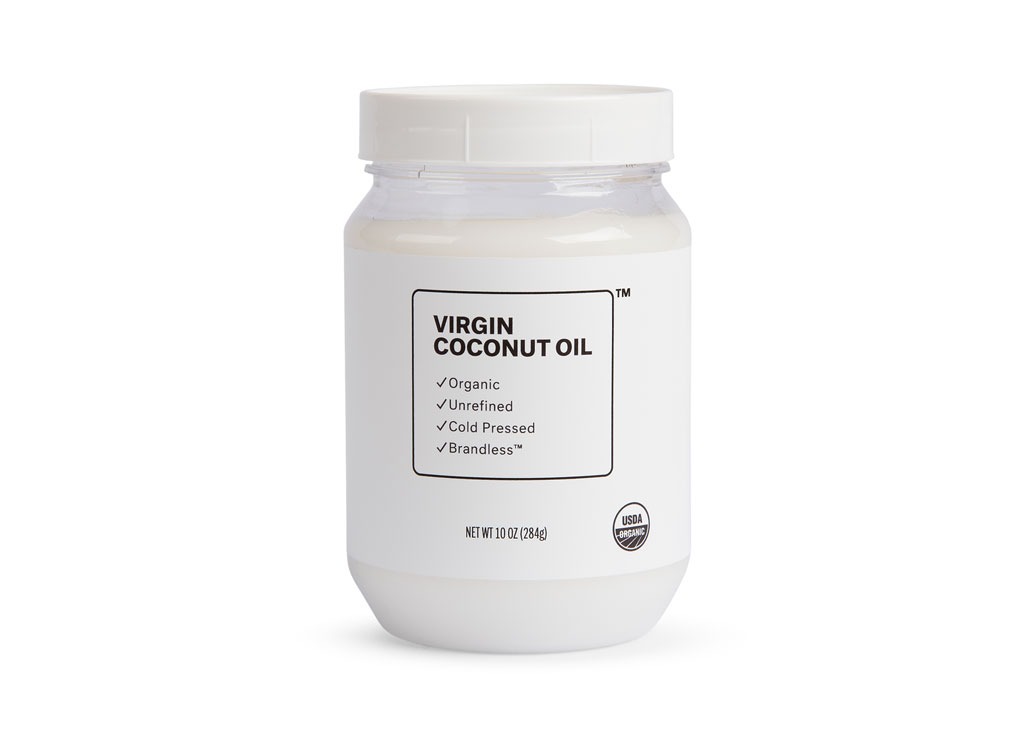 Per 1 Tbsp: 132 calories, 15 g fat (12.5 g saturated fat), 0 mg sodium, 0 g carbs (0 g fiber, 0 g sugar), 0 g protein
Although coconut oil is still a controversial cooking oil thanks to the many saturated fats, there are still several health benefits when you eat this tropical oil. Whether you're looking to add it to your stir fry or beauty routine, it's a pantry essential. And Amazon sells this oil, in the same size, for three times the price!
Organic Extra Virgin Olive Oil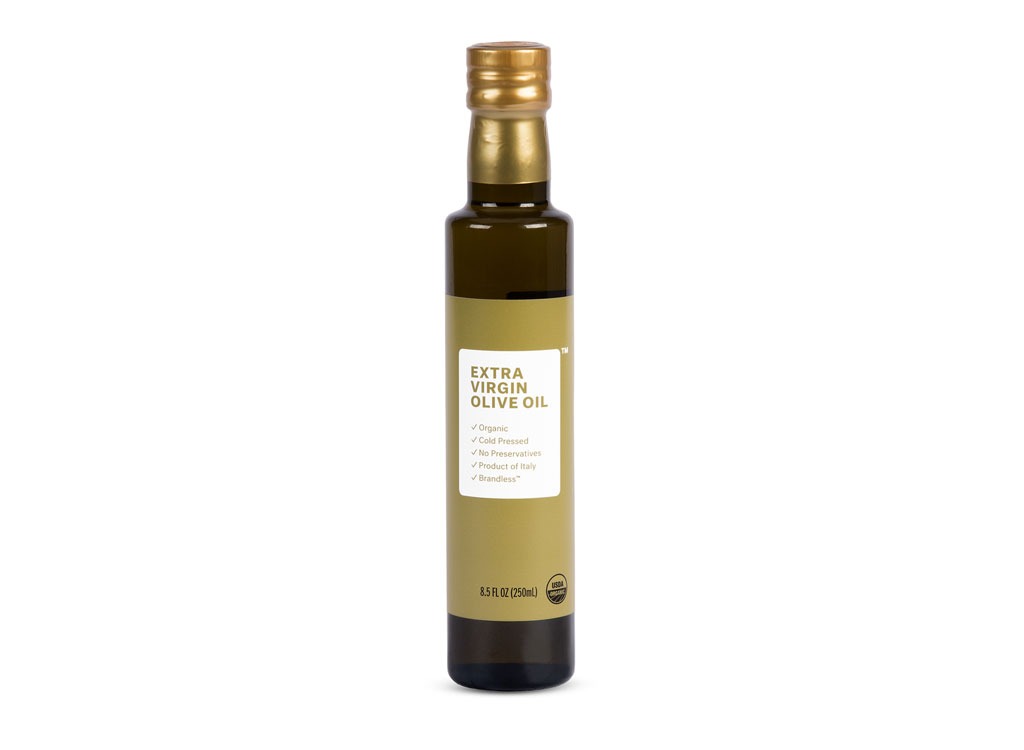 Per 1 Tbsp: 120 calories, 14 g fat (2 g saturated fat), 0 mg sodium, 0 g carbs ( 0 g fiber, 1 g sugar), 0 g protein
More than just the staple of the Mediterranean diet, this popular oil is chock-full of heart-healthy monounsaturated fats. In fact, the American Heart Association recommends using EVOO as a "heart-healthy substitute for butter." Compared to regular olive oil, extra virgin boosts its count of antioxidants when it's processed through cold pressing. Organic EVOO can be extremely pricey — a similar sized bottle (non-organic) is $4.99 on Peapod.com — so we're thrilled to find this deal.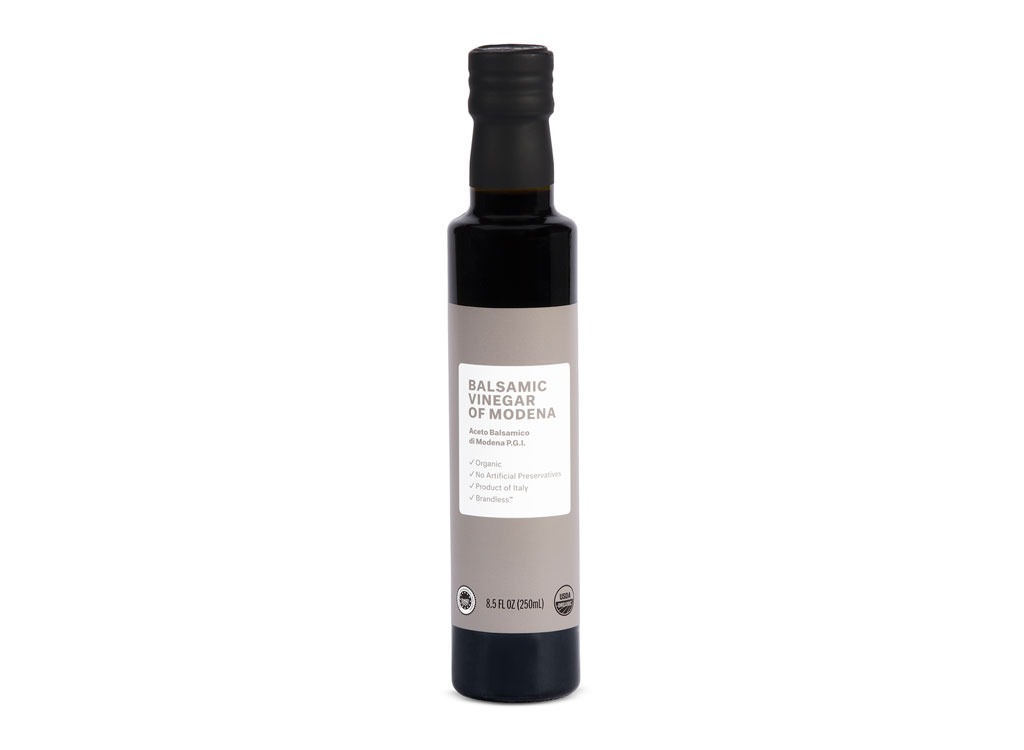 Per 1 Tbsp: 15 calories, 0 g fat ( 0 g saturated fat), 0 mg sodium, 2 g carbs (0 g fiber, 2 g sugar), 0 g protein
When watching your waistline, salad dressing is a leading trap. Without even knowing it, you can be adding 200 or more calories to your salad, which was supposed to be your healthy low-cal meal. Try balsamic vinegar instead. If it's too tart solo, add a little extra virgin olive oil to tone it down. Quality varies widely in balsamic vinegars. You may find other bottles at a similar price, but they won't likely be from Italy or organic like the Brandless version is.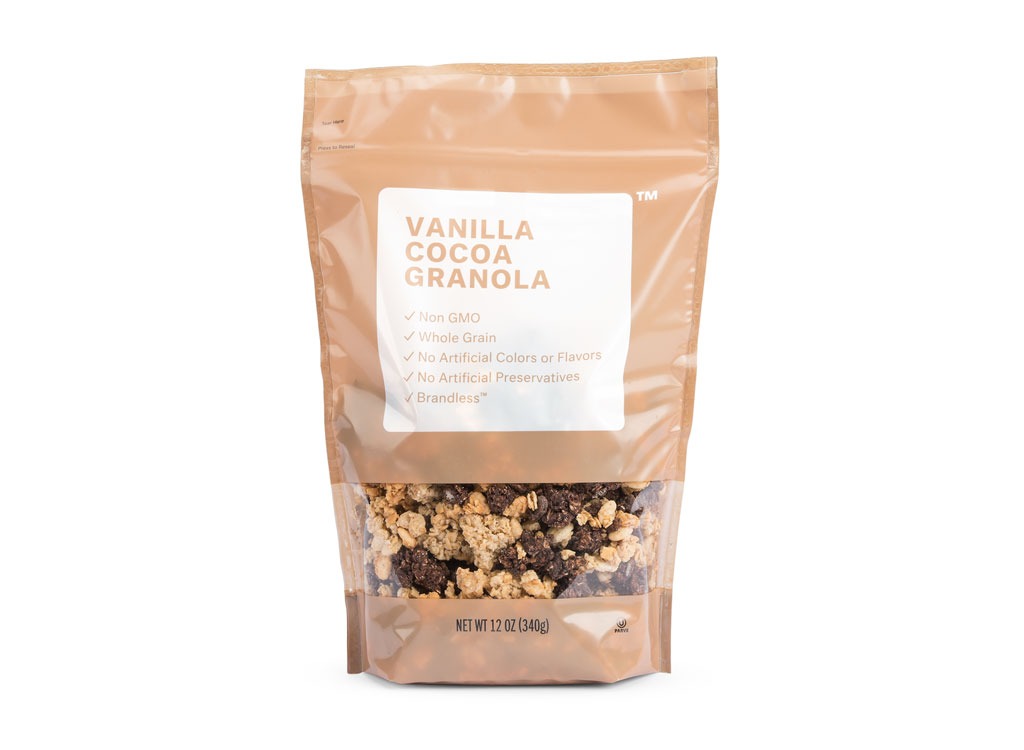 Per ⅔ cup: 240 calories, 7 g fat (1 g saturated), 65 mg sodium, 40 g carbs (4 g fiber, 13 g sugar), 5 g protein
We love this granola because it's certified organic, made from whole grains, and has no artificial colors or flavors. Although it contains 13 grams of sugar for ⅔ of a cup, we recommend just using ⅓ a cup when adding to Greek yogurt, which brings the sugar down to 6 ½ grams. With a nice 4 grams of belly-filling fiber, this is a great start to your day.
Organic Peanut Butter Powder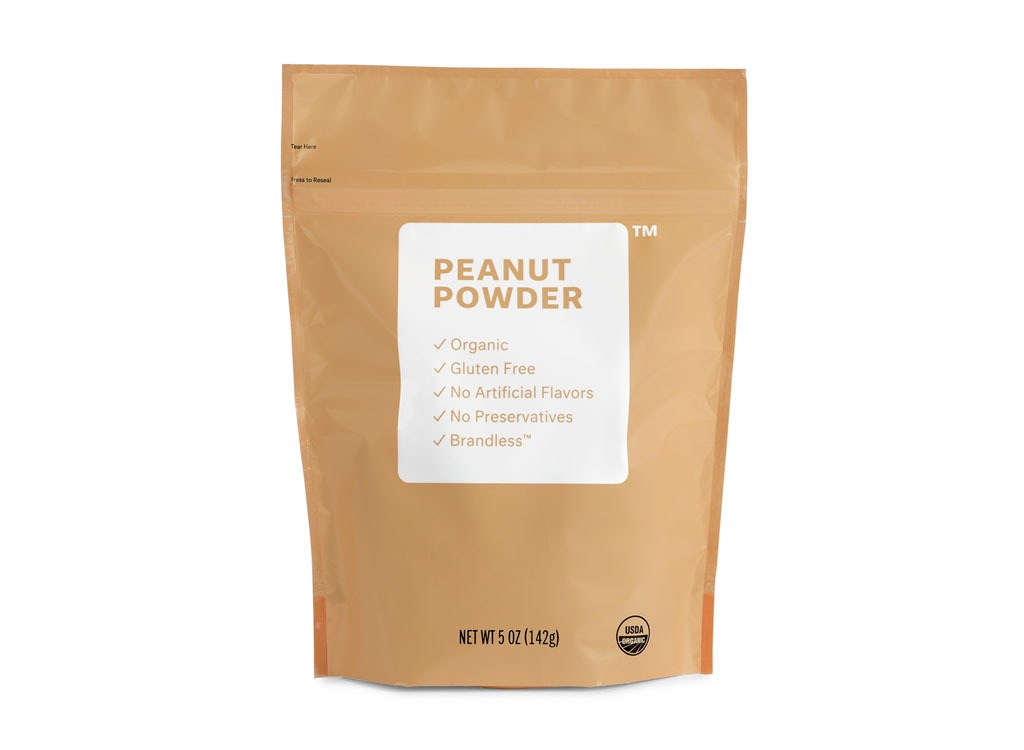 Per 2 Tbsp: 50 calories, 1.5 g fat (0 g saturated fat), 0 mg sodium, 5 mg carbs (2 g fiber, 2 g sugar), 5 g protein
In a nutshell, powdered peanut butter is another healthy option for people who love peanut butter but are looking to cut down on fat and calories. The powder is made up by removing oil from peanuts and dehydrating the leftovers. It's 85% lower in fat than your typical go-to spread, and only holds 2 grams of sugar, 1.5 gram of fat, and 5 grams of protein all in just 50 calories.
Organic Creamy Peanut Butter
6254a4d1642c605c54bf1cab17d50f1e
Per 2 Tbsp: 190 calories, 16 fat (2.5 g saturated fat), 115 mg sodium, 7 g cars (3 g fiber, 2 g sugar), 8 g protein
We love peanut butter for its protein, healthy fat, and of course its deliciousness. But not all peanut butter is created equal; many brands have added sugar or inflammatory hydrogenated oils. Not Brandless. They use just two ingredients: organic peanuts and sea salt. Plus at $0.25 an ounce, this is 30% less expensive than buying Justin's ($0.36 an ounce) on Amazon.
*Per bag: 0 calories, 0 g fat ( 0 g saturated fat), 0 g sodium, 0 g carbs (0 g fiber, 0 g sugar), 0 g protein
When it comes to using the best drink for weight loss, green tea is it. This drink contains a ton of antioxidants, enhances energy levels, keeps you hydrated, and boosts your metabolism. Green tea is also rich in EGCG, which has been shown to reduce body fat and enhance your ability to burn calories. Organic boxes of green tea can really add up, so we were thrilled to see the brandless version for just $3. Time to stock up on a few boxes!
Watch out, Starbucks. Making your own cold brew is easy with this Brandless option. Although the nutrition information isn't available, most brewed coffee and cold brew is usually around five calories or less when enjoyed black. By making this Brandless cold brew at home, you'll save money, time, and you'll be more aware of what you put in it — a surefire way to cut back on unnecessary calories and ingredients!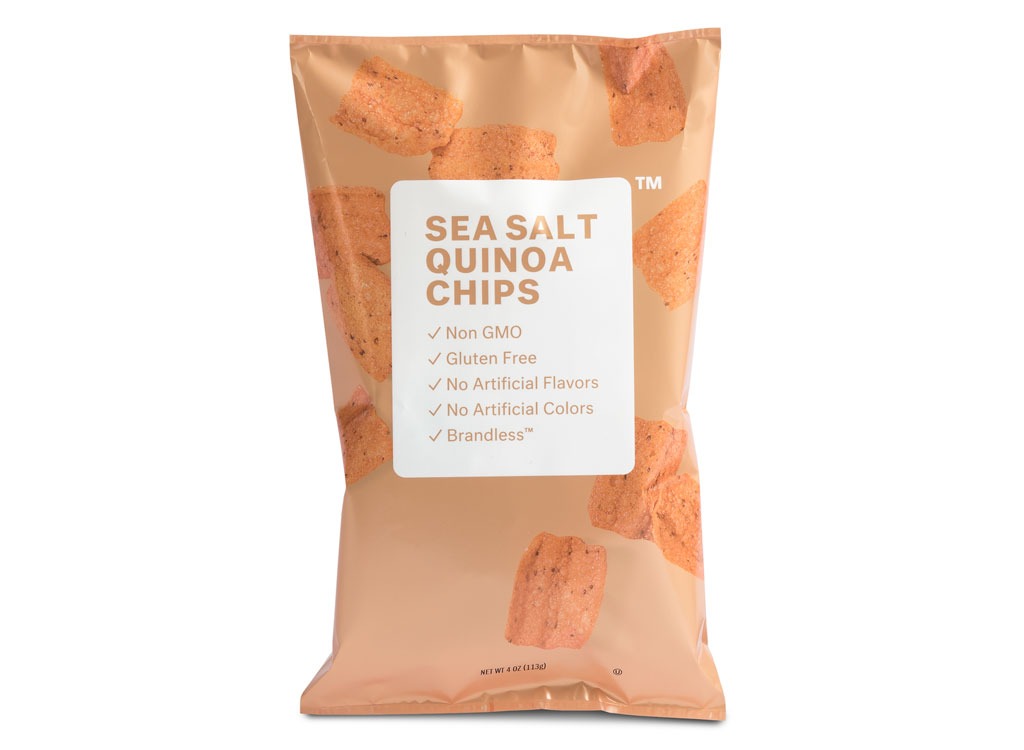 Per 1 oz: 140 calories, 7 g fat (0.5 g saturated fat), 230 mg sodium, 17 g carbs (1 g fiber, 1 g sugar), 2 g protein
Many times chips like these are some of the worst healthy snacks for weight loss. But Brandless kept the sodium count on its offering relatively low, making it an acceptable splurge for when you really need a crunch.
Organic AppleSauce Squeezers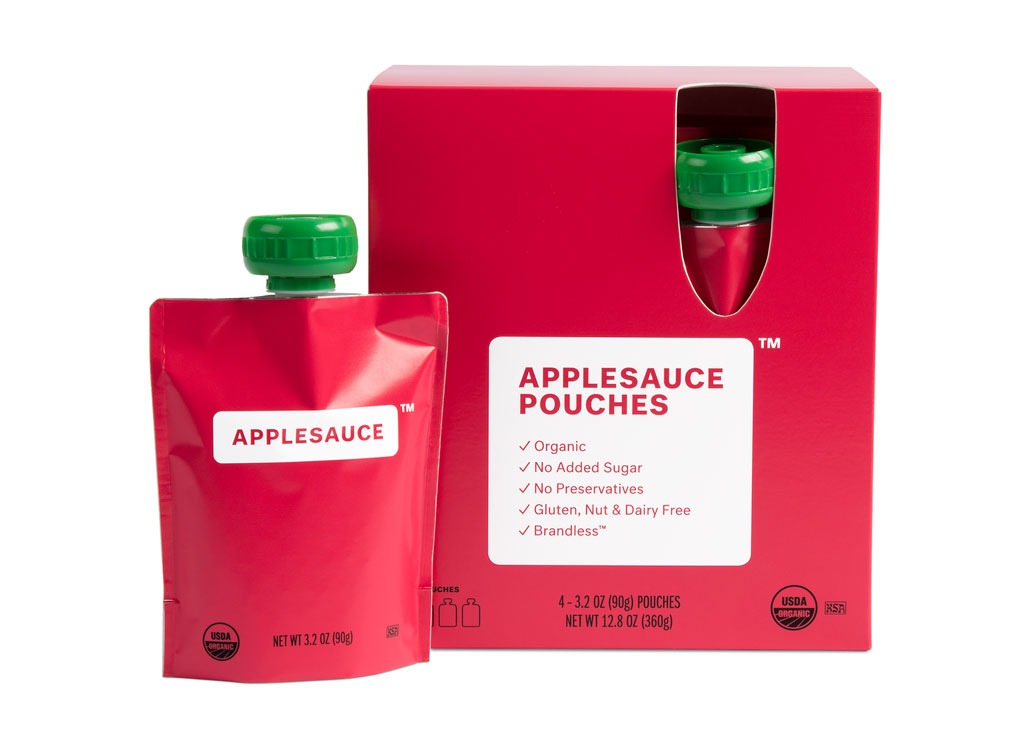 Per Pouch: 60 calories, 0 g fat (0 g saturated fat), 15 mg sodium, 14 g carbs (2 g fiber, 10 g sugar), 0 g protein
Apples are an undeniable superfood, loaded with fiber and vitamins. But more often than not the products made with them don't offer the same benefits. Unlike competitors you may find on supermarket shelves, this blend has a single ingredient: apples. No added sugars or preservatives. It's also gluten-free, nut-free and dairy free — a perfect snack ready wherever, whenever thanks to its portable design.
Organic Popcorn with Olive Oil & Sea Salt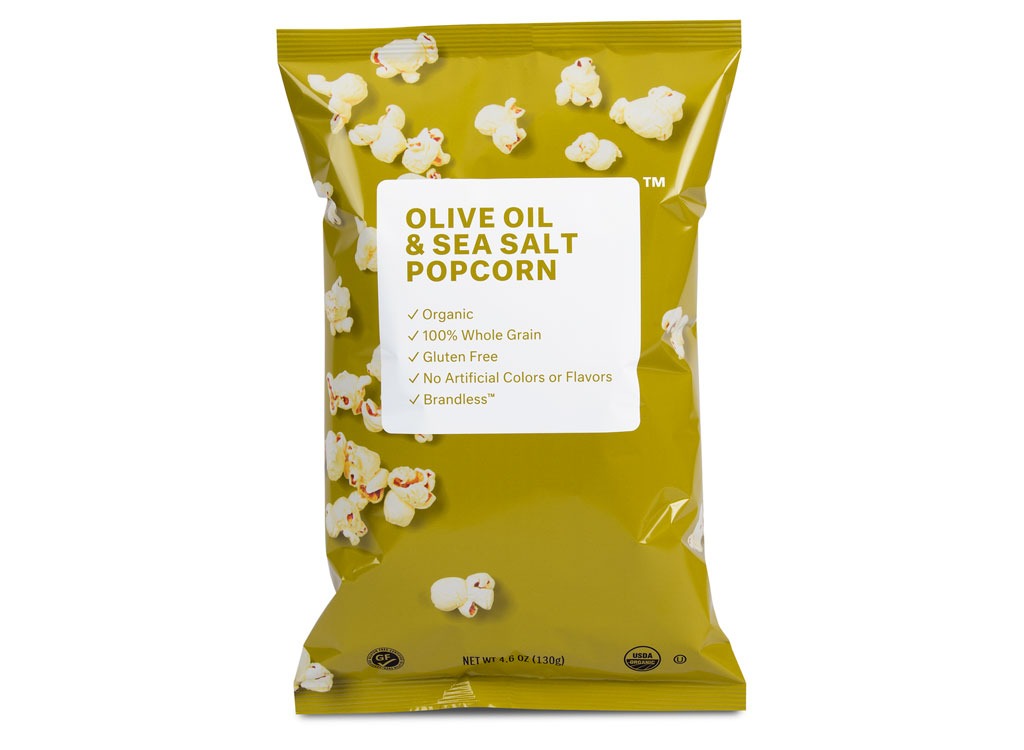 Per 1 oz: 120 calories, 3.5 g fat (0 g saturated fat), 170 mg sodium, 20 g carbs (4 g fiber, 0 g sugar), 3 g protein
One of our favorite recommendations for a mindless-munch is air-popped popcorn. If you can't do that, we love popcorns like this because you can eat a ton without breaking the calorie bank. Quality bagged popcorn offers a load of filling fiber and little-to-no fat compared to chips or even movie style popcorn. And you gotta love the simplicity of the recipe: Organic Popcorn, Organic Extra Virgin Olive Oil, Sea Salt.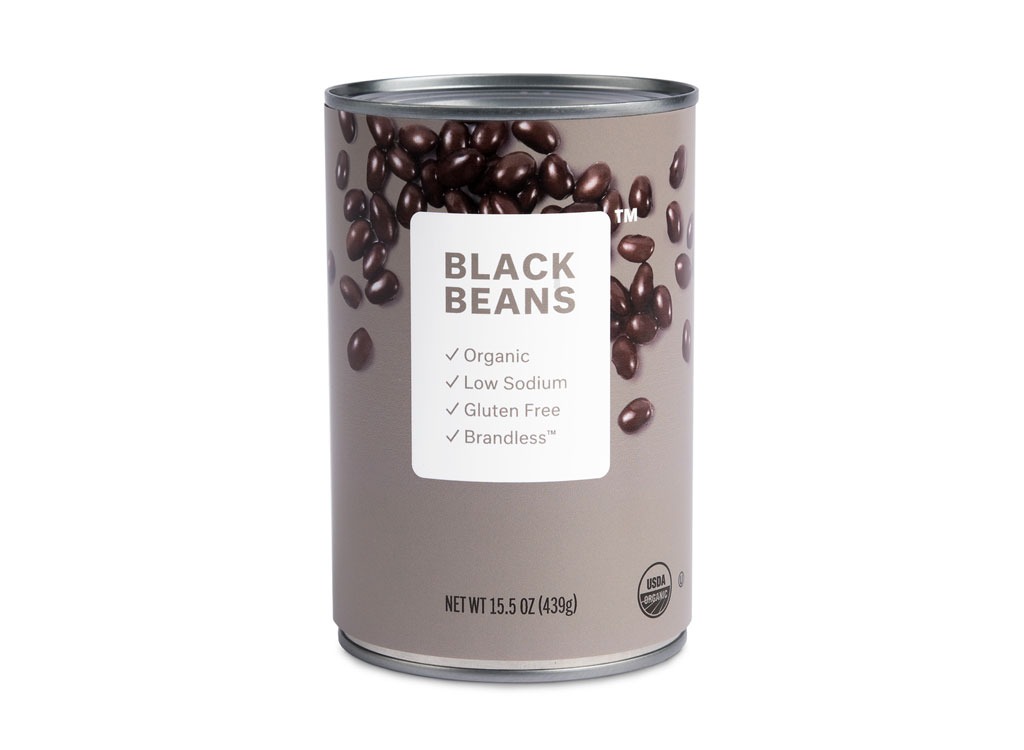 Per ½ Cup: 110 calories, 0 g fat (0 g saturated fat) 140 mg sodium, 18 g carbs (4 g fiber, 1 g sugar), 6 g protein
Beans are one of those filling foods that should be a pantry staple. Rich in satiating fiber, low in both fat and sugar, these canned goods are some of the best to eat for weight loss.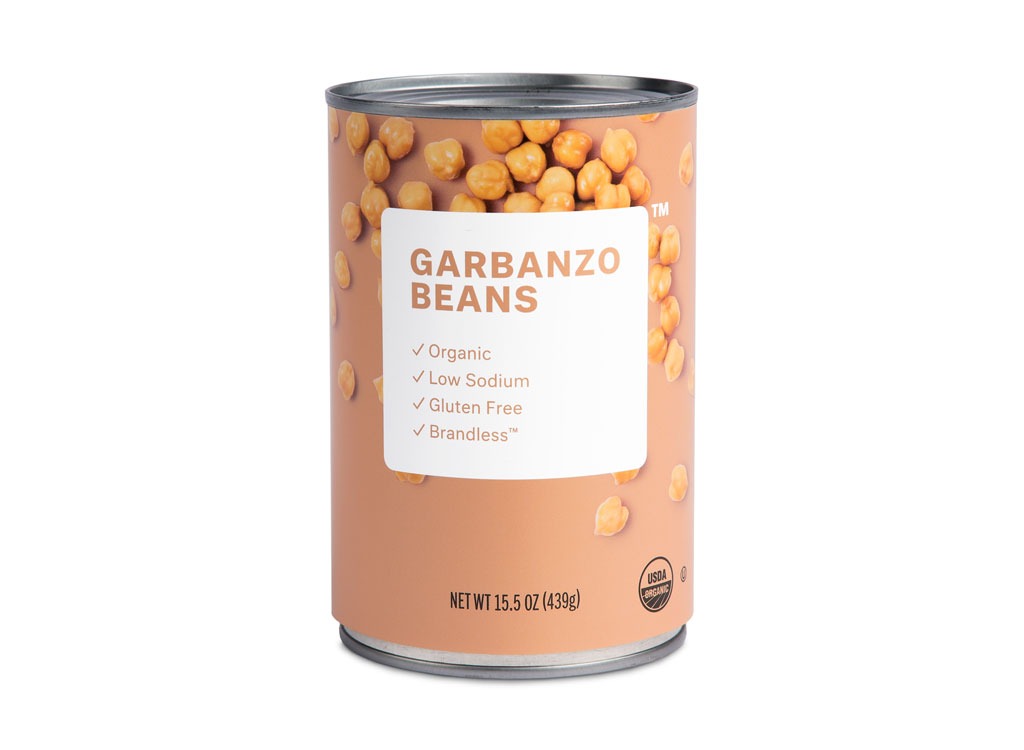 Whether you call them chickpeas or garbanzos, these are the type of beans that should always be sitting in your pantry. The protein-packed legume can be so much more than hummus; they're high in the cellulite beating amino acid, lysine and have also been should to curb cravings. The heart-healthy soluble fiber can lower LDL cholesterol levels and have even been said to lower the risk of colon cancer. Plus, they're organic and they aren't sitting in chemicals to keep them fresh — just water and sea salt. Simple, safe, and so worth it.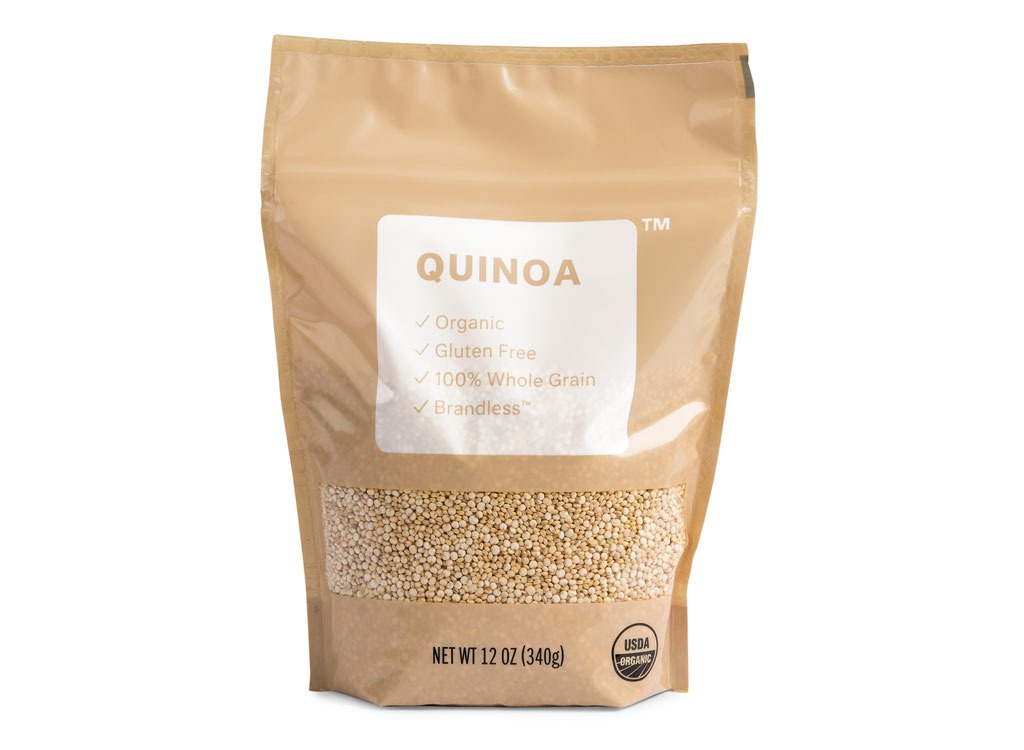 Per ¼ Cup: 160 calories, 2.5 g fat (0 g saturated fat) 0 mg sodium, 28 g carbs (3 g fiber, 0 g sugar), 6 g protein
Our favorite ancient grain just got a whole lot cheaper. Quinoa is a complete protein, meaning it contains all nine of the essential amino acids the body cannot produce on its own. The hunger-busting grain is filled with 8 grams of protein and 6 grams of fiber in just one cooked cup. And once you've got it in your pantry, take a peek at some of our favorite quinoa recipes.
Organic Thick & Chunky Salsa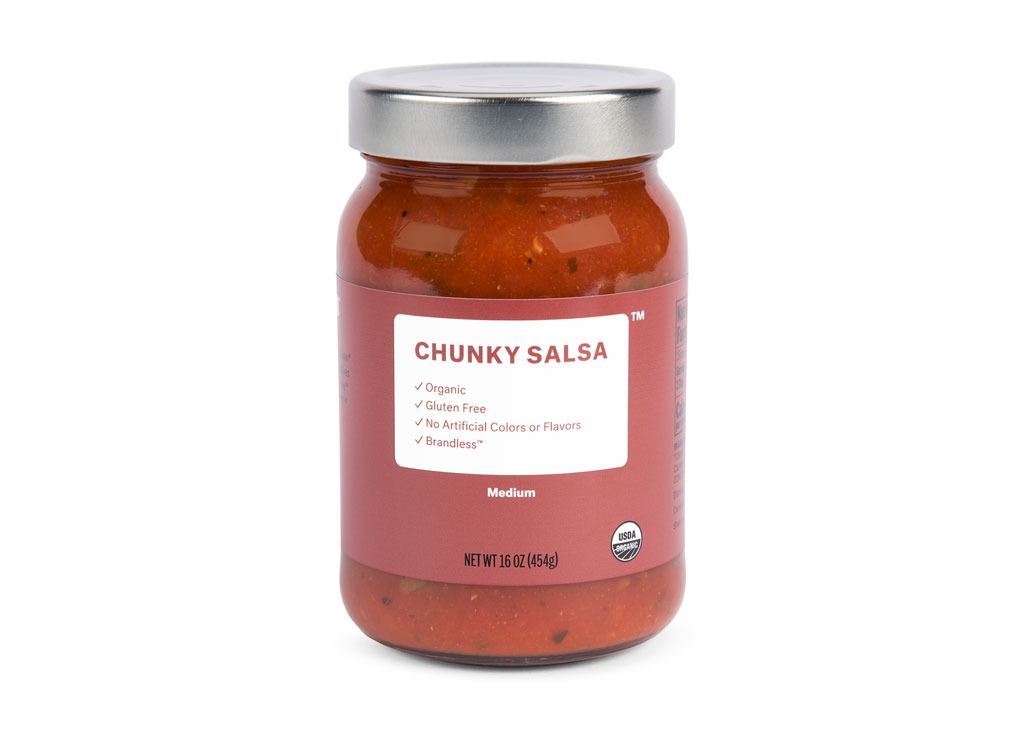 Per ½ Cup: 10 calories, 0 g fat 0 g saturated fat) 140 mg sodium, 2 g carbs (0 g fiber, 1 g sugar), 6 g protein
Salsa is the true underdog of condiments. In fact, it's a weight-loss warrior. This jar is filled with diced tomatoes, onions, and jalapeno, all of which are organic. It's the perfect dip for your favorite healthy chip or as a topper on a homemade burrito bowl.
Per 4 Tbsp: 200 calories, 0 g fat (0 g saturated fat) 5 mg sodium, 53 g carbs (0 g fiber, 53 g sugar), 0 g protein
Famous brands of maple syrup like Aunt Jemima and Mrs. Butterworth are generally made with two extremely harmful ingredients: high fructose corn syrup and caramel coloring. We always say you're best opting for Grade A amber maple syrup, and that is exactly what you're getting with Brandless. And since the syrup is so rich in flavor, less is more. You'll be saving calories and sugar as well as cash.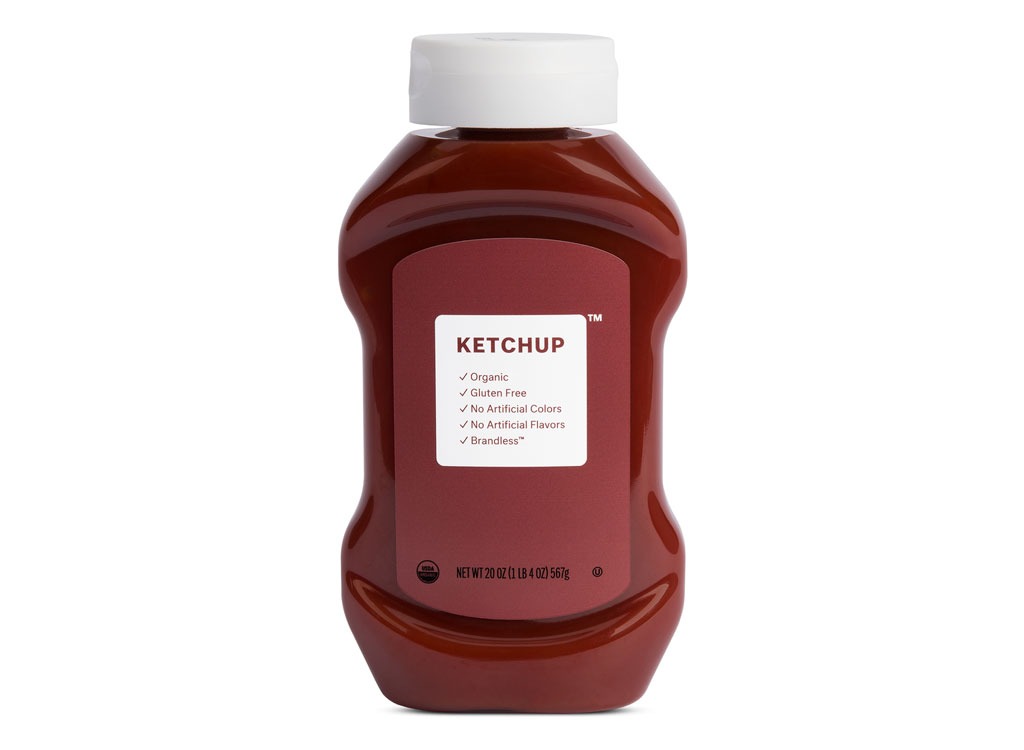 Per 1 Tbsp: 20 calories, 0 g fat (0 g saturated fat), 150 mg sodium, 4 g carbs (0 g fiber, 4 g sugar), 0 g protein
We know it may sound absurd to pick organic ketchup over regular, but there could be real benefits. Studies show that organically-raised tomatoes produce nearly two times the amount of cancer-fighting lycopene as their non-organic counterparts. And more often than not, the chemical-congested bottles have more calories, sodium, and are filled with high fructose corn syrup, none of which are true for Brandless' bottle.
Organic Texas Style BBQ Sauce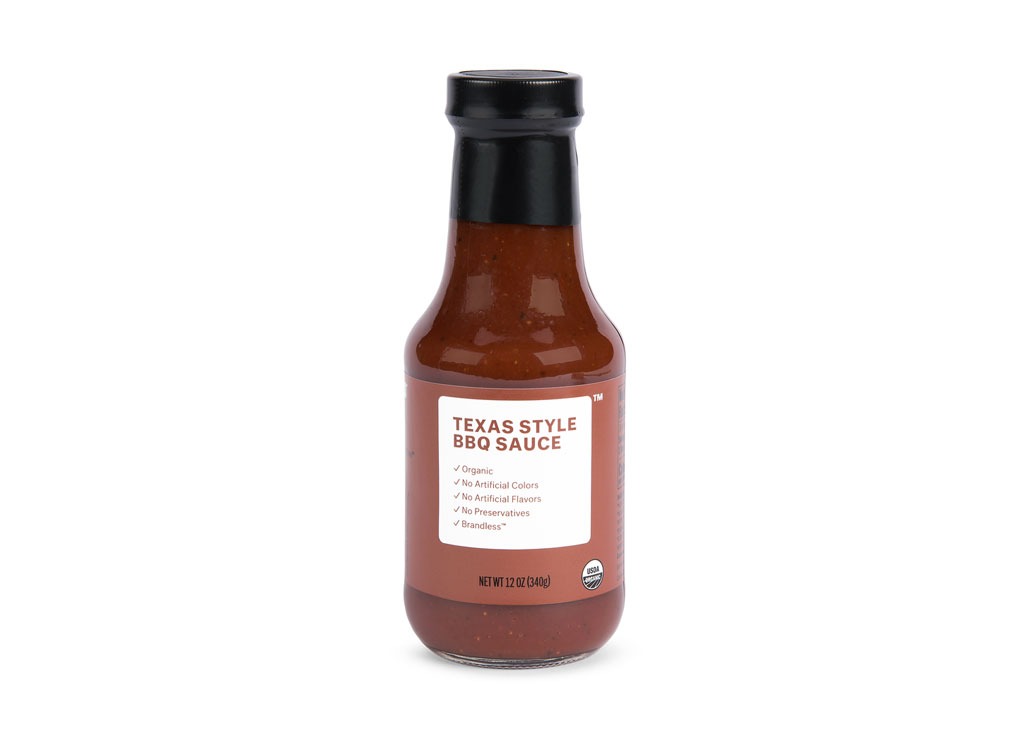 Per 2 Tbsp: 40 calories, 0 g fat ( 0 g saturated fat), 280 mg sodium, 9 g carbs ( 1 g fiber, 7 g sugar, 0 g protein
Nothing beats BBQ sauce on a summer day, except the acknowledgment of unnecessary calories and a waste of added sugars. But miraculously, Brandless made this rendition not-so-bad. For 57% fewer calories than leading brand Sweet Baby Rays, you get just 40 calories. You also take in more than 50% less sugar than with the popular brand. All of this for just $3. Bring it on.