The 10 Healthiest Granolas You Can Buy in 2023, Say Dietitians
A dietitian chooses the best granola brands for your health, plus a few to skip.
Granola has come a long way from its 1960s hippie-counterculture-communal-kitchen staple to today's mass market breakfast or snack available in sweet, savory, spicy, chocolaty options. Most traditional granola recipes are based on just a few wholesome ingredients like rolled oats, seeds, dried fruit, and a little honey or maple syrup used as a sweetener and binder. Based on these minimally processed ingredients, granola can be a good-for-you food that contributes many positive attributes to your diet, including whole grains, fiber, protein, B-vitamins, trace minerals, and beneficial antioxidants. However, compared to flaked or puffed cereals, granola is naturally denser, even healthy granolas, making it a higher-calorie breakfast cereal. For this reason, you will generally see the serving size for granola to be less than ½-cup while a less dense cereal may have a 1-cup serving.
The problem with many of today's mass market granolas is that they can be loaded with high counts of added sugar, saturated fat, sodium, and calories. This is because many cereal makers want products that have an irresistible flavor coupled with a long shelf life. To do that, they need more sugar, sodium, and tasty, calorie-rich add-ins like chocolate, nut butters, vegetable oils, and lots of syrups and other sweeteners. The result is often a granola that is more akin to a decadent dessert rather than a wholesome way to start your day or a filling between-meal nosh.
We scoured the cereal aisles and reviewed the package labels on hundreds of granola brands available at national supermarkets and online retailers to reveal 10 of the best healthy granolas to try. We also included some of the most readily available options to skip. Or, if you're more of an on-the-go type of eater and need some inspiration for healthy granola bars, check out 8 Granola Bars Made With the Highest Quality Ingredients.
How to shop for the healthiest granola brands
"Don't be fooled by health claims on the front of the package, such as 'whole grain,' 'organic,' or 'vegan,'" says Rhyan Geiger, RD,  owner of Phoenix Vegan Dietitian. "Just because a product makes these claims doesn't necessarily mean it's healthy. To get an accurate picture of what you're consuming, check the nutrition facts panel and the ingredients list."  When you look under the hood on food packages, the truth will reveal itself. The good news is that you don't need an advanced degree in nutritional sciences to know how to find the best granolas for your health.
Here's what to focus on:
Serving size: Granola manufacturers often use different serving sizes, ranging from ¼ (around 1 ounce) to 2/3 cup (2 ounces). To compare products on equal footing, it's important to account for the different serving sizes. If one granola appears to be significantly higher in calories, sugar, and fat, it may be because the brand uses a larger serving size. One may appear to be lower in calories and sugar, but it's only because a smaller serving is used on the package.
Added sugar: It's important to review the added sugar and choose one that is on the lower end. Although granola can be a tasty treat, it often contains excessive amounts of added sugar, says Geiger. "It's important to check the nutrition facts panel to see how much it contains." A good rule of thumb is to look for cereals that have no more than 8 grams (2 teaspoons) of added sugar per serving.
Most major public health organizations like the American Heart Association recommend limiting added sugars to about 10% of total calories. For women, the AHA recommends no more than 6 teaspoons per day and for men, 9 teaspoons. Added sugars can masquerade under more than 30 different names, including dextrose, maltose, syrups, nectars, honey, and molasses.
Whole grains: The first ingredient on the label of any granola you buy should be a whole grain. Normally, it will be rolled oats, but any type of whole grain is acceptable, including kamut, spelt, quinoa, millet, and buckwheat. This will help ensure that the cereal provides more fiber and protein.
Fiber: Look for a granola that has at least 2 grams of fiber, but this is one nutrient where more is better. Fiber will help you feel fuller longer and help control cravings for carbs and junk food.
Sodium and saturated fat: Two nutrients that you want to keep tabs on are sodium and saturated fat. The good news is that most granolas are not significant sources of either, however, many brands have coconut and coconut oil in their ingredient list, which drives up saturated fat counts. Look for granola that has less than 200 milligrams of sodium and no more than 3.5 grams of saturated fat per serving.
The top 10 healthy granolas to buy
Granola certainly has a health halo that has stuck around for decades, but not all granolas are created equal. If you love the crunchy breakfast staple, use our list of healthy granolas to guide your choices. These options focus on more of the healthiest ingredients like whole grains, nuts, dried fruit, and seeds and less of the unhealthy ones, like added sugars and unnecessary oils.
Here are 10 of the healthiest granolas at the supermarket.
KIND Healthy Grains Raspberry Granola With Chia Seeds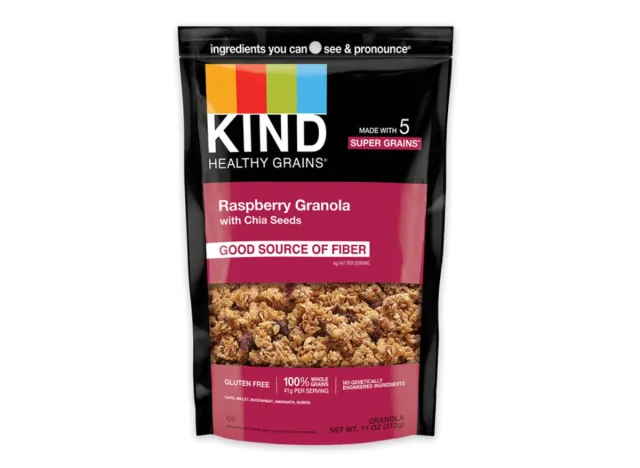 per 1/3 cup serving(30 g)
: 110 calories, 1.5 g fat (0 g saturated fat), 0 mg sodium, 18 g carbs (2 g fiber, 4 g added sugar), 2 g protein
This KIND go-to has a lower calorie count, thanks to its limited added sugars and fat. It's made with five different whole grains, including oats, millet, buckwheat, amaranth, and quinoa. This cereal also has cranberries, raspberries, and chia seeds as ingredients and together, they add additional fiber, antioxidants, omega-3s, and other beneficial bioactive compounds.
Bob's Red Mill Homestyle Peanut Butter Granola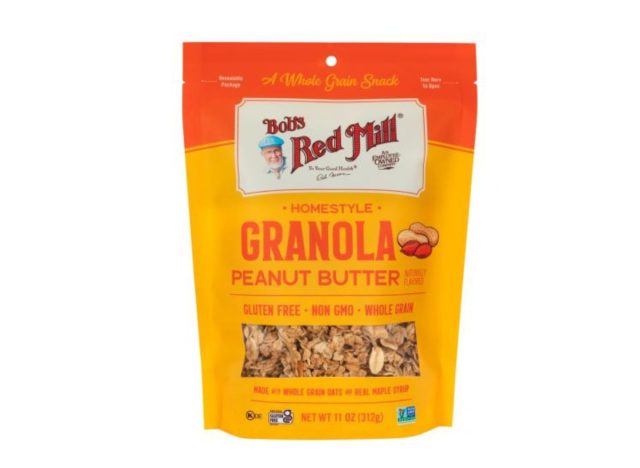 Per 1/4 cup serving (28 g)
: 140 calories, 7 g fat (2.5 g saturated fat), 65 mg sodium, 18 g carbs (2 g fiber, 5 g added sugar), 4 g protein
Bob's Red Mill Homestyle Granola is a more traditional, back-to-basics recipe that has wholesome ingredients like whole grain oats, peanuts, maple syrup, and peanut butter. Nutritionally, the brand does a good job of limiting added sugar to 5 grams (< 2 teaspoons) in this particular flavor. It also has 4 grams of protein, which can help keep you satisfied. With a delicious and decadent peanut butter flavor, this granola is great on its own, with milk, or layered with your favorite yogurt.6254a4d1642c605c54bf1cab17d50f1e
Go Raw Sprouted Organic Raisin Crunch Granola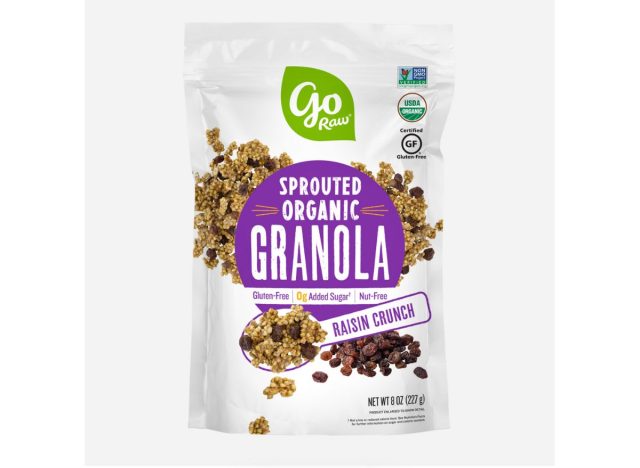 Per 1/4 cup serving (28 g)
: 110 calories, 1.5 g fat (1 g saturated fat), 0 mg sodium, 21 g carbs (2 g fiber, 0 g added sugar), 3 g protein
This gluten-free granola has only 7 ingredients and uses sprouted buckwheat groats as its primary ingredient. Dates, raisins, and vanilla extract are used to provide natural sweetness, so it has no added sugar. Another bonus: its sodium-free!
Udi's Gluten Free Au Naturel Granola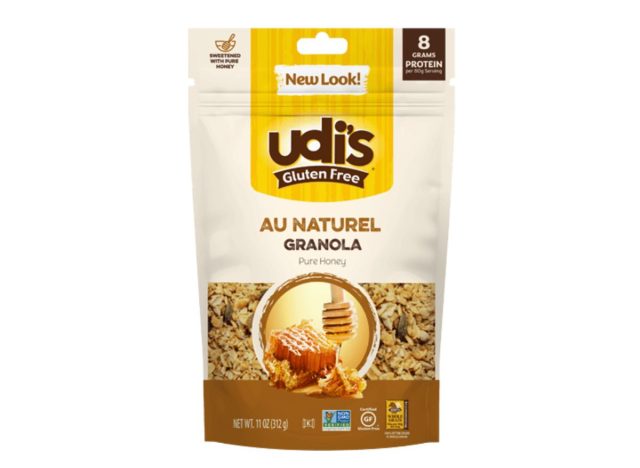 Per 1/4 cup serving (30 g)
: 130 calories, 4.5 g fat (0 g saturated fat), 30 mg sodium, 22.5 g carbs (2 g fiber, 3.5 g added sugar), 3 g protein
This gluten-free option uses only certified gluten-free whole grain oats and it is sweetened with only honey. It made our best healthy granola list due to it having just four ingredients—oats, honey, canola oil, and water. The result is a granola that is low in sugar and has no saturated fat or sodium.
KIND Soft Baked Dark Chocolate Peanut Butter Chewy Granola Clusters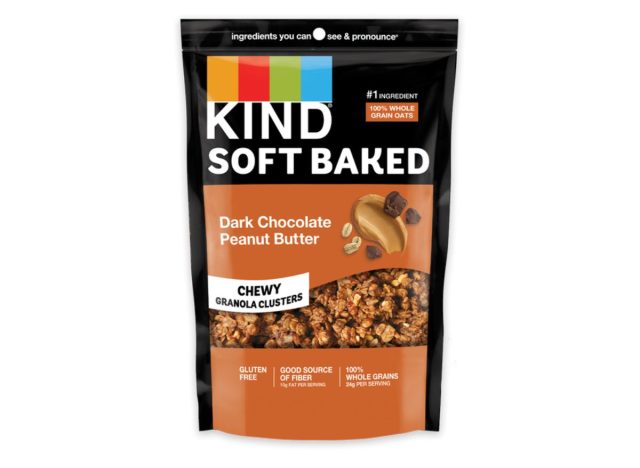 Per 1/4 cup serving (30 g)
: 130 calories, 5 g fat (1 g saturated fat), 60 mg sodium, 18 g carbs (2 g fiber, 5 g added sugar), 3 g protein
KIND has several traditional granolas that meet our nutritional criteria, but this is the brand's latest twist on their classic crunchy granola. These soft and chewy granola clusters have a delicious chocolate-peanut butter combination, making them a tasty treat out of the bag or to enjoy as a softer granola out of your breakfast bowl. The first ingredient is 100% whole grain oats and added sugars are limited to 1.5 teaspoons (6 grams). We also like that KIND makes it easier to compare your helping of granola, as it provides the nutrition information for both a 1/4 cup and 1/2 cup serving size.
Bear Naked Fit Triple Berry Granola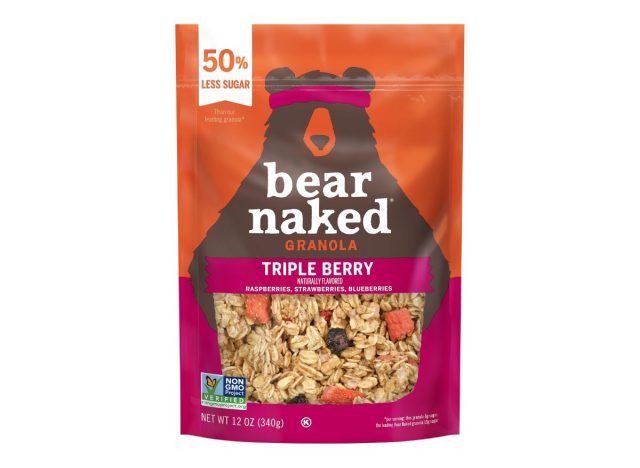 Per 1/4 cup serving
: 100 calories, 1.5 g fat (0 g saturated fat), 0 mg sodium, 21 g carbs (3 g fiber, 3 g sugar), 3 g protein
Bear Naked offers a wide variety of better-for-you granolas, and this lower-sugar option is one of their fan favorites. We like that is has just 100 calories per ¼-cup serving and less than a teaspoon of added sugar. It does include syrups for sweeteners but keeps the amount in check. The nutritional boost provided by dried cranberries, strawberries, and blueberries is a bonus.
RXBAR Original Protein Granola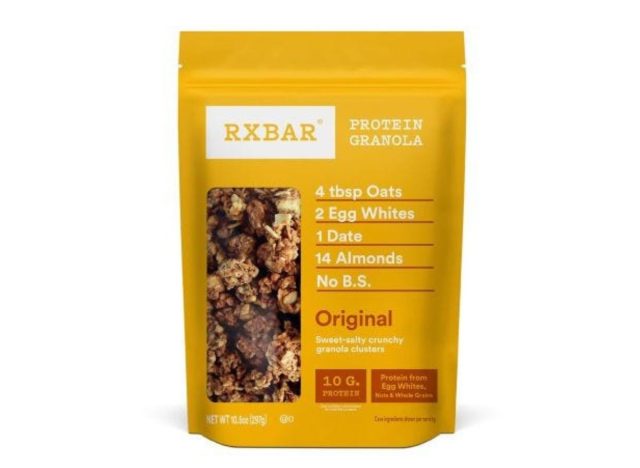 Per 1/2 cup serving (60 g)
: 270 calories, 13 g fat (1 g saturated fat), 230 mg sodium, 33 g carbs (5 g fiber, 7 g added sugar), 10 g protein
This granola is higher in fiber and protein than many others, making it a good choice to help keep you satisfied. We like the simple "no B.S." ingredients like oats, almonds, coconut sugar, almond butter, and dates, among others. The only downside is that due to the nuts, this granola is higher in calories and fat than several of our other best healthy granola picks.
Purely Elizabeth Pumpkin Cinnamon Ancient Grain Granola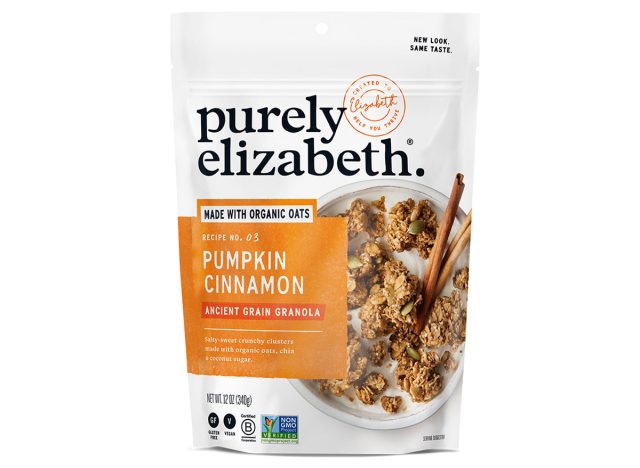 Per 1/3 cup serving (30 g)
: 130 calories, 6 g fat (3.5 g saturated fat), 130 mg sodium, 18 g carbs (2 g fiber, 6 g added sugar), 3 g protein
This granola is made with whole grain oats, amaranth, and quinoa flakes, and is sweetened with coconut sugar. It does include coconut oil, which makes it higher in fat and saturated fat than most other granolas. We like that it includes sunflower, chia, and pumpkin seeds for added fiber, protein, and other essential nutrients.
Nature's Path Dark Chocolate and Red Berries Love Crunch Granola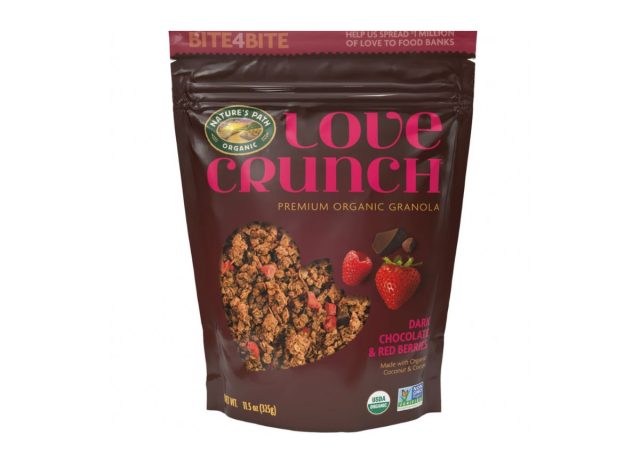 Per 1/4 cup serving (30 g)
: 130 calories, 5 g fat (1 g saturated fat), 55 mg sodium, 20 g carbs (2 g fiber, 6 g added sugar), 2 g protein
For a more decadent-tasting granola, the combo of dark chocolate and tart raspberries is a real treat that won't blow your calorie or sugar budget. And, its nutrition facts are solid: Saturated fat is limited to just 1 gram and it has 6 grams (1.5 teaspoons) of added sugar per serving.
Familia Swiss Muesli — No Added Sugar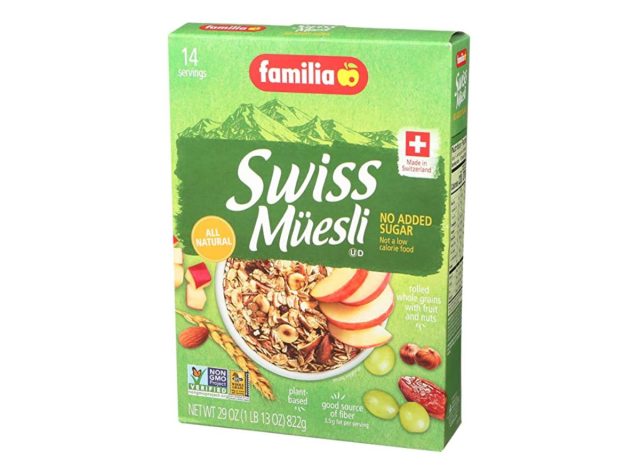 Per 1/2 cup serving (57 g)
: 220 calories, 3.5 g fat (0.5 g saturated fat), 5 mg sodium, 37 g carbs (5 g fiber, 0 g added sugar), 5 g protein
Muesli is generally a healthier Swiss cousin to the American-created granola. They both share many of the same ingredients, but muesli is not baked, so it tends to have fewer calories, sugar, and fat than granola. The first and second ingredients are whole grain rolled oats and whole grain wheat flakes. It is sweetened with more natural ingredients, including dates and raisins, rather than using processed nutrient-poor sweeteners.
The granola brands you should skip
Here are three, nationally available granolas that don't stack up to the others.
Cascadian Farm Organic Oats & Honey
We like that Cascadian Farm uses organic ingredients, but that doesn't make this granola good for you. For instance, a 2/3 cup serving packs in 260 calories and 3.5 teaspoons of sugar. While we recognize this is a larger serving size than many other brands, sugar is the second ingredient by weight in this cereal, and it also includes honey and molasses for even more added sweetness.
Kellogg's Low Fat Granola with Raisins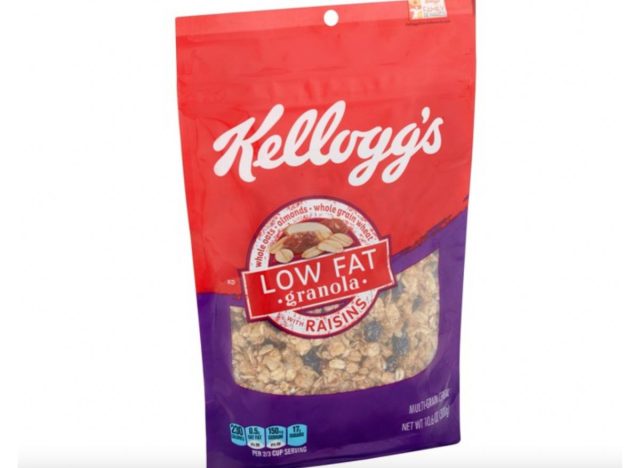 One of the most iconic and longstanding granola brands, unfortunately, this isn't one of the healthiest. Not only is sugar the third ingredient by weight in this option, but it also has corn syrup and molasses as additional sweeteners. A 2/3 cup serving has 230 calories and 17 grams (4.25 teaspoons) of sugar. However, it does get points for being low in saturated fat, as well as having 4 grams of filling fiber and 5 grams of protein.
Thrive Market Organic Whole Grain Granola, Double Dark Chocolate Chip
The brand touts that this cereal is certified gluten-free, BPA-free, plant-based, and ethically sourced, but the Double Dark Chocolate Chip flavor should be a good cue that this granola is more like dessert than a wholesome snack. A 1/2 cup serving has 260 calories, 11 grams fat, and 1.5g saturated fat, making this choice one of the higher calorie, fat, and saturated fat counts of nationally available granolas. While it only has 7 grams added sugar per serving, the second ingredient is inulin syrup and other sweeteners listed in the ingredient list include date syrup and cane sugar.
Julie Upton, MS, RD, CSSD
Julie Upton is an award-winning registered dietitian and communications specialist who has written thousands of articles for national media outlets, including The New York Times, US News & World Report, and USA Today.
Read more about Julie
Sources referenced in this article