A Crunchy, Flavorful Red and Green Breakfast Salad Recipe
With this easy recipe, we prove you can enjoy a crunchy bowl of veggies any time of day.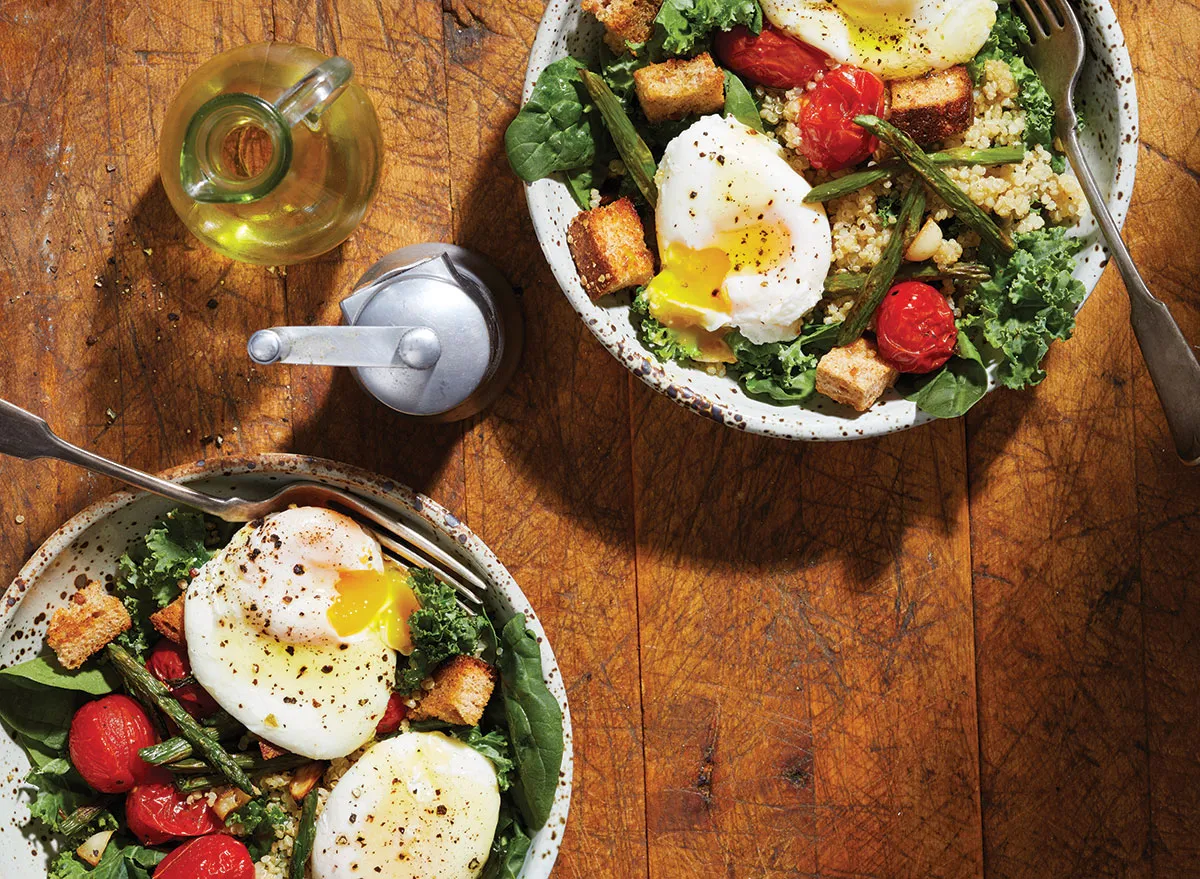 Who says you can't have salad for breakfast? With this red and green breakfast salad recipe, you can enjoy a crunchy bowl of veggies any time of day.
With kale, quinoa, asparagus, and tomatoes, this recipe is packed with plenty of nutrition and flavor. Runny eggs make the salad Instagram-worthy, while also adding a healthy dose of protein. Each serving of this hearty salad will give you eight grams of fiber and 23 grams of protein, which is plenty to keep you fueled through the morning.
And if you really can't imagine eating a salad for breakfast, this recipe would taste just as good for lunch or dinner, too. But when it comes to breakfast salad, don't knock it until you try it.
Nutrition: 410 calories, 18 g fat (4 g saturated), 422 mg sodium, 8 g fiber, 7 g sugar, 23 g protein
Makes 4 servings
Ingredients
1 lb asparagus, trimmed and cut into 2-inch pieces
1 lb cherry or grape tomatoes
6 cloves garlic, quartered
1 Tbsp plus 2 tsp extra-virgin olive oil
2 slices whole-wheat bread, cubed
3 cups chopped stemmed kale
3 cups baby spinach
1 1/2 cups cooked quinoa, chilled
4 cups water
1 Tbsp vinegar
8 eggs
1 Tbsp red wine vinegar (optional)
Salt and black pepper to taste
How to Make It
Preheat oven to 425°F. Place asparagus, tomatoes, and garlic in a single layer on a 15 x 10 x 1-inch baking pan. Drizzle with 2 tsp oil. Roast for 10 to 12 minutes, or until asparagus is tender. Place bread cubes on a rimmed baking sheet and bake for 5 minutes or until crisp and browned.
Portion kale and spinach into four serving bowls. Top with quinoa, roasted vegetables, and croutons.
Meanwhile, add the water and vinegar to a large skillet. Bring vinegar mixture to boiling; reduce heat to simmering. Break an egg into a cup and slip egg into the simmering water. Repeat with three more eggs. Simmer eggs for 3 to 5 minutes, or until whites are completely set and yolks begin to thicken but are not hard. Remove from water with a slotted spoon. Repeat with remaining four eggs. Serve atop salad.
Drizzle with 1 Tbsp oil and the red wine vinegar, if desired. Season with salt and pepper.
Eat This, Not That!
Inspired by The New York Times best-selling book series, Eat This, Not That! is a brand that's comprised of an award-winning team of journalists and board-certified experts, doctors, nutritionists, chefs, personal trainers, and dietitians who work together to bring you accurate, timely, informative, and actionable content on food, nutrition, dieting, weight loss, health, wellness, and more.
Read more about Eat This