15 Breakfast Salads Worth Waking Up For
Say goodbye to your soggy bowl of cereal and hello to these fresh beds of breakfast greens!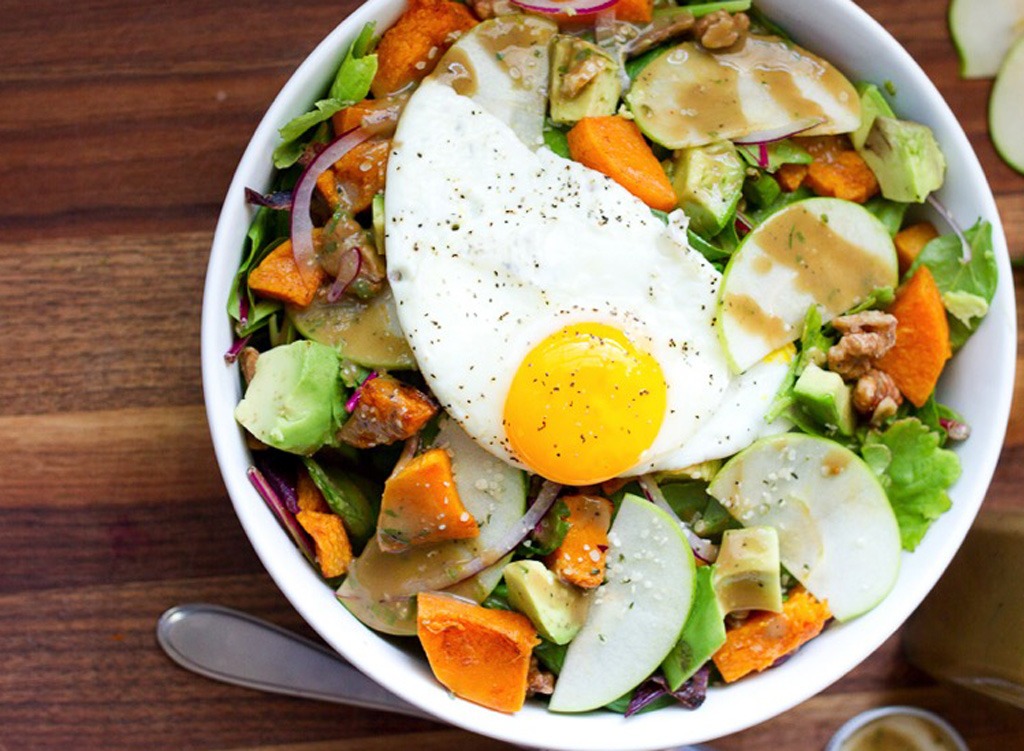 Here at Eat This, Not That!, there are two things we're always on the look out for: healthy breakfast ideas and new, delicious ways to eat more fruits and veggies. For this reason, we're excited to see that breakfast salads have been gaining popularity. Yes, you read that right—breakfast salad! This special brand of salad has all the traditional makings of a healthy bowl of greens but infuses traditional morning-meal ingredients like bacon, eggs, and fruit. What's not to love!?
If you're feeling inspired to break free of your smoothie, oats, and yogurt roulette in favor of some fiber-packed breakfast salads, we can help. We scoured the web for the most drool-worthy recipes around and brought them right here to your screen. (You're welcome!) Find one or two that make your taste buds sing, and add them to your weekly lineup—stat!
Grilled Wedge Salad with a Fried Egg & Cranberry Feta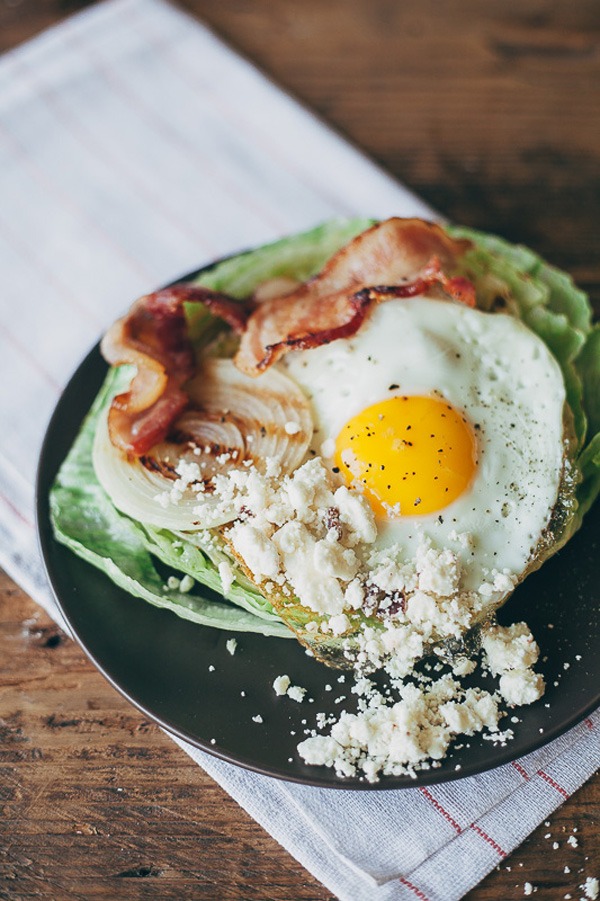 Serves: 4
Nutrition: 281 calories, 20 g fat, 9.3 g saturated fat, 844 mg sodium, 7 g carbs, 1 g fiber, 4 g sugar, 17 g protein
Have your eggs and bacon and eat them, too, with this creative veggie- and feta-enhanced spin on the classic morning dish. Swap out the iceberg for a bed of spinach to add more fiber, protein, and vitamin A (a nutrient vital to maintaining healthy vision) to your plate.
Get The Recipe From My Name is Yeh.
Blueberry Breakfast Salad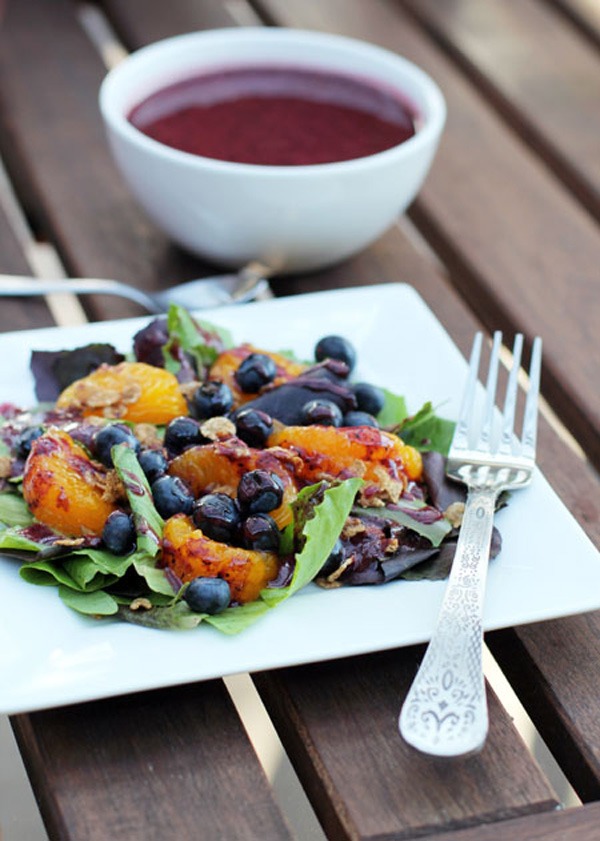 6254a4d1642c605c54bf1cab17d50f1e
Serves: 8
Nutrition: 228 calories, 15 g fat, 2.5 g saturated fat, 55 mg sodium, 68 g carbs, 14 g fiber, 31 g sugar, 14 g protein (calculated without dressing)
Belly fat-incinerating blueberries, oranges, crunchy granola, and savory salad greens join forces with a light blueberry vinaigrette to create this light and refreshing salad. To keep added sugar from overtaking your breakfast bowl, whip up the dish with one of these healthy granolas.
Get The Recipe From This Week for Dinner.
Sweet Potato Breakfast Salad with Almond Butter Protein Dressing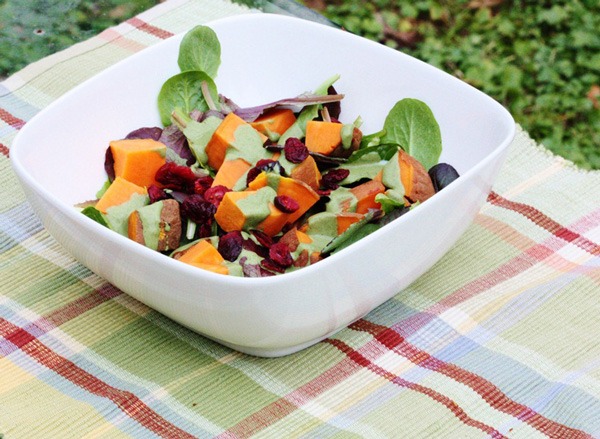 Serves: 1
Nutrition: 80 calories, 0 g fat, 0 g saturated fat, 93 g sodium, 4.2 g fiber, 4.5 g sugar, 4 g protein (calculated without dressing)
As unconventional as it may seem, topping a salad with a protein powder-enhanced almond butter dressing tastes absolutely divine. And not to mention, the monounsaturated fat in the nut spread can ward off those late-morning munchies.
Get The Recipe From The Full Helping.
Pomegranate Breakfast Salad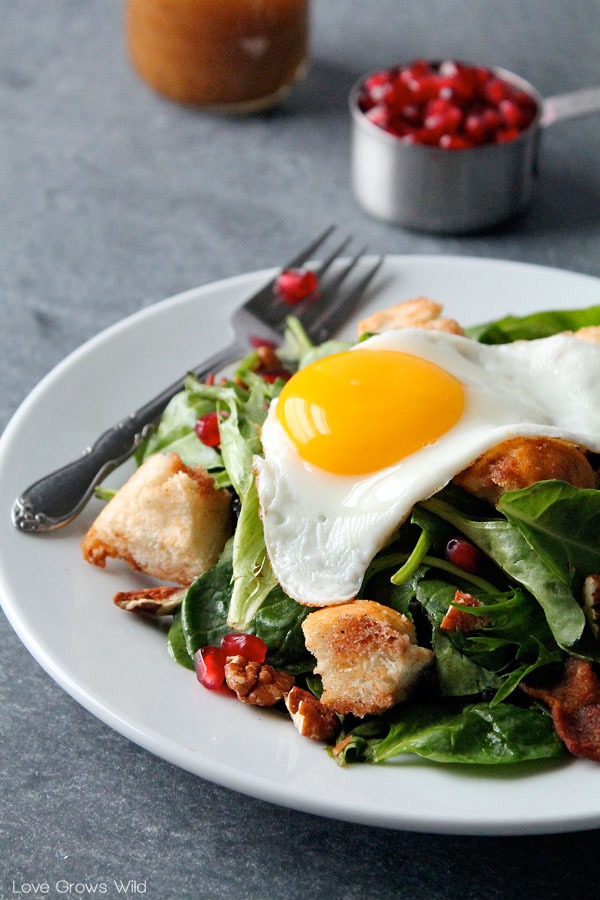 Serves: 6
Nutrition: 405 calories, 29 g fat, 8.5 g fat, 554 mg sodium, 23 g carbs, 4 g fiber, 13.5 g sugar, 15 g protein (calculated without dressing)
Sunny-side up eggs and homemade cinnamon sugar croutons make the perfect savory-sweet combo. Don't have 40 minutes to spend preparing this dish during the week? We hear you. Plus, this creative salad screams boozy brunch, anyway. Toss leftover pomegranate seeds into your guests' champagne flutes for a festive drink for a meal combo that's sure to impress your guests!
Get The Recipe From Love Grows Wild.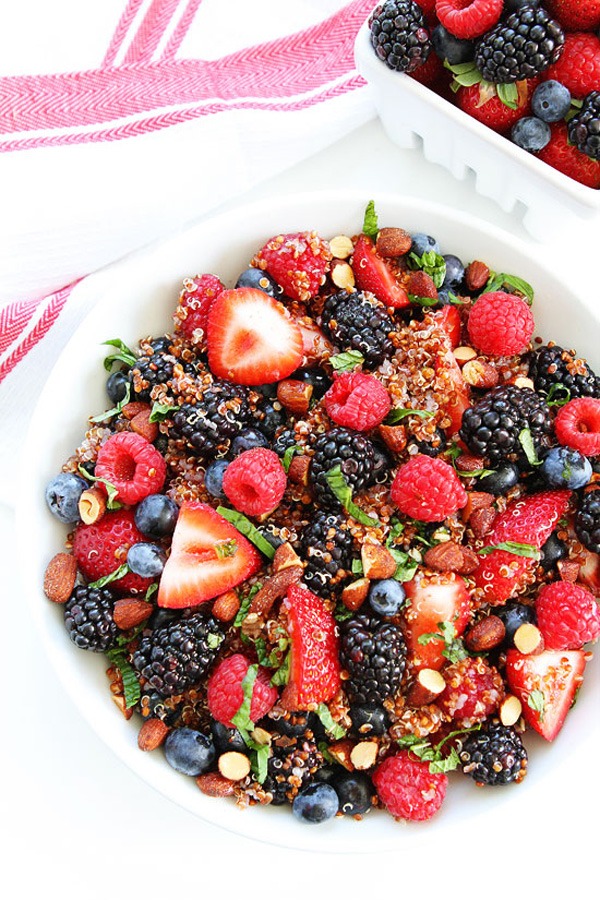 Serves: 6
Nutrition: 365 calories, 10 g fat, 0 g saturated fat, 1 mg sodium, 61 g carbs, 13 g fiber, 8 g sugar, 11 g protein (calculated with plain almonds, no dressing)
This salad may be as colorful as a bowl of Lucky Charms, but it doesn't serve up any of the eerie chemicals. In fact, berries, nuts, and quinoa—the primary components of this recipe—are all primo sources of antioxidants that karate chop any health-harming free radicals unlucky enough to cross their path. It's clear as day which breakfast is the better bet for your bowl.
Get The Recipe From Two Peas & Their Pod.
Smoked Salmon Avocado & Arugula Salad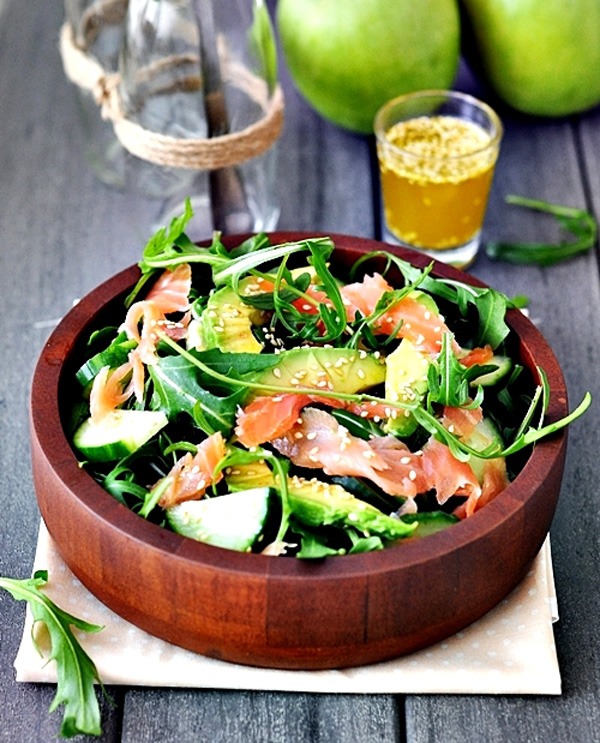 Serves: 4
Nutrition: 371 calories, 37 g fat, 6 g saturated fat, 434 mg sodium, 8.5 g carbs, 4.5 g fiber, 1.5 g sugar, 6 g protein
Lox lovers, this one's for you! Skip the bagel—and all of its empty carbs—and make this salad instead. It's a great way to get the smoked salmon flavor you crave without the blood sugar-spiking carbs that will leave your tummy begging for more.
Get The Recipe From Fuss Free Cooking.
Kale Salad with Bacon & 7-minute Egg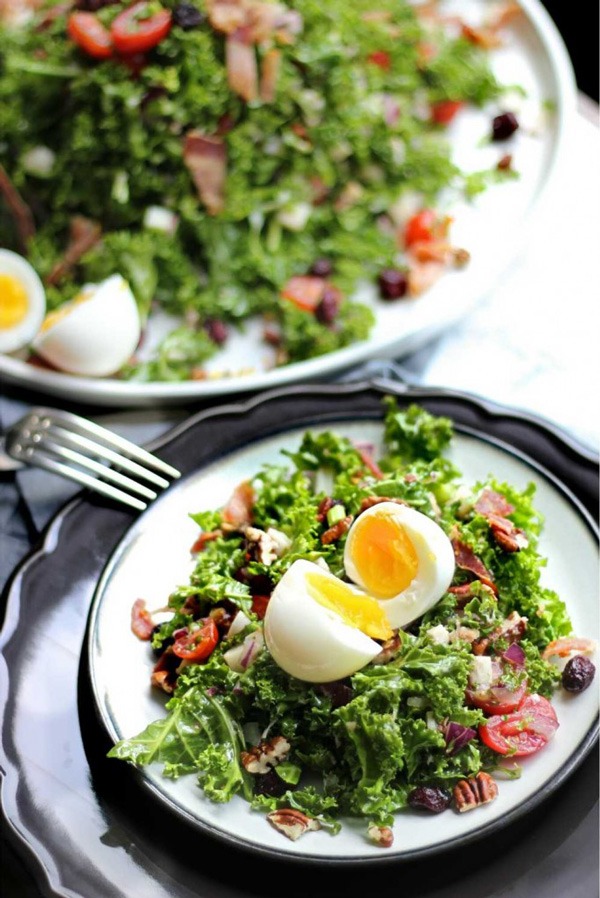 Serves: 3
Nutrition: 487 calories, 34 g fat, 6.2 g saturated fat, 640 mg sodium, 33 g carbs, 7.4 g fiber, 15 g sugar, 16 g protein
It's not your imagination; everything tastes better with bacon—even vegetables. If you're a pork-loving food-lover who has trouble hitting the five-a-day tomato and kale mark, this is the breakfast for you.
Get The Recipe From Primal Gourmet.
Sausage, Egg & Avocado Breakfast Salad
Serves: 5
Nutrition: 531 calories, 42 g fat, 12 g saturated fat, 800 mg sodium, 15 g carbs, 7.5 g fiber, 4.7 g sugar, 27 g protein
This dish takes one of the fattier breakfast meats, combines it with hard boiled eggs and savory veggies, and makes it into a dish that can fit into anyone's weight loss diet plan. If you typically don't have much time to cook in the a.m, boil the eggs and cook the sausage the night before. Then, all you have to do when you stumble into the kitchen half-asleep is combine everything in a bowl. It doesn't get much simpler than that.
Get The Recipe From Fed + Fit.
Butternut Squash, Apple & Egg Breakfast Salad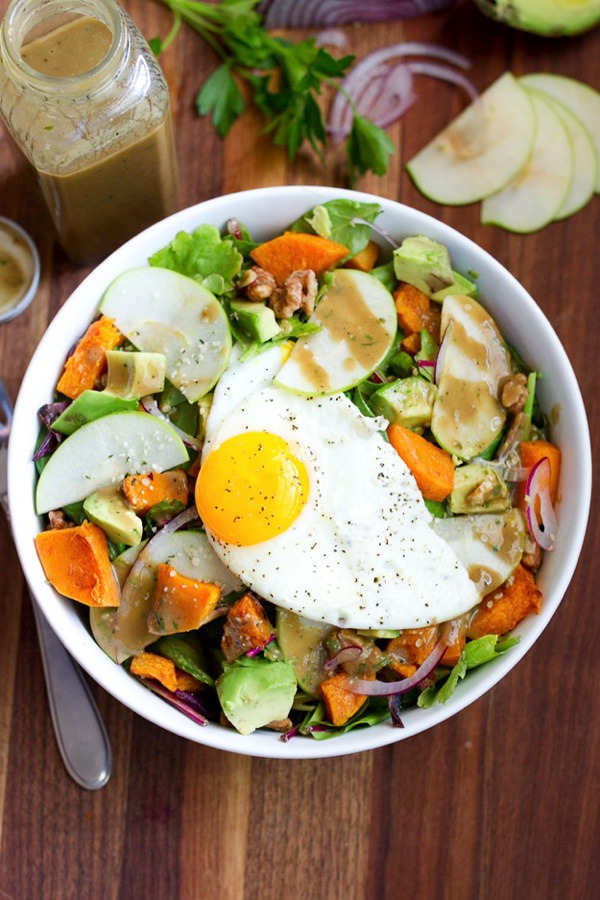 Serves: 1
Nutrition: 606 calories, 44 g fat, 16 g saturated fat, 97 mg sodium, 43 g carbs, 12.4 g fiber, 16 g sugar, 18.4 g protein (calculated with 1 cup butternut squash, 1/2 apple, 1/4 avocado, 2 Tbsp walnuts & hemp seeds, no dressing)
Butternut squash! Apples! Cinnamon! This salad screams Fall—and we can see ourselves loving it year round. This combination of festive-colored fruits and veggies is always a health-friendly choice.
Get The Recipe From Eating Bird Food.
Strawberry Salad with Coconut Bacon & Black Pepper Vinaigrette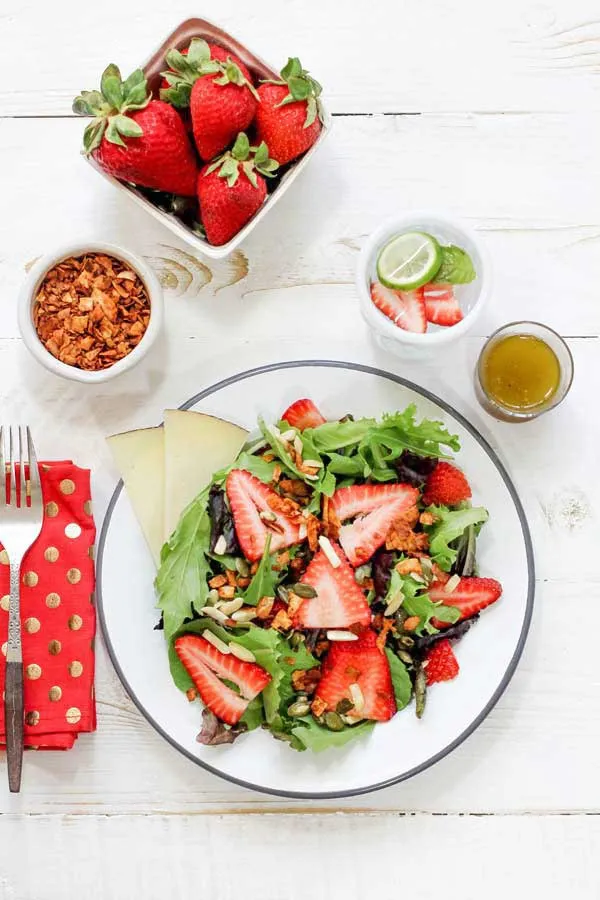 Serves: 4
Nutrition: 303 calories, 23 g fat, 11 g saturated fat, 355 mg sodium, 7 g fiber, 9 g sugar, 10.3 g protein (calculated without dressing)
Strawberries are packed with polyphenols, powerful natural chemicals that can help you lose weight—and even stop fat from forming—which is a much-needed attribute when you consider that this dish is made with indulgent coconut bacon. Use just enough of the meaty topping to enjoy a hint of its flavor, but not so much that you'll ruin your flat belly goals.
Get The Recipe From Oh My Veggies.
Miso Veggie Breakfast Bowl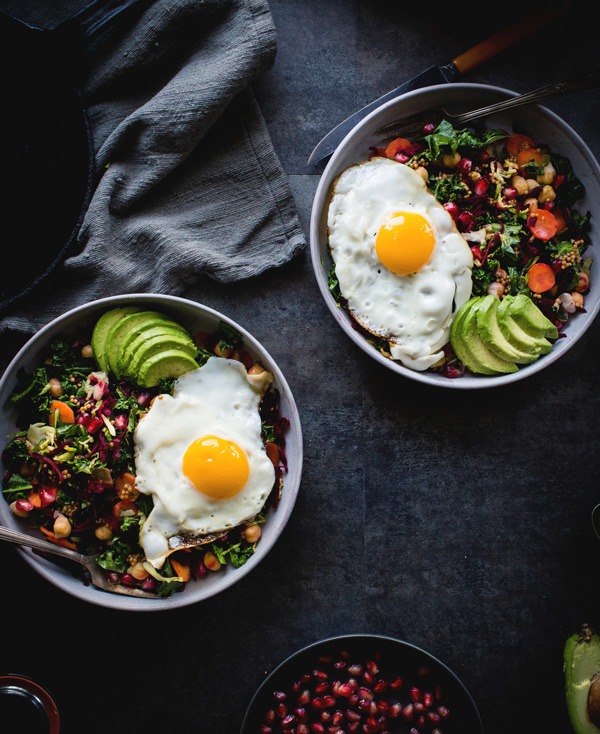 Serves: 2
Nutrition: 512 calories, 24 g fat, 4.8 g saturated fat, 340 mg sodium, 46 g carbs, 15 g fiber, 18 g sugar, 19 g protein (calculated with 1/4 cup chickpeas, 1/2 an avocado, no dressing)
Serving up half the day's recommended fiber intake and a whopping 350% of the day's vitamin A, you can't go wrong with this mixed bowl of goodness. While the beets serve up nitrates, a natural chemical that increases endurance and lowers blood pressure, the miso (which is just a fancy name for fermented soybeans) strengthens the immune system. This beautiful dish is definitely an "Eat This!" we can get behind.
Get The Recipe From Reclaiming Provincial.
Serves: 1
Nutrition: 372 calories, 12 g fat, 2.3 g saturated fat, 129 mg sodium, 67 g carbs, 15 g fiber, 42 g sugar, 11 g protein
The chia seeds and peanut butter not only add flavor and texture to this bright and cheery plate of fruits and veggies, they also serve up nutrients like fiber and omega-3s, the unofficial all-star nutrient of the wellness realm. What makes the healthy fat such an A+ nutrient? Recent studies show that it can do everything from protecting the heart and brain to building lean muscle and turbocharging fat loss—which is something few other nutrients can claim.
Get The Recipe From My Little Celebration.
BLT Breakfast Salad with Soft Boiled Eggs & Avocado
Serves: 2
Nutrition: 554 calories, 38 g fat, 9 g saturated fat, 676 mg sodium, 33 g carbs, 15 g fiber, 8 g sugar, 23 g protein (calculated without dressing)
Toss the toast and take your BLT on a bed of kale; it's a waist-friendly way to kick off your day. Soft boiled eggs and avocado amp up the fiber and protein content, ensuring your morning meal will keep you full and satisfied, well into the afternoon.
Get The Recipe From So Let's Hang Out.
Serves: 4
Nutrition: 143 calories, 1 g fat, 0 g saturated fat, 32 mg sodium, 31 g carbs, 2.6 g fiber, 15 g sugar, 4 g protein (calculated without dressing, added ¼ cup optional quinoa)
It may be called the "Kale Citrus Salad," but we're thinking "Fat-Zapping Breakfast Appetizer Salad" is a far more accurate title. (But admittedly, a bit wordy.) Why? Eating half a grapefruit before meals may help reduce belly fat, according to a Nutrition & Metabolism study. So, nosh on this salad and then dive into a small bowl of your favorite breakfast staple. Overnight oats, anyone?
Get The Recipe From Minimalist Baker.
Green Goddess Dressing & Breakfast Salad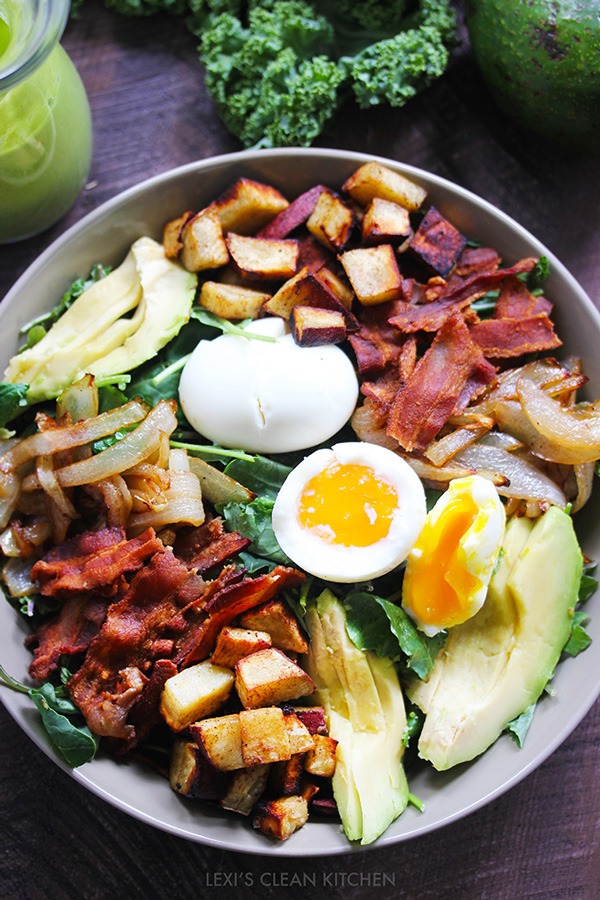 Serves: 2
Nutrition: 413 calories, 25 g fat, 7 g saturated fat, 547 mg sodium, 27 g carbs, 7 g fiber, 6 g sugar, 21 g protein (calculated with ½ avocado, 4 eggs, no dressing)
We didn't think it was possible to pack this many weight loss-friendly foods into one meal, but Lexi of Lexi's Clean Kitchen proved it was not only possible but light and delicious, too. Avocado, just one of the tasty waist slimmers required to make this dish, is filled with oleic acid, which can actually help quell feelings of hunger. Consuming the powerful green fruit has also been shown to lower cholesterol levels and reduce the risk of heart disease.
Get The Recipe From Lexi's Clean Kitchen.