Burger King's Major Franchisee Is Filing For Bankruptcy & Shedding 90 Restaurants
The pandemic, inflation, higher supply costs, and a lack of labor all took a serious toll on recent profits.
Between the COVID-19 pandemic and sky-high inflation in 2022, it's safe to say it's been a tough few years for the restaurant business as a whole. Even a brand like Burger King, one of the most recognizable in fast food, hasn't been immune to the economic squeeze.
Major Burger King franchisee TOMS King Holdings filed for Chapter 11 bankruptcy protection this week. Touted as one of the top-performing Burger King franchisees in North America as recently as 2018, TOMS King plans to sell all 90 of its current BK locations across Pennsylvania, Virginia, Ohio, and Illinois.
Just a few years ago TOMS King operated over 100 Burger King locations. The pandemic, inflation, higher supply costs, and a lack of labor all took a serious toll on recent profits, however, per a declaration in support of bankruptcy submitted by the franchisee.
According to the court filings, the operator's business "suffered significantly from [a] loss of foot traffic, resulting in declining revenue without proportionate decreases in rental obligations, debt service and other liabilities." And that's not even mentioning the additional cash flow issues created by higher prices for shipping, steeper food costs, and general inflation.
Interestingly, Daniel Dooley, TOMS King's chief restructuring officer and CEO of the consulting firm MorrisAnderson, acknowledged in the court filings that some of their BK locations remain profitable. Others, unfortunately, are losing money, rendering TOMS King unable to pay back its debts. The operator owes about $35 million in secured debt to Bank of America, $7 million in unsecured debt to Burger King, and another roughly $7 million is owed to numerous landlords, creditors, and vendors.
TOMS King currently employs about 2,087 hourly and 90 salaried employees. The franchisee is pursuing a motion granting the authority to continue paying wages to those workers.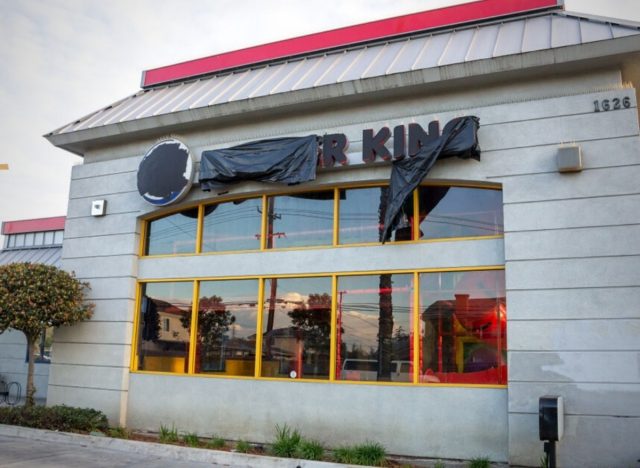 The first public signs of financial trouble appeared a couple of months ago when TOMS King abruptly closed over half a dozen Burger King restaurants in Ohio. Internally, these latest court filings reveal the company began taking a hard look at its financials around July of last year. That analysis ultimately led the franchisee to choose bankruptcy as the best possible path forward.6254a4d1642c605c54bf1cab17d50f1e
TOMS King certainly isn't the only BK franchisee to feel the financial strain recently. Over the summer credit ratings agencies downgraded numerous Burger King operators due to various inflation-related issues (higher labor costs, lower sales).
Similarly, the greater Burger King brand didn't fare all that well during the pandemic in comparison to its peers. For decades the home of the Whopper had enjoyed the status of #2 U.S. burger chain by sales (behind only McDonald's). In 2020 Wendy's claimed that spot, pushing BK down to #3. Burger King's profits have also been slow to recover post-pandemic, but there are signs of a turnaround. BK reported a 4% increase in U.S. same-store sales growth year-over-year as of Q3 of last year, and a 10% increase globally.
In recognition of these recent issues, Burger King's parent company recently announced a $400 million investment plan focused on revitalizing the overall BK brand in September 2022. Dubbed Reclaim the Flame, the initiative will see Burger King pursue fresh new marketing efforts, menu changes, and improvements to over 3,500 locations (new technologies, better kitchen equipment).
John Anderer
John Anderer is a writer who specializes in science, health, and lifestyle topics.
Read more about John