I Tried Burger King's New "Spider-Verse" Meal & This May Be the Chain's Best Dessert Ever
Get ready to taste a new kind of Whopper and ice cream treat from the multiverse.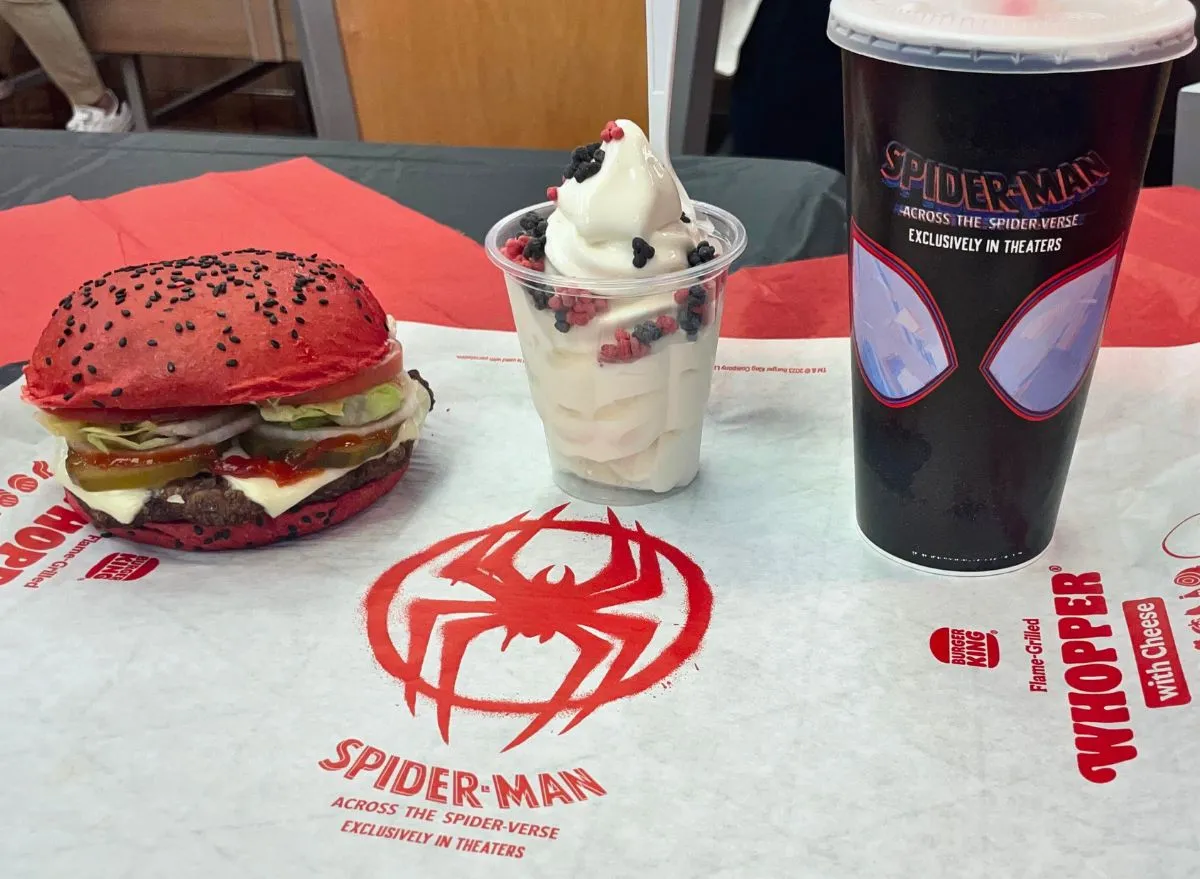 The Whopper is getting a cinematic makeover. Burger King has partnered with the new Spider-Man movie, Spider-Man: Across the Spider-Verse, which hits theaters June 2, for an exciting themed burger and a special dessert. 
The "Spider-Verse" Whopper and a new "Spider-Verse" Sundae will land in restaurants for a limited time from May 15 to June 21.  The limited-time Whopper features a newly-designed red bun topped with black sesame seeds, the burger's signature flame-grilled beef patty, melted Swiss cheese, and the Whopper's traditional toppings. It will be available on its own or as a meal with a side of fries and a drink in a limited-time Spider-Verse cup.  The new "Spider-Verse" Sundae features Burger King's vanilla soft-serve ice cream sprinkled with black and red chocolate popping candies. 
Along with the new menu items, select Burger King locations will get an intricate Spider-Man dining room and drive-thru decor transformation, including a few "Instagram-able" areas for customers to immerse themselves in the "Spider-Verse" and pick up one of the staple Burger King crowns with a fun spidey style. Next up on the list of restaurant takeovers around the world will be seen at chains in both France and Brazil, PR representative Seth Grugle tells us.
I got an exclusive preview of the two menu items, and here's what I loved.
The "Spider-Verse" Whopper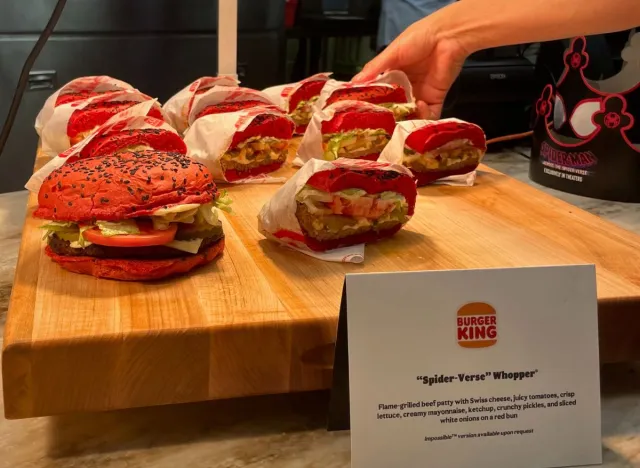 Chef Chad Brauze, senior director of culinary innovation and sustainability at Burger King said his favorite part about creating the menu items was finding a way to turn the chain's iconic burger into Spider-Man's bright red suit color without any artificial additives or coloring. "It's beet juice, how cool is that?" Plus, he adds that the "Swiss cheese is like a spider web coming out of there." 6254a4d1642c605c54bf1cab17d50f1e
The look: The new sandwich looks like Burger King's signature Whopper with a vibrant red bun peppered with dramatic accents from the black sesame seeds. The burger was cut in half so I could see every delicious layer. From the solid-sized beef patty to the dripping concoction of creamy mayo and melted Swiss cheese, everything looked very appetizing.
The taste: As a non-beet-eater, I was skeptical at first, but the Whopper bun had a faint and subtle new flavor that was actually refreshing. The beets added a softness to the bun and, thankfully, it did not taste like the vegetable at all.  I really enjoyed the fact that Burger King chose Swiss cheese because it brings the burger up a notch from the classic American cheese. Also, the burger had that signature Burger King fresh-off-the-grill flavor that I'd definitely go back for again. 
The "Spider-Verse" Sundae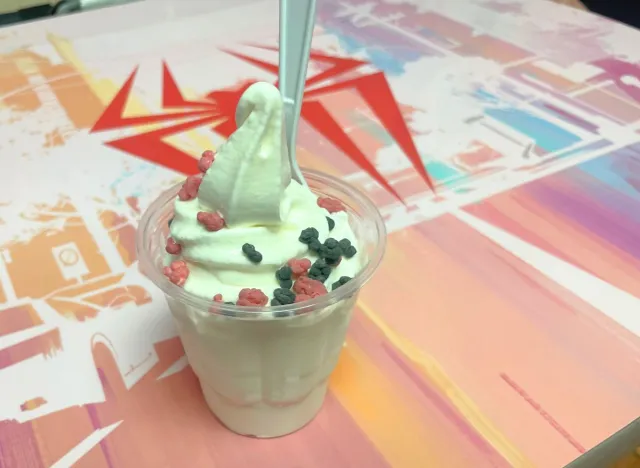 The look: As I reached for my "Spider-Verse" Sundae, I got butterflies of excitement looking at the perfect twist of vanilla soft serve and crunchy candy topping.
The taste: I was sold from the first bite. The chocolate-coated popping candy took the sundae to another level, as it made the light and creamy base much more interesting to eat. With every bite, I could hear and feel the "pop, pop, pop" settling into the back of my throat. And, since the candy was covered in chocolate, I didn't get any overwhelming hits of sugar, only sweet chocolaty deliciousness on top of a really good cup of soft serve.  I would absolutely order this Spidey-themed ice cream sundae again.
Jordan Summers-Marcouillier
Jordan Summers-Marcouillier was born and raised in San Jose, California and now works as a writer in New York, NY.
Read more about Jordan