Vegetarian Butternut Squash Ravioli With Sage Brown Butter
This low-calorie, meat-free pasta dish will become your new go-to.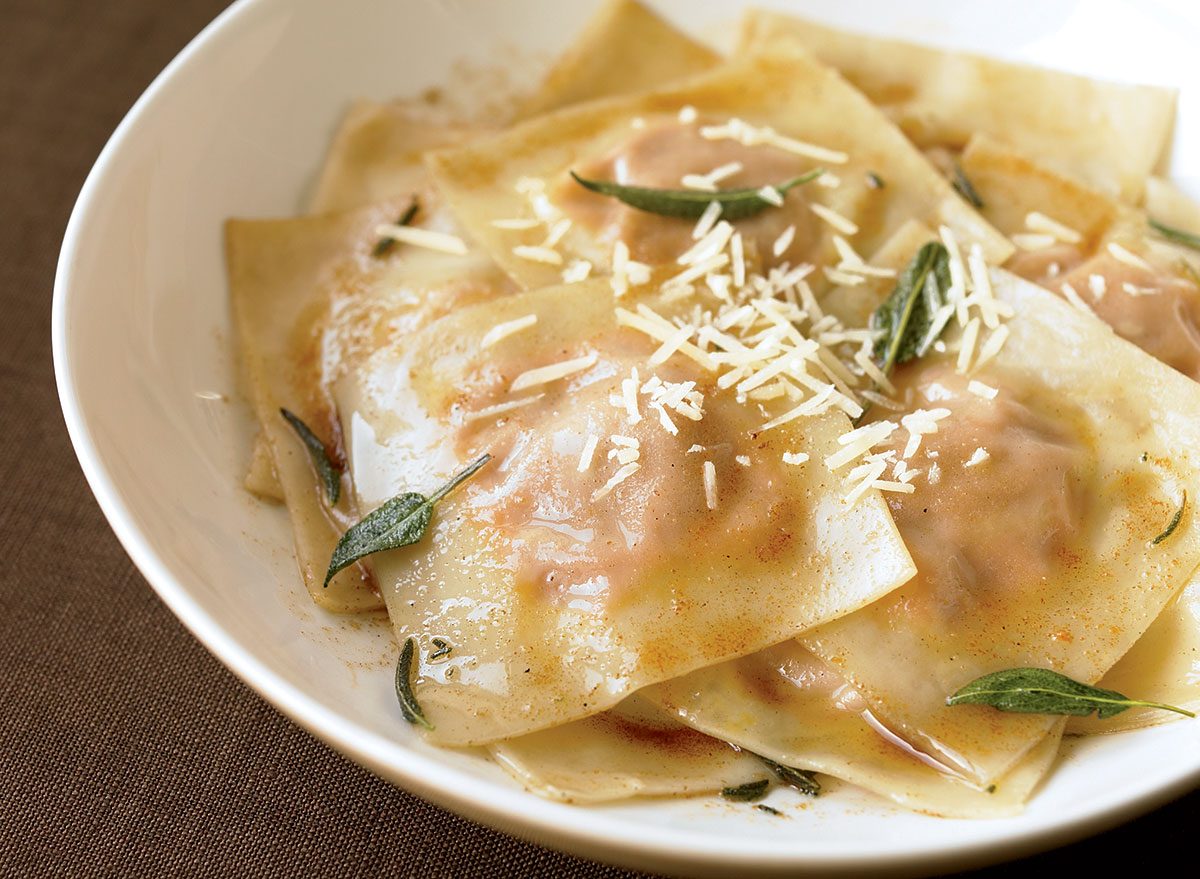 It's a sad state of affairs when a meat-free pasta can swallow up 95 percent of your day's saturated fat, but we've come to expect that from chain restaurants. This butternut squash ravioli is everything a vegetarian dish should be: healthy, exciting, and super tasty.
Nutrition: 450 calories, 14 g fat (8 g saturated), 620 mg sodium
Serves 4
You'll Need
1 can (16 oz) butternut squash or pumpkin puree
1⁄2 Tbsp balsamic vinegar
Pinch of ground nutmeg
2 Tbsp grated Parmesan, plus more for garnish
Salt and black pepper to taste
48 wonton wrappers
2 egg whites, lightly beaten
4 Tbsp butter
16 fresh sage leaves, plus more garnish
How to Make It
Bring a large pot of water to a boil over high heat. Mix the squash, vinegar, nutmeg, and Parmesan; season with salt and pepper.
Working on a clean floured surface, lay down a single wonton wrapper and place a small spoonful of the squash mixture in the center, being careful not to overstuff.
Paint the edges of the wrapper with the egg whites, then top with another wonton wrapper. Press firmly around the edges with your fingers to secure the filling inside the ravioli.
Repeat with the remaining wrappers to create 24 ravioli.
Salt the boiling water and turn down the heat to medium so that it's gently boiling.
Carefully drop in the ravioli and cook for 3 minutes, then drain.
In the meantime, heat a large skillet or sauté pan over medium heat and add the butter and sage.
Cook until the butter is lightly brown and begins to give off a nutty aroma. (Do this carefully, as you don't want the butter to burn.)
Add the cooked ravioli to the pan, tossing gently to make sure they don't break. Divide among 4 warm plates and garnish with Parmesan and sage.
Eat This Tip
Do you have the time on a busy weeknight to make fresh pasta by hand? We doubt it. Found in the refrigerated section of most supermarkets, wonton wrappers are a perfect, inexpensive substitute for fresh pasta, enveloping your filling of choice in thin sheets of flour, egg, and water. The secret to successful ravioli is threefold:
Don't overstuff the wrapper—a little less than a tablespoon of filling should do.
Seal the wrapper firmly, using egg wash as an adhesive around the perimeter.
Dust the assembled ravioli—and your work surface—with flour to keep the surface of the wrappers from sticking.
RELATED: The easy way to make healthier comfort foods.6254a4d1642c605c54bf1cab17d50f1e