Classic Butternut Squash Soup Recipe
A bowl filled with tasty flavors and tons of vitamins? It's no wonder this veggie soup is such a perennial pleaser.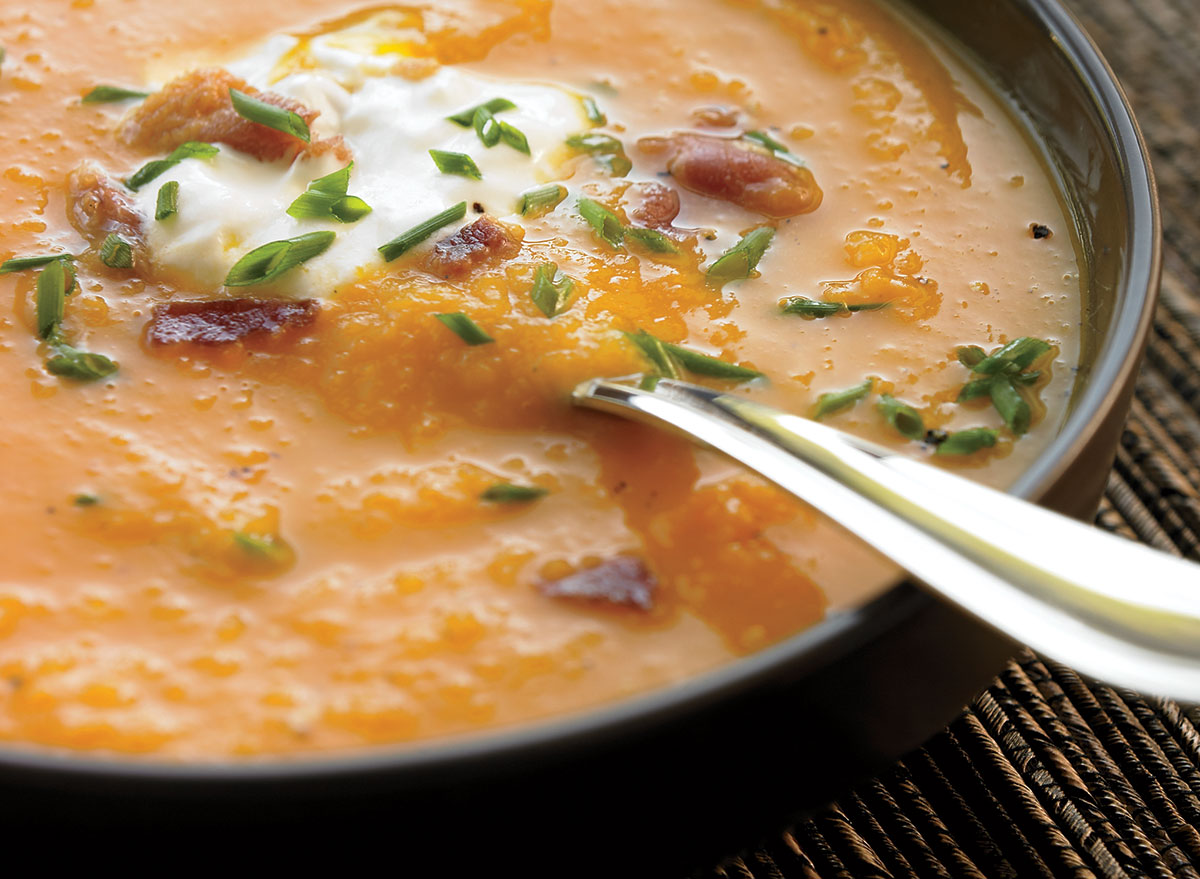 We love tomato soup, but when it comes to vegetable soups, butternut is unbeatable. Beyond being super tasty, it's also among the healthiest, packed with vitamin A, fiber, and omega-3s.
Nutrition: 150 calories, 3.5 g fat (1 g saturated), 490 mg sodium
Serves 4
You'll Need
1 large butternut squash
Olive oil
Pinch of grated nutmeg
Salt and black pepper to taste
2 strips bacon
1 small onion, diced
1 Tbsp minced or grated fresh ginger (The ginger gives this soup a subtle heat, but if you want to turn up the spice level, try a few shakes of cayenne or a tablespoon of chipotle pepper.)
1 green apple, peeled, cored, and chopped
4 cups low-sodium chicken broth
Chopped chives and light sour cream (optional)6254a4d1642c605c54bf1cab17d50f1e
How to Make It
Preheat the oven to 375°F. Slice the squash in half lengthwise and scoop out the seeds.
Rub the halves with a touch of oil and season with nutmeg, salt, and pepper.
Place on a baking sheet and roast until the flesh is very soft, about 35 to 40 minutes. Set aside to cool.
Heat a large pot over medium heat. Add the bacon and cook until crispy, 5 to 7 minutes.
Transfer to a plate and reserve. Add the onion and ginger to the hot pot, and cook until the onion is translucent (but not browned), about 3 minutes.
Add the apple and cook until soft, another 3 minutes or so.
When the squash is cool enough to handle, scoop out the flesh and add it to a blender or large food processor.
Add the contents of the pot and pour in enough broth to cover. (Be careful not to overfill; work in batches if necessary.)
Process until very smooth and return to the pot.
Stir in the remaining broth and bring to a simmer.
Season with salt, pepper, and a touch more nutmeg.
Garnish with crumbled bacon, chives, and sour cream (if using).
Eat This Tip
Soups aren't exactly rocket science; most don't even require recipes. Puréed soups (like this one) follow an especially predictable formula.
Sauté 1 chopped onion and 2 minced garlic cloves until translucent, then add any of the following ingredients along with 4 cups of chicken broth (the base of most soups), then purée in a blender.
2 cans (14 oz) white beans; add 2 Tbsp chopped fresh rosemary after blending
1 can (28 oz) whole peeled tomatoes and 1⁄2 cup half-and-half; add 1 cup chopped fresh basil after blending
2 pounds sautéed mushrooms and 1⁄2 cup half-and-half