9 Things You Can Make With a Can of Salmon
Canned salmon is very much like canned tuna—an easy pantry staple to turn into dinner.
A delicious fatty fish like salmon works well even from a can. Its texture pretty much resembles canned tuna, and it can be used in all the ways tuna can. Make burgers, salads, or even patè to spread on crackers as a quick snack. Plus, salmon will provide you with a healthy dose or protein and good fats—it makes a great compliment to any healthy diet. We've gathered best canned salmon recipes to inspire your next dinner.
Related: 13 Healthy Things You Can Make With a Can of Tuna
Salmon Burgers with Slaw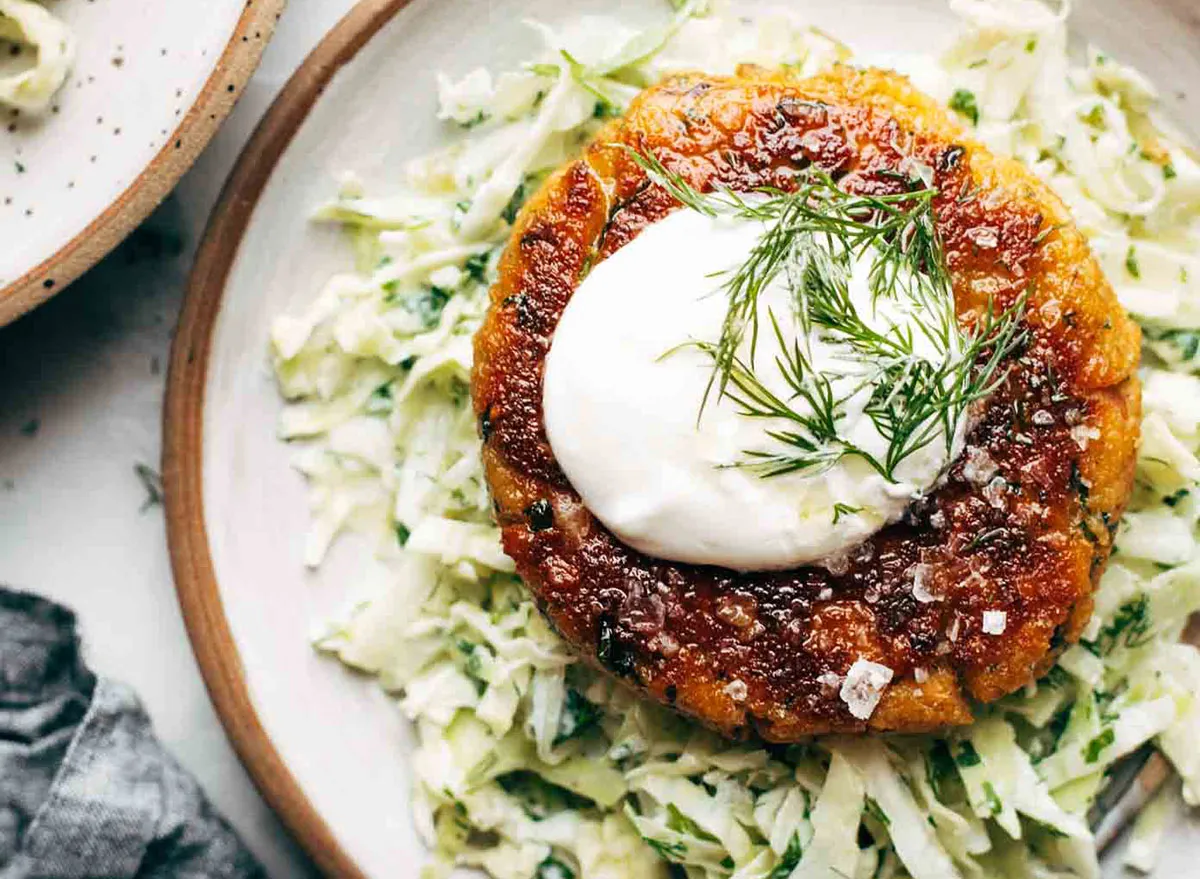 One of the easiest things you can do with canned salmon is to treat it like ground meat and use it in a burger patty. This recipe combines it with fresh herbs and garlic powder for added flavor, and produces a deliciously crispy patty that sits well in a bun or atop a bed of homemade cabbage slaw.
Get the recipe from Pinch of Yum.
Related: 61 Best Healthy Fish Recipes for Weight Loss
Mediterranean Salmon Coucous Salad
Anything canned tuna can do, canned salmon can do, too. This simple recipe is proof—make a couscous salmon salad by combining the two with fresh herbs, tomatoes, olives. Then enjoy the Mediterranean flavors for lunch or a light dinner. Get more ideas on how to adopt the healthy Mediterranean diet.
Get the recipe from Recipe Runner.
Tex Mex Salmon Black Bean Burrito
A canned salmon burrito is treated like an enchilada here—baked with extra cheese and sauce on top, which makes for an even more flavorful end result. Although, you can just eat the pre-baked burrito as is, too (it's that good). Got a hankering for homemade Mexican food? Try our 51 Healthy Mexican Recipes.
Get the recipe from Cotter Crunch.
Sweet Potato Salmon Cakes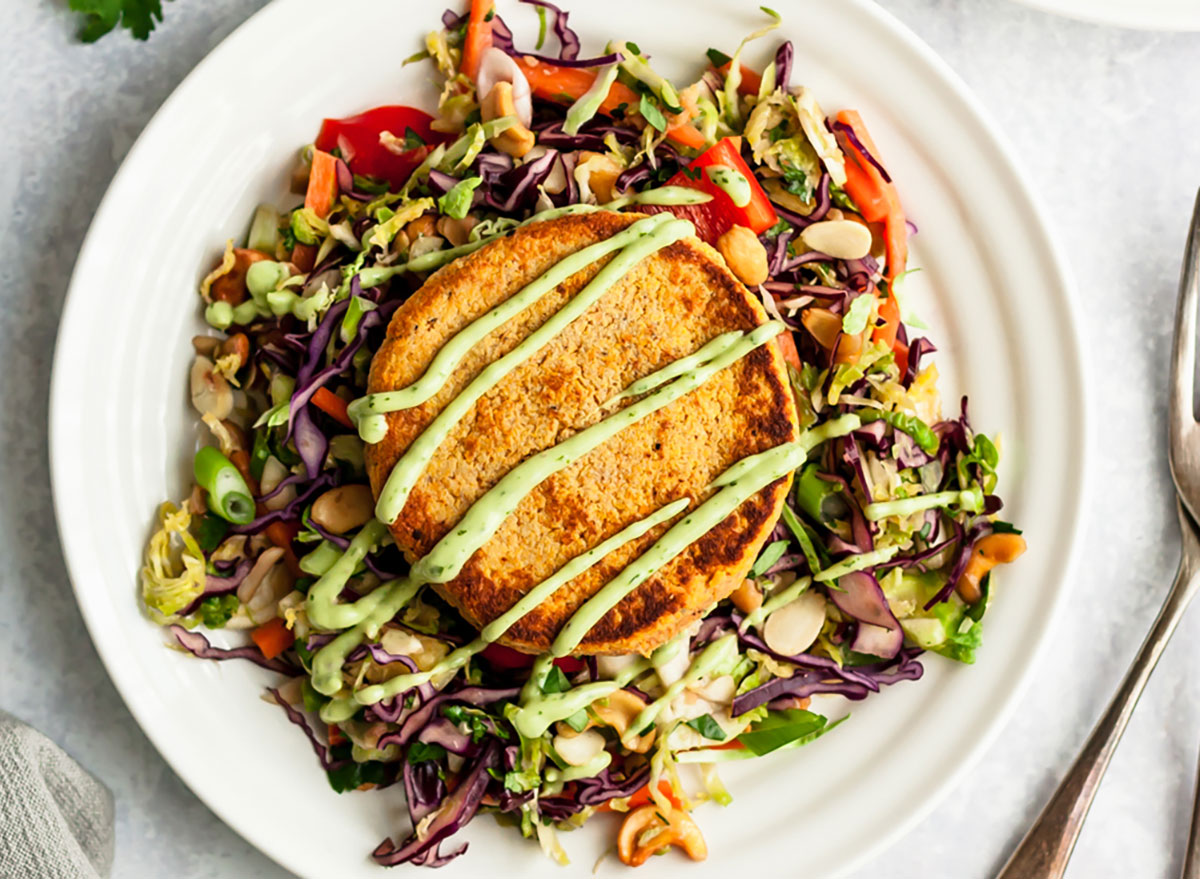 If you only have one can of salmon in your pantry, this recipe provides a great idea for stretching it into a full meal. Not only is the addition of sweet potato a genius way to bulk up your salmon patty, the two ingredients together provide a healthy combo of fats, vitamins, and fiber. Pair it with crunchy veggies and a creamy dressing to round out your lunch.
Get the recipe from Ambitious Kitchen.
Dijon Dill Salmon Salad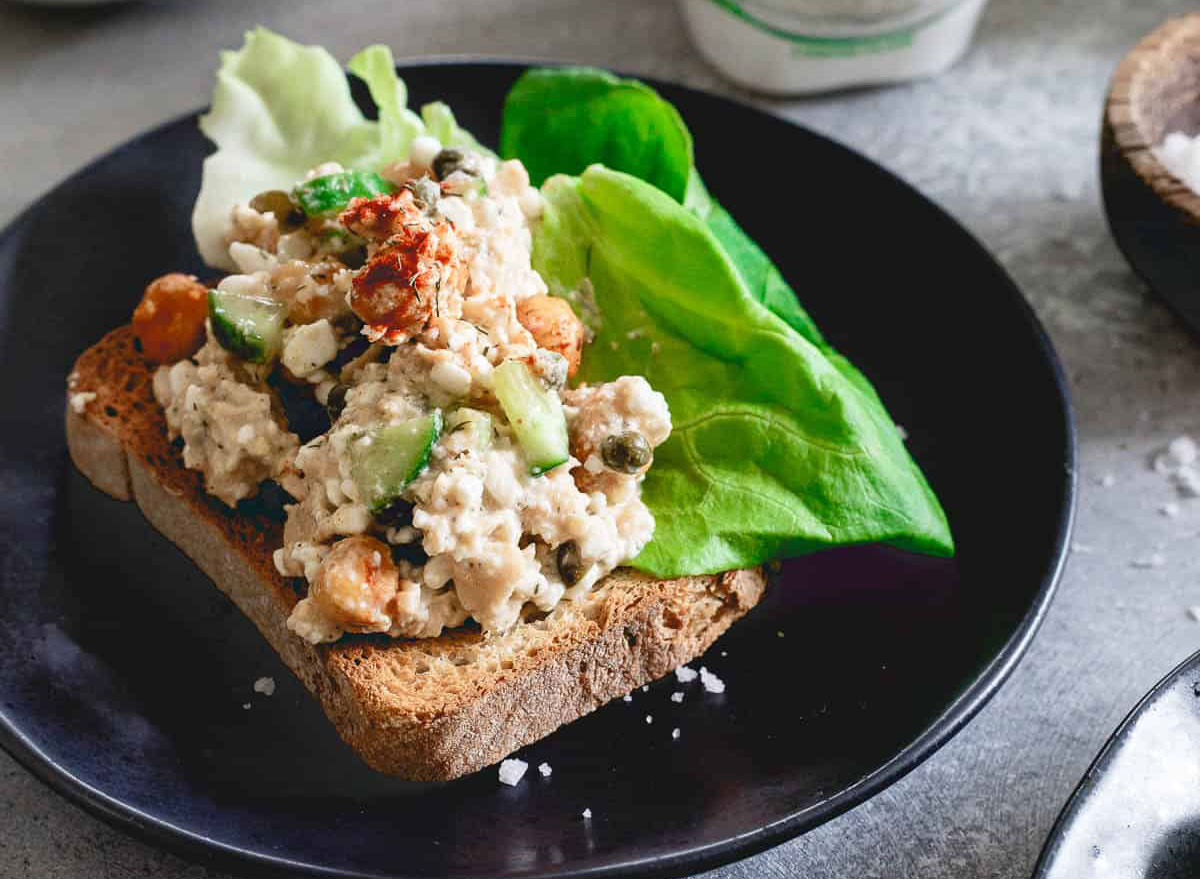 Tuna who? Use canned salmon instead when making a creamy salad to spread on toast or add to a sandwich. And we love the ingredients in this particular recipe, which puts a delicious, interesting spin on the boring ol' tuna salad.
Get the recipe from Running To The Kitchen.
Related: 20 Healthy Foods to Add to Your Grocery List Right Now
Salmon Pate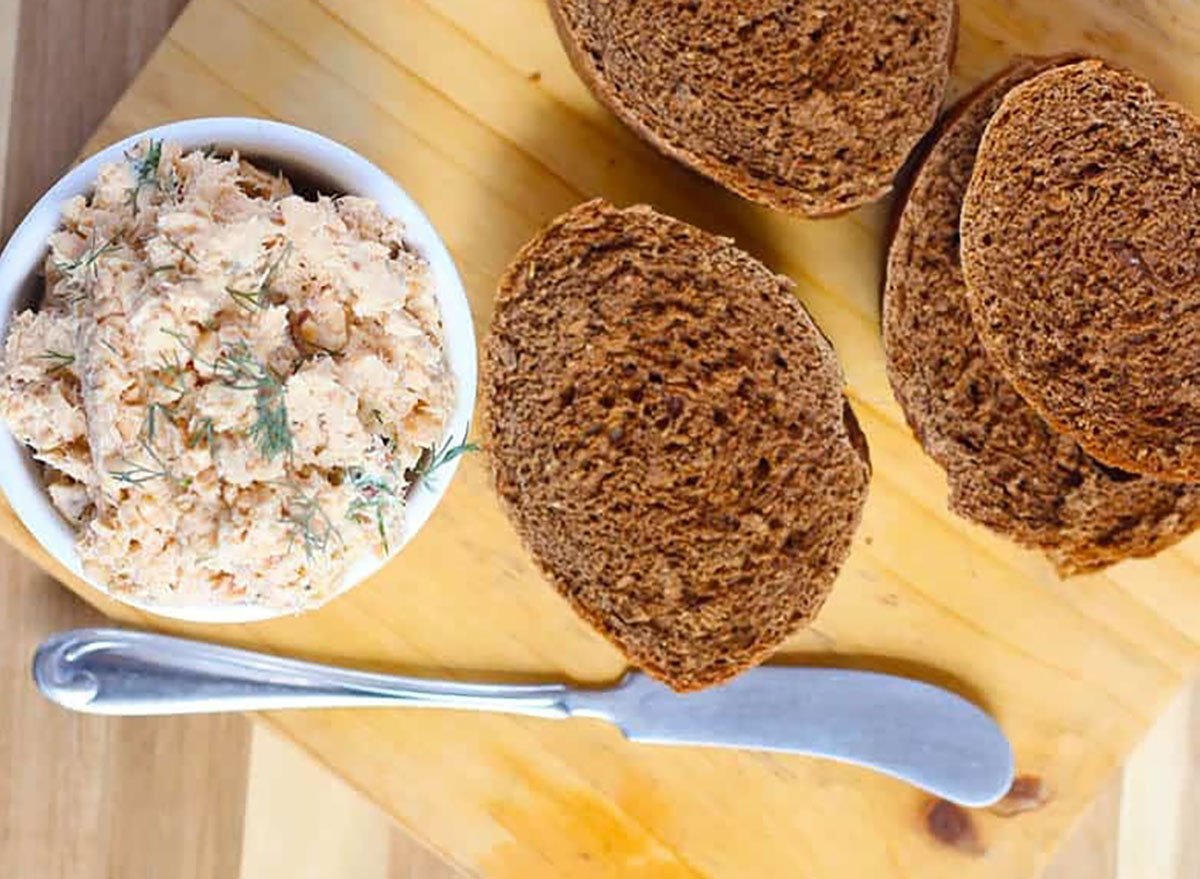 Turn your canned salmon into a spreadable topping for crackers or crispbreads. This patè requires 5 ingredients, and takes about 3 minutes to make. The best part? It keeps in the fridge for several days, for easy-access snacking.
Get the recipe from Fusion Craftiness. 
Salmon and Egg Scramble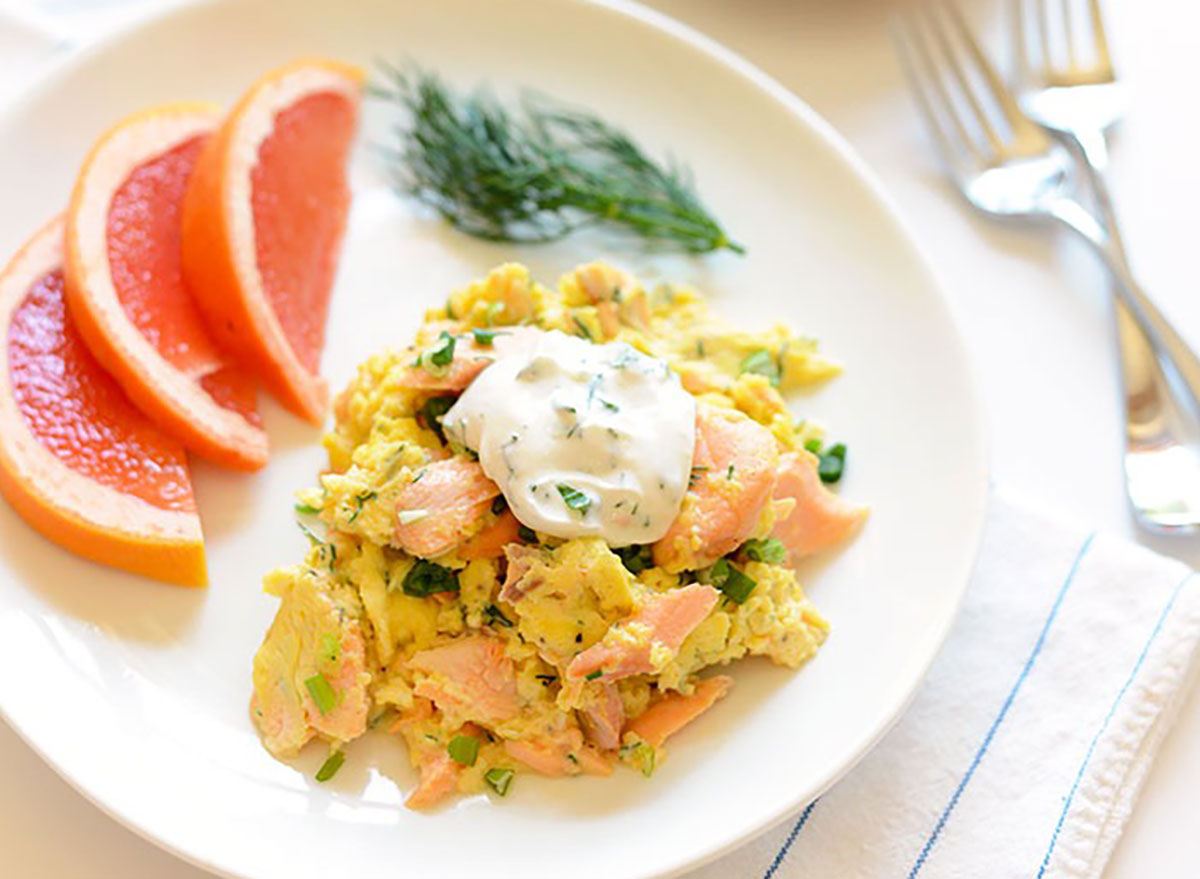 Whether you're using leftover roasted salmon from last-night's dinner or canned salmon, this Scandinavian-inspired dish really benefits from the addition of fresh herbs, and the refreshing tartness of yogurt. An easy way to turn salmon leftovers into a brunch at home.
Get the recipe from Fit Foodie Finds.
Cheesy Salmon Casserole
When you need a quick dinner that combines several pantry finds and frozen veggies, this one's a slam dunk. Combine all the ingredients in a baking dish and top with cheese for that melty gooey texture, and dinner's ready in pinch.6254a4d1642c605c54bf1cab17d50f1e
Get the recipe from The Spruce Eats.
Related: 45+ Best Healthy Casseroles for Weight Loss
Brain Power Salad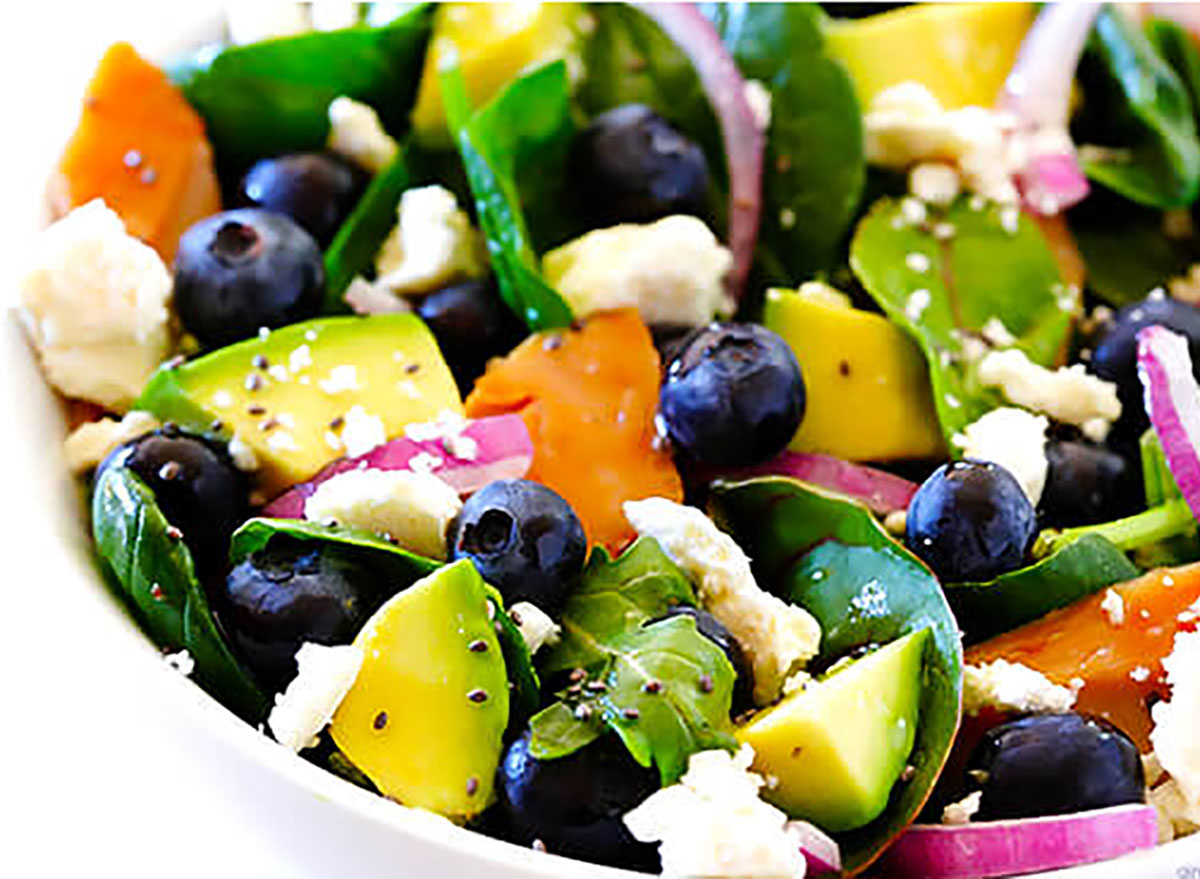 Then in doubt, throw together a salad. This one's got all the components of a balanced meal: salmon for the protein, avocado and feta cheese for the healthy fats, blueberries and spinach for the antioxidants, and a chia seeds for fiber. The recipe calls for smoked salmon, but a canned salmon is an excellent swap.
Get the recipe from Gimme Some Oven.
Mura Dominko
Mura is ETNT's Executive Editor, leading the coverage of America's favorite restaurant chains, grocery stores, and viral food moments.
Read more about Mura