45+ Best Cozy Casserole Recipes for Weight Loss
When it comes to effortless, smart meal planning, the casserole is the go-to choice for many.
Whipping up a casserole is typically a fast, cheap, and convenient solution to get dinner on the table. But they're all too often subjected to processed foods like cans of cream-of-something soups and shredded, waxy cheese. That's a shame, especially when the truth is that healthy casserole recipes are a great opportunity to combine wholesome, belly-shrinking ingredients! Plus, these dishes can be prepared from leftovers, made ahead of time, easily reheated, and adapted to fit any eating style, craving, or mealtime.
So, to level up your casserole game and make healthy happen in a snap, devour our healthy list of healthy casserole recipes below!
And for more, don't miss these 45+ Best Healthy Copycat Restaurant Recipes to Try Tonight
Baked Ziti
Save your cash—and your ticker—and eat our healthier version of baked ziti. You can easily make it at home, and it won't weigh you down. This is home-cooked comfort food at its finest.
Get our recipe for Baked Ziti.
Chicken Pot Pie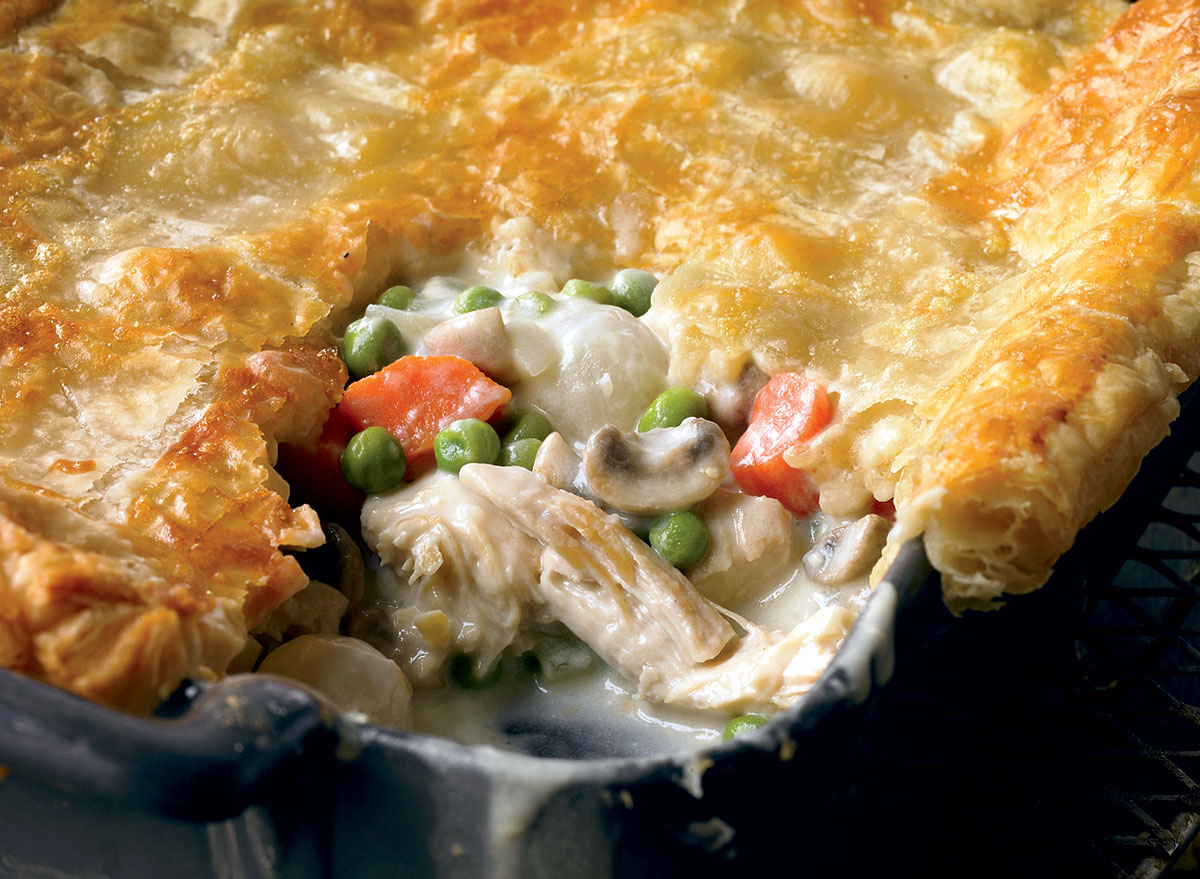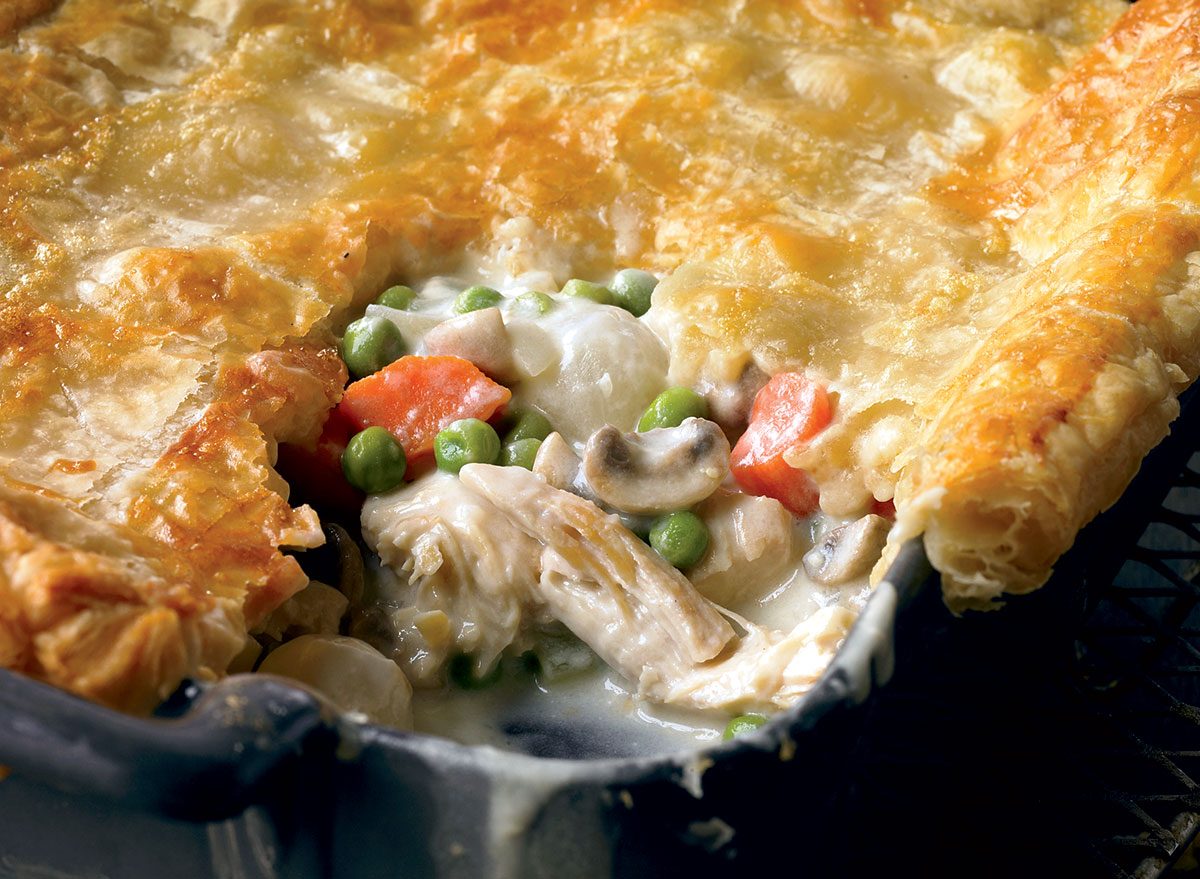 Pot pies may be one of America's favorite comfort foods, but there's nothing comforting about a dish that can swallow up an entire day's worth of calories, fat, and sodium, as many restaurant renditions do. We clear out the artery-clogging fats, cut the calories by more than half, and deliver an easy chicken pot pie recipe you're bound to love.
Get our recipe for Chicken Pot Pie.
Green Bean Casserole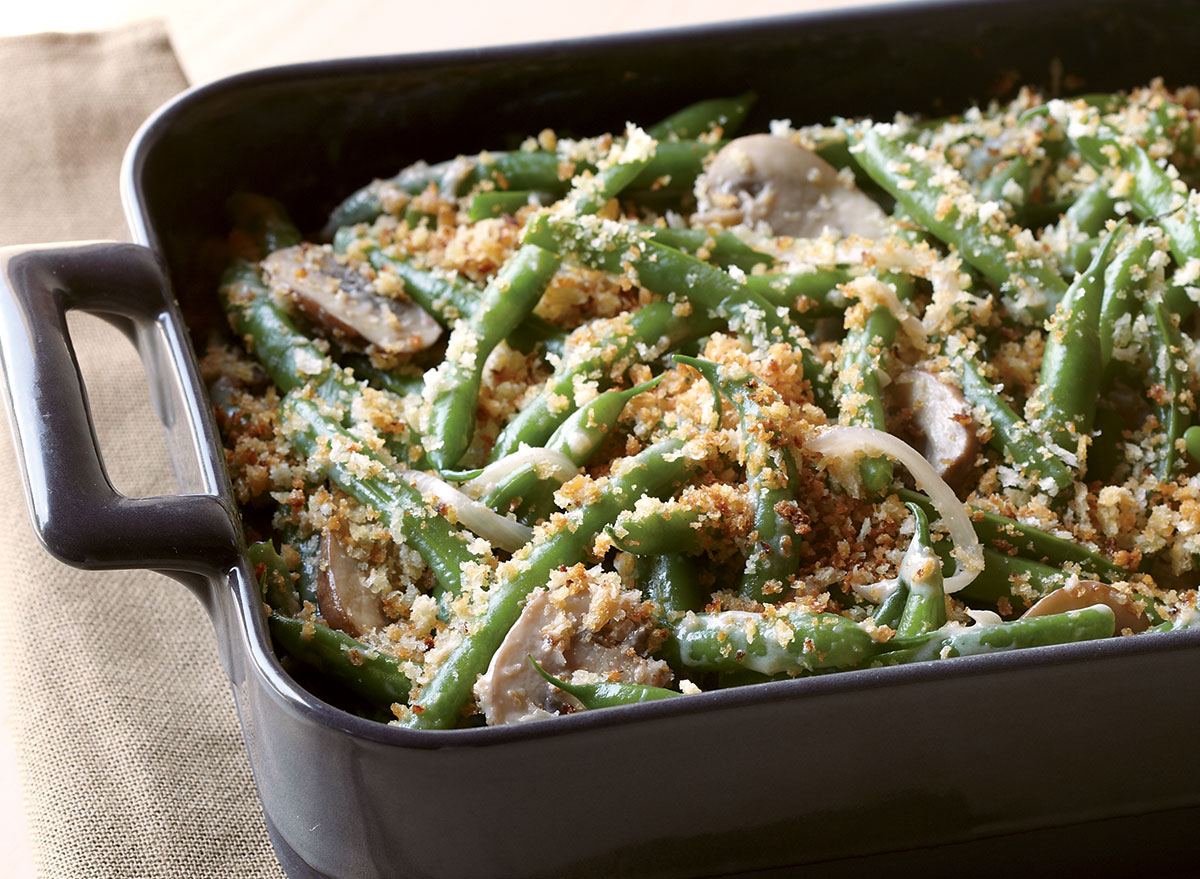 In this version, we stay true to the flavors of the original green bean casserole recipe (onions, mushrooms, green beans bound in a creamy soup sauce), but we employ the use of fresh ingredients to create something with more texture, flavor, and nutrition far exceeding the original.
Get our recipe for Green Bean Casserole.
Chicken Sausage Lasagna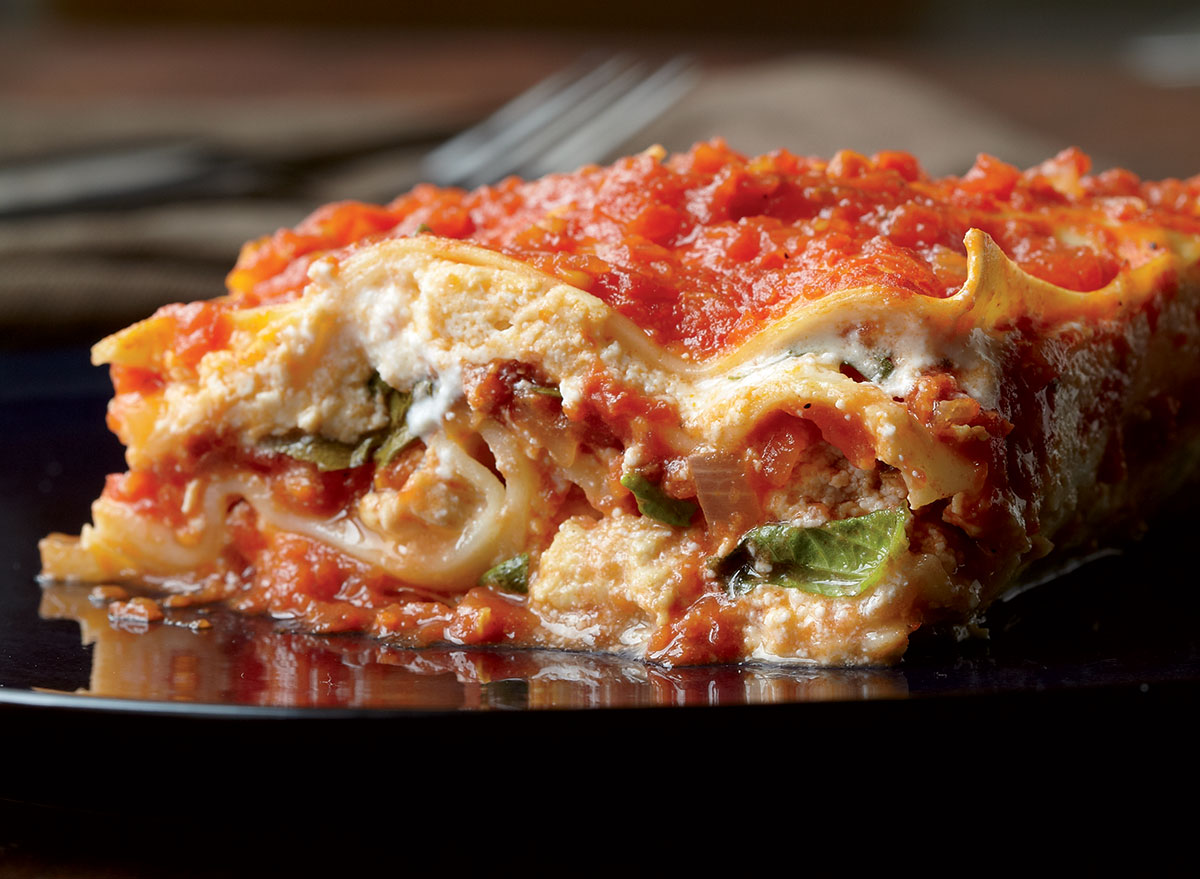 This version of the chicken lasagna recipe represents the best of both worlds, blending the cheesy, tomatoey comfort of the American version with the meatiness and relative healthfulness of the Italian take.
Get our recipe for Chicken Sausage Lasagna.
Turkey Meatloaf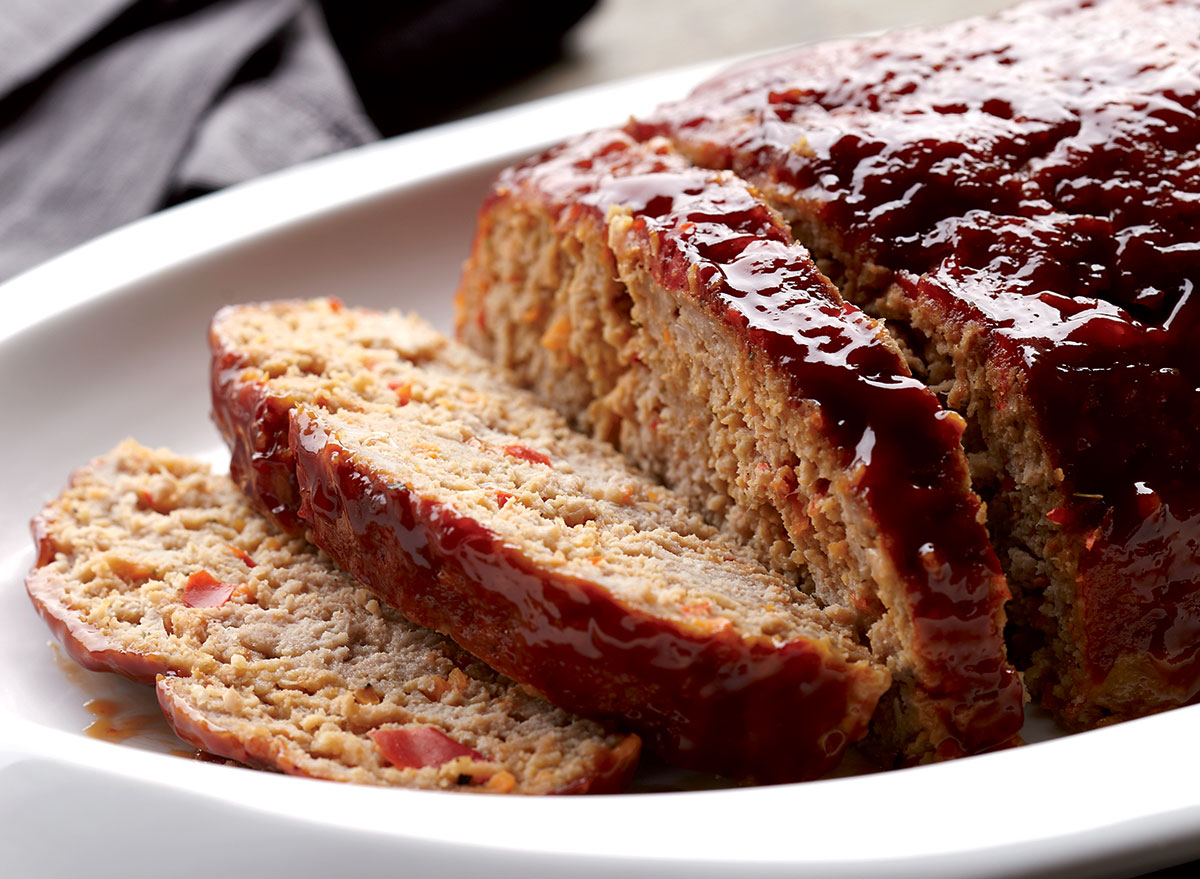 The key to excellent meatloaf is threefold: a well-seasoned base, a generous glaze, and careful cooking. We realize that some people may still bear scars from the bone-dry loaves of their childhoods, but a creation like ours will banish them with a single bite of this turkey meatloaf recipe.
Get our recipe for Turkey Meatloaf.
Spicy Macaroni and Cheese With Jalapeños and Prosciutto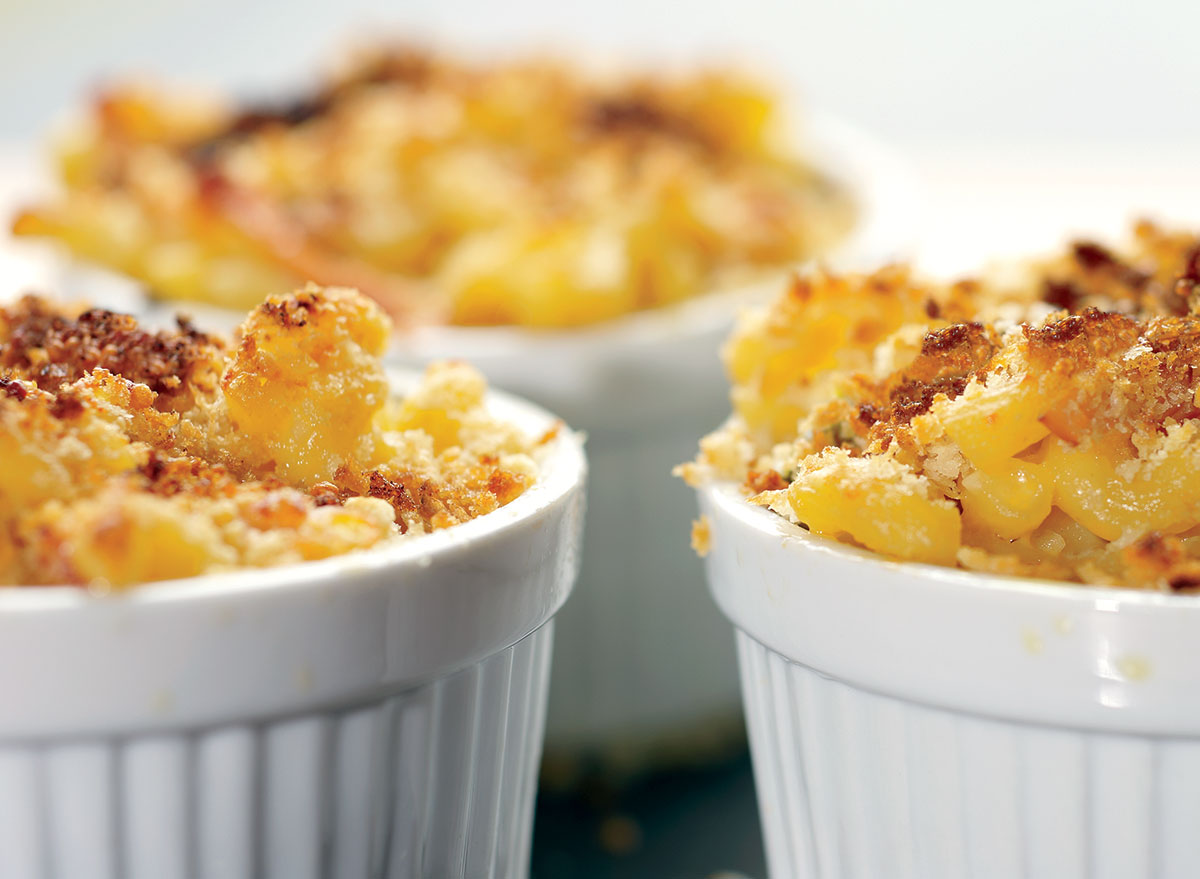 This spicy mac and cheese is based on béchamel—butter, flour, and milk—which helps cut the calories in half. We add jalapeños and prosciutto for some spicy, smoky goodness; feel free to leave them out though if you're not a spice fan.
Get our recipe for Spicy Macaroni and Cheese With Jalapeños and Prosciutto.
Red Chile Chicken Enchiladas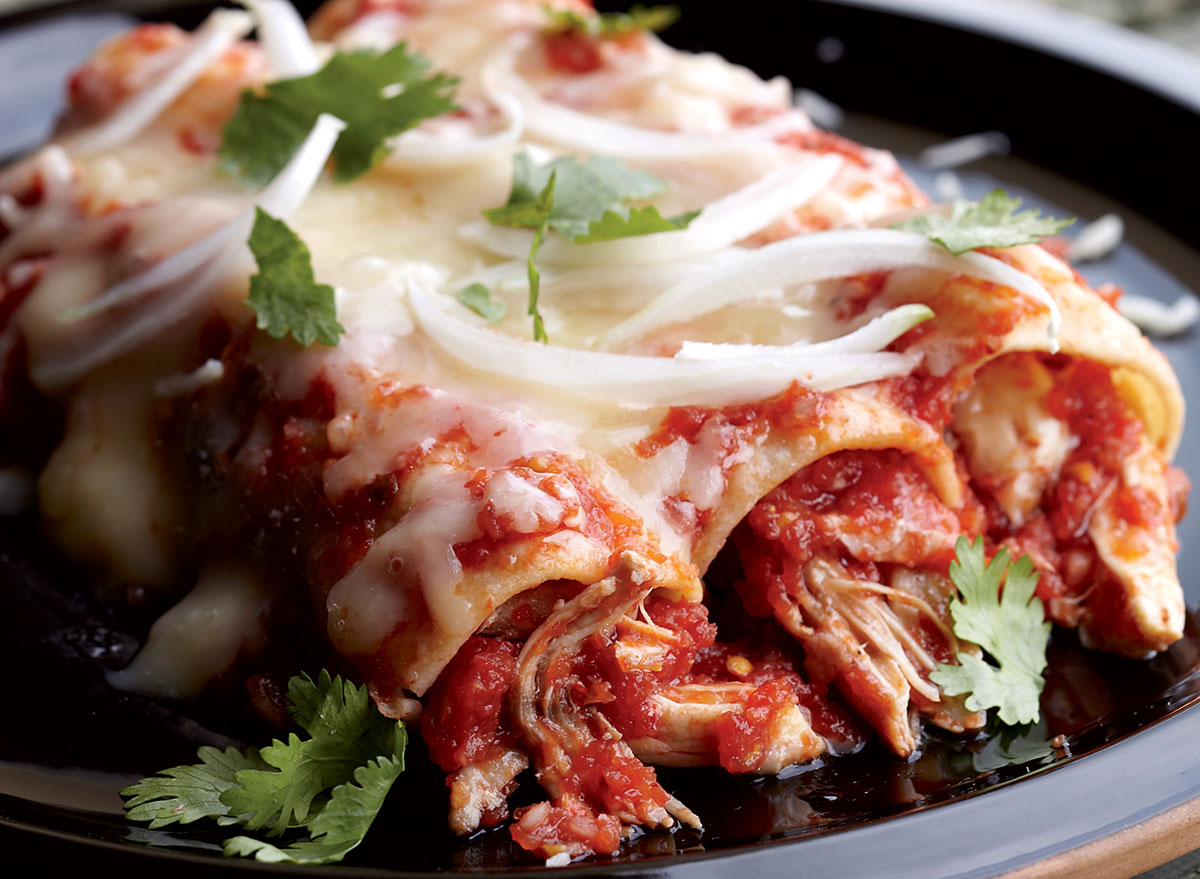 Making your own enchiladas at home means controlling your portions and what actually goes into your dish. You can play with the filling as you see fit, but this is truly the road map for true enchilada success.
Get our recipe for Red Chile Chicken Enchiladas.
Sausage and Mushroom Frittata
These Italian open-faced omelets are lighter than their American cousins because they're less likely to be loaded with cheese and more likely to be stuffed with vegetables. You're going to want to make this mushroom and sausage frittata recipe all the time.
Get our recipe for Sausage and Mushroom Frittata.
Blueberry Peach Cobbler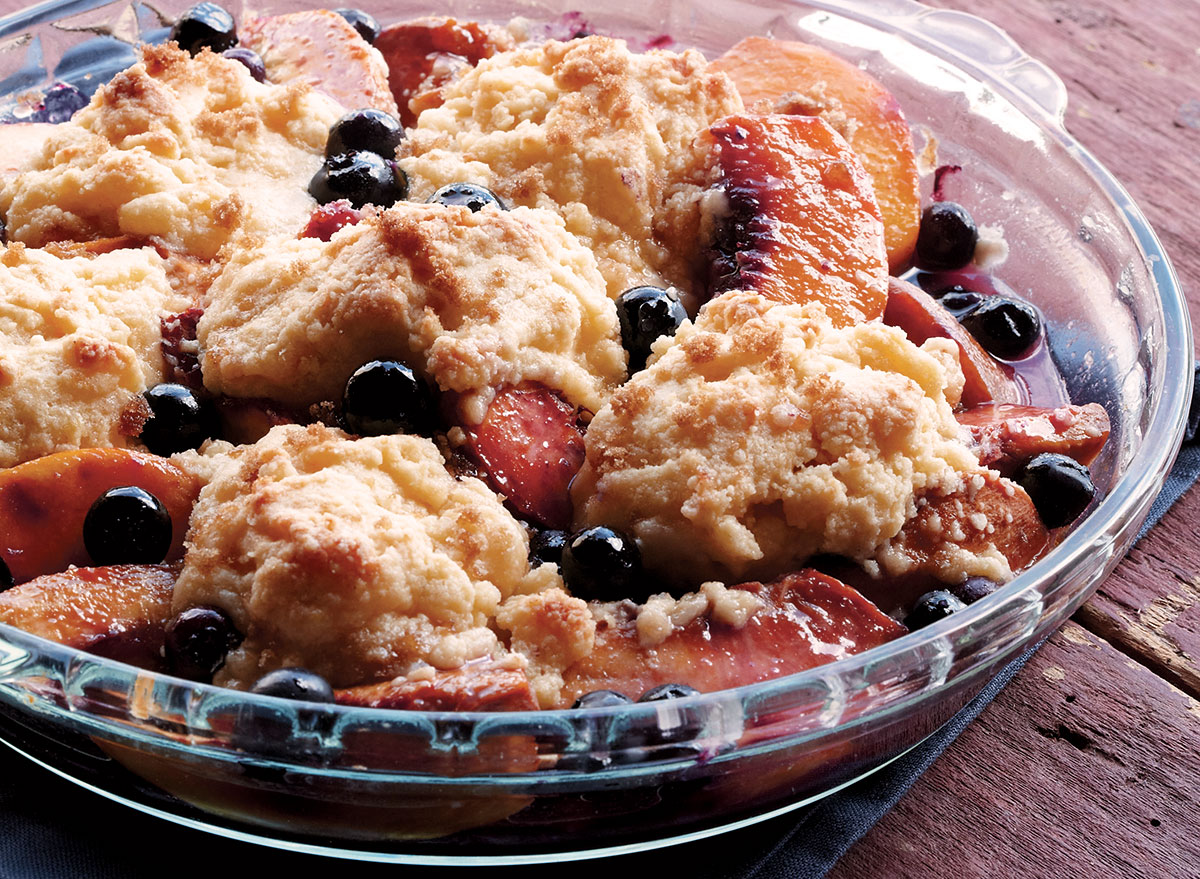 We know dessert is supposed to be an indulgent treat—that's why we have it after dinner! This blueberry peach cobbler can be baked in a pie dish or a casserole dish—made with crispy tender biscuits, perfect for soaking up all those lovely fruit juices.
Get our recipe for Blueberry Peach Cobbler.
Apple-Sausage Stuffing
In our recipe, we turn to the complex combination of sausage, tart apples, and fresh sage, which effortlessly converts a normal stuffing into something extraordinary.
Get our recipe for Apple-Sausage Stuffing.
Roast Pork Loin Recipe, Porchetta-Style With Lemony White Beans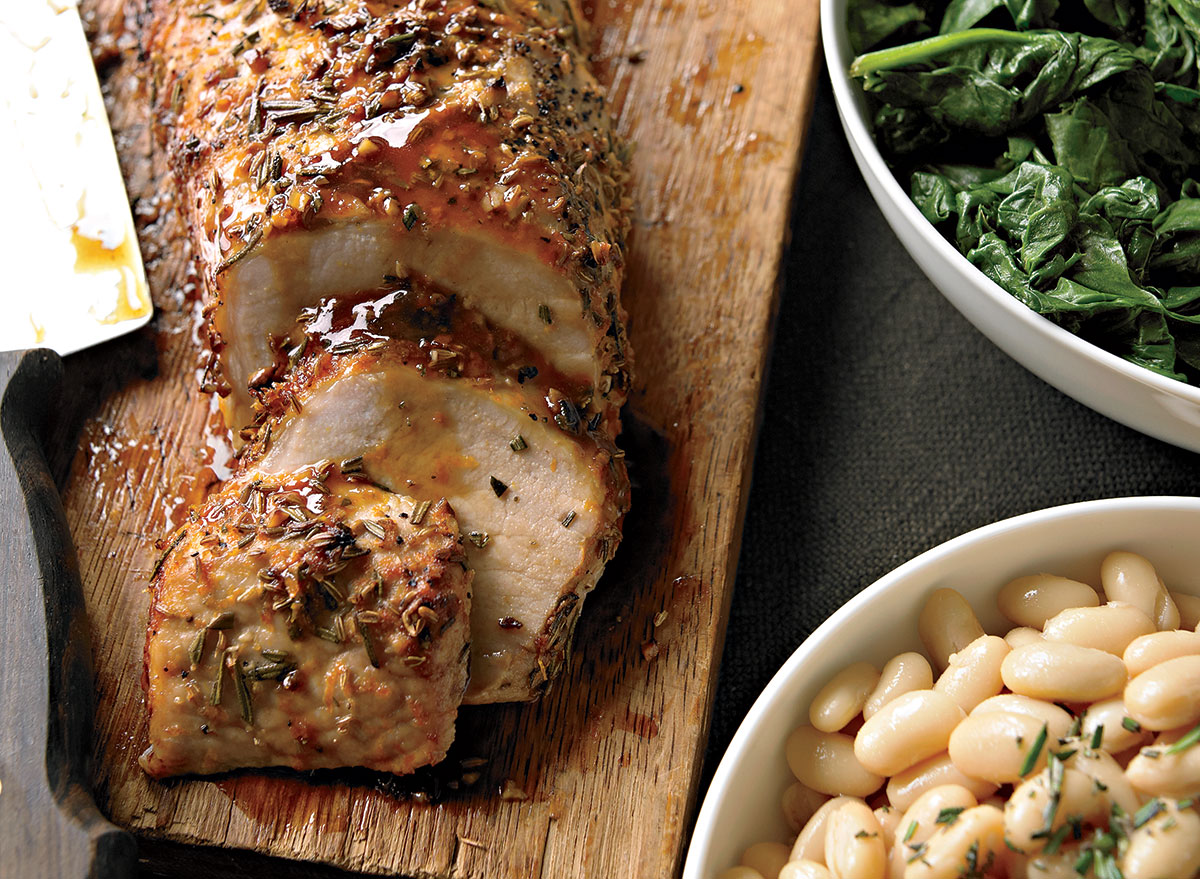 Use that casserole dish to roast a pork loin—which can last you all week long for dinners—or lunches! You could even put the pork on a sandwich.
Get our recipe for Roast Pork Loin Recipe, Porchetta-Style With Lemony White Beans.
BBQ Pork Shepherd's Pie With Sweet Potato Topping
This healthy recipe uses a paleo-compliant barbecue sauce, as well as unsweetened plain almond milk, to cut down on extra calories, while still giving the dish a tangy, yet creamy, texture. Plus, the extra kale sneaks in even more nutrients into the meal.
Get our recipe for BBQ Pork Shepherd's Pie With Sweet Potato Topping.
Fudgy Raspberry Brownies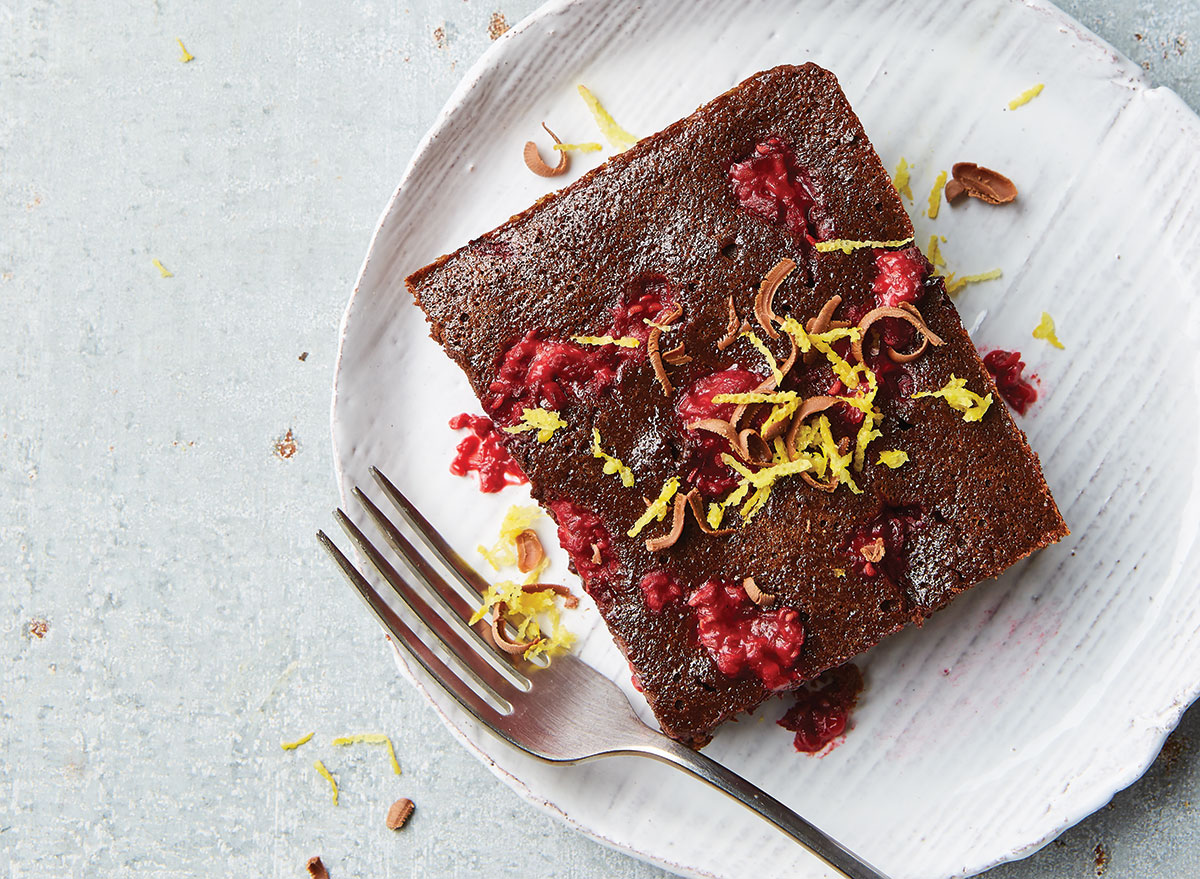 Brownies may not seem like a dish to live on a list of healthy casserole recipes. But our version keeps the calories low and bakes right in that casserole dish fo yours. It's a win-win! A healthy dose of frozen raspberries, along with a garnish of lemon zest, takes these brownies to the next level. There are so many flavors going on, and each of them complements the others perfectly.
Get our recipe for Fudgy Raspberry Brownies.
Shakshuka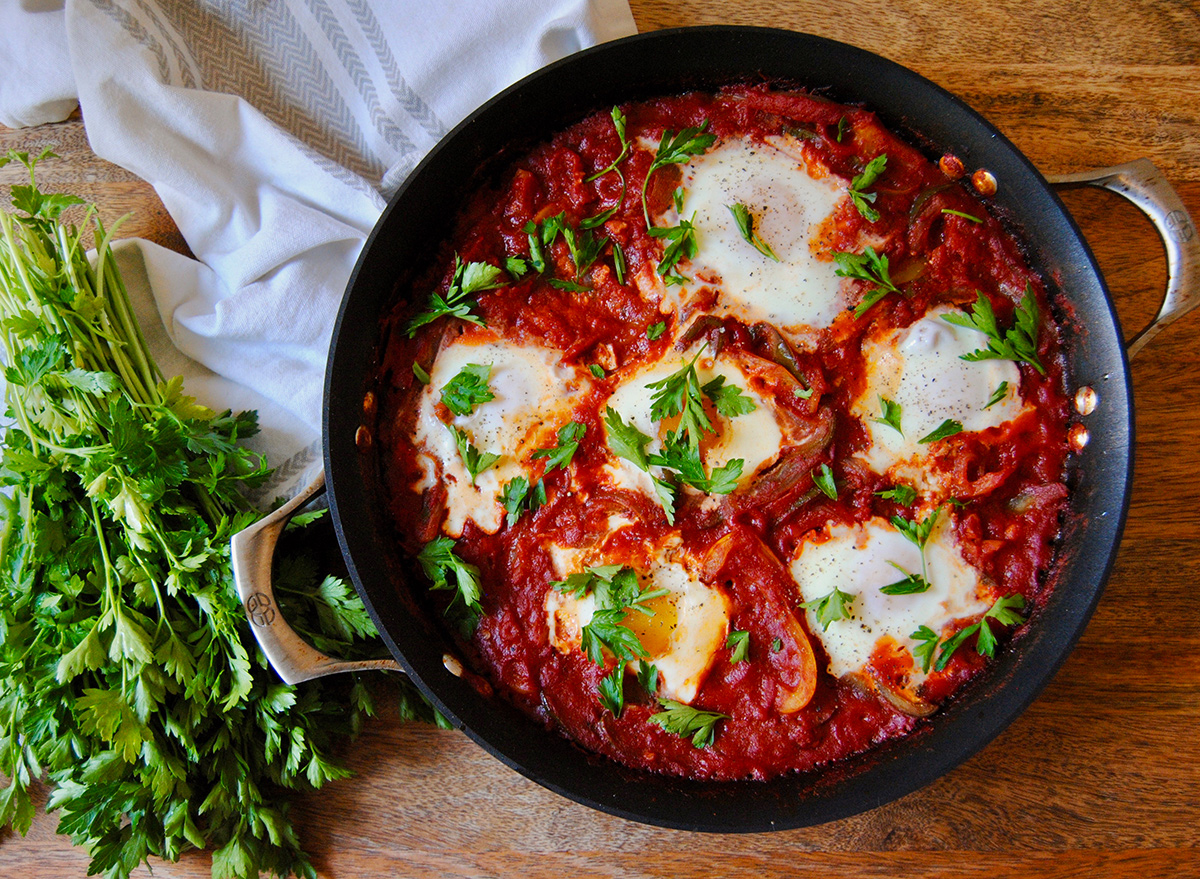 Made with fresh or canned tomatoes, the sauce starts with sautéed bell peppers, onion, and garlic. A few good spoonfuls of the spicy North African red pepper paste harissa adds depth to the shakshuka, making the mixture of this paleo casserole way more exciting than your everyday tomato and garlic sauce.
Get our recipe for Shakshuka.
Vegan Sausage and Vegetables
Sheet pan dinners can easily roast in your casserole dish! This vegan sausage dish has a super short ingredient list, with spices like paprika, chili flakes, fennel, and thyme making up half of it. You can keep the sausages in sausage form, or crumble them up and use them in other recipes that call for ground plant-based meat.
Get our recipe for Vegan Sausage and Vegetables.
Keto Cheeseburger Casserole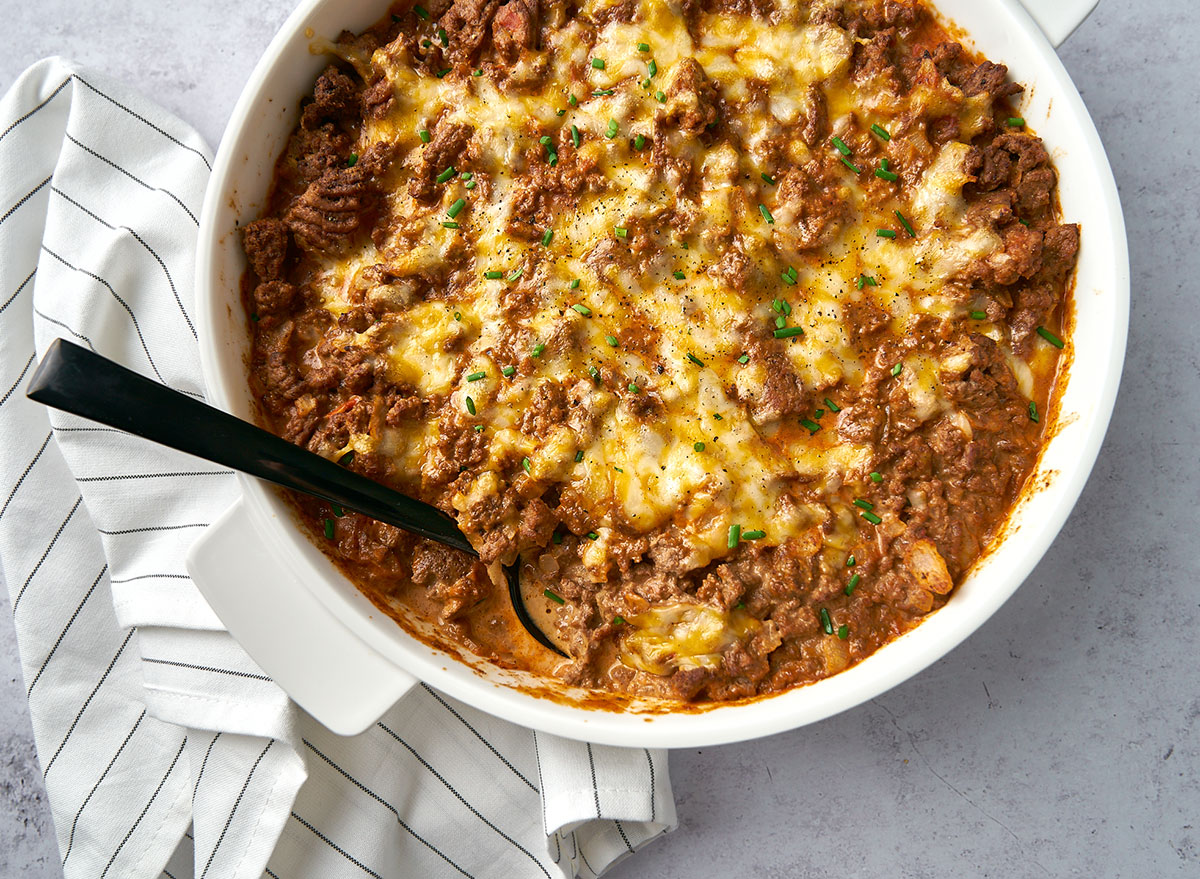 Healthy casserole recipes are a great make-ahead meal. You can meal prep small portions of this recipe, and freeze in small freezer-to-oven-friendly containers. It's also great for parties with gluten-free guests.
Get our recipe for Keto Cheeseburger Casserole.
Green Machine Veggie Casserole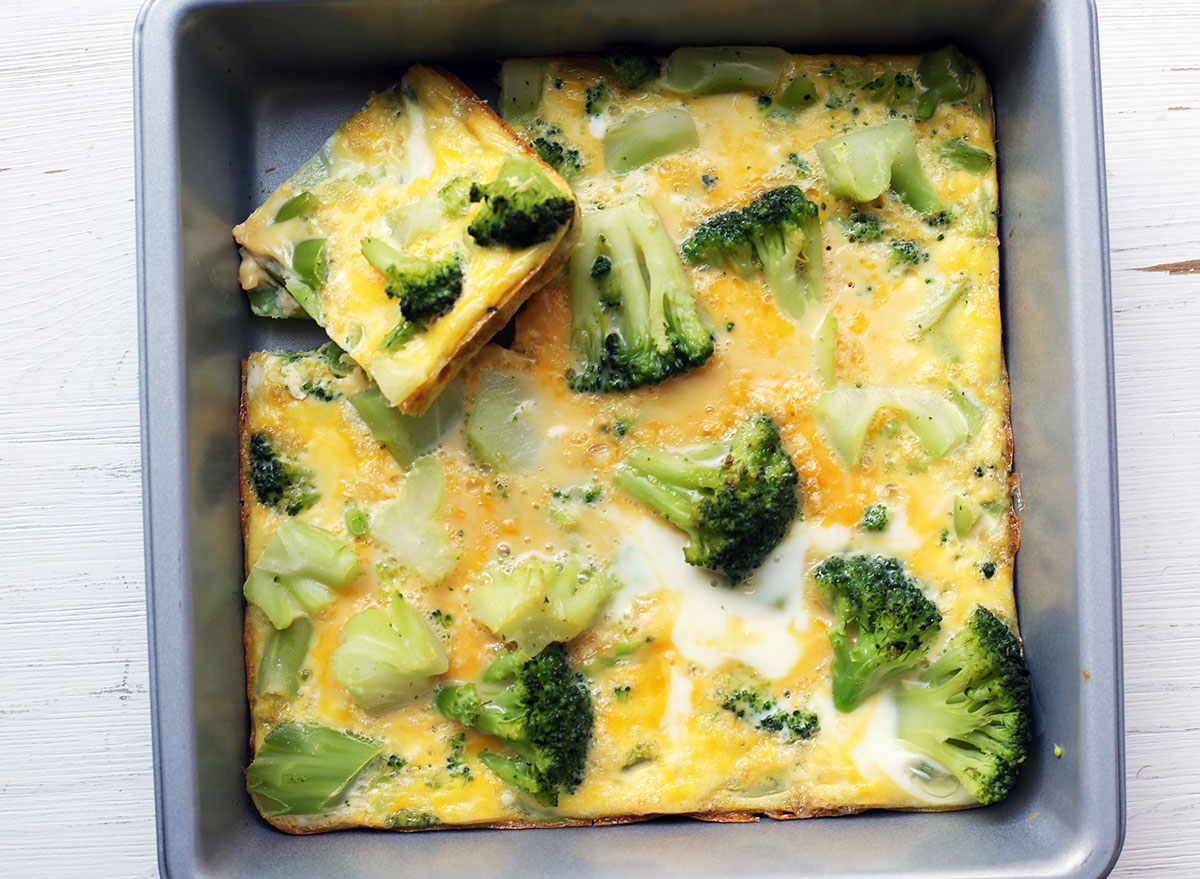 The entire pan is baked, so you can go about your morning while breakfast is being prepped! This Whole30 veggie casserole is the perfect recipe to prep for the week, and gives you all the satisfaction of quiche in a lighter package.
Get our recipe for Green Machine Veggie Casserole.
Pumpkin Bread Pudding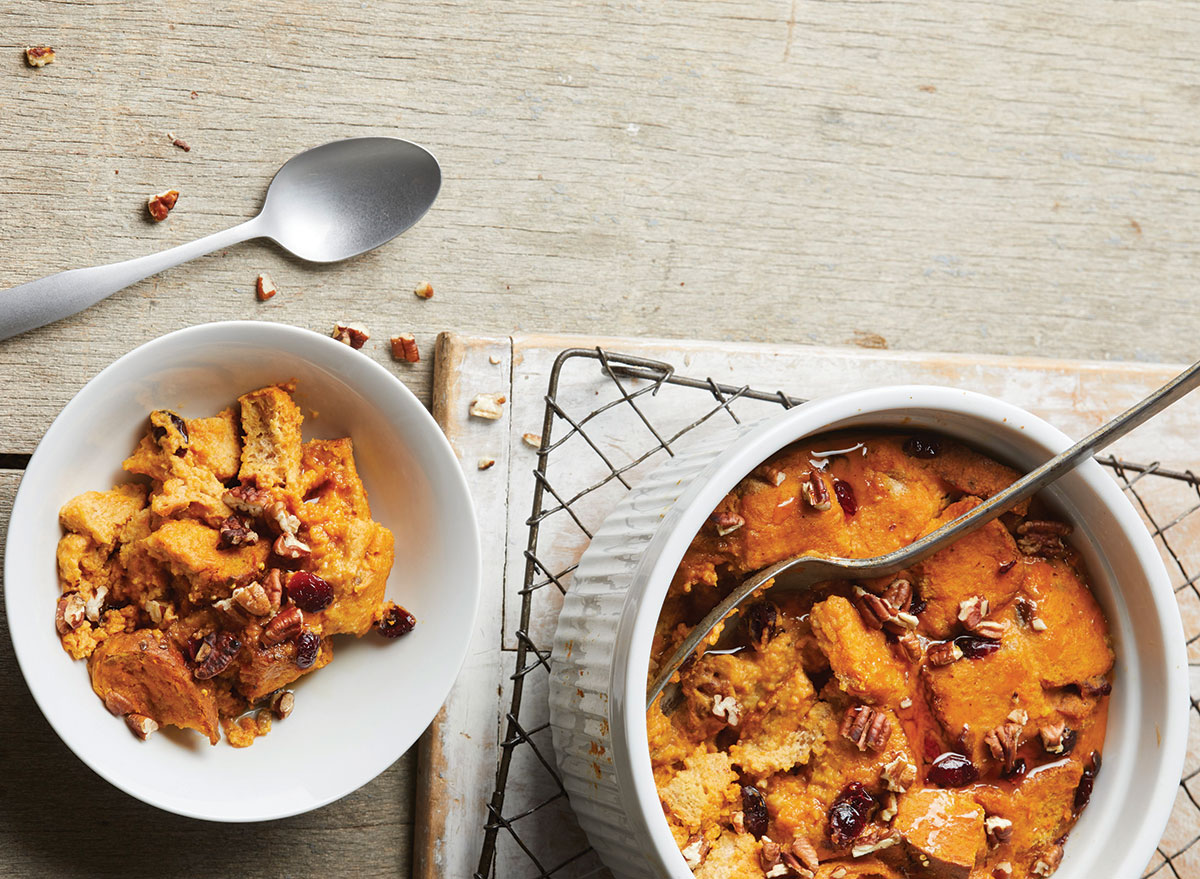 More dessert healthy casserole recipes? Yes, please! With orange zest, cranberries, maple syrup, and pecans (along with pumpkin pie spice, of course), this dessert is basically autumn in a nutshell.
Get our recipe for Pumpkin Bread Pudding.
Vegetarian-Friendly Stuffed Tomatoes
Use your casserole dish to bake these stuffed tomatoes! With this recipe for vegetarian-friendly stuffed tomatoes, you'll spend just 2 minutes of your time doing the necessary prep work and only 20 minutes of actual cooking before you turn standard normal tomatoes into something memorable: sweet, creamy, crunchy, and imbued with faint whispers of garlic and fresh basil.
Get our recipe for Vegetarian-Friendly Stuffed Tomatoes.
Steak Nachos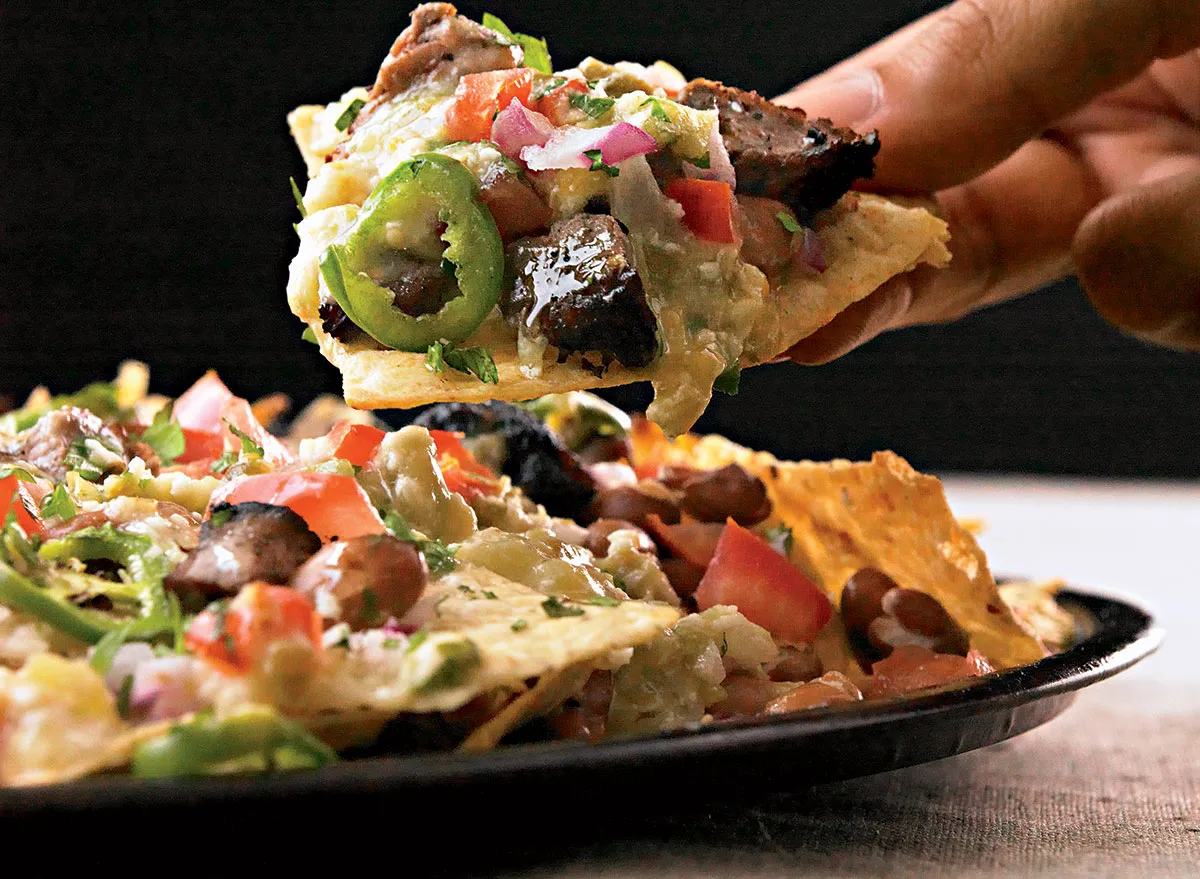 This recipe uses a spicy cheese sauce (which actually saves calories), a healthy amount of salsa, and plenty of fixings to deliver a high-flavor, low-calorie plate of goodness.
Get our recipe for Steak Nachos.
Baked Eggs With Mushroom and Spinach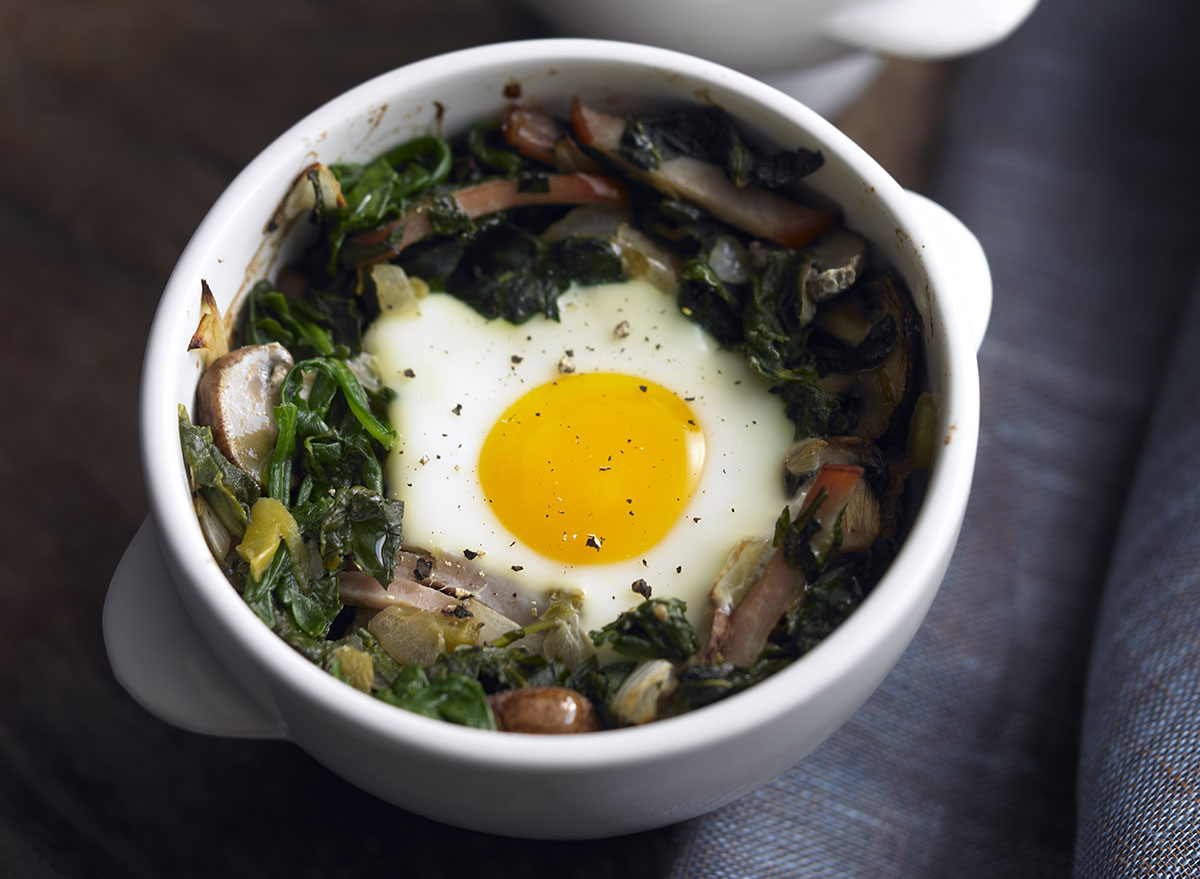 Make mini healthy casserole recipes by using a few ramekins! The little ceramic vessels are perfect for housing eggs, meat, cheese, and vegetables and then tossing in the oven. What emerges 10 minutes later is a perfectly cooked egg—whites soft but firm, yolk gloriously runny—surrounded by a tasty and filling supporting cast. Use a larger ramekin if you'd prefer two eggs for breakfast. Either way, we suggest some whole-wheat toast to dip directly into the dish.
Get our recipe for Baked Eggs With Mushroom and Spinach.
Crock-Pot Chicken Enchilada Casserole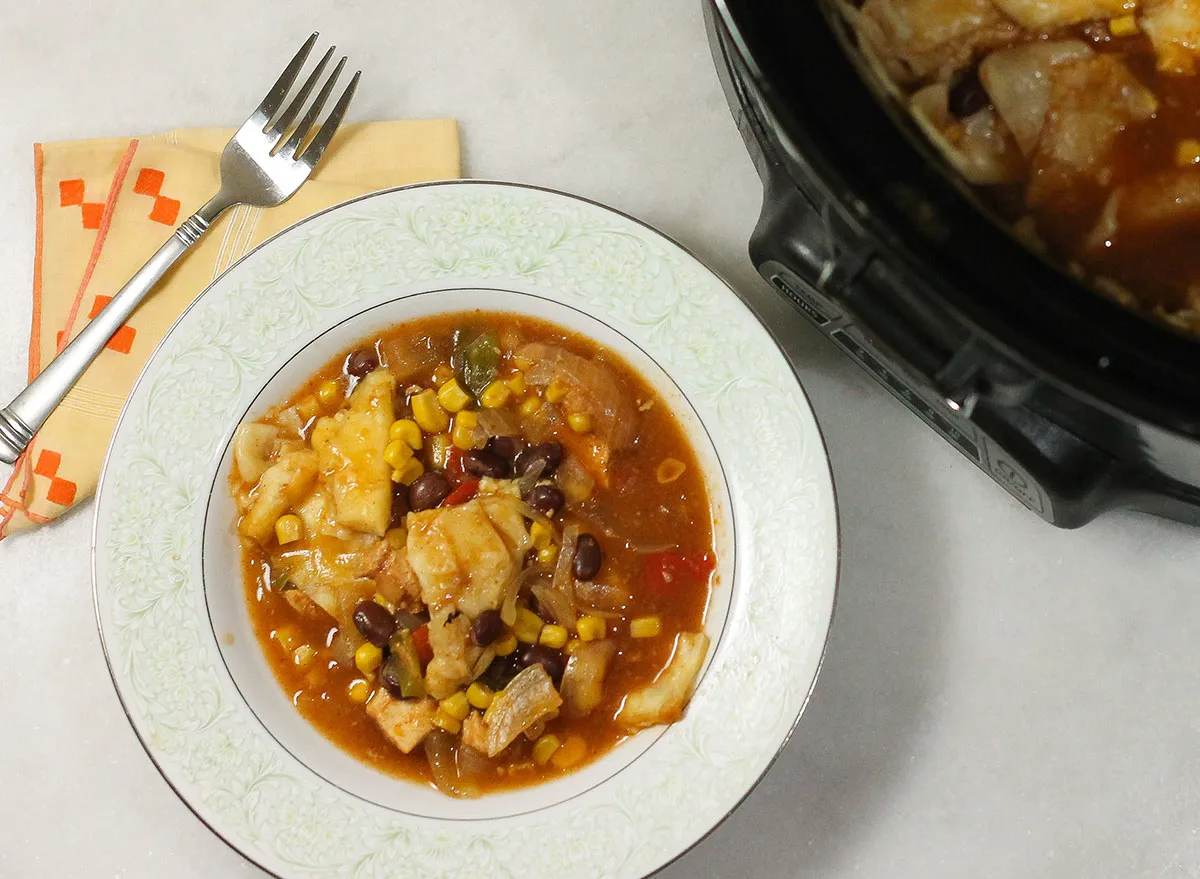 Who says healthy casserole recipes actually be made in a casserole dish? Why not make a casserole in your slow cooker instead! The taste of all of these ingredients is out of this world. The best part? You don't need a ton of spices to make it! Let the spices and flavor from the enchilada sauce do the work for you.
Get our recipe for Crock-Pot Chicken Enchilada Casserole.
Whole30 Date Squares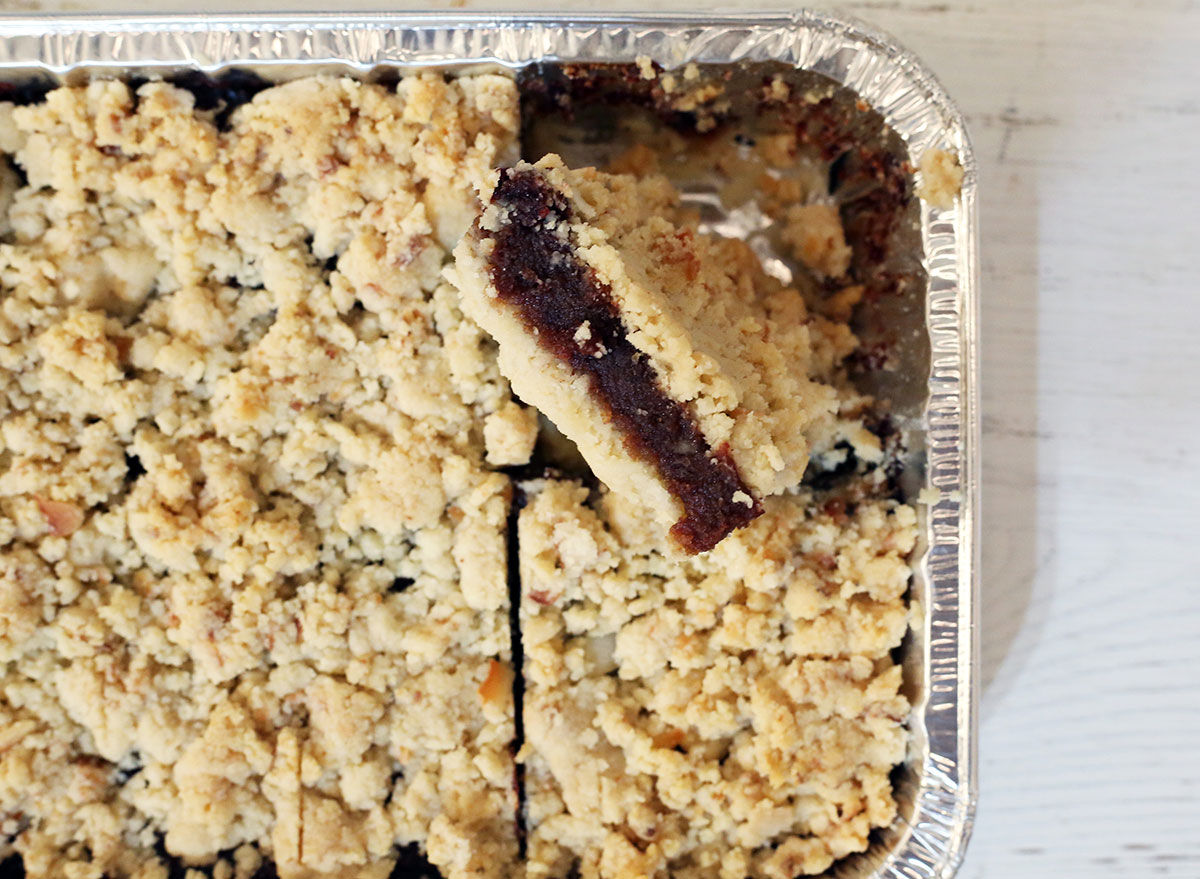 Having added sugars on Whole30 is a big no-no. But having natural sugars from whole foods, like dates, is perfectly acceptable while on this clean eating diet. This is why making a pan of date squares is an easy Whole30 dessert idea that will satisfy your sweet tooth.
Get our recipe for Whole30 Date Squares.
Loaded Vegetable Frittata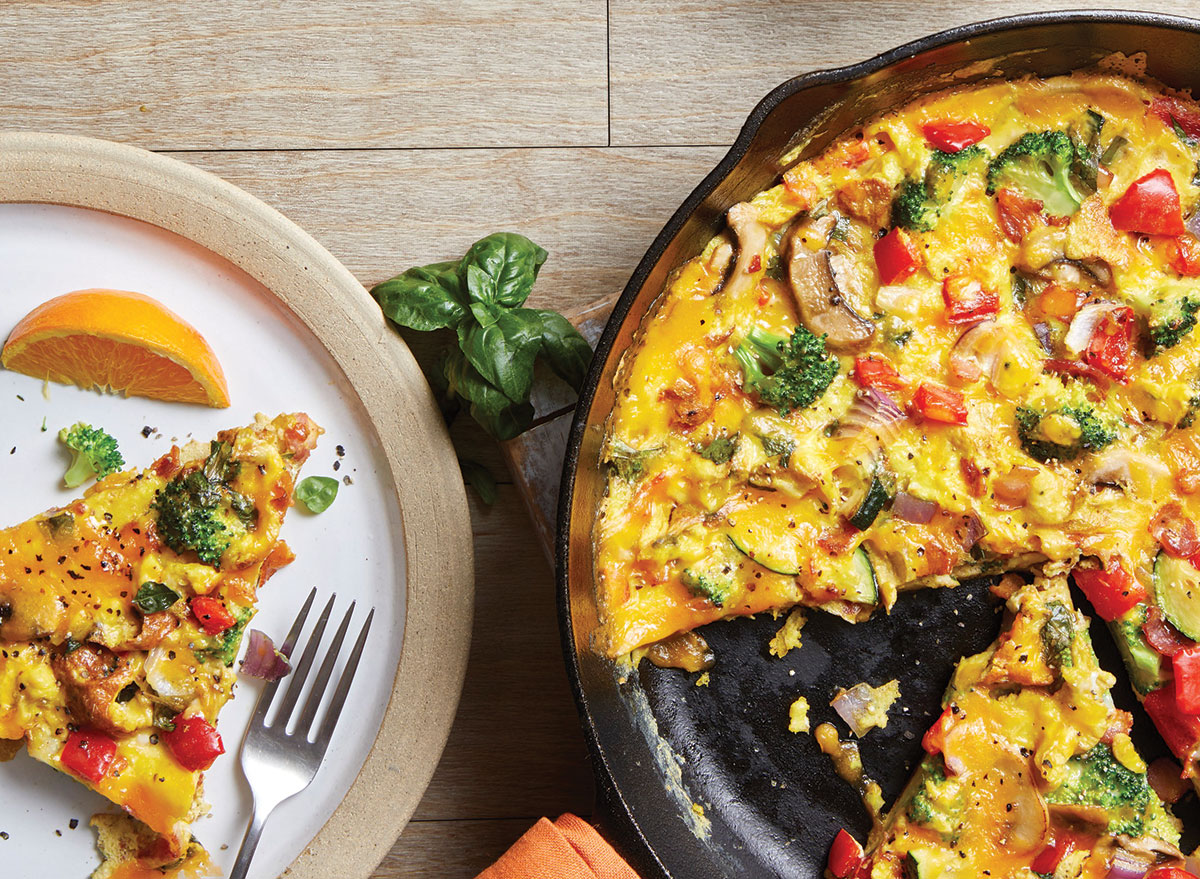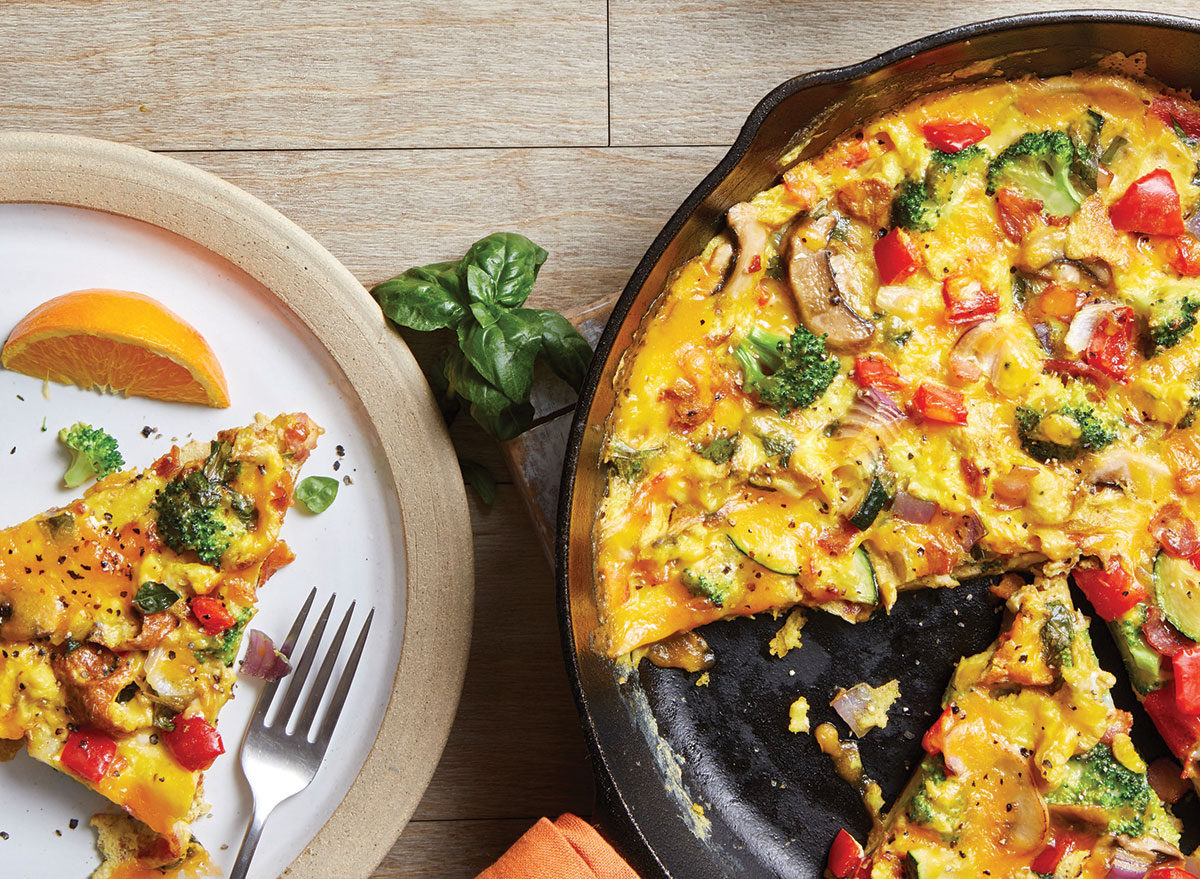 Eggs are nutritional powerhouses, plain and simple. But if you're getting bored of your typical hard-boiled eggs, this frittata recipe will help you spice things up. It's loaded with bacon and all kinds of veggies, plus a little cheese, salt, and pepper for maximum flavor.
Get our recipe for the Loaded Vegetable Frittata.
Herb Roast Chicken With Root Vegetables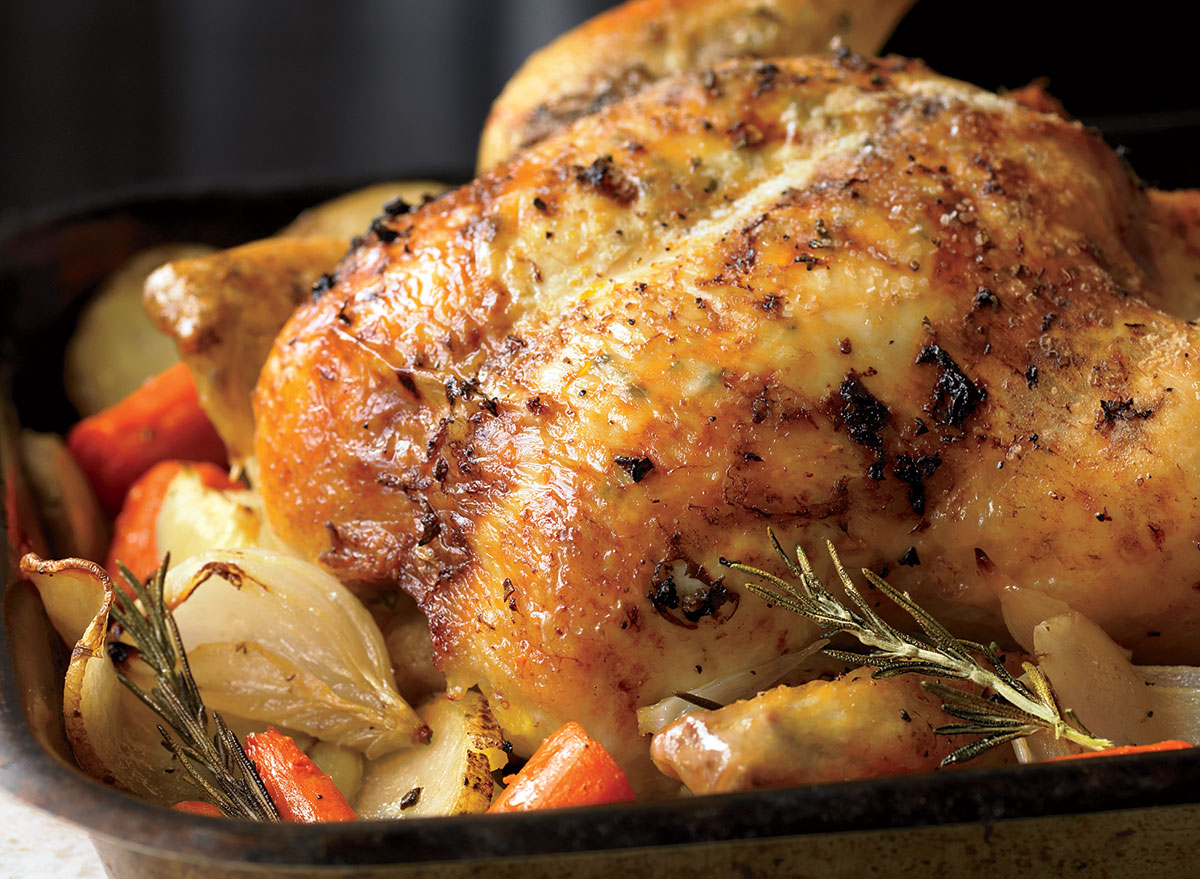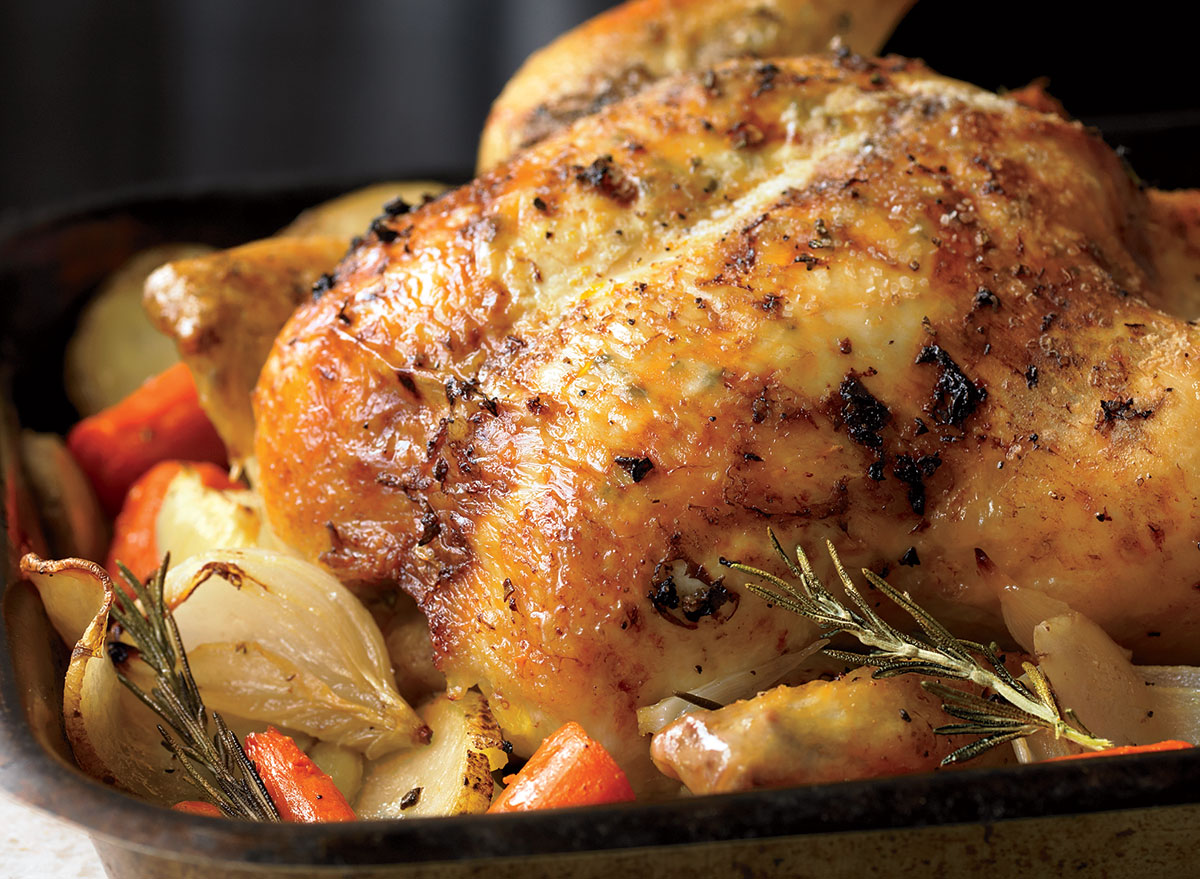 A deep casserole dish can easily be used as a roasting pan! Why not roast a whole chicken with some root vegetables and eat it for dinners all week?
Get our recipe for Herb Roast Chicken With Root Vegetables.
Chicken and Black Bean Nacho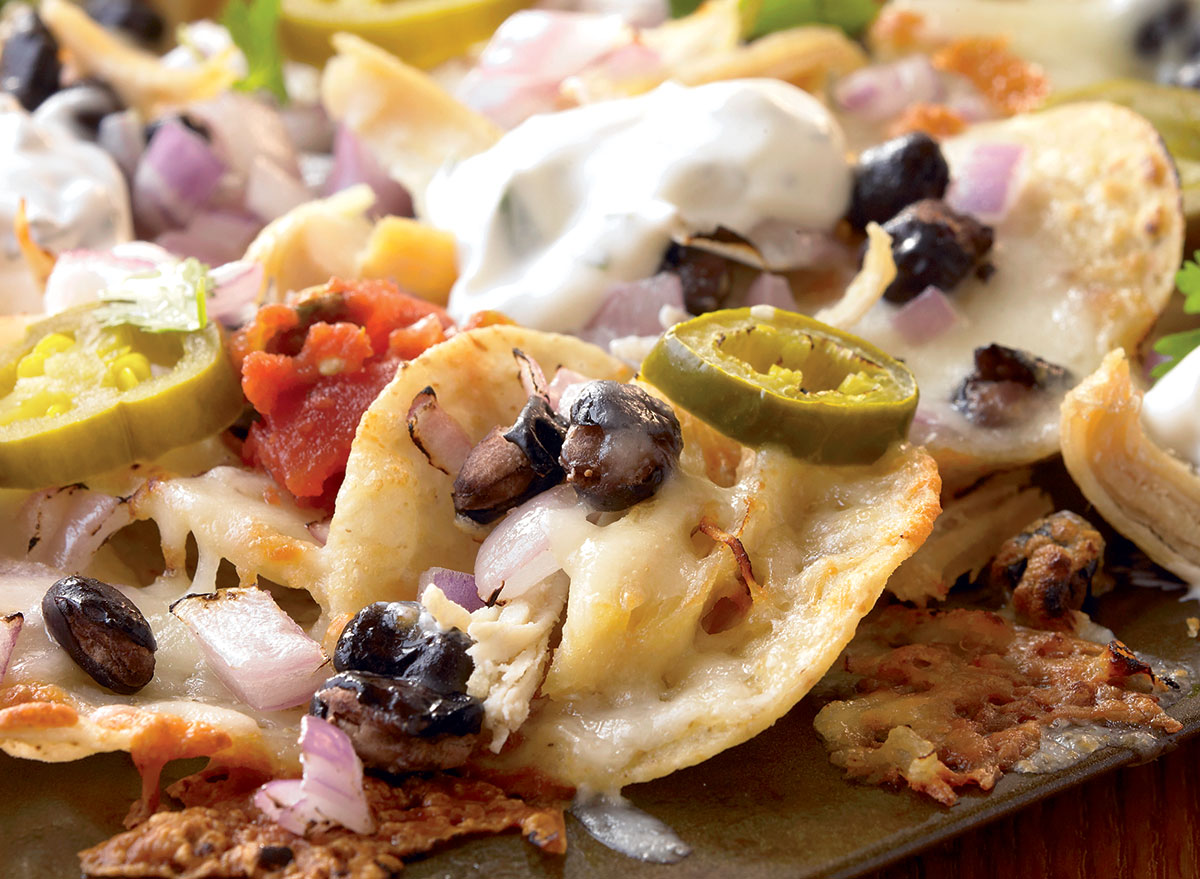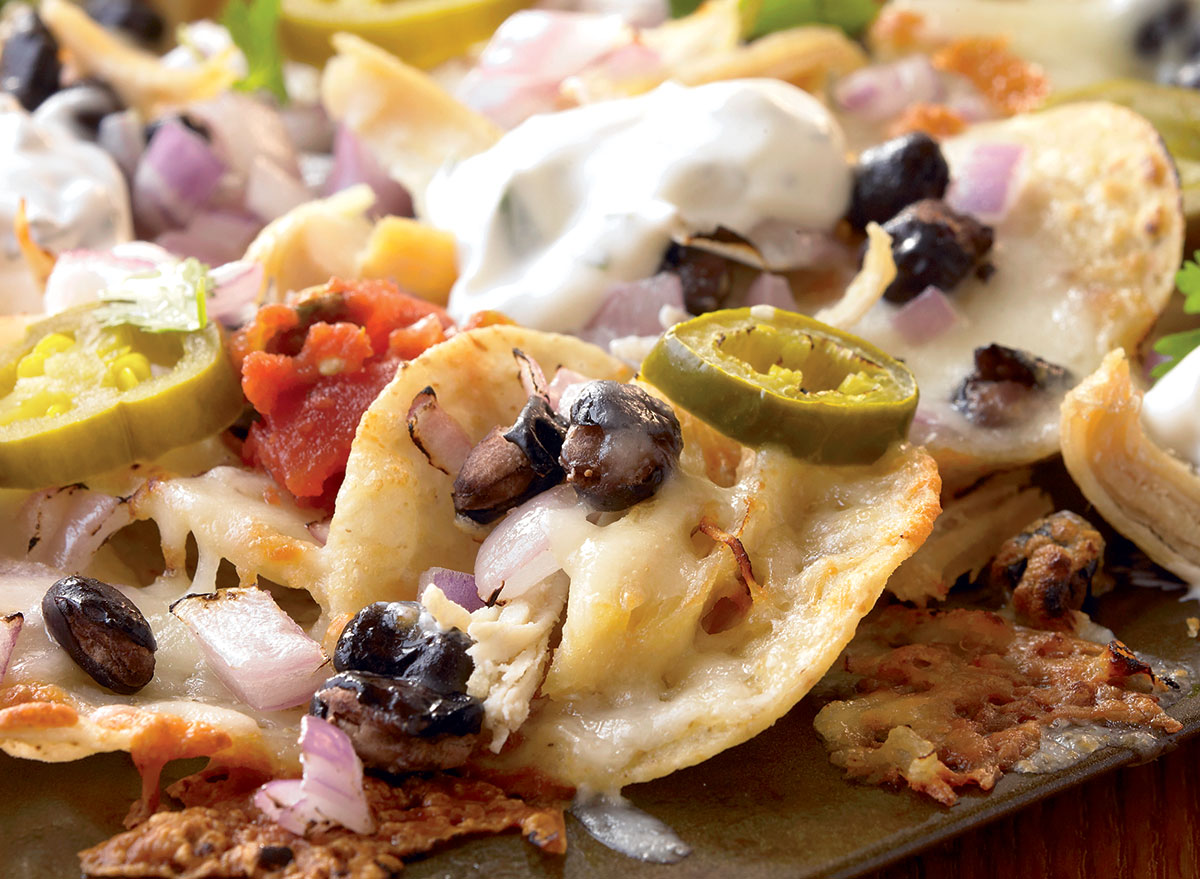 This version ensures that every chip is evenly covered with protein-packed chicken and fiber-rich beans, plus enough salsa and lime-spiked sour cream to keep your mouth watering. Don't worry, we've got plenty of shredded Monterey Jack cheese melted on top to keep you satisfied. A nacho is not a nacho without cheese, after all.
Get our recipe for Chicken and Black Bean Nachos.
Pesto Chicken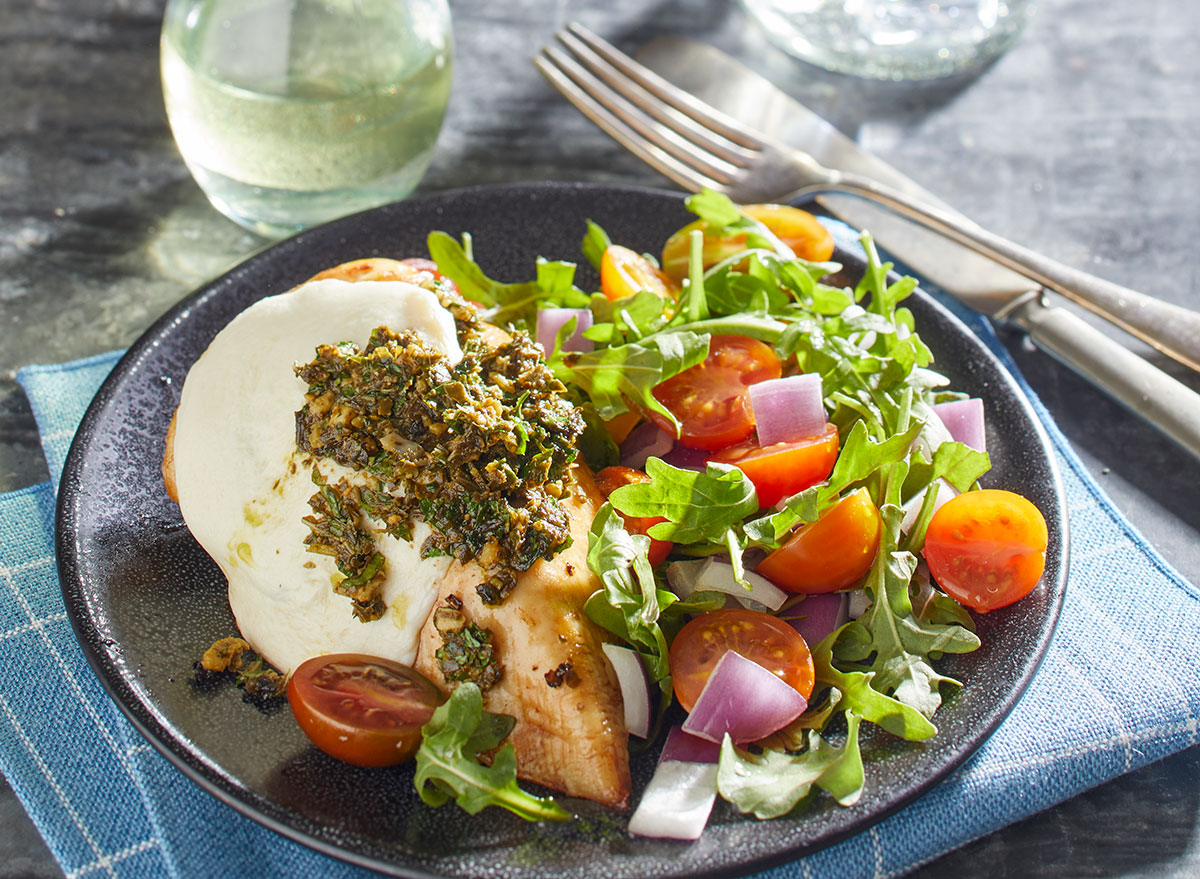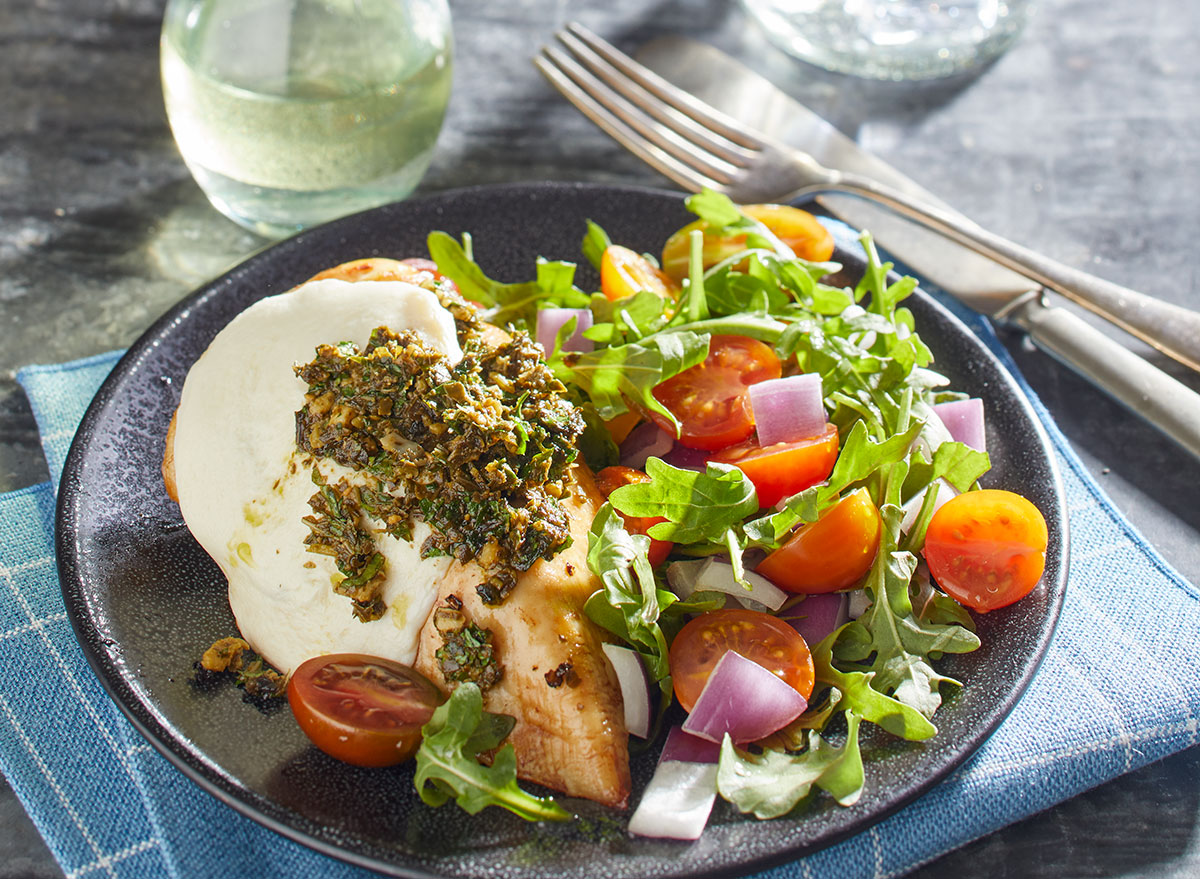 Use the casserole dish to prep some pesto chicken! This is a picture-perfect keto diet meal: chicken breasts topped with mozzarella cheese and pesto sauce. Pesto, made from basil, olive oil, garlic, Parmesan cheese, and pine nuts adds rich, satiating, heart-healthy unsaturated fats to the dinner.
Get our recipe for Pesto Chicken.
Keto Eggs Baked in Cream With Prosciutto, Parmesan, and Basil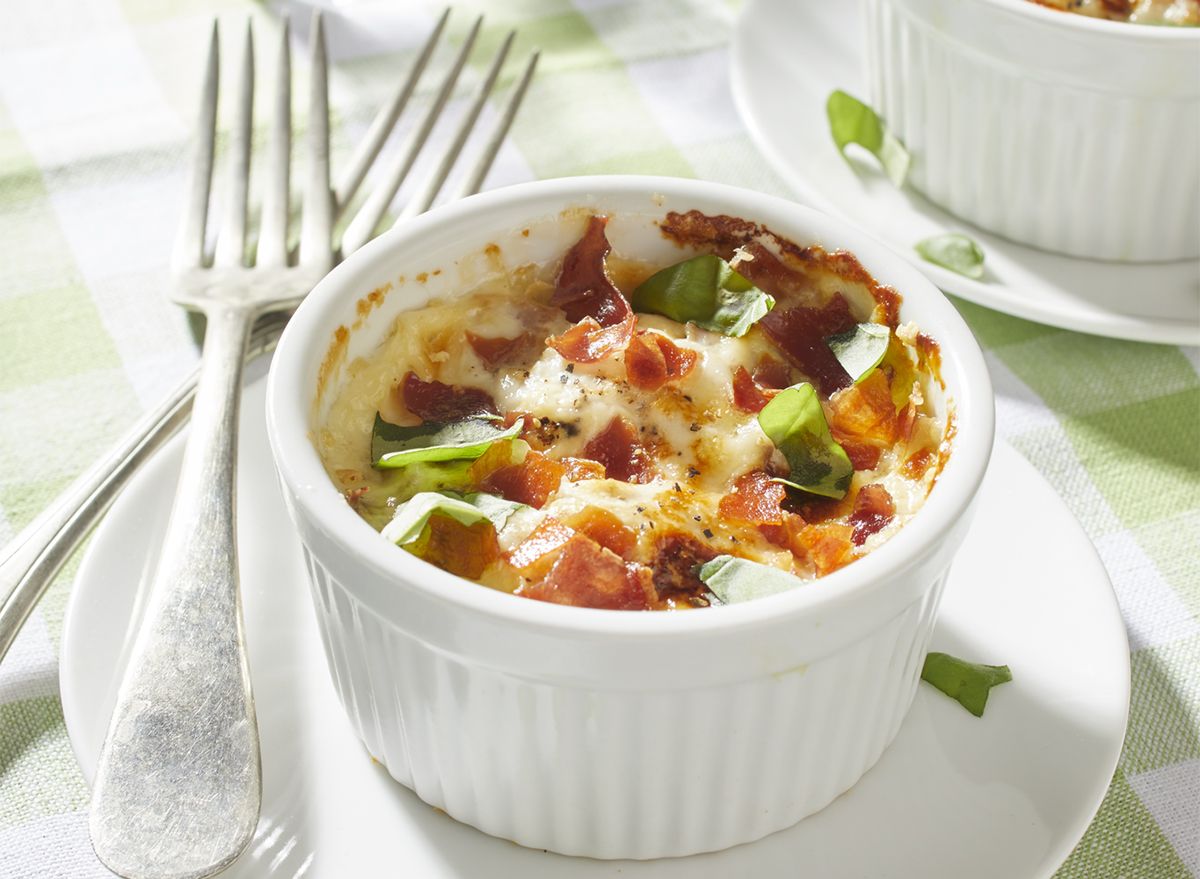 Another great mini casserole recipe to make with your ramekins! This dish features butter, heavy cream, cheese, eggs, and prosciutto. Can you think of anything more appropriate for a keto breakfast? Plus, eggs are a staple of any healthy breakfast, especially if you're trying to make more health-conscious meal choices.
Get our recipe for Keto Eggs Baked in Cream With Prosciutto, Parmesan, and Basil.
Potluck Casserole with Turkey and Squash
While we could brag about butternut squash all day—it's got fat burning nutrients and an ability to make you tan—spinach is more than worthy of some ego-stroking, too. As it turns out, Popeye was onto something when he boasted about this leafy vegetable. Spinach contains plant-based omega-3s and disease-fighting nutrients like lutein and folate. Fend off muscular degeneration, heart disease, stroke, obesity and osteoporosis with this hearty casserole dish.
Get the recipe from Weary Chef.
Oatmeal Casserole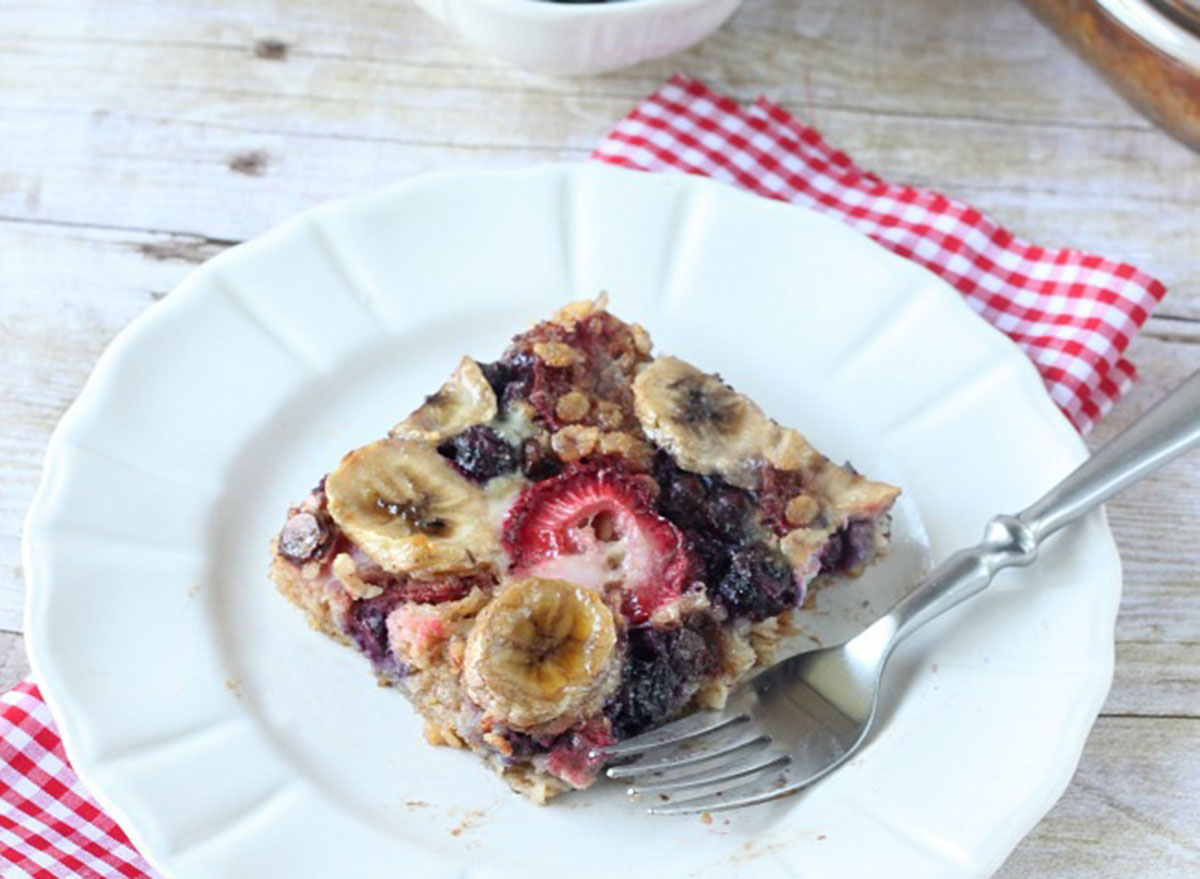 Oatmeal probably isn't the first thing that comes to mind when you think of casserole, but this recipe is so perfect, you'll never second guess it again. And don't sweat the sugar count. As long as you skip the stuff from a bag, the rest comes from natural sources like cancer-squashing blueberries, potassium-rich banana, slimming strawberries, and stress-busting dark chocolate. You're welcome.
Get the recipe from Love Family and Home.
Healthy Stuffed Pepper Casserole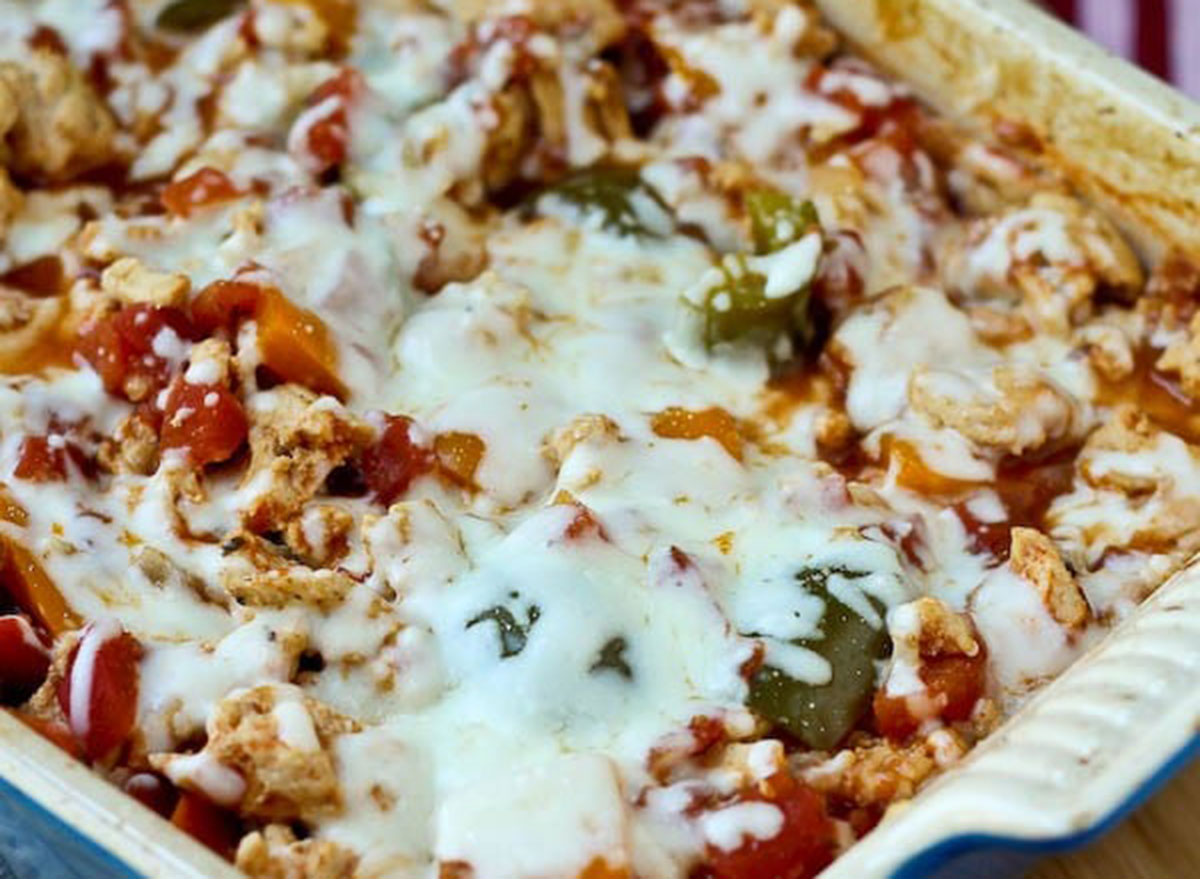 These peppers are stuffed with protein-packed lean ground turkey, antioxidant-rich onion, immunity-boosting crushed tomato, bacteria-fighting garlic and other disease-preventing spices. It's then topped with melted mozzarella cheese, creating a wholesome balance of fat, carbs, and protein.
Get the recipe from Rachel Cooks.
Skinny Chicken Parmesan Casserole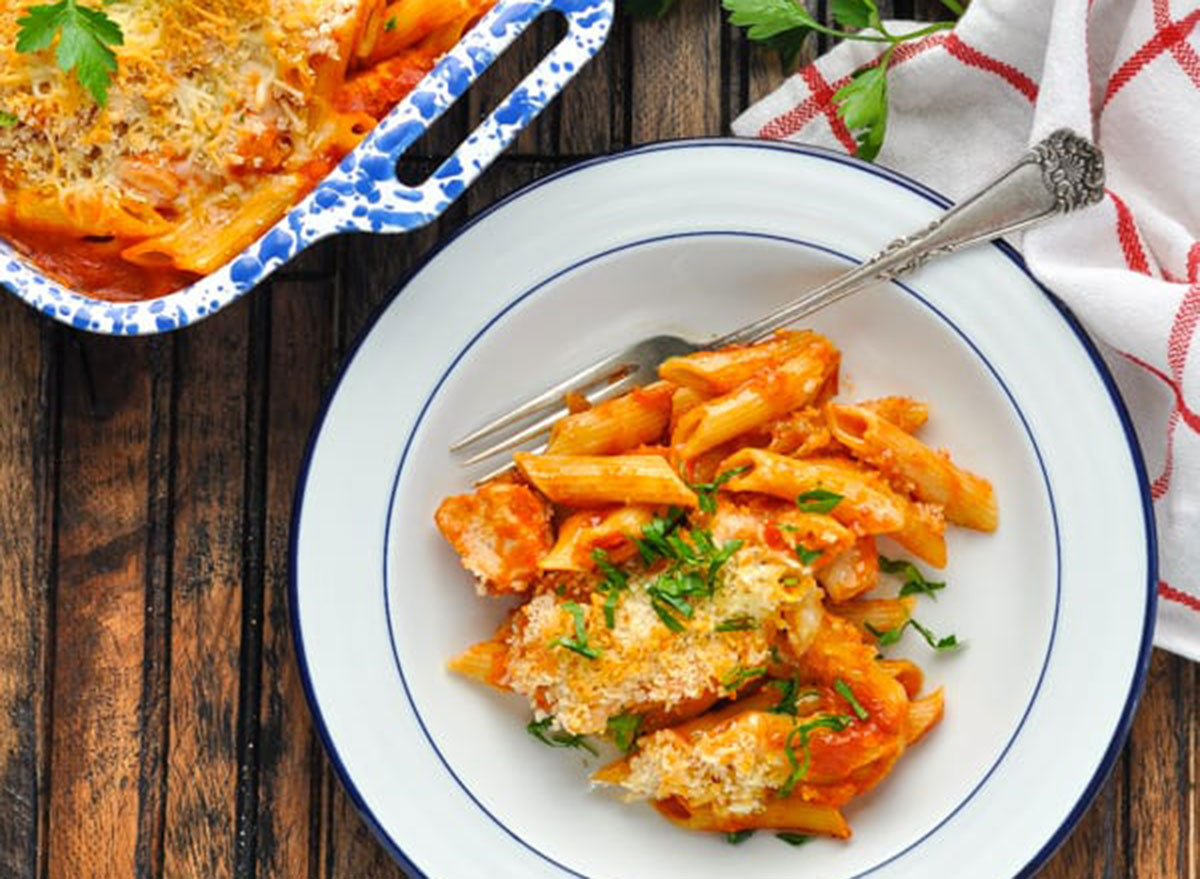 Chicken parm: It's cheesy, saucy, crispy….but not exactly nourishing. However, if you're going to indulge, you might as well do so with this recipe, which has got all the flavor for a fraction of the typical caloric cost. For more ways to enjoy your favorite protein, check out these 35 Best-Ever Chicken Recipes for Weight Loss!
Get the recipe from The Seasoned Mom.
Greek Turkey, Rice, and Feta Casserole
While you might be tempted to opt for fat-free feta in this one, consider this: a 2013 European Journal of Nutrition research review found that in 11 of the 16 studies, participants who consumed more high-fat dairy products either weighed less or gained less weight over time than their fat-free counterparts. While health experts have spent decades warning us to steer clear of animal fat, new research begs to differ, arguing that the fatty stuff is more satiating (and thus, we consume less).
Get the recipe from Cookin Canuck.
BBQ Chicken Casserole
BBQ chicken that doesn't require a grill (so you can enjoy it long after the leaves turn colors) and won't leave you feeling like a swollen balloon—what's not to love? However, we have to caution that if you aren't careful, many store-bought BBQ sauces are full of sugar, sodium, and skanky ingredients. Always make sure to check labels before you smother your meat in a potentially saucy nightmare. Completely smitten with BBQ? Check out these 18 Delicious BBQ Chicken Recipes That Won't Ruin Your Diet.
Get the recipe from Gimme Some Oven.
Pepperoni Pizza Cauliflower Casserole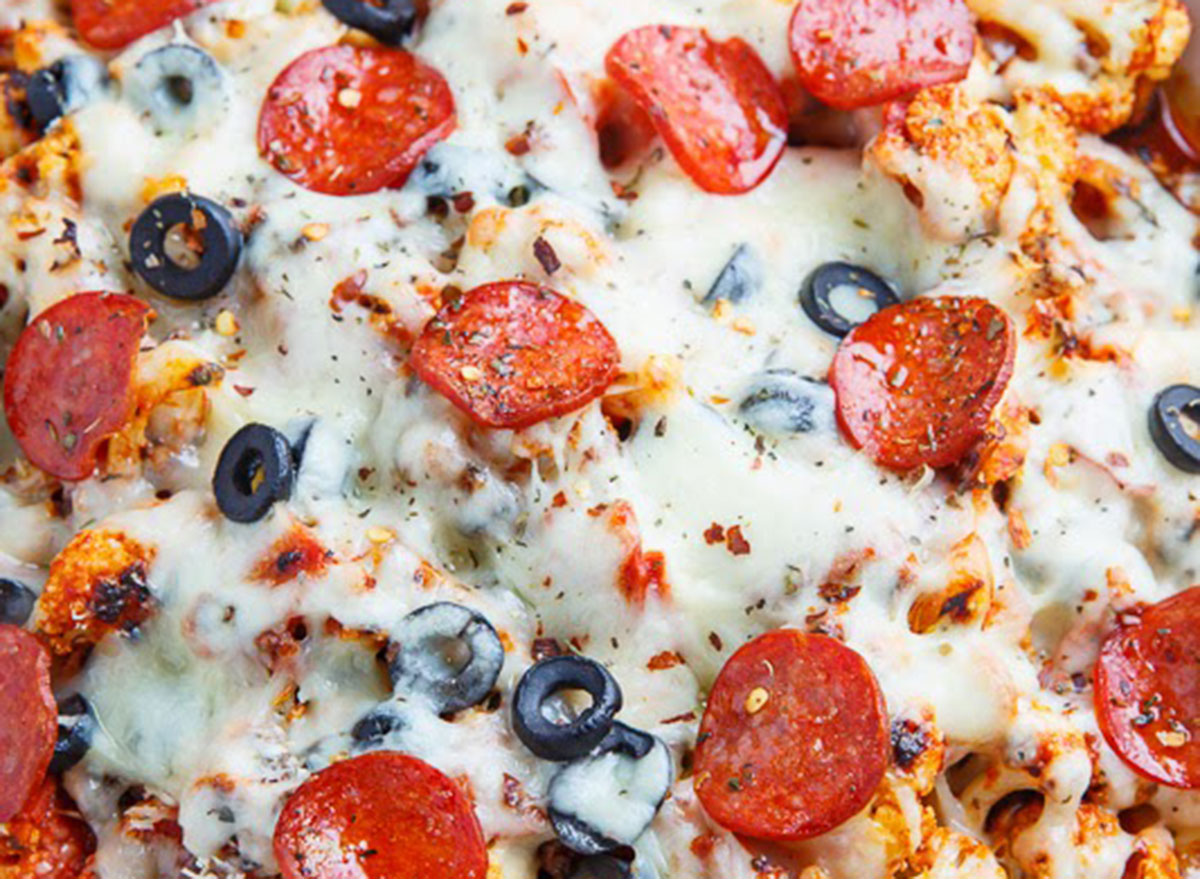 Instead of splurging on a regular pie, make this instead. While it's super low in calories, carbs, and sugar, and boasts 9 grams of protein, the sodium content isn't one we recommended consuming on the reg. However, you consume nearly double that with just two slices of pizza!
Get the recipe from Closet Cooking.
Chicken Pot Pie Bake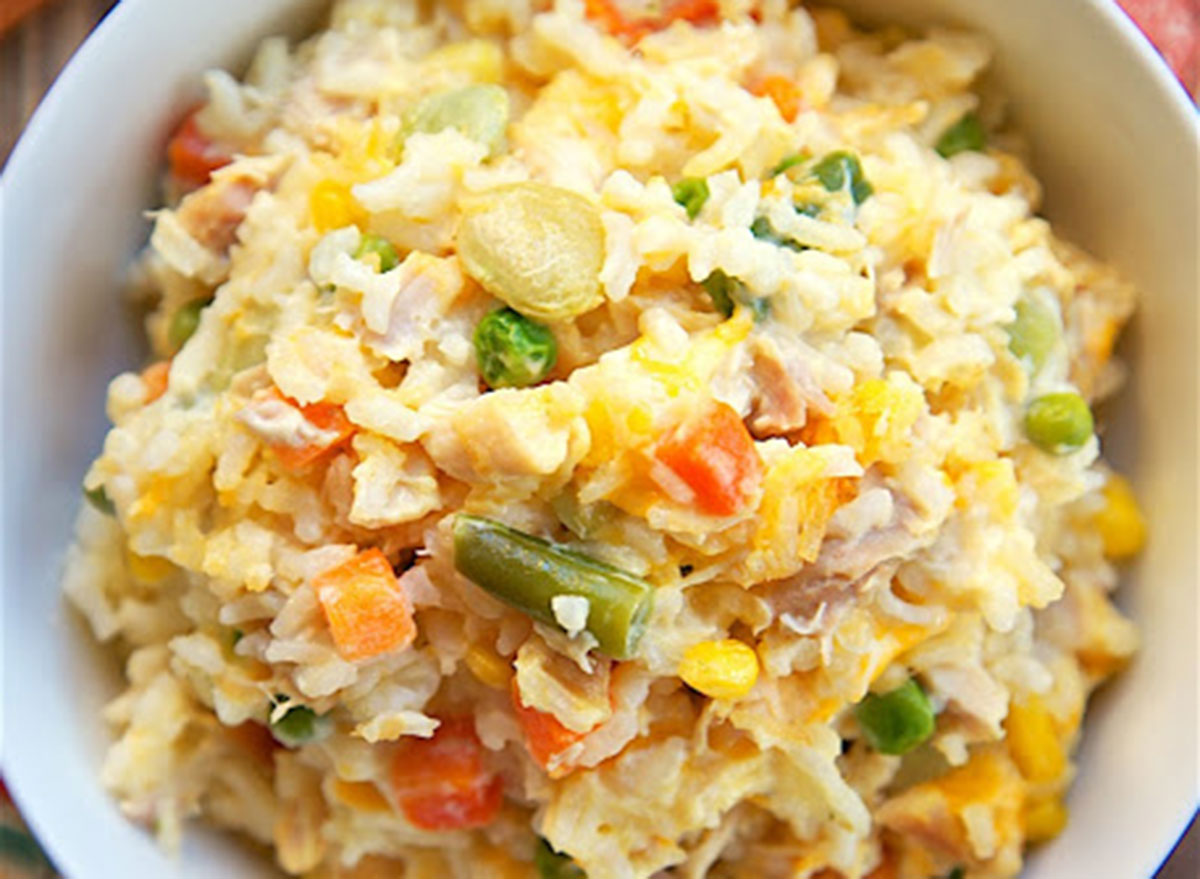 Chicken Pot Pie may be an American staple, but its nutritional profile isn't exactly weight loss friendly. Aside from chicken and veggies, there's not much to brag about. However, this recipe won't leave you unbuttoning your pants and it comes together in minutes. If you're looking to reduce fat counts, substitute gut-friendly nonfat Greek yogurt in place of sour cream. Thanks to its tangy flavor, you won't even notice the difference.
Get the recipe from Plain Chicken.
Veggie Loaded Breakfast Casserole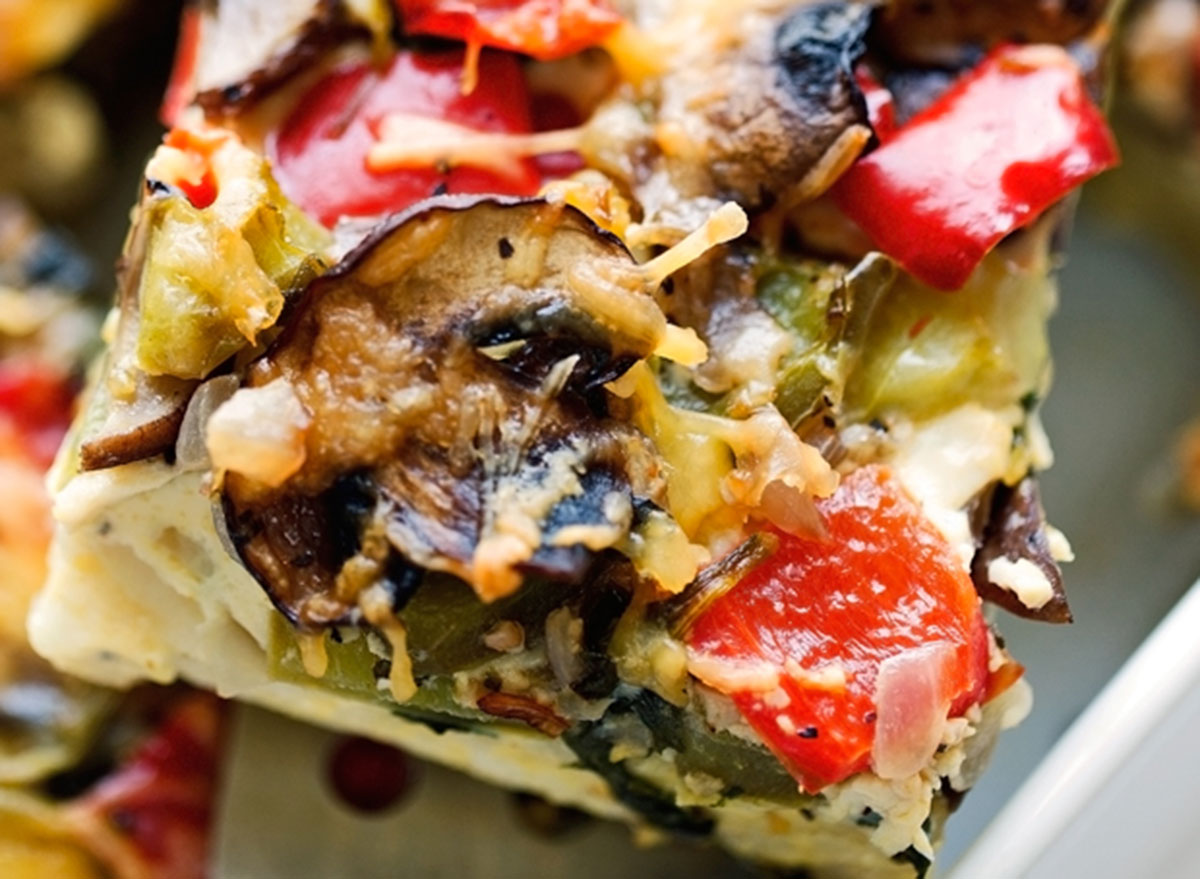 Hot sauce swag? Yep, this veggie casserole is tricked out in the fiery sauce. And it benefits your waistline, thanks to calorie scorchin' capsaicin—the compound that gives peppers their steamy hot sensation.
Get the recipe from Little Spice Jar.
Stuffed Apple and Bacon Sweet Potato Casserole
This salty and sweet casserole does more than please your taste buds; it helps you accomplish your body goals. Aside from belly-slimming fiber, the apples in this recipe contain a powerful antioxidant called quercetin, which studies show improves exercise endurance. In fact, according to Sarah-Jane Bedwell, RD, LDN, a Nashville-based nutritionist and author of Schedule Me Skinny: Plan to Lose Weight and Keep it Off in Just 30 Minutes a Week, "it is thought that quercetin can help to create new mitochondria in the body's cells and increase one's oxidative capacity, which signifies the maximum amount of oxygen your muscles can use." For more fit foods, check out these 25 Best Foods for a Toned Body!
Get the recipe from Mel's Kitchen Cafe.
Cheesy Caprese Chicken Quinoa Casserole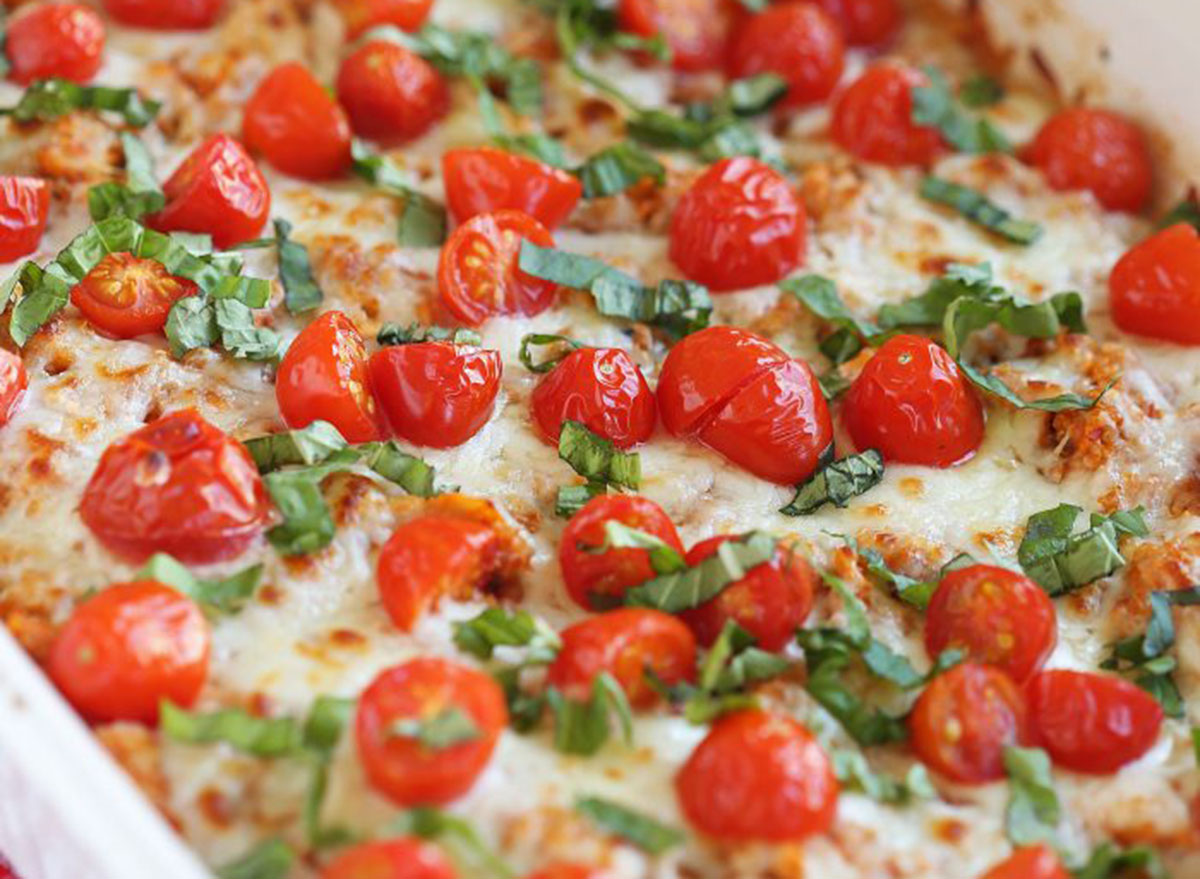 Protein plays a key role in weight loss because it wards off hunger. Consuming meals like this Caprese casserole—which dishes up 31 grams of satiating protein per serving— is a sure way of wiggling into those skinny jeans!
Get the recipe from Eat Yourself Skinny.
Paleo Tuna Green Chile Zoodle Casserole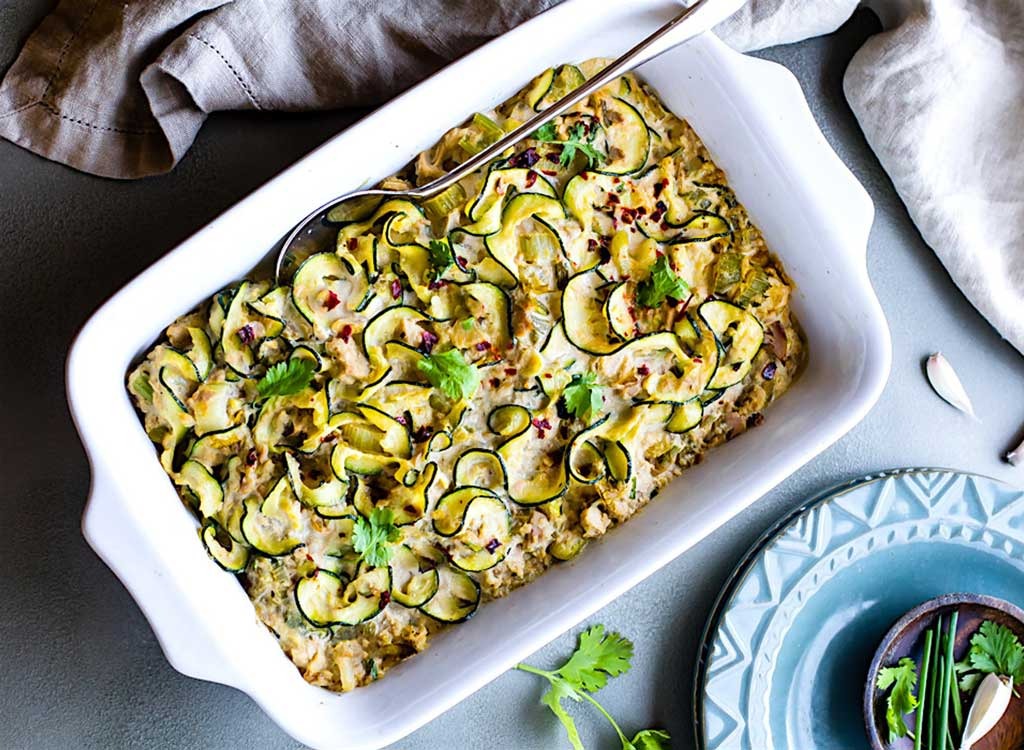 Tuna salad is usually drenched in partially hydrogenated oil (also known as mayo). This food additive can derail everything from brain power and heart health to sexual function. But ditch the processed mayo and whip up this recipe because tuna is actually a great source of heart-healthy omega-3s that keep away belly fat, as well as essential vitamins and minerals that promote optimal overall health.6254a4d1642c605c54bf1cab17d50f1e
Get the recipe from Cotter Crunch.
Baked Spaghetti Squash Casserole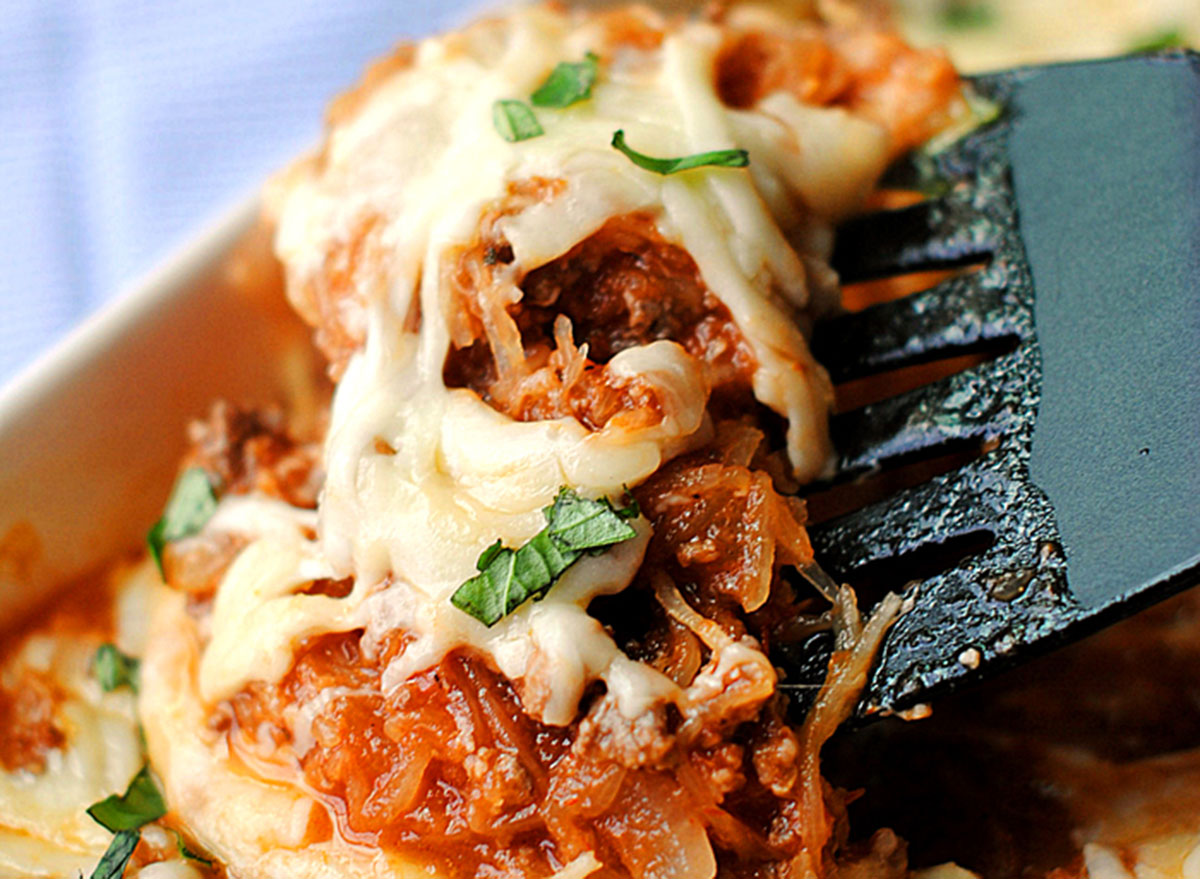 Spaghetti squash is another one of those diet hacks that you never stop turning to once you learn it. Swapping squash for pasta reduces fat, carbs, and calories, and it volumizes your meal, allowing you to consume more food for fewer calories—and who doesn't want that?!
Get the recipe from Eat Yourself Skinny.
Healthy Sweet Potato Casserole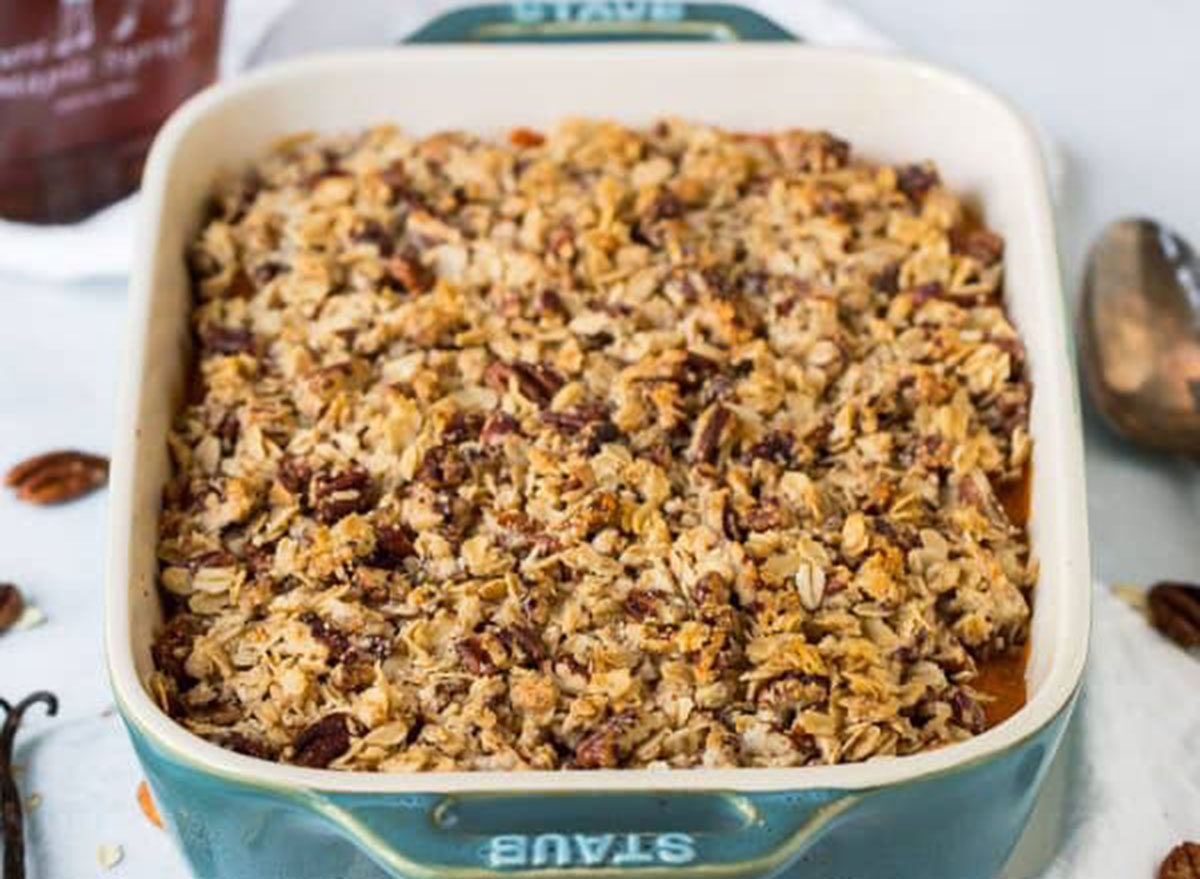 There are so many superfoods in this recipe, we don't even know where to start. (Coconut oil, old fashioned oats, sweet potato, cinnamon and more!) A study published in the Journal of Toxicology and Environmental Health back in 1985 proved that a single injection of capric acid (which abounds in coconut oil) resulted in "initially rapid, then a gradual decrease in food consumption and a parallel loss of body weight" in male rats. As mentioned above, MCT's in coconut oil are good for upping your body's energy expenditure and burning calories. Plus, it's great for building muscle!
Get the recipe from Well Plated.
Teriyaki Chicken and Rice Casserole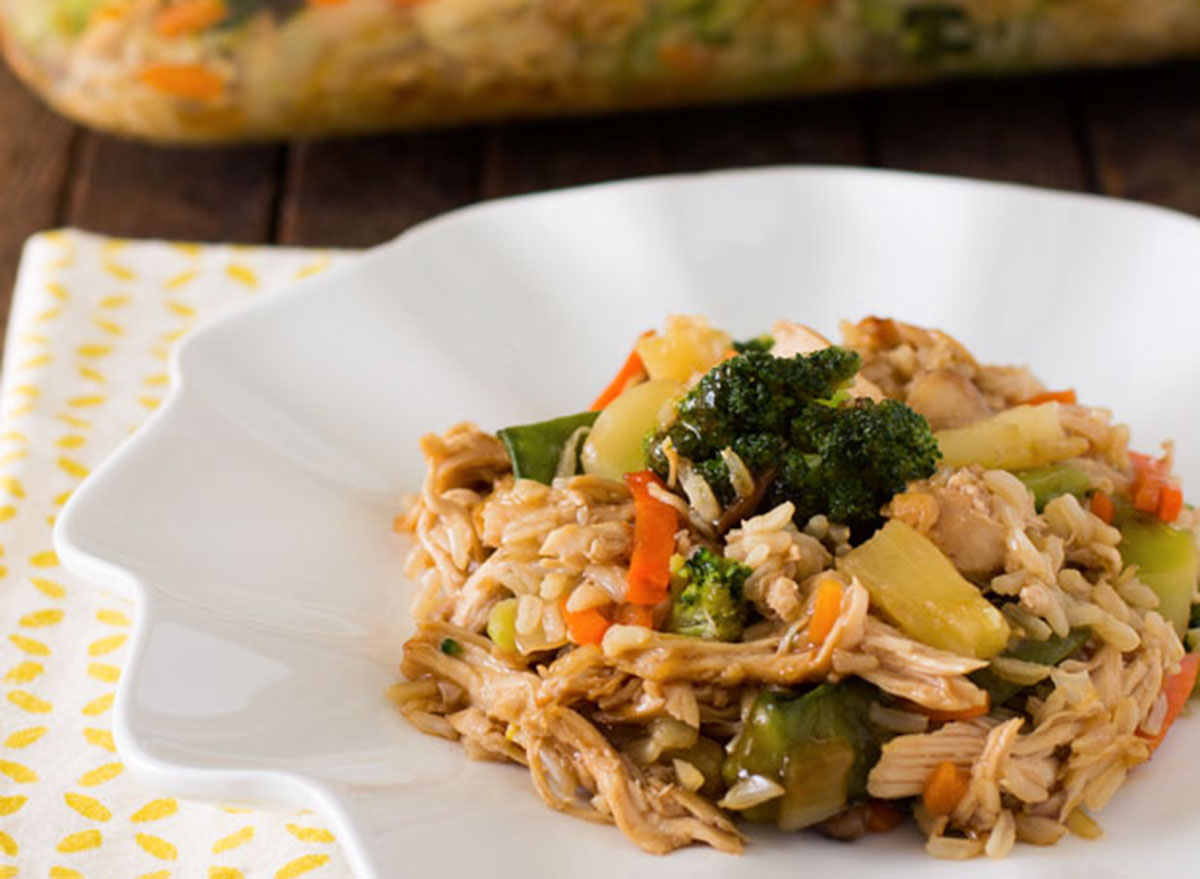 Transport your taste buds to Japan with this teriyaki casserole. Boneless chicken breast, brown rice, mixed veggies, and pineapple are tossed in honey and low sodium soy sauce to create a mouthwatering dish that won't sabotage your diet.
Get the recipe from Emily Bites.
Creamy Quinoa Broccoli Casserole
Instead of nutrient-void crackers, this recipe is made with the king of grains: quinoa. The superfood's exceptional balance of fiber, protein, and fat make it worthy of its crown—especially for non-meat eaters (because the grain is a complete protein). Not to mention, quinoa recipes provide your body with a plethora of benefits like calcium, iron, antioxidants, and heart-healthy fats.
Get the recipe from Pinch of Yum.
Tex Mex Spiralized Sweet Potato Chicken Casserole
Spiralizers have transformed the world of health foodies world. With one simple tool, you can boost the nutritional profile, lower carb counts, ditch gluten, and/or veganize any meal. If you've never had the pleasure of using the fun gadget, here's your chance! This recipe transforms waist-whittling sweet potatoes into noodles and is packed with one food health experts claim you should eat every day—black beans. The tiny magic bullets have been shown to literally make you smarter, thanks anthocyanins or antioxidant compounds that boost cognitive functioning.
Get the recipe from Gimme Delicious.
Pumpkin French Toast Casserole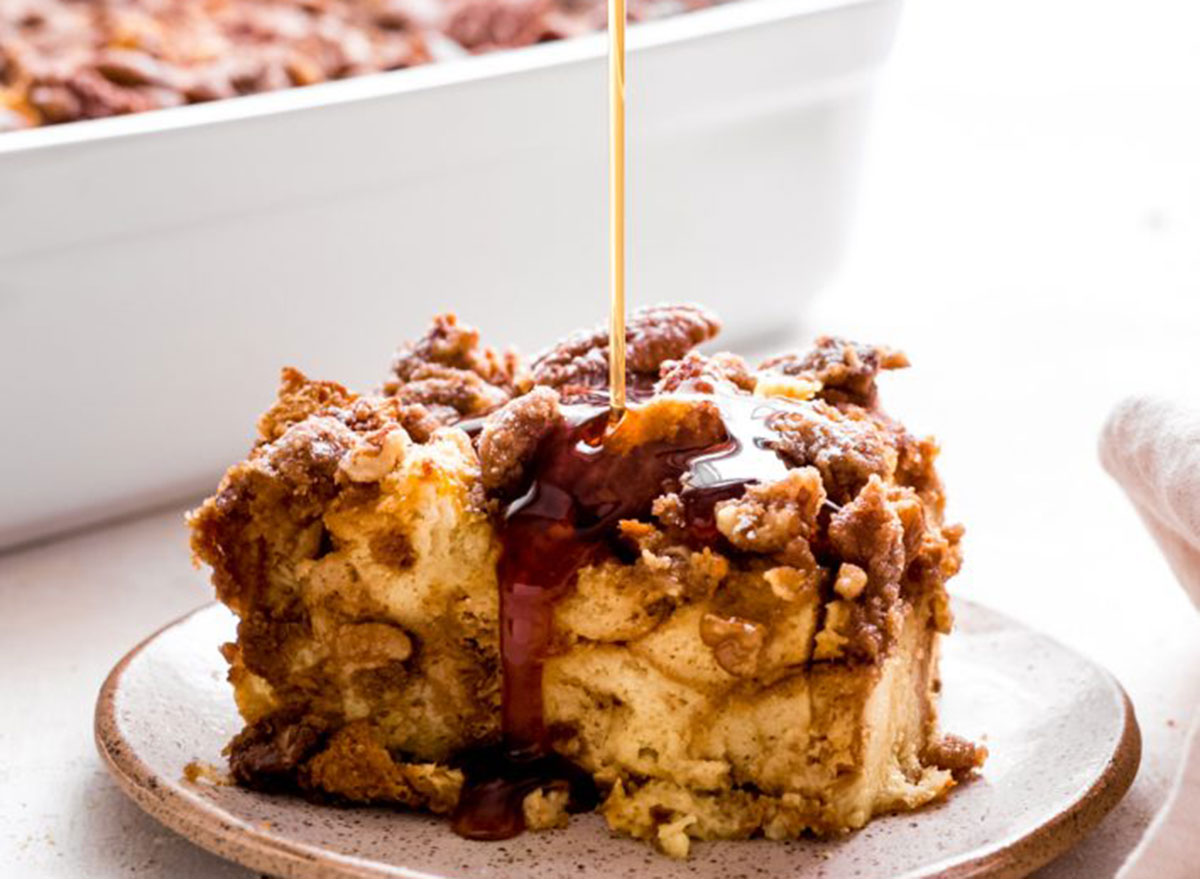 A huge part of successful dieting is planning for the times we will indulge (i.e. "cheat meals"). When we completely deprive ourselves of the foods we love, we are a lot more likely to completely derail our diets. Try incorporating this mouthwatering meal into next Sunday's brunch. After all, French toast and pumpkin create only one thing—heaven.
Get the recipe from Little Spice Jar.
Cabbage Roll Lasagna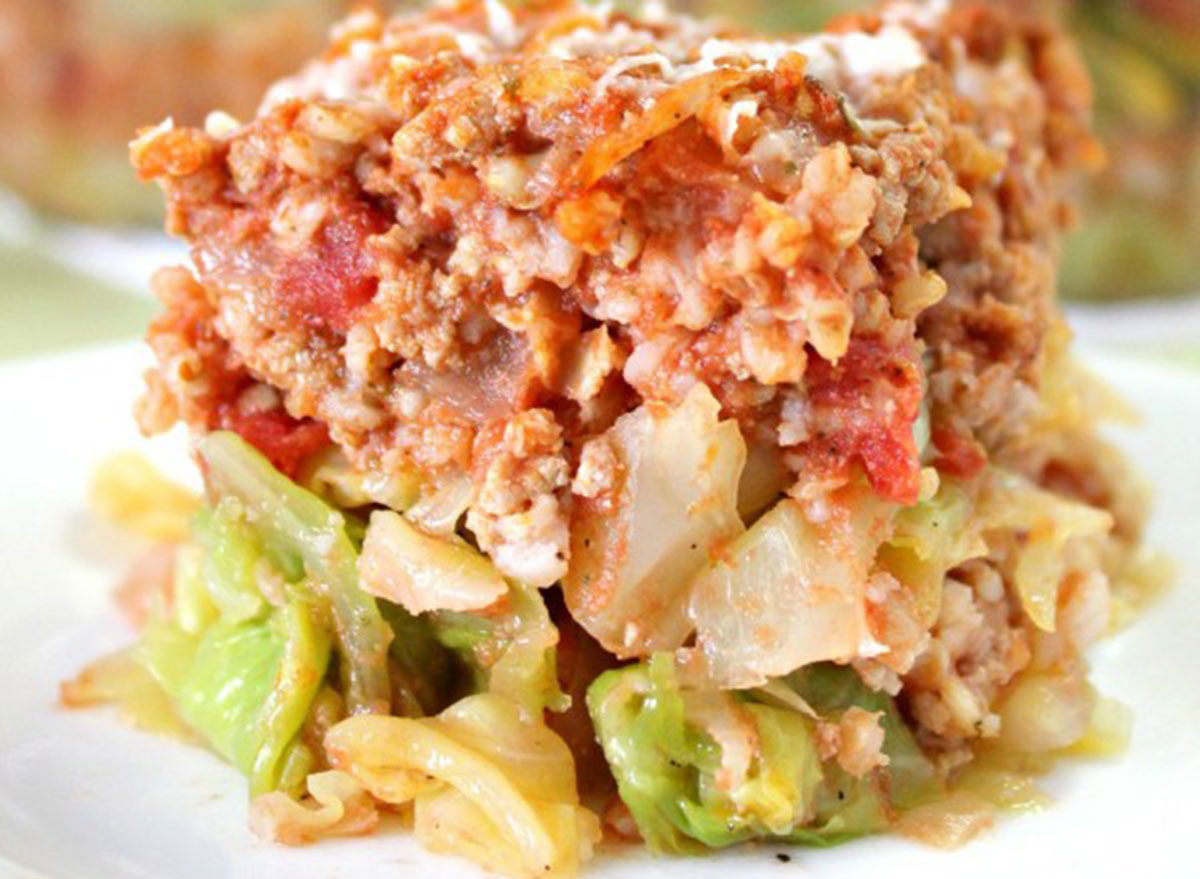 No noodles here. Just rice, cabbage, garlic, ground turkey, tomato sauce, Italian seasoning, and parmesan. Intrigued yet?
Get the recipe from Grounded and Surrounded.
Green Bean Casserole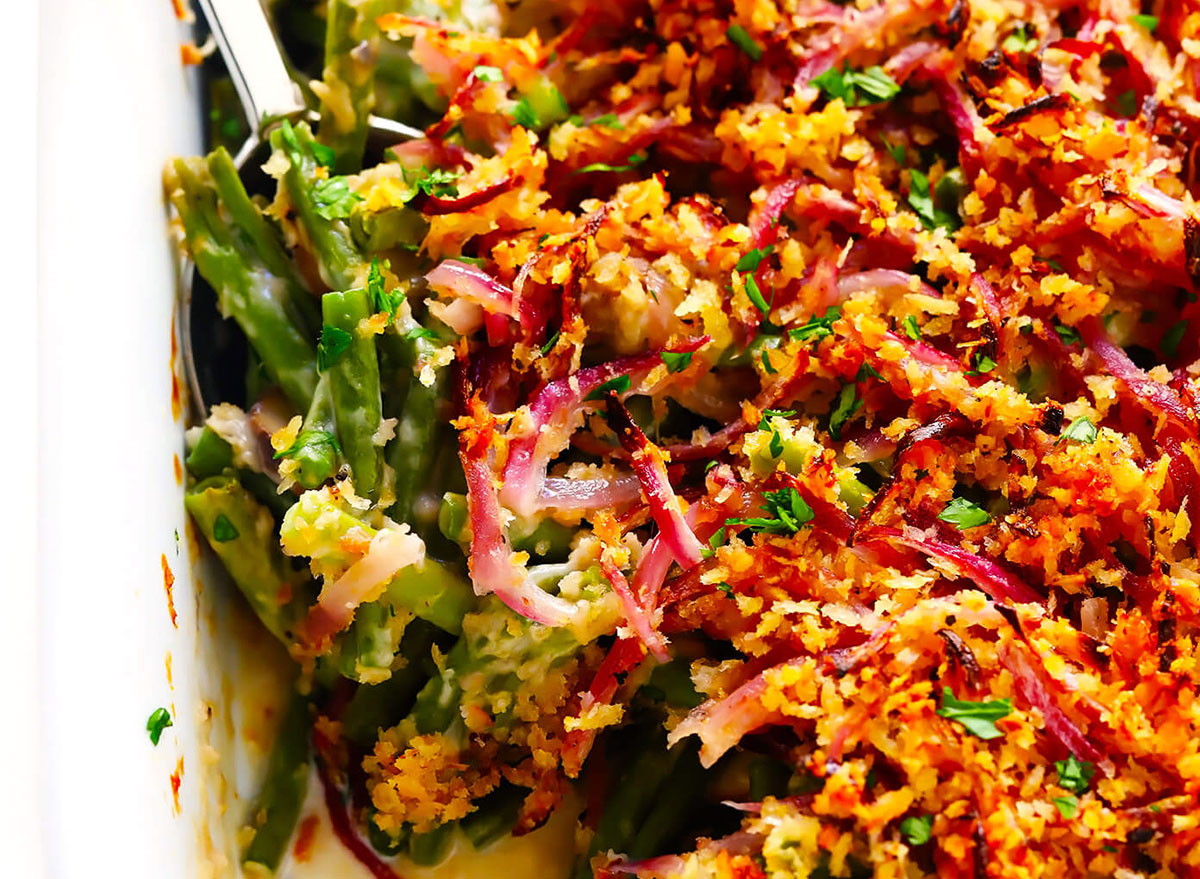 Green beans are underrated in our opinion, despite being associated with preventing colon cancer and vision degeneration, moderating diabetes, and boosting immunity. Plus, they're low in calories, super accessible, and won't break your budget. Pair this skinny side dish with a lean protein for a satiating flat belly meal. And now that you have all these great ideas, be sure to avoid these 25 Awful Ingredients Everyone Still Uses—But Shouldn't!
Get the recipe from Gimme Some Oven.
Casseroles are the easiest way to combine healthy ingredients in one dish. Have a favorite veggie, play around with these recipes and replace the ones you don't like with the ones you do.
A previous version of this article was originally published on September 26, 2017.