Chick-Fil-A Says It Will Stop All Donations to Anti-LGBTQ Organizations
The Salvation Army and the Fellowship of Christian Athletes will be affected most.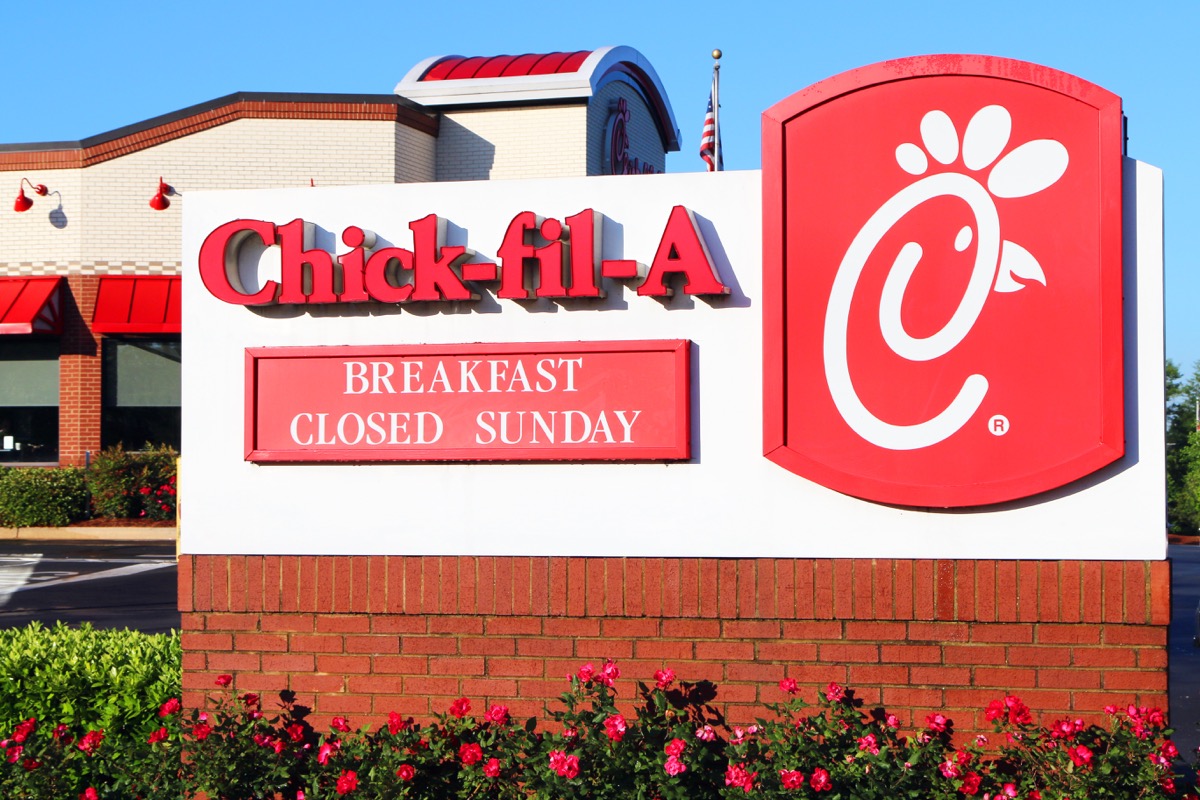 Every diehard fan of Polynesian sauce and waffle fries knows that Chick-fil-A has courted its share of political controversy over the years, whether it's by famously keeping its 2,400 locations closed on Sundays on religious grounds or by cosponsoring anti-LGBTQ conferences. More recently, the chain fanned political flames when it publicly donated $165,000 to The Salvation Army and $2.4 million to the Fellowship of Christian Athletes, two organizations that have drawn criticism recently for their stances on same-sex marriage. (The FCA requires athletes to sign "purity pledges" that, among other things, prohibit homosexual relations and premarital sex).
The donations sparked protests and boycotts. Planned locations at both the Buffalo and San Antonio airports were shuttered earlier this year.
However, in an unprecedented reversal, the restaurant chain just announced that the company's charitable wing plans to halt its practice of giving donations not only to The Salvation Army and the FCA, but also to any charities that oppose LGBTQ rights.
The Chick-fil-A Foundation plans to "work exclusively with organizations that focus on education, homelessness, and hunger." To begin, they've pledged $9 million total to two organizations: Junior Achievement USA, which teaches financial literacy to school-aged children, and Covenant House, a faith-based agency that offers care to runaway and homeless youth. The chain also announced that they will donate $25,000 to a local food bank in every city they open a new storefront in through 2020.
Pro-LBGTQ-rights organizations are observing the news with some skepticism. "If Chick-fil-A is serious about their pledge to stop holding hands with divisive anti-LGBTQ activists, then further transparency is needed regarding their deep ties to organizations like Focus on the Family, which exist purely to harm LGBTQ people and families," said Drew Anderson, the director of news and response at GLAAD.
Meanwhile, conservatives are less pleased.
Greg Abbott, the governor of Texas, tweeted, "I'm headed to Bill [Miller BBQ] tonight" in response to a Dallas News article reporting on the shift. (The owner of Bill Miller BBQ is a big-ticket donor to Donald Trump's reelection campaign.) Mike Huckabee, the former governor of Arkansas, called the news "sad" and "tragic," and lamented the fact that Chick-fil-A "[surrendered] to critics and [betrayed] loyal customers."
Founded in the suburbs of Atlanta in 1967, Chick-fil-A remains owned by the Cathy family, who have been famously outspoken over the years in their socially conservative views—particularly when it comes to marriage. In 2012, when the Baptist Press asked Dan Cathy, then the company's president and COO—and the founder's son—about his support of the "traditional" family (defined as a man and a woman), he responded: "Guilty as charged."
That same day, as reported by both the Christian Post and the Atlanta Journal-Constitution, Cathy told The Ken Coleman Radio Show: "I think we are inviting God's judgment on our nation when we shake our fist at him and say, 'We know better than you as to what constitutes a marriage.'" (In plain English, that means Cathy believes marriage is between a man and woman.)6254a4d1642c605c54bf1cab17d50f1e
This week's news suggests the company is evolving. Whether that's a result of fiduciary pressure or a signifier of a paradigmatic value shift, however, remains to be seen. According to Business Insider, the chain is the third-largest restaurant chain in America. In 2018, they were the seventh.