8 Chicken Marinade Ideas for Deliciously Juicy Chicken Breast
Spice up your chicken (literally!) with these delicious chicken marinade ideas.
Bored of making the same chicken recipe over and over again? Never fear, chicken marinades are here! These delicious marinade ideas are the perfect way to switch up your usual chicken routine with just a few splashes of oil, vinegar, juices, and more. Add in a few healthy side dishes, and you have yourself an easy dinner!
Making a chicken marinade is pretty easy to do. Marinades usually have oil in them, which helps keep the chicken (or whatever meat you marinade) moist while cooking. The rest of the spices, seasonings, vinegars, and juices are used for flavoring. This is where you can get creative with different types of flavors. But with so much flavor possibilities, it's hard to know where to start. Which is why I made these chicken marinade recipes for you!
Each marinade is for 1 pound of chicken
As you make the marinades below, note that they are meant for 1 pound of chicken each. You can either place the marinade in a plastic bag or a glass bowl before putting the chicken in. For these recipes, I cut up the chicken into smaller tenders, which means there's more marinade flavor on each piece per pound of chicken. Make sure the bag is sealed or the bowl is covered before placing in the refrigerator to marinate.
I suggest letting the chicken marinate for 15-20 minutes for the best quality meat. You can marinate for longer, but the taste and texture of the meat when cooking will be different. You shouldn't marinate more than a day. If the chicken is cut into tenders, cook each side for about 5 to 7 minutes. A full breast will take longer, around 8-10 minutes per side. The chicken is fully cooked when you cut into it and it's no longer pink.
Now that we have the logistics down, it's time to make some marinades! Here are eight original marinades you can choose from the next time you're cooking up some chicken.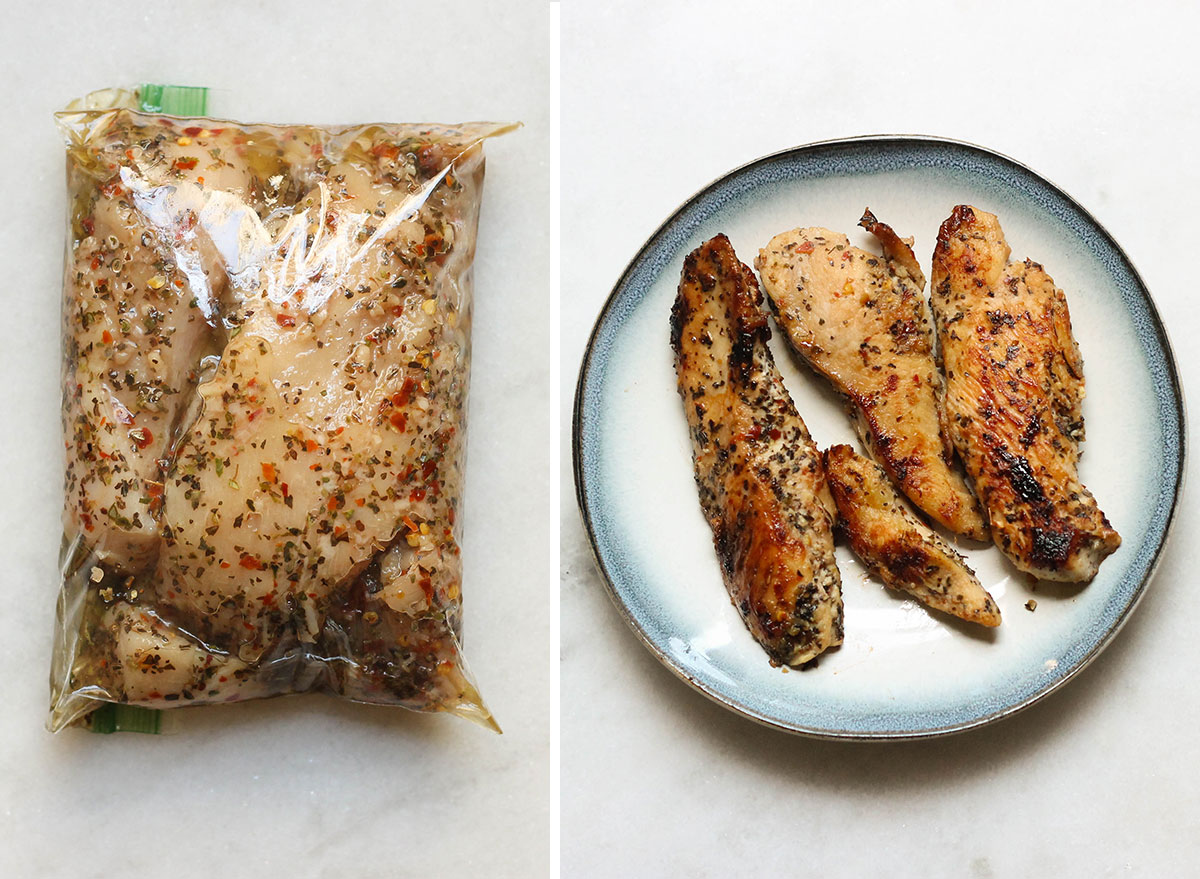 While a generic bottle of Italian dressing would probably be the easiest way to marinate chicken (yes, really), making an Italian marinade is much easier than you think! To make this chicken marinade, you would need:
Ingredients
¼ cup olive oil
¼ cup red wine vinegar
2 garlic cloves, minced
1 tsp oregano
1 tsp basil
½ tsp red pepper flakes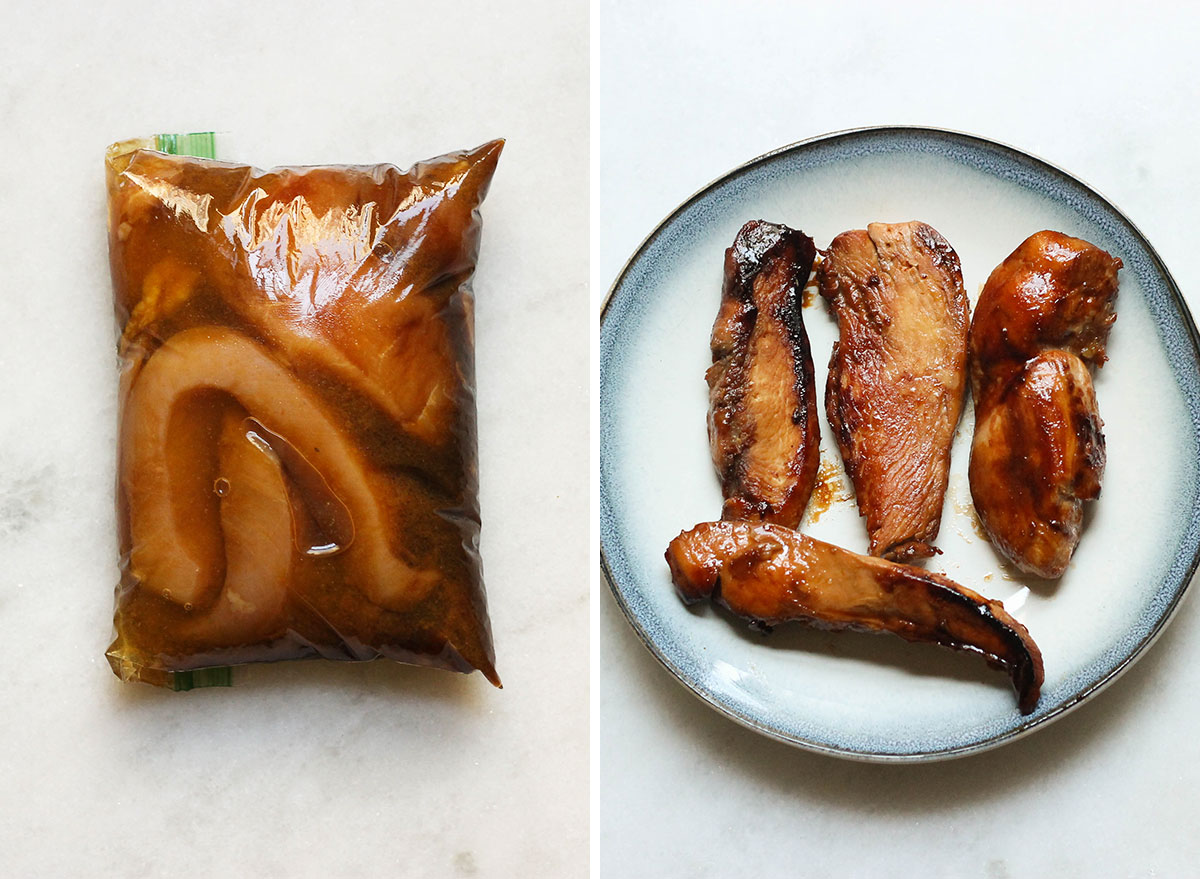 6254a4d1642c605c54bf1cab17d50f1e
No need to use a teriyaki sauce saturated with sodium! This homemade teriyaki marinade is a great way to get that delicious flavor without all the salt. To make this chicken marinade, you need:
Ingredients
¼ cup soy sauce
¼ cup orange juice
¼ cup vegetable oil
1 tsp sugar
1 tsp ground ginger
Compared to these other marinades, this honey mustard marinade will probably be the thickest one to make. However, the mustard and honey create a delicious coating around the chicken that tastes absolutely delectable after you cook it. To make this chicken marinade, you need:
Ingredients
1 tbsp honey
1 tbsp dijon mustard
¼ cup olive oil
1 tsp garlic powder
1 tsp salt
1 tsp pepper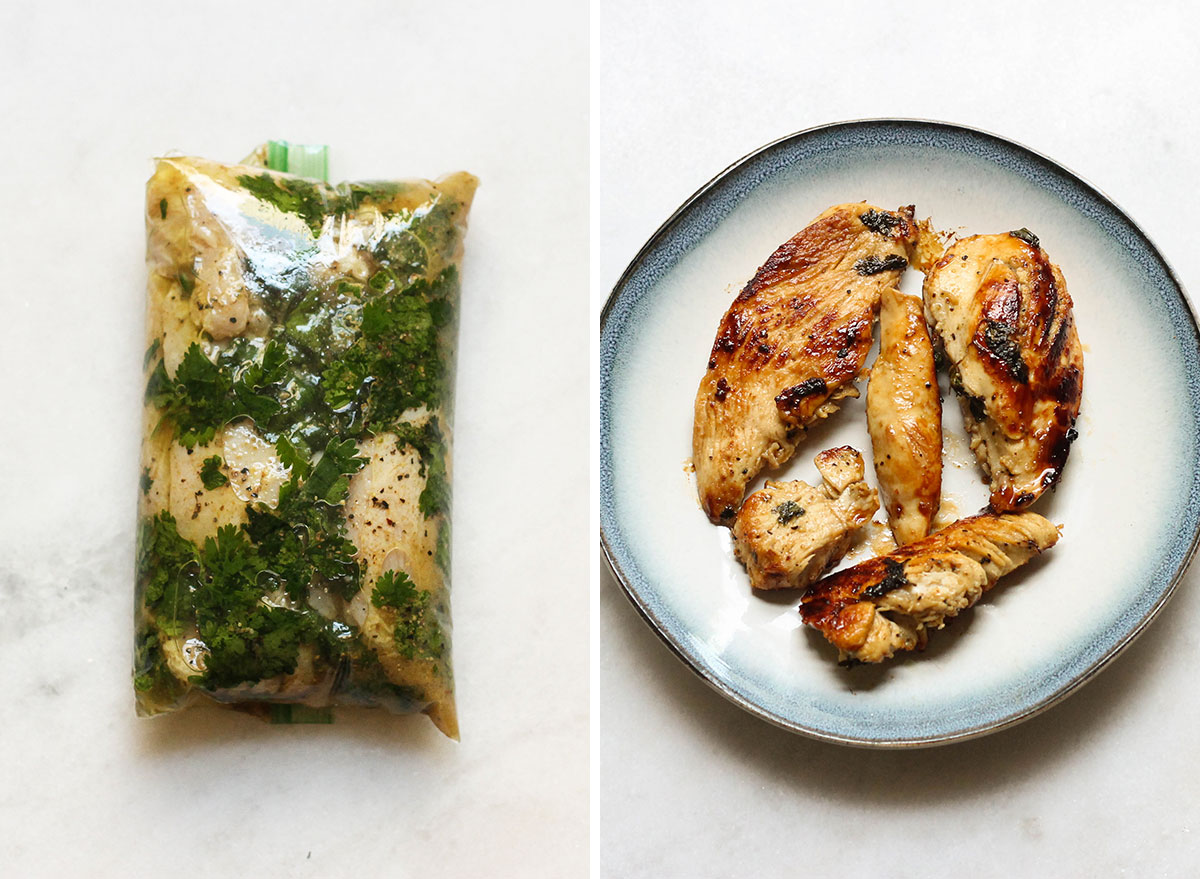 If you're not the kind of person who hates cilantro, you're in luck! This cilantro lime marinade will give your chicken that extra cilantro flavor you know and love. To make this marinade, you need:
Ingredients
¼ cup cilantro, chopped
¼ cup lime juice
1/4 cup vegetable oil
1 tsp honey
1 tsp cumin
1 tsp salt
1 tsp pepper
1 garlic clove, minced
Looking to give your chicken fajitas an extra kick of flavor? Have the chicken sit in this fajita marinade for a bit before cooking up those fajitas. The flavor is out of this world! To make this marinade, you need:
Ingredients
¼ cup vegetable oil
¼ cup lime juice
1 tsp chili powder
1 tsp paprika
1 tsp garlic powder
1 tsp salt
1 tsp pepper
There's just something about mixing salty soy sauce and sweet honey that tastes so good! This Asian honey marinade is great for making chicken to go with a vegetable fried rice—even better than ordering takeout! To make this marinade, you need:
Ingredients
¼ cup soy sauce
¼ cup vegetable oil
1 tbsp honey
¼ cup red wine vinegar
2 garlic cloves, minced
1 tsp rice vinegar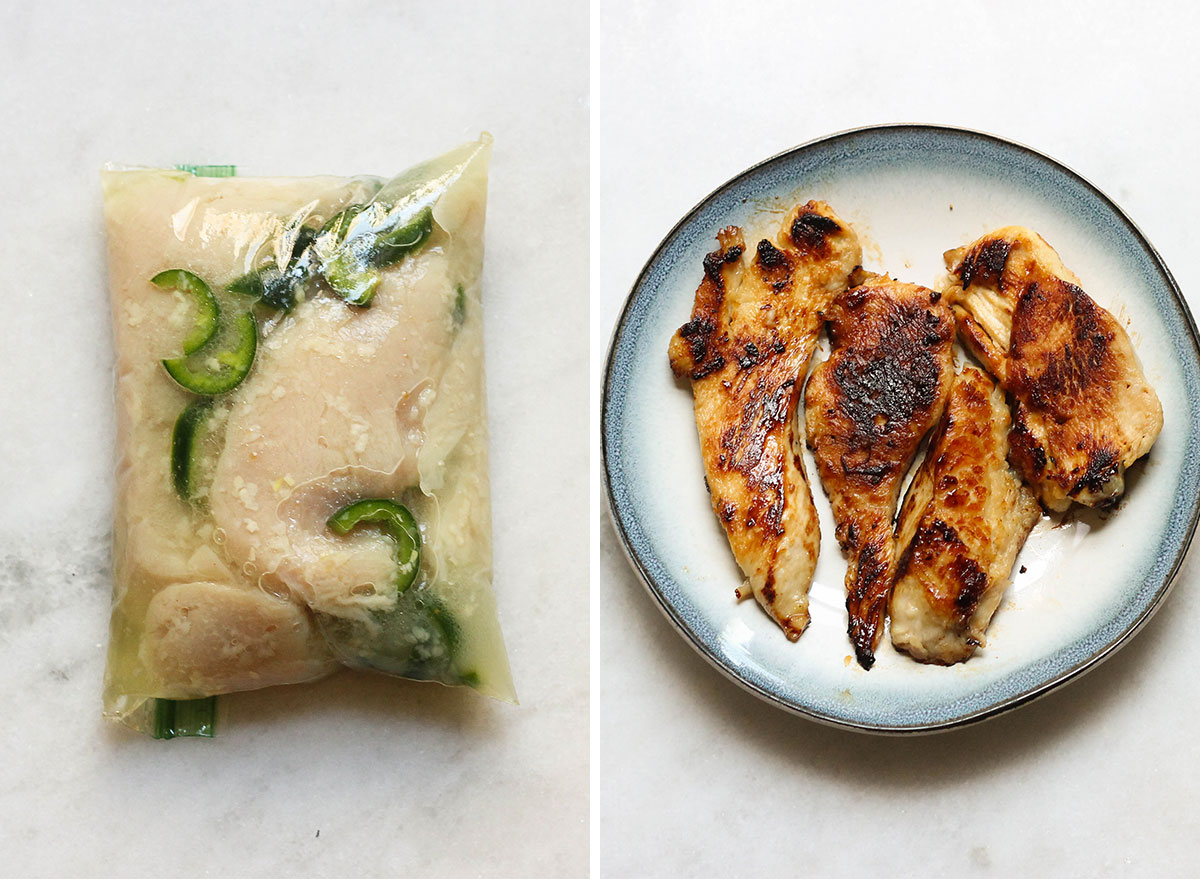 Who loves spicy food? Because this marinade is for you! While this chicken marinade does have jalapeños in it, the spicy flavor actually isn't overpowering after cooking the chicken. If you want more kick to your chick, add in another jalapeño to the marinade. To make this marinade, you need:
Ingredients
¼ cup vegetable oil
¼ cup lime juice
¼ cup white vinegar
1 jalapeño, seeded & diced
3 garlic cloves, minced
1 tsp salt
1 tsp pepper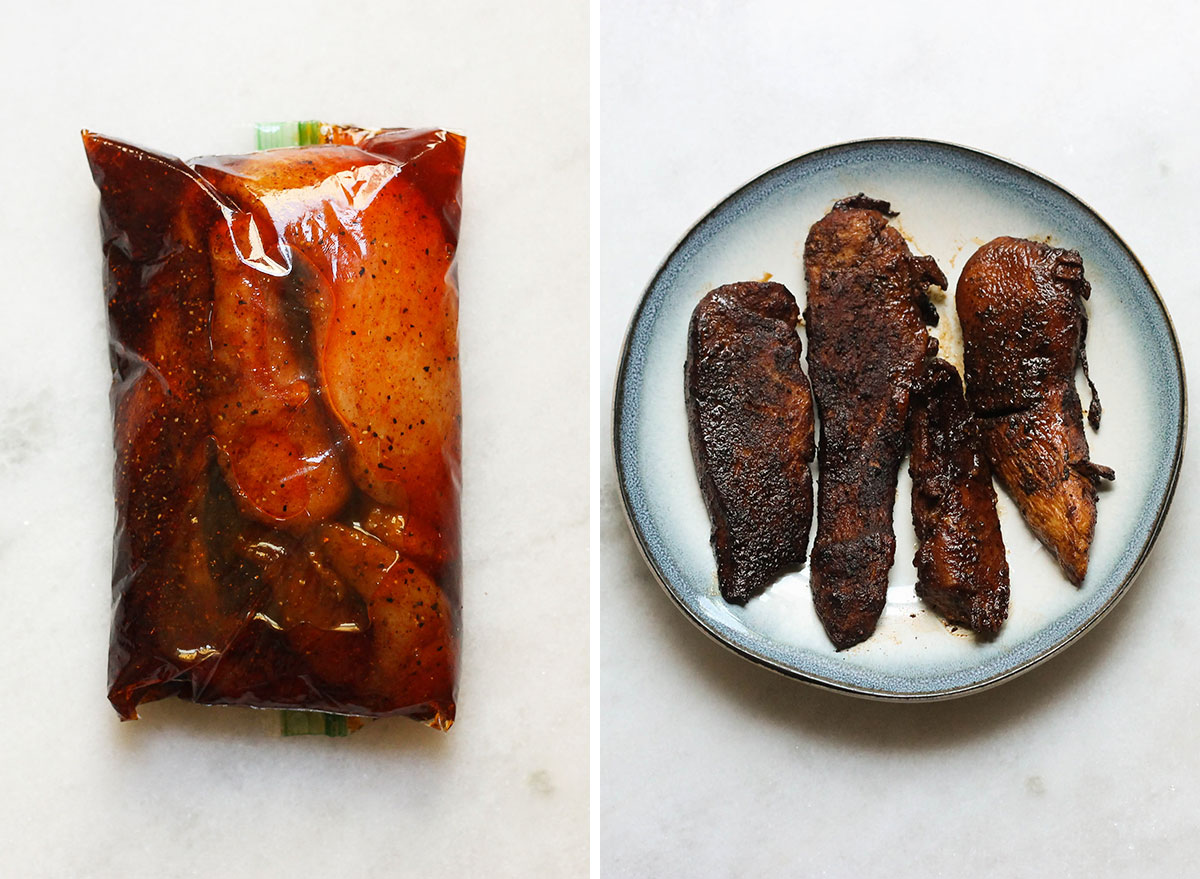 Was the jalapeño garlic not spicy enough for you? Well, this chicken marinade will give you a swift kick in the pants. Named after famous spicy Nashville Hot fried chicken sandwiches, this marinade will leave even those who love spicy food with steam coming out of their ears. To make this marinade, you need:
Ingredients
1/2 cup vegetable oil
1 tbsp cayenne pepper
1 tsp salt
1 tsp pepper
1 tsp chili powder
1 tbsp brown sugar