Takeout-Level Vegetable Fried Rice Recipe
And with a fried egg on top, this is certainly a dish you can't get from your local takeout spot.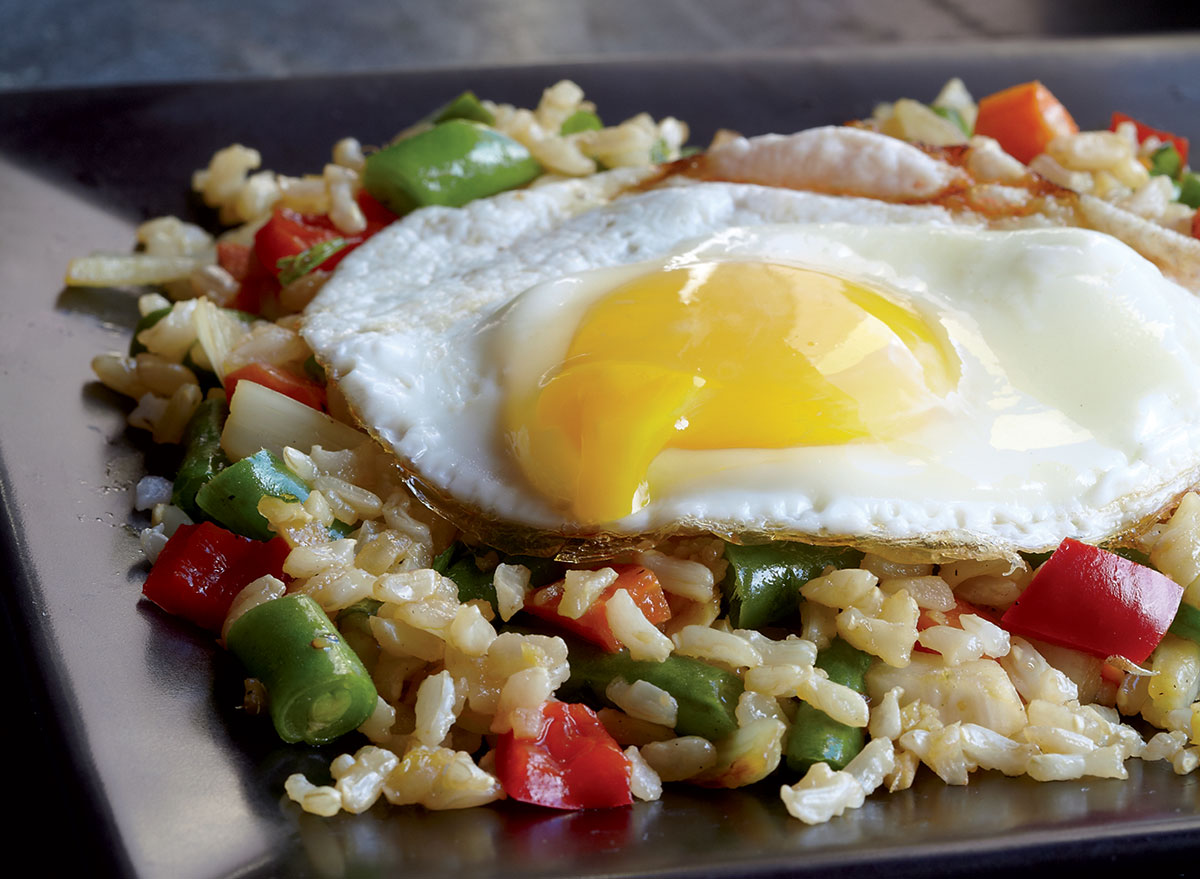 Some of the foods that we crave are quite challenging, to say the least, to create a healthy version of. But don't worry, we are very much up to the challenge. Making a dish like fried rice healthy requires the same strategy employed when lightening a bowl of pasta: The add-ins need to be more abundant than the carbs themselves. Use any mixture of firm vegetables you have in your refrigerator (the more the merrier!), just be sure to cut them into similar-sized pieces so they cook in the same amount of time. Eggs are normally scrambled directly into the rice, where they get lost in the jumble of grains and soy. We prefer a single, just-cooked egg on top of our vegetable fried rice, so you can break the yolk and dig in.
Nutrition: 360 calories, 12 g fat (2.5 g saturated), 390 mg sodium
Serves 4
You'll Need
1 Tbsp canola or peanut oil
2 cloves garlic, minced
1 Tbsp minced fresh ginger
4 cups chopped vegetables, such as asparagus, broccoli, carrot, bell pepper, zucchini, snap peas, green beans, onions (the more variety the better)
4 cups cooked brown rice, cooled
2 Tbsp low-sodium soy sauce
4 eggs, fried sunny side up
Sriracha for serving
How to Make It
Heat the oil in a large wok or nonstick skillet over high heat.
When the oil is lightly smoking, add the garlic, ginger, and chopped vegetables.
Stir-fry the vegetables for about 5 minutes, until lightly browned and softened, using a spatula to keep the ingredients moving so that they cook evenly.
Add the rice and cook, stirring, for another 3 minutes, then add the soy sauce and cook for 1 minute more. (If you like crispy bits in your fried rice, leave the rice to cook, undisturbed, for 1 minute. A nice crust should form on the bottom layer of rice.)
Divide the fried rice among 4 plates or bowls and top each with a fried egg. Serve with sriracha.
Eat This Tip
While brown rice is a great healthy alternative to white rice, if you want to get even more nutritious, try switching out rice with quinoa. It'll provide an exciting new texture, and it is lower in calories.6254a4d1642c605c54bf1cab17d50f1e