Flavorful Provençal Chicken Recipe
Mediterranean-style cooking is always a good idea.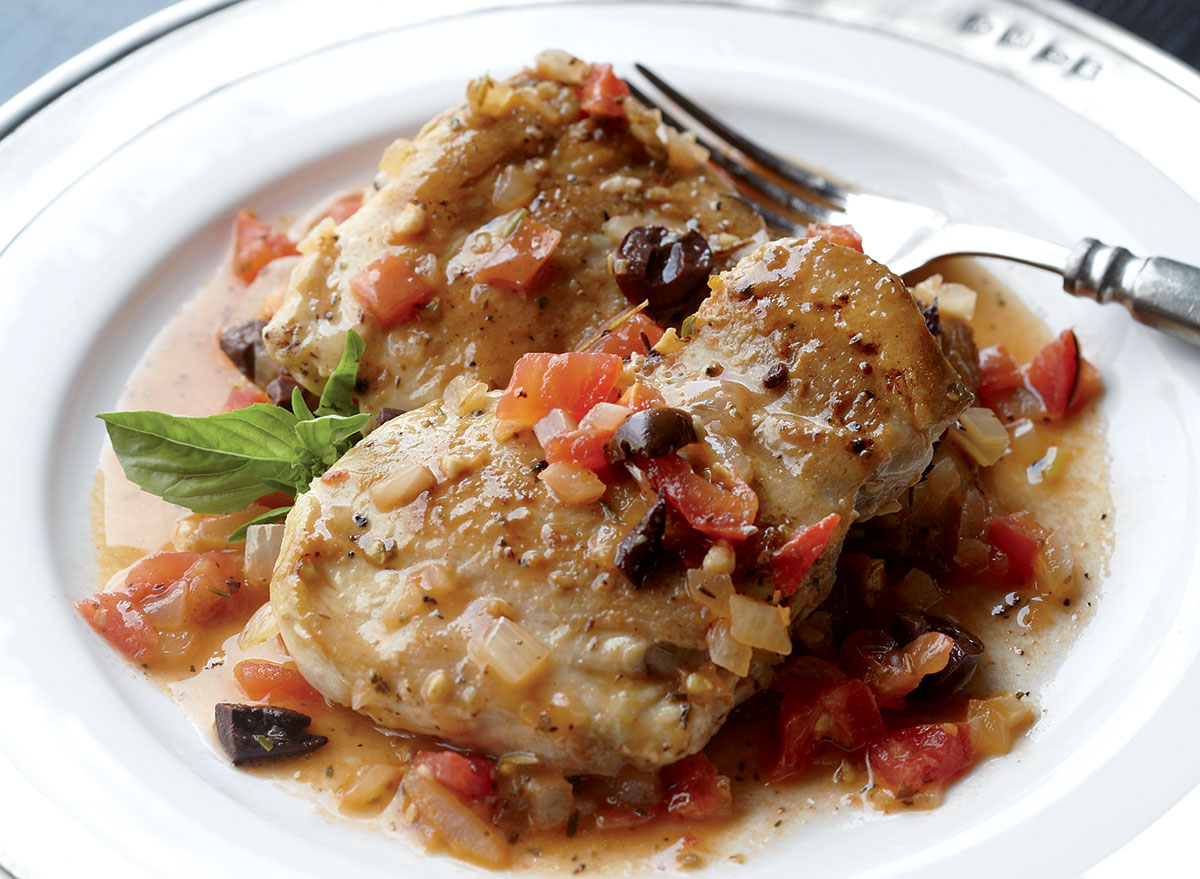 It's rare when a type of food, commonly ordered as take-out food is simultaneously as healthy as it is delicious. No, not Chinese. Nope, definitely not Pizza Hut. But have you ever ordered a falafel to go? Well, welcome to the land of Mediterranean food. Tasty, flavorful, craving satisfying delicious. We bet you could order from a take-out Mediterranean place and think you were eating naughty, but the truth is, you'd be making a healthy choice. Healthier even though, would be to cook your own recipe. That's where we come in. Enter our chicken Provençal recipe. This is the type of simple, healthy, satisfying dish that gives Mediterranean cooking its reputation as the perfect fusion of flavor and nutrition. All of the key components—white wine, tomatoes, olives, herbs—have the distinct advantage of being both intensely flavorful and incredibly good for you. Truth be told, we're not really sure if people in Provence eat their chicken like this, but it has the soul of southern France in every bite.
Nutrition: 340 calories, 15 g fat (2.5 g saturated), 680 mg sodium
Serves 4
You'll Need
1 Tbsp olive oil
8 boneless, skinless chicken thighs (about 1 1⁄2 lb total)
Salt and black pepper to taste
1 small yellow onion, minced
3 cloves garlic, minced
3 Roma tomatoes, diced
1 cup dry white wine
1 cup chicken stock
1 tsp herbes de Provence
1⁄4 cup pitted Kalamata olives, roughly chopped
Fresh basil for garnish (optional)
How to Make It
Heat the olive oil in a large sauté pan over medium-high heat.
Season the chicken all over with salt and black pepper.
Add the chicken to the pan and cook, turning once, for about 6 minutes total, until seared and nicely browned. (Work in two batches if need be, so as not to overcrowd the pan.)
Remove the chicken to a plate and reserve.
To the same pan, add the onions, garlic, and tomatoes and cook for about 5 minutes, until the onions and tomatoes are very soft.
Add the wine, broth, and herbes de Provence and bring the mixture to a simmer.
Return the chicken to the pan and simmer uncovered, turning the chicken halfway through, for about 20 minutes, until the meat is very tender.
Stir in the olives, garnish with basil if you like, and serve.
This recipe (and hundreds more!) came from one of our Cook This, Not That! books. For more easy cooking ideas, you can also buy the book!