Simple Chicken Scaloppine Recipe
It's a lighter, more authentic version of the classic Italian dish.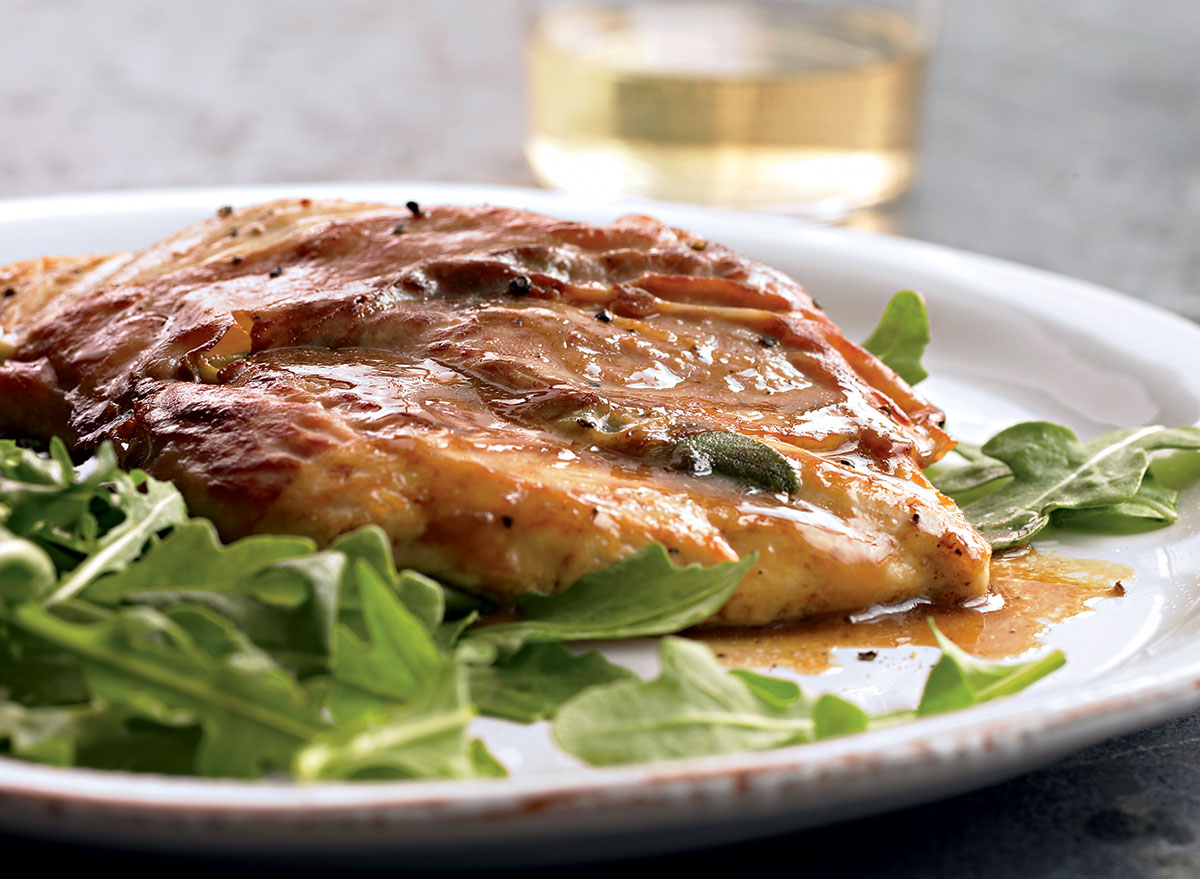 Another Italian classic lost in translation. Too many cooks interpret this dish—traditionally chicken or pork, lightly floured and cooked with sage and prosciutto—as a huge helping of meat, breaded and fried, and covered in a murky, sodium-strewn gravy.
Our lighter, more authentic version wraps chicken and sage in a layer of prosciutto, which then becomes a crispy skin that keeps the chicken moist while it sautés. A splash of wine and chicken stock directly into the cooking pan becomes your 2-minute sauce. Just the latest proof of why simpler is so often better.
Nutrition: 280 calories, 11 g fat (3.5 g saturated), 460 mg sodium6254a4d1642c605c54bf1cab17d50f1e
Serves 4
You'll Need
4 boneless, skinless chicken breasts or thighs (about 6 oz each), pounded to uniform 1⁄4" thickness
Salt and black pepper to taste
8 fresh sage leaves
4 thin slices prosciutto
1 Tbsp olive oil
1 cup white wine
1⁄2 cup low-sodium chicken stock
1 Tbsp butter
Fresh parsley (optional)
How to Make It
Season the chicken with salt and pepper.
Lay two sage leaves across each breast, then wrap each with a slice of prosciutto, using a toothpick or two to secure the wrap.
Heat the oil in a large skillet over medium heat.
When the oil shimmers, add the chicken and cook for 4 to 5 minutes per side, until the prosciutto is browned and crispy and the chicken is firm to the touch and cooked through.
Transfer to 4 plates.
Add the wine and stock to the pan and cook for about 2 minutes, until the liquid has reduced by half, scraping the bottom of the pan to loosen any cooked bits.
Swirl in the butter and parsley (if using).
Pour the sauce over the chicken and serve.
Eat This Tip
Pounding Protein
A number of recipes call on you to pound a chicken breast into a thinner cutlet. The reason being that meat—chicken, steak, pork—that has a uniform thickness cooks quicker and more evenly.
The process is easy: Take out a large cutting board and lay the chicken on top. Cover with a few layers of plastic wrap, and use a meat mallet (or a heavy-bottomed pan) to thwack the meat into submission.
Of course, many supermarkets sell chicken and other meats in cutlet form, but, really, where's the fun in that?