Chicken Taco With Roasted Red Peppers Recipe
This combination of poultry and roasted red pepper will spruce up your usual go-to taco recipe!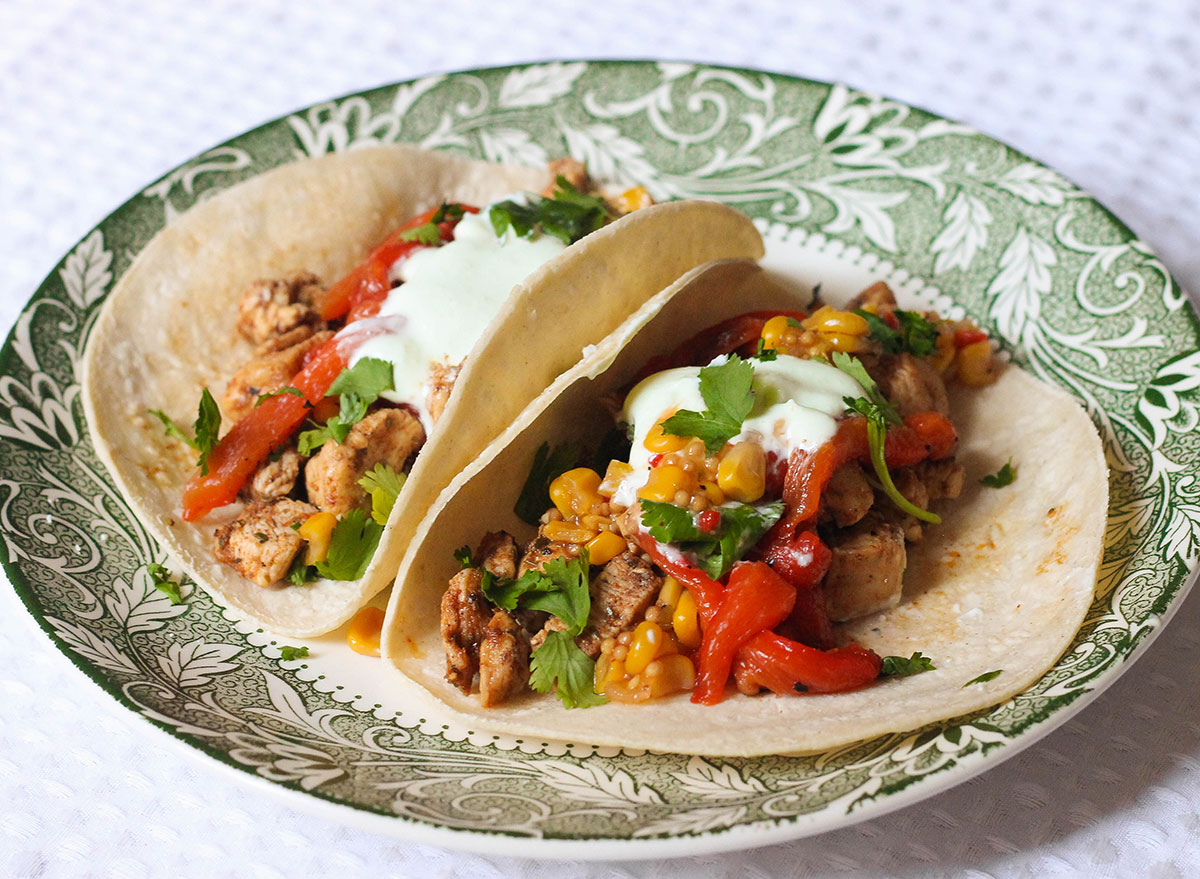 Making chicken tacos at home doesn't mean you have to continue using the same boring combination of ingredients! Chicken is such a versatile meat that it can go with a lot of different types of toppings, especially when wrapped in a tortilla.
This chicken taco recipe is made with roasted red pepper, making it a sweeter taco than you normally associate tacos to be. Between the roasted red bell pepper and sweet corn salsa, you'll find yourself enjoying a satisfying sweet and salty experience when biting into one of these.
Instead of a usual dollop of sour cream, this chicken taco recipe calls for a dollop of homemade crema sauce. Crema is a thinner version of sour cream, thinned out by some type of additive. In this recipe, the lime juice thins out the thick sour cream, making it a delectable sauce to top your taco with. If you'd rather something spicier, you could always add in a tablespoon of Sriracha to give your tacos a kick.
Makes 4 servings
Ingredients
1 pound chicken breast, diced
1 teaspoon olive oil
2 tablespoons taco seasoning
1 red bell pepper
1/2 cup sour cream
2 tablespoons lime juice
1 teaspoon garlic powder
Corn salsa
Cilantro
Tortillas
Aluminum foil
How to Make It
Preheat the oven to 400 degrees. Cover a baking sheet with aluminum foil.
Cut the bell pepper in half, top and seeds removed.
Place the pepper halves on the covered sheet, cut side facing down.
Roast in the oven for 20-25 minutes.
In a small bowl, mix together the sour cream, lime juice, and garlic powder. Set aside for later.
Once done, remove the peppers to a cutting board, and cover with a bowl for 10 minutes. This will sweat the peppers, making it easier to peel off the skin. Peel the skin and slice small strips.
In a skillet, cook the chicken with olive oil and taco seasoning. Cook until chicken bits are no longer pink in the middle.
Serve on warmed tortillas with roasted red pepper slices, lime crema, corn salsa, and cilantro.
RELATED: Easy, healthy, 350-calorie recipe ideas you can make at home.6254a4d1642c605c54bf1cab17d50f1e