Chipotle Just Added This Fight-Inducing Quesadilla to Its Permanent Menu
The internet won this cheesy fight!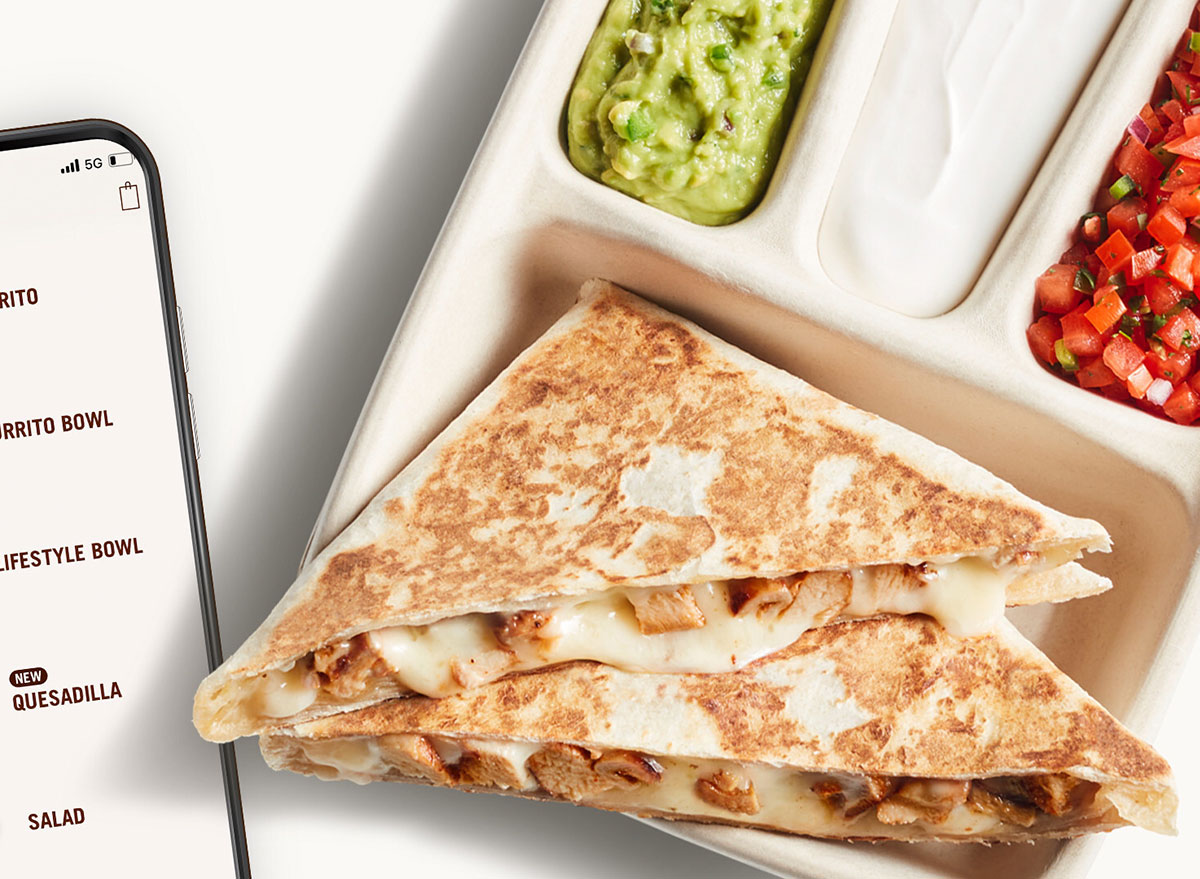 Special menu hacks inspired by social media have become commonplace and, often, a headache for restaurant chain workers. Recently, Chipotle learned the harsh reality of being a customizable fast-casual chain, as fans frenzied over yet another new menu hack that swept the internet. However, in an unprecedented move, after first pushing back against the new, made-up item, Chipotle has decided to add this one to the menu in March.
The item that has taken social media and Chipotle locations by storm is what some call the "Philly Cheesesteak Quesadilla." Customers can order it by asking for a steak quesadilla with extra cheese and fajita veggies, according to popular TikTok user, Alexis Frost, who shared the viral hack in a video, explaining it was recommended to her by a Chipotle employee.
According to TikToker Keith Lee, there's another important component that really made this meal hack take off. By combining Chipotle's sour cream and signature salad vinaigrette, one can create the crucial dipping sauce that takes this delicious quesadilla to the next level.
While this order hack has become a new fan-favorite, it's also caused a number of issues for workers in individual restaurants and the company as a whole. Many Chipotle employees reported multiple ingredient shortages, broken machines due to the excess products, and even physical and verbal aggression from customers over the counter.
Some Chipotle workers were so filled with frustration, according to The Takeout, that their store put up a sign reading "PROTEIN AND CHEESE ONLY ON QUESADILLA! No TikTok trends allowed."
According to Today, Chipotle decided the best way to handle the restaurant insanity was to officially release the menu item. After the extremely influential involvement that both Frost and Lee had in spreading the word about the Philly Cheesesteak Quesadilla, Chipotle invited the TikTok food reviewers to make the official announcement on Chipotle's TikTok page that the item will become available on the app this March. There is no exact launch date yet.
RELATED: The Best Secret Menu Options at Your Favorite Fast-Food Chains6254a4d1642c605c54bf1cab17d50f1e
Interestingly enough, in the name of competition, QDOBA came out with the same quesadilla hack this week and it's available at the time of writing this article. "Don't wait till March," QDOBA's TikTok video claims, as you can order the cheesy, steak and veggie quesadilla with its' citrus lime vinaigrette and a side of sour cream.
Calling all Tex-Mex, Philly Cheesesteak lovers, where will you get your quesadilla fix?
Jordan Summers-Marcouillier
Jordan Summers-Marcouillier was born and raised in San Jose, California and now works as a writer in New York, NY.
Read more about Jordan