The Best Secret Menu Options at Your Favorite Fast-Food Chains
These secret menu items will make your taste buds sing.
The menus at your favorite chains may seem set in stone, but many people fail to realize that their food orders can easily be tailored. As long as you're cool with straying from your low-maintenance customer status, it's possible to beat restaurant boredom with secret menu items. Read on to discover the best meal alterations from your favorite fast-food and fast-casual chains.
Five Guys: Grilled Cheese CheeseBurger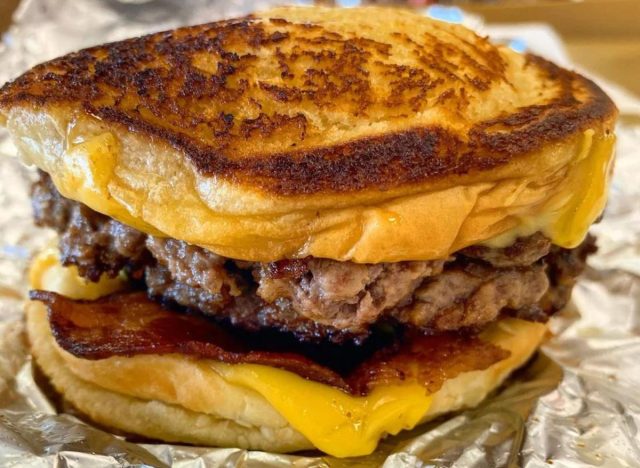 Five Guys is loved by customers for many reasons—like getting a big, greasy bag of fries with every order and being able to customize your order with all your favorite toppings—but this secret menu item is all the new rage at the burger chain. After blowing up on Tik Tok, fans haven't been able to stop talking about ordering a Grilled Cheese Burger from the restaurant whenever they have the chance. All you have to do is ask for a grilled cheese with a patty in the middle, plus, anything else you want in between! The buns are buttery and the extra cheese melts graciously over the juicy beef patty.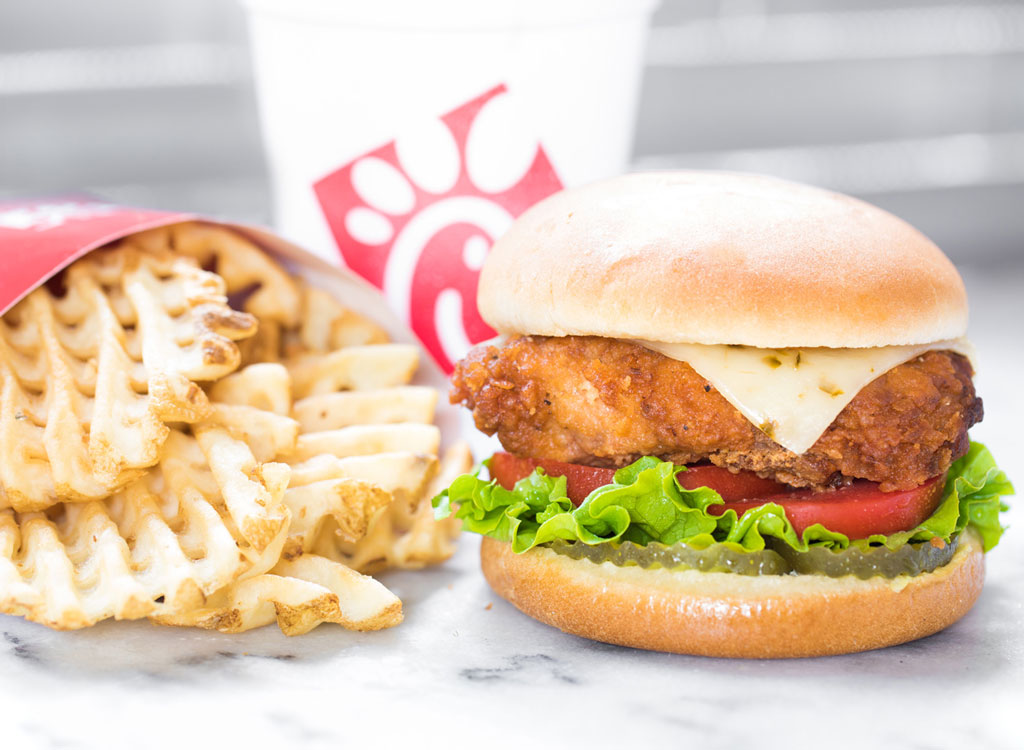 For those looking for a way to beat chicken boredom, we suggest checking out The Spicy Char. Like everything you'll see here, it's not even listed on the menu! It's made with a char-grilled, unbreaded chicken breast that's been sprinkled with hot and spicy seasonings. The fillet is served on a bun of your choice and comes with toasted dill pickle chips. It's quite similar to the chain's Spicy Chicken Sandwich. Give it a try next time you find yourself at Chick-fil-A, and round out your meal with water and fruit or a side salad.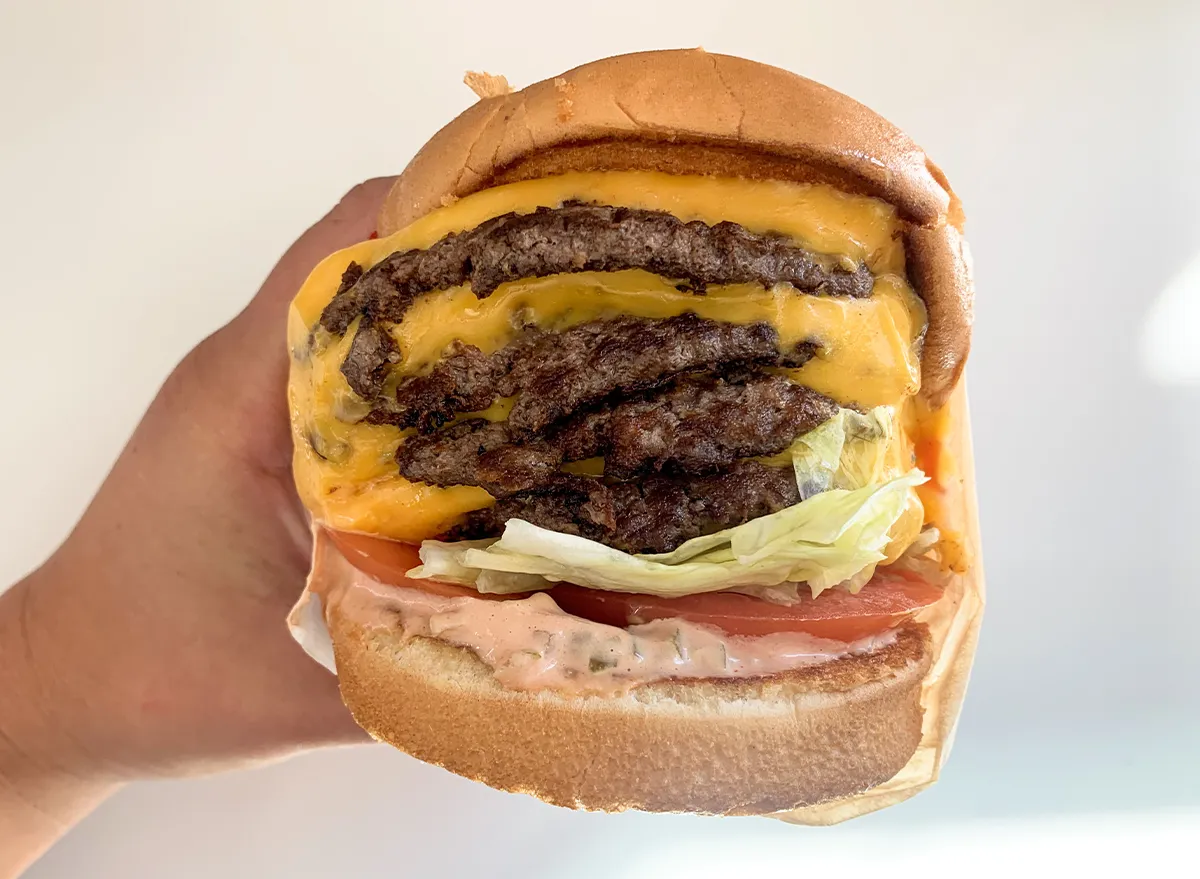 You can have not one, not two, but four cheeseburger patties on an In-N-Out burger. Simply order a "4×4" and you'll get this delicious masterpiece, with your favorite toppings and secret sauce included. Don't want all four? You can order a 2×2, or even a 3×3, but the max caps at 4×4 after someone once tried ordering a 100×100!
McDonald's: All-American Burger
The odds are low that the person taking your order will know the dish by name, so you'll want to place an order for a regular hamburger at McDonald's without onions and mustard. Because no meal would be complete without some sort of side, we suggest pairing it with a side salad topped with a light drizzle of balsamic dressing.
And for more on the Golden Arches, don't miss these The Best Secret Menu Options at McDonald's.
Starbucks: Cold Buster/Medicine Ball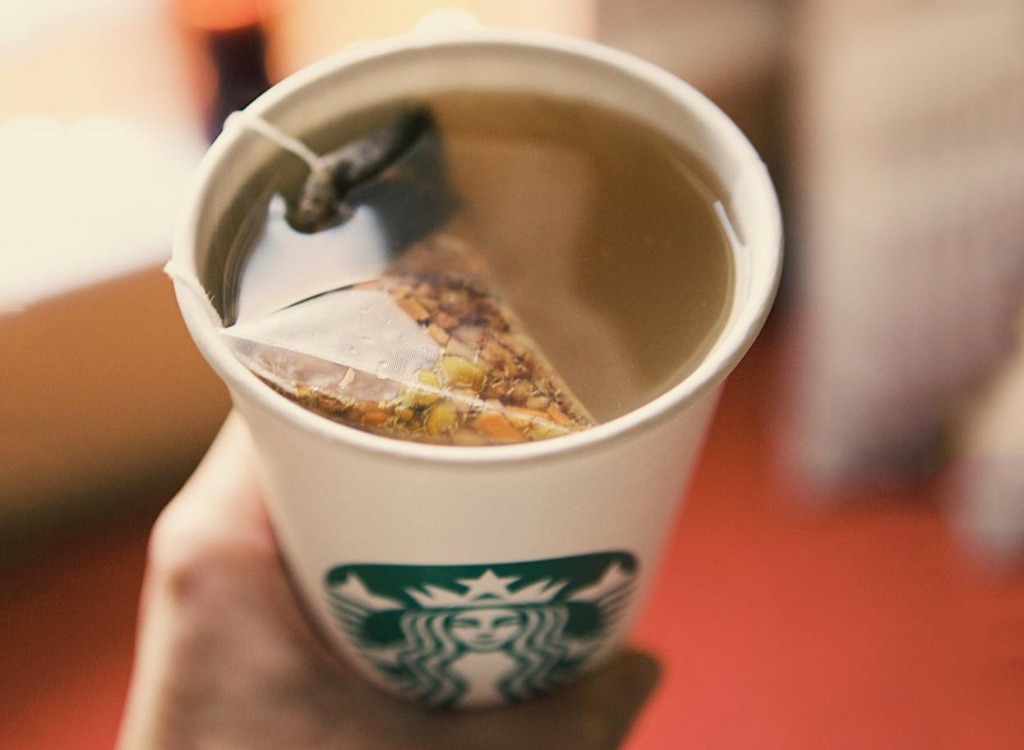 Feeling blue? Head to Starbucks and order one of the chain's most popular secret menu items. The Cold Buster is made of half steamed lemonade, half hot water, and a teabag each of Jade Citrus Mint green tea and Peach Tranquility herbal tea.
Taco Bell: Double-Grilled Quesadilla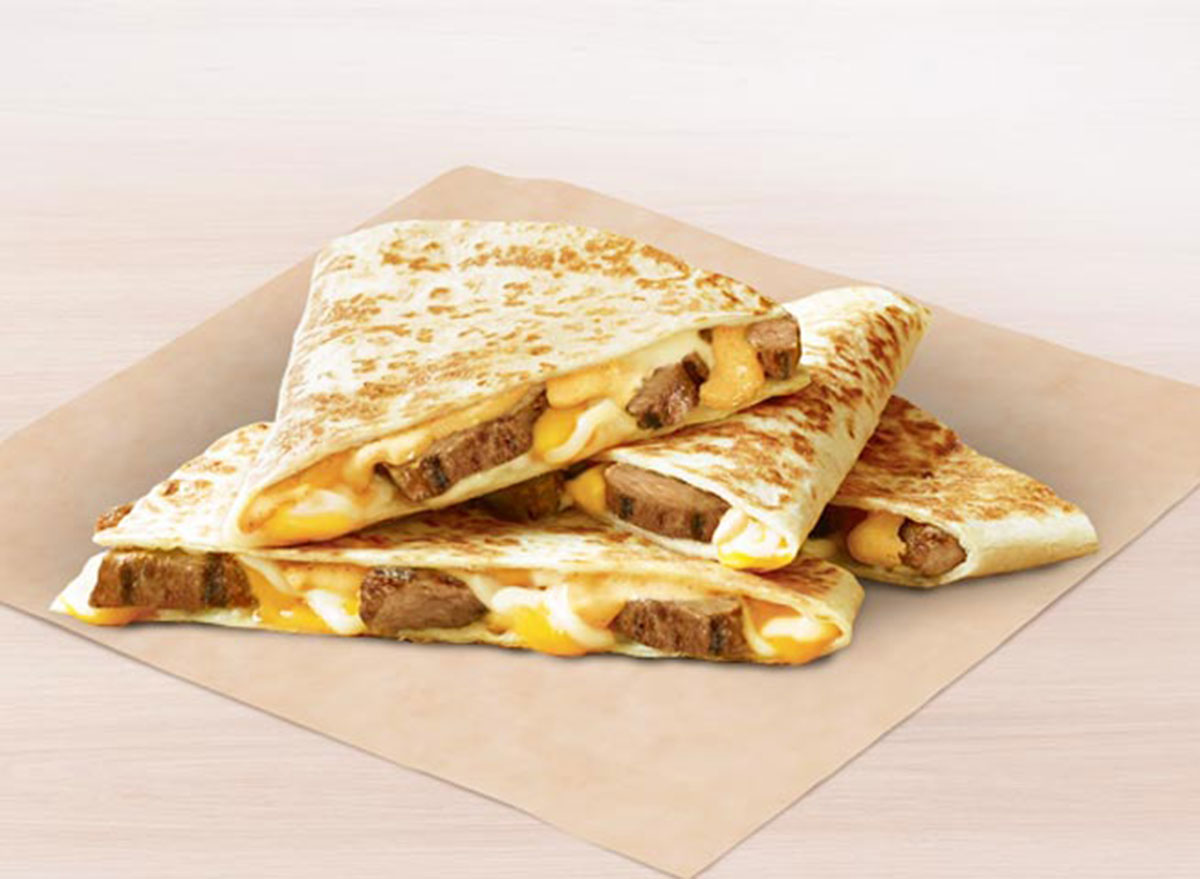 When it comes to fast-food menu items we can't get enough of, Taco Bell's quesadilla is a top contender. But when it comes to food, there's always room for improvement, right? Right! To make a good thing even better, ask for your quesadilla to be grilled twice. It will be extra crispy—and extra tasty. Our mouths are watering just thinking about it.
We have some bad news: 10 Beloved Taco Bell Items That Have Disappeared From the Menu.
McDonald's: Grilled Cheese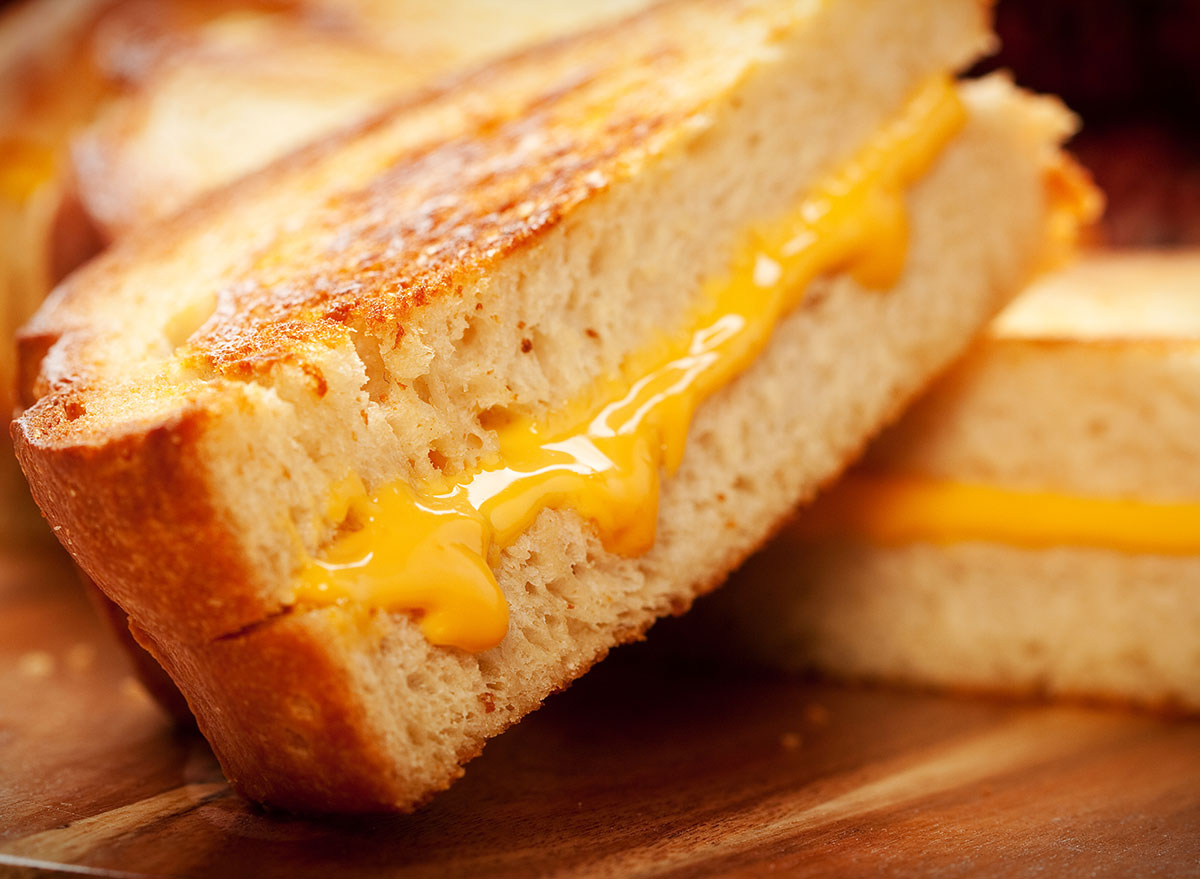 To the passive consumer, there may not appear to be many vegetarian-friendly options on the McDonald's menu. Sure, you can order apple slices and some of the breakfast items, but that's where the road ends. However, if you mix and match the ingredients a bit, another dish becomes apparent: a grilled cheese sandwich. It's one of Ronald's most popular "secret menu" items, and it's made by grilling up a slice or two of cheese between a hamburger bun. You can even request they add on a tomato slice. This is one road trip sandwich we can get behind.
If you haven't ordered this iconic secret menu item from In-N-Out yet, west coasters, get on it! This delicious fry box is topped with American cheese, caramelized onion, and the iconic signature sauce.
For more, don't miss the 17 In-N-Out Secret Menu Items You Have to Try at Least Once.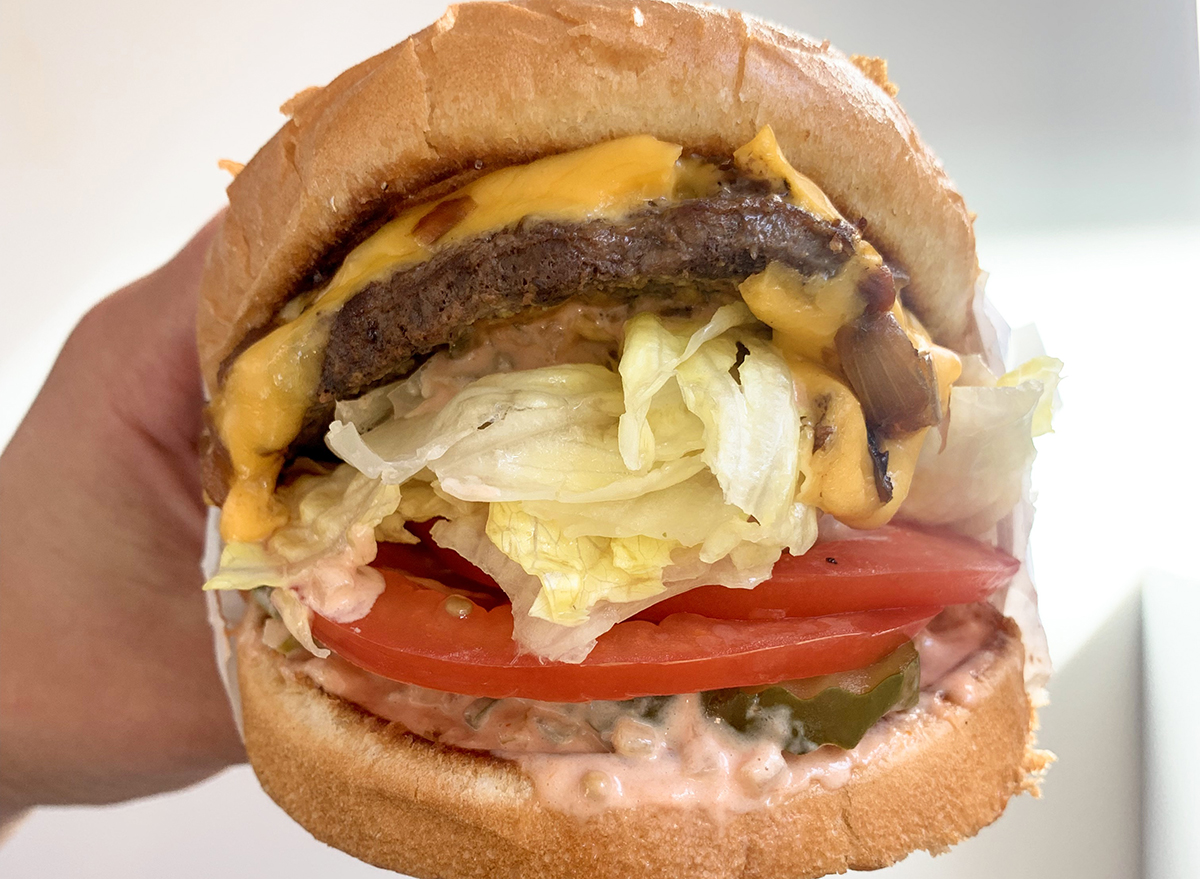 Didn't see that one coming, did you? Yes, Animal Fries is a secret menu staple at In-N-Out, but did you know you could order the same "animal" toppings on a burger as well? That's right! Order an Animal Burger and you get the American cheese, caramelized onions, and signature sauce added to your burger.
Chipotle-loving kids have always been able to order a single taco at the fast-casual joint. However, if you ask your server for it, they'll have no problem whipping one up for you, too. Pair your single taco with an orange (another kids' menu find) for a healthy, satiating mini-meal.
And for more ideas, check out ​​This Viral Chipotle Hack Can Get You a Shockingly Cheap Burrito.
McDonald's: Chocolate Chip Cookie McFlurry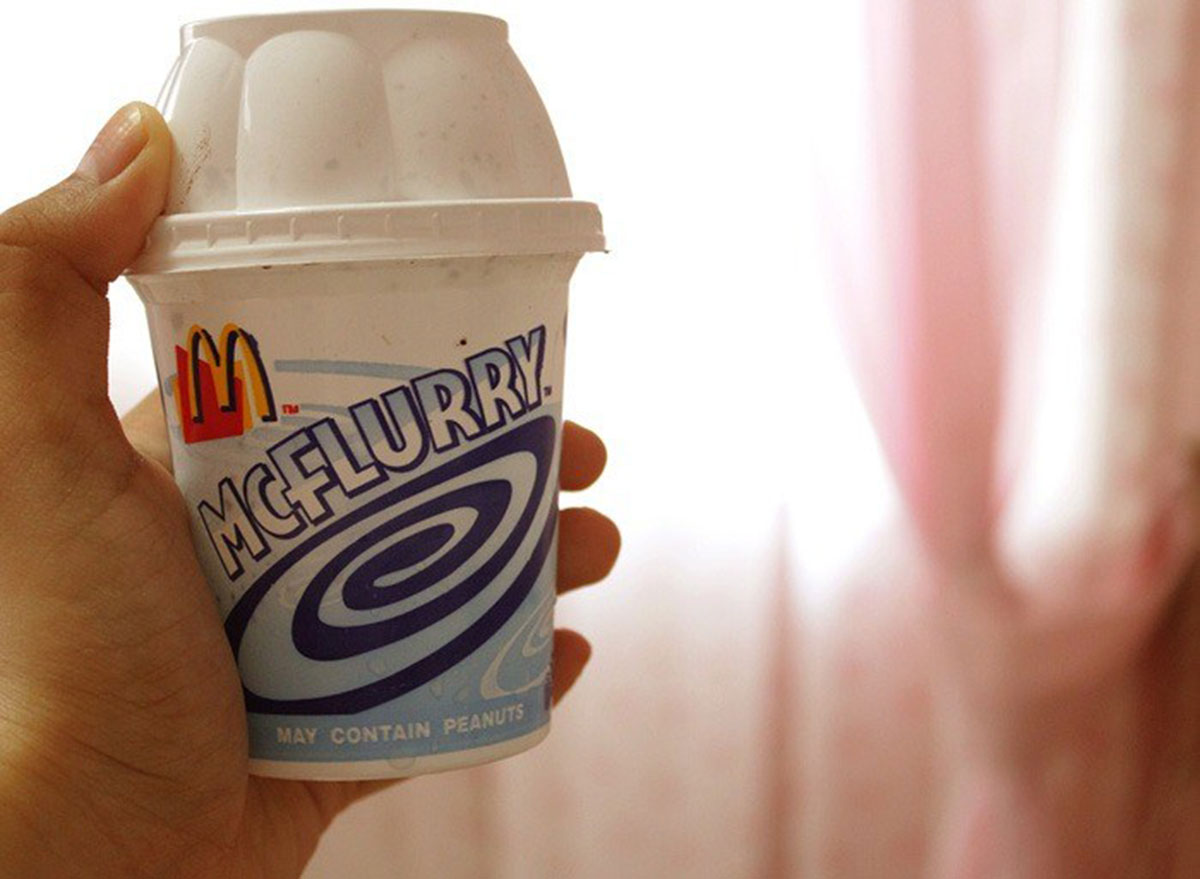 Next time you're craving something sweet from McDonald's, ask for a plain snack-size McFlurry with half of a chocolate chip cookie mixed in (the entire cookie is overkill in such a small cup).
Panera: Power Breakfast Egg White Bowl with Roasted Turkey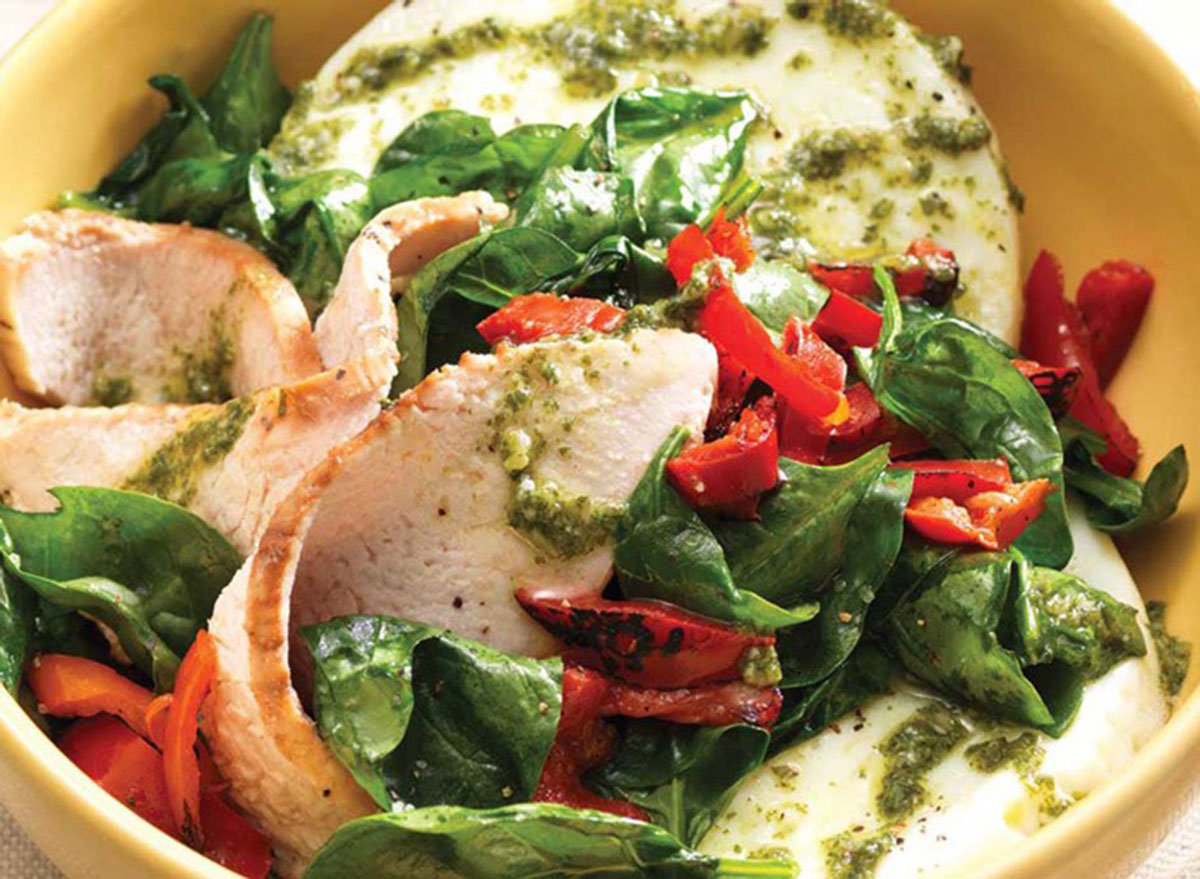 This flavorful, secret-ish breakfast bowl is filled with antibiotic-free turkey, basil pesto, egg whites, roasted peppers, and baby spinach. If this dish sounds familiar, that's because Panera officially released a secret menu a few years back. It has since been removed from the web, but you can still order the items at a fair number of Panera locations. For more secret Panera orders, check out these Panera Secret Menu Items You've Got to Try.
Traditionally, KFC's Famous Bowl comes layered with creamy mashed potatoes, corn, crispy chicken bites, gravy, and shredded cheeses. We sent one of our staffers to their neighborhood KFC to see if the waitstaff would be willing to make him a custom Famous Bowl. And though his request was met with a raised eyebrow, he got what he asked for: a cheeseless bowl, built upon a bed of green beans instead of mashed potatoes. The best part: You still get to sit down to a meal that includes crispy, fried chicken!
McDonald's: Hashbrown McMuffin
Not all secret menu items have to be assembled by the staff! You can throw together some secret menu items yourself by ordering a few McDonald's staples. The Hashbrown McMuffin is an easy one! Simply order a hashbrown and an egg McMuffin to make this delicious, hearty breakfast sandwich.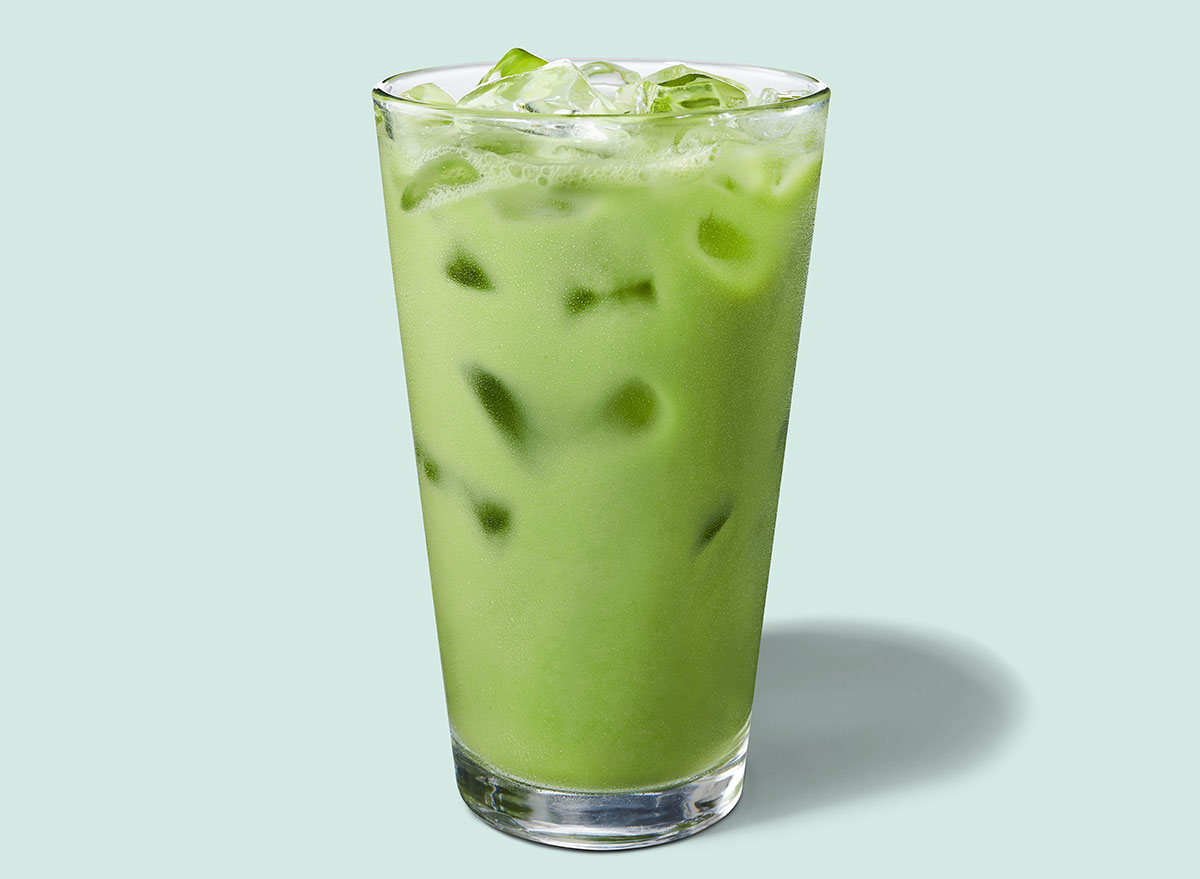 Matcha lovers, rejoice! You can order a matcha tea—both in hot and cold forms—at your local Starbucks. (Hot and iced matcha lattes are on the menu, but this is a "secret" item if you don't want your drink in latte form.) If you prefer hot matcha, order "unsweetened matcha tea powder mixed with hot water." But if you would rather something frothy to perk up your afternoon, you can order a matcha Frappuccino or latte, both of which are on the regular menu.
In-N-Out: Neapolitan Shake
Can't decide between ordering vanilla, chocolate, and strawberry? Why not have all three? Order a Neapolitan shake at In-N-Out for a delicious combination of all three shake flavors.
Shake Shack: Protein-Style Burgers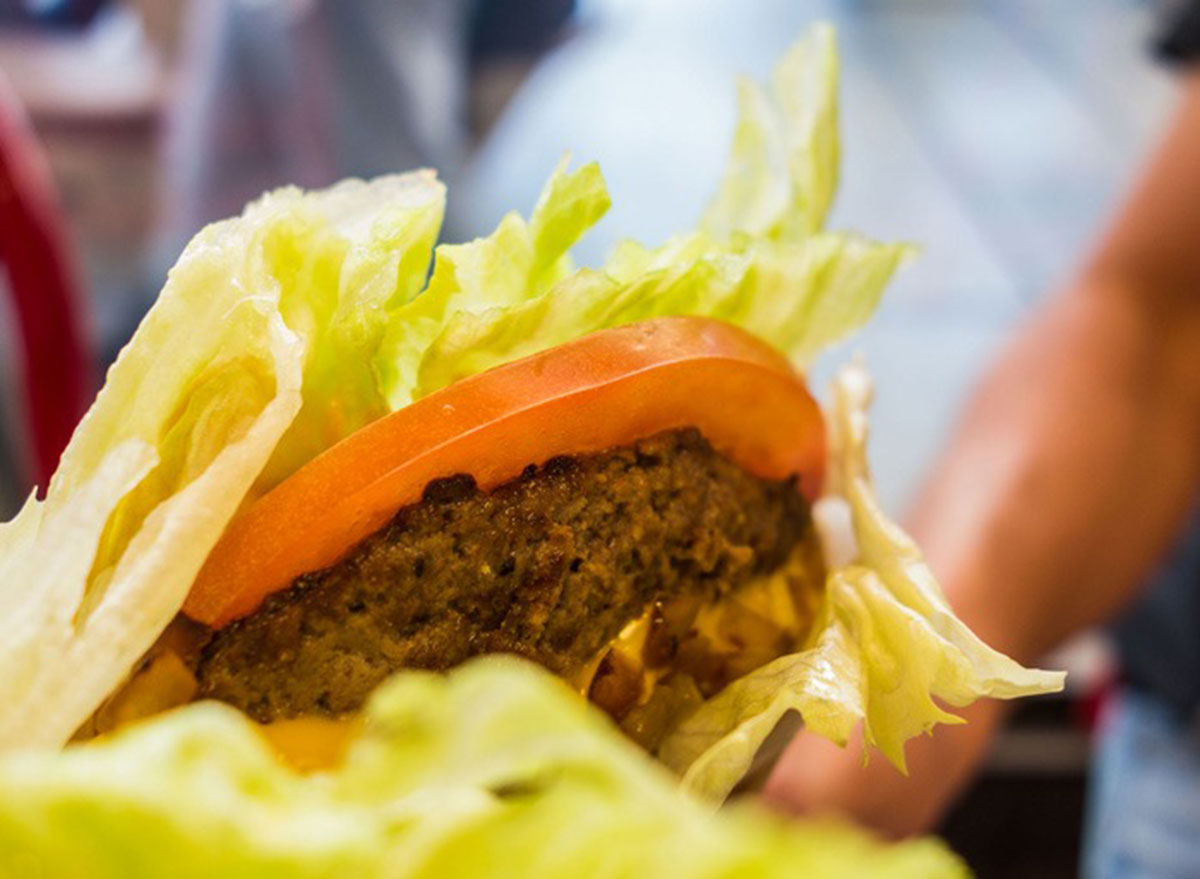 Thanks to the west coast fast food joint In-N-Out, protein-style burgers (giant lettuce leaves replace starchy buns) have become popular among Paleo-followers and health-minded meat lovers, alike. What a lot of people don't know, however, is that the low-carb trend has moved beyond the In-N-Out drive-thru and into outlets like Hardee's and Shake Shack. If you're not in the mood for beef, request the shack's vegetarian-friendly 'Shroom Burger made protein-style.6254a4d1642c605c54bf1cab17d50f1e
Can't decide between a Filet-O-Fish and a cheeseburger? Smash the two together with this clever sandwich combination! Just order two, take the top bun off the Filet-O-Fish on top, and add the cheeseburger on top. Voila! And to see what you should never order at the chain, see the 14 Menu Items McDonald's Employees Won't Eat.
Panera: Power Steak Lettuce Wraps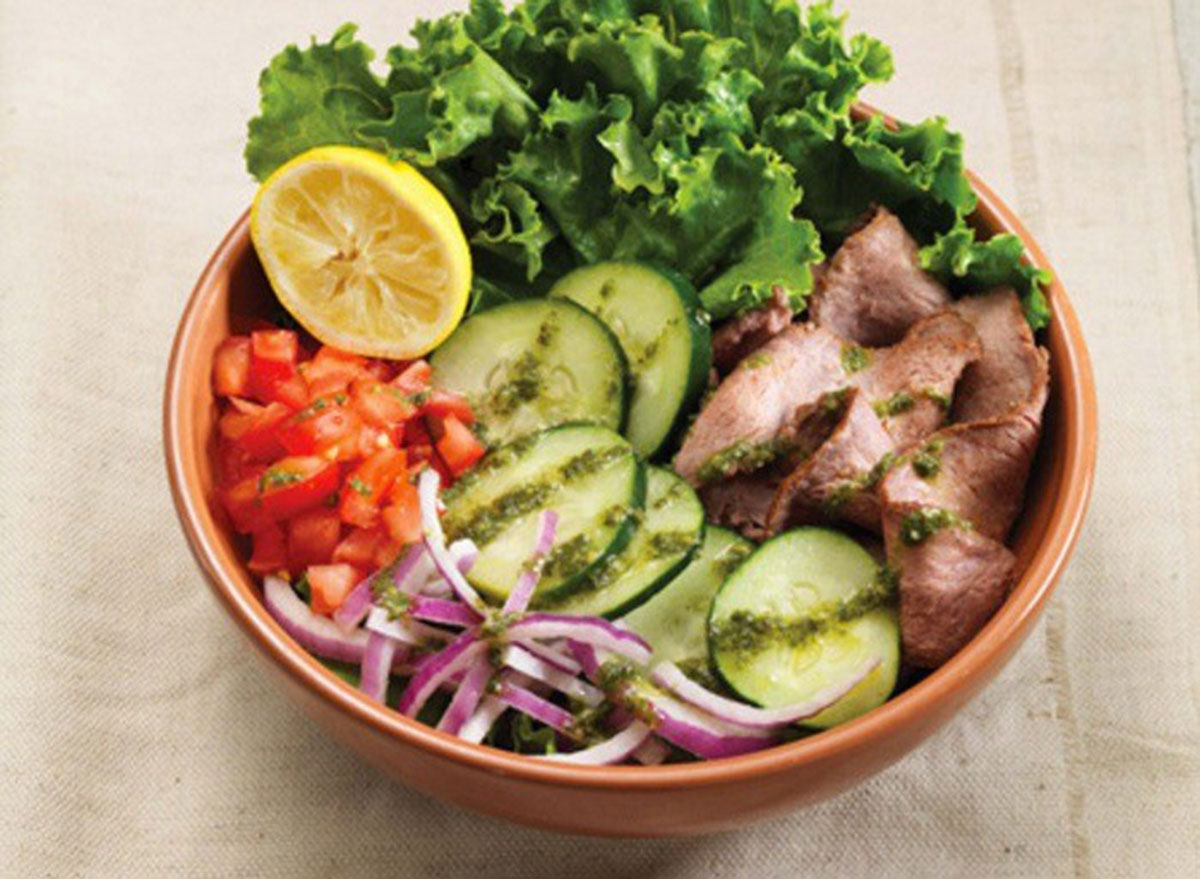 This order comes with lemon and pesto-topped top sirloin, sliced cucumbers, onions, tomatoes, and lettuce that is meant to be a "wrap."
Headed to Panera? Here's Panera's Entire Soup, Sandwich, and Salad Menu—Ranked For Nutrition.
McDonald's: Land, Sea, & Air Burger
Want to take the Surf & Turf burger to the next level? Buy a McChicken as well for the ultimate three-in-one sandwich! You can either add the cheeseburger patty inside the Fillet-O-Fish and add the McChicken on top, or serve it "Big Mac"-style by adding another bun between the fish and cheeseburger. For more crazy McDonald's combinations you can throw together, here are The Best Secret Menu Options at McDonald's.
Starbucks: Espresso-Banana Protein Smoothie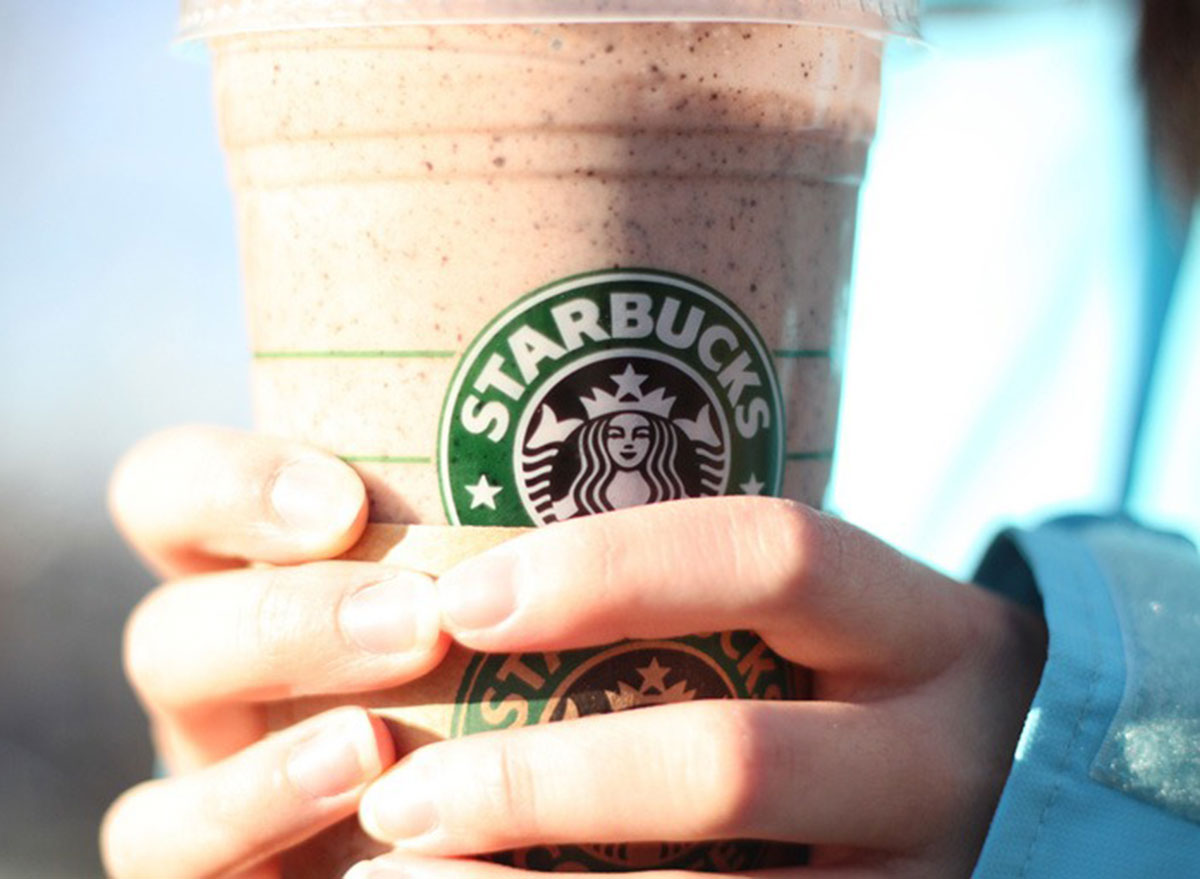 After a tough workout, it's expected that you may be feeling tired and depleted. But there's an easy way to refuel and give yourself a burst of energy: Sip an Espresso-Banana Protein Smoothie. It's not on the menu, though, so you'll have to tell the barista what ingredients go into the mix. It's simply whey protein, a banana, a shot of espresso, ice, and water. Simple but delicious!
Chipotle offers a wide variety of fresh ingredients, and the chain has a policy of whipping up anything a customer requests. This means your meal choices are essentially limitless. Prime example: Chipotle uses fresh cilantro in their famous guacamole, so they always have it on hand; you just have to ask for it. How should you use it? Mix the curly-leaved herb with tomato salsa and black beans for a better-for-you, flavor-filled meal topper that's absent from the traditional Chipotle menu.
In-N-Out: Flying Dutchman
In traditional mythology, The Flying Dutchman is a ghost ship that can never make it to port, doomed to sail the ocean forever. In urban mythology, it's simpler: two slices of cheese between two burger patties. Apparently, In-N-Out's version got its name from Dutch founder Harry Snyder, who loved snacking on the odd-looking 2×2.
McDonald's: McBrunch Burger
If you can't decide between a breakfast sandwich and a burger, you can always build your own McBrunch Burger. Just order a regular or double burger and add an egg and a hashbrown to it. You might have to assemble it yourself, but it's worth it.
Starbucks: Cinnamon & Banana Oatmeal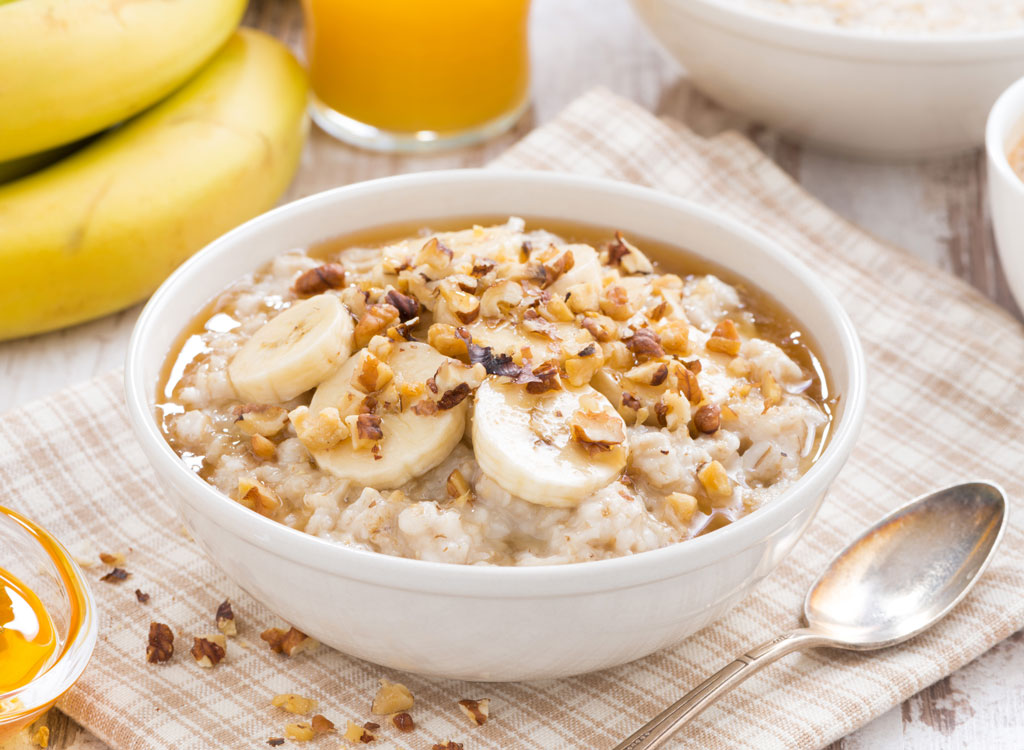 Currently, Starbucks offers two types of oatmeal: the Classic Whole-Grain variety (which comes with dried fruit, a nut medley, and brown sugar as optional toppings) and the Hearty Blueberry Whole-Grain (which comes with blueberries and agave syrup). But you can also ask for the oatmeal sans toppings and customize it yourself with a banana (sold separately at the register) and cinnamon from the milk and sugar station.
McDonald's: Apple Pie McFlurry
Yes, you really can order this! Ask for a McDonald's Baked Apple Pie to be blended into a McFlurry. However, if the employee doesn't seem game, just buy the two items and mix it up yourself.
McDonald's: Orange Creamsicle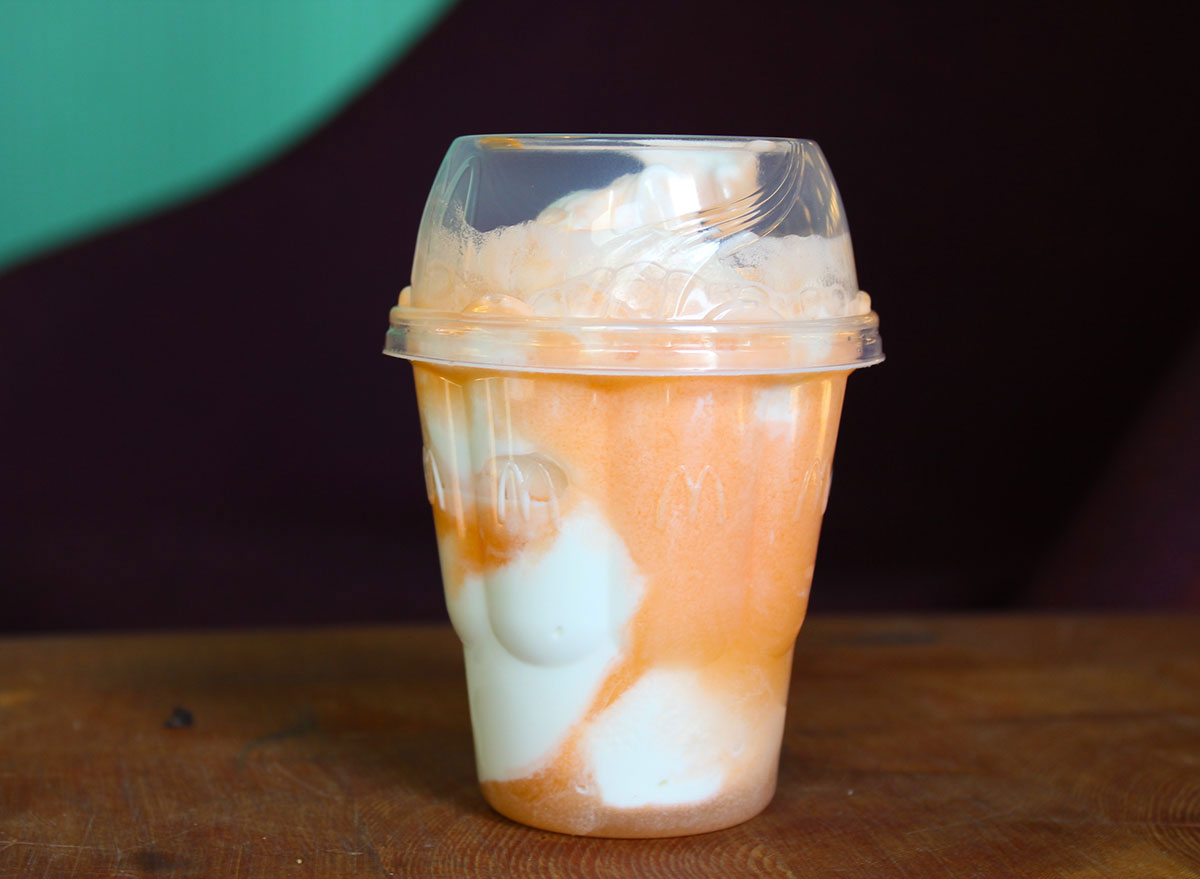 This secret menu item is super easy to assemble, and you can do it with any drink from the Coke Freestyle Machine. Just pour a bit of soda (in this case, orange Fanta) over your soft-serve. Voila: You have a Creamsicle or a Coke float.
A version of this story was originally published in October 2017. It has been updated to include new information.
Eat This, Not That!
Inspired by The New York Times best-selling book series, Eat This, Not That! is a brand that's comprised of an award-winning team of journalists and board-certified experts, doctors, nutritionists, chefs, personal trainers, and dietitians who work together to bring you accurate, timely, informative, and actionable content on food, nutrition, dieting, weight loss, health, wellness, and more.
Read more about Eat This