​​This Viral Chipotle Hack Can Get You a Shockingly Cheap Burrito
Bending the rules never tasted so good.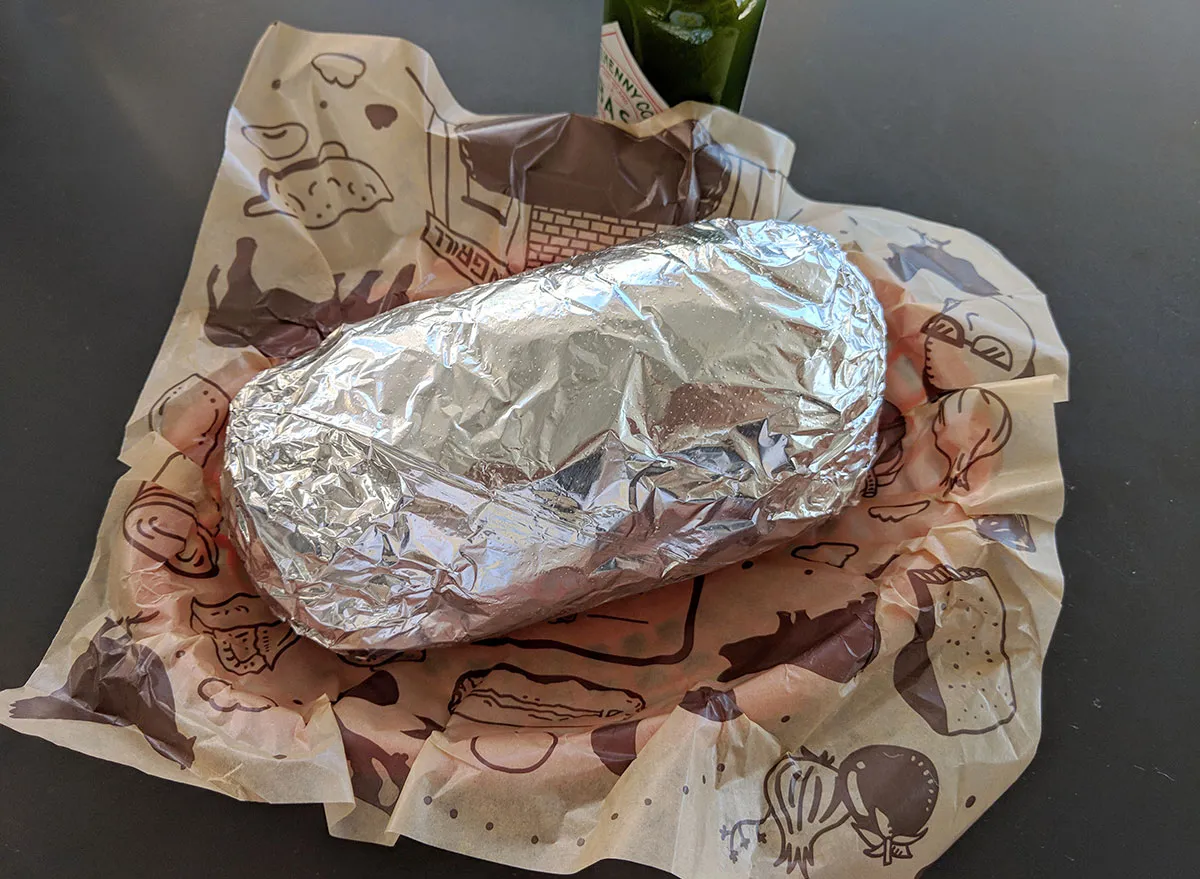 A recent review of menu prices at some of America's most popular Tex-Mex chains showed that Chipotle is cheaper than most of its burrito- and taco-slinging rivals, but one customer just revealed a hack that can get you the cheapest Chipotle burrito ever.
Wyaleena Ahmed, a TikToker from Boston, recently posted a video demonstrating how she manages to pay a little over $3 for the popular item. Considering the fact that the starting price of a burrito at Chipotle is $6.50, her clever hack has since gone viral.
Chipotle has a solid reputation for delicious, non-GMO foods, but add-ons like sour cream, queso, and guacamole can get rather pricey quickly. In fact, in order to offset commodity inflation, the chain has had to increase food prices by 4% in the past year, which means that each Chipotle meal is now 30 to 40 cents more expensive. And in times like these when saving money is crucial, Ahmed knows just the trick.
The 46-second video, which got more than 2.6 million views and over 170,000 likes, is a step-by-step guide on how to score this criminally cheap burrito when ordering through the chain's mobile app. Ahmed starts off by choosing the Build Your Taco option instead of going for a burrito. She selects one taco instead of three, and a soft tortilla.
The trick is to then opt for chicken as the protein, which is the cheapest. But the next part is the real kicker. The rest of the ingredients Ahmed chooses are ordered as sides instead of a taco topping—and the swap comes at no extra charge. The TikToker chooses brown rice, black beans, roasted chili corn salsa, fresh tomato salsa, tomatillo-green chili salsa, sour cream, and lastly, another soft tortilla, all on the side.
The Chipotle location she ordered from lists a single chicken taco at $3.05. The additional soft tortilla on the side cost her 30 cents, which brought her grand total to $3.35.
She then reveals her takeout bag, which is full of small containers with sides, totaling in enough ingredients to assemble a whole burrito.
While this technique requires a bit more work on your end, and might not be a great option for those on the go, it cuts the price of the burrito by half. You can choose other toppings as sides that Ahmed opted out of to customize it to your liking.
While many TikTok users are impressed with this clever use of the app, some worry that it's a pain for Chipotle workers. "This isn't worth it and is such a pain on the workers. Don't do this please," one naysayer commented.6254a4d1642c605c54bf1cab17d50f1e
Other users are concerned with the protein to toppings ratio. "Pro tip: do it in person and get the meat on the side as well. You get just as much as a burrito," one wrote.
And some are more worried about the number of unnecessary plastic containers. One user writes "The amount of container waste gives me so much anxiety."
Will you be trying this out?
Emily Boyette
Emily is currently a food editor for Woman's World, First for Women, and Celebrate magazines and a freelance food writer with a passion to express her personality and joy through all things cooking, culinary, trending, and news.
Read more about Emily