The Surprising Difference Between Chocolate Cake and Devil's Food Cake
It's time to settle the debate about what makes these two delicious cakes so different from one another.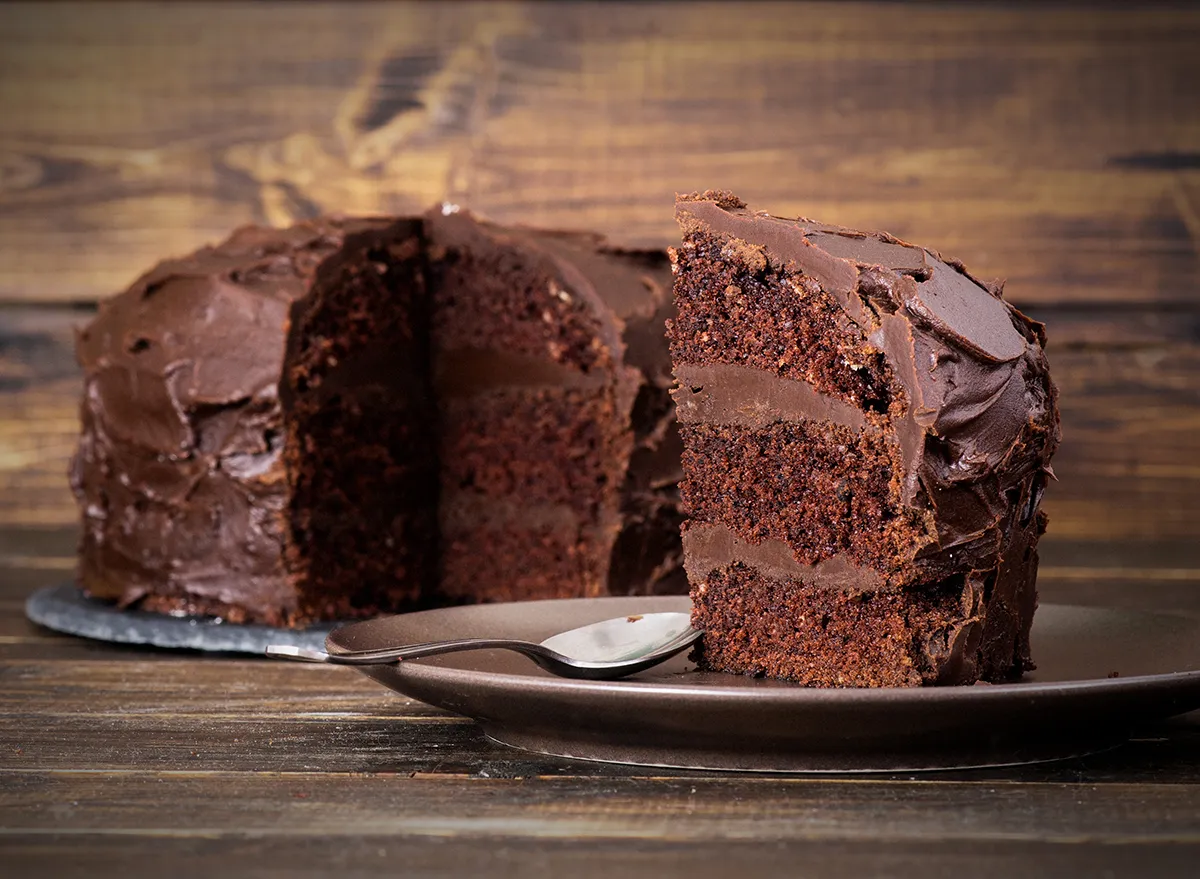 Those who aren't avid bakers may not be aware that chocolate cake and devil's food cake are actually not the same, even though it's hard to spot any differences just by looking at them. It's only upon piercing the cake with a fork or knife when you may notice a big difference: the texture.
To further break down the two sweet treats, we called on pastry expert and founder of Dana's Bakery, Dana Pollack, as well as Abel Veulens, chef de cuisine at Byblos Miami, to explain the devil's food cake vs. chocolate cake differences so you won't ever be confused again.
What is the difference between chocolate cake and devil's food cake?
"Devil's food cake is known as the chocolate version of angel food cake; it's airy and light but rich in chocolate flavor," says Pollack.
The pastry expert explains that the light and airy texture—yet potent chocolate flavor—is a result of cocoa powder as well as extra baking soda and oil. Veulens says that the extra baking soda is the component that makes the cake extra fluffy. Conversely, chocolate cake is made with melted chocolate, rich butter, cream, and milk, a much heavier combination of ingredients.
"Devil's food cake also usually uses coffee or a water-based liquid as opposed to milk or heavy cream that a denser heavier chocolate cake might have," Pollack says.
Coffee? Veulens says that coffee is typically added to further enhance the chocolate flavor—in most cases, you will not even taste it in there.
Does the kind of icing matter?
According to Pollack, it doesn't really matter what icing you choose for either cake.6254a4d1642c605c54bf1cab17d50f1e
"You can use whichever you want for both," she says. "Personally, I like a marshmallow fluff on a devil's food cake."
Are there any other easy ways to enhance the cake flavors?
"When it comes to all chocolate cakes, adding ingredients like espresso or vanilla help brings out the cocoa flavor, so it's commonly used when baking," says Pollack. "My favorites are either espresso or a dash of amoretti."
What's the best way to make a devil's food cake?
Veulens shares the following devil's food cake recipe.
Devil's food cake recipe:
¾ pound (3 sticks) unsalted butter, at room temperature
2 1/4 cups sugar
4 extra-large eggs, at room temperature
4 teaspoons pure vanilla extract
¾ cup unsweetened cocoa powder
¾ cup hot brewed espresso
3 cups all-purpose flour
1 teaspoon baking soda
1 teaspoon baking powder
1½ teaspoons kosher salt
1 cup sour cream
Buttercream recipe:
2 cups sugar
⅔ cup water
6 egg whites at room temperature
¼ teaspoon cream of tartar
Pinch of kosher salt
1 ½ pounds (6 sticks) unsalted butter, at room temperature
Directions:
Preheat the oven to 350 degrees. Grease two 9 × 2-inch round cake pans, line them with parchment paper, then grease and flour the pans. Set aside.
In the bowl of an electric mixer fitted with the paddle attachment, cream the butter and sugar on medium speed for 3 minutes, until light and fluffy. On low speed, add the eggs, one at a time. Add the vanilla and beat until well mixed, scraping down the bowl with a rubber spatula.
Whisk the cocoa powder and hot coffee together in a small bowl. With the mixer on low, add it into the batter.
In a medium bowl, sift together the flour, baking soda, baking powder, and salt. With the mixer on low, slowly add half the flour mixture to the batter, then all the sour cream, then the remaining flour mixture, mixing each addition until combined. With a rubber spatula, fold the batter until it is well mixed.
Divide the batter equally between the two prepared pans and smooth the tops. Bake for 30 to 35 minutes, until a toothpick inserted into the center comes out clean. Cool in the pans for 30 minutes, turn out onto a baking rack, and cool completely.
To frost the cakes, slice them in half horizontally with a long, thin knife. Place the bottom of the first cake, cut side up, on a flat serving plate and spread a thin layer of buttercream on the top only (not the sides) with a palette knife. Place the top of the first cake, cut side down, on top and thinly frost the top only. Next, place the top layer of the second cake on top, cut side up, and thinly frost. Finally, place the bottom layer of the second cake, bottom side up (so the top of the cake is flat). Frost the top and sides of the cake.