Cinnamon-Orange Lava Cakes Recipe
The unexpected flavor combo really works.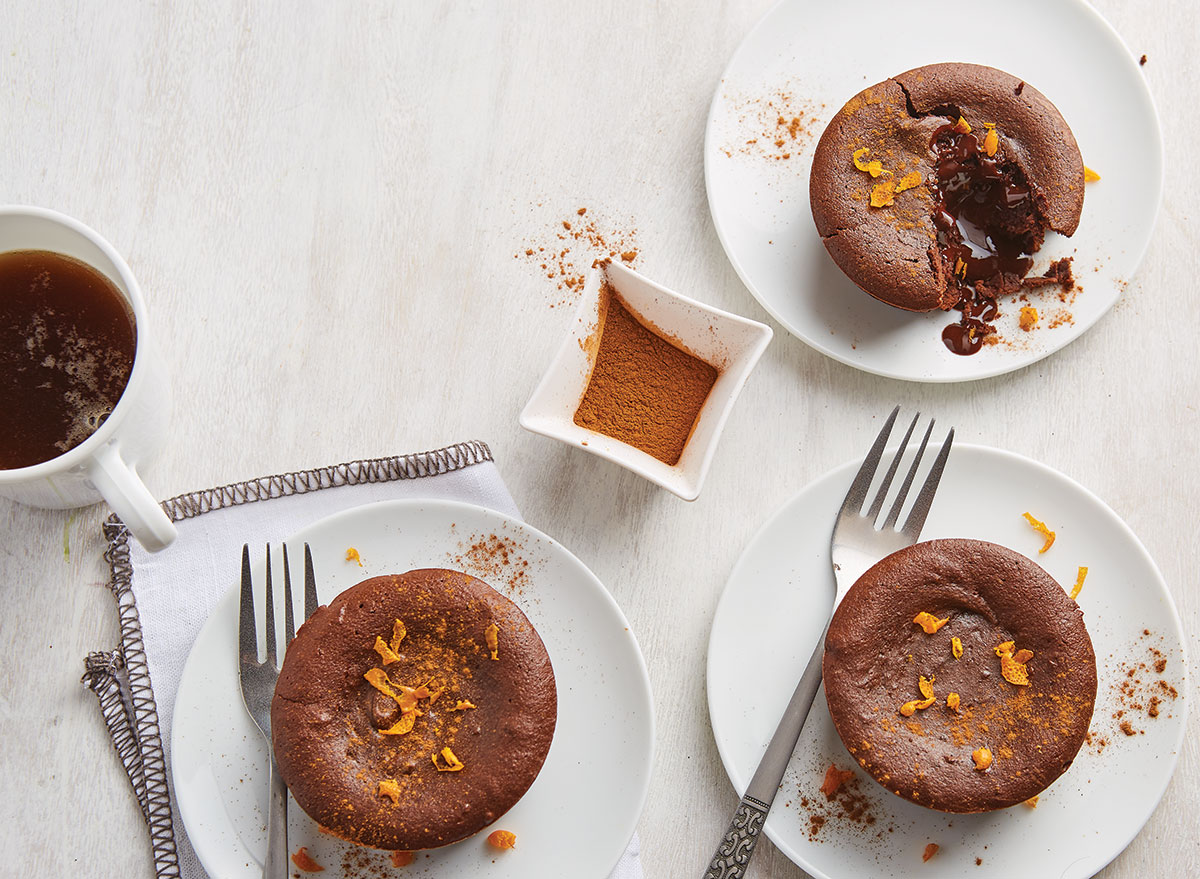 There's something so satisfying about tucking into gooey lava cakes. The chocolate filling seeps out onto your plate, and the whole thing feels decadent. It might seem complicated to recreate this treat at home, but it doesn't have to be! All you need are some ramekins and a bit of time.
Cinnamon and orange zest join bittersweet chocolate in this flavor-filled dessert recipe, creating a flavor combination you won't soon forget. The spices enhance the chocolate flavor and make the whole experience that much more fun—your dinner guests will be impressed by your culinary prowess with this cinnamon-orange lava cake recipe.
Nutrition: 281 calories, 16 g fat (7 g saturated), 93 mg sodium
Makes 8 servings
Ingredients
3 Tbsp butter
2 Tbsp canola oil
3 oz dark or bittersweet chocolate (60% to 70% cacao), chopped
2/3 cup whole-wheat pastry flour
½ cup unsweetened cocoa powder
1 ½ tsp baking powder
¼ tsp kosher salt
½ cup granulated sugar
½ cup (packed) dark brown sugar
½ tsp vanilla
1 tsp cinnamon, plus more for garnish
1 Tbsp orange zest, plus more for garnish
3 large eggs
Nonstick spray for baking
How to Make It
Combine butter, oil, and chocolate in a heatproof bowl set above a saucepan of simmering water until chocolate almost fully melts, stirring gently with a spatula. Remove bowl from saucepan. Stir until chocolate fully melts.
Whisk flour, cocoa powder, and salt in a bowl. In a large bowl, combine granulated sugar, brown sugar, vanilla, 1 teaspoon cinnamon, 1 tablespoon orange zest, and eggs. Beat with a mixer at medium speed until light and fluffy (about 2 minutes). Set aside 3 tablespoons of the melted chocolate mixture. Gradually pour remaining chocolate mixture in a thin stream over the egg mixture, beating at medium speed.
Gently fold the flour mixture into the egg mixture. Spray 8 (6-ounce) ramekins with nonstick spray. Divide batter among ramekins. Working with one ramekin at a time, spoon a generous teaspoon of the reserved chocolate mixture into the center, pushing the teaspoon toward the center of the batter. Repeat with remaining ramekins and chocolate mixture. Arrange ramekins on a large rimmed baking sheet. Cover and refrigerate for 1 hour.
Preheat oven to 400°F. Let ramekins stand at room temperature for 15 minutes. Uncover and bake for 14 to 15 minutes, or until cakes are puffy and slightly crusty on top (centers will not be set). Transfer each cake onto a plate.
Sprinkle with orange zest and cinnamon. Serve immediately.
Eat This, Not That!
Inspired by The New York Times best-selling book series, Eat This, Not That! is a brand that's comprised of an award-winning team of journalists and board-certified experts, doctors, nutritionists, chefs, personal trainers, and dietitians who work together to bring you accurate, timely, informative, and actionable content on food, nutrition, dieting, weight loss, health, wellness, and more.
Read more about Eat This