The 20 Trendiest New Foods From All Your Favorite Brands
There's a good chance you're going to want to keep an eye out for some of these during your next shopping trip.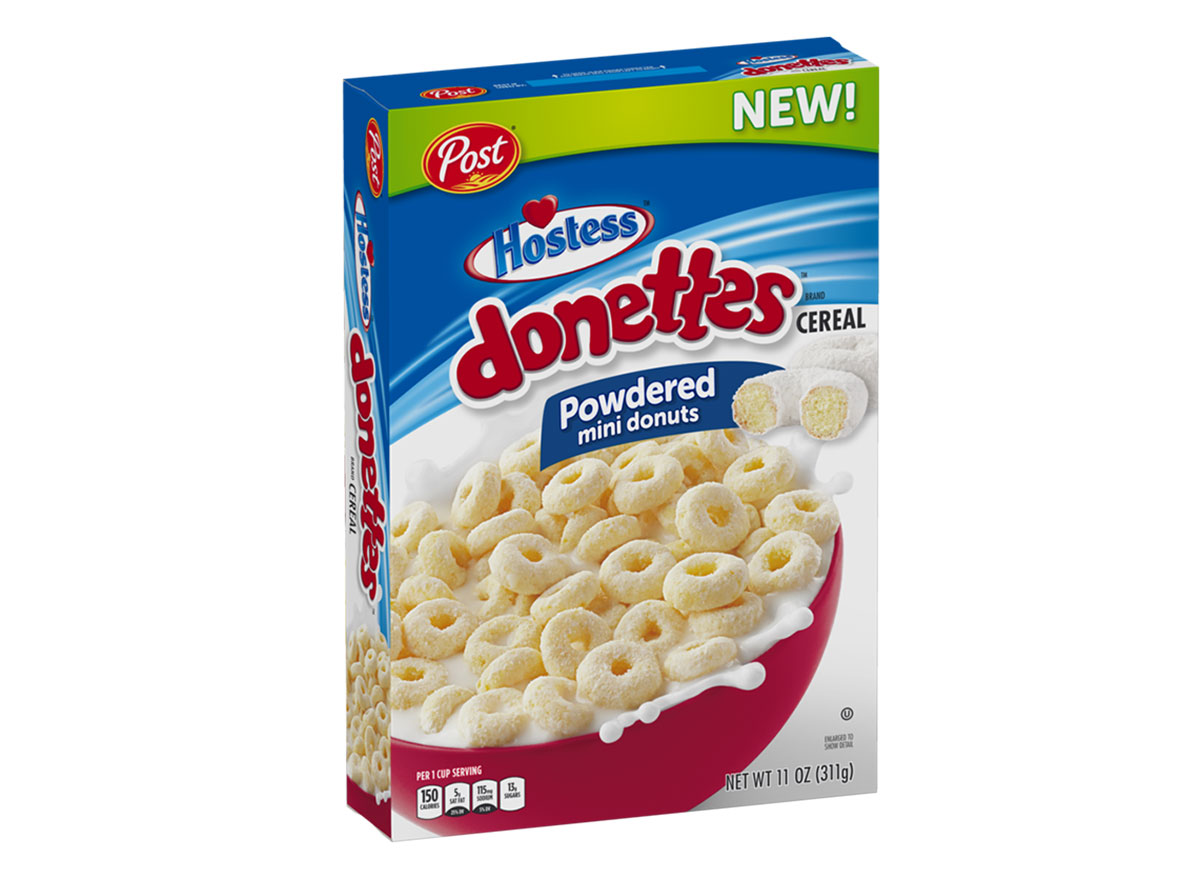 It's a new season, which means all new product launches are happening from tons of your favorite brands you know and love. We scoured the latest offerings to see what fun new offerings are landing on shelves near you. From exciting new chip flavors to cereal mashups to chocolate stamped with emojis, there's a lot for snack lovers to get stoked about.
Check out the 20 trendiest new foods from your favorite classic brands! We bet you can't pick just one!
Hostess Mermaid Cupcakes
Mermaid everything is very "in" right now, and Hostess is jumping on the bandwagon with fun mermaid-inspired cupcakes. The yellow cake cupcakes have pink funfetti in the batter—so each bite is filled with cream and bits of pink—and they're topped with teal icing, a pink swirl, and, yes, more sprinkles. This limited-edition flavor isn't listed on the Hostess website and can't be found online, so keep your eyes out! So far, they've been spotted at Walmarts across the country.
Chocolate Peanut Butter Corn Pops
It's widely agreed upon that chocolate and peanut butter is one of the greatest flavor combinations known to man, so it's no wonder that cereal lovers are excited about Kellogg's Corn Pops' new flavor. They've infused their already deliciously sweet puffed corn balls with chocolate and peanut butter for a sweet breakfast treat.
Pringles Mystery Flavor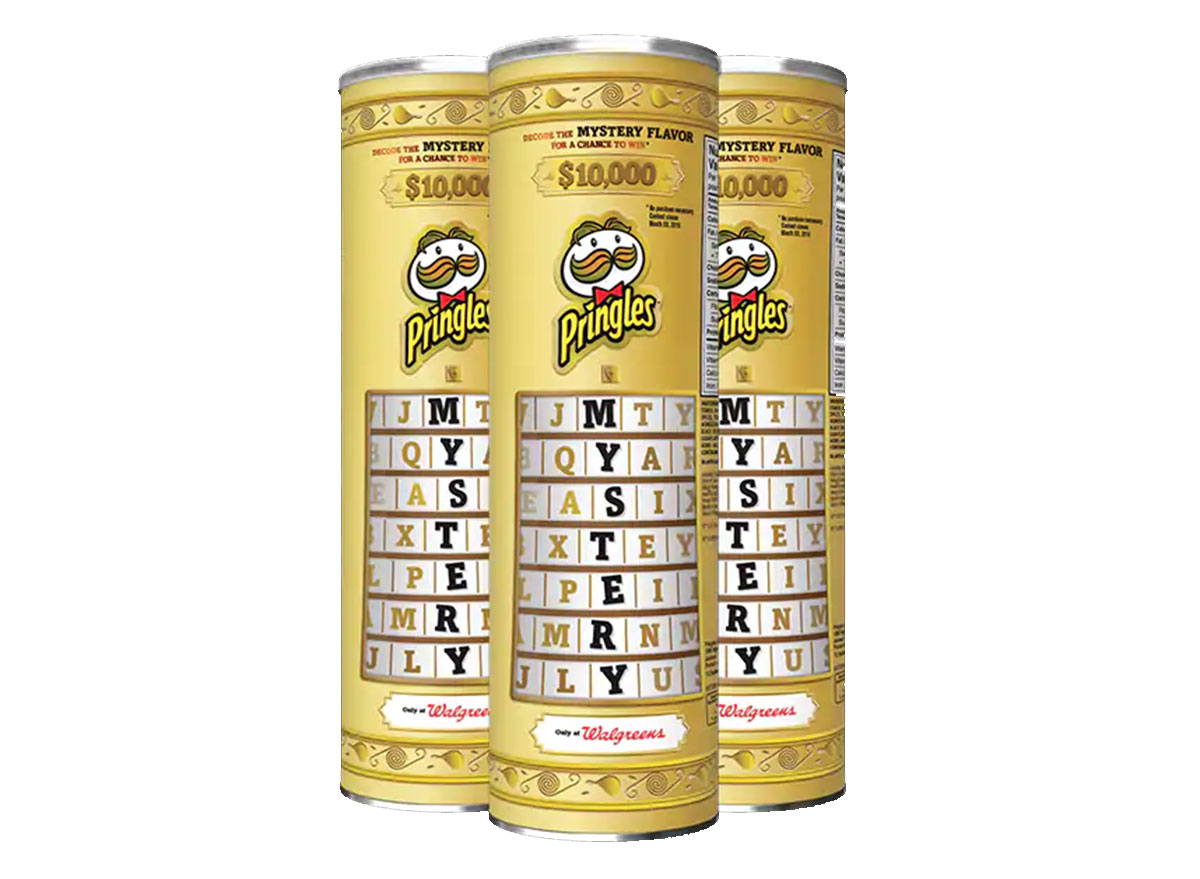 Now here's a fun one: On May 1, 2019, Pringles released a limited-edition "mystery" flavor available only at Walgreens. That's right, they're not spilling the beans (er, chips) on what you're getting when you pop a can. Instead, they're offering folks a chance to win $10,000 for correctly guessing their mystery flavor. So far, all we know is that it's vaguely cheesy.
Dark Chocolate OREOs
6254a4d1642c605c54bf1cab17d50f1e
While nothing beats a classic OREO, the brand isn't afraid to experiment with flavors. After all, wild combinations can be fun (kettle corn OREOs, anyone?), but chocoholics everywhere are rejoicing over the new Dark Chocolate OREO flavor. For those who are keeping score, that's dark chocolate flavor crème sandwiched between two chocolate cookies. Yes, please.
Hazelnut Spread M&Ms
If you thought there was no way that regular, classic M&Ms could be any better, it's time to try their new hazelnut spread flavor. If you like Nutella, then you'll be all over this take on the chocolate candies. The company has been planning to introduce a hazelnut spread flavor for a while but had to wait until the US market caught up with the European market in terms of its affinity for the flavor (it appears we have arrived). M&Ms have been busy—they also introduced an international line of flavors this year, including Mexican Jalapeño Peanut and Thai Coconut Peanut.
Goldfish Epic Crunch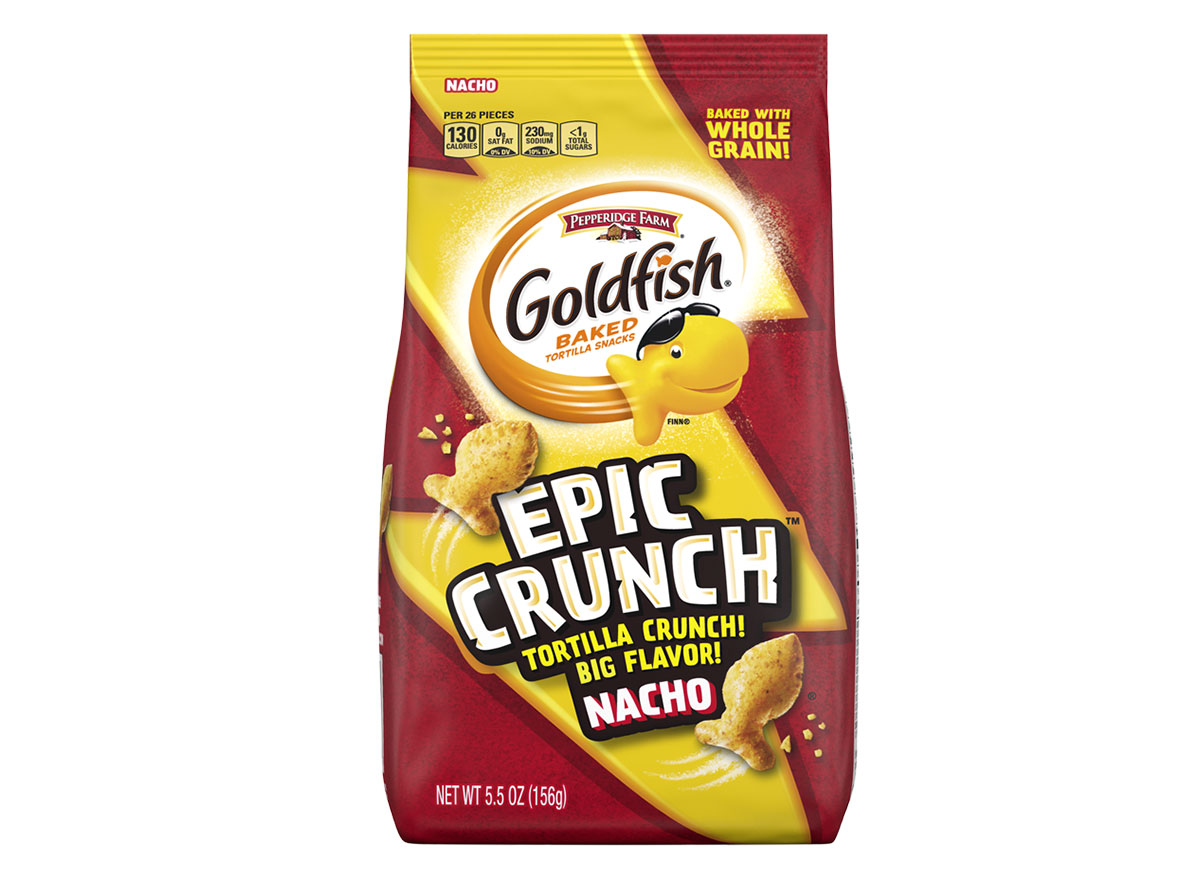 Released earlier this year, Goldfish Epic Crunch—which comes in nacho, honey BBQ, and ranch flavors—is the brand's attempt at a bolder, Doritos-like product. With a bigger crunch and flavor (but still baked with whole grain and shaped like goldfish), these baked snacks are definitely different than the lunchbox classics.
Doritos Flamin' Hot Nacho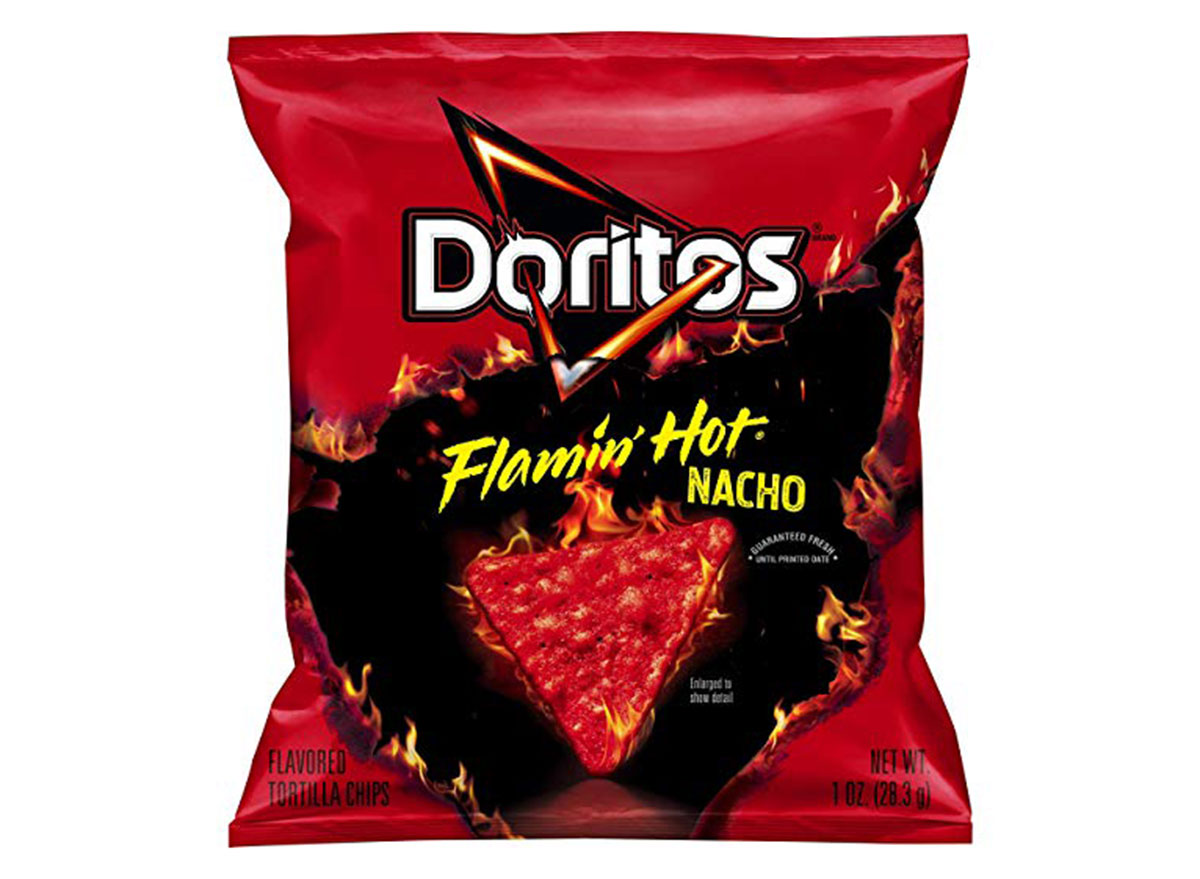 Speaking of Doritos…with so many flavors already in the bag, Doritos is no stranger to change. The latest addition to the brand's portfolio? Flamin' Hot Nacho. Granted, it is certainly a variation on a theme rather than a full departure from their norm, but folks are digging it. A callback to two favorite flavors (original Nacho Cheese Doritos and Flamin' Hot Cheetos), the Flamin' Hot Nacho variety is cheesy, spicy, and everything you'd expect from a Dorito, but with a slightly new flavor profile.
Kool-Aid Jammers Sour Jammers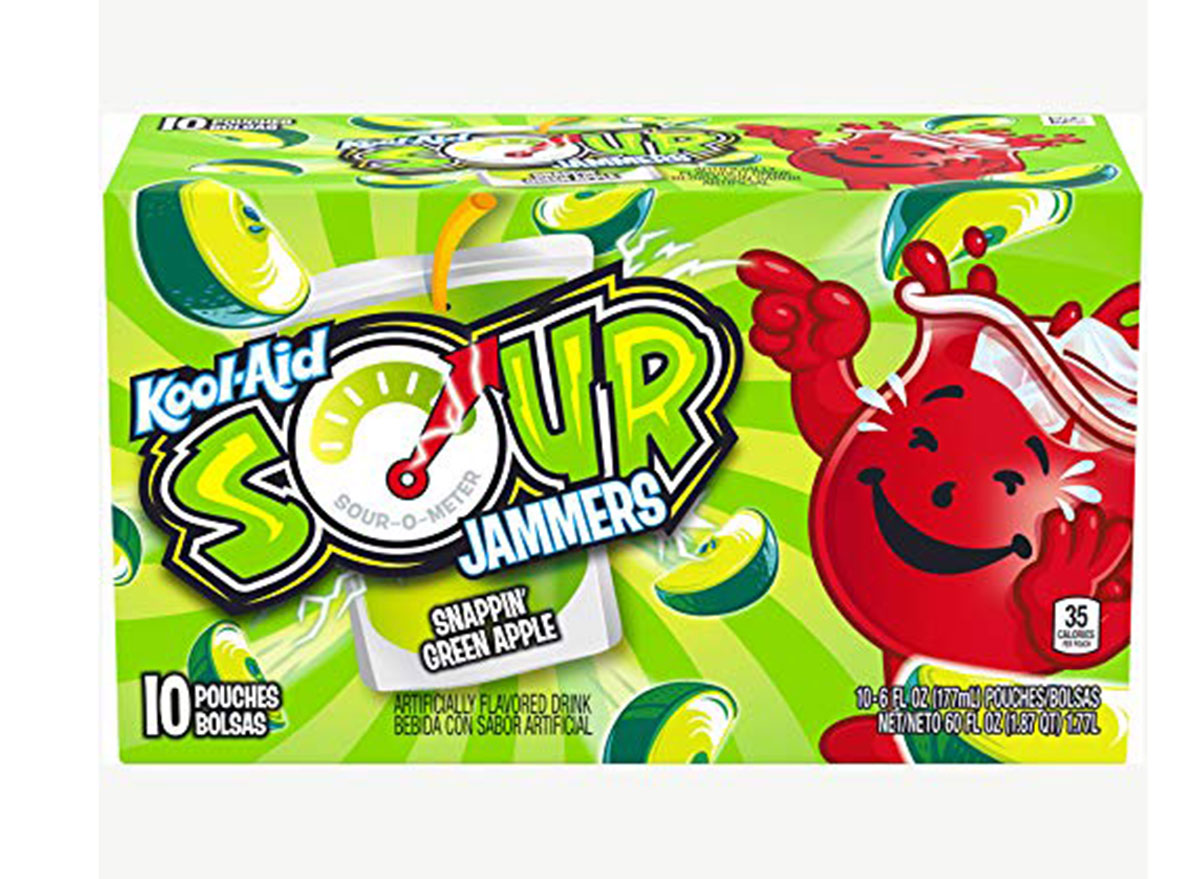 Ooohhh yeaaahhh. For a taste of nostalgia, but updated, reach for this new "flavored drink" from America's favorite talking red pitcher. Meant to make you pucker up, the Sour Jammers line comes in Electric Lemon Lime, Snappin' Green Apple, Watermelon Slam, Zappin' Tropical Punch, and Blue Raspberry, and it's available in pouches or as a powdered mix. We think it arrived just in time for summer.
Betty Crocker Chilled Treats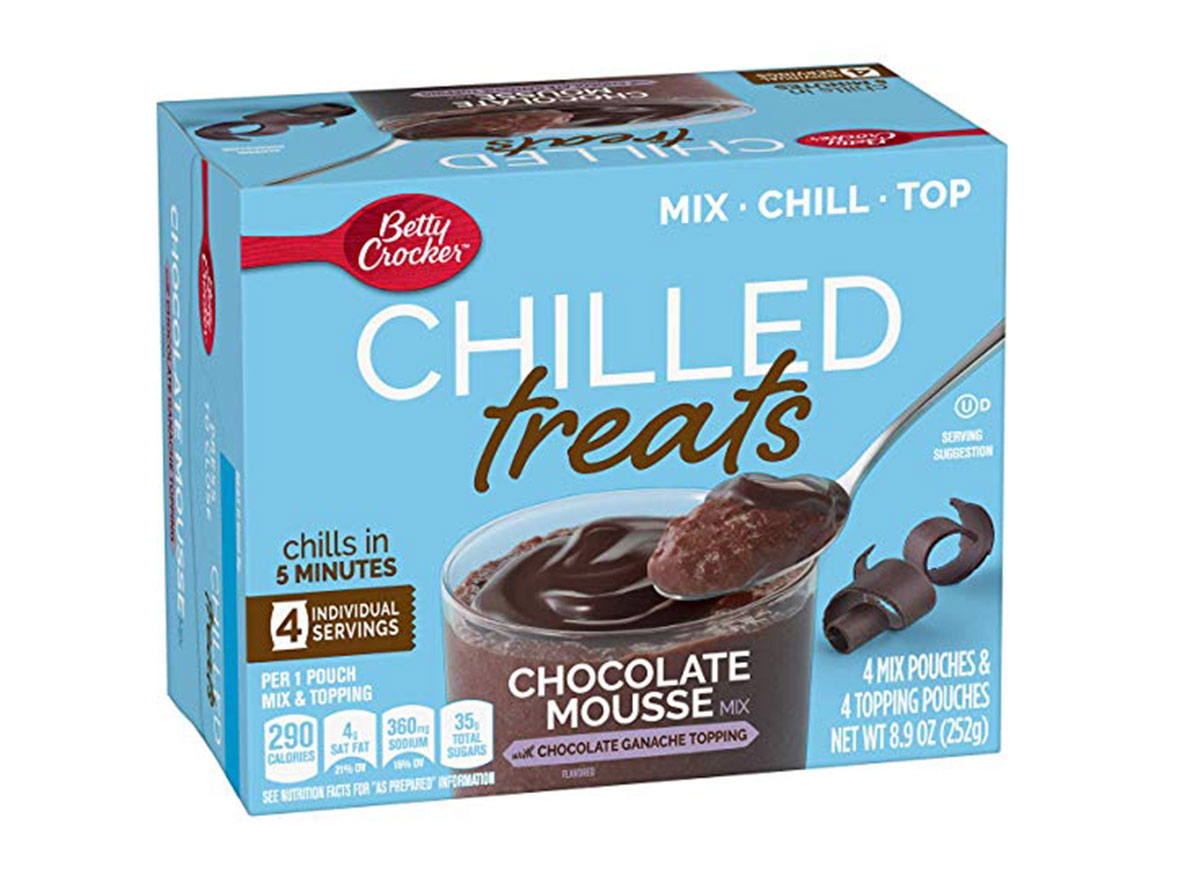 Kind of like the refrigerated version of mug cakes, Betty Crocker's new line of Chilled Treats comes in four flavors: Chocolate Mousse with Chocolate Ganache Topping, French Vanilla Mousse with Salted Caramel Topping, Lemon Mousse with Lemon Drizzle Topping, and Key Lime Mousse with Lime Drizzle Topping. All you have to do is mix it with milk and refrigerate for 5 minutes, and then voila!
Godiva Festival Collection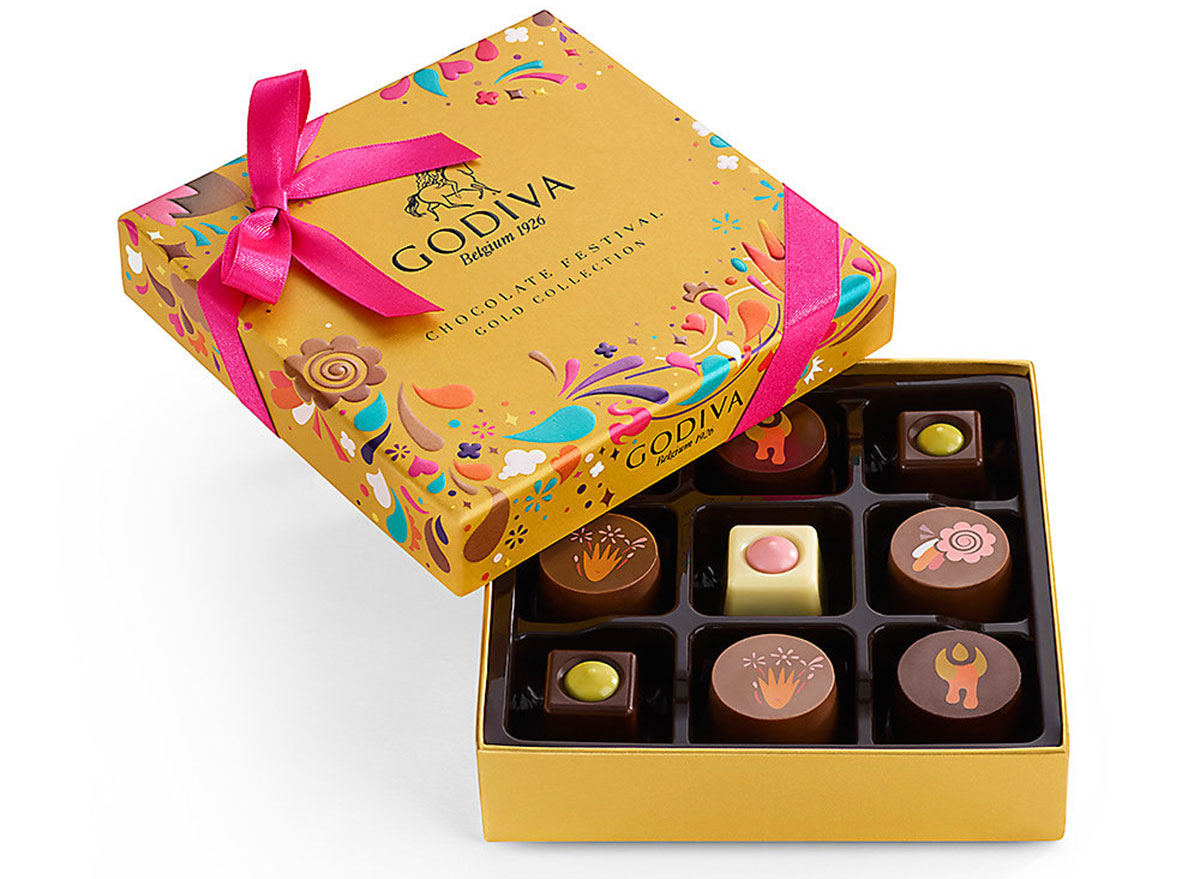 Inspired by some of the great carnivals of the world, esteemed Belgian chocolate house Godiva has just introduced a brand-new festival collection that will delight tasters. There are five playful flavors: Surprise (gianduja and white chocolate), Fun (chocolate mousse), Excitement (dark chocolate and mint mousse with sweet crunchiness), Dance (dark chocolate ganache and salted caramel), and Passion (white chocolate mango ganache with chili pepper). Each also features a whimsical, carnival-themed decoration.
Hershey Chocolate Emoji Bar
This summer, for the first time in 125 years, the venerable Hershey company will change up the design of its classic milk chocolate Hershey bar and the packaging. For a limited time, they'll be printing a series of emojis on each mini chocolate rectangle in the bar; 25 different emojis and six package designs hit stores soon. Same great flavor, new fun look. Talk about a conversation starter!
Trader Joe's Bloody Mary Salsa
Every season, Trader Joe's introduces new flavors into its stores and people go wild for them—in part because they know they may not be around for long. Bloody Mary Salsa is one of the newest items to hit TJ's shelves, as announced on the Inside Trader Joe's podcast. A non-alcoholic blend of tomato, celery, and spices, it channels our favorite brunch drink into a dippable salsa. (Also fun? Patio Potato Chips, which have four favorite chip flavors—dill, ketchup, salt and vinegar, and barbecue—in each bag.)
Honey Nut Frosted Flakes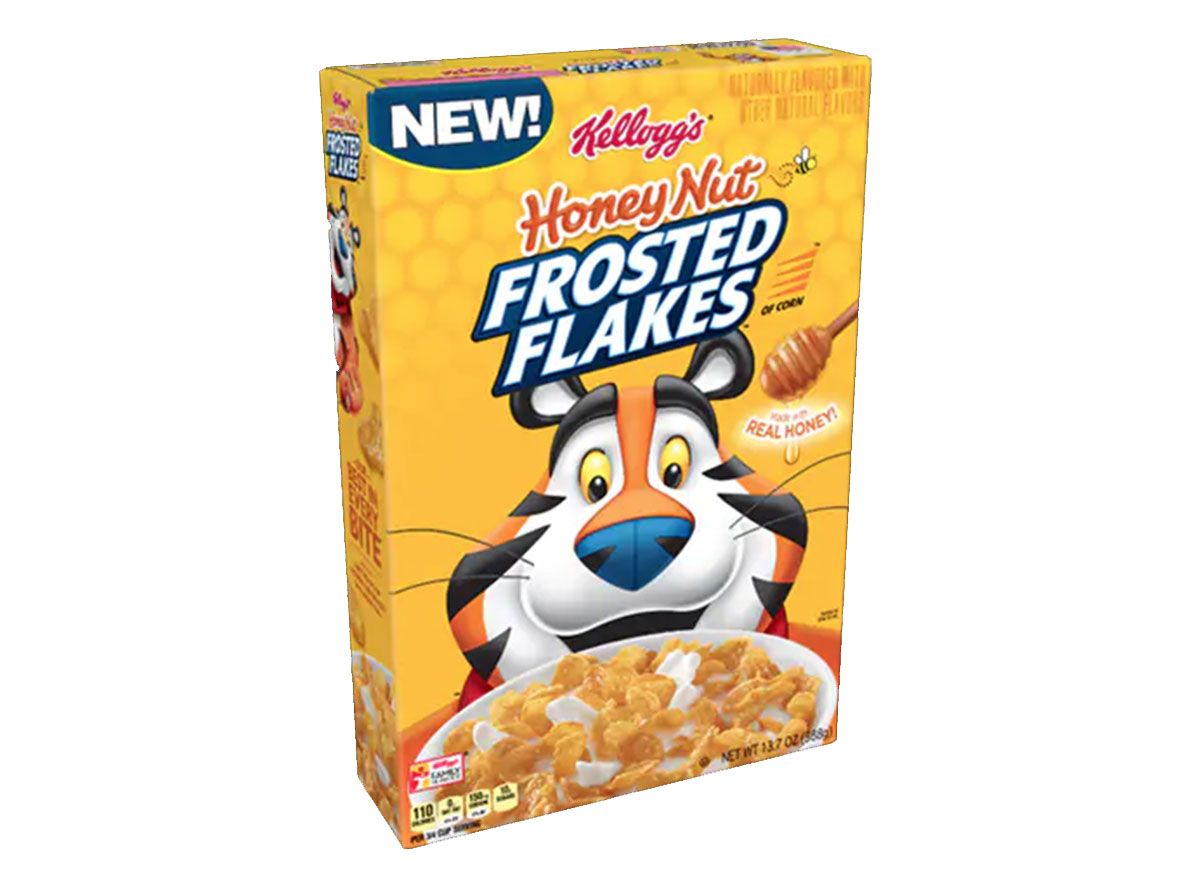 Are you a fan of Frosted Flakes and Honey Nut Cheerios? Now you don't have to choose between the two! Frosted Flakes has introduced Honey Nut Frosted Flakes, bringing together two favorite breakfast flavors in one sweet, crunchy cereal. It's all the cornflake crunch we've grown to expect from Tony the Tiger, but with a pleasant honey nut flavor.
Hostess Donettes Cereal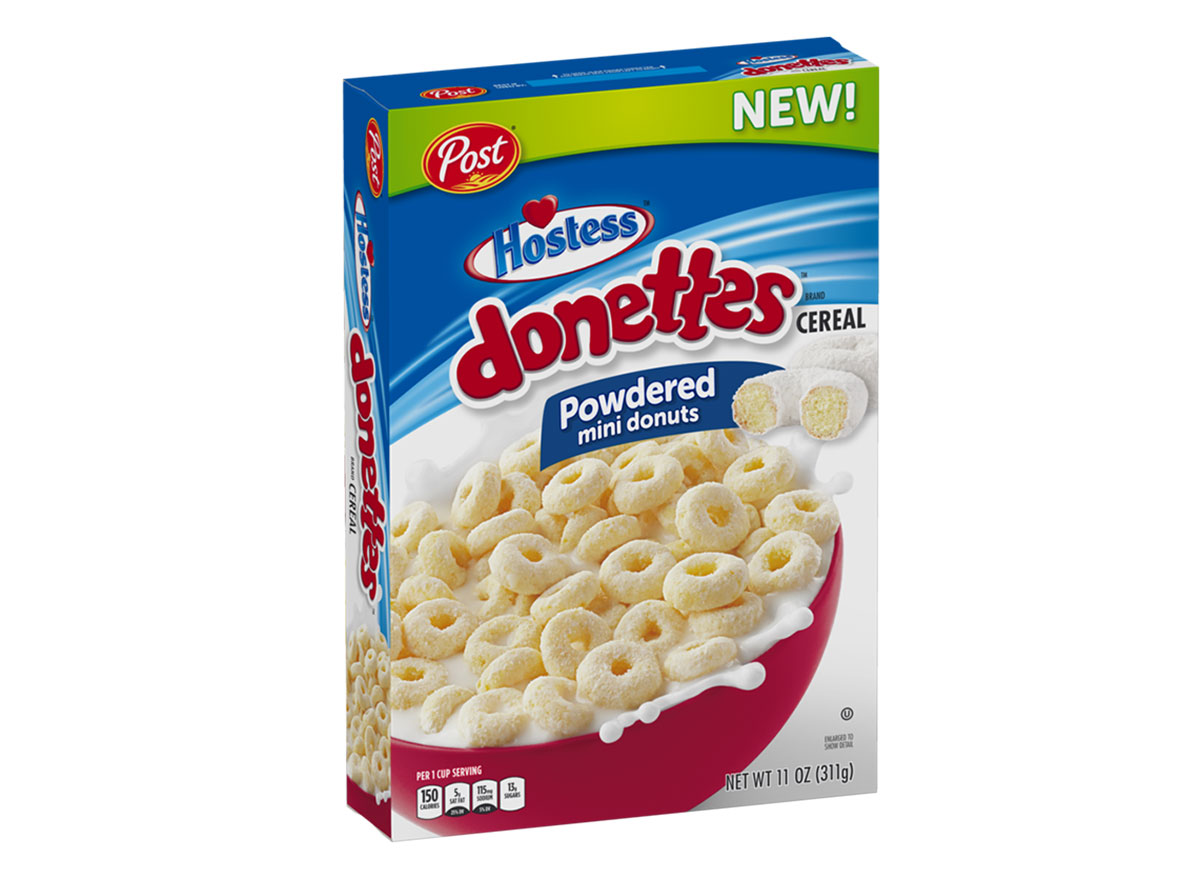 Post and Hostess have joined forces to create two new cereals you didn't even know you were dreaming of. Donettes cereal might look like Cheerios, but upon closer inspection, they're actually powdered mini donuts. Honey Bun cereal, similarly, consists of crunchy mini honey buns. Whether you eat these for breakfast, snack, or dessert, they're a tempting treat any time of day.
Dr. Praeger's Pure Plant Protein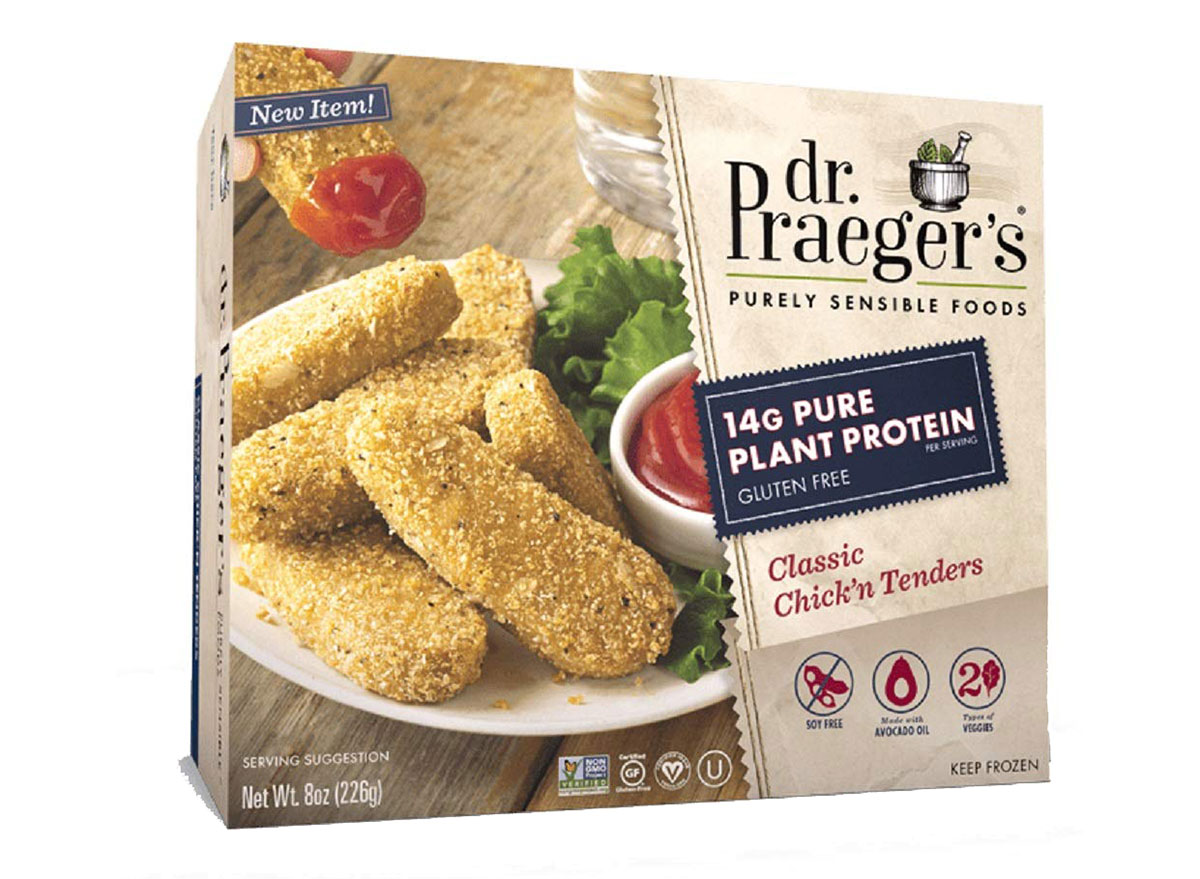 As plant-based diets gain more and more steam, Dr. Praeger's—which has been around for more than 25 years and has been a pioneer in frozen vegetarian and healthy options—is taking plant-based food a step further with their new Pure Plant Protein Line. This line of veggie burgers, chick'n tenders, meatless sausage, and veggie nuggets is gluten and soy free, vegan, and packed with plant protein. Bonus: they come in trendy flavors like Sweet Heat Beet, Gametime Buffalo, and Super Greens.
Kettle Brand Wasabi Ranch Chips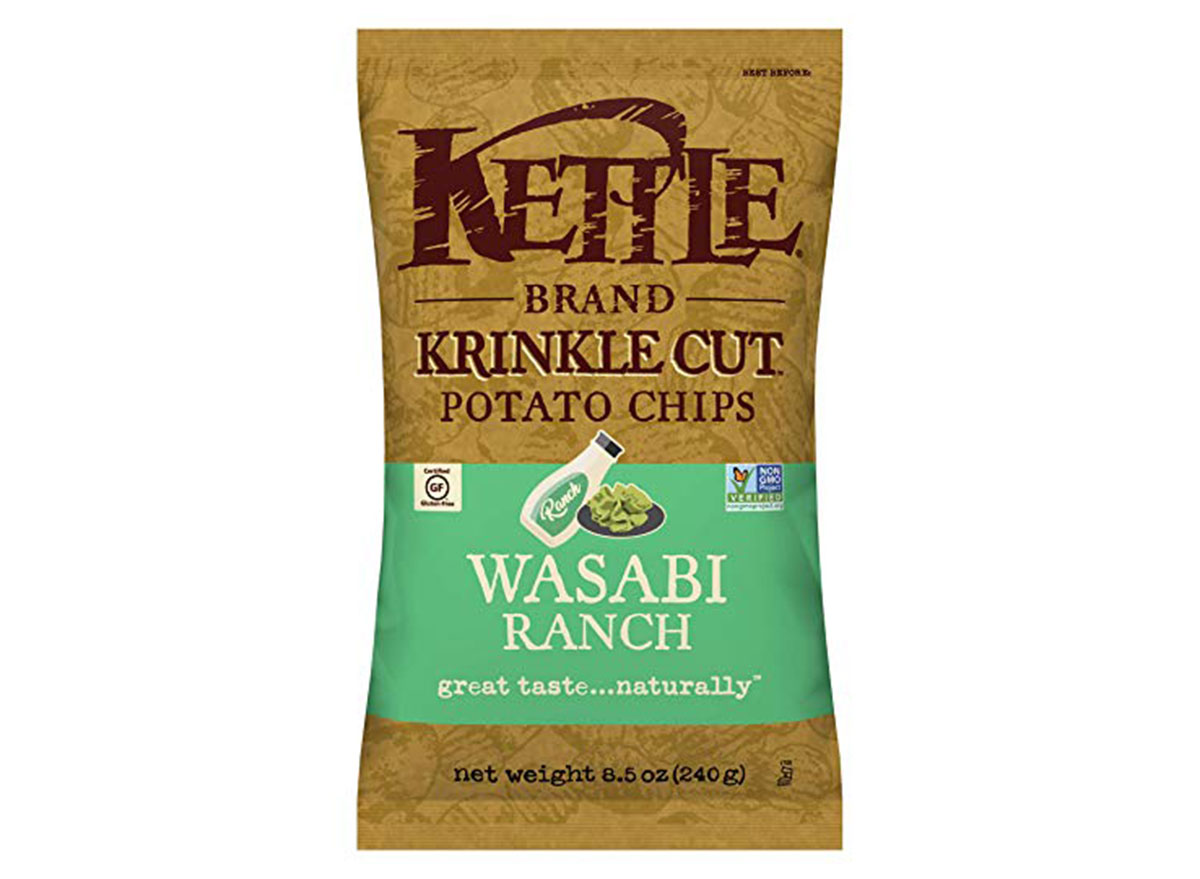 Ranch meets wasabi in this new flavor explosion from Kettle Brand chips. These sorts of flavors are usually on a tortilla or corn chip, so seeing them on a crinkle cut potato chip is exciting stuff. The idea is to combine the spicy kick of wasabi with the cooling power of ranch. We're in!
Rice Krispies Treats Snap Crackle Poppers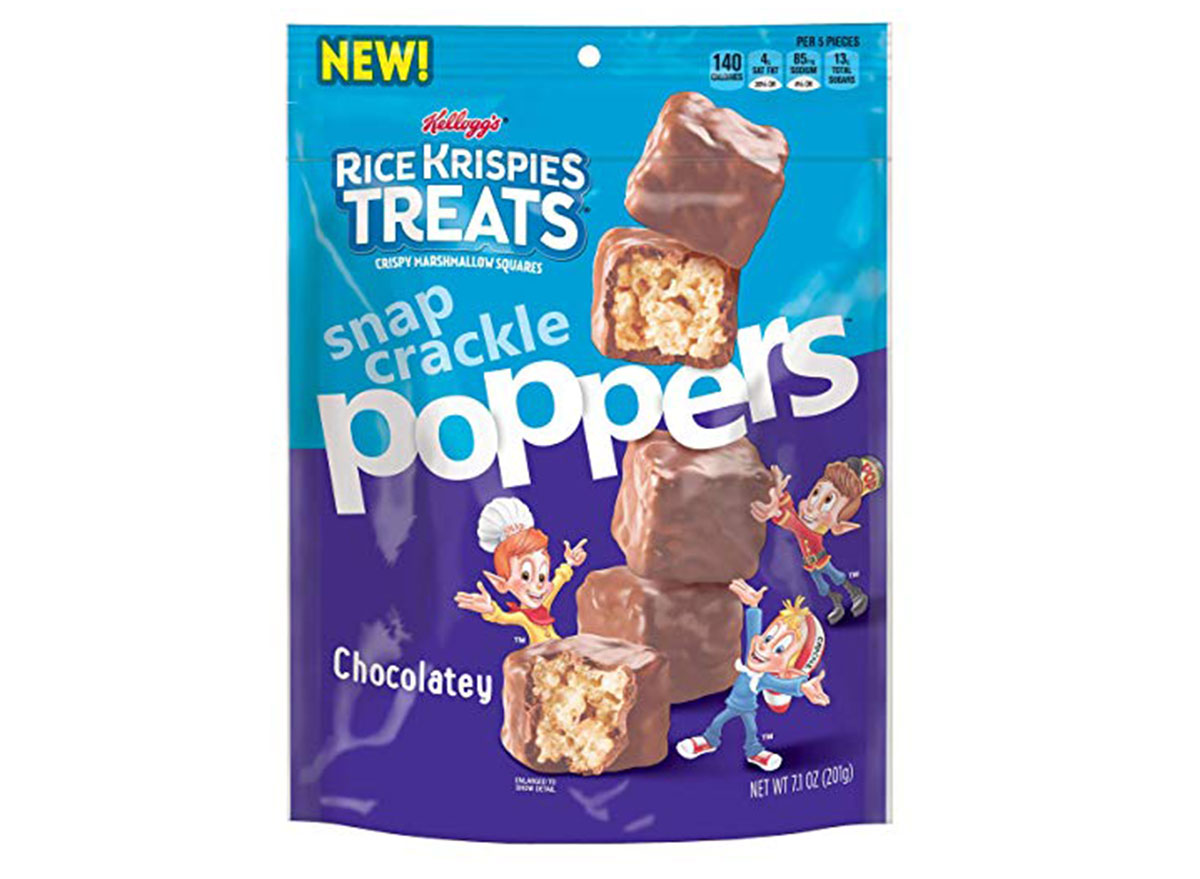 Everybody's bake sale favorite has just gotten an update! Kellogg's is now making Rice Krispies Treats Snap Crackle Poppers—classic Rice Krispies Treats that are bite-sized and covered in delectable coatings. They come in three varieties: Cookies 'n' Crème, Chocolatey, and Vanilla Crème. The brand has been busy—they also just introduced strawberry-flavored Rice Krispies Cereal, too.
Creamy Snickers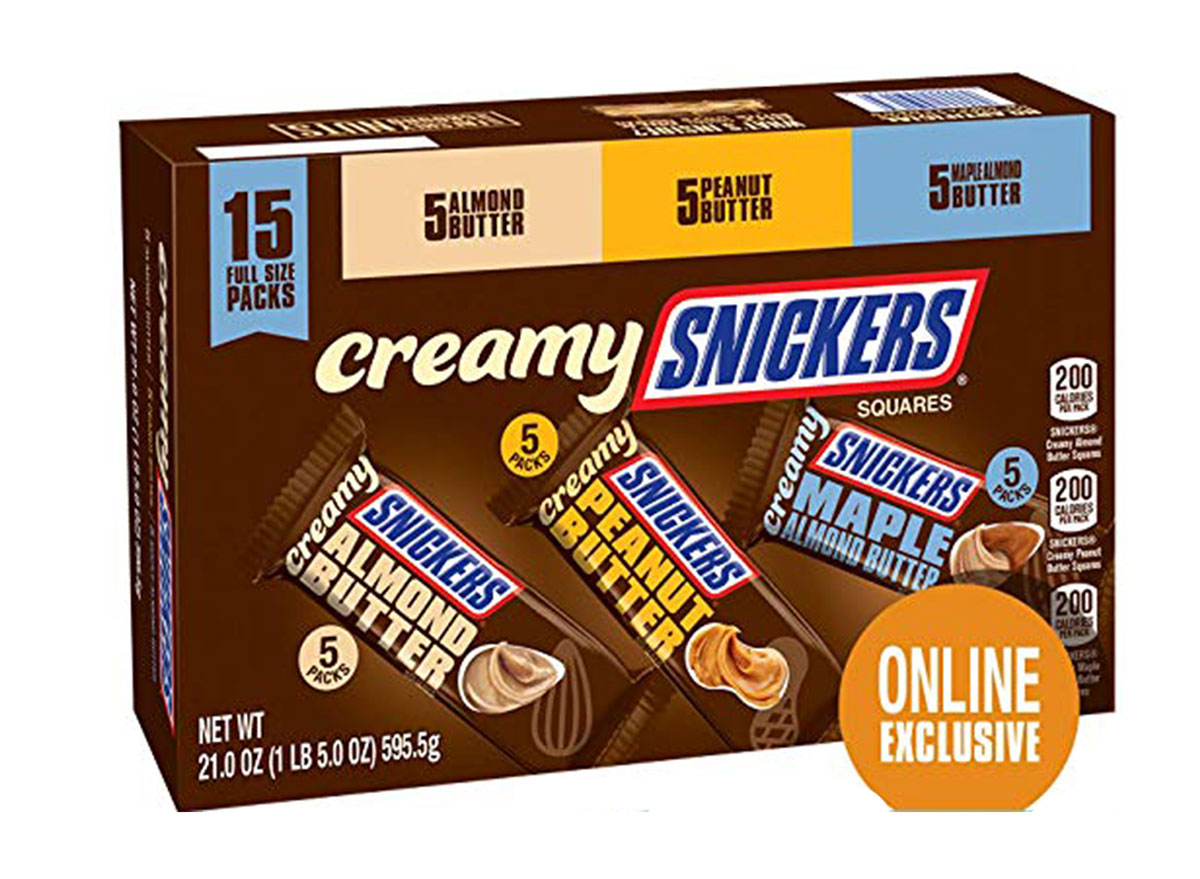 Arguably the thing that makes Snickers, well, Snickers, is the crunchy peanut and chewy nougat. However, the brand is coming at things with a new angle with the introduction of Creamy Snickers. For this line of candy bars, they are subbing the crunchy peanut filling with a smooth flavored nut butter filling. Cashing in on the popularity of almond butter, they'll be offering Creamy Almond Butter and Creamy Maple Almond Butter, as well as Creamy Peanut Butter to appeal to someone looking for a more classic flavor.
Girl Scouts Caramel Chocolate Chip Cookies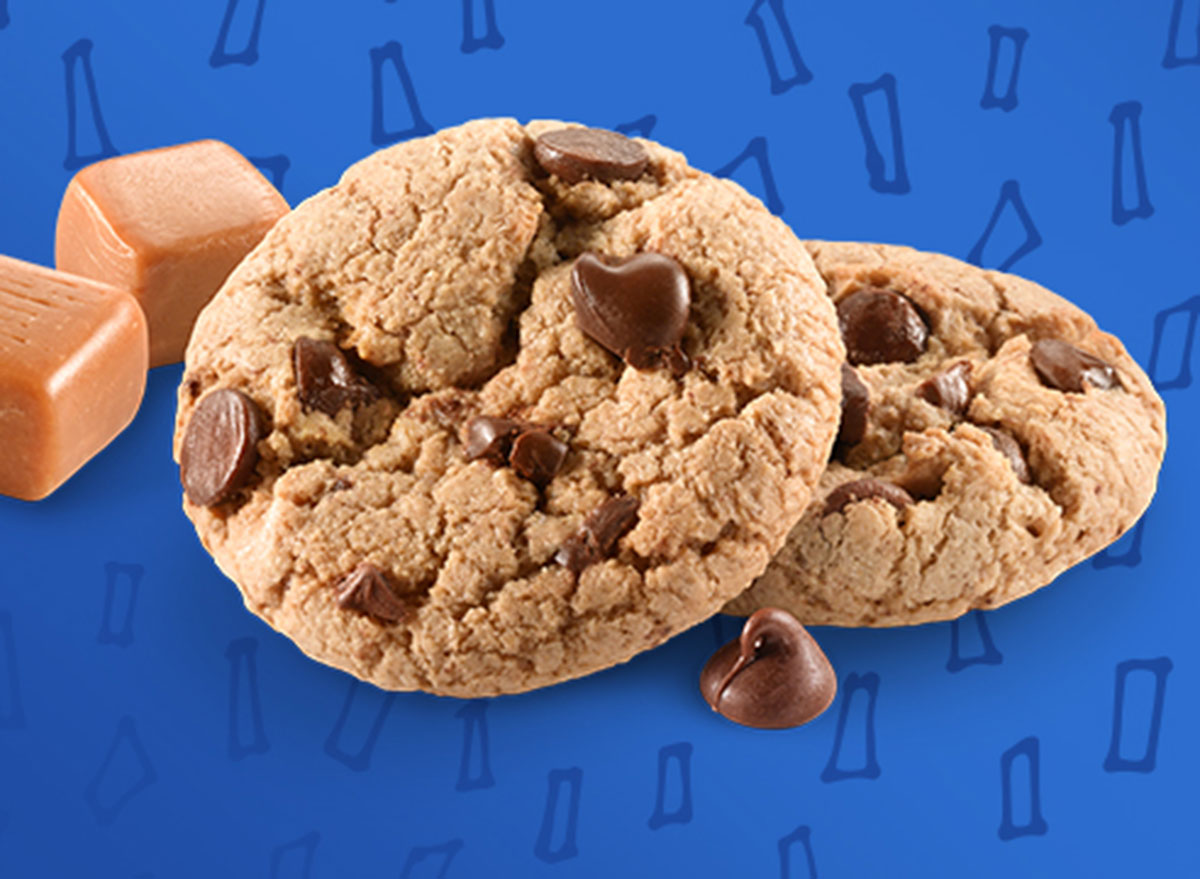 It's been a while since Girl Scouts introduced a new cookie flavor, so the snack food world is abuzz at their newest addition: gluten-free caramel chocolate chip cookies. That's right, these sweet treats are made with gluten-free oat flour and are nut-free, making them widely accessible for those with food allergies and intolerances. For now, they are still only available in some areas.
Heinz MAYOMUST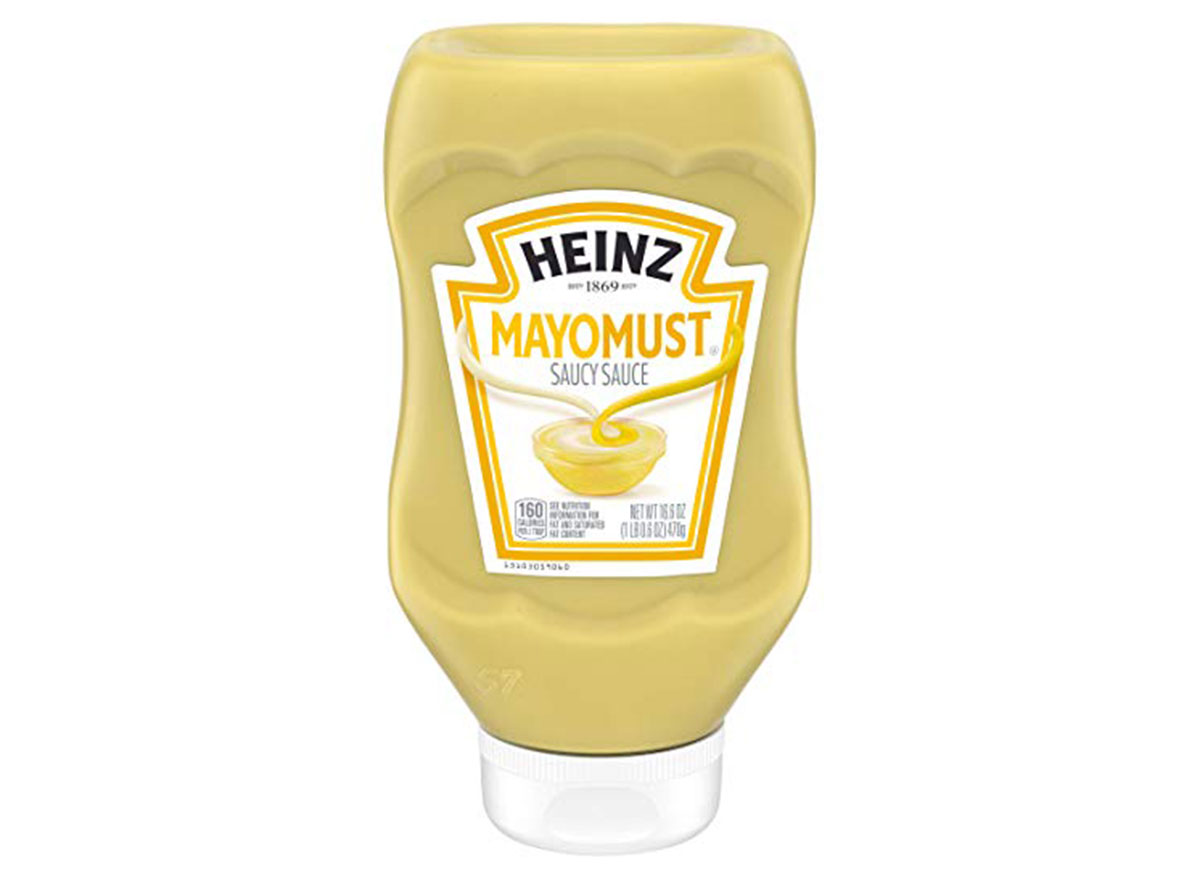 Never choose between mayo and mustard again. After the success of their "MAYOCHUP" mayo and ketchup sauce, Heinz has finally put mayonnaise and mustard together in one convenient bottle and called it MAYOMUST. They've also thrown MAYOCUE—a ketchup and BBQ sauce—into the mix. Perfect for summer barbecues and jazzing up your next sandwich, these are upping the condiment game.
Katherine Martinelli
Katherine Martinelli is a recipe developer and award-winning journalist who spends her days dreaming and writing about food.
Read more about Katherine