25 Oreo Flavors You Never Knew Existed
Sometimes, it's best to stick with the original.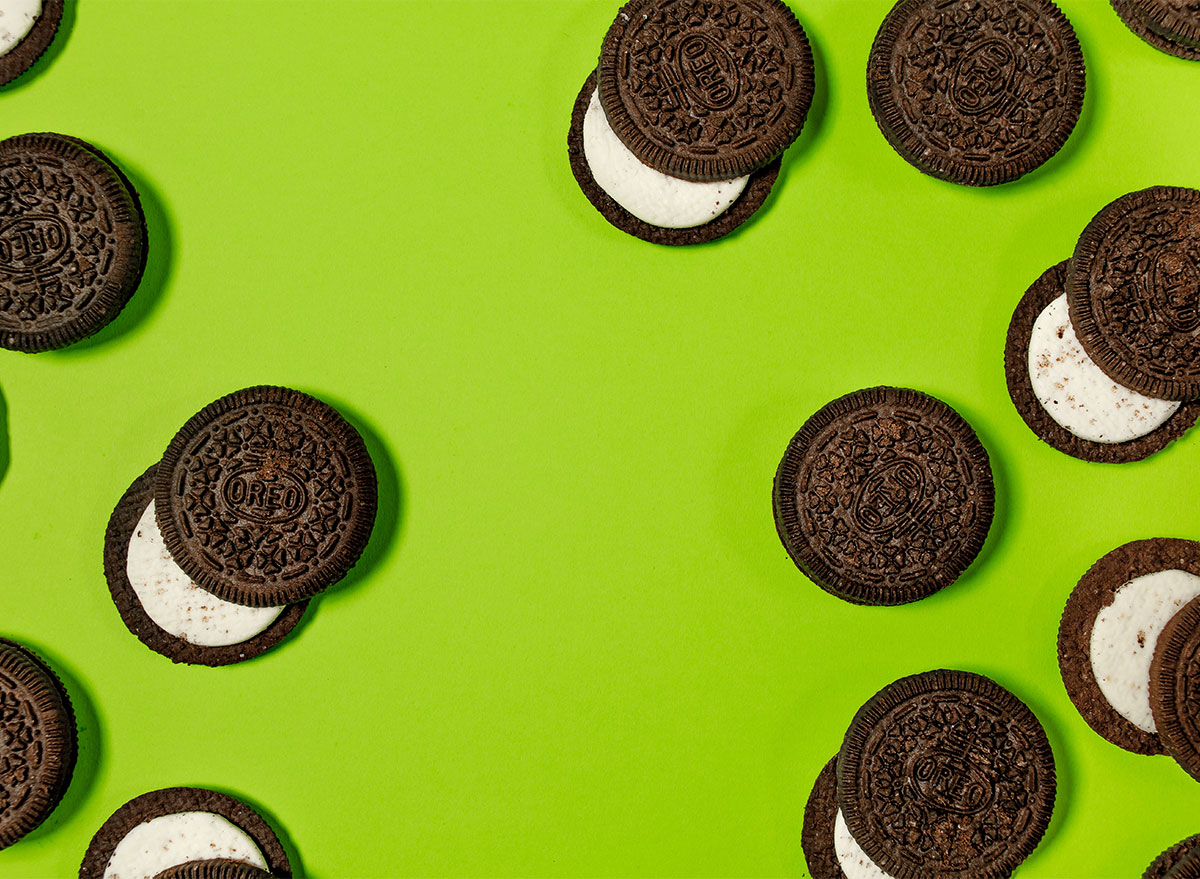 There's a reason Nabisco bills Oreos as "milk's favorite cookie." That sweet vanilla creme sandwiched between those equally heavenly chocolate wafer cookies is infinitely dunkable and delicious. But over the years, the company has experimented with plenty of flavors that go far beyond the original Oreo, which launched way back in 1912, and, well, things have gotten a bit weird from time to time.
Some alternative Oreos, like brownie batter and dark chocolate, stick to the traditional cookie's spirit, but others might make you do a double-take. Did anyone ask for, say, a watermelon-flavored Oreo, or a spicy wasabi variety? The following weird Oreo flavors just go to show that sometimes, simpler is better. After all, you can't beat a classic. Plus, check out our favorite store-bought chocolate chip cookies that are worth a bite, too!
And for more, here's What Happens to Your Body When You Drink a Smoothie Every Day.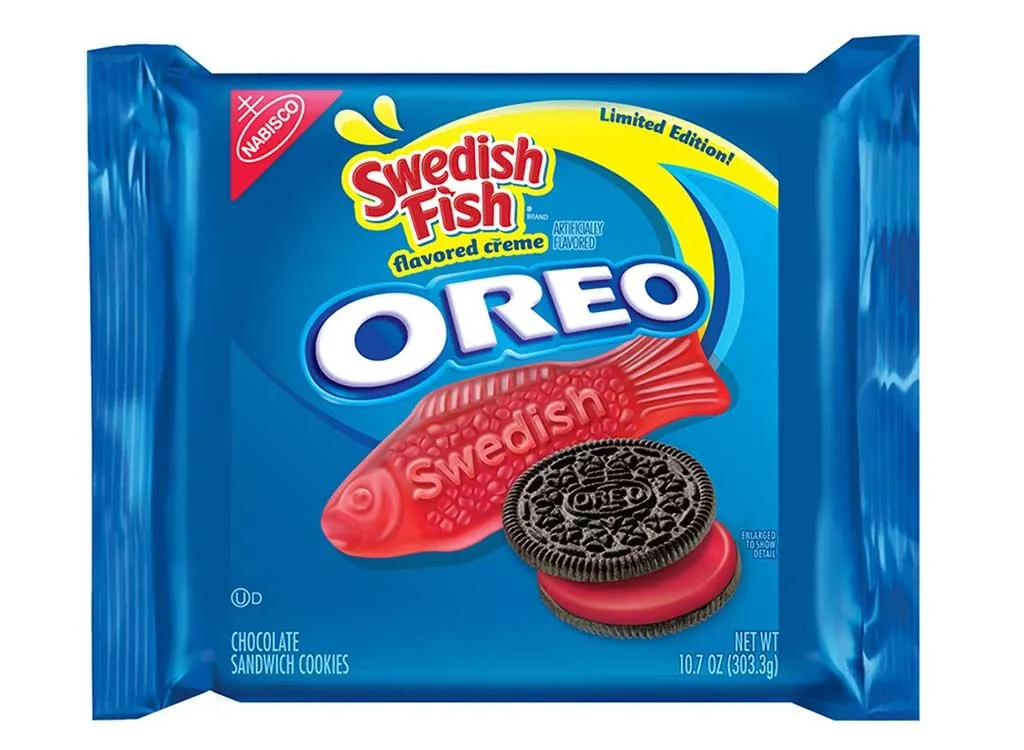 Swedish Fish are great. Oreos are great. But did the two of them need to be combined? In 2016, Nabisco dared to launch limited-edition Swedish Fish Oreos that featured chocolate cookies with red Swedish Fish-flavored filling…and they were hardly a hit.
"Nabisco might as well have printed the word 'WHY?' on the side of every wafer," said one reviewer at The Impulsive Buy. He added that the filling tasted like "cherry cough syrup."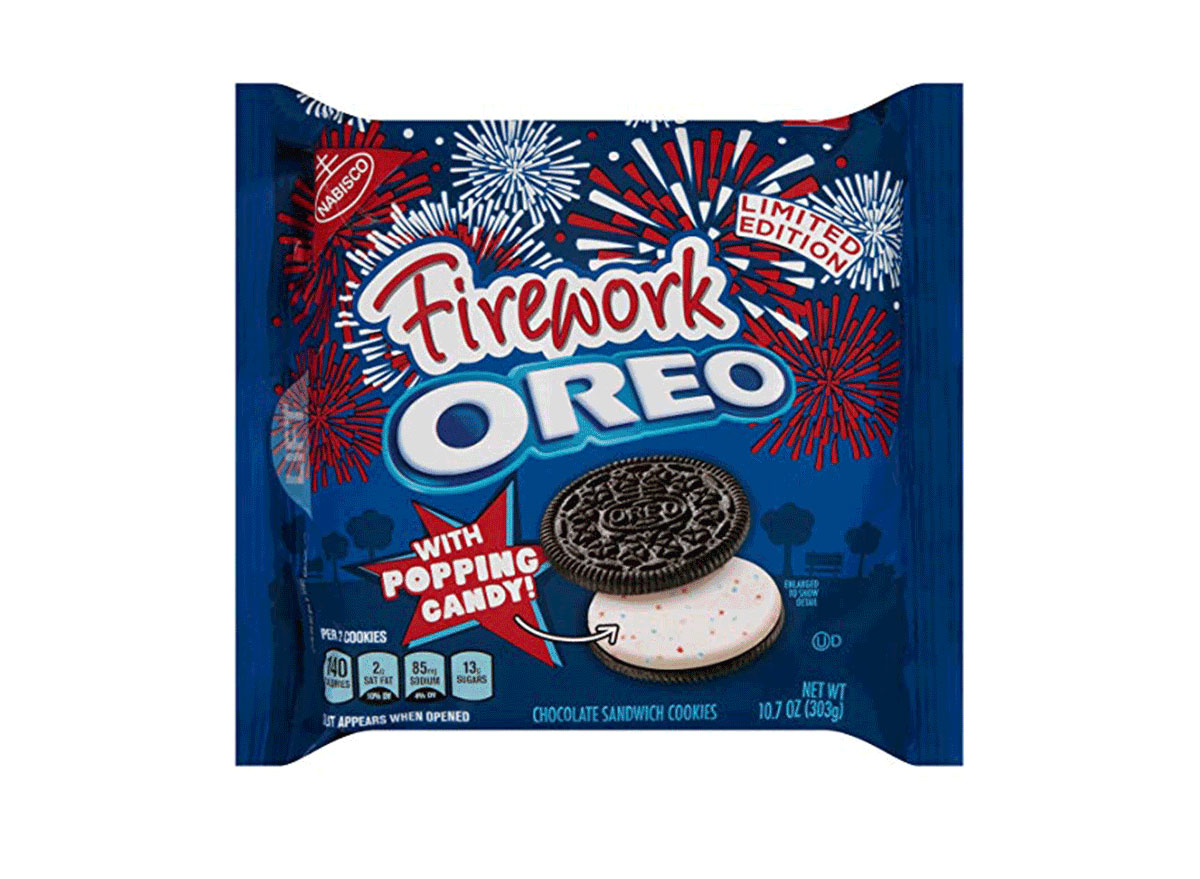 Released in summer 2017, Fireworks Oreos featured popping candy in an attempt to create the sensation of July 4th fireworks right in your mouth. Why you would want that, however, we're not quite sure.
One reviewer called them a letdown on Amazon. "I love Oreos and Pop Rocks," they wrote. "When you mix the two, they don't seem to want to work together … Just buy normal Oreos."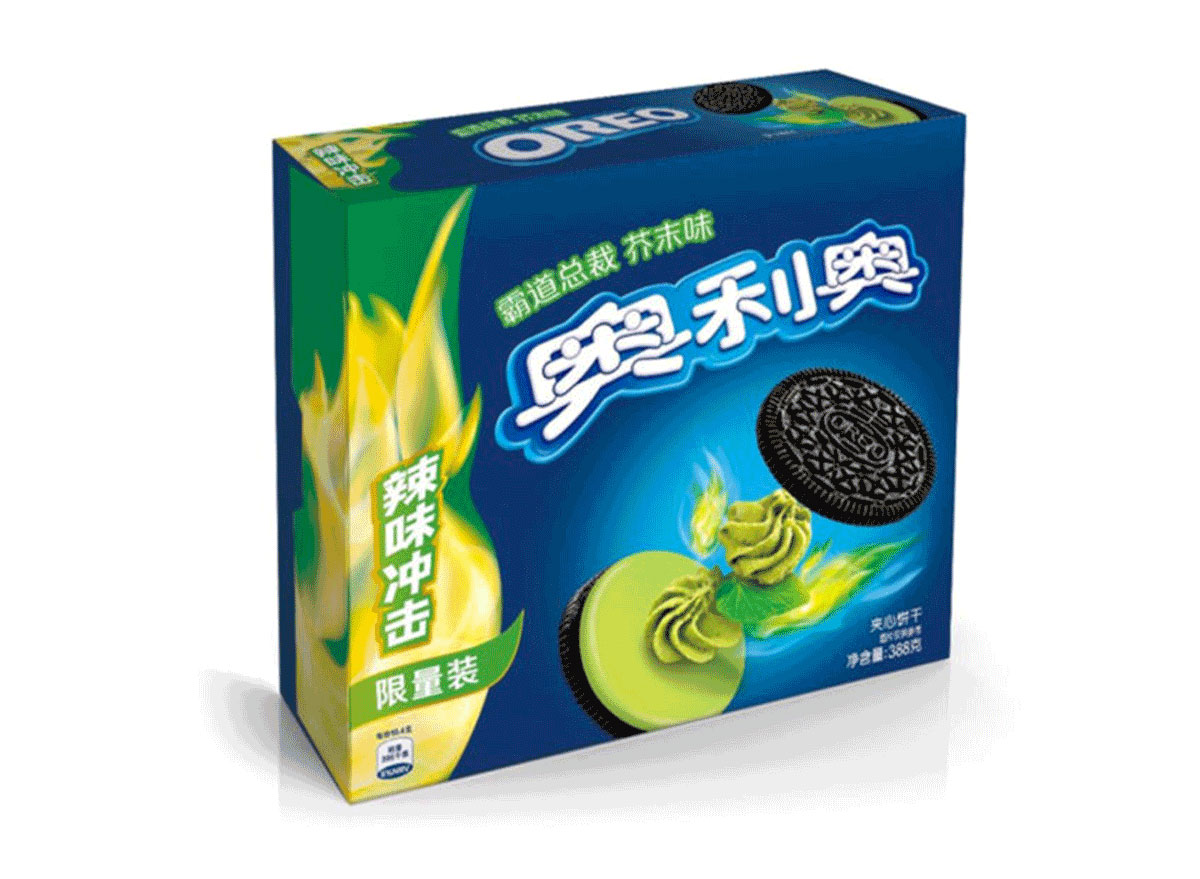 This unique Oreo flavor was released in the summer of 2018, but only in China. The green filling is a surprising sight, and one critic on Medium wrote that these Oreos were "chocolatey, salty, spicy and [had] a milky cream flavor to it." We're not sure if it's a positive or negative assessment, but hey, at least there's an Oreo that pairs perfectly with sushi?
And for more strange snacks, check out these 20 Weird Potato Chip Flavors from Around the World.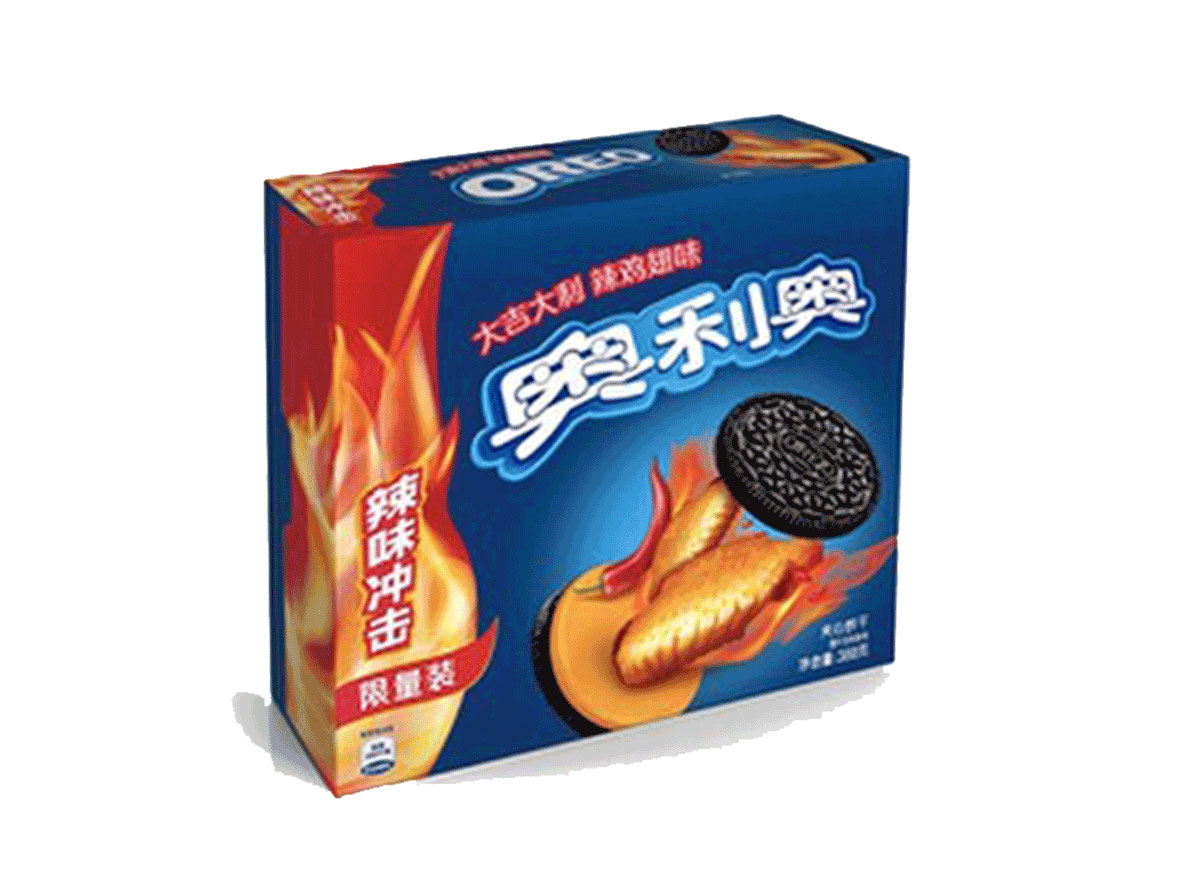 Along with the Wasabi Oreos, Nabisco launched chicken wing-flavored Oreos in China in the summer of 2018. The Hot Chicken Wings Oreos had an orange filling, resembling the color of hot sauce. One reviewer couldn't get over how "pleasantly spicy" it was, but they also confirmed that "chocolate and a buffalo wing definitely don't go well together." Noted!
Fruit punch is artificial-tasting enough, so there's no reason to ruin a perfectly good Oreo cookie with it. Fruit Punch Oreos were a Walmart exclusive in 2017, but people weren't flocking to the store for them. One Amazon reviewer said they tasted like Tums!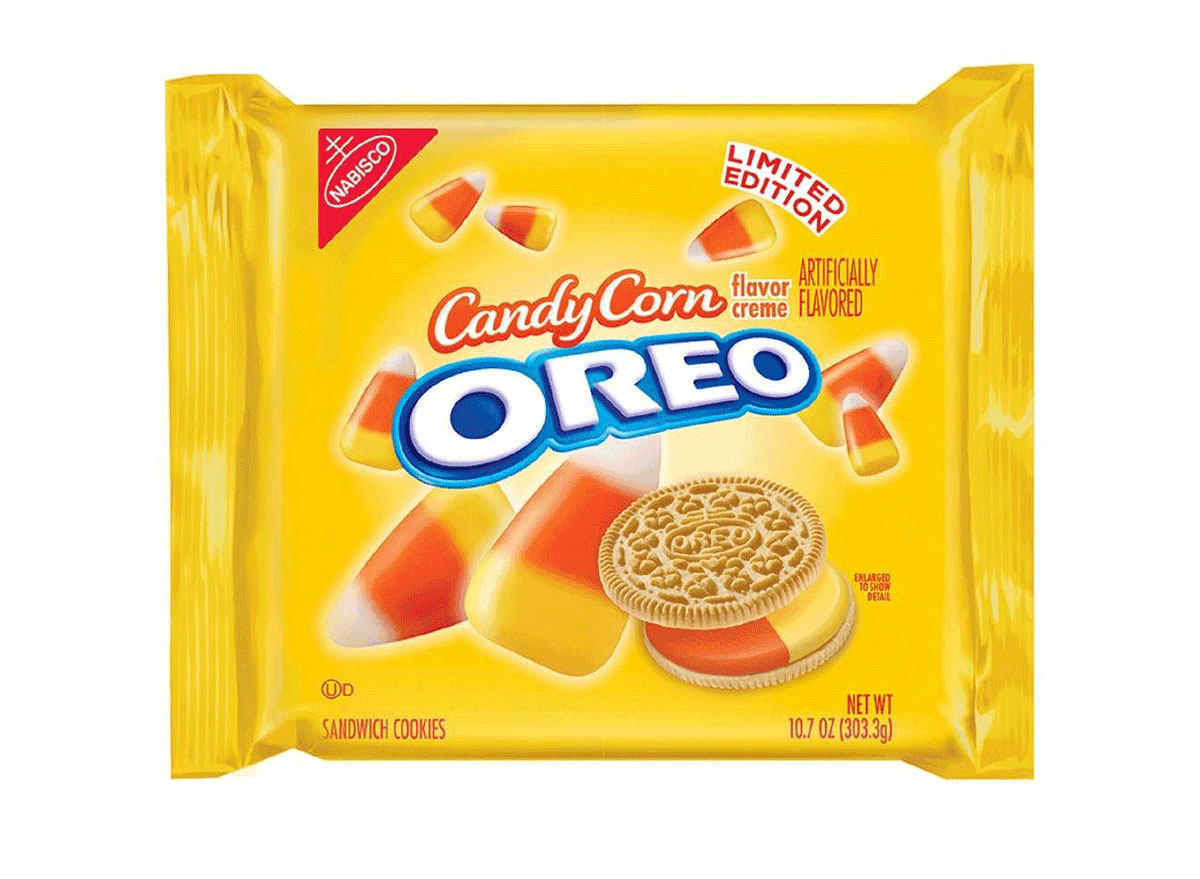 Candy corn is a divisive enough candy on its own. But add Oreos into the mix, and you have one seriously controversial snack. Candy Corn Oreos, released ahead of Halloween in 2012, featured yellow and orange filling inside vanilla Oreo cookies.
Good news though if you weren't a candy corn fan—according to HuffPost's review, they just tasted like vanilla.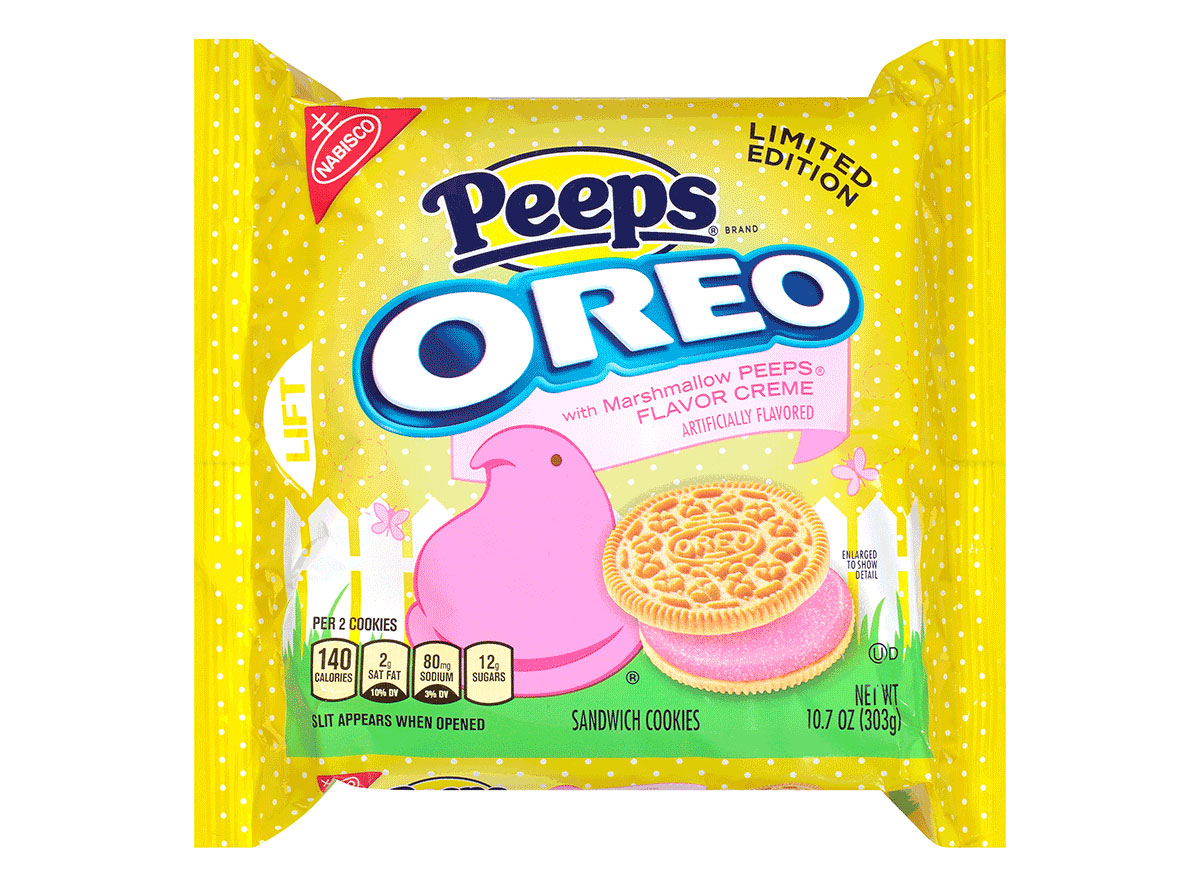 Peeps, the Easter-time marshmallow treat, is another one of the most contested candies out there. We're not sure why Nabisco would venture into such hotly debated territory with Peeps Oreos, which launched in 2017. The cookies themselves featured an embossed Peeps chick and were filled with a pastel-colored creme filling.
The first year, they were pink, and then, in 2018, they were purple, as Today.com pointed out. But color aside, the taste didn't earn stellar reviews. "Taste nothing like Peeps and more like plastic," one Amazon customer wrote. On to the next!
And if you love Oreo cookies, don't miss these 11 Oreo Dessert Recipes for Kids of All Ages.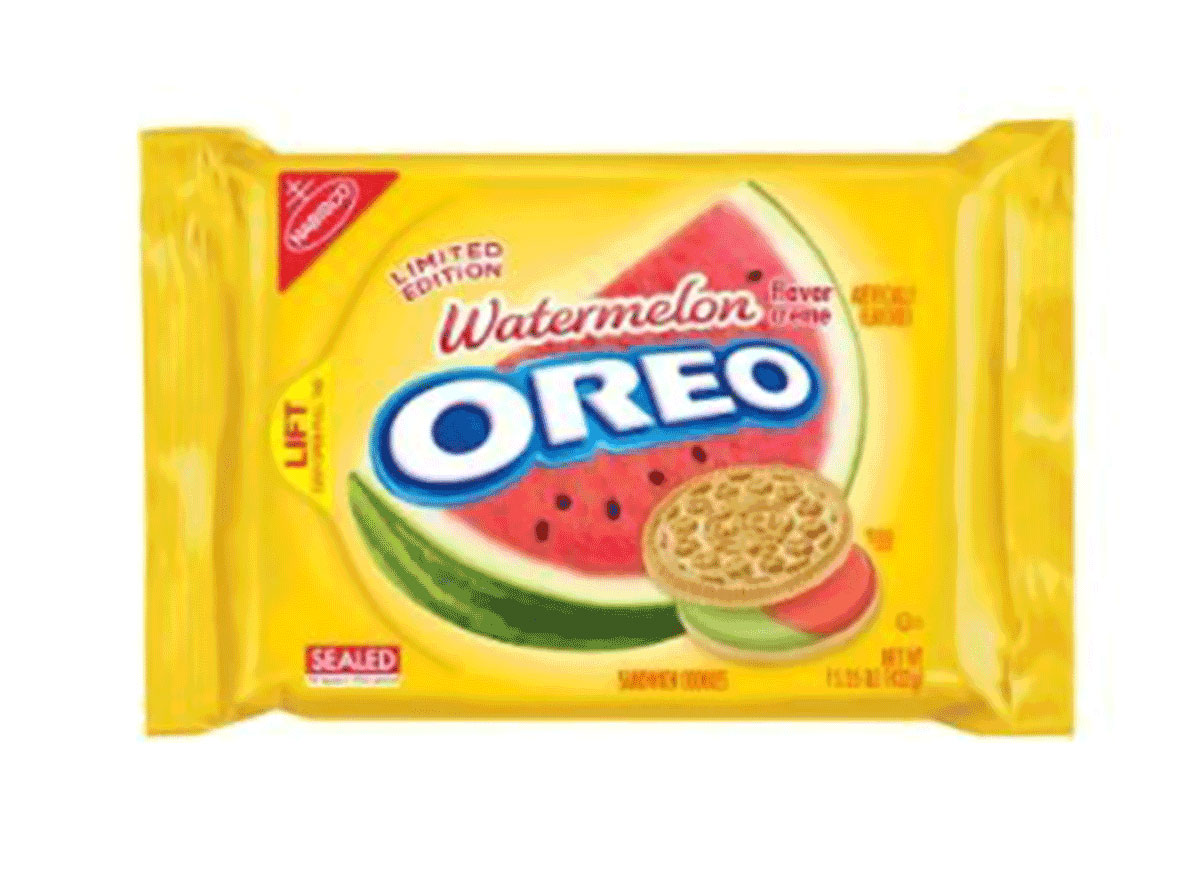 Watermelon is a delicious summer treat, but can an Oreo deliver on its cool, refreshing quality? Probably not. Can it still make you nostalgic for all things summer? Apparently!
Nabisco unveiled this pink and green fruit-flavored Oreo in the summer of 2013, an early addition to the alt-Oreo train.
At the time, it earned pretty impressive reviews. "I am, frankly, SHOCKED. These were good, REALLY good," wrote the Junk Food Guy. "These were subtle in flavor, with just enough watermelon to make me smile."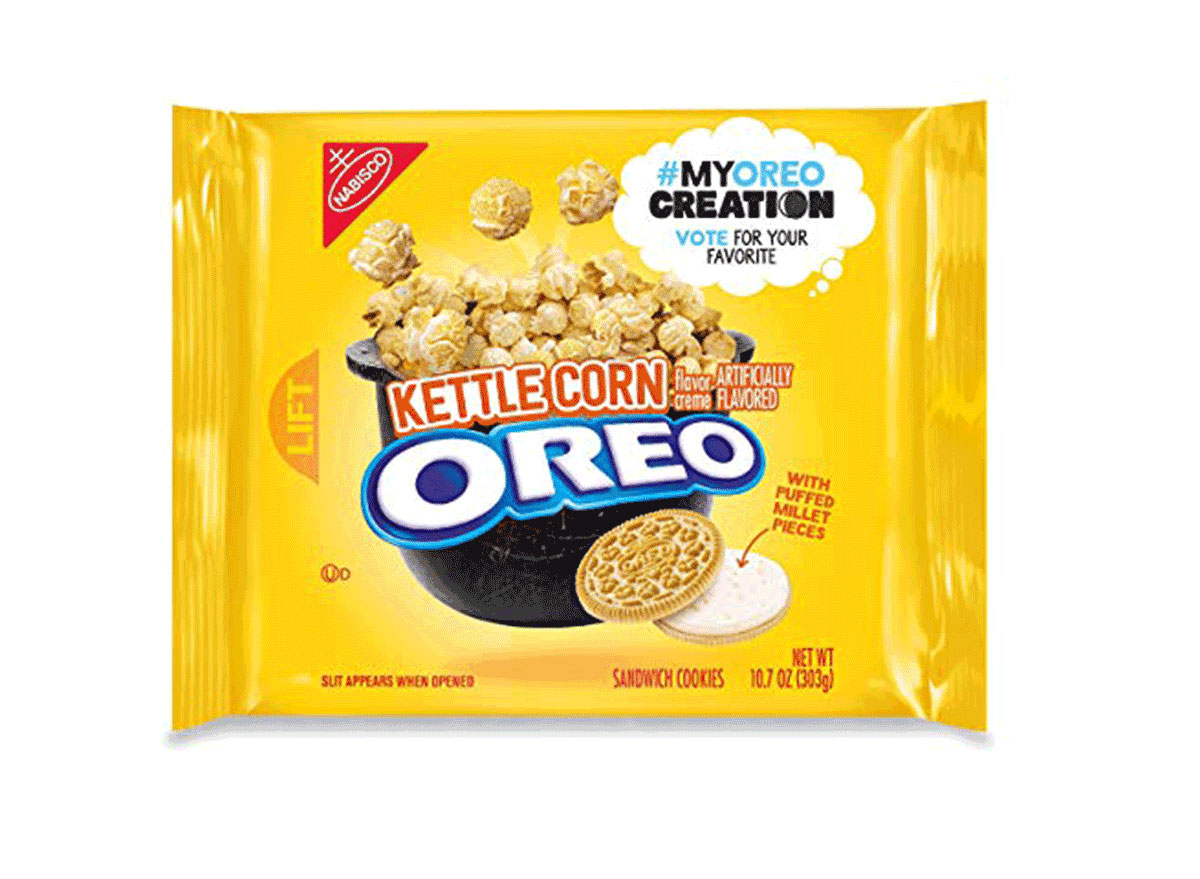 To be fair, this is a flavor that Oreo fans wanted. In 2018, Nabisco had a contest for Americans to vote on their favorite fan-created Oreo flavor called My Oreo Creation—and Kettle Corn Oreos were among the top picks.
But on Amazon, customers gave them mixed reviews. "When I opened the pack, the smell almost made me throw up," one reviewer wrote. "They taste…fine." Hardly a rave, but this is apparently what we asked for!
And if you're curious, here's What's Really in the Center of an Oreo.
Like the Kettle Corn Oreos, Piña Colada Oreo Thins were released in April 2018 as part of the My Oreo Creation Contest. The crispy cookies contained coconut- and pineapple-flavored filling between vanilla Oreo wafers.
"Pretty much my cookie dream come true!" one reviewer wrote on Target's website. "Highly recommend if you're a coconut lover like myself!"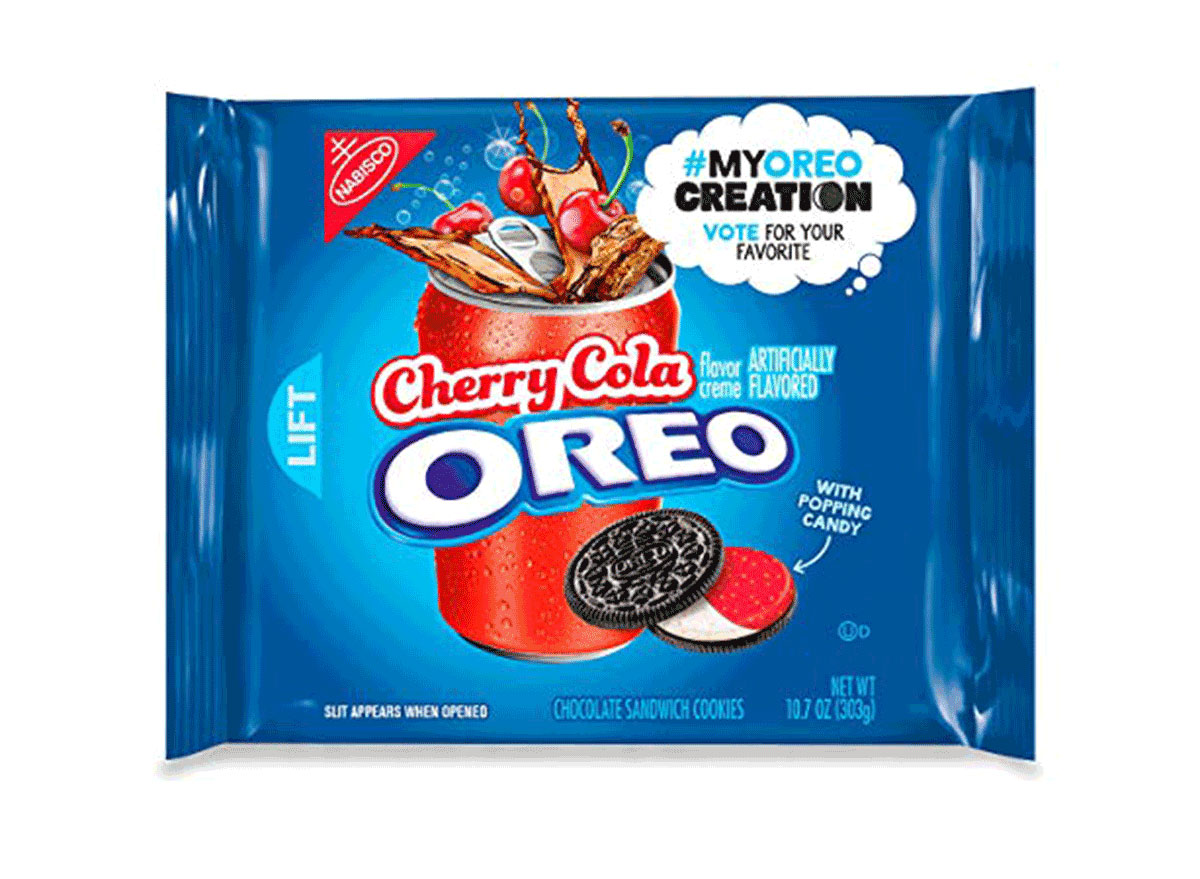 The final choice in the My Oreo Creation contest's top-three ranking was the Cherry Cola Oreo flavor. Like the Firework Oreos, the filling contained popping candy to mimic the mouthfeel of a carbonated soda beverage.
On JunkBanter.com, one reviewer said the cookies were "ideal for people that prefer to dunk their cookies in Pepsi instead of milk. In other words, no one."
Apple pie is a perfectly scrumptious dessert in its own right. It may seem near-impossible to recreate that goodness in a cookie, but if anyone could pull it off, it was Nabisco.
In 2017, the limited-edition cookies launched and earned pretty impressive reviews. "The creme is some of the smoothest ever layered between two Oreo-embossed wafers, and the taste is just perfect," one reviewer at Kotaku wrote.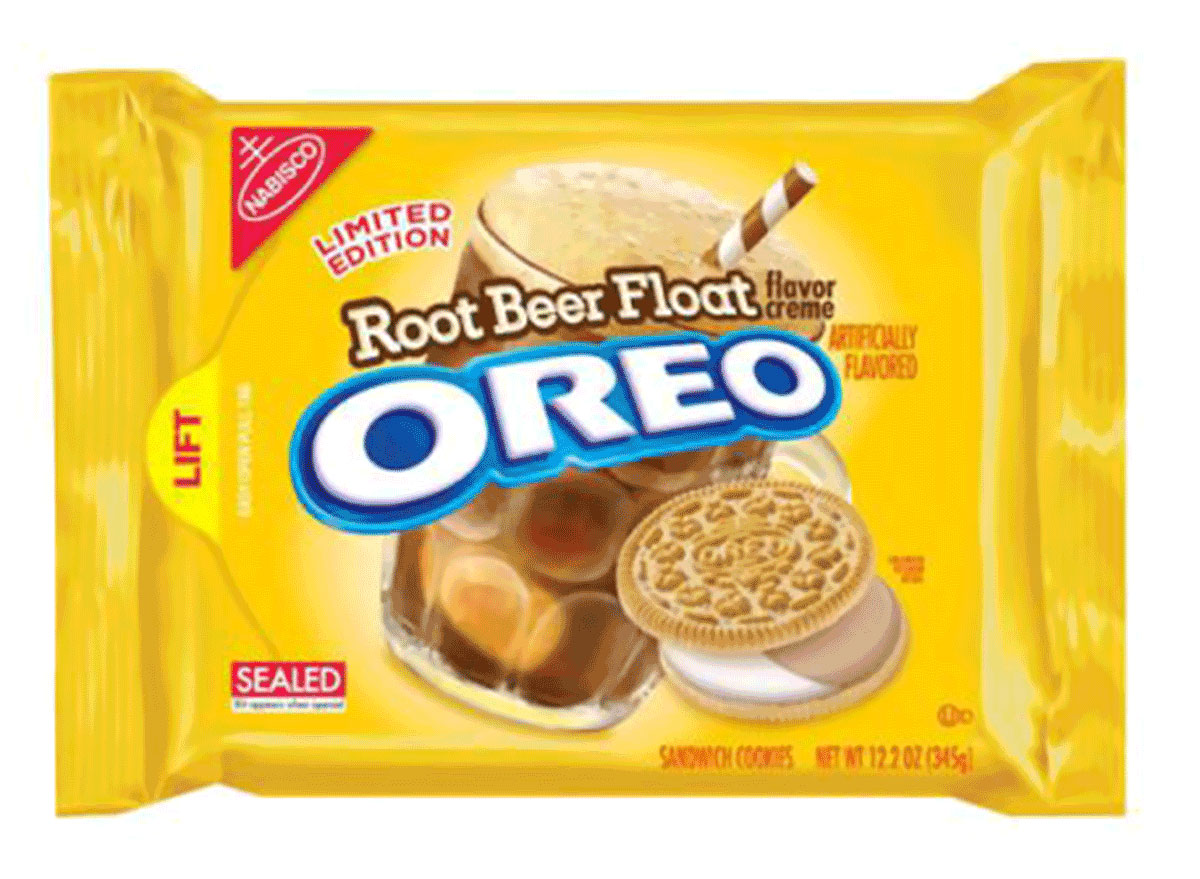 Root Beer Float Oreos were a limited edition item in the summer of 2014. But can a single Oreo replicate the joy of that classic ice cream-filled drink, you ask?
Well, according to Amazon reviewers, the answer is yes. "This is absolute witchcraft," one customer wrote. "I don't know how you make something taste like a root beer float, but they did it."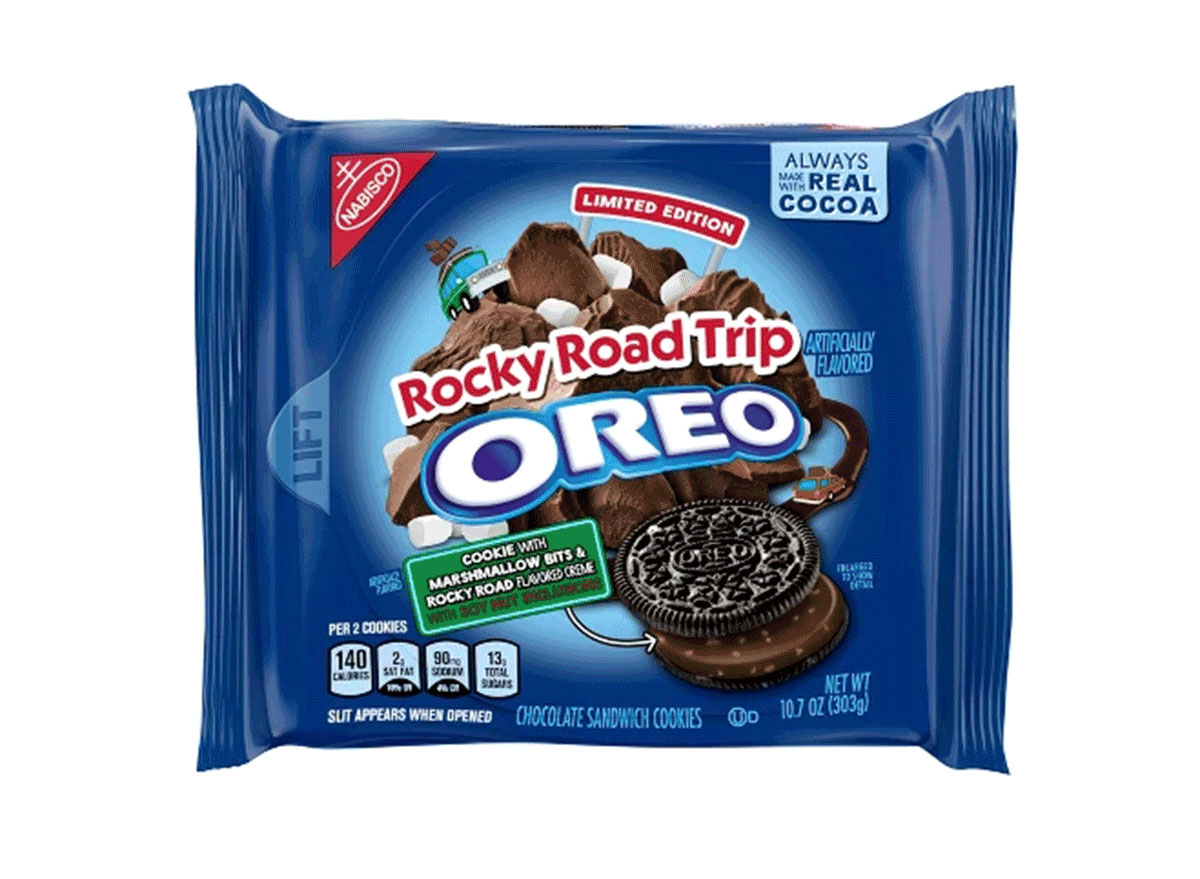 These are a bit unconventional, sure. But compared to many of the other Oreo offerings on this list, they sound pretty tame. Limited edition Rocky Road Trip Oreos, which launched in 2018, featured marshmallow bits and chocolate filling, making them perfect for chocolate lovers.
"So far best Oreo combo!" wrote one fan on Target.com.
Good Humor Strawberry Shortcake Oreos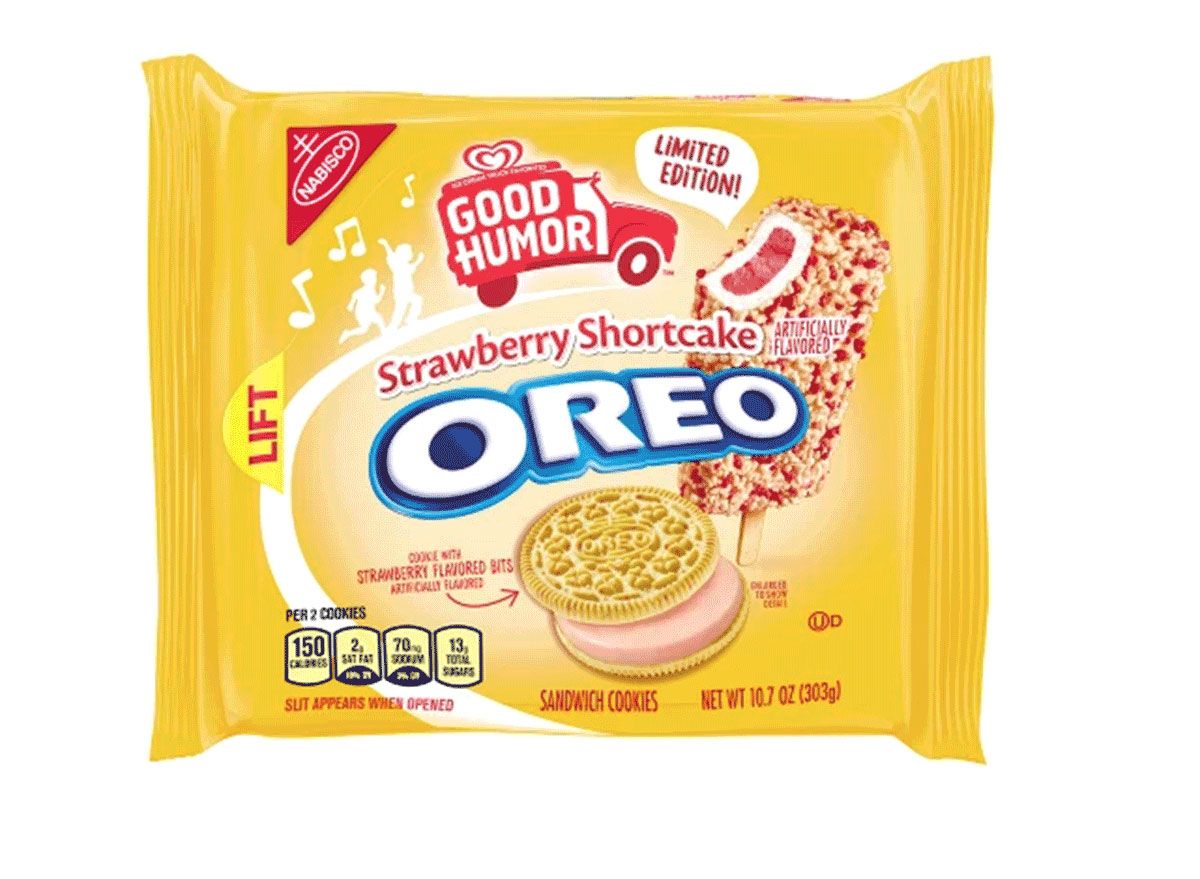 Nabisco seems pretty intent on turning other classic American desserts into Oreo flavors, like these Good Humor Strawberry Shortcake Oreos, inspired by the ice cream truck classic.
Surprisingly, this combination worked for some. "The cookie wafers are some of the best Oreo has put out so far. It's a Golden Oreo with 'strawberry flavored bits,' and it's quite pleasant," according to The Impulsive Buy's review.
And if you're looking for a nostalgic treat, don't miss these 11 Childhood Ice Cream Treats You Forgot About.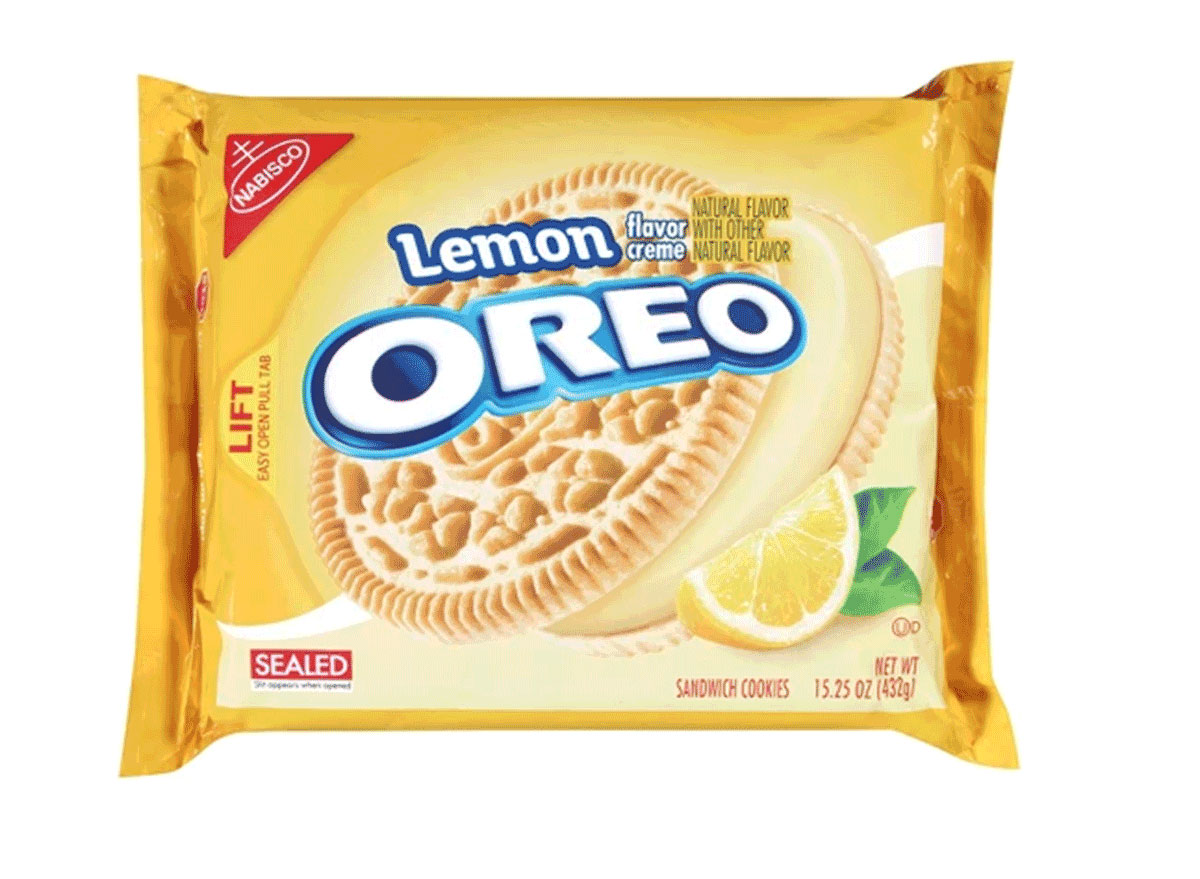 6254a4d1642c605c54bf1cab17d50f1e
If the sound of Piña Colada Oreos struck your fancy, you might be interested in these Lemon Crème Oreos, too.
They're a far cry from what we picture when we think of traditional Oreos, but if you're a lemon lover, that might not be a bad thing. Nabisco initially had a lemon flavor in the 1920s, so this seemingly strange Oreo combo is a classic in its own right.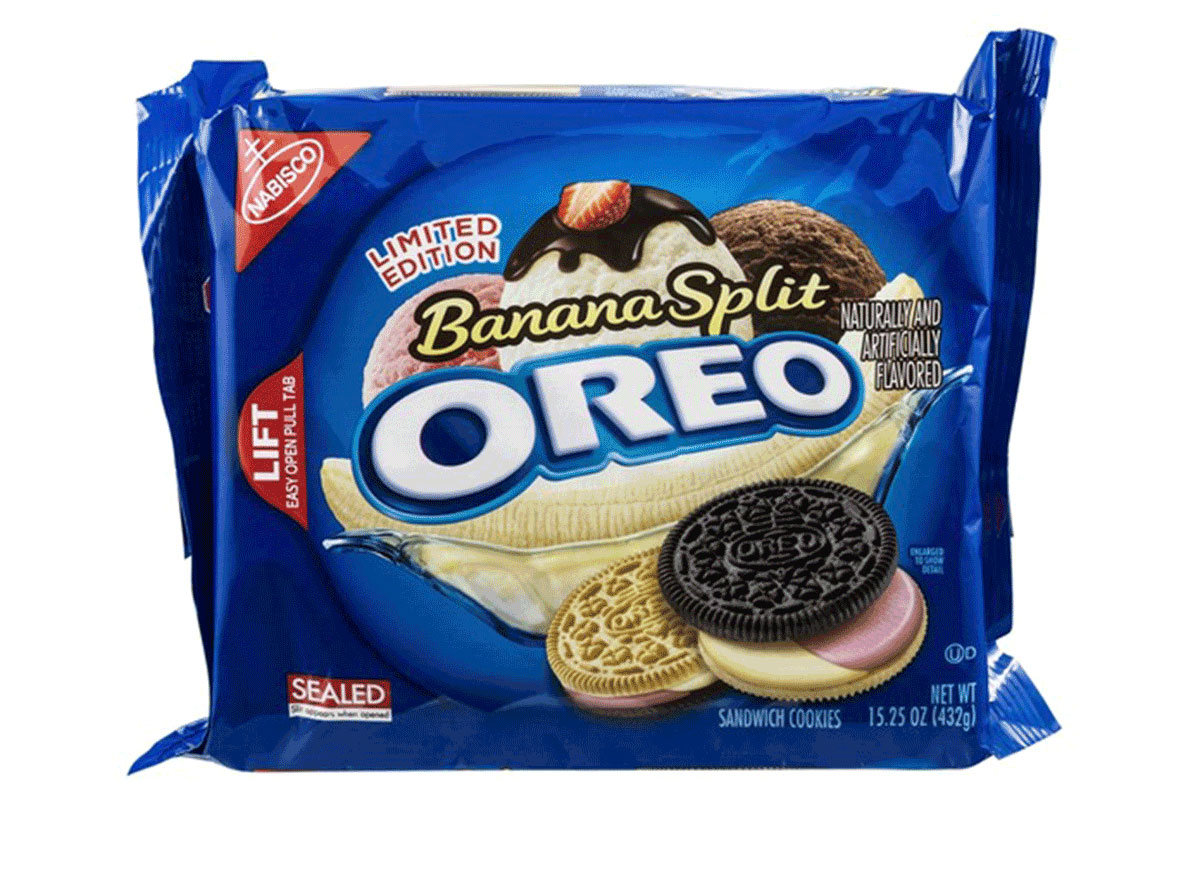 These Oreos had two different filling flavors (strawberry and banana) and both chocolate and vanilla wafers. The crazy-looking Banana Split Oreos were released in 2013 and based on Amazon reviews, they certainly had their fans. "The whole family enjoyed them. I will definitely be ordering them again," one customer wrote.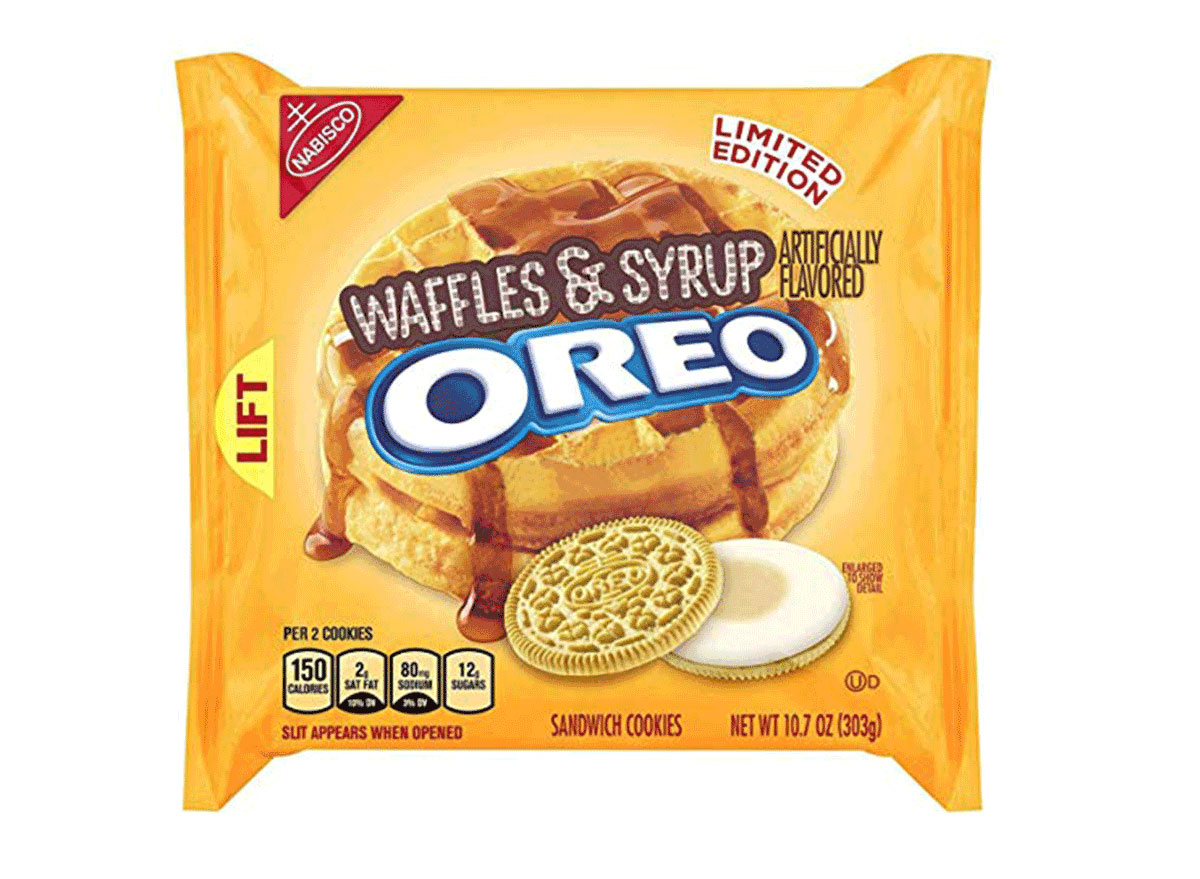 For brunch fanatics, these Waffles and Syrup Oreos might be just the wacky Oreo flavor you were looking for. They were available in 2017 only at Albertsons grocery stores—but they were such a hit, Nabisco launched a maple creme flavor in 2019.
This is a creative idea if you're the type of person who likes to mix chocolate candy and popcorn at the movie theater. Buttered Popcorn Oreos were also released in 2019.
Limited-edition Creamsicle Oreos hit the scene in 2011 with half-white, half-orange filling. Though they're no longer available, The Impulsive Buy's review lives on: "The Limited Edition Creamsicle Oreo as a whole doesn't taste like a Creamsicle … Its flavor reminds me of Fruity Pebbles." Hey, you never know—Fruity Pebbles Oreos could be next!
There's just something comforting about nostalgic foods, which could be why Oreos are one of the 10 Packaged Foods Making a Strong Comeback During Quarantine.
Chocolate Peanut Butter Pie Oreos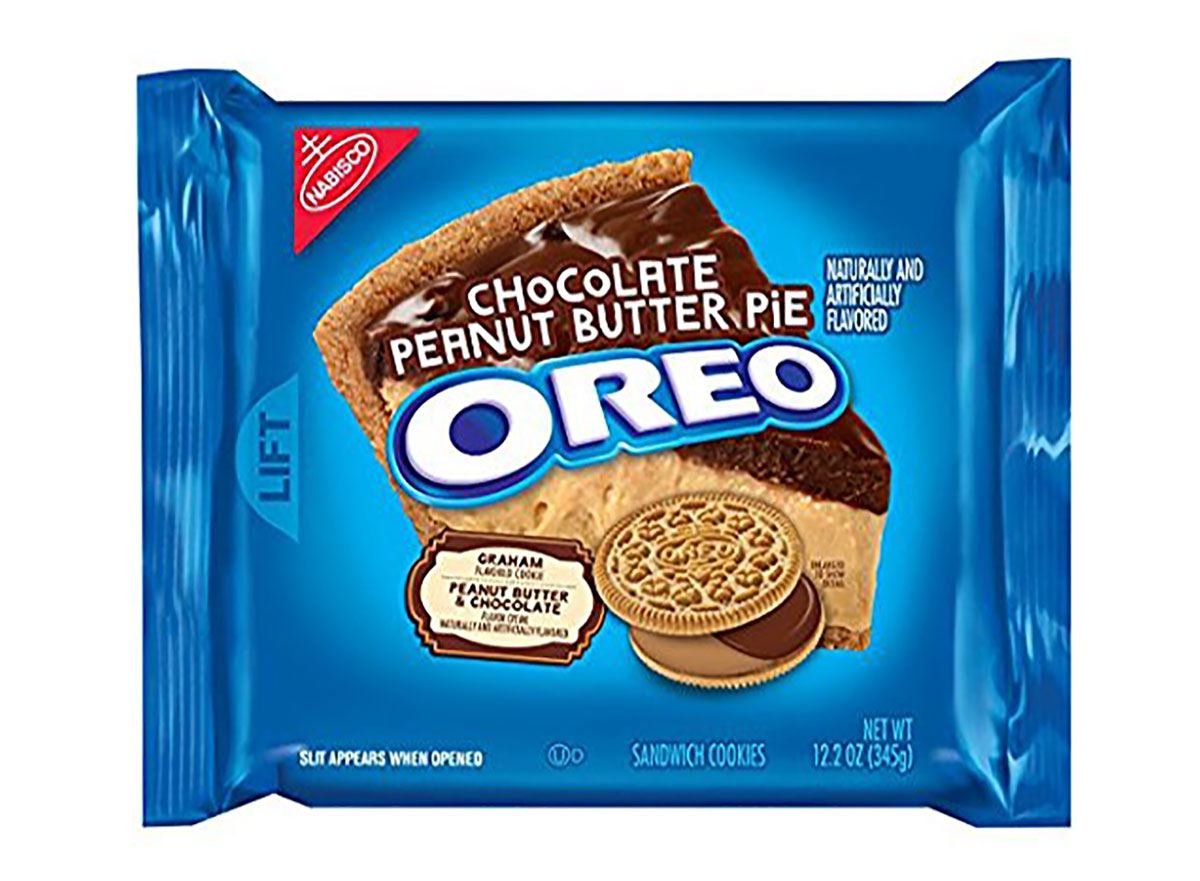 Chocolate and peanut butter are a match made in heaven. But chocolate peanut butter Oreos? That sounds too good to be true. But it's not, and you can snag them on Amazon.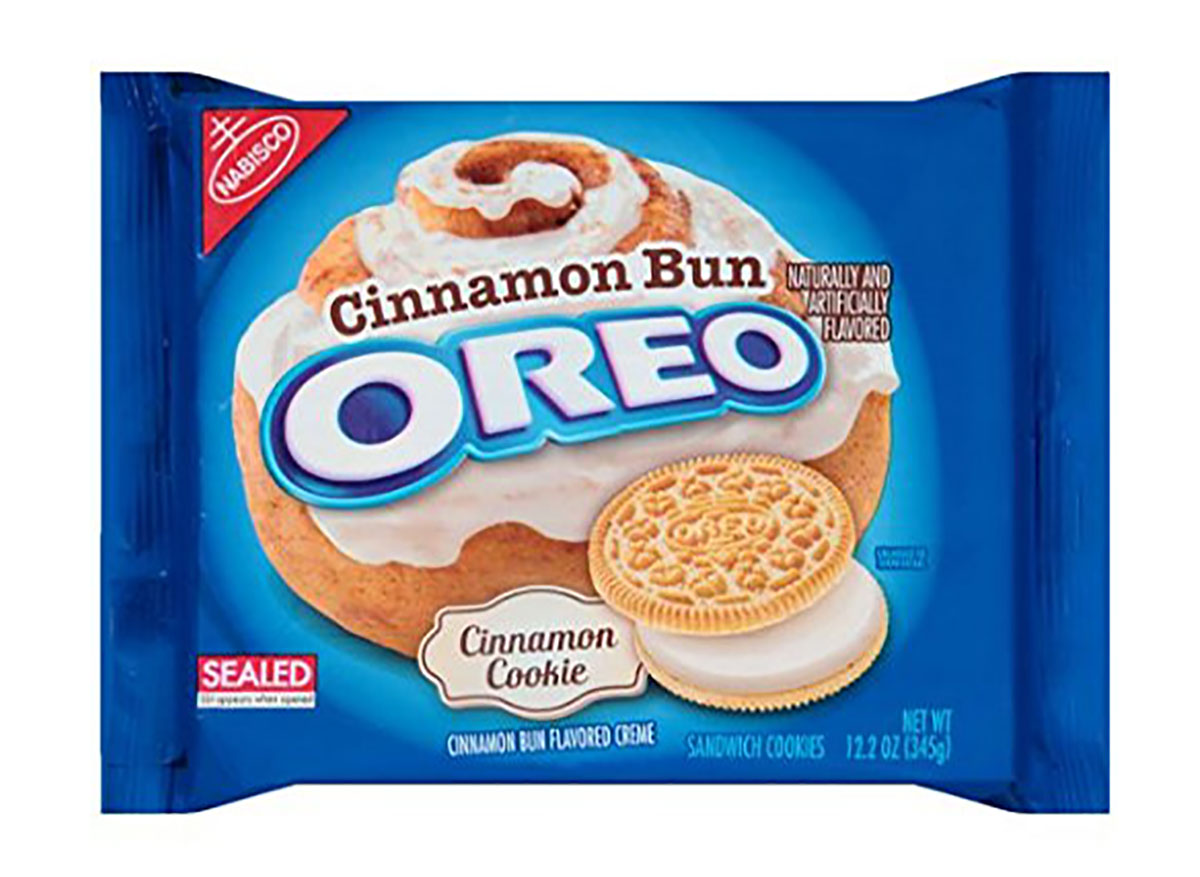 Cinnamon buns? Great! Cinnamon bun Oreos? We're skeptical.
In terms of weird Oreo flavors, caramel coconut isn't the weirdest. We're more put off by the brown color of the filling than by the flavor itself.
Strawberry Cheesecake Oreos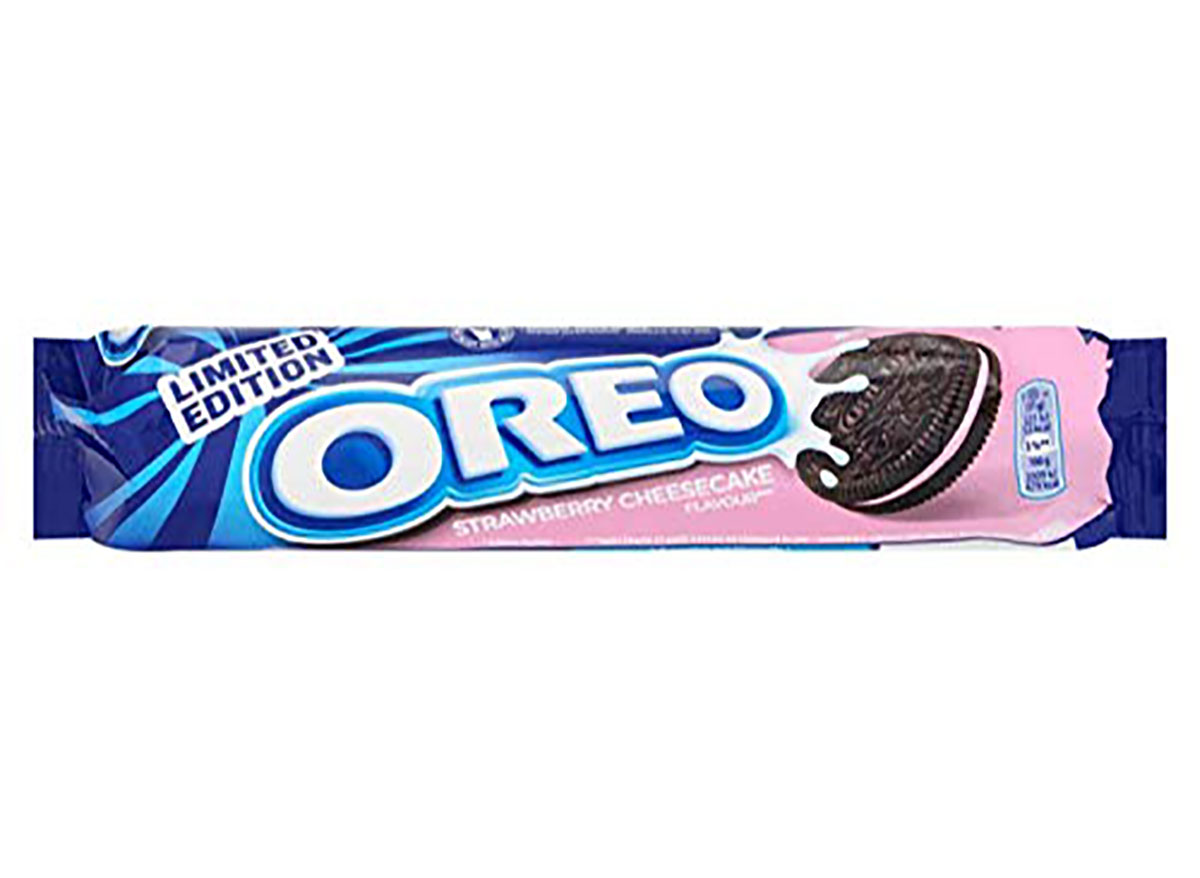 What's interesting about this flavor of Oreos is that the strawberry filling comes with the classic chocolate cookie, not the golden cookie, which seems more fitting for the fruit flavor.
Tiramisu is a classic Italian dessert, but we never thought we'd see it in an Oreo flavor. It doesn't look bad, though!
For more, check out these 108 most popular sodas ranked by how toxic they are.
Meghan De Maria
Meghan De Maria is a senior editor at
Eat This, Not That!
, specializing in food, product, and restaurant coverage.
Read more about Meghan