The 25 Most Popular Snack Brands in America
Whatever you're craving, we've got you covered with these popular snacks.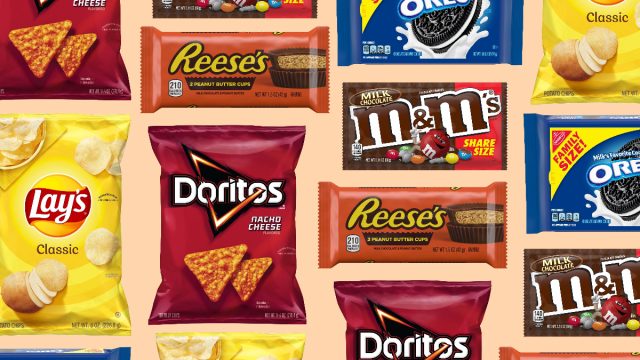 Eat This, Not That! is reader-supported and every product we feature is independently vetted by our editors. When you buy through links on our site, we may earn a commission.
Take a trip to the grocery store, and you'll immediately come to the realization that supermarket shelves are saturated in an absurd number of different snacks. But what to choose? Among such a vast amount of selections are the snacks that people continue to purchase time after time until they become go-to classics. These are the beloved treats we decided to showcase—from Chex Mix to Teddy Grahams, these snacks probably represent at least one of your favorite foods.
We reviewed "The Most Popular Food & Snack Brands in America," which uses data collected in more than 7,000 interviews by global public opinion and data company YouGov between February 2019 and February 2020. Here are the most popular snack brands in the country, from number 25 all the way to number 1. How did your favorite snack fare?
Smucker's is a fruit spread maker, first and foremost. But its iconic snack offering, Uncrustables, earns it a place on this list of the best snacks. And while the peanut butter and jelly Uncrustables are classic, there are about to be some savory options on the market, too! Images shared on Instagram show meat-filled frozen Uncrustables in a store freezer.
RELATED: Sign up for our newsletter to get daily recipes and food news in your inbox!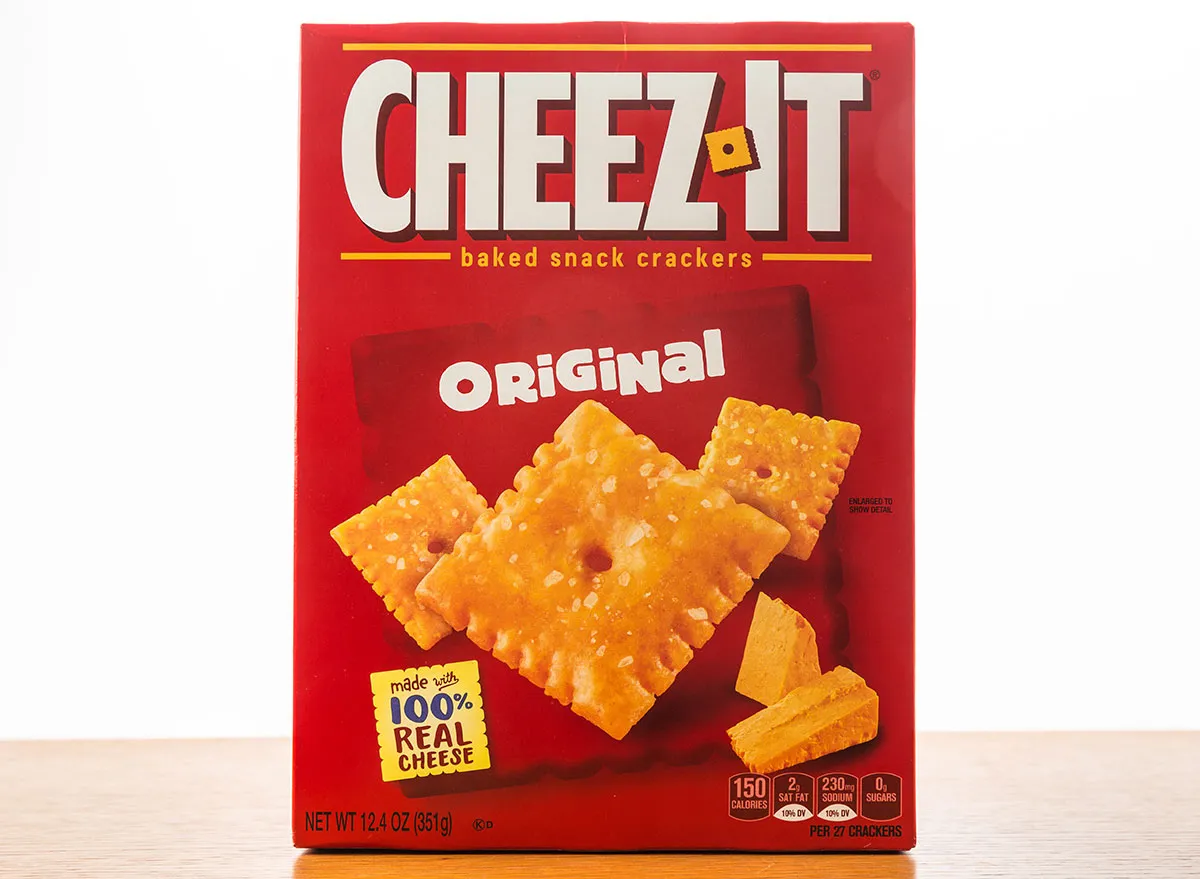 What childhood lunchbox was complete without a snack baggie full of Cheez-Its? They're cheesy, salty, bite-size, and perfectly shaped. (There has to be some appeal in the fact that the cracker is a symmetrical square, right?) The lovable baked cracker has been around for nearly a century, with the first 1 x 1-inch cracker hitting the market in 1921.
RELATED: Your ultimate restaurant and supermarket survival guide is here!
Flamin' Hot Cheetos have had fans of the cheesy sticks hooked, but once you hear how the recipe was invented, you'll likely love the spicy snack that much more.
Richard Montañez snagged his first job at corporate giant Frito-Lay as a janitor at the age of 12 in 1976. One day, the assembly line at the plant he worked at had broken down, and some of the Cheetos didn't get that salty cheesy coating. He took a few of these unflavored ones home and dusted them with chili powder, something he loved eating in elote, which is grilled corn that's dressed in butter, lime, chili powder, and cheese. He pitched his creation to the CEO of Frito-Lay, and the rest is history.
Expect to see a movie about him soon—Fox Searchlight Pictures acquired the rights to produce a film about how he overcame adversity and ultimately invented one of the most famed salty snacks.
And if you don't love Flamin' Hot Cheetos, there's always the original version of the classic lunchbox snack, too.
RELATED: Click here for all of our latest coronavirus coverage.
Tostitos Scoops are the best for—you guessed it—scooping up a generous helping of salsa, cheese, or any dip of sorts. These chips help you savor—or should we say shovel in—some delicious dips.
A subsidiary of Mondelez International, Nabisco is well-known for Oreos and Ritz crackers, two snacks you'll see again on this list. The brand also makes everything from Chips Ahoy cookies to Fig Newtons to Triscuits, so it's only right that it's one of the most popular snack brands in the country.
RELATED: This 7-day smoothie diet will help you shed those last few pounds.
Jif's peanut butter won our peanut butter taste test, and Jif is the only peanut butter brand to make the top 25 on YouGov's rankings. Whether you prefer smooth or crunchy peanut butter, Jif is the ultimate classic.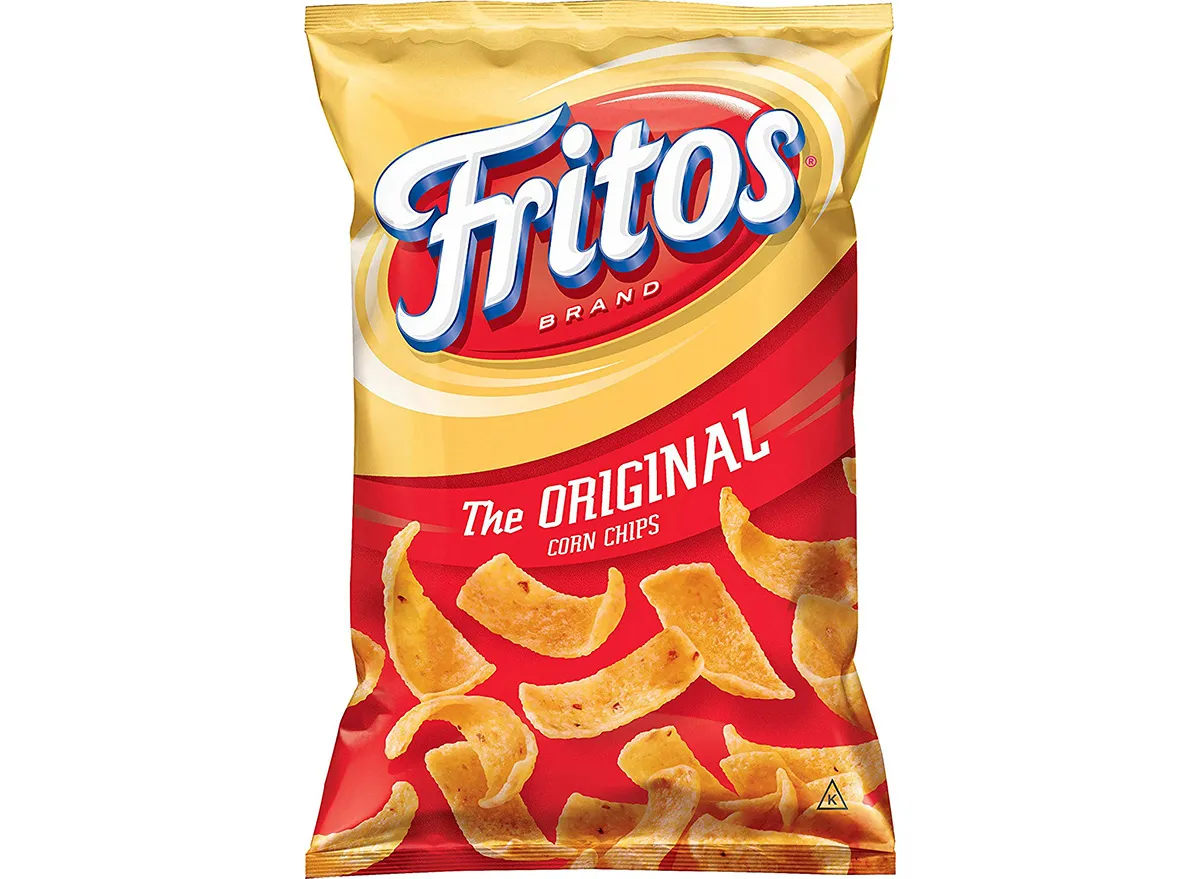 Fritos are the key ingredient of the Walking Taco. You know, the elementary way of making a taco even easier to eat while en route to your next destination? If you don't know what we're talking about, consider checking out this recipe from The Girl Who Ate Everything.
RELATED: Learn how to harness the power of tea to lose weight.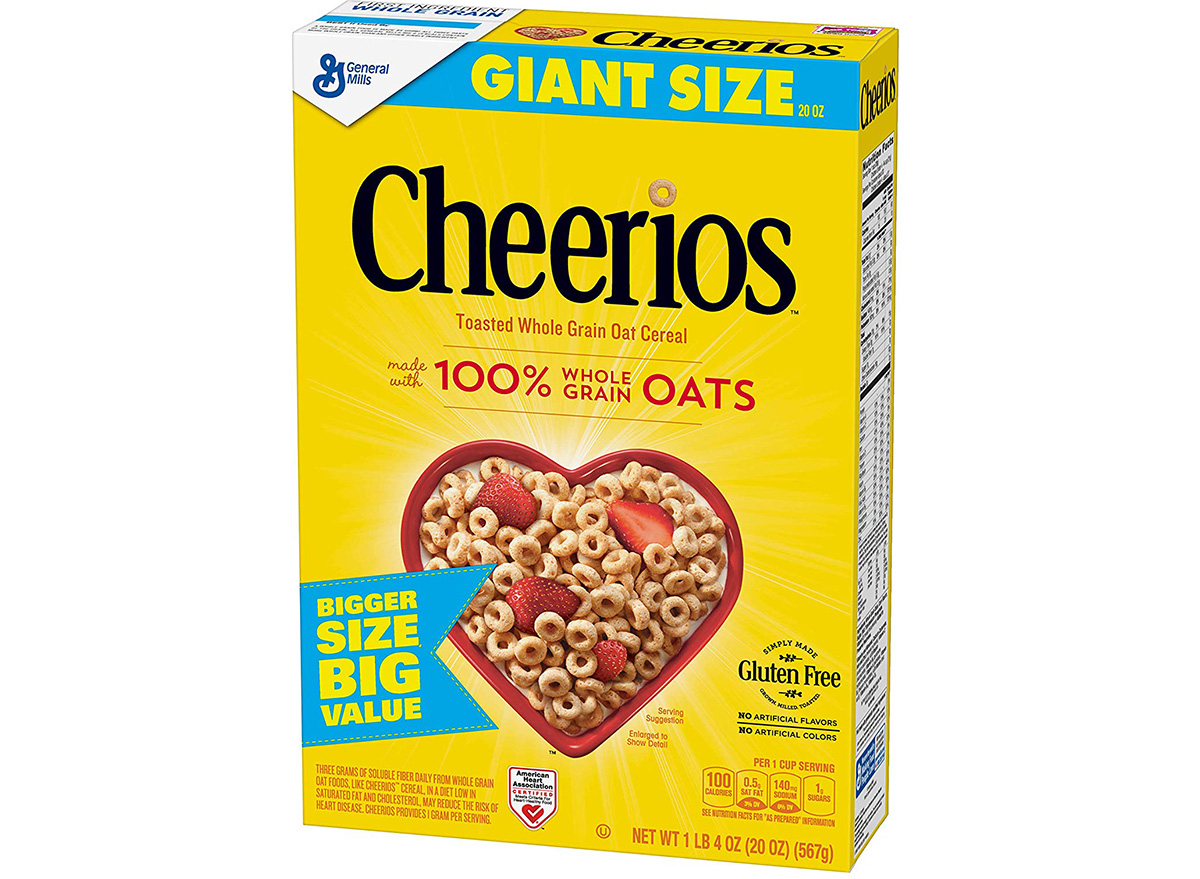 Cereal can be a snack too, right? Cheerios are a suitable treat for small children because they're easy for little fingers to grasp onto and tiny enough to swallow without much chewing.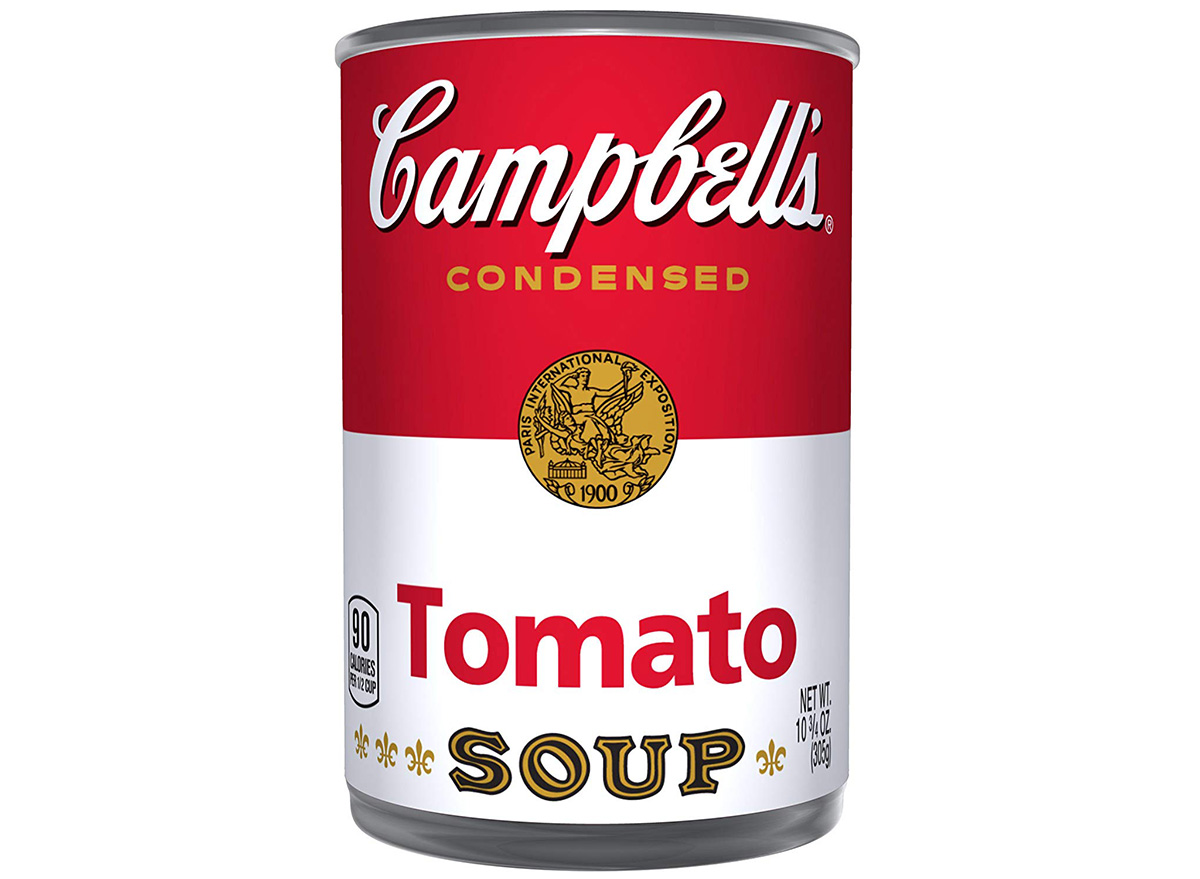 Is canned soup a snack? Well, depending on your hunger level, it could be! If you're stocking up on shelf-stable soups, be sure to check out these 15 Genius Ways to Cook With Canned Soups.
The original nacho cheese-flavored Doritos are delicious in their own right. But the cool ranch variety may as well fall in a league of their own. They're that iconic.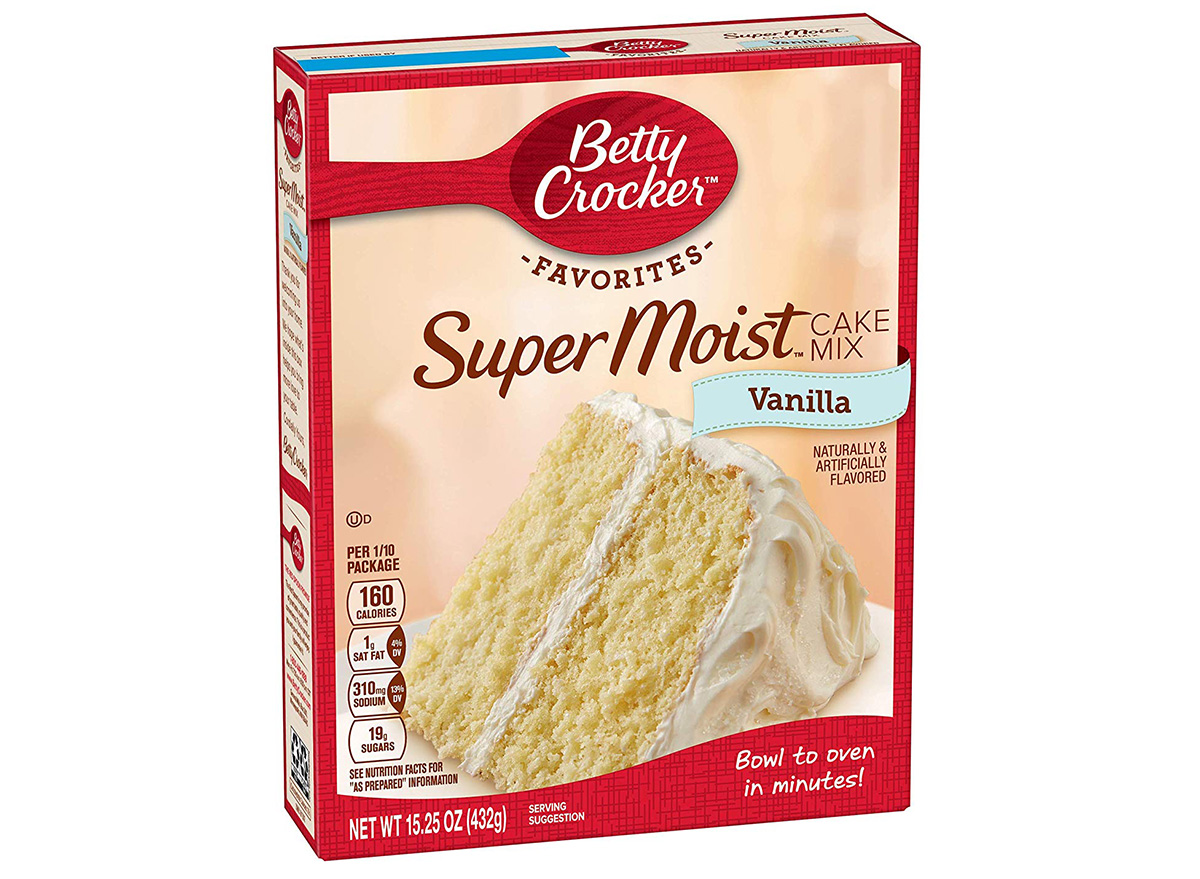 Betty Crocker is an iconic brand for a reason—the brand makes so many iconic snacks and baking mixes. For a special snack for one, try one of the label's Mug Treats, which give you all the deliciousness of cake, minus the baking process.
We're talking about the chocolate brand, not the soap! Dove's individually wrapped bite-size candies and chocolate bars are the perfect snacks to satisfy your sweet tooth.
Is there anything better than a Nestlé Toll House cookie? The iconic brand is one of the most popular snack labels in the country, and for good reason. The brand even won our store-bought cookie dough taste test, to no one's surprise.
If you love eating cereal as a snack, you'll be thrilled to see Kellogg's on this list. From Special K to Frosted Flakes, Kellogg's makes so many iconic options.
The makers of so many iconic baking products, Pillsbury dominates the markets of boxed mixes and refrigerated cookie dough. Anything the little doughboy touches is guaranteed to be good.
Yes, we've already listed Fritos (and Lay's chips are still to come), but Frito-Lay deserves recognition as a brand in its own right. In addition to Fritos and Lay's chips, Frito-Lay makes Cheetos, Doritos, Ruffles, Sun Chips, Tostitos, Funyuns, Rold Gold pretzels, and more.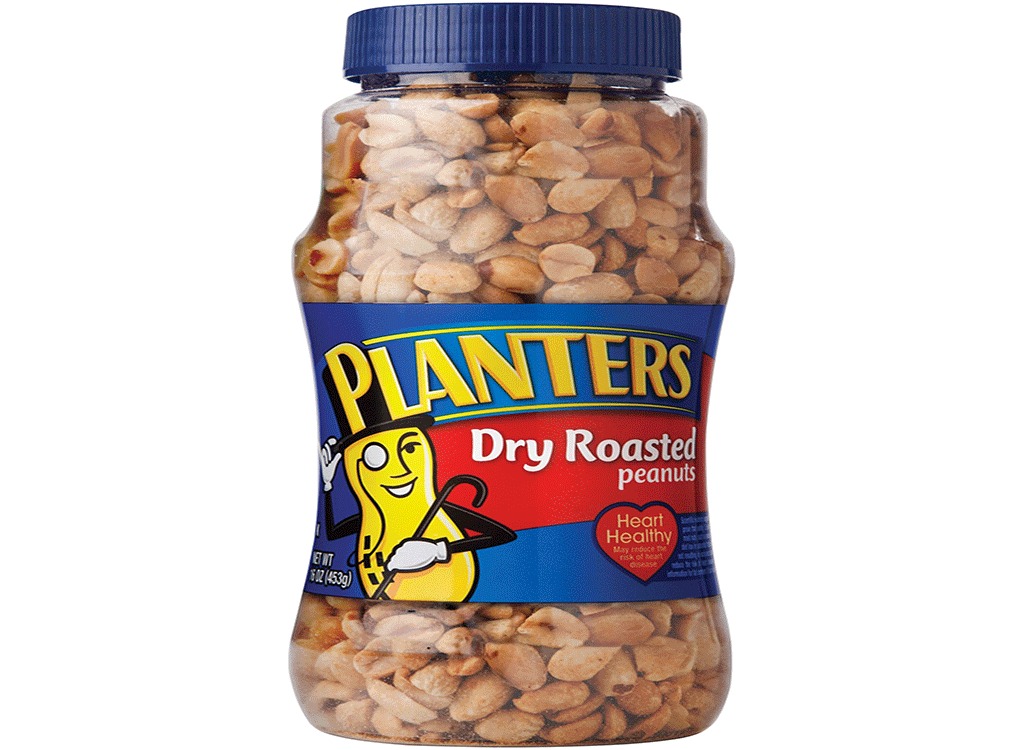 Mr. Peanut is dead, but his memory lives on in the iconic Planters snacks. Try one of the trail mix options, or go with a classic like dry-roasted peanuts.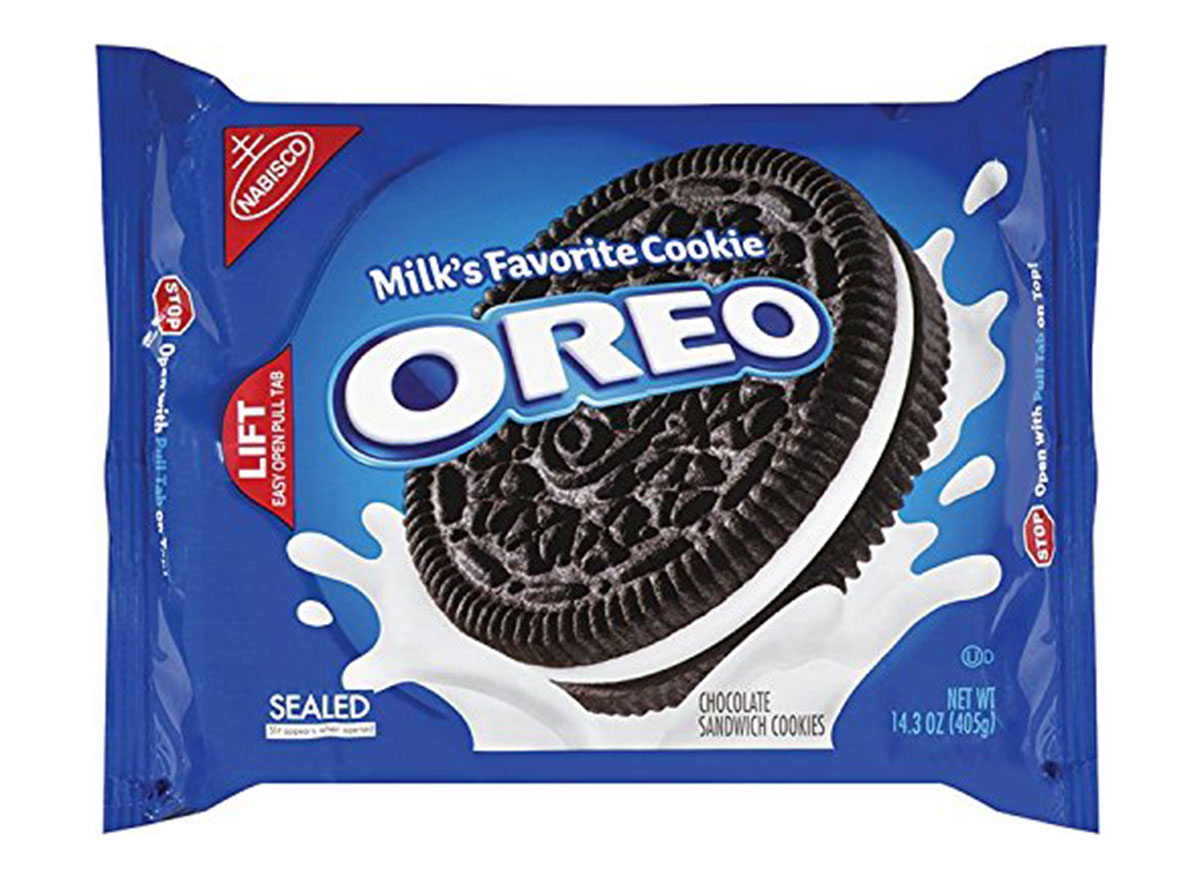 Creme slathered between two chocolate cookies is perhaps one of the most satisfying food items to dunk in a cold glass of milk. The Oreo cookie has been on the shelves since 1912, and in 2016, the product accumulated more than $2 billion in global annual revenue—the most of any cookie company that year.
Lay's Classic Potato Chips are crispy and have enough salty goodness—but not too much—to keep you coming back for more. Perhaps you have fond memories of munching on this staple salty snack at school basketball or football games?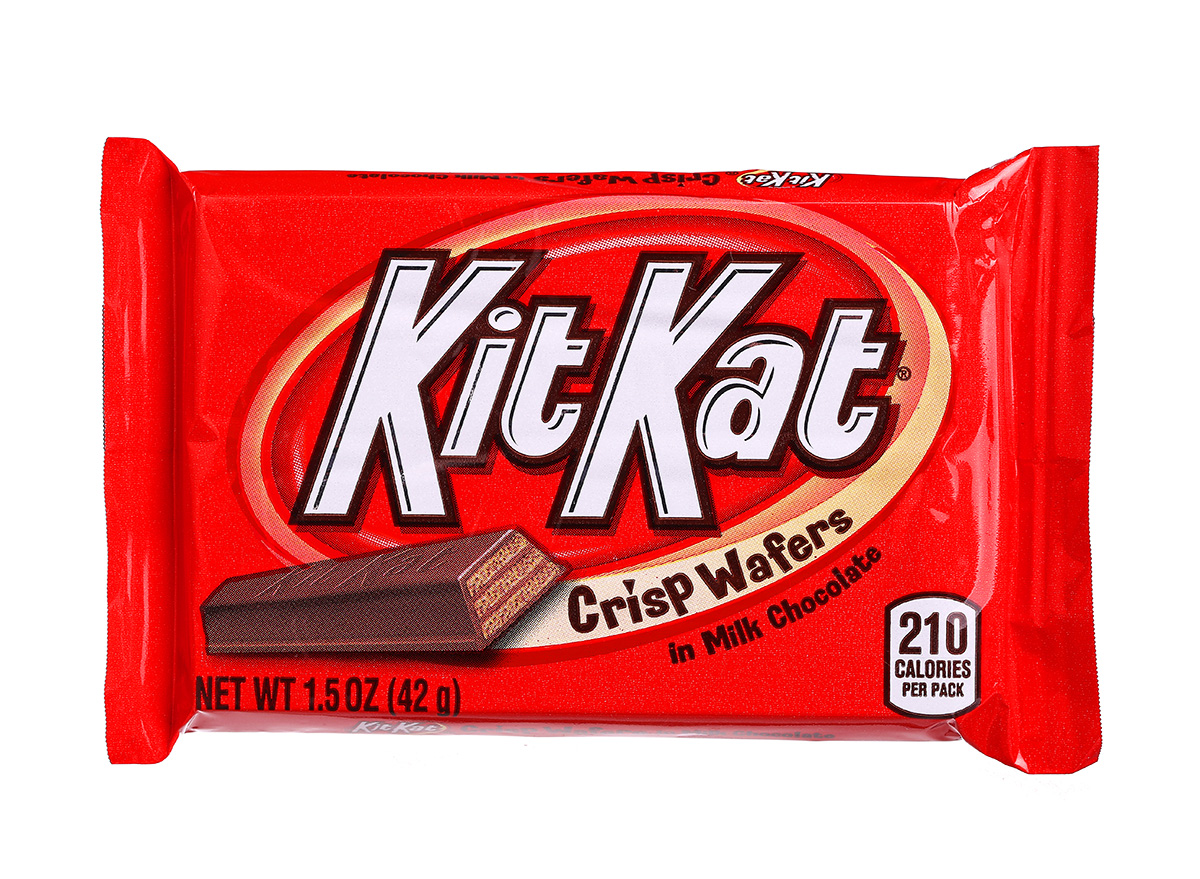 Manufactured by The Hershey Company, Kit Kat bars are a chocolate lover's delight. The satisfying crunch when you break them apart—what's not to love about this classic candy?
Whether you're a fan of the peanut butter or the cheese versions, Ritz crackers will never let you down. The perfect amount of salt, the buttery taste—pair the plain ones with Jif and you're good to go.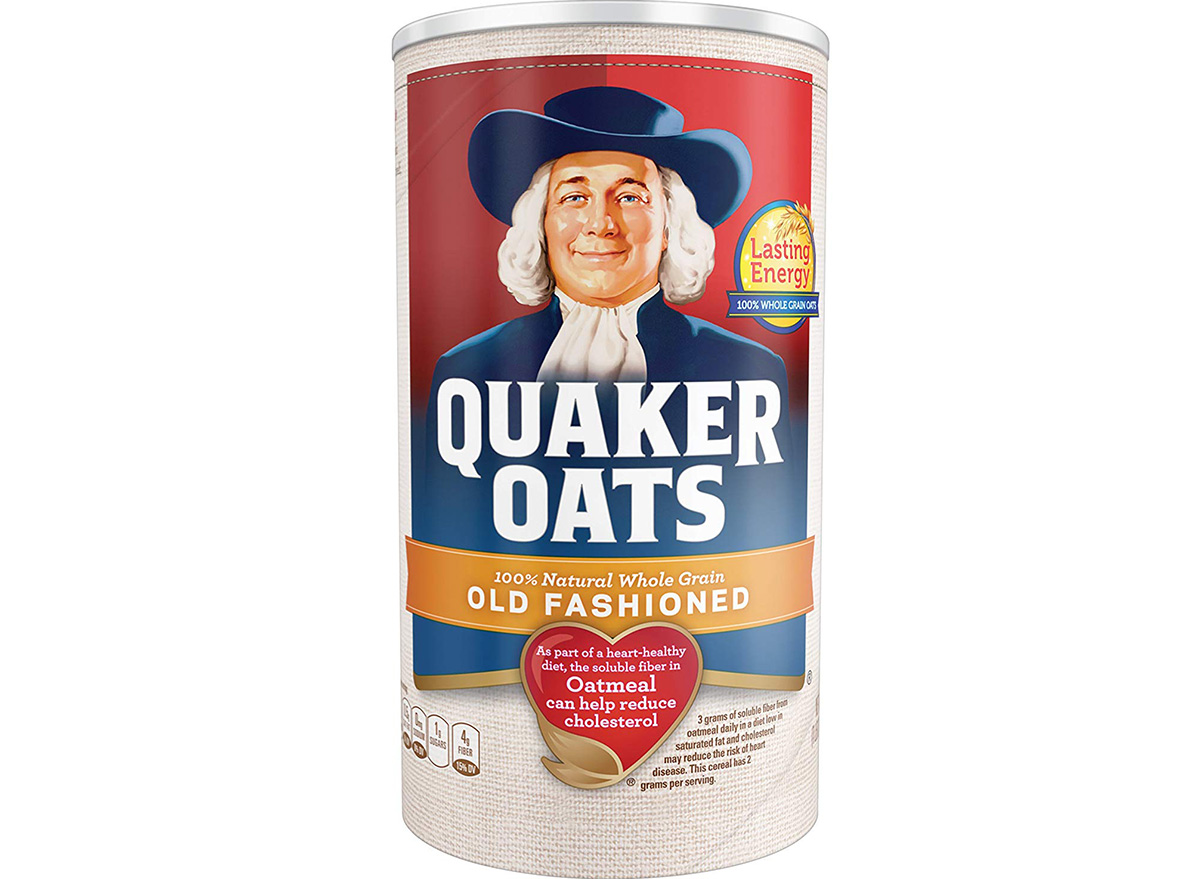 Quaker is a household staple, and for good reason. From breakfast to your afternoon snack, Quaker is there for you. Who can resist their instant oats?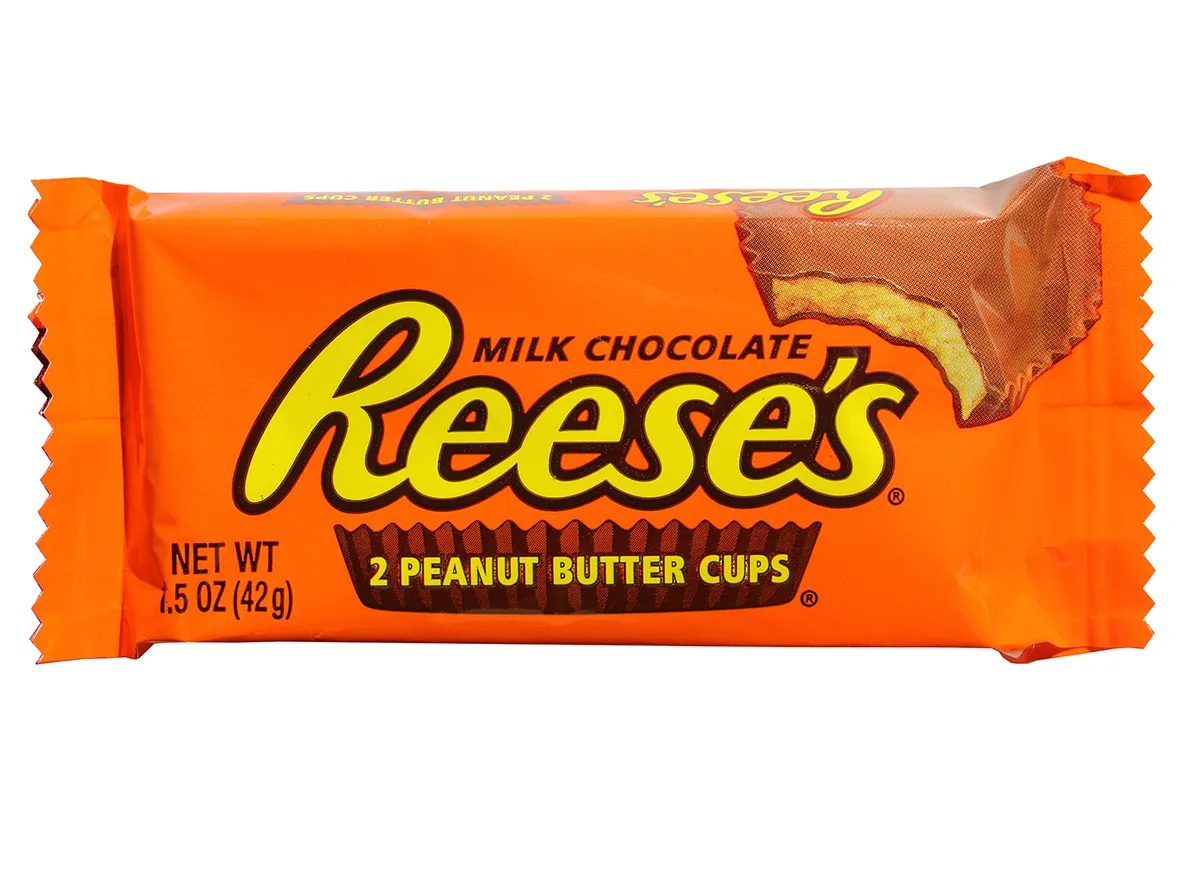 Reese's and Reese's Peanut Butter Cups each earned a spot in the YouGov top five. Whether you're a fan of the original cups or you're partial to Reese's Pieces, the combination of peanut butter and chocolate is hard to beat.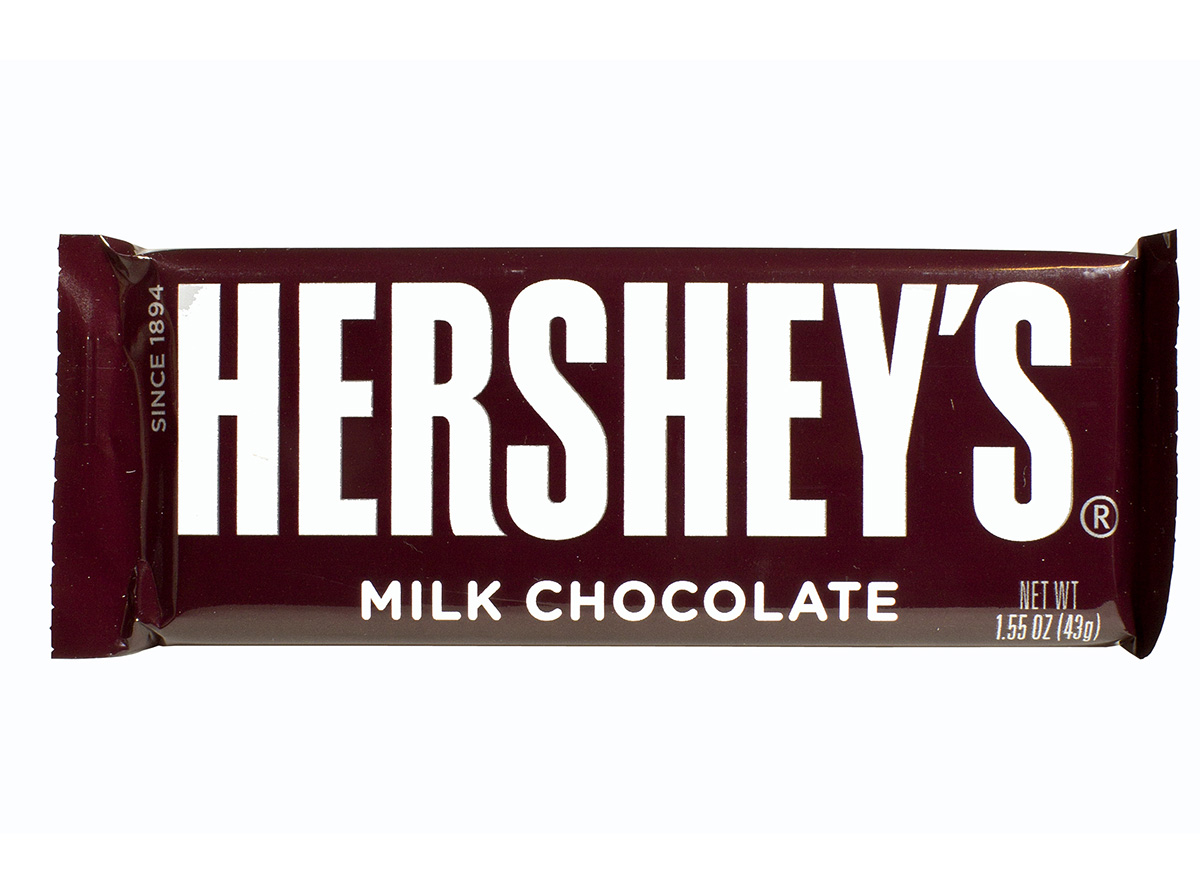 Hershey's and Hershey's Kisses each earned entries on YouGov's top five snack food brands list. The classic Hershey's bar brings back memories of s'mores and camping, while the kisses are a sweet way to add a bite of chocolate to your day. Who could say no to this sweet treat?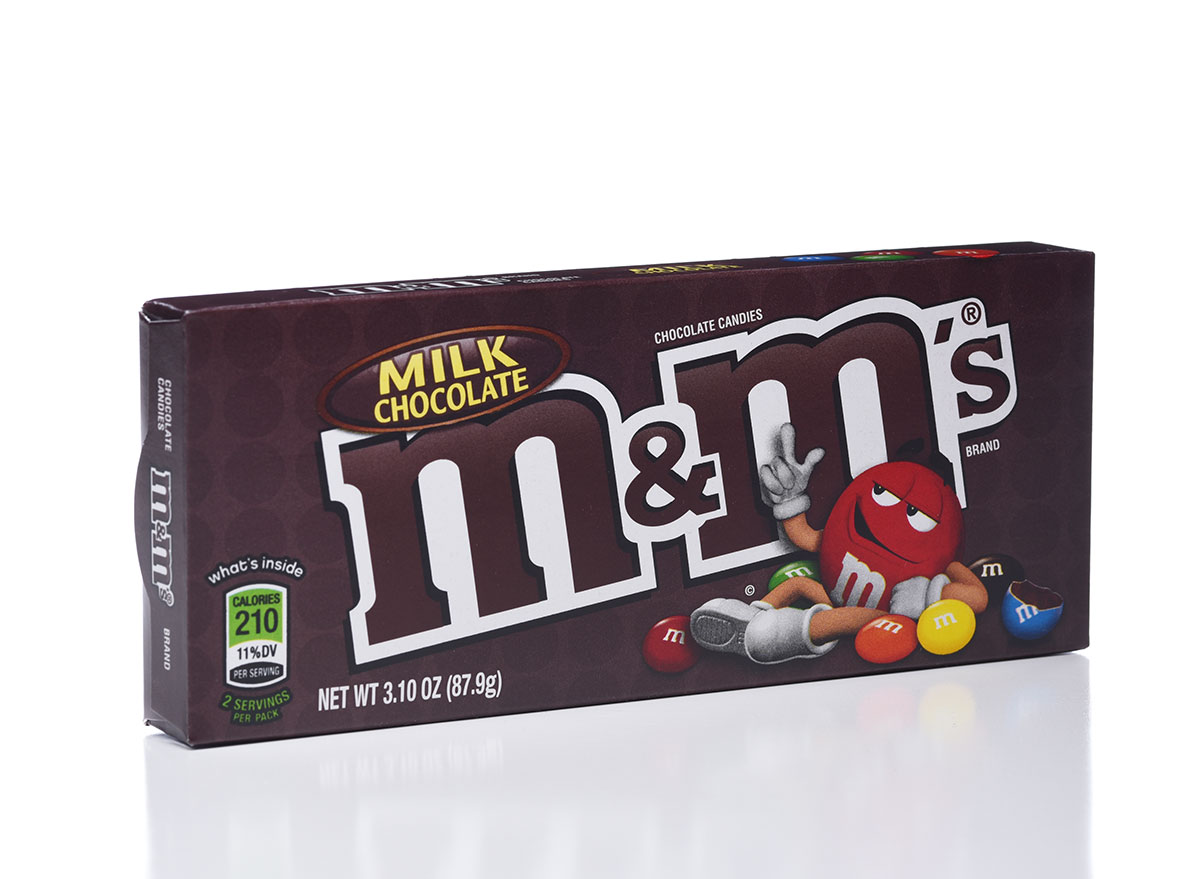 From peanut M&M's to M&M's minis and every flavor in between, this treat is one of the most iconic snacks out there. It's no surprise these little balls of chocolatey goodness topped YouGov's list!
Cheyenne Buckingham is the news editor of <Eat This, Not That!, specializing in food and drink coverage, and breaking down the science behind the latest health studies and information.
Read more