20 Coconut Oil Recipes That Will Shrink Your Waist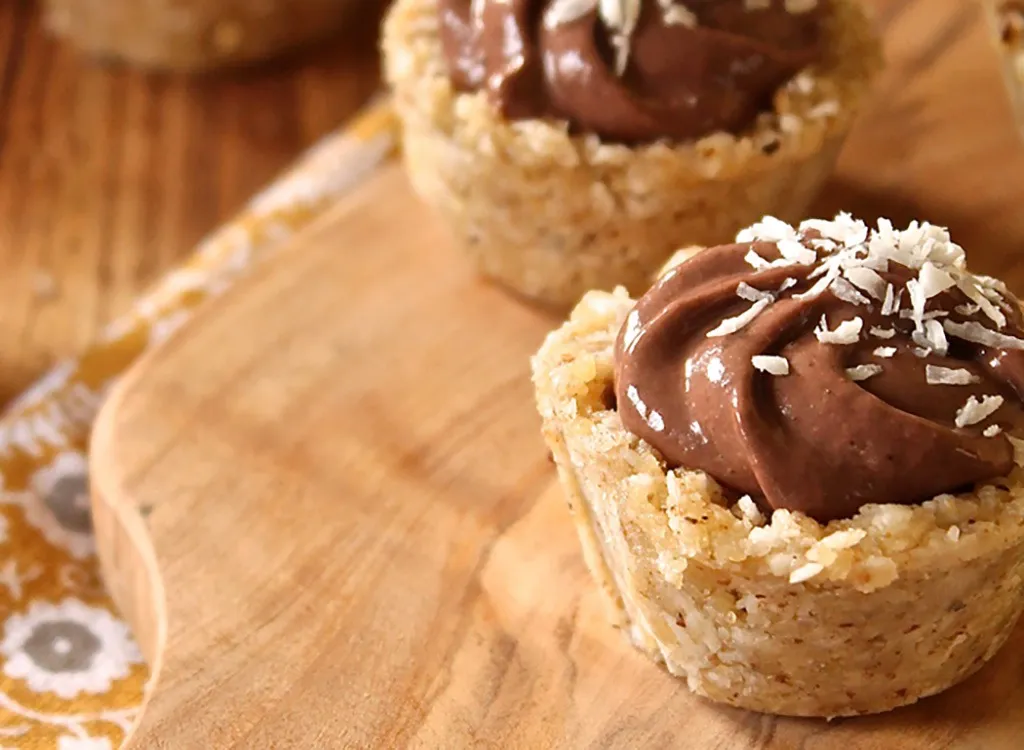 While many superfoods have an understudy eagerly waiting to fill any nutritional voids, coconut oil does not. When it comes to the benefits of coconut oil though, this nutrient powerhouse does everything from shrink your waist and curb your appetite to protect your organs and preventing Alzheimer's. It simply cannot be replaced. Period.
And when it comes to whittling your waist, no other fat has more pull, thanks to lauric acid, a medium-chain saturated fat that converts into energy, ultimately aiding weight loss. If you haven't already been turned coconutty, you're about to be, thanks to these 20 benefits of coconut oil and coconut oil recipes that we've curated for your health-boosting pleasure. See which one you want to try first (and second and third and fourth…) and try a tiny spoonful in your coffee if you want to get started ASAP. Speaking of coffee, discover the good, the bad, and the shaky with our exclusive report on 35 Things You Don't Know About Caffeine!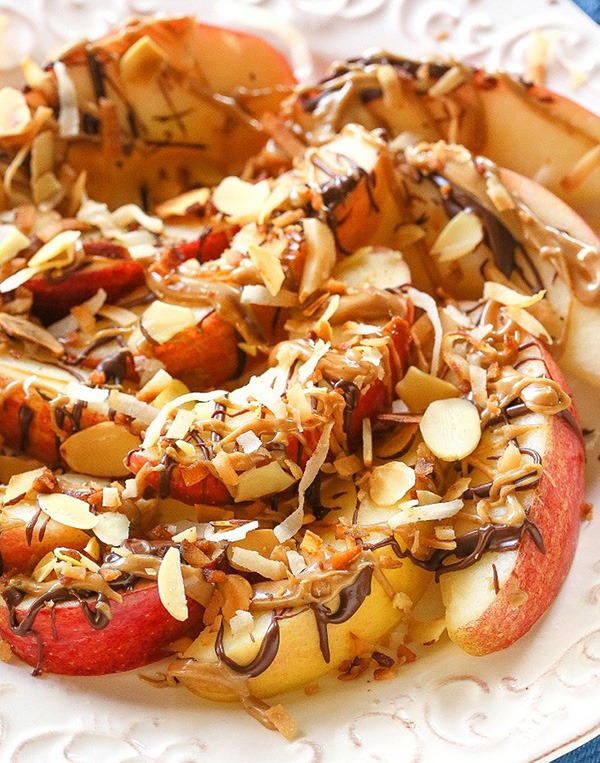 Nutrition: 296 calories, 21.9 g fat (14.7 g saturated), 118 mg sodium, 26 g carbs, 4 g fiber, 15 g sugar, 3.1 g protein (calculated with ¼ cup honey)
You've probably experienced the divine duo of peanut butter and apple, but a third party has arrived and no one is obliging. Along with the many slimming benefits of consuming fibrous apples and satiating peanut butter, chocolate fits right in. In fact, according to a study published in the Journal of Proteome Research, consuming small amounts of chocolate every day can reduce stress, an overwhelming trigger for weight gain. If you're bored with your workouts or not into the diet you've been trying to do, check out these 35 Fun Ways to Lose Weight!
Get the recipe from The Girl Who Ate Everything.
BROWN SUGAR SRIRACHA SESAME POPCORN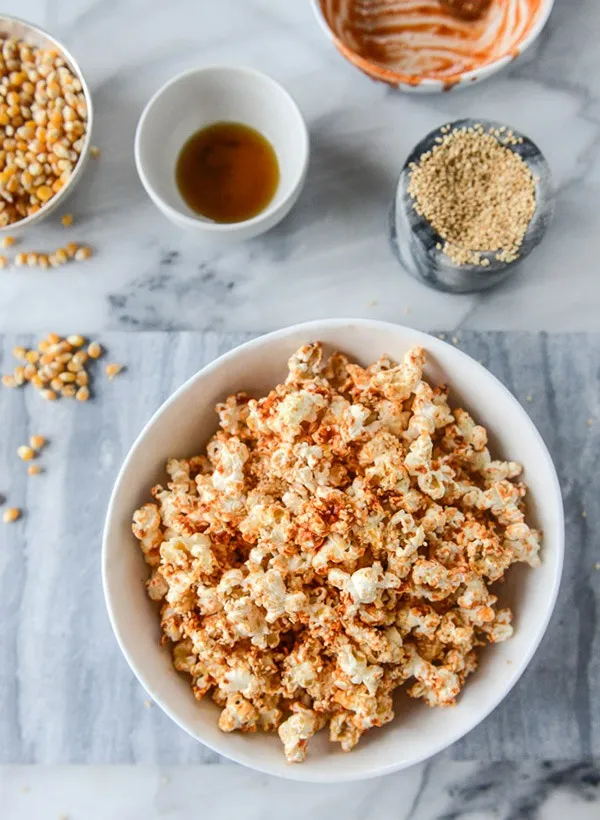 Nutrition: 274 calories, 24 g fat (11.2 g saturated), 148 mg sodium, 14.5 g carbs, 1.7 g fiber, 5.2 g sugar, 5.2 g protein
Netflix and chew? We get it. Luckily, sriracha—the compound that gives chilies their mouth-watering kick—is a fat-demolishing king. And it doesn't take much. Researchers at Purdue University found just 1 gram of red pepper (about 1/2 a teaspoon) is enough to help suppress appetite and increase the post-meal caloric burn. Combine it with a little sweetness (we're talking 5.2 grams of sugar per serving) and you've got yourself one waist-whittling dessert.
Get the recipe from How Sweet Eats.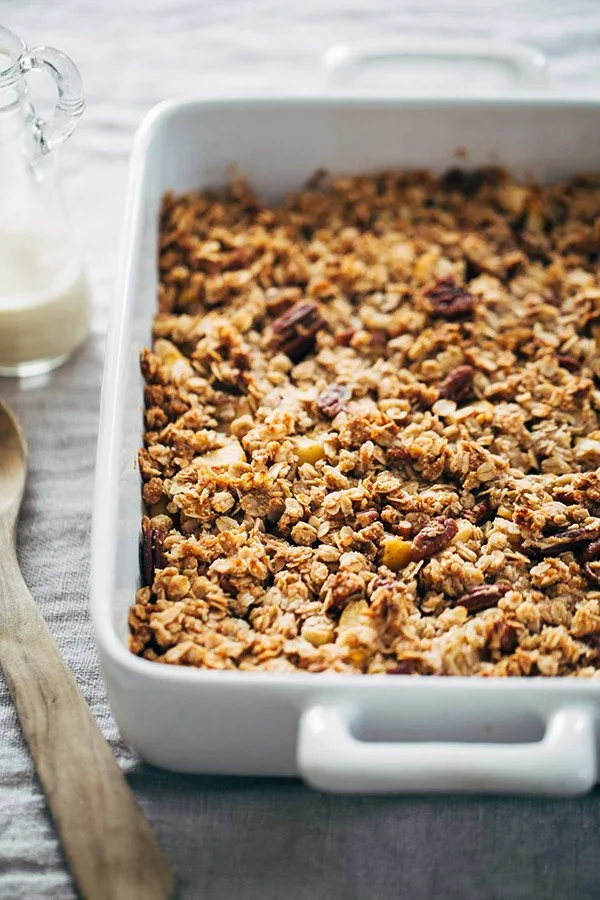 Nutrition: 372 calories, 27.3 g fat (17 g saturated), 118 mg sodium, 33.4 g carbs, 4.3 g fiber, 22.1 g sugar, 4 g protein
Just because fall is behind us doesn't mean you can't reap the benefits of coconut oil year round with seasonal dishes like this Coconut Oil Apple Crisp. It's filling, wholesome and packed with weight loss superfoods. In fact, a study at Penn State University found that snacking on an apple before a meal can reduce overall calorie consumption by 15 percent, making this dish the perfect afternoon treat. As if that wasn't enough, studies indicated cinnamon is a contributor to reducing cholesterol and stabilizing blood sugar and insulin levels, two major factors in combating obesity-related disorders.
Get the recipe from Pinch of Yum.
NO BAKE TOASTED COCONUT BARS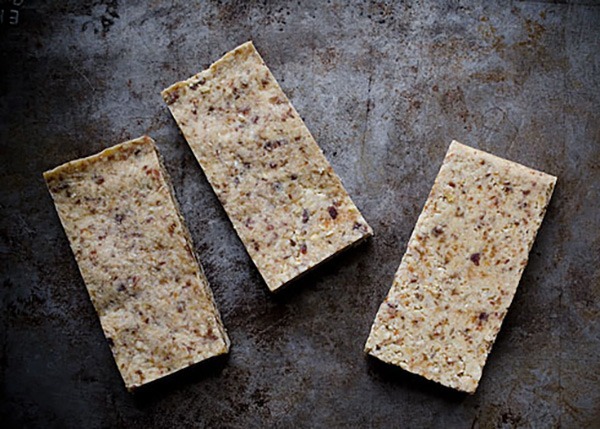 Nutrition: 340 calories, 30.7 g fat (19.9 g saturated), 14 mg sodium, 15.5 g carbs, 6 g fiber, 3.2 g sugar. 5.6 g protein (calculated without salt)
Skip the processed, sugar laden bars at the supermarket and make these instead. Not only do they require minimal effort (no oven involved here), but along with their plethora of coconutty benefits, they're also rich in monounsaturated fats, which studies indicate can help reduce triglyceride levels in conjunction with a reduced fat diet. Cashews are one of many nutty sources of the flab-blasting fats, and always have a place in your lineup of healthy snack ideas.
Get the recipe from Savory Simple.
Nutrition: 318 calories 17.1 g fat (12 g saturated), 83 mg sodium, 37 g carbs, 3 g fiber, 12 g sugar, 5 g protein
This bread is both gluten and dairy free. And one of its key ingredients is flax seed, a vegan complete protein source, containing all nine essential amino acids. The seeds are also rich in fiber and associated with reduced risk for heart disease, obesity, and metabolic syndrome. Not a staple in your diet? This recipe is the perfect excuse to add them and enjoy all the benefits of coconut oil at the same time. Love banana bread? Then don't miss tese 20 Healthy Banana Bread Recipes!
Get the recipe from Sassy Kitchen.
COCONUT BEEF BROCCOLI RICE BOWLS
Nutrition: 564 calories, 31.2 g fat (23.5 g saturated), 268 mg sodium, 45.6 g carbs, 4.1 g fiber, 4.5 g sugars. 27.6 g protein (calculated with unsweetened coconut milk)
Guilty of saving the local Chinese take out restaurant in your contacts? We've got a dish for you that it won't leave you parched and bloated, but will help you reap the benefits of coconut oil. An order of Beef and Broccoli from P.F. Chang's contains 3,210 milligrams of sodium. That's nearly a day and a half's worth! And we doubt they are using grass-fed beef, but if you're whipping up this dish you should be. Not only is it naturally leaner and contains fewer calories than conventional meat, but it's got omega-3 fatty acids, which studies indicate can ward off heart disease.
Get the recipe from Love and Olive Oil.
PISTACHIO COCONUT ICE CREAM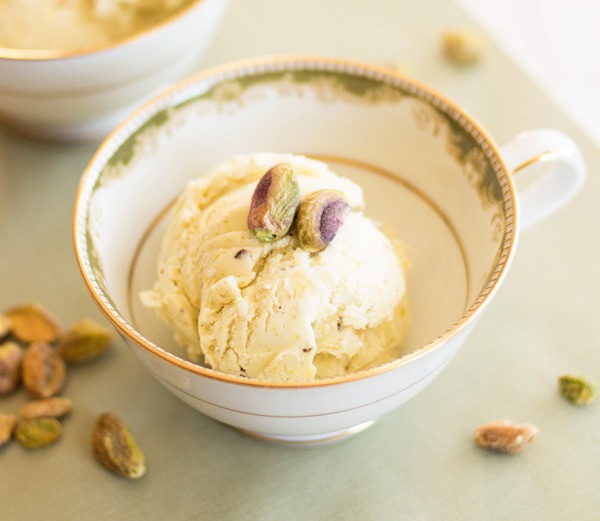 Nutrition: 255 calories, 14.7 g fat (8.5 g saturated), 162 mg sodium, 20.8 g carbs, 2 g fiber, 14.6 g sugars, 13.7 g protein (calculated with greek yogurt in place of cream and stevia)
Ditch the Ben and Jerry's and save yourself over 50 calories, 6 grams of fat and 5 grams of sugar. Plus, this version contains more than double the protein. The best part: Researchers at the UCLA Center for Human Nutrition found that pistachios have the power to reduce BMI. But if you're looking to shed a few pounds, Ben and Jerry's might not be the only break up you'll want to consider. Check out these 40 Bad Habits That Lead to a Fat Belly.
Get the recipe from Love From The Oven.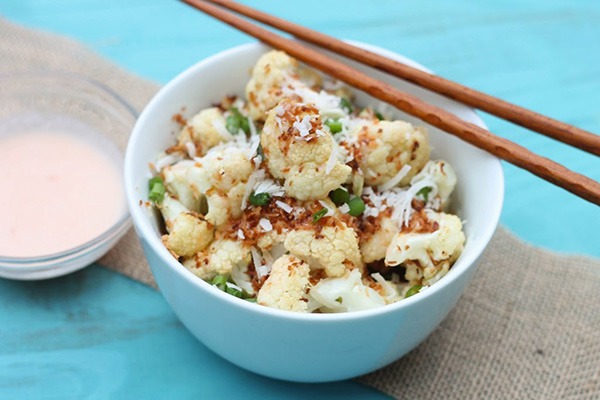 Nutrition: 246 calories, 18.3 g fat (15.8 g saturated), 50 mg sodium, 21 g carbs, 4 g fiber, 15.6 g sugar, 3.3 g protein
Bored with the same old steamed broccoli? Whip up this instead. Sriracha, probiotic-rich greek yogurt, fat-blasting coconut cover these florets. What's more? The cruciferous veggie is filled with phytochemicals that fight off body fat storage. Just keep it light with the honey. While it may be a natural source of sugar, eating too much of it can still contribute to weight gain, just like refined sugar and high-fructose corn syrup.
Get the recipe from That's So Michelle.
Nutrition: 386 calories, 29.6 g fat (10.7 g saturated), 12 mg sodium. 27.1 g carbs, 6.2 g fiber, 7.8 g sugar, 7.7 g protein
Cake and granola? This may be the only time we'll ever advise you to eat cake for breakfast
However, this dish is a far cry from your typical slice. Full of heart-healthy nuts, insulin-moderating cinnamon, and fibrous grains, this granola is the perfect addition to any yogurt parfait. For more diet friendly breakfast ideas, check out these
50 Best Breakfast Foods for Weight Loss—Ranked.
Get the recipe from To Her Core.
Nutrition: 343 calories, 26.5 g fat (22.1 g saturated), 28.4 g carbs, 5.6 g fiber, 10 g sugar, 4.3 g protein
Thin Mint lovers rejoice! We've found a recipe that's void of the harmful processed stuff, vegan and contains six grams of belly slimming fiber per serving (the Girl Scout version contains just one gram). Need we say more?
Get the recipe from One Ingredient Chef.
LEMON COCONUT LENTIL SOUP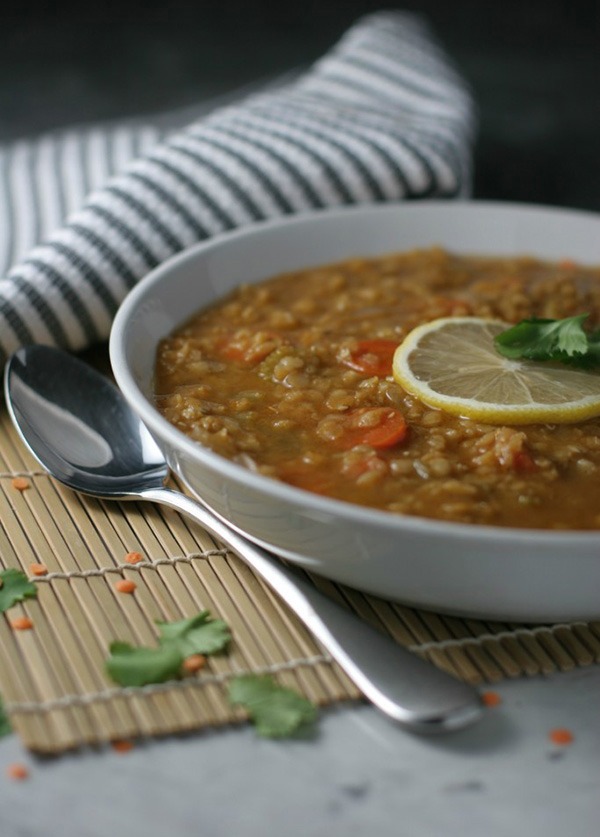 Nutrition: 250 calories, 6.5 g fat (5.1 g saturated), 226 mg sodium, 36 g carbs, 16 g fiber, 4 g sugar, 13.4 g protein
Low in calories, fat, and sugar, but rich in fiber and protein, this lentil soup is one serious weight loss weapon. Lentils are a resistant starch or a starch that resists digestion, triggering the release of acetate—a molecule in the gut that tell us we're full. In fact, clinical trials have found that people who ate a daily serving of lentils (about 3/4 cup) felt an average 31 percent fuller compared to a control diet.
Get the recipe from Begin Within Nutrition.
BLUEBERRY SCONES WITH ROSEMARY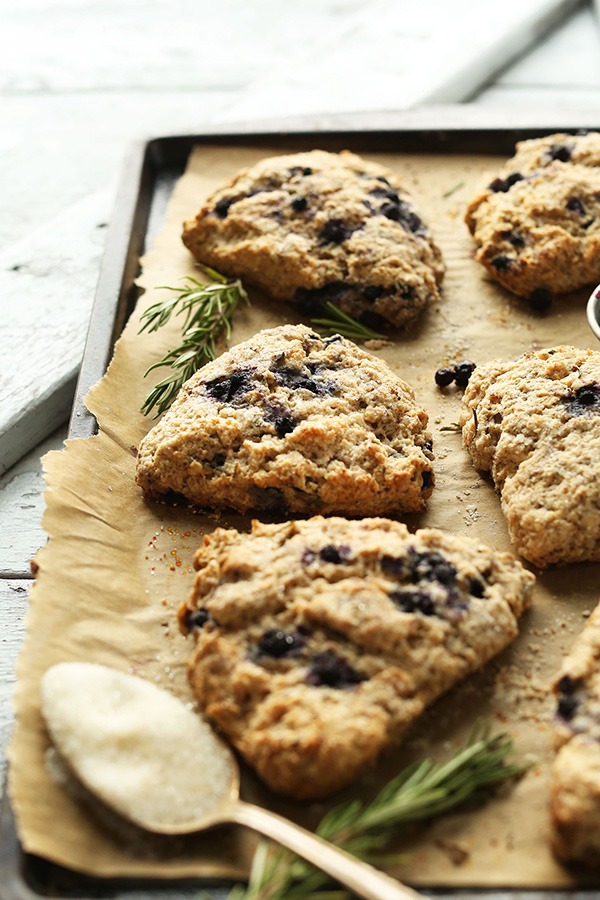 Nutrition: 334 calories, 16.5 g fat (13.2 g saturated), 321 mg sodium, 42.9 g carb, 3.4 g fiber, 8.9 g sugar, 5.4 g protein (calculated without salt)
Although scones tend to be nutrient void and full of excess calories, carbs, and sugars, this recipe contains multiple superfoods including flax, coconut oil, blueberries and rosemary. In fact, health experts claim that the anti-inflammatory herb aids in digestion, immunity, and circulation.
Get the recipe from Minimalost Baker.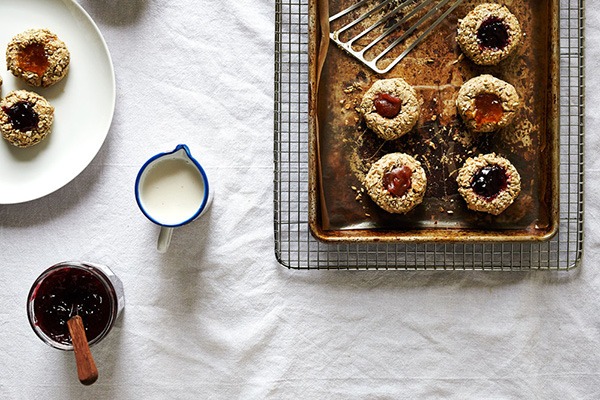 Nutrition: 270 calories, 12.7 g fat (5.8 g saturated), 118 mg sodium, 35.4 g carbs, 3.5 g fiber, 21 g sugar, 5 g protein
These chestnut cookies are composed of 10 wholesome ingredients, one of which is sunflower seeds. According to Stephanie Middleberg, MS, RD, CDN, these tiny seeds "provide even more fiber, magnesium and vitamin E than traditional nut butters." They're also a "wonderful source of protein, vitamin E, B vitamins, folic acid and selenium," she explains. Selenium is also found in Brazil nuts, one of the 25 Best Foods to Eat for Your Thyroid and Metabolism.
Get the recipe from Sassy Kitchen.
BALSAMIC KALE CHICKEN SAUSAGE PIZZA
Nutrition: 292 calories, 6.5 g fat (2.8 g saturated), 535 mg sodium, 40.5 g carbs, 4.3 g fiber, 2.5 g sugar, 20 g protein
Kale contains two days worth of vitamin A and nearly seven days worth of vitamin K (684%), and it pairs flawlessly with protein-boasting chicken sausage. With 20 grams of protein and less than 7 grams of fat per serving, this is one pie that will fill you up without filling you out.
Get the recipe from Real Food By Dad.
PALEO GREEN BEAN CASSEROLE
Nutrition: 125 calories, 3 g fat (2.1 g saturated), 19 mg sodium, 22 g carbs, 8.3 g fiber, 4.8 g sugar, 6.5 g protein
It doesn't get more diet friendly than this Paleo Green Bean Casserole. Not to mention, it's rich in Vitamins A, C, and K, and belly-slimming fiber. Pair it with one of these 29 Best-Ever Proteins for Weight Loss.
Get the recipe from Pinch of Yum .
APPLE CINNAMON OATMEAL CUPS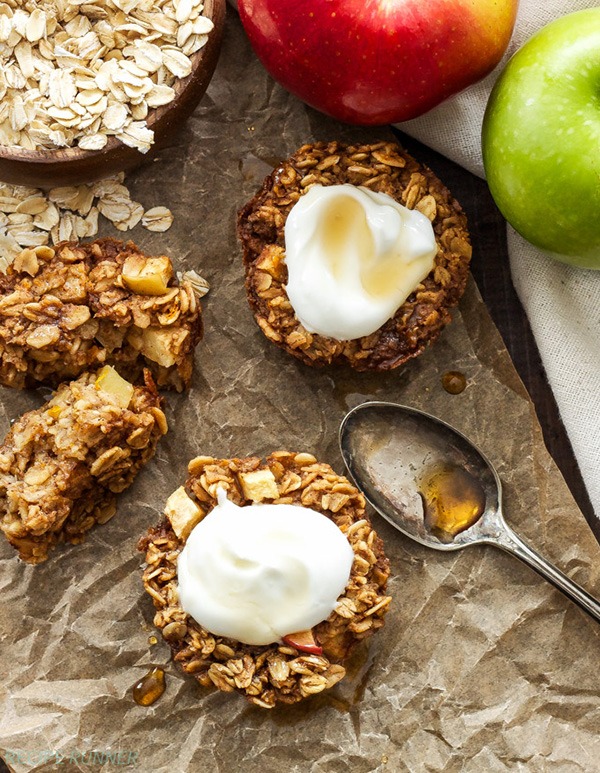 6254a4d1642c605c54bf1cab17d50f1e
Nutrition: 98 calories, 2.8 g fat (1.3 g saturated), 120 mg sodium, 16.3 g carbs, 2 g fiber, 6.2 g sugar, 2.4 g protein
Take the hassle out of breakfast with these Apple Cinnamon Oatmeal Cups. They're easy to prepare ahead of time, gluten-free, low calorie and made with wholesome ingredients.
Get the recipe from Recipe Runner.
RAW COCONUT BANANA CREAM PIE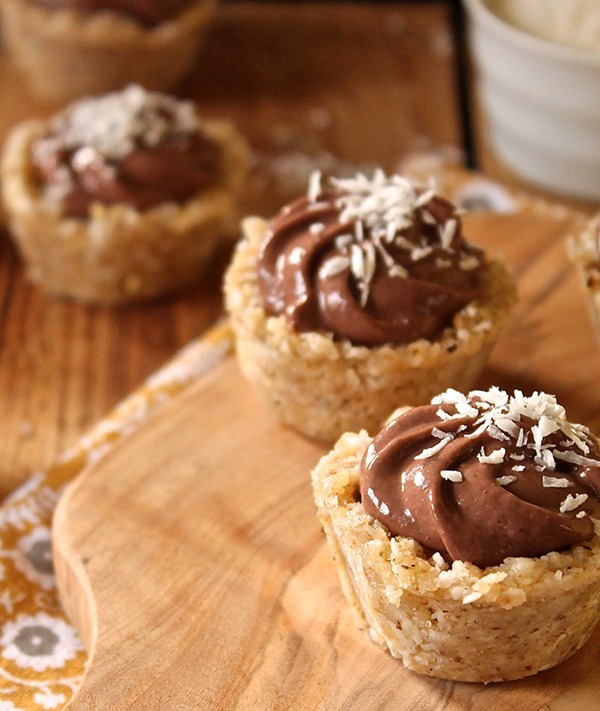 Nutrition: 242 calories, 18.7 g fat (7 g saturated), 32 mg sodium, 4.3 g fiber, 5.8 g sugar, 5.6 g protein
Mini cream pies might not be the best post workout fuel…but they do contain the ultimate fitness food: bananas.The yellow fruit boasts both glucose, which your body easily digests into energy, and potassium, an electrolyte that wards off post-pump muscle cramps and dizziness. If you're going to live dangerously and consume these post workout, limit yourself to one serving.
Get the recipe from My Darling Vegan.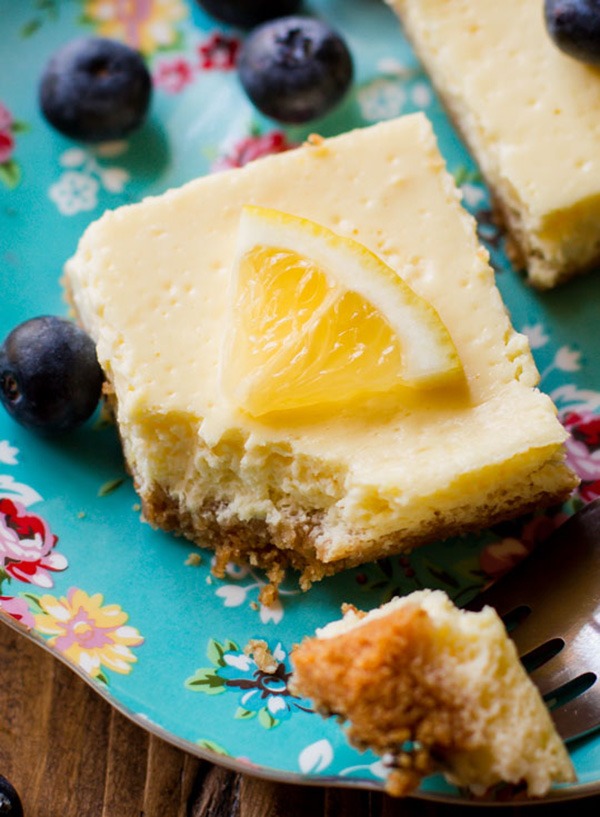 Nutrition: 106 calories, 4.3 g fat (2.6 g saturated), 78 mg sodium, 12.4 g carbs, 0 g fiber, 7.7 g sugar, 4.6 g protein (calculated with coconut oil)
When it comes to weight loss, fat burning and fitness fuel, few foods are more powerful than greek yogurt. Rich in protein, vitamin D, probiotics and vitamin C. And to discover how to get a washboard stomach in just 5 weeks, don't miss this essential list of the 5 Best-Ever Foods for Abs—Guaranteed!
Get the recipe from Sally's Baking Addiction.
Nutrition: 276 calories, 16.7 g fat (14 g saturated), 95 mg sodium, 30.2 g carbs, 3.4 g fiber, 13.3 g sugar, 5 g protein
Looking to boost the nutrition in your daily bread? Try making this zucchini bread. Similar ingenious duo as carrot cake, this whole grain bread is full of energy-boosting carbs and waist-whittling fats. Go ahead, have a slice.
Get the recipe from Fit Foodie Finds.
HONEY ROASTED ALMOND BUTTER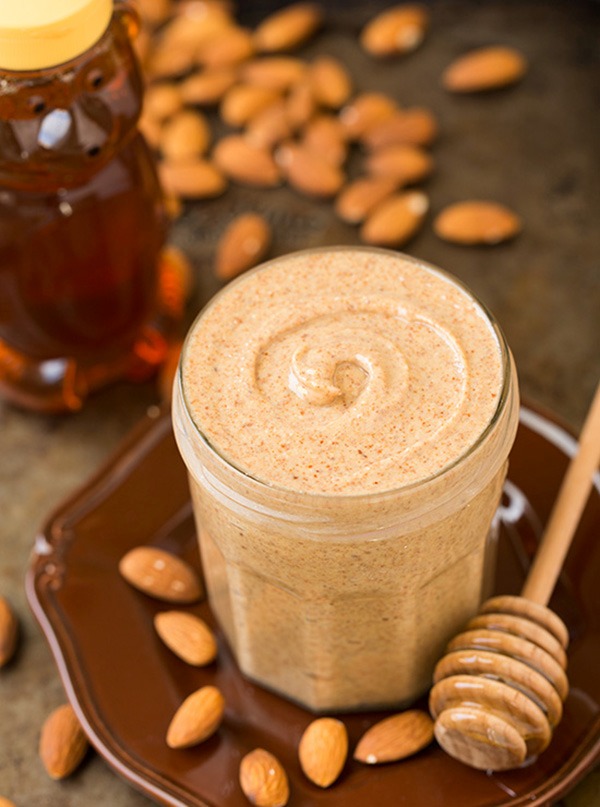 Nutrition: 168 calories, 13.6 g fat (2.4 g saturated), 9.4 g carbs, 3 g fiber, 5.3 g sugar, 5 g protein
Almond butter gets just as much praise in the health and fitness world as kale—and for good reason. It's rich in heart-healthy monounsaturated fats, as well as riboflavin, magnesium, manganese and vitamin E. These nutrients play a vital role in everything from muscle recovery and bone health to metabolic activity. Better yet, you can slash some calories and save a few bucks by making your own (it's a little pricey).
Get the recipe from Cooking Classy.
Eat This, Not That!
Inspired by The New York Times best-selling book series, Eat This, Not That! is a brand that's comprised of an award-winning team of journalists and board-certified experts, doctors, nutritionists, chefs, personal trainers, and dietitians who work together to bring you accurate, timely, informative, and actionable content on food, nutrition, dieting, weight loss, health, wellness, and more.
Read more about Eat This