7 Recipes for Congee, Your New Favorite Rice Bowl
Think of it as a cross between a grain bowl and porridge.
Rice is a culinary staple around the world, and there's an above-average chance you have it in your pantry right this second. The next time you reach for it though, try your hand at congee, a light rice porridge that's popular across Asia. It can be eaten around the clock—think of it as a bowl of oatmeal that you can customize to your liking, in both sweet and savory ways. It's a great way to use up whatever leftover meats, vegetables, or sauces you have. Or just eat it without toppings as a neutral side dish.
How is congee made
It's a dish best cooked low and slow, in which the grains of rice practically melt down into creamy, viscous comfort food as the starch from the rice disintegrates into the cooking liquid. Your instant pot or slow cooker are great tools for a set-it-and-forget-it congee.
Is congee healthy?
Since congee is made of rice, it's good for anyone who's on a gluten-free diet. And while the base itself is rice and therefore a carbohydrate, it's what you put in it that matters—as is the case with overnight oats and grain bowls. When you load your congee up with ingredients like lean animal protein or tofu, vegetables, fresh herbs, and a runny egg, it's a well-rounded meal. You can also use brown rice for added nutrients.
Is it a good sick food?
Congee's benefits go beyond those of the purely physical type, offering emotional support as well. It has long been a go-to dish for both those who are sick and for small children, because in addition to being delicious and soul-hugging, it's easily digestible. But no matter your state of health—or your age—congee is a solid choice.
Our favorite congee recipes
Try one (or all) of these recipes, and you'll be a congee convert in no time.
Brown Rice Congee with Chicken, Edamame, and Crispy Mushrooms
Variety is both the spice of life and the key to this congee, which uses both long-grain brown and short-grain white rice. The two combine for a base that's creamy in texture and nutty in flavor, and ready to be piled up with a variety of mushrooms, chicken, edamame, and soy sauce.6254a4d1642c605c54bf1cab17d50f1e
Get our recipe for Brown Rice Congee with Chicken, Edamame, and Crispy Mushrooms.
Instant Pot Chicken Congee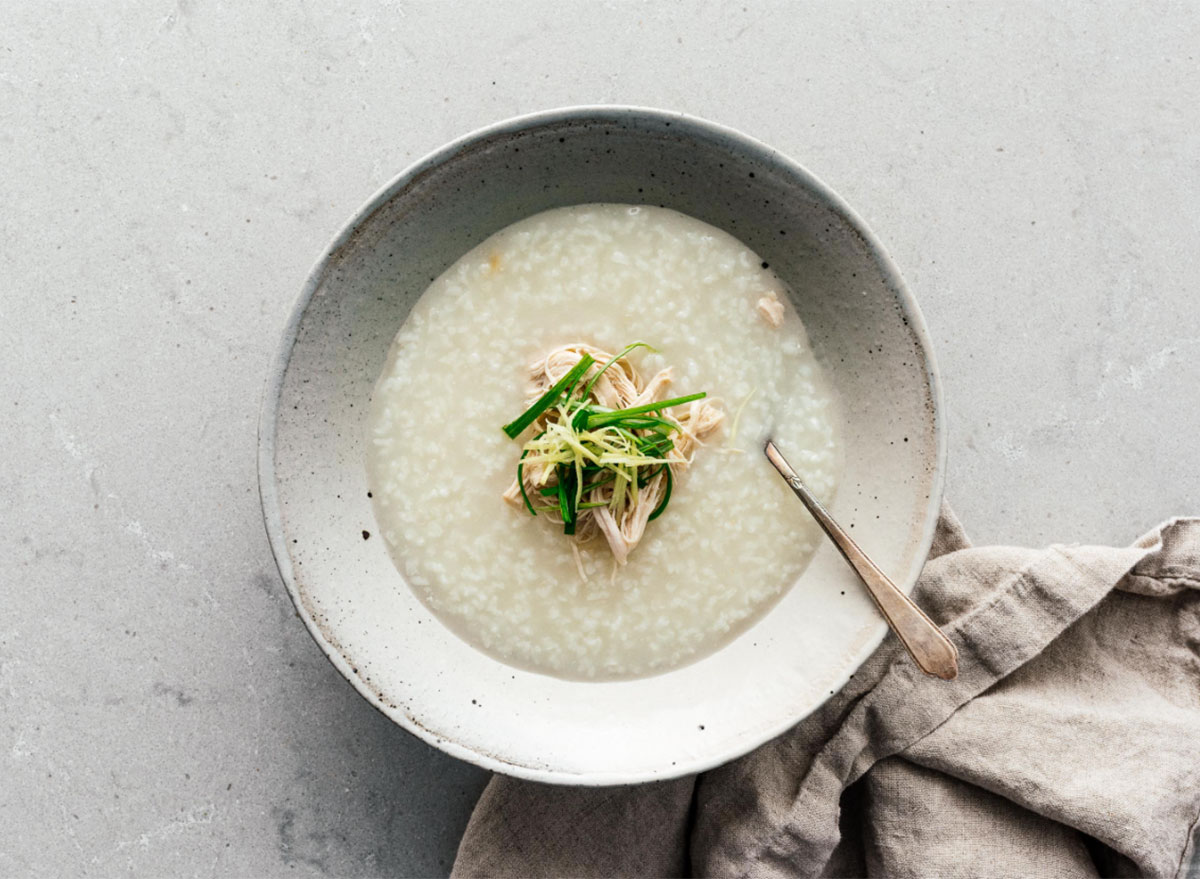 Like many low-and-slow dishes, congee can be cooked in an instant pot, solving for the times where you just don't want to wait to get your food hug. Once you try this chicken stock–based version, you'll understand exactly what the "porridge" button on your device was made for.
Get the recipe from i am a food blog.
Slow Cooker Congee with Jammy Eggs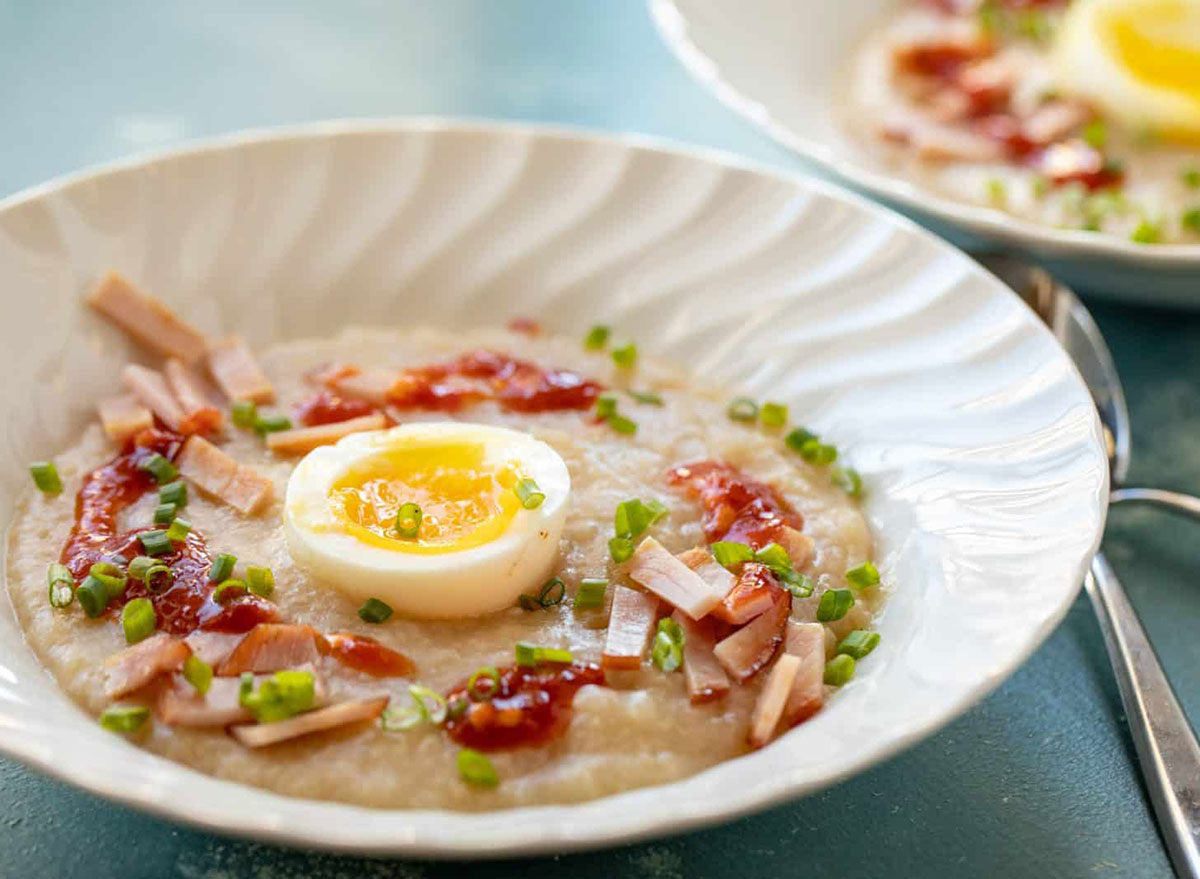 On the other end of the timing spectrum, you can also break out your slow cooker for congee. Set everything up before you go to bed, then wake up to a breakfast of porridge topped with all the usual morning suspects: eggs, crispy bacon, and hot sauce.
Get the recipe from Macheesmo.
Congee with Crispy Chicken Skin
Chicken skin chips are the new potato chips, and let this recipe be the proof. The crispy bits add texture to the creamy bowl of congee, and the end result is a deeply flavored bowl that'll surprise you with how few ingredients are needed.
Get the recipe from i am a food blog.
Chinese Ham Bone Rice Soup
You don't need a freezer full of homemade stock or an expensive store-bought version to infuse congee with as much flavor as possible. All you need is a hunk of a ham hock, which breaks down into the water and rice as it cooks. Drizzle it with sesame oil, sprinkle on a handful of sliced green onion, and it's a complete and satisfying meal.
Get the recipe from RecipeTin Eats.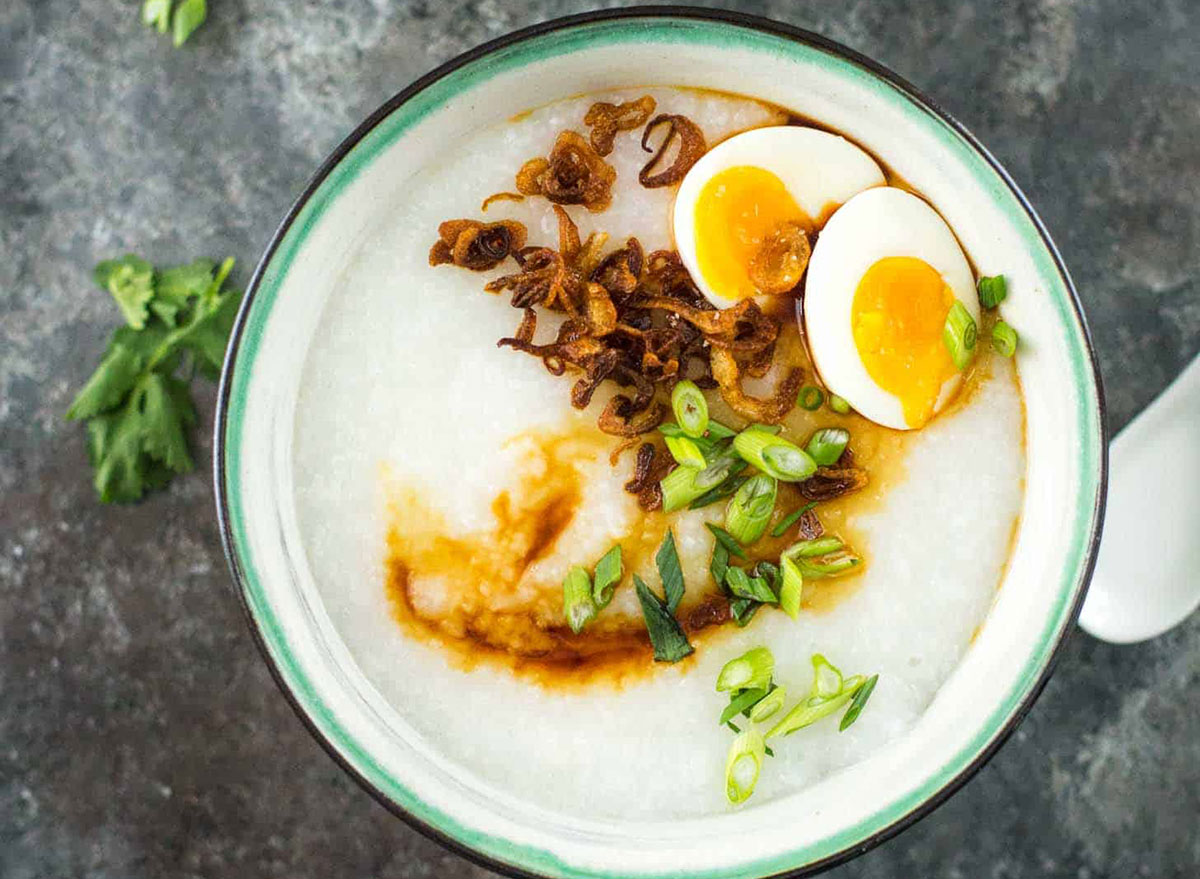 If you learn one thing from this article, it'll be that the sky's the limit when congee toppings are involved. This one suggests crispy shallots, toasted coconut, shredded pork, a jammy egg, sliced chili peppers, and more. But for a fun DIY dinner, set up a topping bar of everything you can find in your pantry and let the family go to town.
Get the recipe from Inquiring Chef.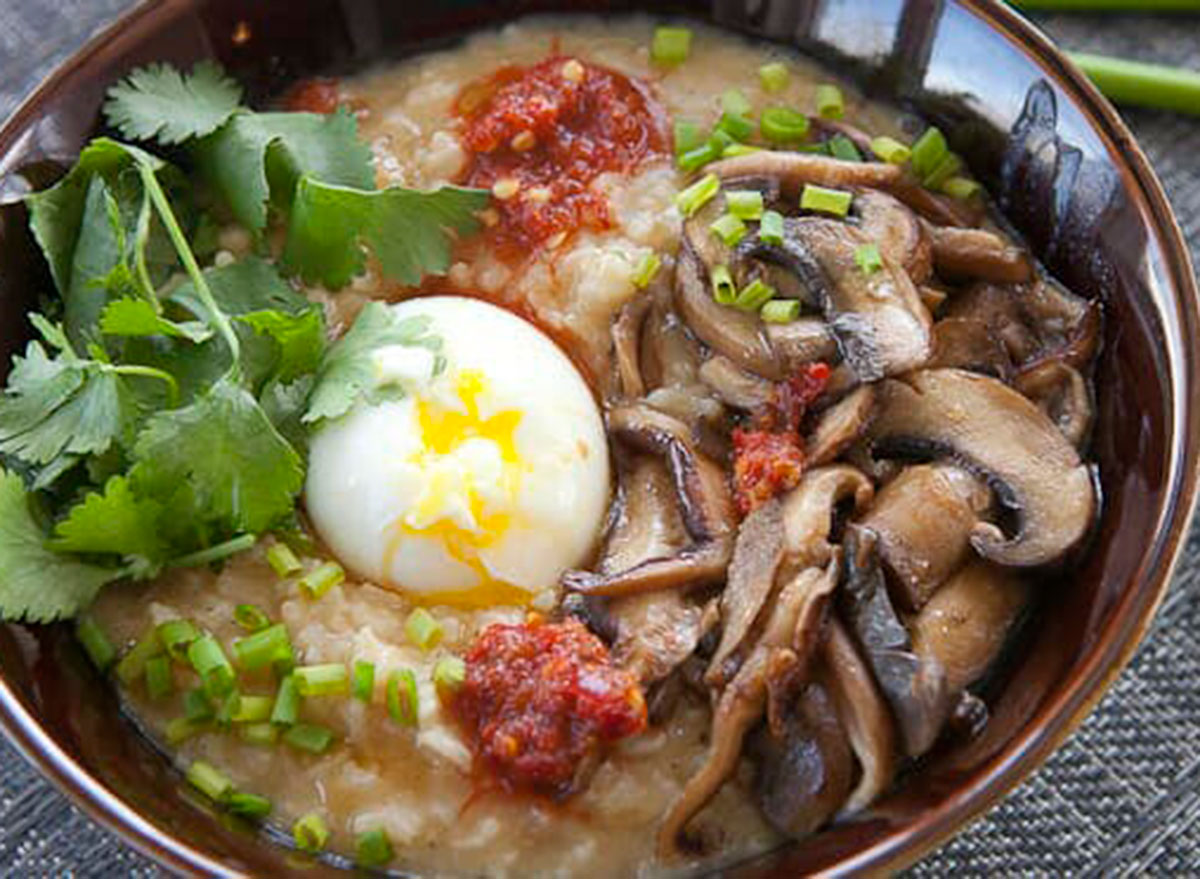 While many congee recipes call for pork or chicken, the rice porridge can just as easily be made vegetarian and still be filling. This one relies on mushrooms and eggs for staying power, and spicy food lovers will appreciate the inclusion of potent dried arbol chilis.
Get the recipe from Macheesmo.
Abby Reisner
Abby is a food writer, editor, cook, and digital strategist living in Brooklyn.
Read more about Abby