The Best & Worst Menu Items at Corner Bakery
The café chain is known for its sandwiches and sweet treats, so we had experts pick out the healthiest and unhealthiest meals so you know what to order.
Stop by Corner Bakery, and you're sure to have a delightful morning. You'll never have to settle for just one dish when you can have two. Corner Bakery Cafe—also known as CBC Restaurant Corporation—is an American café chain that offers everything from bakery stuff (like, bread, pastries, desserts, etc.) to fast-casual market dishes such as soups, salads, pasta, paninis, gourmet sandwiches, and breakfast dishes.
You'll find basically everything here, but that doesn't necessarily mean that every item on the CB menu is nutritious. We consulted nutrition experts, who weighed in on the best and worst dishes on Corner Bakery's menu, and the results might surprise you.
Breakfast Entrees
Best: Bacon Avocado Egg Bowl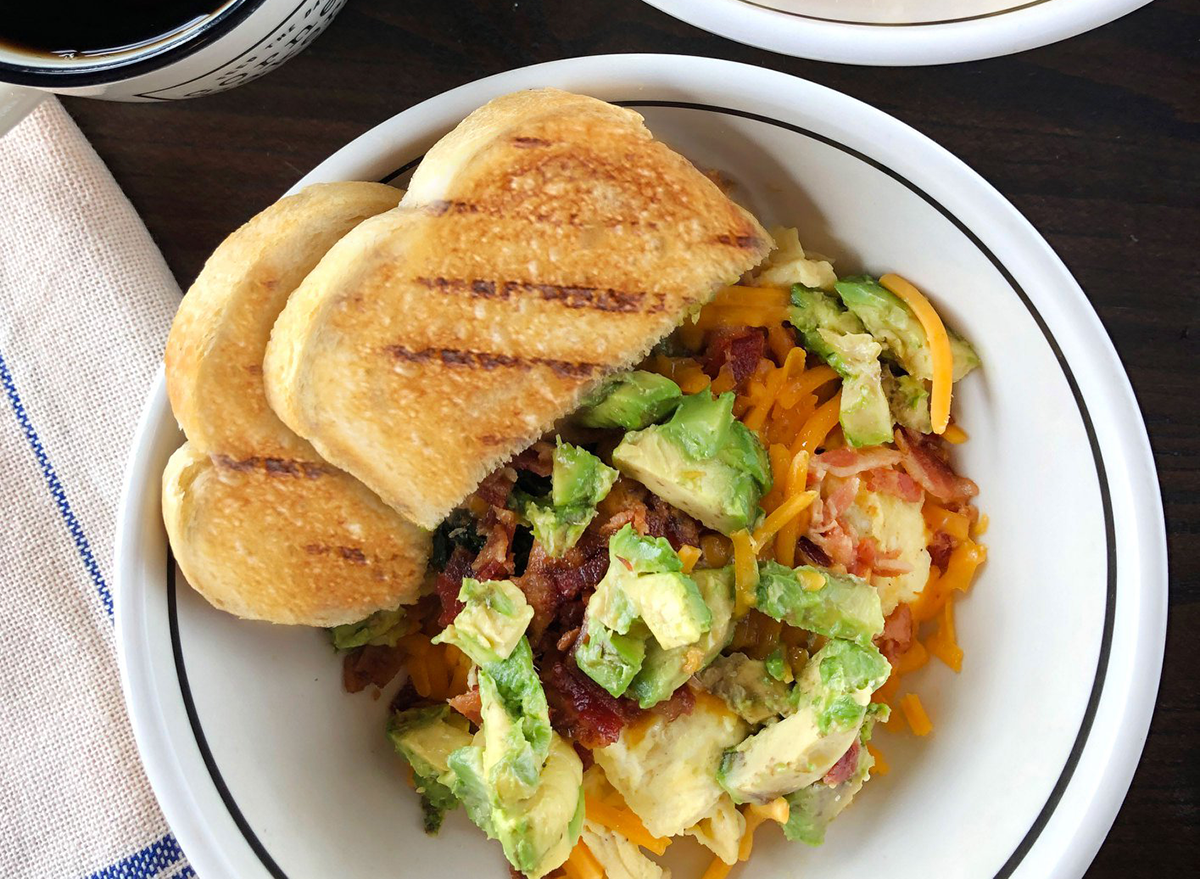 680 calories, 45 g fat (17 saturated fat, 0g trans fat), 670 cholesterol, 1,490mg sodium, 28g carbs (4g fiber, 4g sugar), 41g protein
You might hear the words "bacon" and "bowl," and assume this dish is a no-go, but it's actually a much better option than some of the other breakfast entrees. You're getting healthy fats from the avocado and protein from the eggs, so all in all, it's not that bad.
"While this breakfast entree does have a considerable amount of saturated fat, it has significantly fewer calories than the Cinnamon Roll French Toast entree," says Amanda A. Kostro Miller, RD, LDN, an advisory board member for Smart Healthy Living. "Also, it may keep you fuller for longer since you get fat from the bacon, fat from the avocado, protein from the egg, and some fiber from the veggies that are involved."
Worst: Cinnamon Roll French Toast With Bacon and Eggs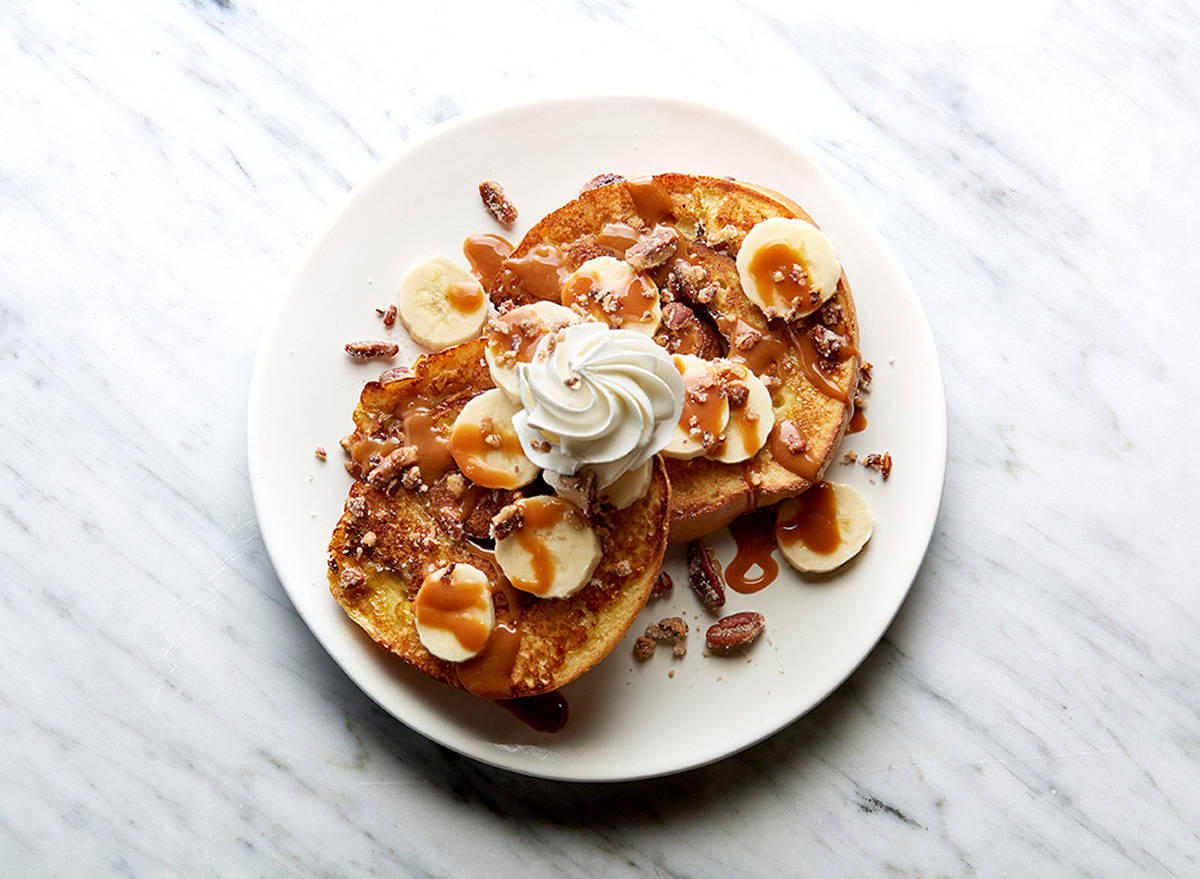 1,110 calories, 60 g fat (24 g saturated fat, 0.5 g trans fat), 1,660 mg sodium, 122 g carbs (4 g fiber, 74 g sugar), 46 g protein
While we love a good cinnamon roll, it's no secret that this breakfast-slash-dessert dish isn't the best thing for you. Combine it with French toast, bacon, and eggs, and that's a whole lot of calories for very little nutritious payoff.
"Eating this entire cinnamon roll entree can make up over 50 percent of your total calories for the day—and that's if you eat 2,000 calories in a day; some people eat less than 2,000 calories in a day)," says Kostro Miller. "While it's OK to enjoy certain foods every once in a while, this breakfast option is very calorie-dense with minimal nutrition."
Breakfast Sandwiches + Power Flats
Best: Power Flat with Avocado and Spinach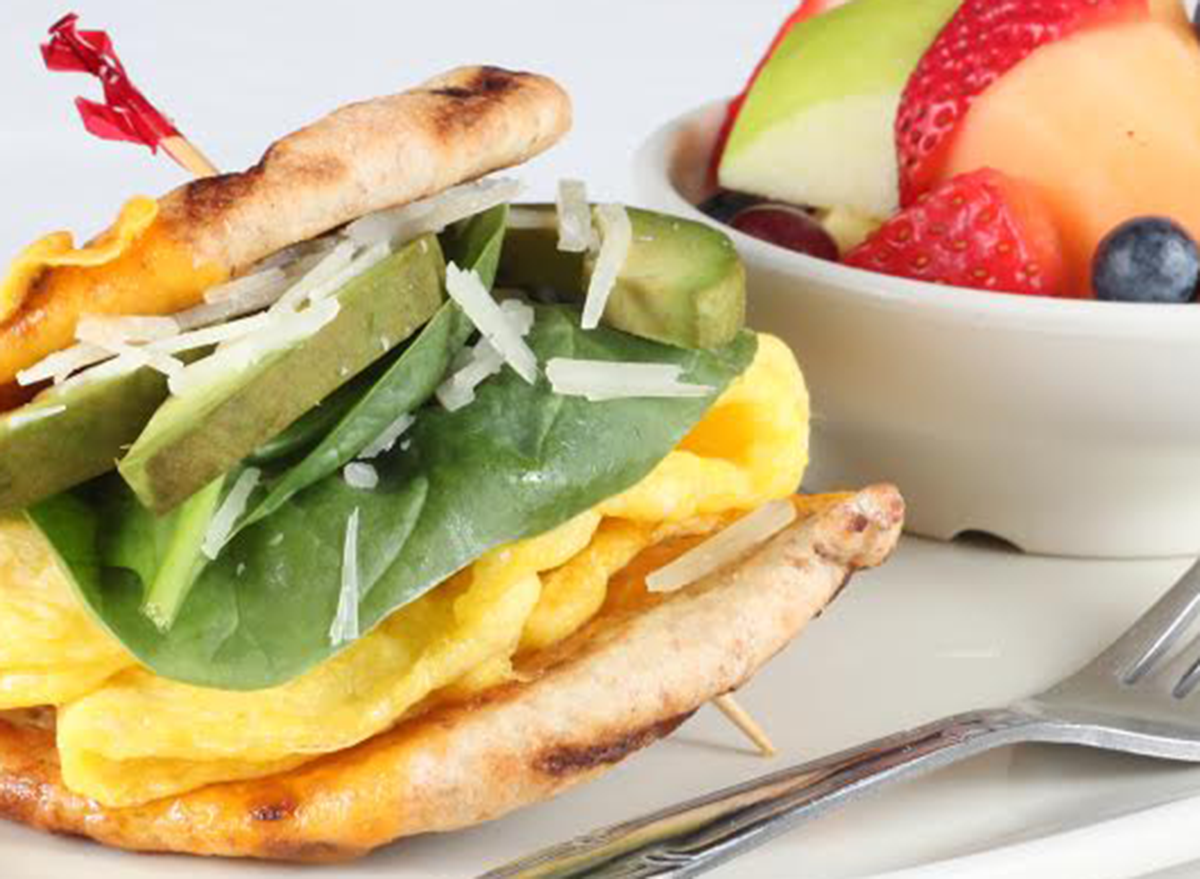 420 calories, 23 g fat (9 g saturated fat, 0 g trans fat), 730 mg sodium, 31 g carbs (4 g fiber, 3 g sugar), 23 g protein
"Compared to other offerings, this sandwich has a reasonable amount of calories and can be better suited for people on a lower-calorie diet since it contains less than 500 calories," says Kostro Miller. "Also, you get some healthy fats from the avocado, protein in the cheese and egg, and some fiber in the greens. Compared to other options, this sandwich also has less saturated fat."
Worst: BBLT + Egg Sandwich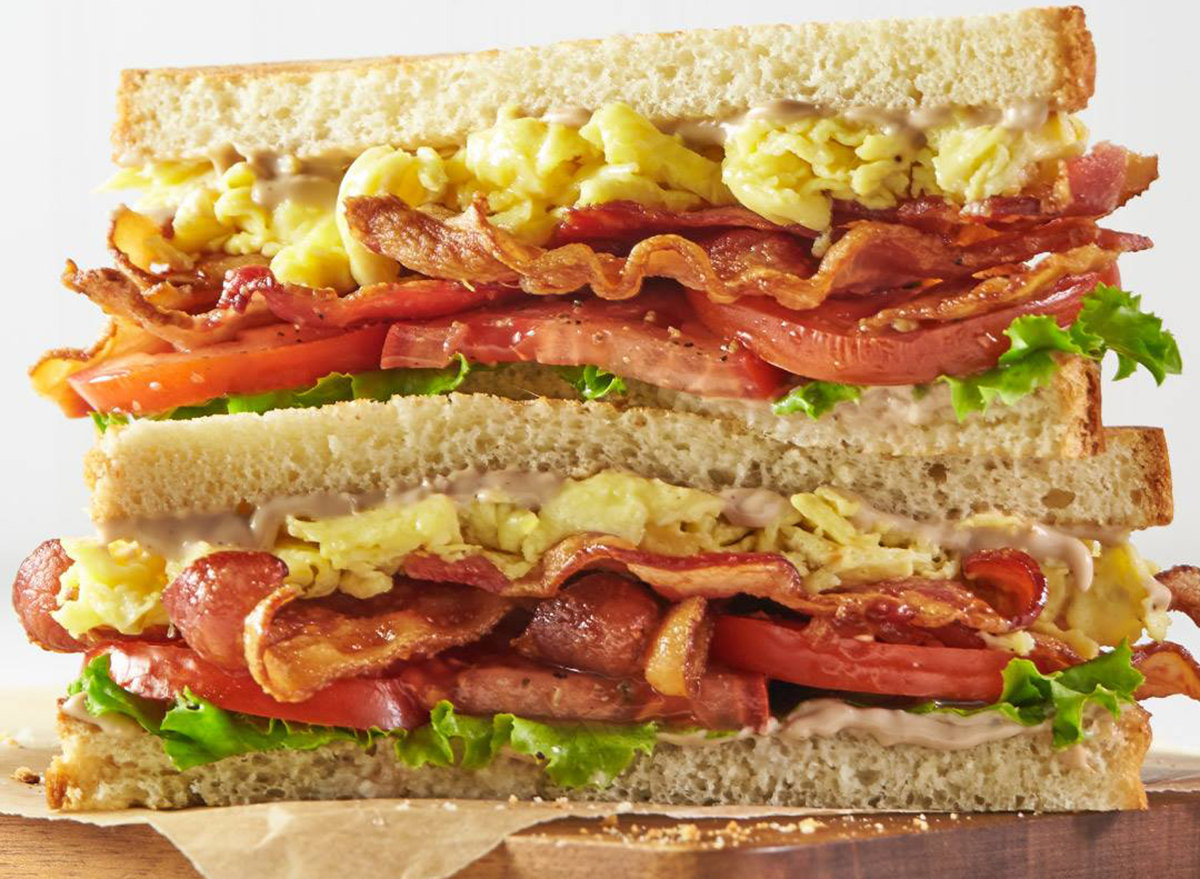 860 calories, 50 g fat (19 g saturated fat, 0 g trans fat), 2,730 mg sodium, 59 g carbs (4 g fiber, 11 g sugar), 39 g protein
With bacon, tomato, lettuce, black pepper balsamic aioli, and white toast, there's nothing too bad about this sandwich, right? Wrong. The sodium levels are what landed the BBLT + Egg Sandwich on our worst list.
"If it wasn't for the sodium content in this sandwich, this could actually be on the 'best' list. Unfortunately, the sodium is absolutely through the roof," says Christina Fitzgerald, MS RD LDN, of Fitzgerald Nutrition. "For heart health, staying below 2,000 milligrams per day is recommended. Coming in at 2,730 milligrams of sodium, this meal will likely leave you feeling bloated and reaching for a giant glass of water."
Oatmeal + Yogurt
Best: Fresh Yogurt + Berry Parfait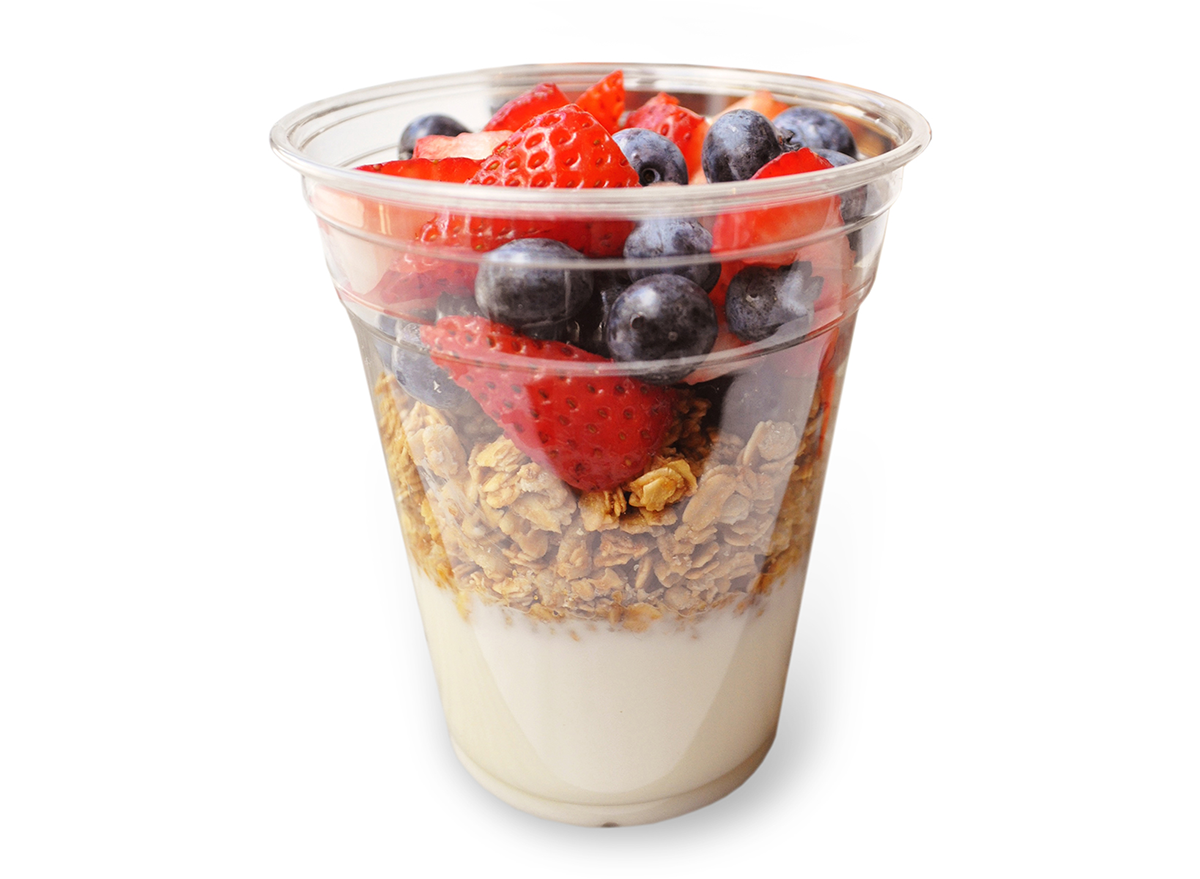 370 calories, 8 g fat (2 g saturated fat, 0 g trans fat), 170 mg sodium, 68 g carbs (5 g fiber, 36 g sugar), 10 g protein
"Even though this meal has half of the fiber compared to the oatmeal option, this is still a high-fiber meal. It also has substantially fewer calories and is a good option for those trying to watch their weight," says Kostro Miller.
In addition to five grams of fiber, you're also getting a good source of protein here (from the yogurt) and natural sugar (rather than added sugar) from the berries in the parfait.
"One thing to keep in mind, however, is that less fiber and less protein might make you hungrier earlier, but at least you may have some wiggle room if your breakfast was only 370 calories," Kostro Miller says.
Worst: Bananas Foster Steel-Cut Oatmeal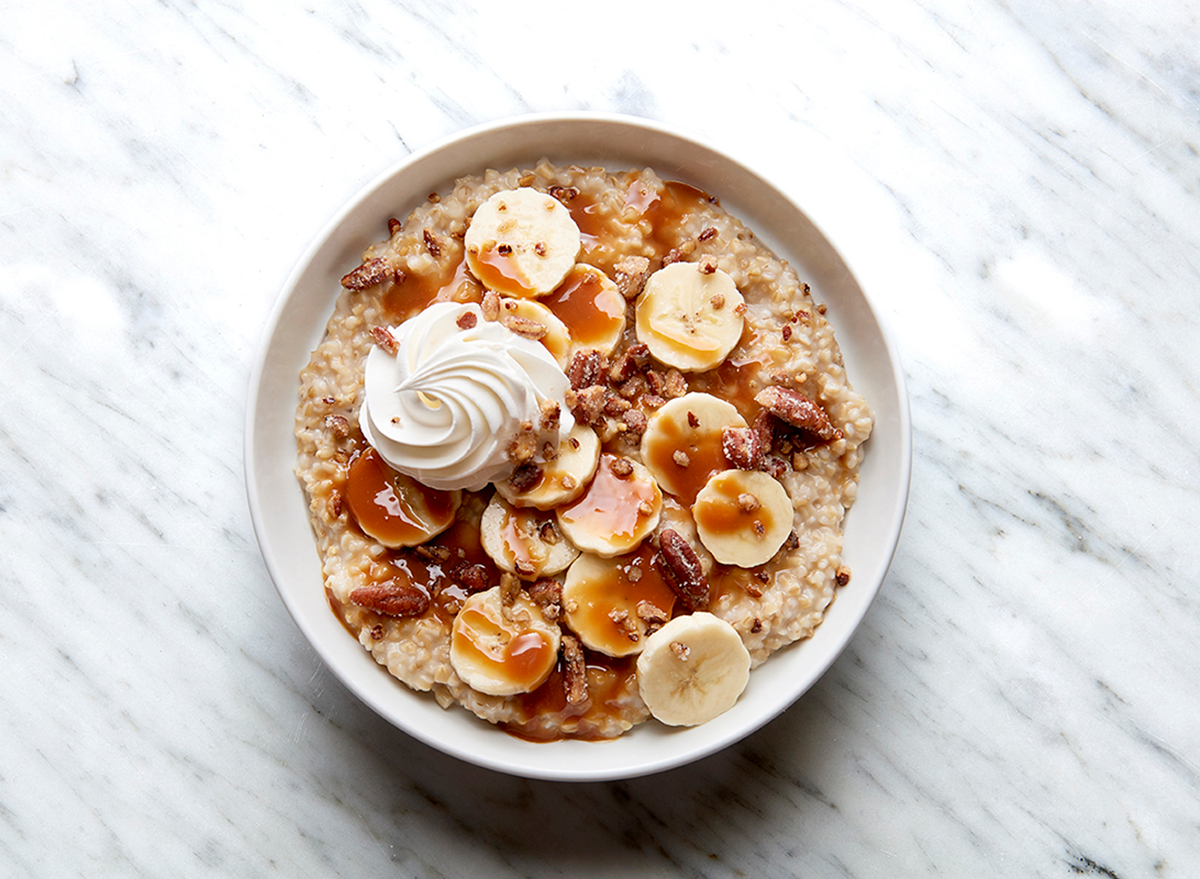 740 calories, 27 g fat (6 g saturated fat, 0 g trans fat), 520 mg sodium, 123 g carbs (10 g fiber, 52 g sugar), 12 g protein
With natural sweetness and sugar from the bananas, this steel-cut oatmeal could have been a healthier option. However, extra elements like whipped cream and caramel add a whopping 52 grams of added sugar to the item.
"The best thing that this combo has is the 10 grams of fiber," says Kostro Miller. "However, this meal has a lot of sweetness added to it, giving it a whopping 52 grams of sugar per serving. While I'm sure this is delicious, if there is a way you can get less caramel, whipped cream, candied pecans, and sweet crisp on this oatmeal, do it."
Fresh Salads
Best: Spinach Sweet Salad
250 calories, 11 g fat (3.5 g saturated fat, 0 g trans fat), 360 mg sodium, 35 g carbs (3 g fiber, 22 g sugar), 6 g protein
Those 22 grams of sugar come from a whole lot of fruit: strawberries, grapes, oranges, dried cranberries, and a strawberry vinaigrette dressing. But fruit isn't all this Spinach Sweet Salad has going for it. With spinach, sweet crisps, goat cheese, and green onion, this salad is a pretty well-rounded option featuring carotenoids, vitamins C and K, folic acid, iron, and calcium.
"If you missed getting in some fruit for breakfast, you can get it in your lunch with this option," says Kostro Miller. "Also, having dark [leafy greens] like this salad gives a boost of nutrients!"
However, Kostro Miller adds that one downside is the lack of protein in this salad.
Worst: Chopped Salad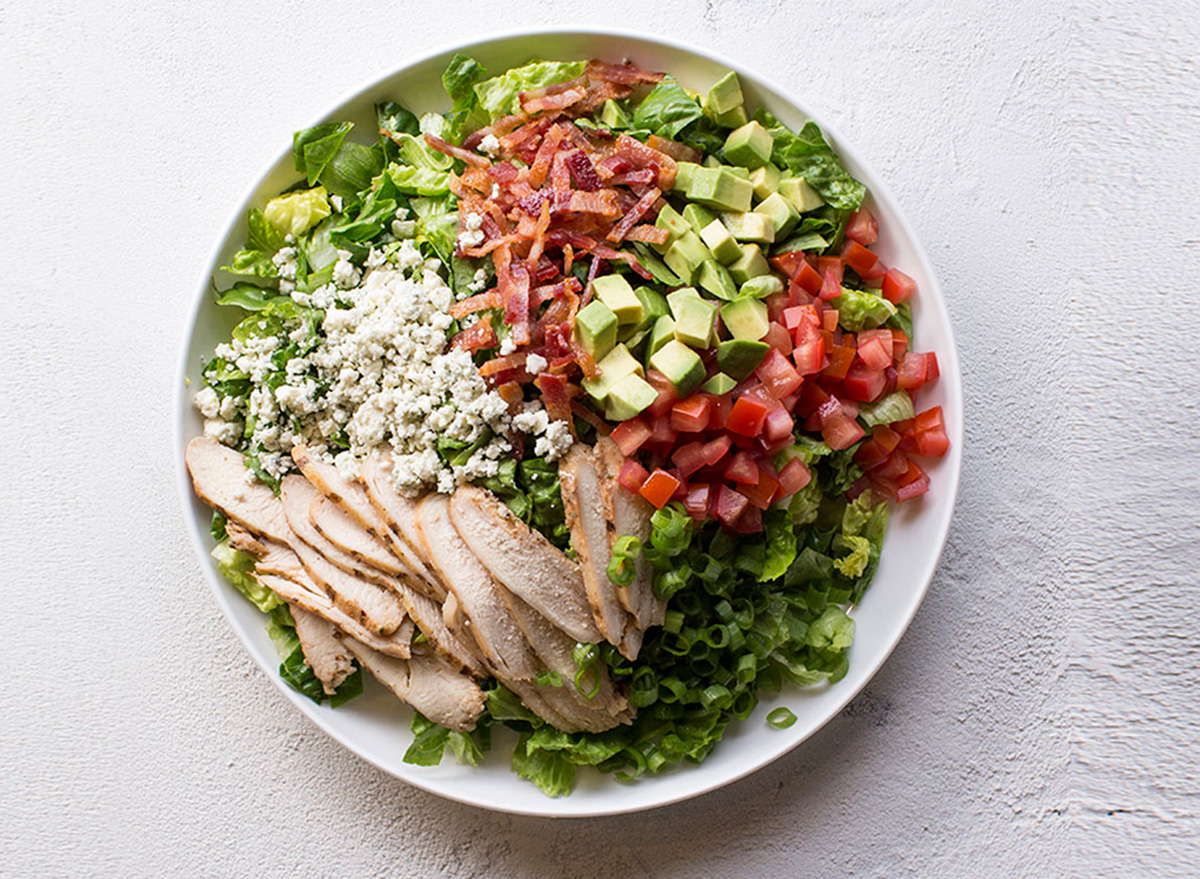 420 calories, 30 g fat (8 g saturated fat, 0 g trans fat), 1,350 mg sodium, 16 g carbs (5 g fiber, 10 g sugar), 22 g protein
But it's a salad, it can't be all that bad, right?
"This salad is probably the best of the worst list," says Fitzgerald. "The main downside of this salad is the high sodium content. Other than the sodium, this could be a great choice for someone looking for a bit more fat in their diet since the saturated fat content is low compared to a lot of the other menu options."
Signature Sandwiches + Paninis
Best: Albacore Tuna Salad Sandwich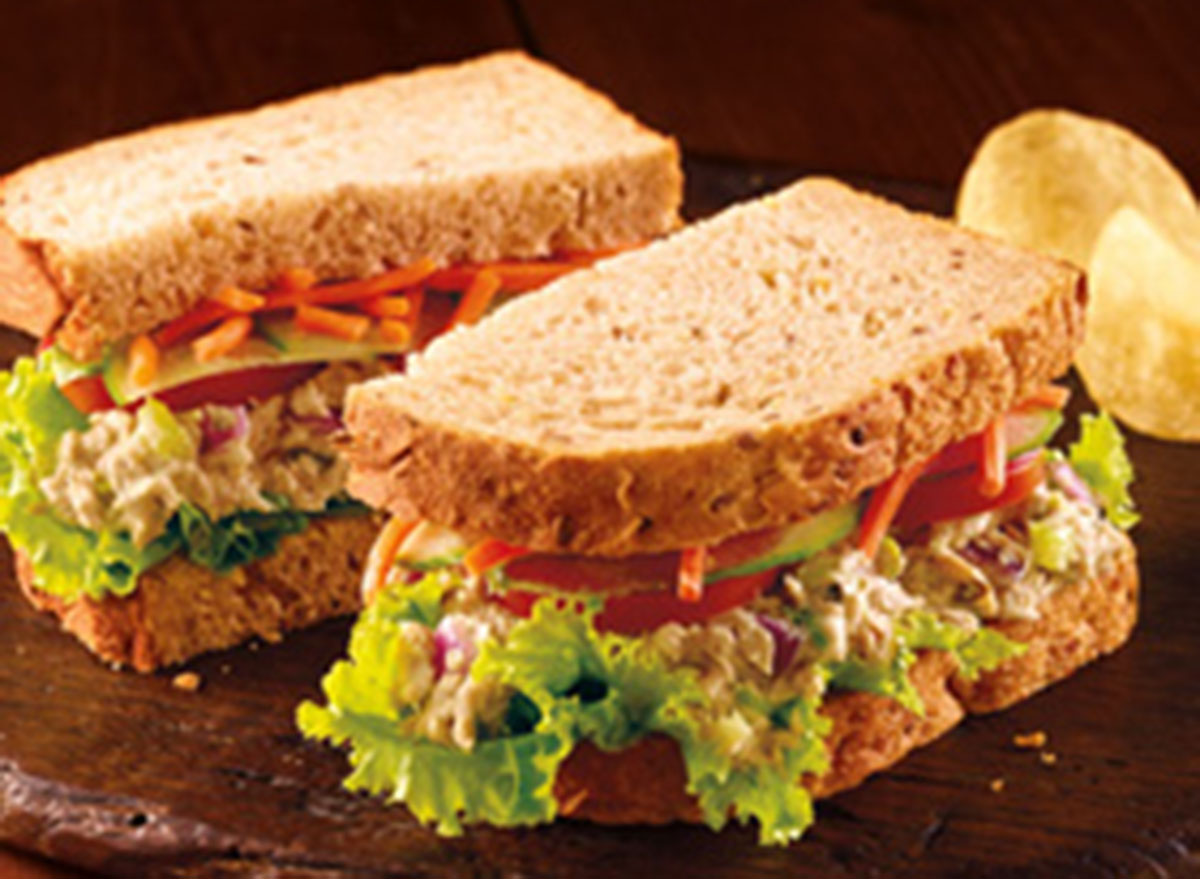 300 calories, 16 g fat (3.5 g saturated fat, 0 g trans fat), 600 mg sodium, 29 g carbs (3 g fiber, 5 g sugar), 15 g protein
You may have heard some conflicting ideas about whether or not fish is good for you, and while it's true that mercury intake is definitely something to watch, fish is a nutritious source of omega 3 fats. Tuna, in particular, has nutrition benefits like lowering blood pressure.
"Tuna is a great source of omega 3 fats, which are heart protective. Tuna is also high in potassium, a mineral that can help to lower blood pressure," Fitzgerald explains. "Need a boost of immunity? Tuna is great for this, as it's rich in the antioxidants manganese, zinc, vitamin C, and selenium."
With albacore tuna, celery, red onion, basil, green onion, lettuce, tomato, mayonnaise, Dijon mustard, harvest bread, this dish also has 15 grams of protein, which should fill you up and keep you satisfied for longer.
"Pair those benefits with a fairly well-balanced nutrition profile, and it's no wonder this is on the 'best' list," adds Fitzgerald.
Worst: Rustic Italian Panini
1,040 calories, 61 g fat (24 g saturated fat, 0.5 g trans fat), 3,330 mg sodium, 65g carbs (2 g fiber, 6 g sugar), 50 g protein
Woah—that's a whole lot of sodium. The Rustic Italian Panini features salami, pepperoni, ham, provolone, and roasted tomato with pesto vinaigrette on sourdough. With all that processed meat, it's no wonder the sodium levels are beyond high.
"The amount of sodium in this makes me cringe. Yikes!" says Kostro Miller. "Remember, it is recommended that Americans limit their sodium intake to 2,3000 milligrams per day."
While the sodium level is cringe-worthy, it also has a lot of calories. Sure, calories aren't everything, but if you're actively trying to lose weight, this panini won't do your waist any favors.
"Since this sandwich has over 1,000 calories, take that into consideration, especially if you're trying to lose weight," adds Kostro Miller. "Also, this sandwich has several types of ultra-processed meats like salami and pepperoni. More and more research shows that the consumption of ultra-processed meats may increase your risk of chronic disease."
Pasta
Best: Cavatappi Marinara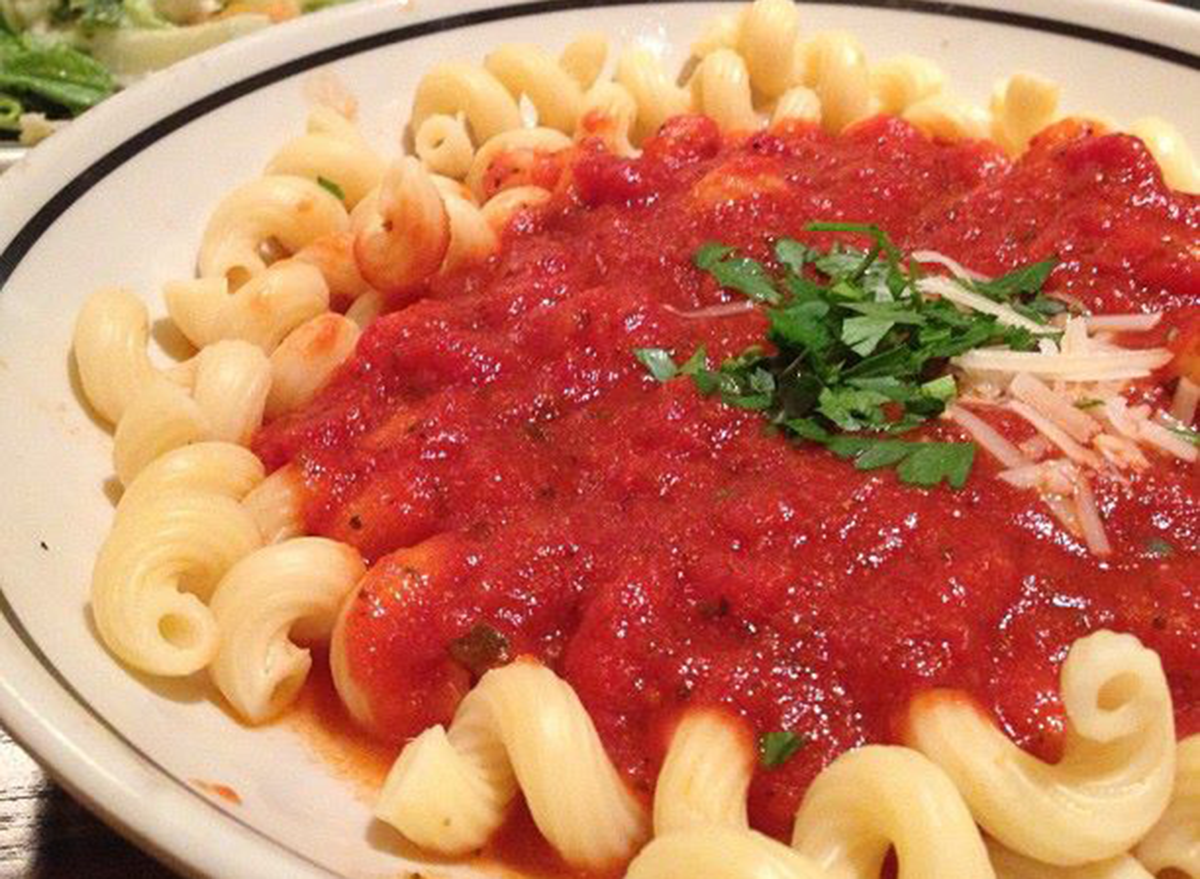 490 calories, 11 g fat (2.5 g saturated fat, 1 g trans fat), 690 mg sodium, 82 g carbs (5 g fiber, 8 g sugar), 17 g protein
If you're not sure what cavatappi is, it's a corkscrew-shaped macaroni, and in this particular dish, it is paired with marinara sauce and parmesan.6254a4d1642c605c54bf1cab17d50f1e
"This is a really simple pasta dish," says Kostro Miller. "While it is lower in calories, sodium, and saturated fat than the other [options], I wish it was tossed with some vegetables or lean protein for added nutrition."
Worst: Bacon Tomato Mac + Cheese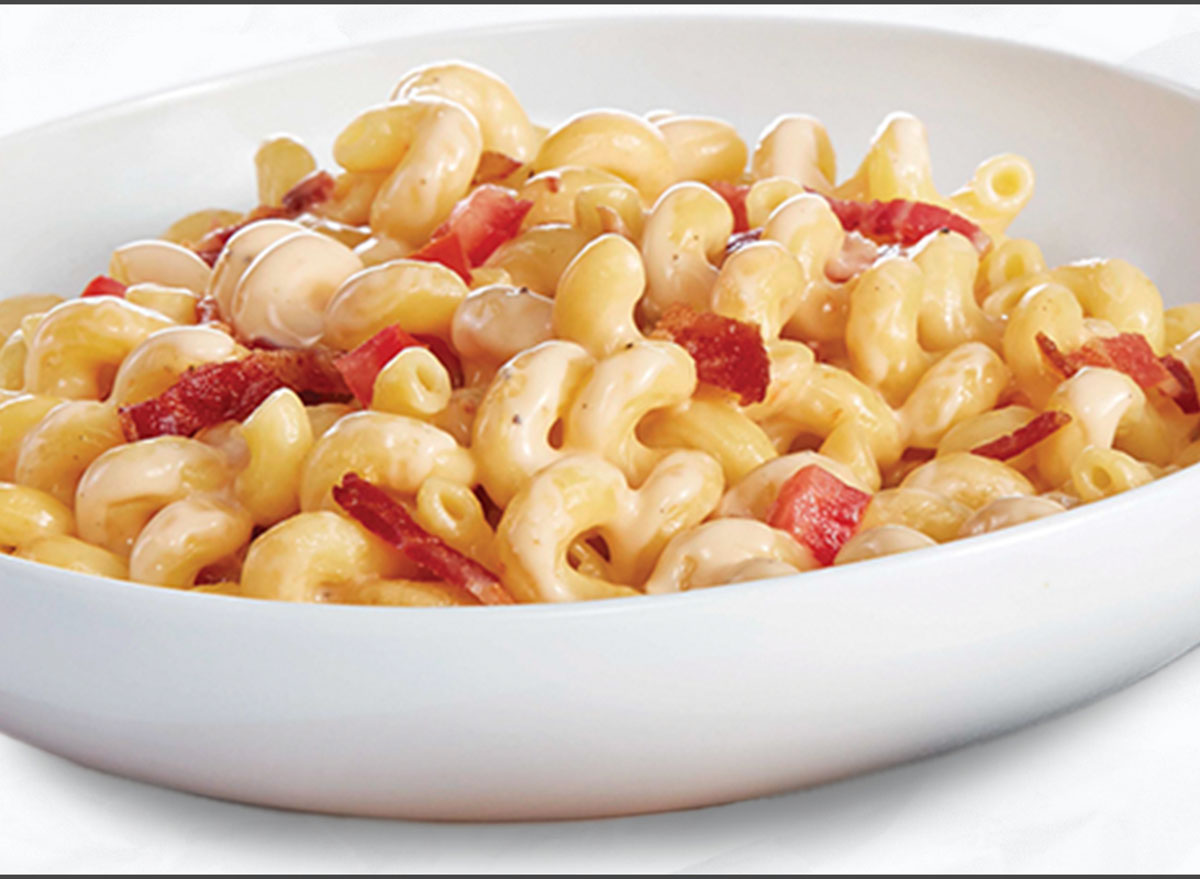 1,370 calories, 61 g fat (32 g saturated fat, 2.5 g trans fat), 2,470 mg sodium, 151 g carbs (8 g fiber, 14 g sugar), 56 g protein
"Tons of sodium, lots of calories, and lots of saturated fat with this pasta dish," says Kostro Miller. Enough said right there!
But another thing to consider—especially with pasta dishes—is the portion size of a restaurant meal. Kostro Miller recommends splitting this dish into two meals (hello, leftovers!) or sharing with someone a la Lady and the Tramp.
Soup + Chili
Best: Roasted Tomato & Basil, Cup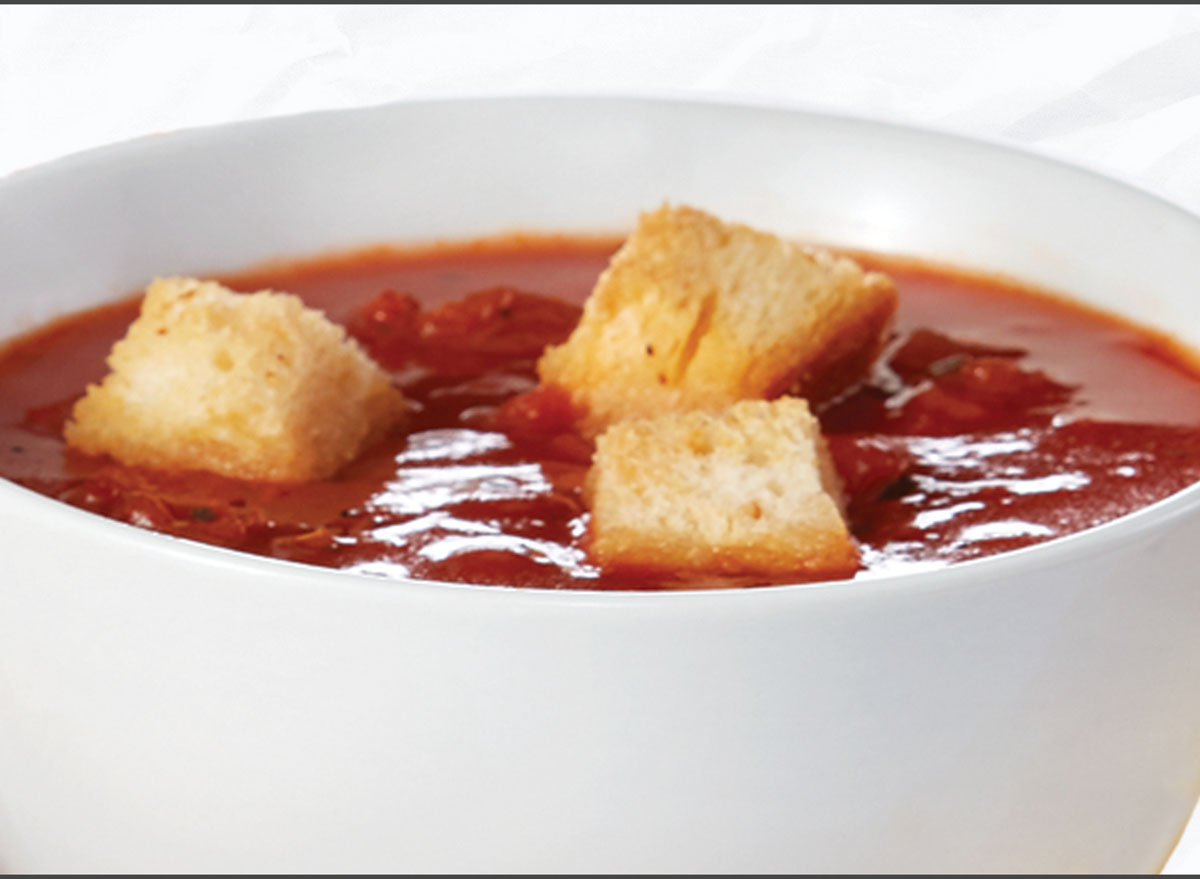 180 calories, 5 g total fat (0 saturated fat, 0g trans fat), 1,420 mg sodium, 29 g carbs (3 g fiber, 14 g sugar), 3 g protein
While the low amount of calories lands the Roasted Tomato and Basil Soup (the cup version, not bowl) on the 'best' list, it's worth noting that many soups can be high in sodium. This one is really no exception, although it is better than some other sodium levels we've seen so far on the Corner Bakery menu.
"While it is significantly lighter than the chili dish [below], like most soups, it does have a considerable amount of sodium," says Kostro Miller. "Since it only has 3 grams of protein, think about how you can add a little more protein to your meal to keep you fuller longer."
Ways to add protein might include legumes, beans, or even a grilled cheese with a full-of-protein cheese such as Colby, edam, or non-fat cheddar.
Fitzgerald adds that tomatoes are a rich source of lycopene.
"Enjoying a cup of this tomato basil soup, along with a meal or a small snack, is a super simple and tasty way to pack in a day's worth of lycopene…Lycopene is an antioxidant that has been researched and shown to reduce the risk of heart disease and certain cancers," she says.
Worst: Big Al's Chili, Bowl
870 calories, 33 g fat (12 g saturated fat, 1.5 g trans fat), 2,830 mg sodium, 77 g carbs (23 g fiber, 11 g sugar), 68 g protein
While chili is rich in protein- and fiber-filled beans, this particular dish also has a lot of cholesterol and a lot of sodium.
"Many people consider chili as a side dish, but since it has 900 calories, this may need to be your main meal item," says Kostro Miller. "One good thing is that it has lots of fiber to keep you really full!"
Fitzgerald recommends splitting this dish in half and pairing it with a spinach salad for some more balanced nutrition. After all, leafy greens are full of vitamins and nutrients, so adding them in is never a bad idea.
Bakery
Best: Chocolate Chip Cookie
290 calories, 12 g fat (6 g saturated fat, 0 g trans fat), 200 mg sodium, 44 g carbs (2 g fiber, 27 g sugar), 2 g protein
A classic dessert staple, Corner Bakery's Chocolate Chip Cookie is by far one of the desserts with the fewest calories, sodium, or sugar.
"Unless a chocolate chip cookie is mega-sized, cookies can be an easier way to enjoy dessert in a smaller serving," adds Fitzgerald. "At half the nutrition when compared to the pecan bar, this could be a tasty choice if you're in the mood for chocolate!"
Worst: Maple Pecan Bar
690 calories, 37 g fat (14 g saturated fat, 1 g trans fat), 430 mg sodium, 83 g carbs (2 g fiber, 51 g sugar), 6 g protein
Maple. Pecan. These two words might sound natural and therefore, "good for you," but in reality, Corner Bakery's Maple Pecan Bar is actually one of the worst options in the dessert category.
"With nearly 700 calories, this dessert is like another meal in and of itself," says Kostro Miller. "Try to split this dessert up, or share with another person."
"A good rule of thumb is to keep 'fun foods' like dessert, sodas, chips, junk food, to 100-200 calories a day," adds Kostro Miller.