Best-Ever Classic Grilled Cheese and Tomato Soup Recipe
We take the beloved combo up a notch by adding more flavor for half the calories.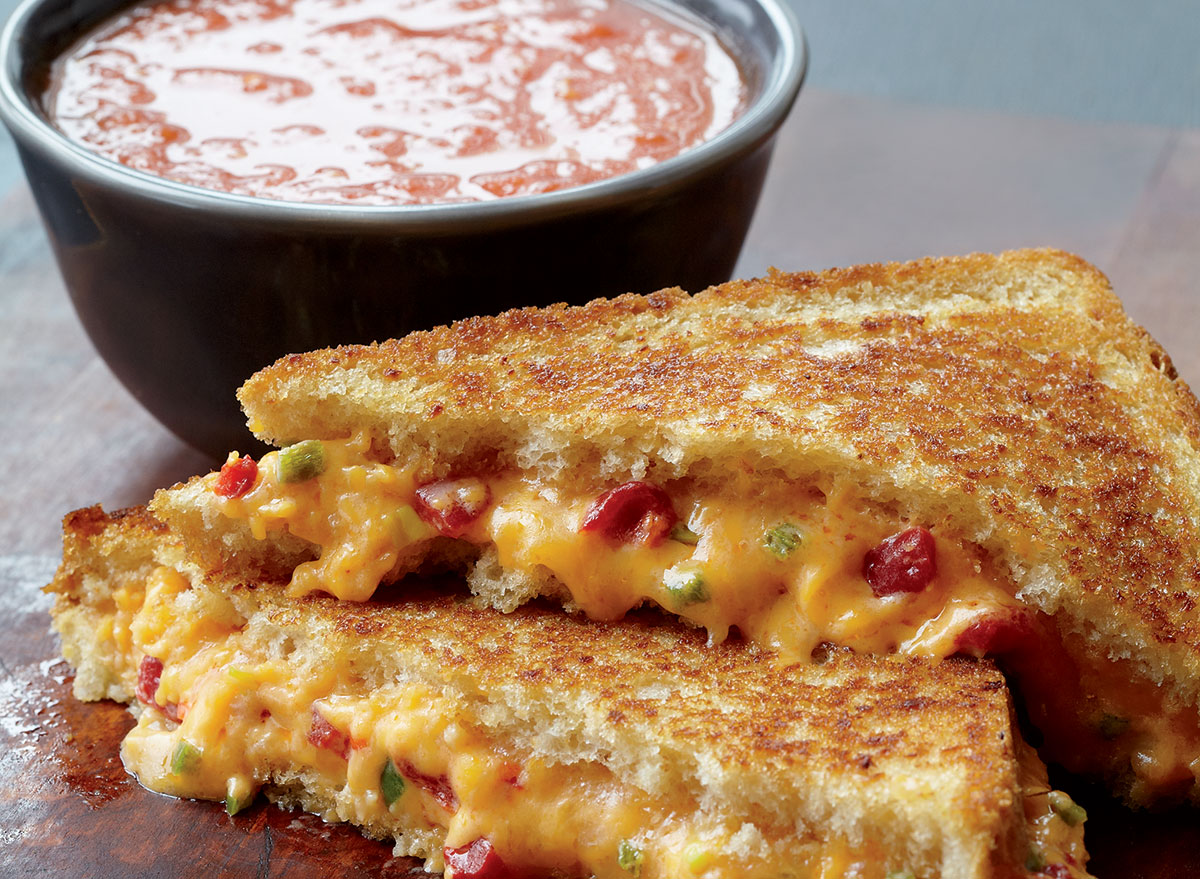 An oozing, crispy grilled cheese and a cup of warm tomato soup constitute one of the great one-two combos of the comfort food world. Nothing is more comforting than this combination, but it tends to come with quite a bit of added fat. Our grilled cheese is a play on that gooey Southern staple, pimento cheese, which diffuses the calories of the cheese with healthy additions like roasted peppers and Greek yogurt. The soup? Pure tomato intensity, thanks to the oven roasting, which concentrates the natural sugars of the tomatoes. Get the comfort, with half the calories, with our recipe.
For the grilled pimento cheese sandwich
Nutrition: 320 calories, 17 g fat (8 g saturated), 490 mg sodium6254a4d1642c605c54bf1cab17d50f1e
Serves 4
You'll Need
11⁄4 cups finely shredded sharp Cheddar cheese
1 jar (4 oz) diced pimentos
1 jalapeño pepper, seeded and minced
1⁄4 cup finely sliced scallions
1⁄4 cup 2% Greek yogurt
1 Tbsp olive-oil mayonnaise
Few shakes Tabasco
8 slices of bread
Butter
How to Make It
Combine the cheese, pimentos, jalapeño, scallions, yogurt, mayonnaise, and a few shakes of Tabasco in a mixing bowl.
Divide among 4 slices of bread and top with the remaining slices.
Heat a bit of butter in a cast-iron skillet or non- stick pan over medium heat.
Cook the sandwiches, turning once, for about 10 minutes, until golden brown on both sides and the cheese is melted (have patience—an extra minute or two means everything with good grilled cheese!).
For the roasted tomato soup
Nutrition: 130 calories, 7 g fat (1 g saturated), 370 mg sodium
Serves 4
You'll Need
3 lbs Roma tomatoes, halved lengthwise
2 Tbsp olive oil, plus more for drizzling
4 cloves garlic, peeled
3 cups low-sodium chicken stock
Salt and black pepper to taste
How to Make It
Preheat the oven to 425°F. Place the tomatoes cut side up on a baking sheet and drizzle with olive oil.
Place the garlic cloves in the center of a sheet of aluminum foil, drizzle with olive oil, and fold to create an enclosed packet.
Roast the tomatoes and the garlic for about 40 minutes, until both are very soft.
Transfer the tomatoes and garlic to a blender, add the olive oil, and purée.
Transfer to a pot, stir in the chicken stock, and simmer for 15 minutes. Season with salt and black pepper.