25 Low-Calorie Restaurant Meals Under 500 Calories
Yes, it is possible to eat a healthy meal when you're dining out for lunch or dinner.
It might be easier to treat yourself to a night out, but if you've been trying to eat healthier and at low-calorie restaurants, it can be overwhelming to scan the menu that's filled with endless possibilities and little guidance on what's good for you. Even when you think you're making a better decision by eating at a sit-down restaurant, their menu options aren't always that much healthier than their fast-food counterparts. It gets confusing!
Luckily, the following restaurants allow you to customize most meals to your liking, which means the calorie-cutting power is in your hands. To help keep you stay fit and trim, or even keep you on your weight loss plan, we rifled through the nutrition information at all of your fast casual locations, so all you have to do is sit back, relax, and eat.
To make sure we recommended the absolute best dishes and meal combos for your waistline, we kept all orders to a maximum of 500 calories and 1,500 milligrams of sodium. And why not try out any of these 14 Surprisingly Healthy Fast-Food Orders, According to Dietitians while you're making these smarter meal choices?
Chipotle Chicken Paleo Salad Lifestyle Bowl
450 calories, 29 g fat (7 g saturated), 1,090 mg sodium, 18 g carbs (8 g fiber, 5  g sugar), 35 g protein
Chipotle is the frontrunner when it comes to fast casual dining. They use no artificial ingredients or preservatives, their products are always fresh, and their protein contains no hormones, making them a great candidate for low-calorie restaurant options. In 2019, the company launched its Lifestyle line, an array of different bowls packed with nutrients and fresh ingredients that meet your specific dietary goals. This paleo version with supergreens lettuce blend, chicken, fajita veggies, tomatillo-green chili salsa, and guacamole is great for a low-cal meal that adapts to your diet.
Panera Bread Asian Sesame Chicken Salad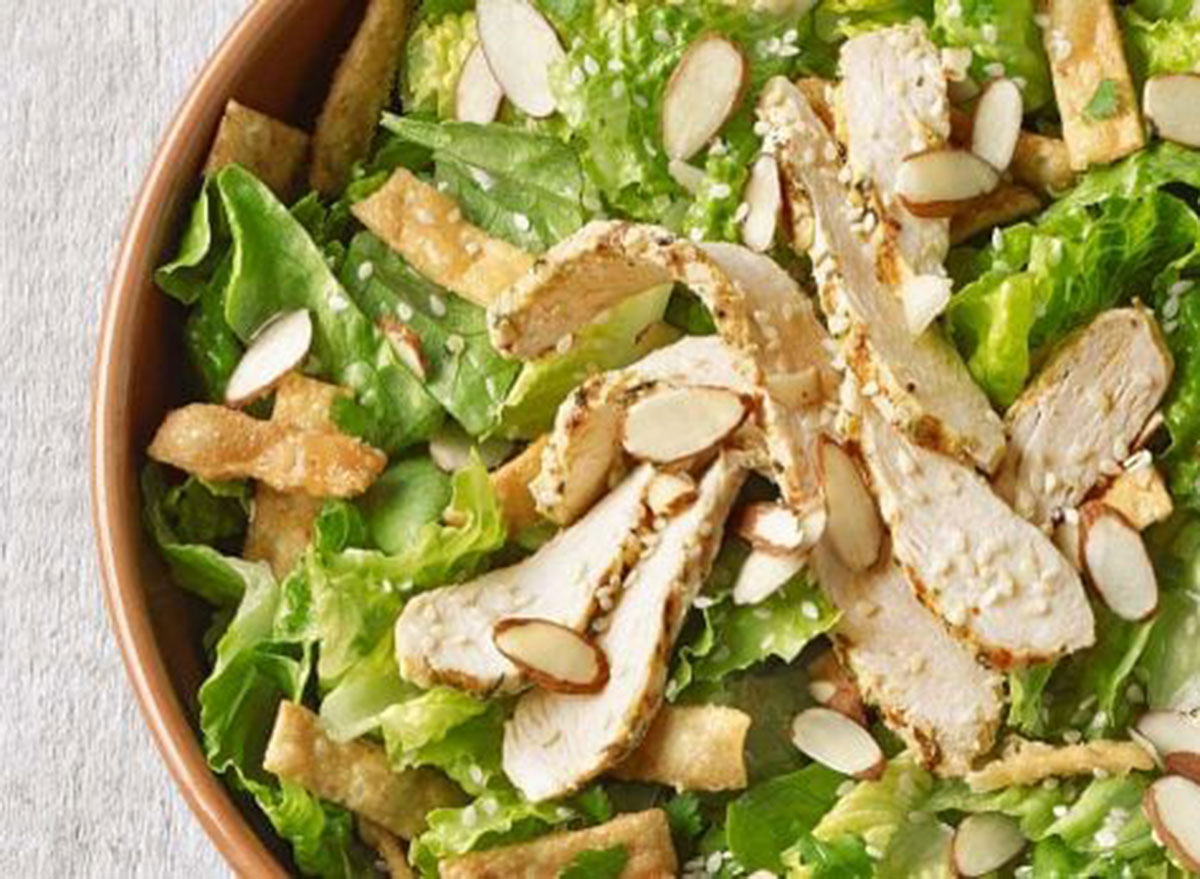 410 calories, 21 g fat (3 saturated fat, 0 trans fat), 700 mg sodium, 28 g carbs (6 g fiber, 7 g sugar), 30 g protein
This simple salad from Panera is tasty and has a great balance of fat, carbs, and protein. No wonder it's one of the healthiest Panera picks!
Red Lobster Perfectly Grilled Fish-Rainbow Trout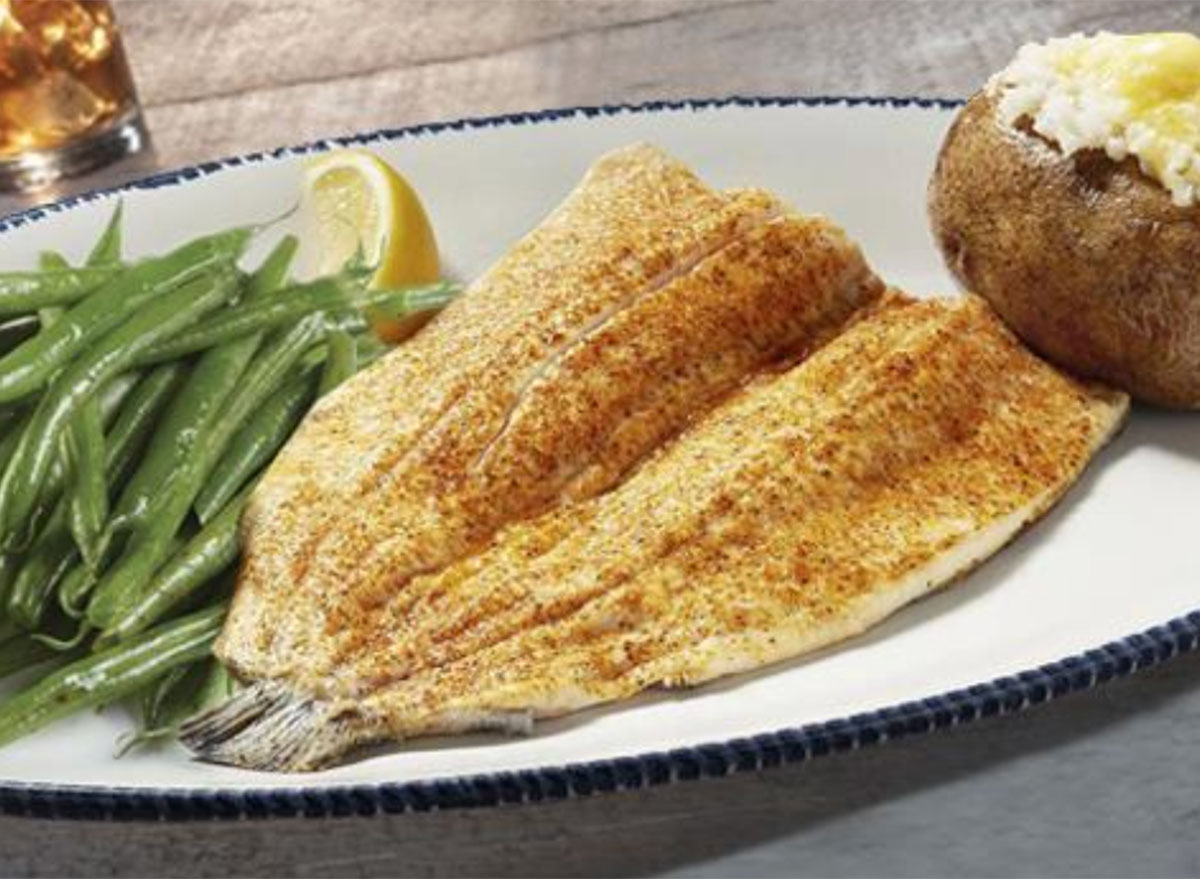 490 calories, 22 g fat (4.5 saturated fat, 0 trans fat), 170 mg sodium,  <1g carbs (0 g fiber, 0 g sugar), 67 g protein
Opting for the broiled version versus the "golden-fried" will always save you hundreds of calories. If you like to pair your fish with a condiment, we recommend opting for cocktail sauce over tartar sauce. To discover more satisfying eats that will help you trim down, check out these best carbs for weight loss.
Outback Steakhouse Victoria's 6-ounce Filet Mignon
440 calories, 21.5 g fat (9 g saturated fat, 0.5 g trans fat), 880 mg sodium, 6 g carbs (3 g fiber, 3 g sugar), 50 g protein
We know it's hard to believe, but Outback, home of the 2,000-calorie Bloomin' Onion appetizer, does have some healthy meal options. One of the best cuts of meat you can get from the popular steakhouse is the 6-ounce Victoria Filet because it is low in fat. Even better, the side of asparagus is rich in potassium, a nutrient that helps the body flush out water and sodium.
Applebee's Blackened Cajun Salmon with Steamed Broccoli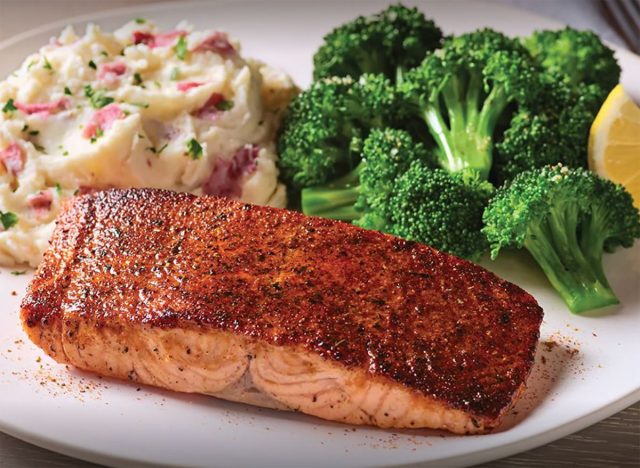 340 calories, 18 g fat (7 g saturated fat), 1,060 mg sodium, 10 g carbs (4 g fiber, 2 g sugar), 39 g protein
One of the only main dishes you can find on Applebee's menu that comes in under 500 calories (aside from grilled chicken and broccoli) this salmon is served with a side order of steamed broccoli. That's right, we said one of the only few dishes!
Panda Express Broccoli Beef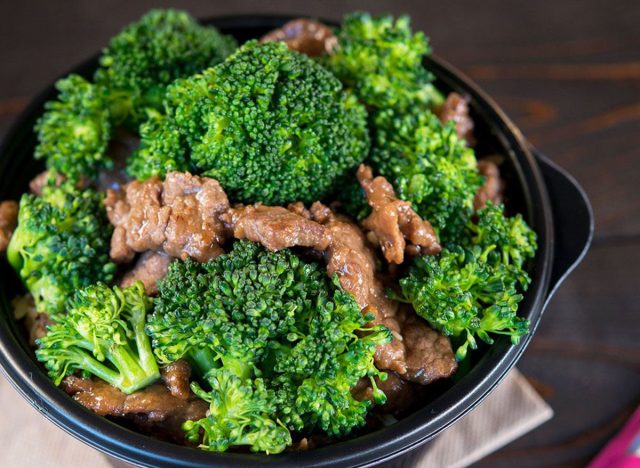 150 calories, 7 g fat (1.5 g saturated fat, 0 g trans fat), 520 mg sodium, 13 g carbs (2 g fiber, 7 g sugar), 9 g protein
A Chinese meal that won't break the calorie or sugar bank? It is possible, and this meal is proof! Along with the 9 grams of hunger-busting protein comes a solid hit of immunity-boosting vitamin A and folic acid (a vitamin that helps the body break down, use, and create new proteins) from the broccoli.
Popeyes 8-Piece Chicken Nuggets, No Sauce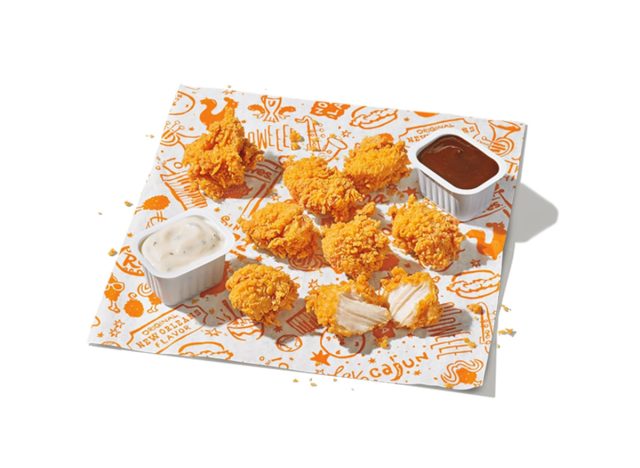 380 calories, 24 g fat (11 saturated, 1.5 g trans fat), 880 mg sodium, 19 g carbs (1 g fiber, 0 g sugar), 22 g protein
When you go to Popeyes, we know you're looking for some fried chicken. Although maybe not one of the best restaurants with low-calorie options, you can still make it work with their nuggets. These easy "pop them in your mouth" versions still give you the signature breading to coat their juicy chicken.
P.F. Chang's Buddha's Feast (Steamed)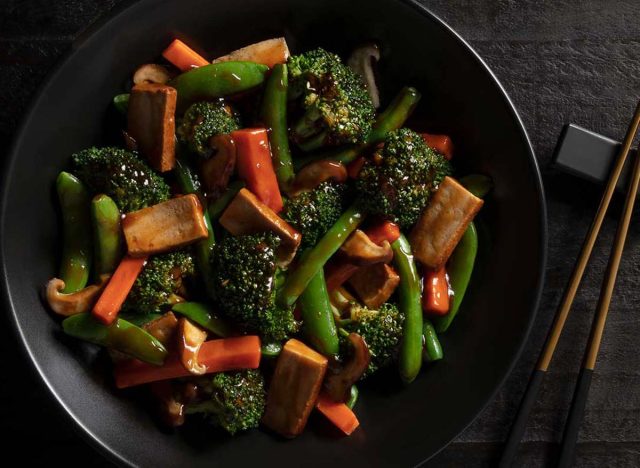 200 calories, 3 g fat (0 g saturated fat, 0 trans fat), 250 mg sodium, 28 g carbs (11 g fiber, 10 g sugar), 17 g protein
Some dishes at P.F. Chang's can climb as high as 3,840 mg sodium (Pad Thai Shrimp, we're looking at you). That's almost two days' worth of sodium in one sitting! Save your heart by ordering the lowest sodium content item on the menu: Buddha's Feast Steamed. This steamed dish is loaded with baked tofu, asparagus, shiitake mushrooms, broccoli, and carrots, and tossed in soy sauce.
Olive Garden Herb-Grilled Salmon with Garlic-Herb Butter and Parmesan-Garlic Broccoli
495 calories, 29 g fat (8 g saturated fat, 0 g trans fat), 1,145 mg sodium, 15 g carbs (9 g fiber, 6 g sugar), 49 g protein
A dish from Olive Garden that's under 1,200 milligrams of sodium and with no trans fat? Sign us up! Home of the never-ending breadsticks, Olive Garden's oversize portions of carbs can put the dietary discipline of any mindful diner to the test. Instead of losing more than a day's worth of carbs and sodium to their pasta dishes, order this Herb-Grilled Salmon instead. Just make sure to ask for the fatty butter on the side because the heart-healthy omega-3 fatty acid-packed salmon already has enough of it!
Chick-fil-A Grilled Chicken Sandwich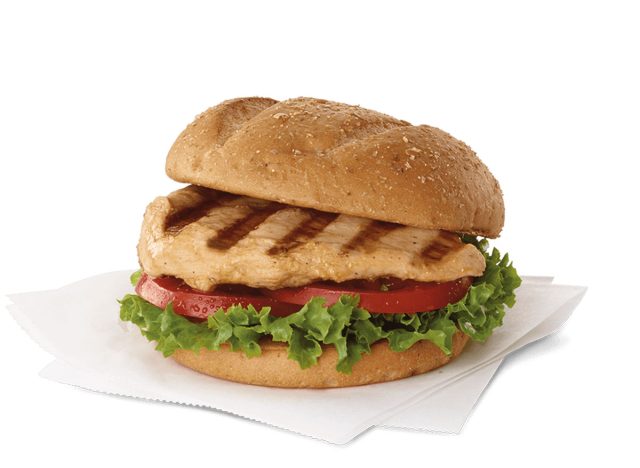 380 calories, 12 g fat (2 g saturated fat, 0 g trans fat), 760 mg sodium, 43 g carbs (3 g fiber, 11 g sugar), 28 g protein
Chick-fil-A surprisingly contains a lot of low-calorie food, but our pick for this goes to the grilled chicken sandwich. Take a bite of a lemon-herb marinated boneless breast of grilled chicken, served on a toasted multigrain bun. For some extra freshness, a tomato and green leaf lettuce are squished between the buns.
Boston Market Quarter White, Skinless Rotisserie Chicken Steamed Vegetables and Garlic Dill Potatoes
300 calories, 9 g fat (1.5 g saturated fat, 0 g trans fat), 780 mg sodium, 14 g carbs (7 g fiber, 6 g sugar), 46 g protein
If you didn't think comfort food could be low in fat, take a look at this entree from Boston Market. This chicken and veggie plate should be your go-to on your busy weeknights out. It carries just nine percent of the day's recommended fat, which isn't too shabby for a fast-food cheat meal! If you're worried this combo won't pack big enough flavor, ask for a side of their tangy, fat-free Poultry Gravy. Even if you polish off the entire lot, it will only add 10 calories and 85 milligrams of sodium to your order. Throw in the cornbread that comes with the meal as well, and you're looking at an additional 160 calories—still under 500!6254a4d1642c605c54bf1cab17d50f1e
TGI Fridays Caesar Salad with Breadstick with Caesar Dressing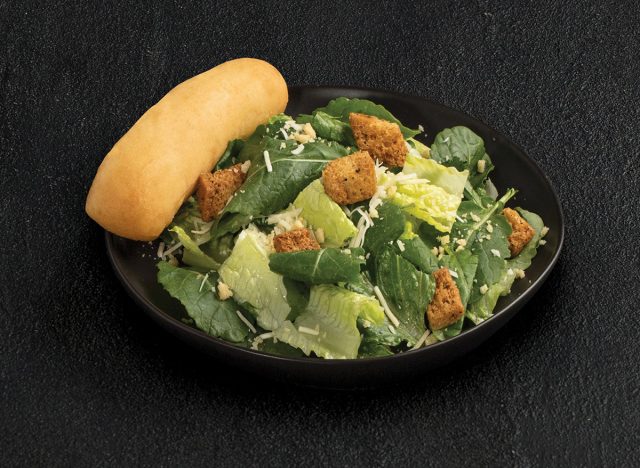 480 calories, 34 g fat (7 g saturated fat, 0 g trans fat), 900 mg sodium, 35 g carbs (3 g fiber, 4 g sugar), 10 g protein
The closest you're going to get to an under 500-calorie meal at TGI Fridays is this salad with no options for sides because most entrees at the chain are over 1,000 calories.
Arby's Classic Roast Beef Sandwich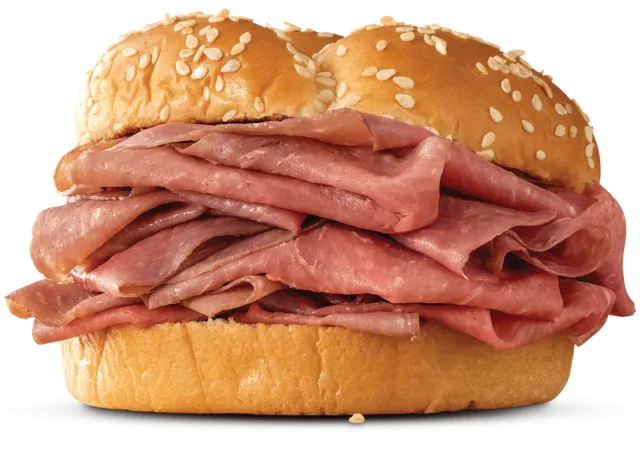 360 calories, 14 g fat (5 g saturated fat, 0.5 g trans fat), 970 mg sodium, 37 g carbs (2 g fiber, 5 g sugar), 23 g protein
Get your fill of 23 grams of muscle-building protein from this meaty sandwich, and really one of the few low-calorie restaurant selections you can make here. Really, even the "market fresh wraps" all come in at over 500 calories. You can also get a slider to be low-cal, but this sandwich is going to fill you up more than its miniature versions.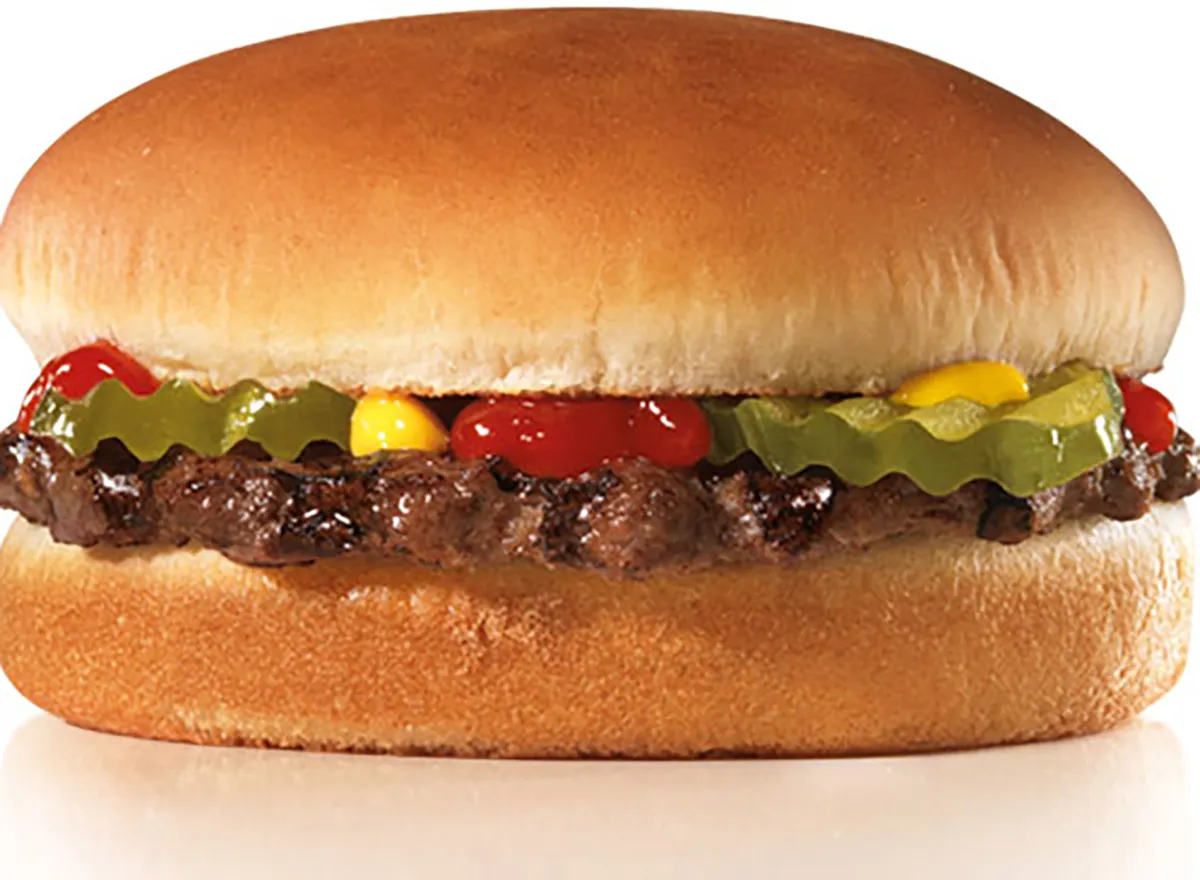 250 calories, 9 g fat (3.5 g saturated fat, 0 g trans fat), 570 mg sodium, 32 g carbs (1 g fiber, 7 g sugar), 11 g protein
When it comes to fast-food burgers, there is never anything wrong with going the classic route. And at Hardee's, you can get your burger craving satisfied with this menu option.
Jack in the Box Chicken Fajita Pita with No Salsa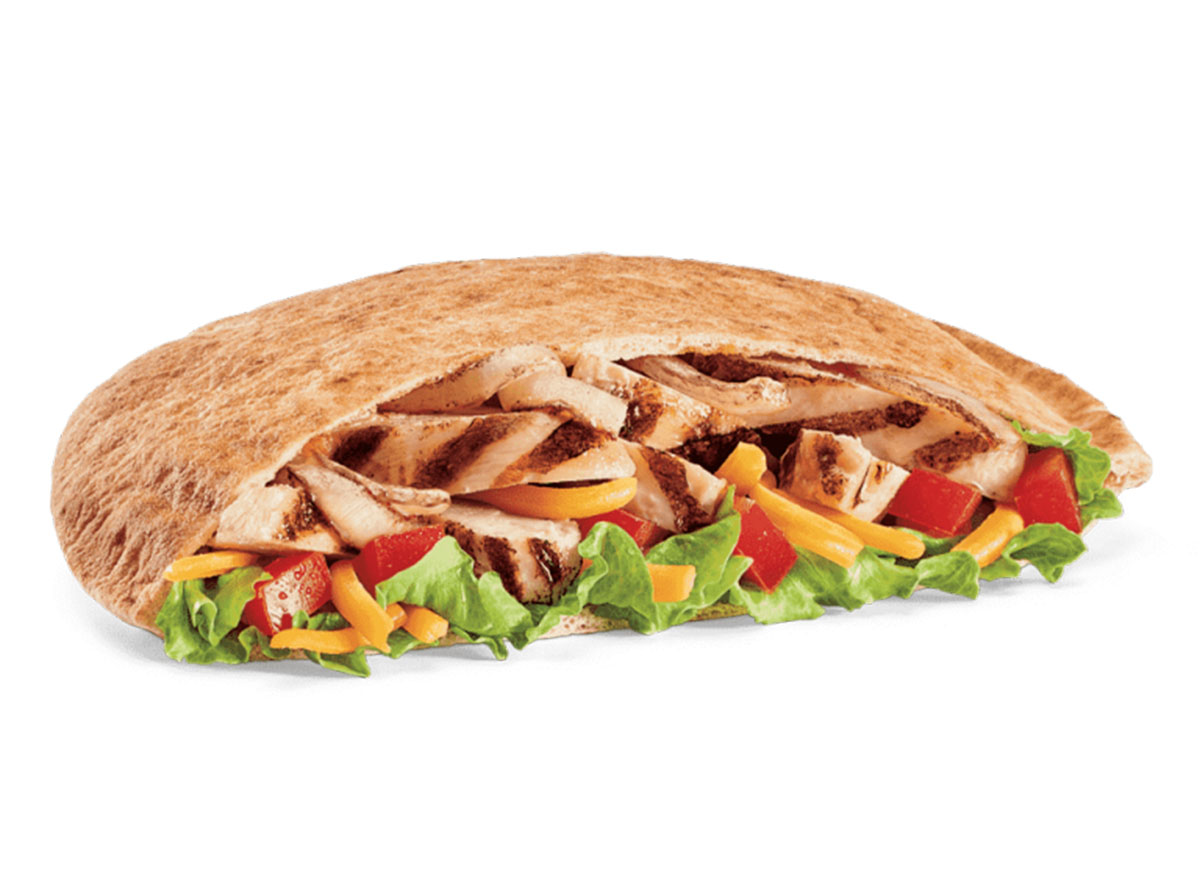 320 calories, 9 g fat (4.5 g saturated fat, 0 g trans fat), 670 mg sodium, 34 g carbs (3 g fiber, 3 g sugar), 27 g protein
Low in calories and packed with protein and fiber, this is one meal that we'd happily scarf down. The best here? The whole grains in the pita bread. We love whole grains because they contain all three parts of the grain, including the ones that are nutrient-rich and full of fiber to keep your hunger at bay.
Sonic Classic Grilled Chicken Sandwich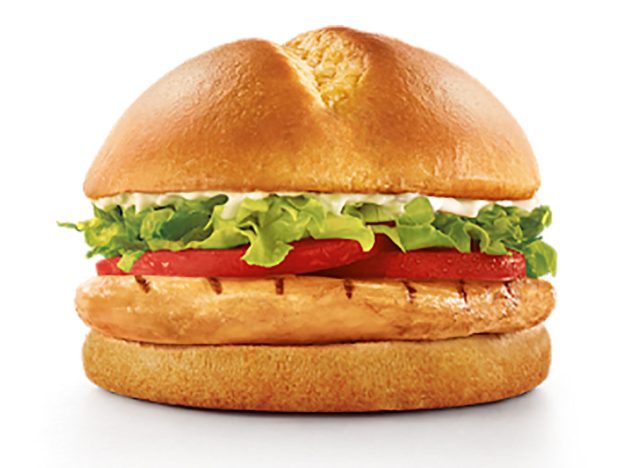 470 calories, 22 g fat (4 g saturated), 1,340 mg sodium, 39 g carbs (3 g fiber, 10 g sugar), 30 g protein
Steer clear of those Footlong dogs and over to this classically simple grilled chicken sandwich at Sonic. A ciabatta bun packed with 10 grams of whole grain and tender grilled chicken sync up with a host of veggies and light mayo to create this flavorful diet-friendly order.
Starbucks Turkey Bacon, Cheddar, Eggwhite Breakfast Sandwich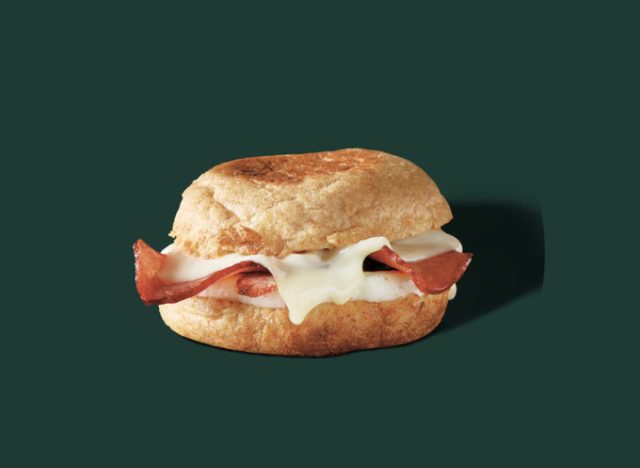 230 calories, 5 g fat (2.5 g saturated fat), 560 mg sodium, 28 g carbs (3 g fiber, 2 g sugar), 17 g protein
With a leaner protein in the form of turkey bacon over the traditional pork, this relatively low-carb English muffin and egg sandwich is the perfect start to your day. It packs a powerful nutritional punch of 13 grams of protein for a mere 230 calories. This promising info makes it another all-day breakfast item we're cool with getting behind.
Au Bon Pain Classic Oatmeal (Medium)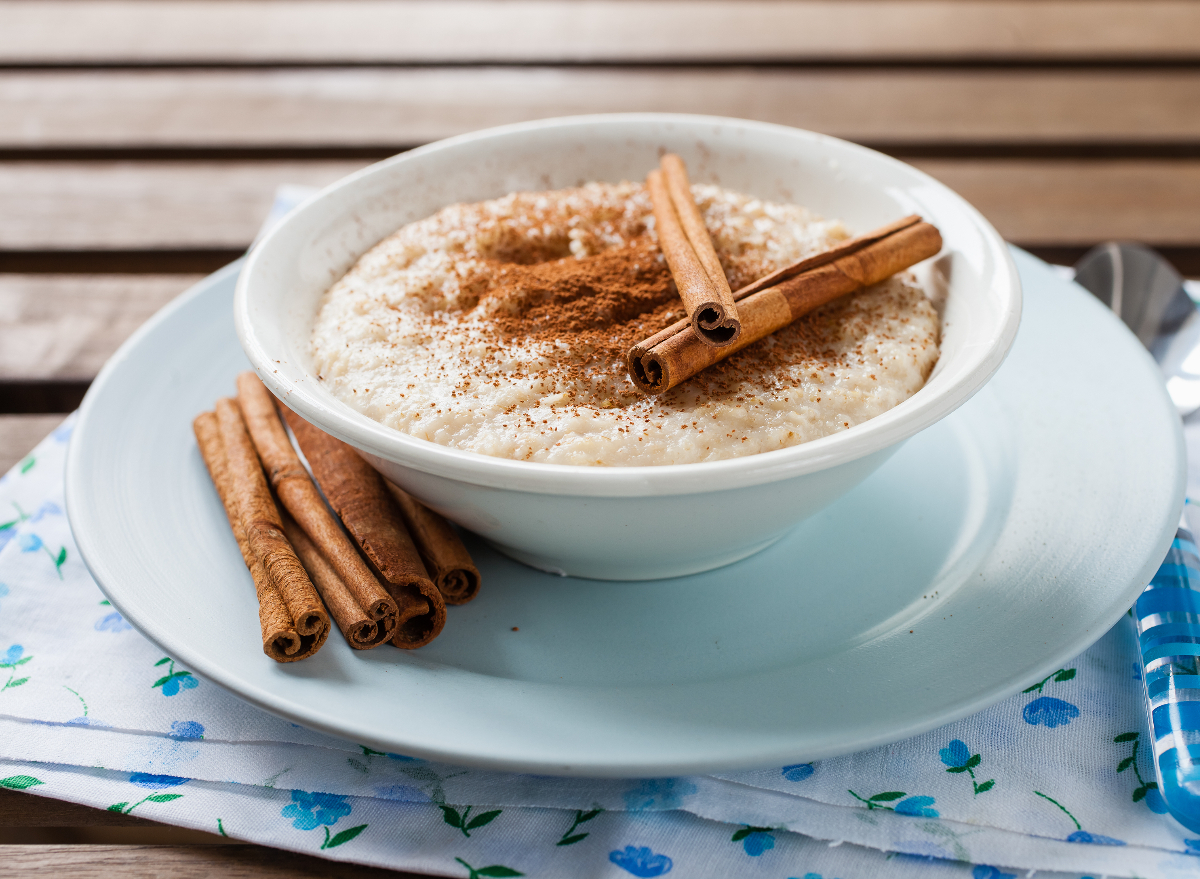 260 calories, 5 g fat (0.5 g saturated, 0 g trans fat), 10 mg sodium, 47 g carbs (6 g fiber, 1 g sugar), 10 g protein
Starting your day off with a hearty bowl of oatmeal is always a solid idea. You can go ahead and enjoy a medium-size bowl from Au Bon Pain, too!
Long John Silver's Southwest Grilled Salmon Rice Bowl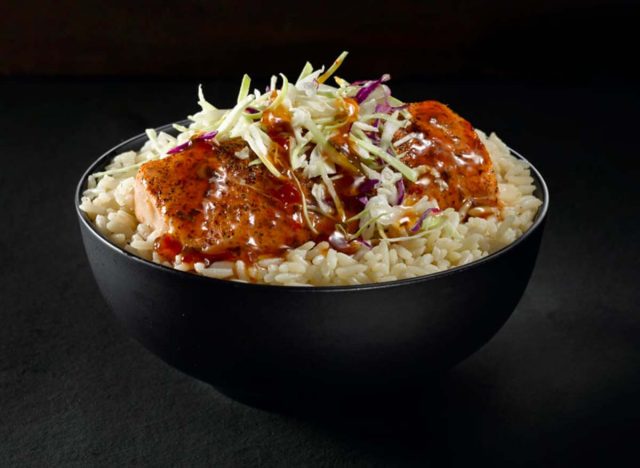 420 calories, 15 g fat (3 g saturated fat, 0 trans fat), 1,230 mg sodium, 45 g carbs (3 g fiber, 11 g sugar), 26 g protein
Long John Silver's is known for their array of seafood, and this salmon rice bowl makes for one of the smartest choices when it comes to low-calorie restaurant meals. Even though the chain has eliminated trans fats from the deep fryer, the breading and oils still pile on a hefty dose of fat, and that's why we recommend this dish. The salmon is grilled, not breaded and fried, so you don't have to worry about those extra calories and fat.
Carl's Jr. Charbroiled BBQ Chicken Sandwich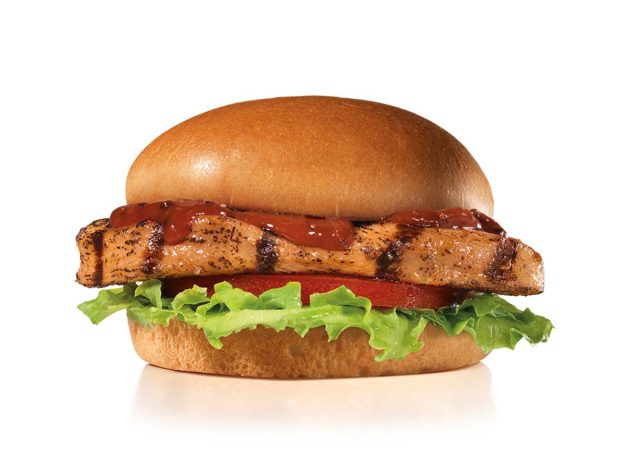 370 calories, 5 g fat (1 g saturated fat, 0 g trans fat), 1,210 mg sodium, 19 g carbs (2 g fiber, 6 g sugar), 33 g protein
At Carl's Jr., getting a simple grilled chicken sandwich without any crazy toppings isn't a bad idea. Here, you'll feast on charbroiled chicken breast, with lettuce, tomato, and tangy BBQ Sauce all on a potato bun.
Ruby Tuesday 8 oz. Top Sirloin with Steamed Broccoli and Grilled Zucchini
440 calories, 14 g fat (4 g saturated fat, 0 g trans fat), 935 mg sodium, 10 g carbs (5 g fiber, 1 g sugar), 48 g protein
In the fast-food world, it's hard to find a meal under 500 calories that don't contain the leanest of proteins, chicken. That's why this Ruby Tuesday's steak option is even more special!
Sbarro NY Cheese Pizza Slice
430 calories, 15 g fat (7 g saturated fat, 0 g trans fat), 970 mg sodium, 51 g carbs (3 g fiber, 6 g sugar), 21 g protein
On any given day, one in eight Americans will reach for a slice. When you're at Sbarro, be sure to go for the plain cheese slice. The Sbarro slices are extra large slices giving you a little extra than normal but leaving room for a nice, fresh side salad for an added boost of satiating fiber.
Moe's Southwest Grill Homewrecker Jr. with Chicken, Pinto Beans, Lettuce, Guacamole, on a Flour Tortilla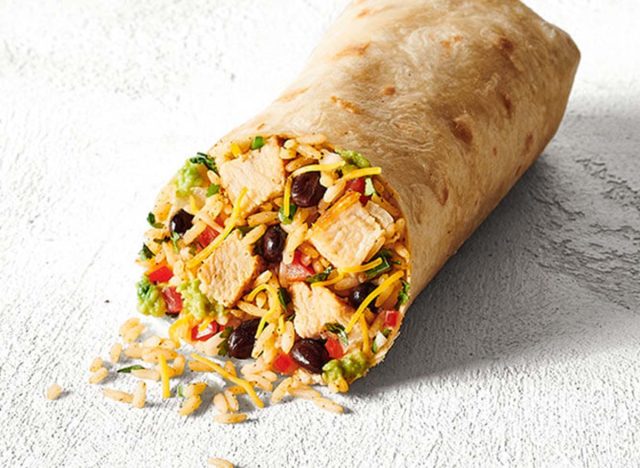 394 calories, 14 g fat (6 g saturated fat, 0 g trans fat), 619 mg sodium, 52 g carbs (11 g fiber, 3 g sugar), 24 g protein
Yes—that is a burrito under 500 calories, and with all the fixings! Moe's Southwest Grill manages to fit all your favorite burrito fillings into this Homewrecker Jr. by using a 2-inch smaller tortilla round than Chipotle.
Jimmy Johns Slim #4 Turkey Unwich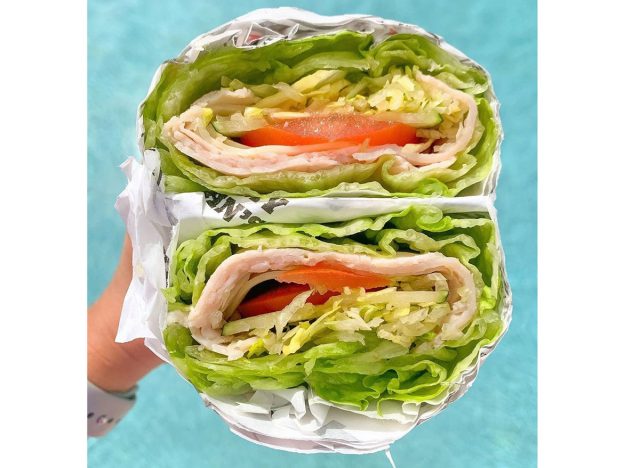 70 calories, 0.5 g fat (0 g saturated fat, 0 g trans fat), 540 mg sodium, 2 g carbs (0 g fiber, 1 g sugar), 14 g protein
This turkey breast sandwich from Jimmy Johns is a sight for sore eyes. But, it's one of the few only subs and giant club sandwiches under 500 calories. Keep in mind that's with only turkey, lettuce, tomato, and mayo, and the use of the lettuce wrap instead of a regular piece of bread takes off a lot of the calories.
KFC Kentucky Grilled Chicken Breast with Sweet Kernel Corn and Green Beans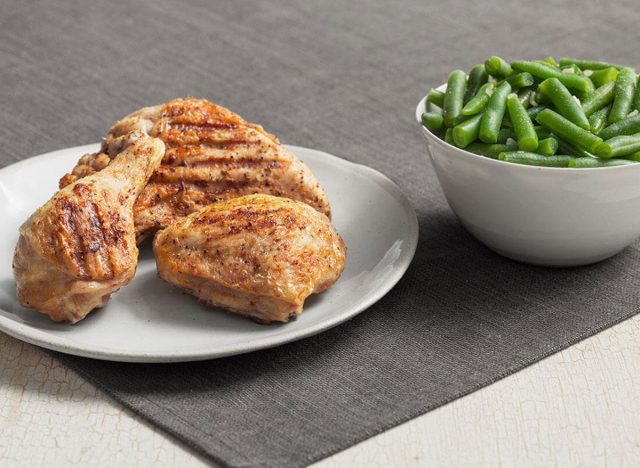 305 calories, 7.5 g fat (2 g saturated fat, 0 g trans fat), 1,010 mg sodium, 21 g carbs (3 g fiber, 3 g sugar), 41 g protein
This light, low-calorie meal will keep you full without derailing your weight loss efforts. One of the better low-calorie restaurant options, a Kentucky Grilled Chicken Breast is great to turn to when you find yourself at KFC. Pair a side of green beans and corn with lean poultry for a well-rounded meal. that's still "finger-licking good."
Olivia Tarantino
Olivia Tarantino is the Managing Editor of Eat This, Not That!, specializing in nutrition, health, and food product coverage.
Read more about Olivia