The Best Low-Calorie Dinners at 10 Popular Chain Restaurants
Enjoy one of these low-calorie restaurant meals on your next evening out with the family.
Meal prep, planning, and cooking your dishes at home throughout the week can help you achieve your health goals by giving you control over the ingredients and, in turn, the total amount of salt, sugar, fat, and calories you end up with in your final meal.  While cooking your food at home is a great way to stick to your specific goals, when it comes to your diet and health, everyone needs a break from time to time.
When you don't have the time or energy to cook a meal, taking the family out to eat can be a fun way to enjoy delicious food together. And thankfully, even though restaurant food is often higher in calories, sodium, and fat, there are some low-calorie restaurant meals you can try at your favorite chains.
What qualifies as a low-calorie restaurant meal?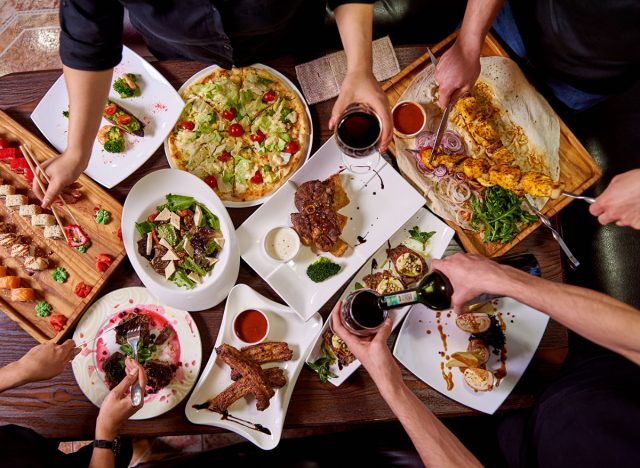 Calories are essentially just units of energy, and your body needs them through food to function. Throughout the day, your body also naturally burns calories through the energy it uses, which is why it needs food to replenish the calories burned. Some of the main reasons why you may hear people discussing low-calorie foods or wanting to eat fewer calories in order to lose weight has to do with what happens to your body relative to how many calories are consumed; eating more calories than your body can spend can lead to weight gain.
Unfortunately, even if you're trying to lower your calories to lose weight, there isn't really a universally applicable, hard amount of calories to aim for—just general guidance. So, it's best to talk with a dietitian or doctor to make sure you're still giving your body the fuel it needs when lowering your calories.
"While there really isn't a perfect definition for what a low-calorie dish entails, if it contains less than 700 calories, you are in good shape," says Lisa Young, PhD, RDN, author of Finally Full, Finally Slim and member of our Medical Expert Board. "So many restaurant meals contain 1,000–1,500 calories for just one dish, so steer clear of these or share it with 1–2 people."
For some ideas on low-calorie restaurant dishes you can try next time you're dining out, check out our dietitian-recommend list of options from 10 popular chains. Then, for more healthy eating tips, head to one of these 7 Healthiest Fast-Food Restaurants next time you're in a rush.
10 low-calorie meals from chain restaurants
1. California Pizza Kitchen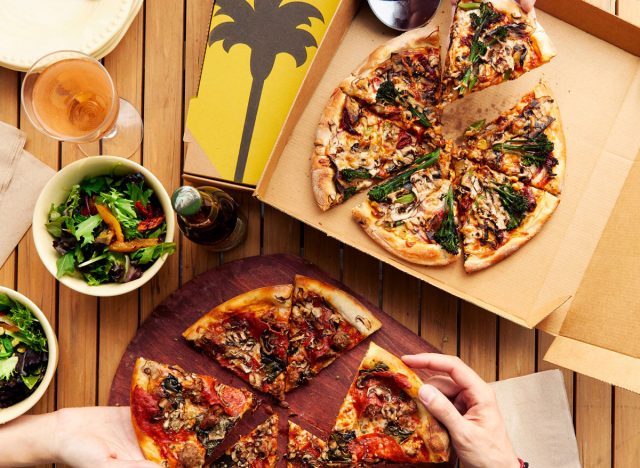 When you and the family are in the mood for pizza, California Pizza Kitchen can be a delicious option. When compared to other pizza chains like Uno's, Pizza Hut, or Domino's, California Pizza Kitchen's pizza is already lower in calories, which is helpful when you want to make some healthier choices.
Another good thing about this pizza chain is that they offer a variety of other menu options aside from pizza. According to Young, the Bahn Mi Power Bowl is a low-calorie choice that will leave you feeling full and satisfied.
"This dish contains healthy ingredients like quinoa, kale, bean sprouts, carrots, radish, cucumber, avocado, scallions, and boneless, skinless chicken breast," says Young, "and the ingredients in this dish contain healthy fats, whole grain carbohydrates, protein, and vegetables."
Low-Calorie Options from California Pizza Kitchen
Bahn Mi Power Bowl: 490 calories
Wild Mushroom Pizza (3 slices): 510 calories
California Cobb Salad: 510 calories
2. P.F. Chang's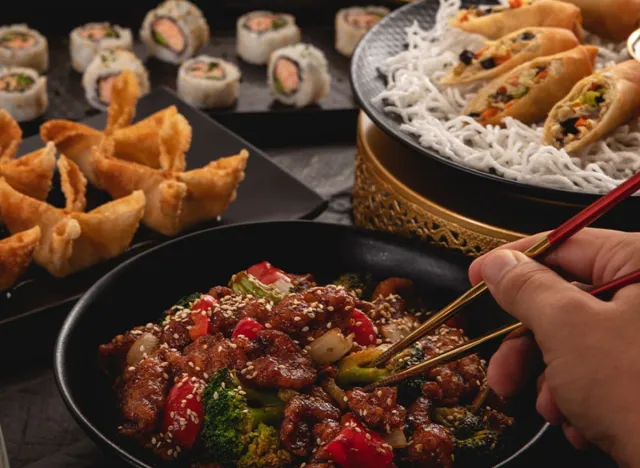 P.F. Chang's may be famous for its menu items, like the chicken lo mein or the Great Wall of chocolate, but this chain restaurant also offers some healthier, more nutritious options, as well.
"The Spicy Tuna Roll from P.F. Chang's contains rice, ahi tuna, cucumber, spicy sriracha, dynamite sauce, and chives," says Young, "This dish is low in calories and offers other nutritional benefits, like the ahi tuna that contains heart-healthy omega-3 fatty acids." If tuna isn't your thing, you can try dishes like the Mongolian beef or the crispy honey shrimp, both of which are under 550 calories.
Low-Calorie Options from PF Changs
Spicy Tuna Roll: 330 calories
Mongolian Beef: 380 calories
Crispy Honey Shrimp: 510
3. Cheesecake Factory
If you're headed to the Cheesecake Factory but want a low-calorie meal, you'll first want to (unfortunately) pass on the cheesecake. But even if you decide to skip dessert, there are still some healthy yet delicious dinner options to choose from—take the SkinnyLicious Chicken Soft Tacos, for example.
"Cheesecake Factory's SkinnyLicious Chicken Soft Tacos are made with corn tortillas filled with spicy chicken, avocado, onions, cilantro, and crema, and served with an escabeche vegetable salad," says Young. "This is a great option to choose because it is low in calories and high in nutrients, making this a nutrient-dense meal."
Low-Calorie Options from Cheesecake Factory 
SkinnyLicious Chicken Soft Tacos: 510 calories
SkinnyLicious Shrimp Soft Tacos: 510 calories
SkinnyLicious Lemon-Herm Parmesan Chicken: 590 calories
4. Olive Garden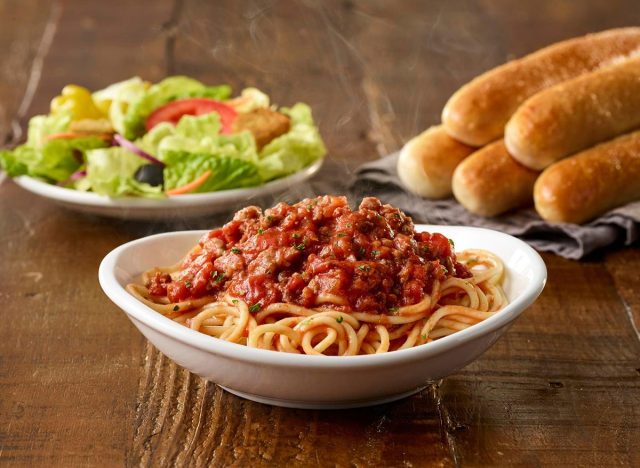 Olive Garden may be known for its pasta and breadsticks. But if you're wanting to stick with a low-calorie meal, you may need to find something else, or at least limit yourself to one breadstick with your meal. For a healthier option at Olive Garden, try something like the herb-grilled salmon.
"This dish is a good low-calorie option due to the high protein and low carbohydrate content, making it a great choice for those following a low-carb diet, as well," says Trista Best, MPH, RD, LD at Balance One Supplements. "The salmon is also high in omega-3 fatty acids, which can reduce inflammation and improve heart health."
Low-Calorie Options from Olive Garden
Herb-Grilled Salmon with Sautéed Vegetables: 610 calories
Spaghetti With Marinara: 490 calories
Shrimp Scampi: 510 calories
5. Chili's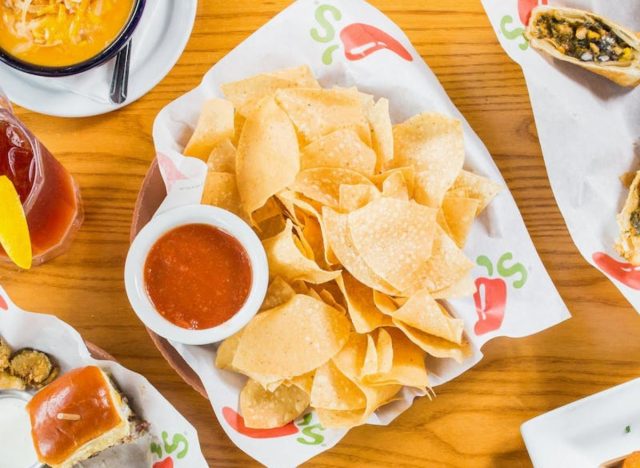 Chili's is a fan favorite of those who want to grab some free chips and salsa and take advantage of the famous 2-for-1 margarita deal. But if you're on the lookout for meals that are lower in calories, be careful—their menu is full of calorie-heavy options.
The good news is that just because the Quesadilla Explosion Salad from Chili's has over 1,100 calories, you can find some lower-calorie dinner options, like the classic sirloin or the Santa Fe chicken salad.
Low-Calorie Options from Chili's
6 oz. Classic Sirloin with Grilled Avocado: 360 calories
Santa Fe Chicken Salad With Chicken: 560 calories
Ancho Salmon: 640 calories
6. Applebee's
One of the benefits of chain restaurants like Applebee's is that they are affordable and have an enormous menu compared to most other local restaurants. This gives you the option to select healthier options if need be. For example, Applebee's offers dinners like the top sirloin for only 550 calories, or the blackened tilapia for a little less than 600. This leaves you room to order a cocktail or split an appetizer before your meal.
Low-Calorie Options from Applebee's
Grilled Chicken Breast: 550 calories
6 oz. Top Sirloin: 550 calories
Blackened Tilapia: 590 calories
7. Red Lobster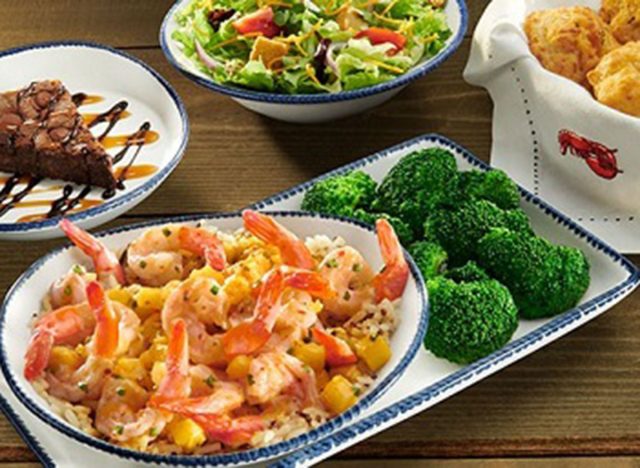 Red Lobster offers a lot of delicious fish and steak options, but many of them are fried. To lower your calories and still enjoy a night out, opt for one of their grilled or broiled dishes, such as the lobster-topped stuffed flounder or the Maine lobster tail duo. And, if you want to treat yourself to a famous Red Lobster Cheddar Biscuit, you can add one to these lower-calorie meals and still stay close to around 700 calories.6254a4d1642c605c54bf1cab17d50f1e
Low-Calorie Options from Red Lobster
Lobster-Topped Stuffed Flounder: 510 calories
Maple Bacon Chicken: 520 calories
Maine Lobster Tail Duo: 560 calories
8. TGI Fridays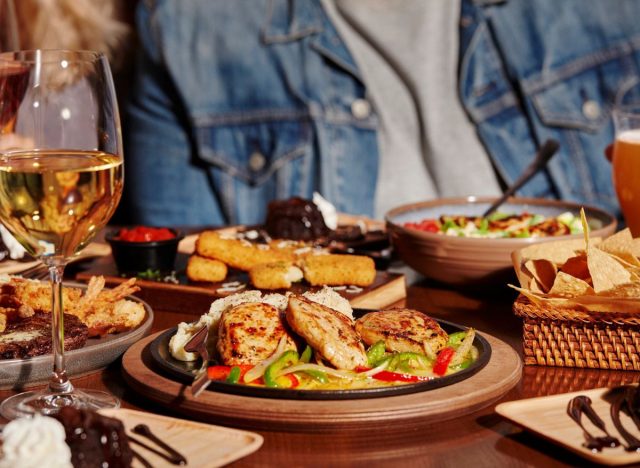 The menu at TGI Fridays is vast and contains something for everyone. However, it's easy to go overboard on calories with things like burgers, wings, baby back ribs, and desserts. Thankfully, you can find a few low-calorie restaurant meals at this chain, like a 6-ounce sirloin steak or salmon and vegetables.
Low-Calorie Options from TGI Fridays
6 oz. Sirloin With Mashed Potatoes and Lemon Butter Broccoli: 440 calories
Dragon-Glazed Salmon With Lemon Butter Broccoli and Mashed Potatoes: 510 calories
Simply Grilled Salmon With Double Lemon-Buttered Broccoli: 560
9. Longhorn Steakhouse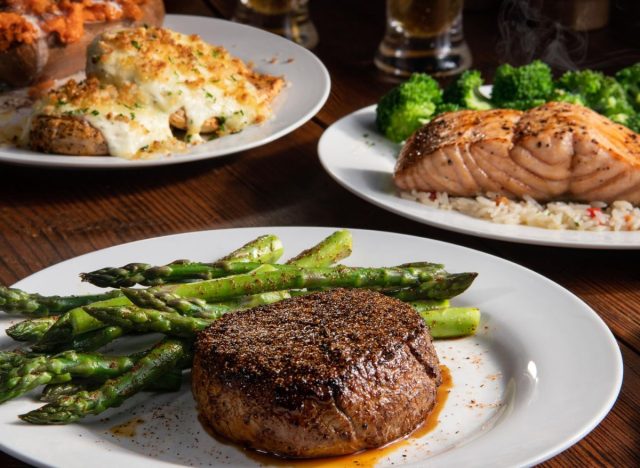 For fans of steak, Longhorn Steakhouse can be a relatively affordable way to enjoy a sirloin or filet mignon. And the good news is that you can chow down on some of their delicious meals for under 500 calories, like the Renegade Sirloin or the salmon and rice. Just beware of items such as the full rack of baby back ribs, which come in at 1,270 calories.
Low-Calorie Options from Longhorn Steakhouse
8 oz. Renegade Sirloin: 380 calories
9 oz. Flo's Filet: 450 calories
7 oz. Salmon and Rice: 530 calories
10. Outback Steakhouse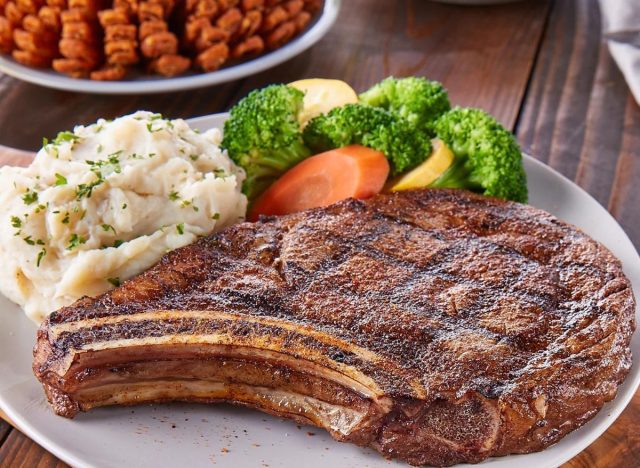 When thinking of low-calorie restaurant meals, you may not consider Outback Steakhouse at first, especially when you're sure to be tempted by Outback Steakhouse's Bloomin' Onion appetizer. But to keep your meal lower in calories, we suggest something like the grilled chicken, filet mignon, or grilled salmon.
Low-Calorie Options from Outback Steakhouse
Grilled Chicken on the Barbie: 410 calories
8 oz. Victoria's Filet Mignon: 530 calories
Perfectly Grilled Salmon: 550 calories