A Crisp Cornmeal Catfish With Corn Salsa Recipe
Get that satisfying crunch of a fried fillet without all the extra calories.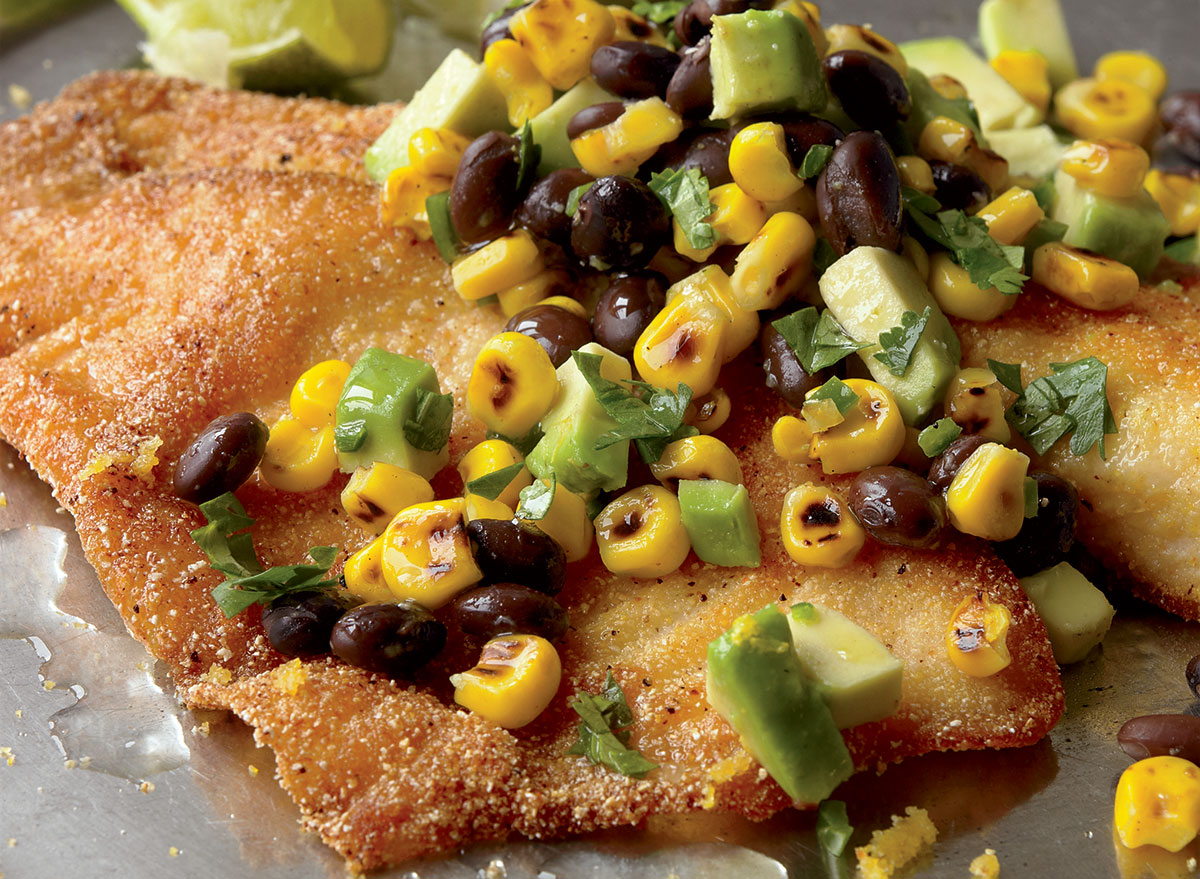 Nearly all catfish you encounter on restaurant menus has one thing in common: a long soak in hot fat. We've never quite understood the appeal. Once food is battered and fried, doesn't it all start to taste the same? This catfish recipe mimics the satisfying crunch of a fried fillet and the corn salsa provides more flavor than you'd ever find in a coat of soybean oil.
Nutrition: 430 calories, 20 g fat (4 g saturated), 460 mg sodium
Serves 4
You'll Need
4 tsp canola oil
1 ear corn, kernels removed from the cob
1 can (16 oz) black beans, rinsed and drained
1 avocado, pitted, and cut into cubes
Juice of 1 lime, plus wedges for garnish
1 jalapeño, minced
Salt and black pepper 1 cup cornmeal
1⁄8 tsp cayenne pepper
4 catfish fillets (6 oz each; Catfish is affordable and found in most markets, but flounder and tilapia are good substitutes.)6254a4d1642c605c54bf1cab17d50f1e
How to Make It
Heat 1 teaspoon of the oil in a medium saucepan over medium-high heat.
Add the corn kernels and cook, stirring occasionally, until they're lightly browned, about 5 minutes.
Add the beans and warm through.
Transfer to a bowl and stir in the avocado, lime juice, and jalapeño; season with salt and pepper.
Pour the cornmeal onto a large plate; season with the cayenne, 1 teaspoon salt, and 1⁄4 teaspoon pepper.
Dredge the fillets in the cornmeal until evenly coated.
Heat the remaining 3 teaspoons of oil in a large non-stick skillet or sauté pan over medium heat.
When the oil is hot, add the catfish and cook for 4 to 5 minutes per side, until the coating is golden and crispy and the fish flakes easily.
Serve the fish topped with the salsa, along with additional lime wedges, if you like.
Eat This Tip
Pan-Frying
The virtues of pan-frying are manifold. First, you don't have to spend the money on an entire bottle of oil to fry a few pieces of fish or chicken. Next, you avoid the mess of deep-frying at home. Finally, and most important, pan-frying provides the delicious flavor and crispy texture of deep-frying for a fraction of the calories.
Film a pan with oil (peanut is best, both for its high smoke point and its healthy fat profile) and heat over medium. Lightly flour or bread your chicken, pork, or fish (pounded chicken and pork and thin cuts of fish work best since they cook quickly and evenly) and add one piece at a time to the pan. Don't crowd (!) or the oil temperature will plummet and the crust will be soggy. Cook until a deep golden crust develops on each side, adding more oil if the pan dries up along the way.
This recipe (and hundreds more!) came from one of our Cook This, Not That! books. For more easy cooking ideas, you can also buy the book!