This NYC Couple Is Keeping Romance Alive by Social-Distance Dining on the Sidewalk
As this couple shares exclusively with Eat This, Not That!, quarantine life has revived grand gestures and courtship.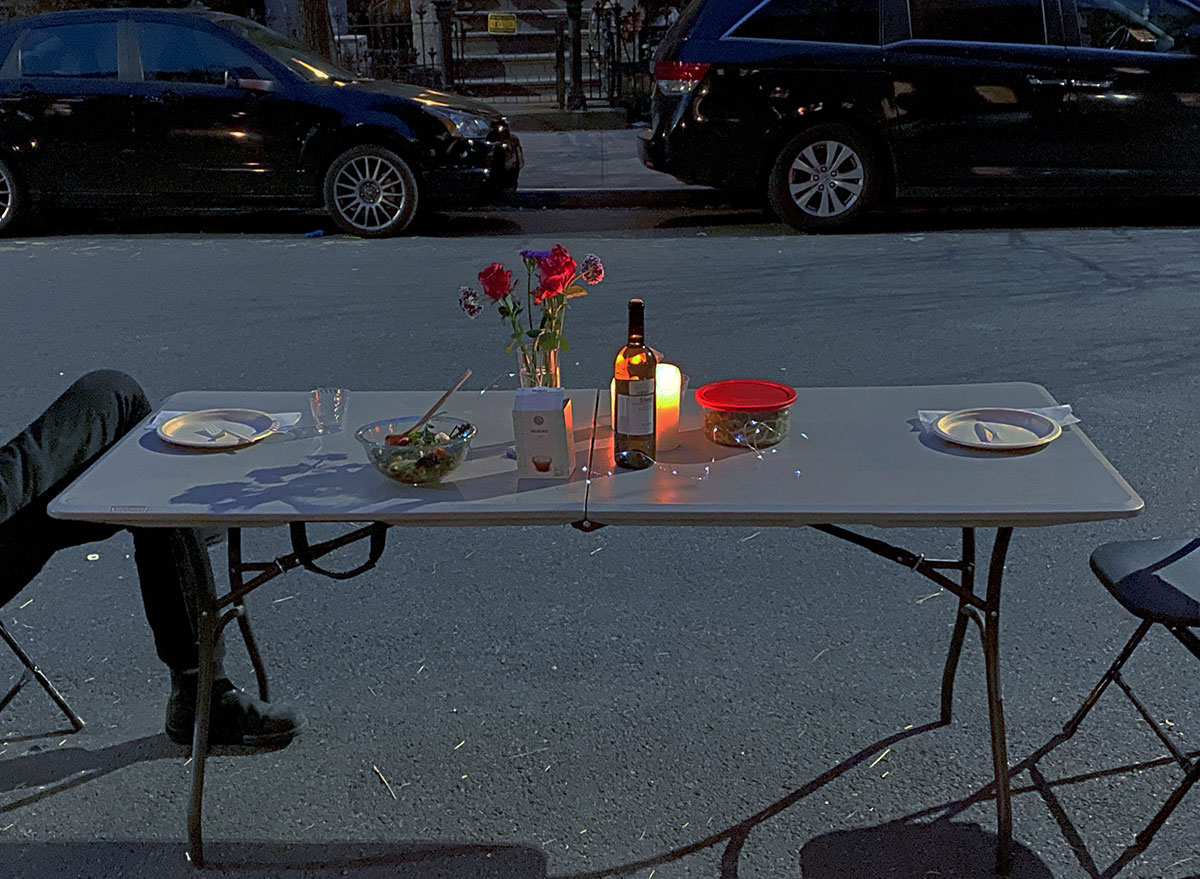 Dating in the time of social distancing due to the coronavirus pandemic comes with an added layer of challenges. Not only is it difficult to meet someone (but not impossible, as demonstrated by this first date story that went viral on Instagram), but new couples who were just starting to get to know each other pre-virus are now forced to try to continue their relationships remotely.
It's truly an unusual situation in a time when dates often come easy on dating apps. But one young couple in Brooklyn, New York, is not letting the strange circumstances get in their way. In fact, they've gotten creative in order to stay close and spend quality time together in person, while still keeping the recommended six feet of distance at all times.
How? By having social-distanced dates on the sidewalk.
When Dating Changes Overnight
When the quarantine started, A and L had been seeing each other for a few months. But when NYC was effectively locked down overnight, they both had to quarantine separately in their own homes. They checked in with each other every day via texts and video calls, but the dynamics were undeniably different.
"It was tough," says A. "Going from hanging out a couple times a week to suddenly being limited to only virtual communication was not something for which either of us was prepared, nor wanted to get used to."
After a few weeks, they devised a way to see each other that strictly adhered to the rules and regulations of social distancing. It started off with L driving over and dropping off soup he had made, or picking up challah bread that A had made. "We would always keep a six-foot distance, and we'd wash the food containers before consumption."
STAY INFORMED: Sign up for our newsletter to get the latest coronavirus foods news delivered straight to your inbox.
Of course, these fleeting and short food transactions proved insufficient. L and A were basically shouting at each other from a distance for a few minutes, which didn't quite live up to the dates they so missed. "We wanted to hang out longer, but still respect the rules of social distancing."
So, L came up with an idea to surprise A with an unusual dinner date she wasn't expecting. Nothing like a new relationship to inspire ingenuity! "I happened to be looking at a six-foot folding table when I was on the phone with A," recalls L. "The date pretty much figured itself out after that."
A Genius, Six-Feet-Apart Idea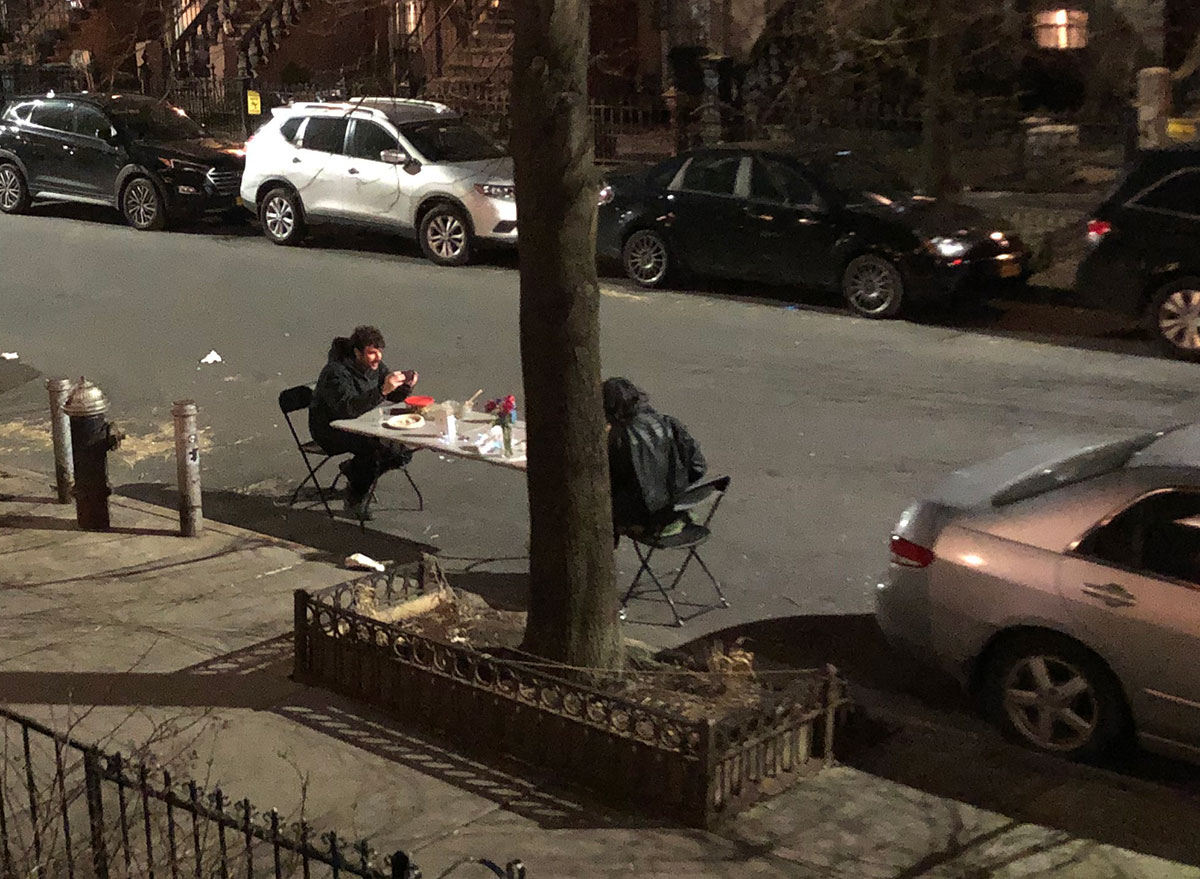 On an otherwise uneventful evening, L called A. "He just asked if I wanted to go out for dinner," she says.
A knew he was planning something, but wasn't sure exactly what. He had told her to make a dish, any dish, for dinner and have it ready to go. Thinking they might be having a virtual dinner on video chat (like they'd done several times before), she quickly decided to roast some vegetables with Hungarian spices.
Little did she know, L had loaded his six-foot folding table into his pickup truck, along with flowers, candles, a bottle of wine, and homemade food, then headed over to her house for a romantic quarantine surprise.
"A couple hours later, I look out my window and see a dinner table set up in front of my building," says A.
Romance on a City Street
When she came out, L was sitting at a dinner table he had set up on the empty sidewalk, with candles, flowers, and all, with soft music coming from the speakers attached to his iPhone. He had also brought sautéed bok choy and beef udon.
As they sat at the opposite ends of the table, they used gloves to pass each other food from a distance. "We were so glad to see each other, even from afar. We talked about how the new self-distancing measures were changing the world of dating—everything had to be more old school, thoughtfully planned, with some real effort and creativity going into wooing someone when physical closeness wasn't possible," A says.6254a4d1642c605c54bf1cab17d50f1e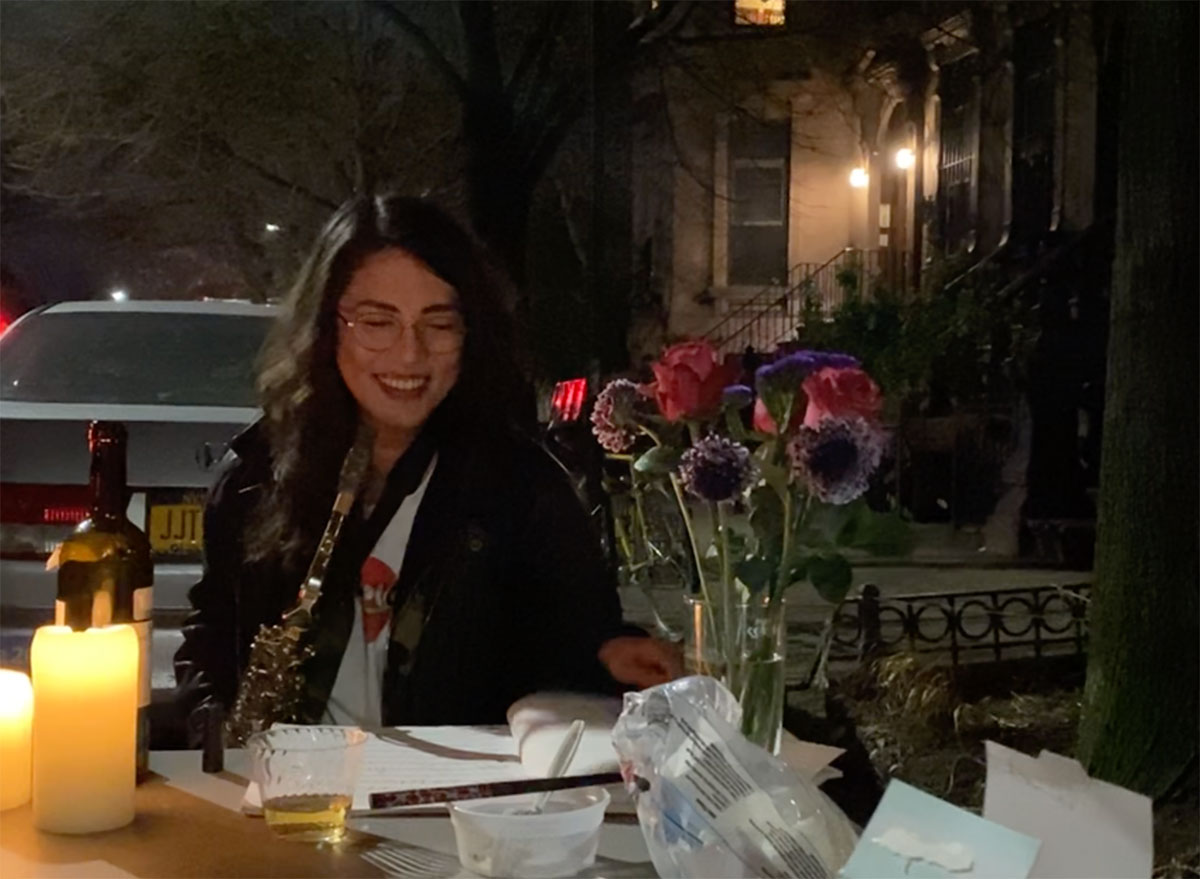 Not only were they delighted to finally be together again, but they also brought some comic relief and photo ops to those who witnessed their sidewalk date. "This started the day after Bill Withers had passed, and we had him on our speakers the entire night. Many passersby commented on the hilarity and romance of the dinner, and the homage to Bill. They would walk by and snap photos, a couple cars drove past, then backed up just to take a photo," A said.
Eventually, even her neighbors joined in on their conversation from their stoops.
The night ended with some marshmallows roasted over candle fire, and A bringing down her retired saxophone to play a few melodies for L. "We delighted in the fact that all this seemed kind of cheesy, in a good way," she says. "L convinced me to play a few tunes on my sax, which I hadn't played in four years, to really punch up the overall humor of the situation."
From that moment on, these six-feet-apart sidewalk dinners have become a quarantine ritual for the new couple. "We've done a few more since, and we're looking forward to the day when we can spend time together without the six-foot table barrier between us."
Who says romance is dead? We wish A and L more grand romantic gestures in the future—with or without a pandemic.
READ MORE: I Had Coronavirus, and It Completely Changed My Appetite
Mura Dominko
Mura is ETNT's Executive Editor, leading the coverage of America's favorite restaurant chains, grocery stores, and viral food moments.
Read more about Mura