6 Most Enormous Costco Desserts That Can Feed a Crowd
Costco's new viral-worthy 4.75-pound pie is just one of many massive desserts at the warehouse club.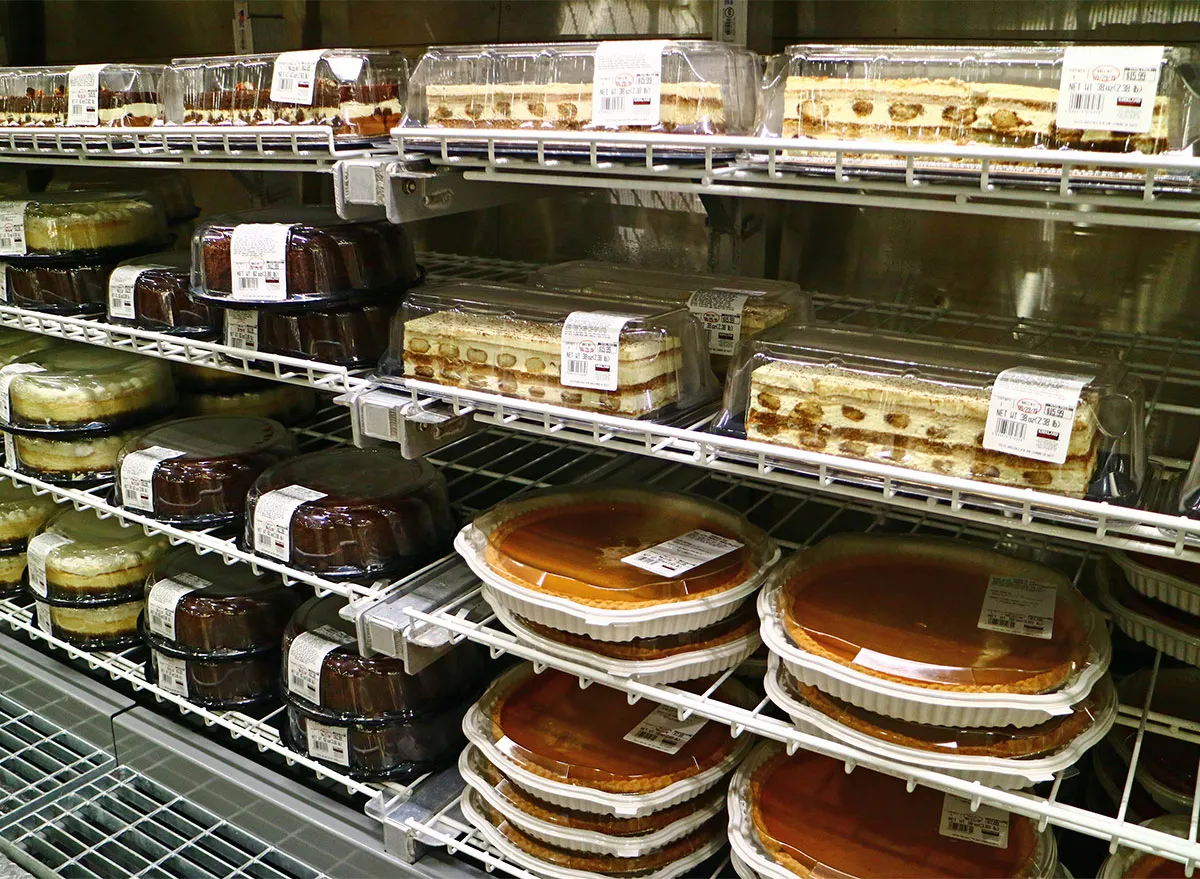 Costco is the place to go for big grocery purchases—and by "big," I mean absolutely huge.
Looking for a "mega size" 30-ounce bag of Doritos? A five-pound package of peanuts? A seven-pound can of tomato paste? A 50-pound bag of long grain rice?
Well, if so, then you're in the luck, because your local warehouse sells all of these things, each priced ridiculously low per unit. At $26.49, for instance, that hefty bag of rice works out to just 53 cents per pound.
These big values also extend to the club's much beloved bakery department.
Earlier this week, social media star Laura Lamb, aka @costcohotfinds, whipped up a frenzy of online chatter with her posted video about Costco's brand new Peanut Butter Chocolate Pie.
"It is huge," Lamb said of the hefty 4.75-pound dessert, priced at $19.99, which she further described as "dangerously delicious."
Her video racked up over three million views on TikTok and another 99 million on Instagram, generating thousands of comments along the way, including several comparisons to the deceitful chocolate pie from the 2011 movie The Help—albeit, hopefully, with different ingredients.
Lamb later told Today that her son had likened the pie to "a huge peanut butter cup." Of course, it's not the only huge dessert in Costco's repertoire. The same article also cited a "2.5-pound log of tiramisu" and "a whopping 7-pound chocolate cake."
Wondering what other enormous confections Costco currently has in store, I wandered over to my local warehouse in Brooklyn, N.Y., to scope out the expansive selection. Here are six other substantially sized sweets now available to club members.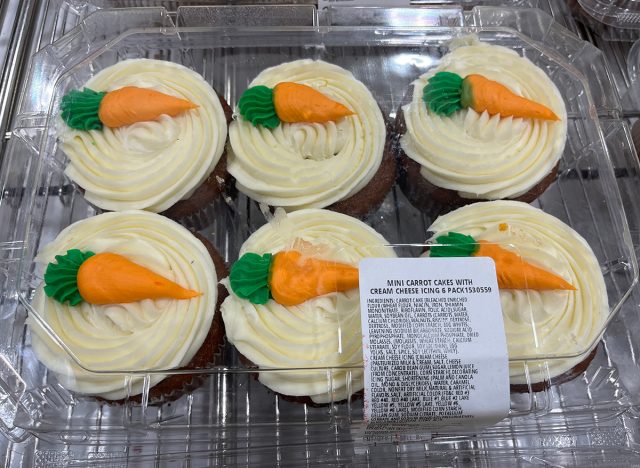 Only Costco could get away with calling these things "mini." Each cupcake is about the size of a regulation softball. Priced at $9.99, a package of six weighs in at two pounds, 10 ounces, which works out to almost half a pound each. Cut them in half and you can easily feed a dozen people.
Tuxedo Chocolate Mousse Cake
You know the old catchphrase, "Is it a bigger than a breadbox?" Well, this is pretty close. It's immediately unclear which is lengthier: Costco's sprawling Tuxedo Chocolate Mousse Cake itself, or the vast number of ingredients listed in fine print on its label. Either way, the $16.99 dessert is truly dense at over two and half pounds in total.6254a4d1642c605c54bf1cab17d50f1e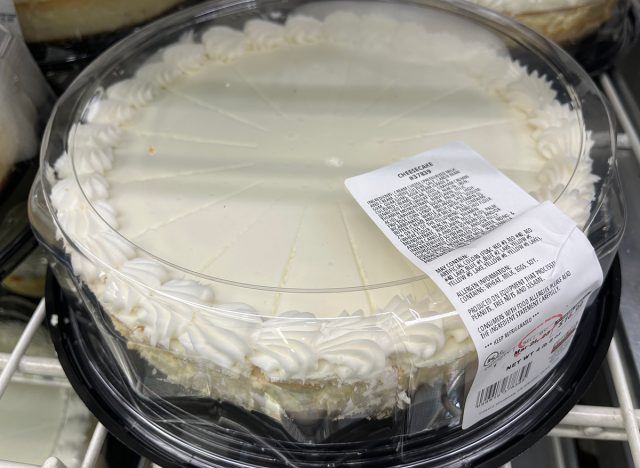 New York is famous for its cheesecake, perhaps none more so than Junior's, a longstanding Brooklyn institution. The classic Junior's cheesecake weighs about three pounds and feeds around 12. Naturally, Costco's cheesecake is even bigger than the standard bearer—four pounds, eight ounces. Based on the number of outlined slice marks, it easily serves 18 or more.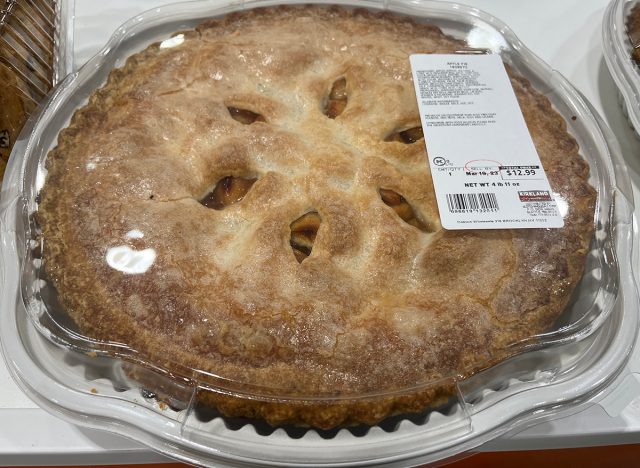 The only thing more American than apple pie is, of course, a super-sized apple pie. Costco's gargantuan take on the traditional U.S. staple tops out at four pounds, 11 ounces, but costs just $12.99. The label gives no indication about the number of servings, but you can imagine that amount is exceptional. Much like America.
David's Cookies Premier Chocolate Cake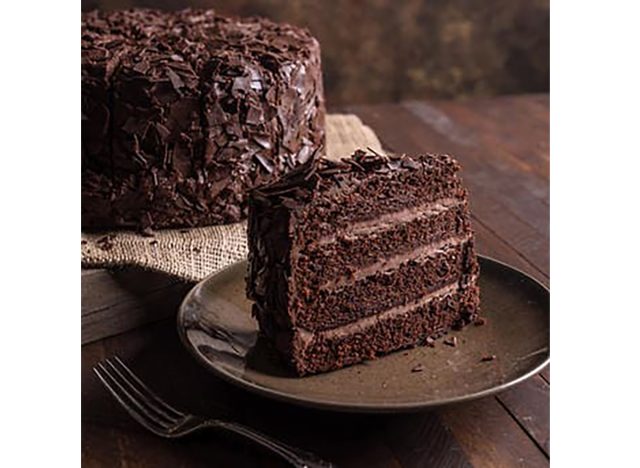 If you thought the desserts were plenty big enough at the warehouse, then you need to see what's available through Costco's website. The specifications listed for this four-layer, 10-inch "Premier Chocolate Overload Cake" include 14 "[g]enerously sized precut slices" and a total weight of 7.2 pounds. The price tag is equally hefty: $56.99. And yes, shipping costs extra!
The mother of all Costco desserts is the custom half sheet cake, which members can choose to personalize with various designs, including balloons, roses, crosses—even Costco's mascot: the oversized teddy bear. Priced at $24.99, the massive rectangular-shaped cake serves 48 people, according to signage posted at the bakery. The total weight is not posted. But when you consider that Costco's 10-inch round cake serves 16—essentially, one-third of the larger's cake size—and the standard 10-inch birthday cake weighs nearly four pounds, then the half sheet cake must be close to 12 pounds.
And if that's what Costco considers a "half" sheet cake, then just imagine how truly enormous a full-sized sheet cake would be!