What a Costco Employee Wishes Shoppers Knew About the Rotisserie Chickens
A worker recently shared a PSA about what it takes to produce those famous birds.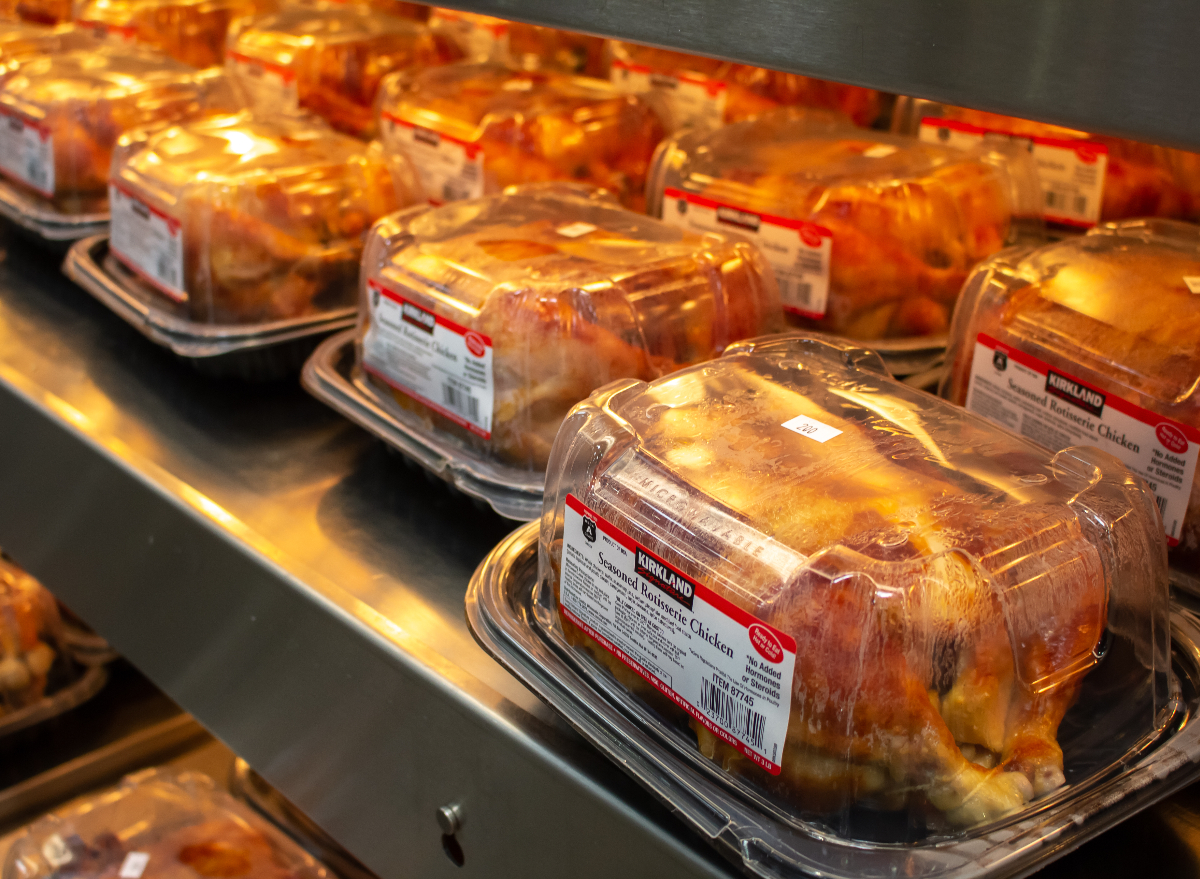 Costco has sold more than 100 million of its $4.99 rotisserie chickens annually since 2020, so it's safe to say that those beloved birds are a staple on many Americans' shopping lists. But have you ever headed over to your local Costco to pick up a chicken only to find that they're completely sold out? Well, a Costco insider just revealed why it can be so hard for workers to keep those birds in stock for the rotisserie chicken-loving masses.
Costco deli worker Mika Martin took to Reddit this week to share a PSA on what members should keep in mind the next time they're on the hunt for a hot rotisserie chicken. For starters, the employee said that Costco's leadership asks workers to predict how many birds they'll need in two hours. And if they overestimate the total, then leadership will "get mad at us," Martin said. 6254a4d1642c605c54bf1cab17d50f1e
"This is one of the main reasons why we may run out so often. This is very difficult to do and an inefficient process," wrote Martin, whose Reddit handle is u/General_Watercress32.
Martin also revealed that there is no limit to how many chickens a single shopper can purchase at one time, at least at certain warehouses. This puts even more pressure on their rotisserie chicken supplies because one customer could take dozens for themselves and leave little to none for others. On the same day that they wrote the post, for example, Martin reportedly saw one customer grab 50 chickens. And the very next day, another member attempted to take 40. 
Martin told Eat This, Not That! that Costco deli workers have no issue preparing extra chickens for members who need them, but advised them to call ahead so they can make sure there are enough chickens and staff to fill those orders.
"As someone who does meal prepping on a budget I know how crucial our chickens can be," Martin said.
The Costco employee also noted that working in the chicken side of the deli is one of the "least sought-out positions" at the retailer. This means that many new Costco hires with "minimal experience" are "being thrown into the fire" at the chicken station.
"It's a very common saying that if you can make it in the chicken room at deli, you can make it anywhere else in the warehouse easily," Martin said.
Martin alone, for example, is responsible for producing chicken, wings, and ribs. The deli worker had been drinking five energy drinks every eight hours in order to work as fast as possible, but plans to look for other energy boosters after receiving plenty of concerned comments from other Costco fans.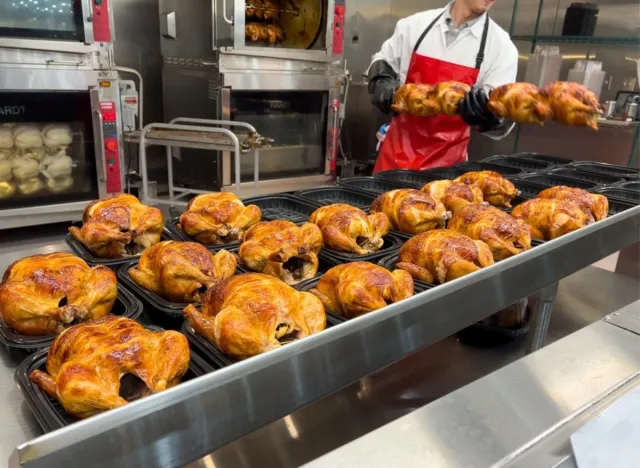 This PSA is especially relevant in light of a recent viral video that showed Costco members clearing out a whole cart of fresh rotisserie chickens in seconds before a Costco worker had the chance to unload them. The video demonstrated just how intense the demand for those famous birds can be at some locations—and how hard it can be for deli workers to try to meet that demand.
In the comments section under Martin's post, several fellow employees backed up just how tough it can be for deli workers trying to keep their warehouses stocked with rotisserie chickens.
"I worked chickens for over four years. That is one of the hardest jobs in the warehouse because of all the extra thought and planning you have to do. Just pace yourself as best as you can. Speed and efficiency will come with time and practice," one Redditor commented.
"I used to be the chicken guy back 18 years ago and had the same issue. I told them 'I'm only one person,'" another wrote.
Zoe Strozewski
Zoe Strozewski is a News Writer for Eat This, Not That! A Chicago native who now lives in New Jersey, she graduated from Kean University in 2020 with a bachelor's degree in journalism.
Read more about Zoe