Costco Shoppers Are Raving About These Gourmet Cookies
Craving a perfectly chunky chocolate chip cookie with just the right texture? Look no further!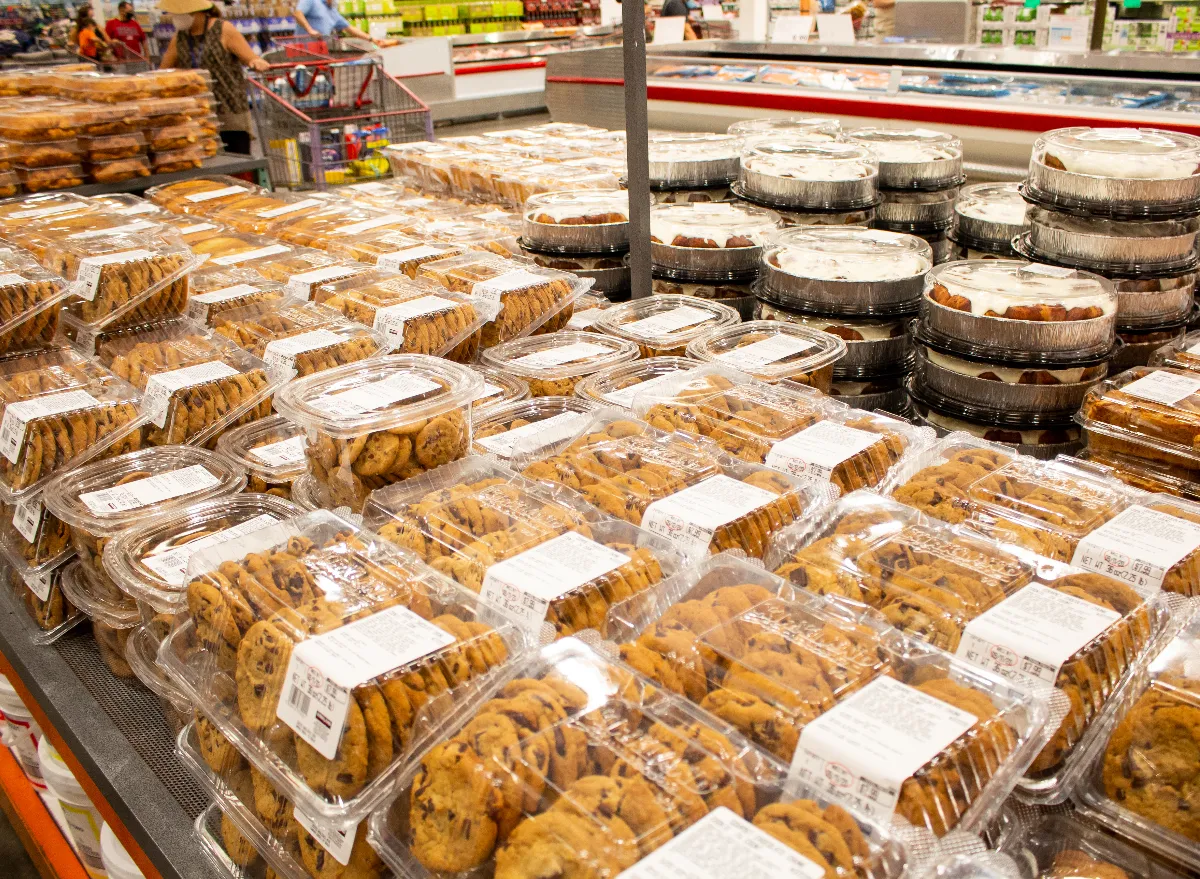 Run to the fridge and grab that glass of cold milk. Costco never fails when it comes to its selection of Kirkland items, and one bakery item, in particular, has customers singing its praises right now.
The chain's fans are a wealth of information on the products you just have to have when you make a visit, and their latest obsession can be found in the baked goods section. According to the subreddit thread "Costco, I Love You," the warehouse club's Gourmet Chocolate Chunk Cookies are so good,  you can't have just one.
"I lose all self-control when my wife buys chocolate chip cookies," one Redditor professed, admitting to eating two to three of these addictive treats per day."Two or three in one day?" countered another, "I eat that many on the drive home."
When it comes to the perfect cookie, any connoisseur knows it's all about the texture—and what you're looking for is that coveted combo of chewy and crunchy. According to the myriad of fans who commented on the original post, these cookies hit the spot. "They are somehow both perfectly soft and maintain a nice, crunchy texture," said one shopper.  
As with most items from the warehouse club, besides the decadent deliciousness of these cookies, Redditors are raving about the reasonable price. You can get a whopping two dozen for under $10. "[Whole Foods' cookies] cost almost as much for four cookies as the 24 Costco cookies," stated one customer. 
In fact, it doesn't even pay to make your own, says one customer, who calculated the cost for all the ingredients and realized it's still cheaper to get Costco's version.
What else is so magical about these cookies? Customers claim you can make them taste freshly made, without any of the work, by utilizing a quick hack. "I put one in the microwave for 15 seconds and it's like a fresh baked cookie out of the oven." Not a fan of the microwave? No problem. Simply put the oven on at 300 degrees and warm the cookies for about five minutes, recommends another Redditor. 6254a4d1642c605c54bf1cab17d50f1e
If you'd still rather bake yours at home, you can buy a tub of the delicious dough from the bakery department and bake them yourself. All you have to do is ask! Some stores even stock the pre-rolled balls of dough in the freezer section.
Speaking of frozen, another way to stock up is to buy them in bulk (it's Costco, duh) and freeze half a dozen at a time in quart-sized ziplock bags. When you're in the mood for a cookie, thaw them out and you'll have one that tastes like it was just purchased.
Jené Luciani Sena
Jené Luciani Sena is an accredited journalist and internationally-renowned bestselling author, regularly seen on national TV outlets such as Access Daily, Today and Dr Oz. Touted as one of Woman's World Magazine's "Ultimate Experts," she's a TEDTalk speaker and a busy Mom of 4.
Read more about Jené