6 Costco Brand Items That Rival Popular Name Brands
The Kirkland Signature brand is bringing the heat to these long-standing name-brands.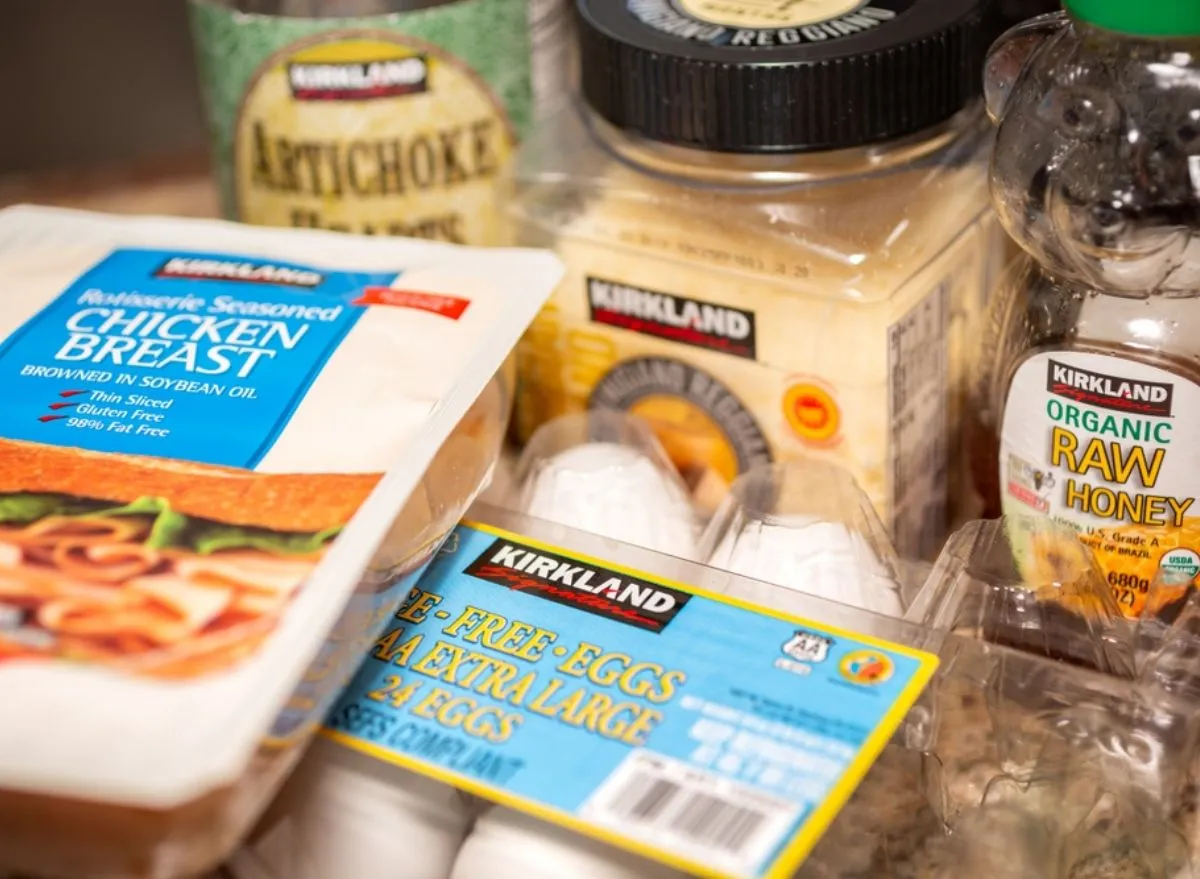 This post contains affiliate links. If you use these links to buy something, we may earn a commission.
In terms of sales, Costco's Kirkland Signature brand is America's biggest consumer packaged goods brand, according to CNN, it brings in more revenue than top retail brands such as Hershey, Campbell Soup, and Kellogg's. Kirkland has also become highly competitive with many of the name-brand items American households commonly keep in their kitchen, with devotees claiming they are just as good or better than popular name brands.
"Kirkland Signature is a $74B brand—they only stock products customers love," says Christopher Durham, retail brand expert and president of Velocity Institute, a global groundbreaking private brand industry association.
It's safe to say that Costco members are fully committed and loyal to the wholesale grocery store brand, and even more so, they have never been afraid to say it. "The internet is full of rabid Kirkland fans who extoll the virtues of golf balls, bourbon, olive oil, laundry detergent, and nuts, just to name a few," Durham explains.
When it comes to name-brand products at the grocery store, there are still some undeniable staple products that may never taste the same coming from any other box. But as a result of top-notch quality, the low price for large quantities, and an overbearing Costco fanbase, these 6 Kirkland items seem to be better than their long-lived name-brand counterparts.
Kirkland Signature Whole-Bean Coffee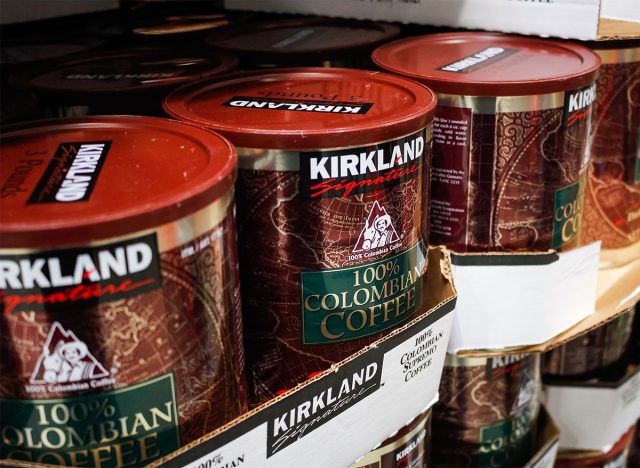 "Costco has created a brand that shoppers know, love, and trust," says Durham. That's why "Shoppers are excited to try everything from whole-bean coffee to yoga wear."
Move over Starbucks and Dunkin Donuts—the Kirkland brand has developed coffee beans that consumers are constantly craving every morning so much so that they'll move mountains to get it. "I buy three bags at a time [and] we live a hundred miles from Wichita Costco," member Jim Raymond wrote on a Costco Facebook post.
The two main hitters that members seem to love are the Kirkland Signature™ House Blend (medium roast) and the Kirkland Signature™ Columbian Coffee (dark roast).
Kirkland Signature Chicken Tortilla Soup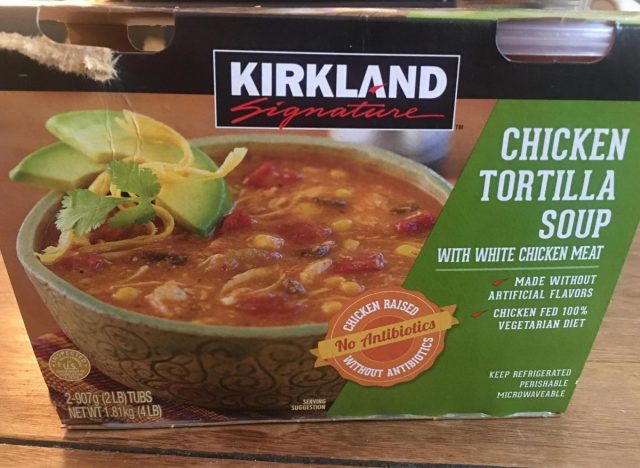 Even though soup season is barely coming around the corner, this Costco classic is sold and enjoyed by members anytime they can get their hands on it. Not only is this product raved about for its delicious taste, the soup also comes at an affordable, unbeatable price. Coming out at about 18 cents per ounce, according to GO Banking Rates, you get a whole lot of soup for almost half the price of the name-brand ready-made soups you might see at the grocery store.
And as for quality, many happy shoppers have gone on to Reddit and even personal blogs to rave about how phenomenal they find this soup to be. One Redditor said, "this soup is better than in some Mexican restaurants. I just add crispy tortilla strips to it." You'll find that this product is "super flavorful without being spicy, [and has] quality chicken pieces (no weird icky bites)" the blogger, Cost Contessa, wrote.
Kirkland Signature's Organic Ancient Grain Granola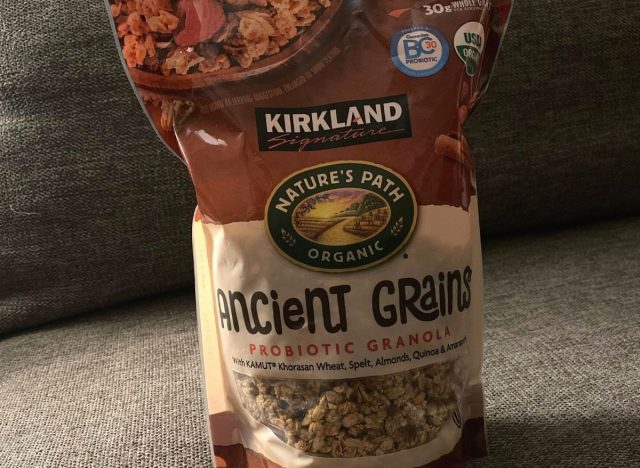 Granola isn't always the cheapest product at the grocery store, but finding good quality granola is another challenge of its own. Nature Valley was a top name-brand granola shoppers found to be reliable until Kirkland rolled around with their own take on the product.6254a4d1642c605c54bf1cab17d50f1e
Business Insider compared the two products and found that Kirkland Signature Organic Ancient Grain Granola is much more flavorful, plus, the addition of whole grains and nuts brings texture and an excellent variety of tastes.
Kirkland Signature Shredded Cheeses
Buying a bag (or two) from Kirland Signature's shredded cheese line can be the best bang for your buck and it has the perfect melty-cheese-quality everyone needs for an ideal crispy, grilled cheese or quesadilla. While the wholesaler does often carry beloved cheese brands, like Tillamook and Sargento, that's not what members flock to.
Members are frequently reaching for the Kirkland Signature Shredded Cheddar Jack Cheese, while others swear by the Kirkland Signature Mexican Style Four Cheese Blend. However, the general consensus, according to a Reddit discussion thread, is that both are flavorful cheeses—one possibly milder than the other—and when the portion is too big for a household, freezing some of the product does wonders for making it last!
Kirkland Signature's Liquor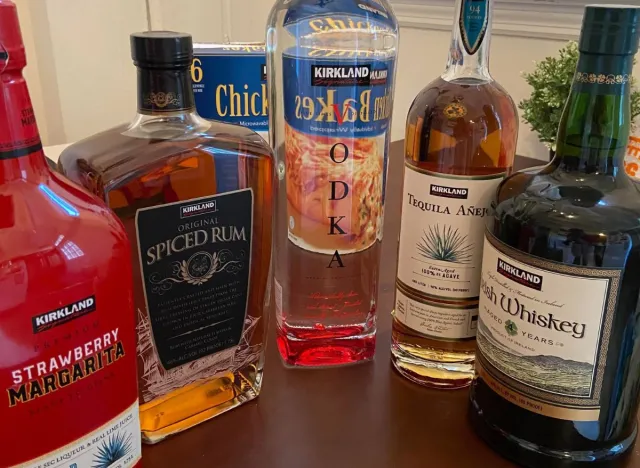 If you already have your go-to cocktail ingredients, you might want to think again. Costco's Kirkland Signature brand has expanded into the world of alcohol in form of hard liquor, beer, and wine—and even a few spritzers here and there—some of which can be just as good or even better than name-brand bottles.
In 2022, the Tik-Toker, @TheNeverEndingFall, went viral for pinning Costco's alcohol against name brands in an ongoing series of videos called "Can it Kirkland?" Whether it's been Grey Goose vodka or Jameson whiskey, the blind tastings almost always come out in favor of the Kirkland brand over the name brand.
Kirkland Super Premium Vanilla Ice Cream
Costco's members scream for this ice cream. In a thread dedicated to finding Costco products that surpassed those of name brands, Redditor @captainthepuggle wrote, "Came here to say this. It's the best vanilla ice cream by miles, nothing comes close."
The dessert item comes in two half-gallon containers, making it enough to feed an army. But what makes this product even more superior is the "Super Premium" aspect within the label, per Mashed, because it differentiates that this is a higher quality ice cream. Ice cream's that are considered "Super Premium" are those that have been made with far less air (than on average) and more butterfat, giving it the creamy texture Costco members praise.
This isn't to say Häagen-Dazs and Ben & Jerry's are going out of business anytime soon, but the Kirkland brand's vanilla ice cream has put up quite a competitive fight.
Jordan Summers-Marcouillier
Jordan Summers-Marcouillier was born and raised in San Jose, California and now works as a writer in New York, NY.
Read more about Jordan