The Craziest Foods of 2019
From unicorn everything to "Kranch" sauce, you won't believe these foods exist.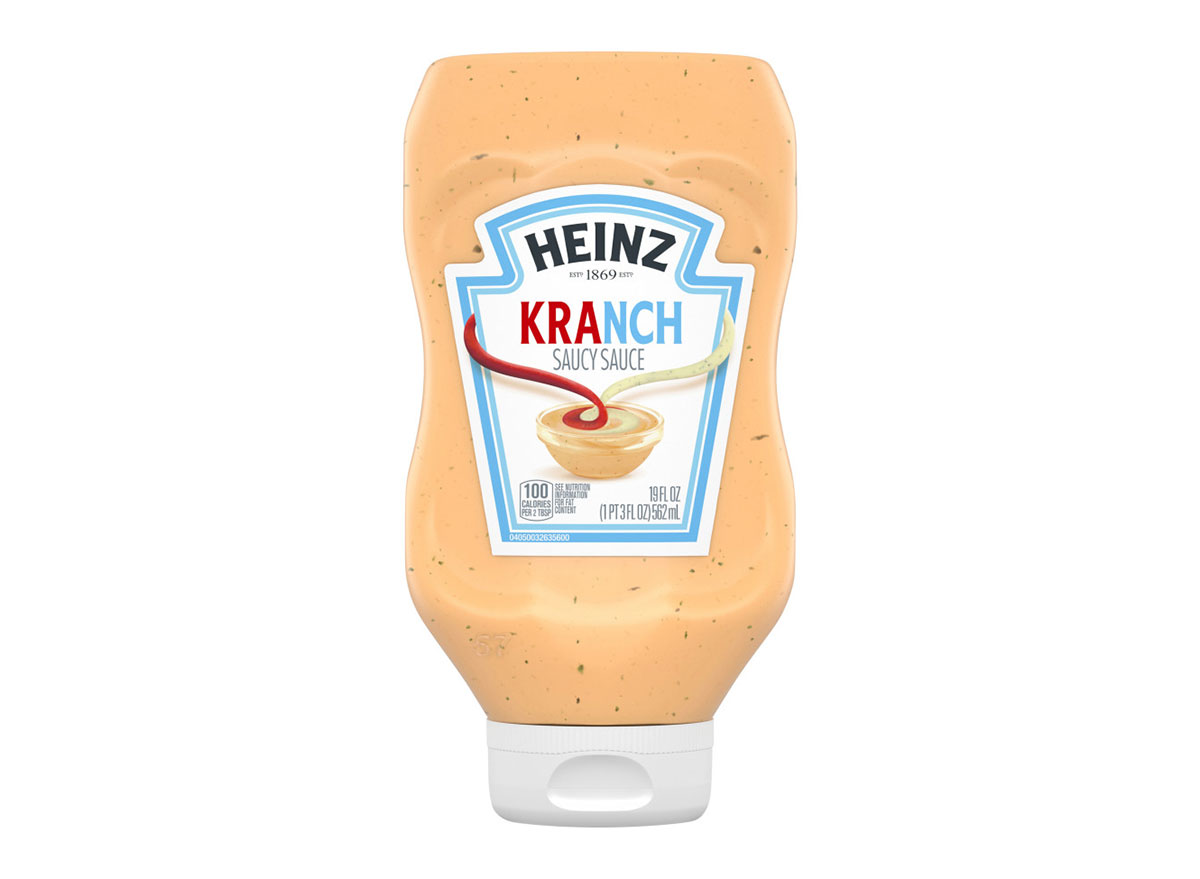 Unicorn-inspired desserts, veggie dishes disguised as meat, and loads of brand collabs have all been trending in 2019.
But how did we get here, sipping cocktails garnished with Ding Dongs and having an appetite for mythical, pastel-swirled desserts? Credit Instagram with influencing our food choices, explains David Young, the corporate executive chef of educational dining services for American Dining Creations, which caters and designs dining programs for companies and colleges.
"For Gen Z, how Instagram-worthy a meal [is] has become just as important as the taste of the meal itself," Young says.
Beyond rainbow-colored everything, though, plant-forward options have been popular, and so, too, are foods that can perform tricks (think: liquid nitrogen ice cream), Young explains. Here, we've rounded up 22 of the craziest foods of 2019.
Arnold Simply Small Loaves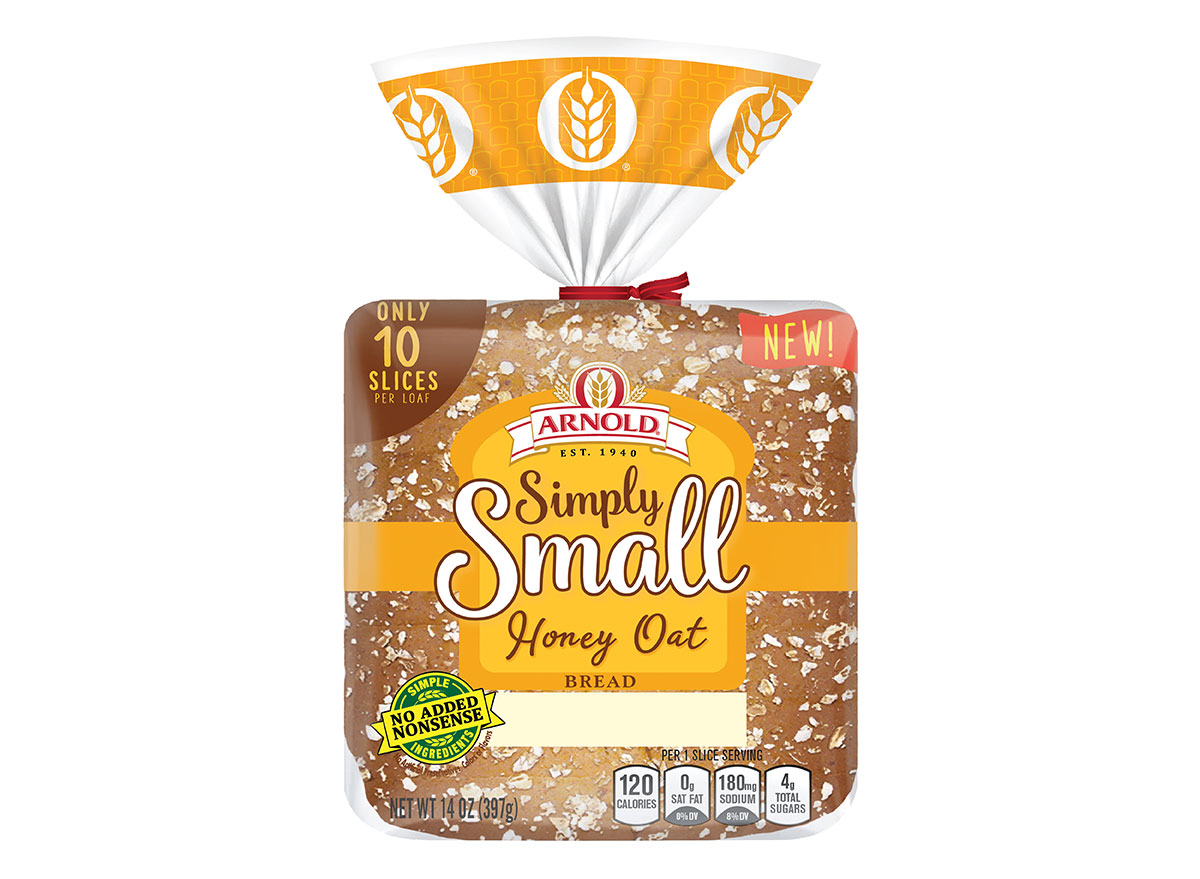 Back in 2015, a Reddit user asked: Why isn't there bread packaged for single people? It took a while, but breadmakers Arnold, Brownberry, and Oroweat finally stepped up and answered the call this year. The Simply Small loaves have just 10 slices of bread in them, and they come in honey oat or white. (Of course, carb-loving singles who can't mow through an entire bread before the expiration date could also freeze the unused slices.)
Cinnamon Roll Hot Pockets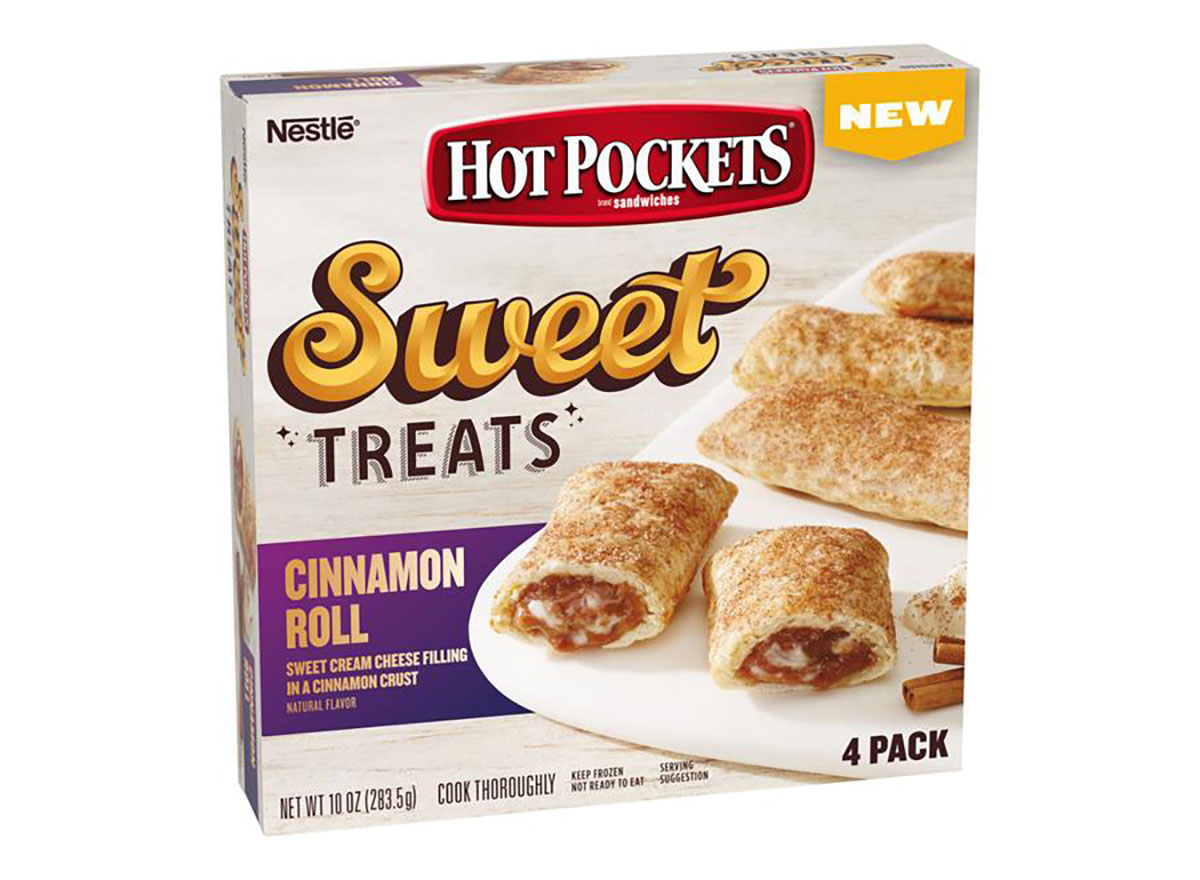 Since they debuted in 1983, Hot Pockets have mostly been typecast in a cheesy pizza role. But the brand is showing it has a sweet side, too, with the debut of microwaveable Cinnamon Roll Hot Pockets. The treats have a cinnamon crust and are filled with sweet cream cheese. But should we have really been surprised by this? Hot Pockets has been experimenting with all kinds of pocket varieties, ranging from breakfast sandwiches to stuffed pretzels.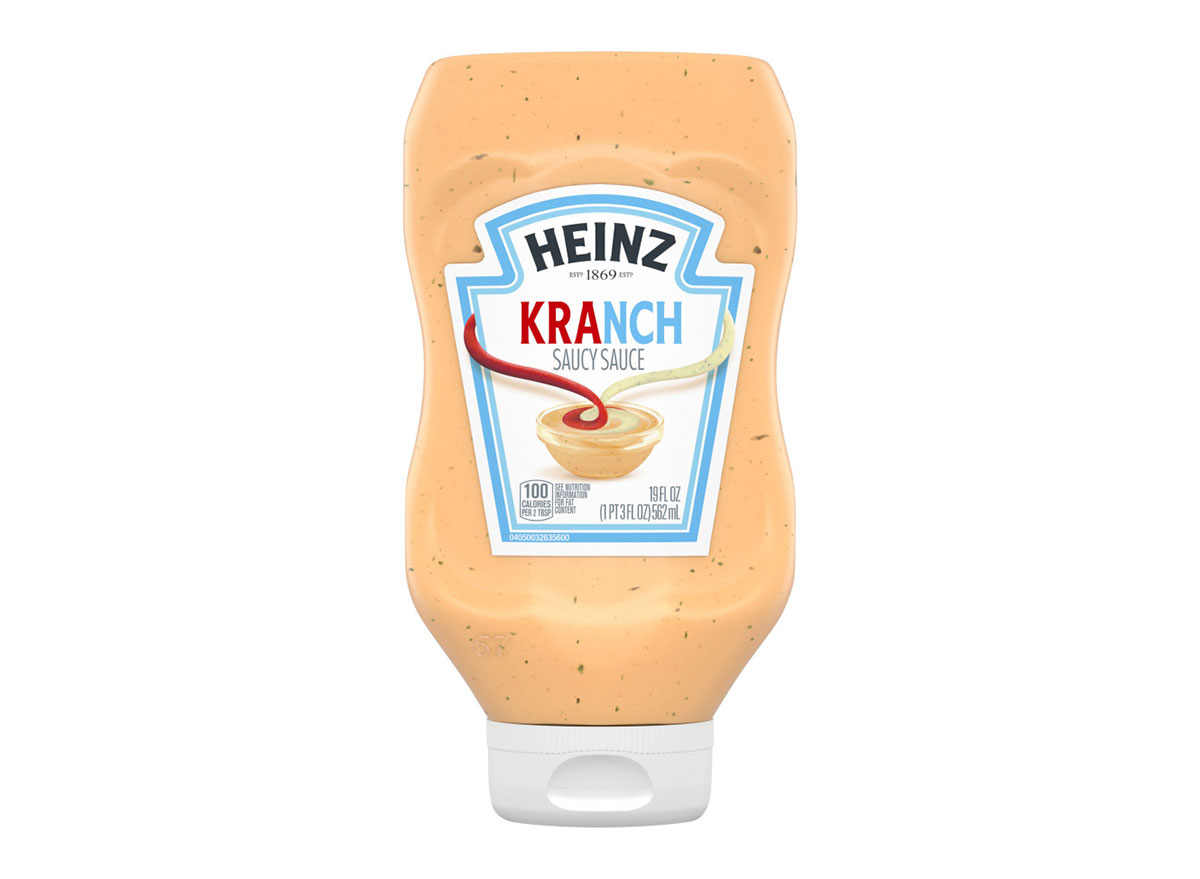 Can't decide if you want to dip your French fries in ranch or ketchup? Heinz went ahead and solved the problem for you by combining the two condiments into a hybrid dipping sauce dubbed Kranch Saucy Sauce. Other condiment mashups include MayoChup, MayoMust, and MayoCue.
Ben and Jerry's CBD Ice Cream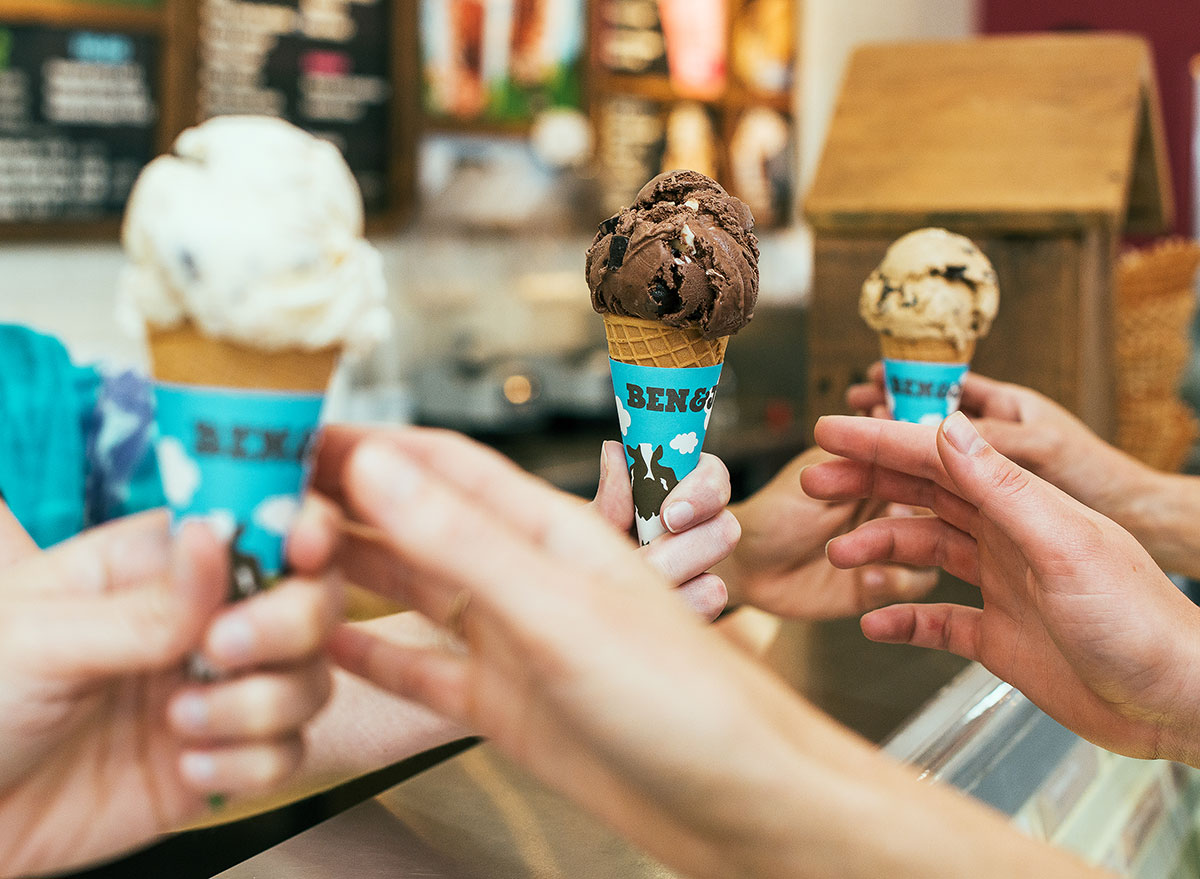 This one comes with a disclaimer: Ben and Jerry's only announced in 2019 that they would very much like to make a CBD Ice Cream. They even offered a prototype of what it would look like. The hold-up? CBD-infused foods are still illegal on the federal level. If you're waiting for that to change, dig your spoon into a pint of Ben and Jerry's Half Baked in the meantime.
Nestle Toll House Unicorn Baking Chips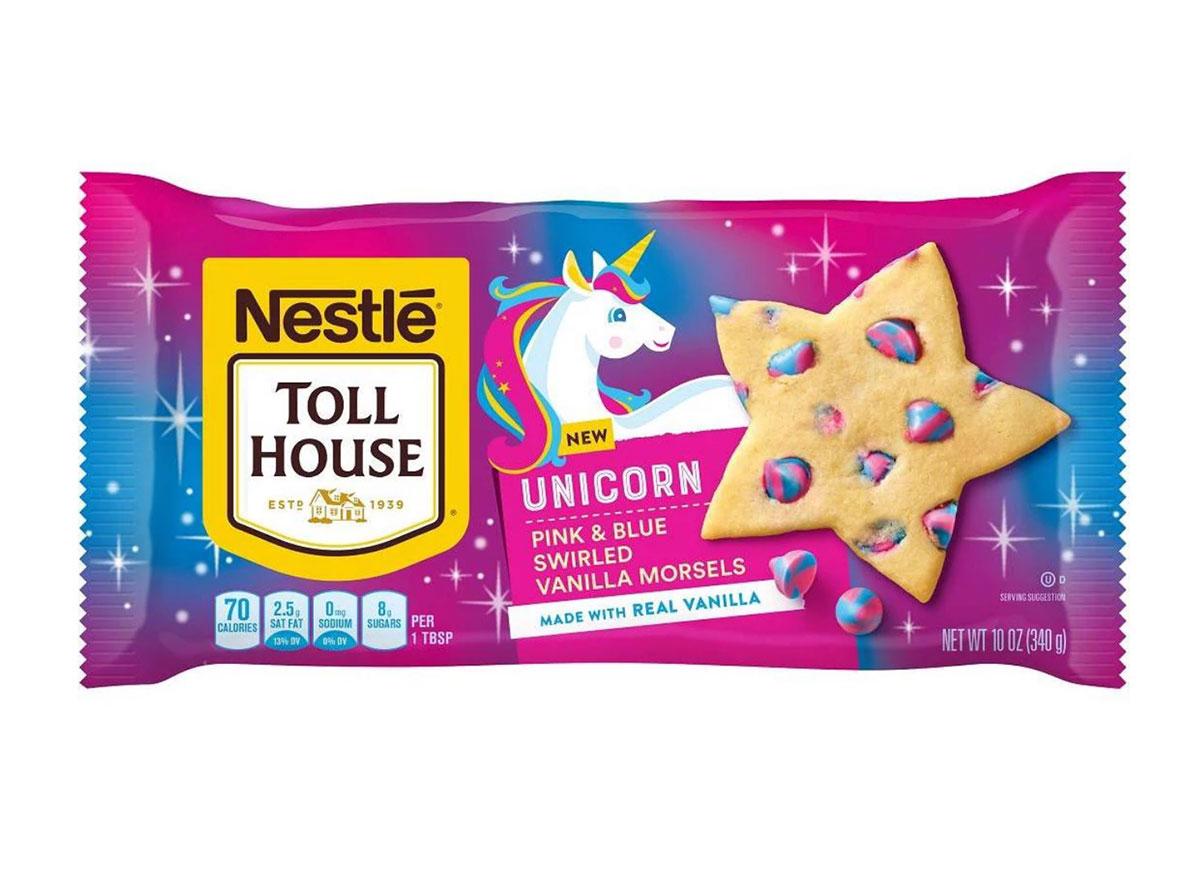 Some day, historians will look back at the year 2019 and wonder, "what was up with all those unicorns?" The mythical creatures have been gaining momentum for the past several years, but it was full steam ahead in 2019, with pink and blue "unicorn" desserts becoming all the rage. Toll House ran with it, creating unicorn morsel baking chips that melt into pretty pastels.
Aldi Everything Bagel Croissants
What if buttery, flaky croissants were seasoned like a bagel? Aldi gave it a try this year, giving its croissants the "everything" treatment with seeds, garlic, onion, and salt generously sprinkled on top.6254a4d1642c605c54bf1cab17d50f1e
Trader Joe's Organic Rosé Vinaigrette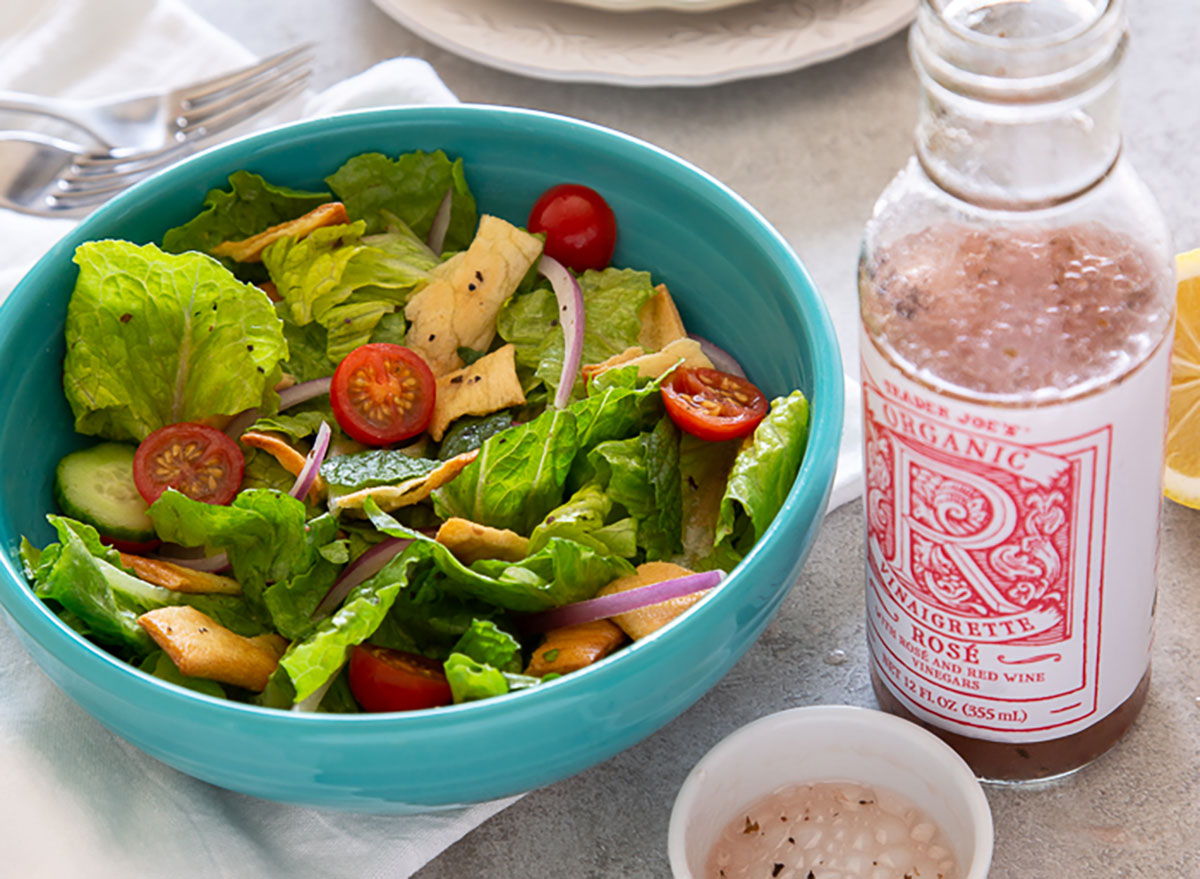 Move over, red wine vinaigrette. Trader Joe's is now selling a tangy rosé vinaigrette inspired by the trendy wine varietal. The organic dressing is made with sunflower oil and rosé wine vinegar, as well as red wine vinegar.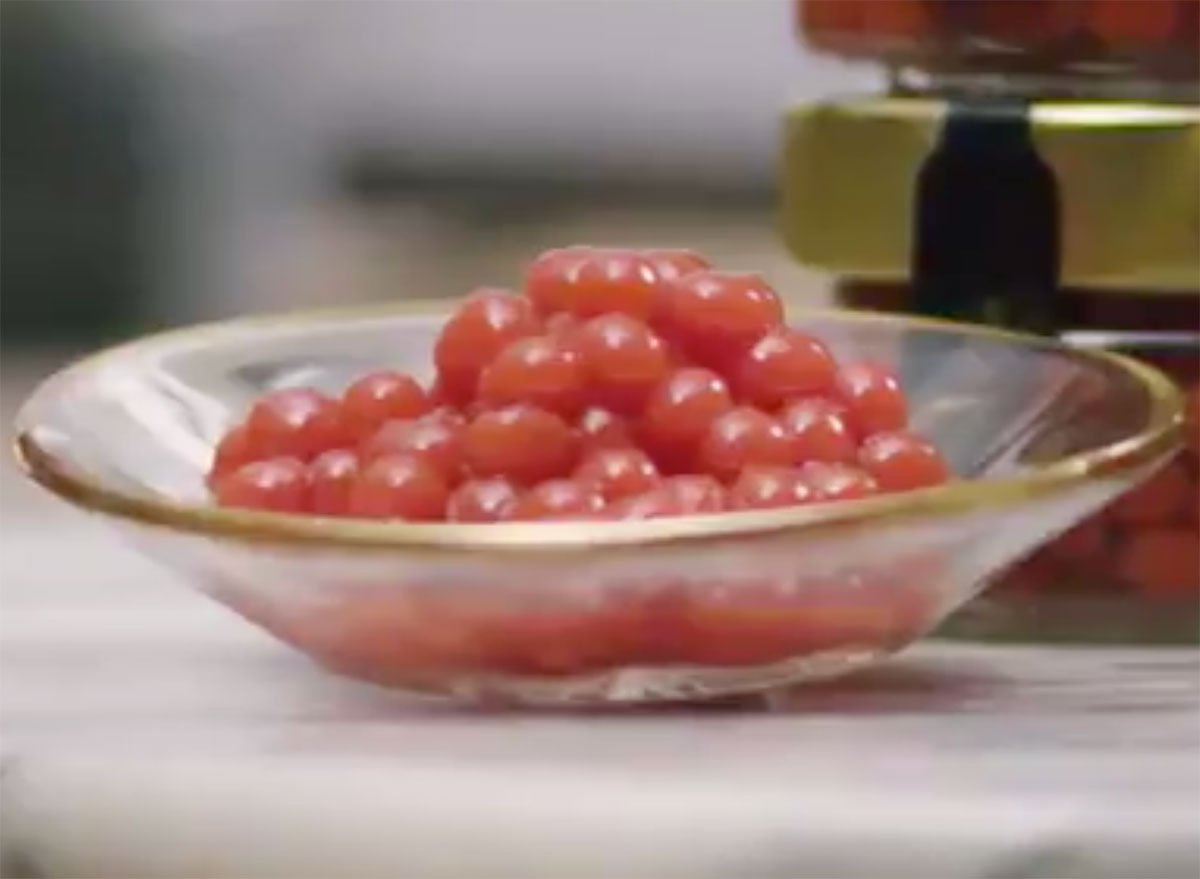 Around Valentine's Day, Heinz released a very limited batch of "ketchup caviar," with only 150 bottles of the creation released to the public. No fish eggs were used in making these pearls of ketchup. Rather, the caviar was simply tiny balls of ketchup, which actually sounds a lot like cherry tomatoes, right?
Trader Joe's Philly Cheesesteak Bao Buns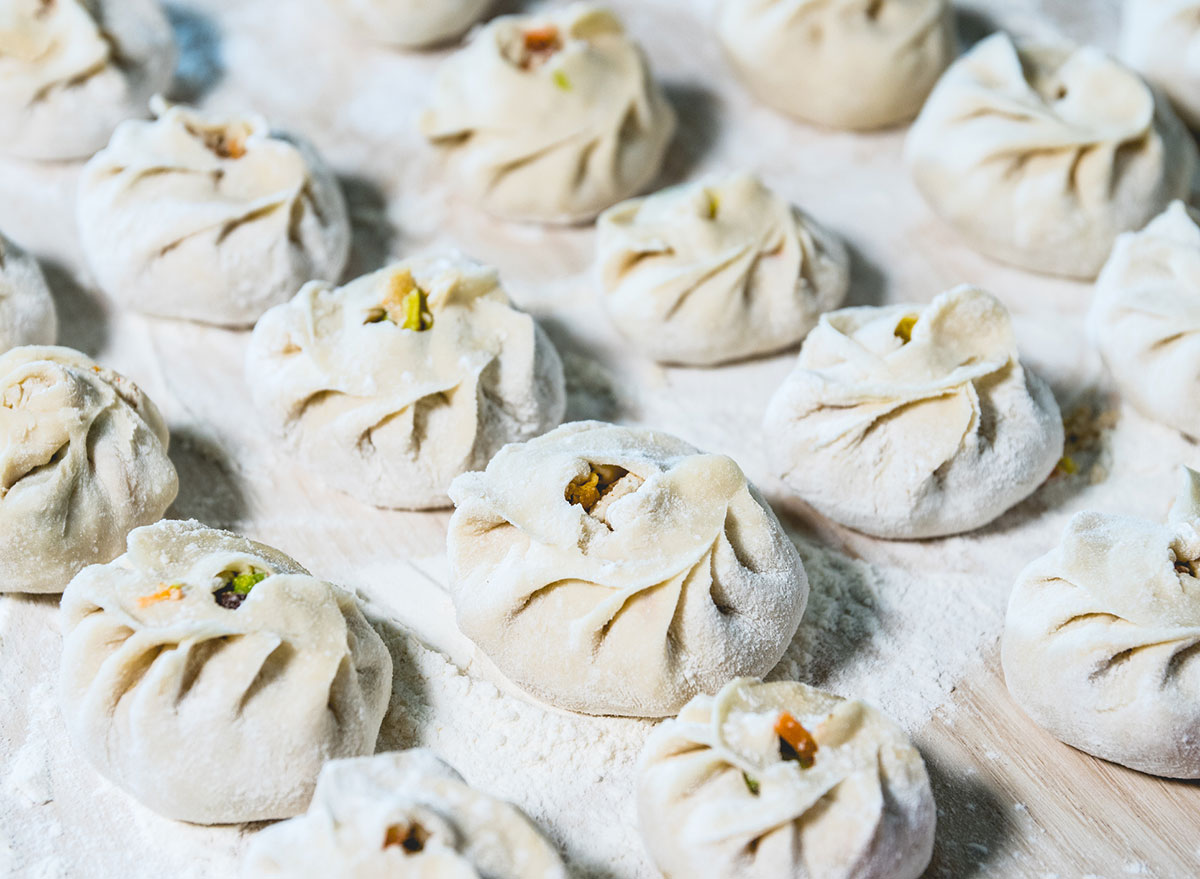 The frozen food aisle at Trader Joe's is a treasure chest, with everything from cauliflower gnocchi to make-at-home chocolate lava cakes to, gasp, molten chocolate gnocchi (say what?!). But TJ's shoppers also spotted an unexpected fusion food in the freezers this year: Philly Cheesesteak Bao Buns. The steamed buns, found in the frozen food aisle, are stuffed with shredded beef, cheese, and red and green bell peppers and seasoned with garlic powder.
As it turns out, 2019 has one more surprise in store: Twinkies Cereal. Hostess and Post Consumer Brands already came together to create Honeybun and Donettes cereals. The Twinkie Cereal is next up, and it will be in stores by late December. Just like the snack cake, the cereal will be golden in color and oblong-shaped.
Archie McKee Kale Candy Canes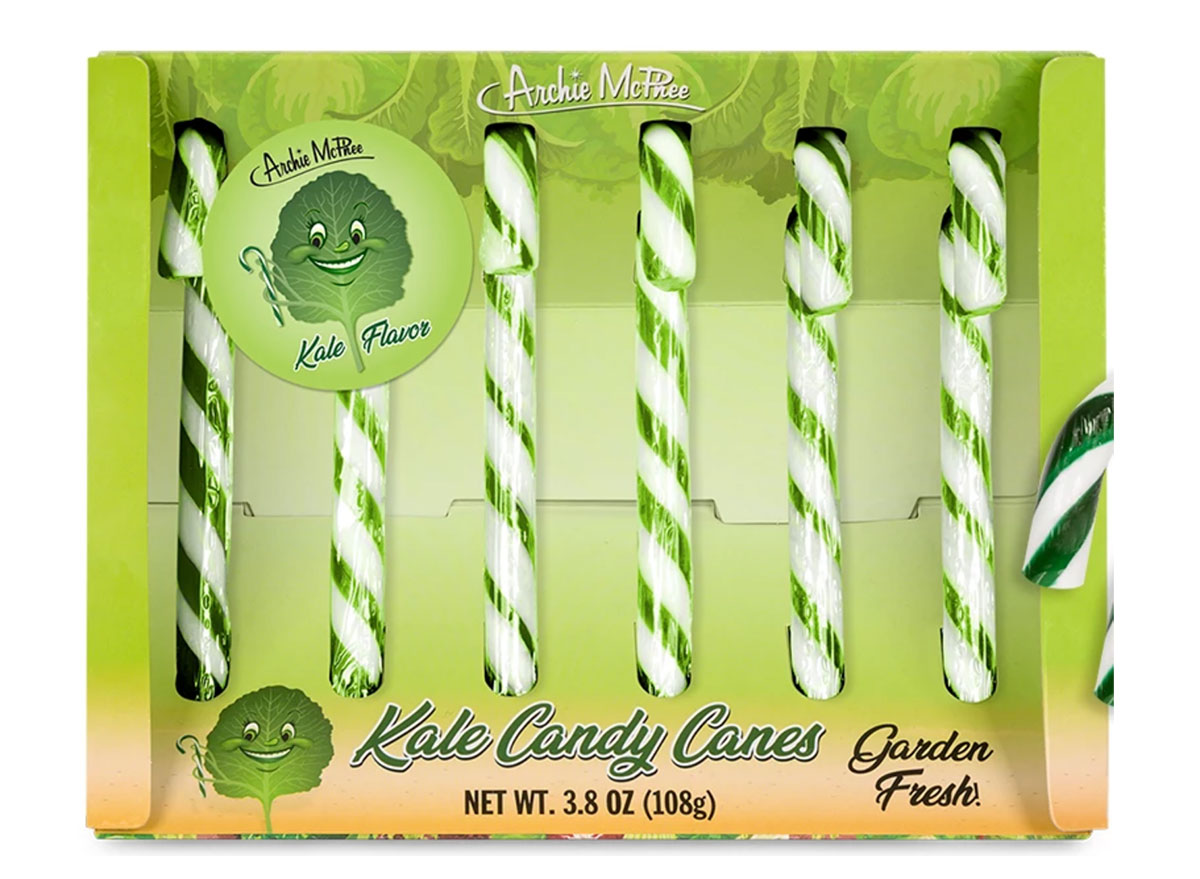 Has the veggie trend gone too far? Just in time for the holidays, you can get green and white striped candy canes that, surprise, taste like kale! Pizza, clam, and ham are among the other whacky flavors being sold by Archie McKee.
Taco Bell is known for its wacky menu creations, and some of them you can even find in your local grocery store. Remember when the Doritos shells debuted? How about the Sour Skittle slushie? The fast-food chain has a whole lineup of shredded cheeses that are packaged and sold in stores, including a ranch-seasoned shredded Monterey Jack cheese. There's a salsa verde-seasoned cheese, too.
Houlihan's Chocolate Ding Dong 'Tini
Dessert in the form of a cocktail, Houlihan's debuted a Ding Dong-inspired martini on its fall menu. Attached to the rim of the drink is an actual Ding Dong.
Noodles & Company Crispy in Pumpkin Spice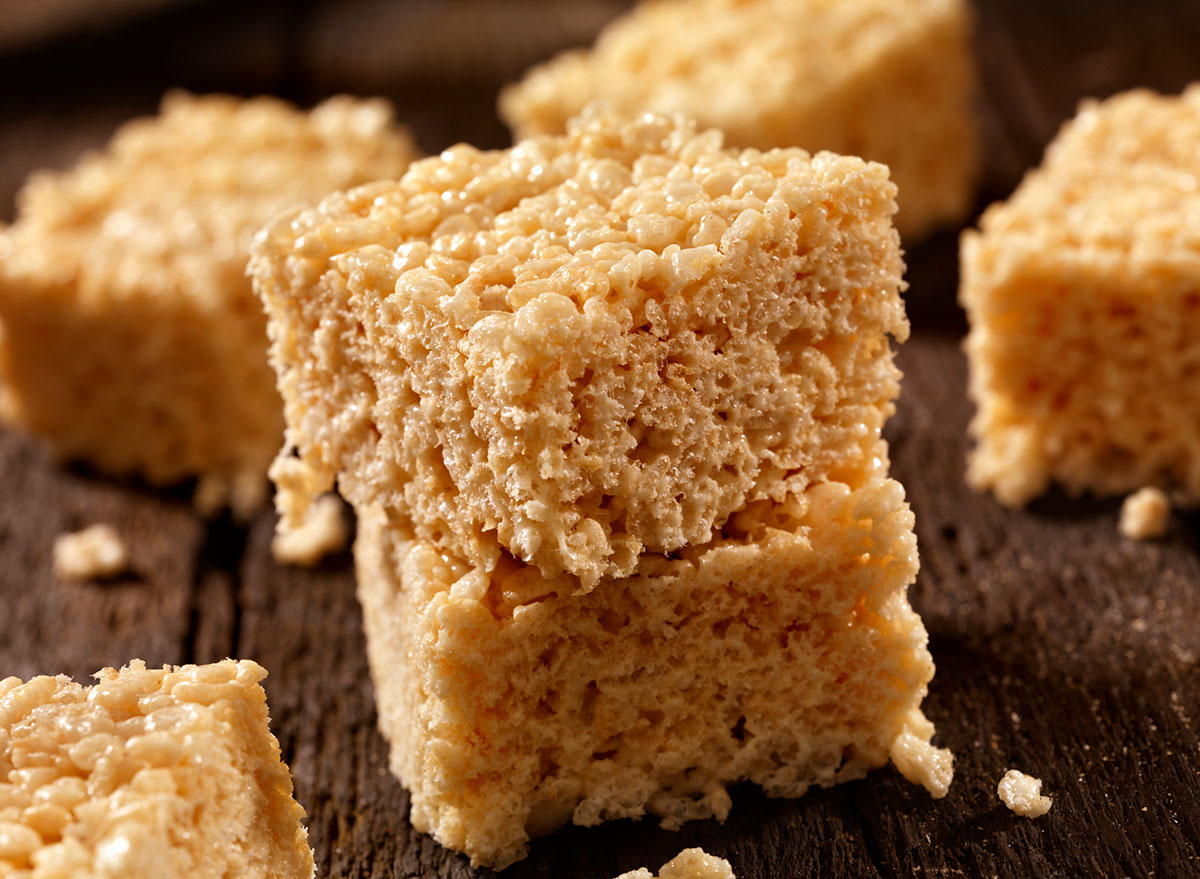 From chocolate bars to nuts, there are all types of pumpkin spice products that go beyond lattes. New to the pumpkin spice lineup this year were marshmallow treats from Noodles & Company. The ooey-gooey marshmallow treat was sprinkled with fall spices.
Noodles & Company Cauliflower Noodles
Noodle and zoodle dishes at Noodles & Company will now share the menu with Caulifloodles. The cauliflower-infused noodles are a permanent addition to the menu, and they can be substituted into any dish. For the fall menu, though, the fast-casual chain introduced two specialties: cauliflower rigatoni in light onion cream sauce and cauliflower rigatoni Fresca with shrimp. You might love the Trader Joe's cauliflower gnocchi, but when you want to eat veggie-based pasta out, Noodles & Company should be on your list.
You may have already sunk your teeth into an Impossible Burger. Now, Qdoba is offering the "how is this plant-based?!" beef substitute for fajitas. The vegan-friendly protein is seasoned with a blend of tomatoes, garlic, smoked chilies, paprika, and diced onions.
Denny's Cinnamon Roll Pancakes
Skip the syrup; these buttermilk pancakes are served with a little pitcher of warm cream cheese to drizzle on top. These new pancakes are cooked with a cinnamon crumb topping and then topped with whipped cream.
LongHorn SteakHouse Steak and Bourbon Ice Cream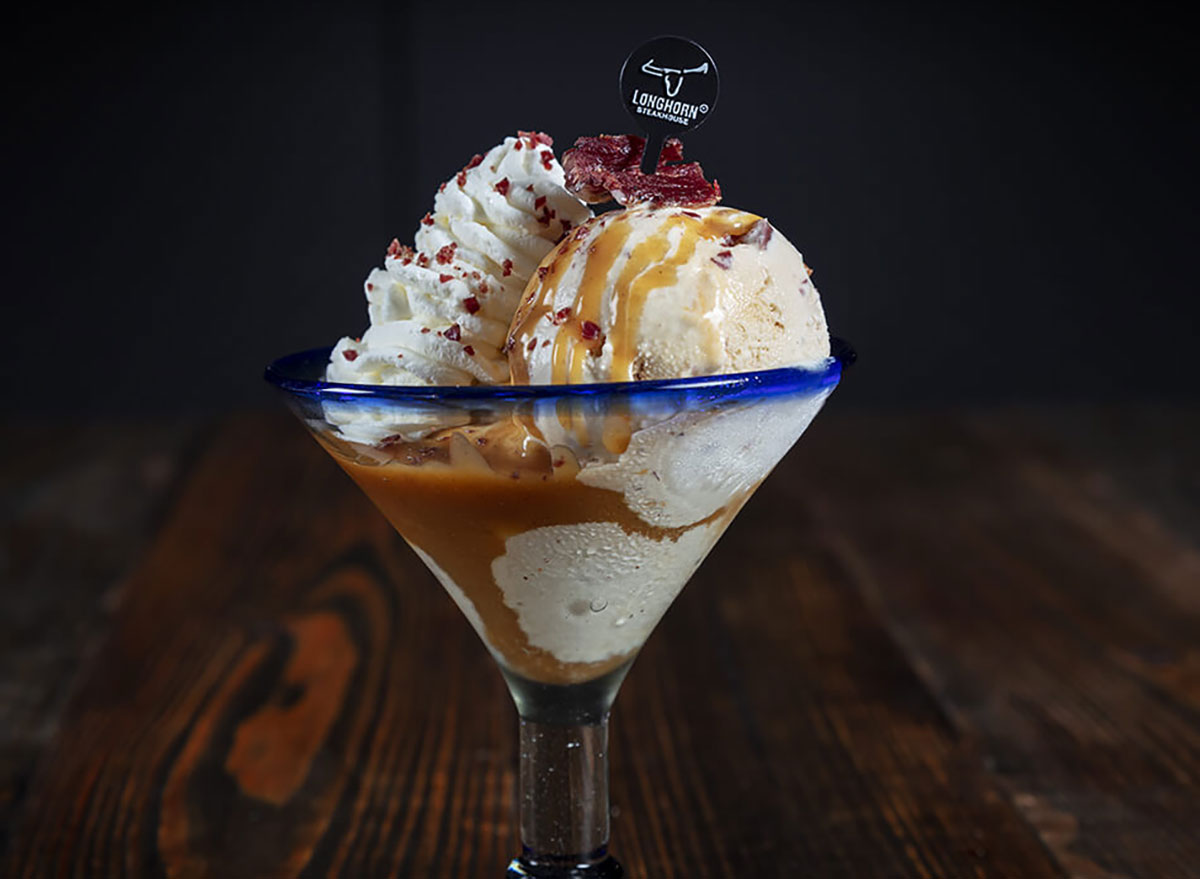 Steak, but make it dessert. LongHorn Steakhouse over the summer put a limited-time steak and bourbon ice cream on its menu. It was boldly seasoned with the steakhouse's proprietary Char seasoning blend, and also featured bits of steak and swirls of bourbon caramel. Talk about a savory dessert!
Subway Green Eggs and Ham Sandwich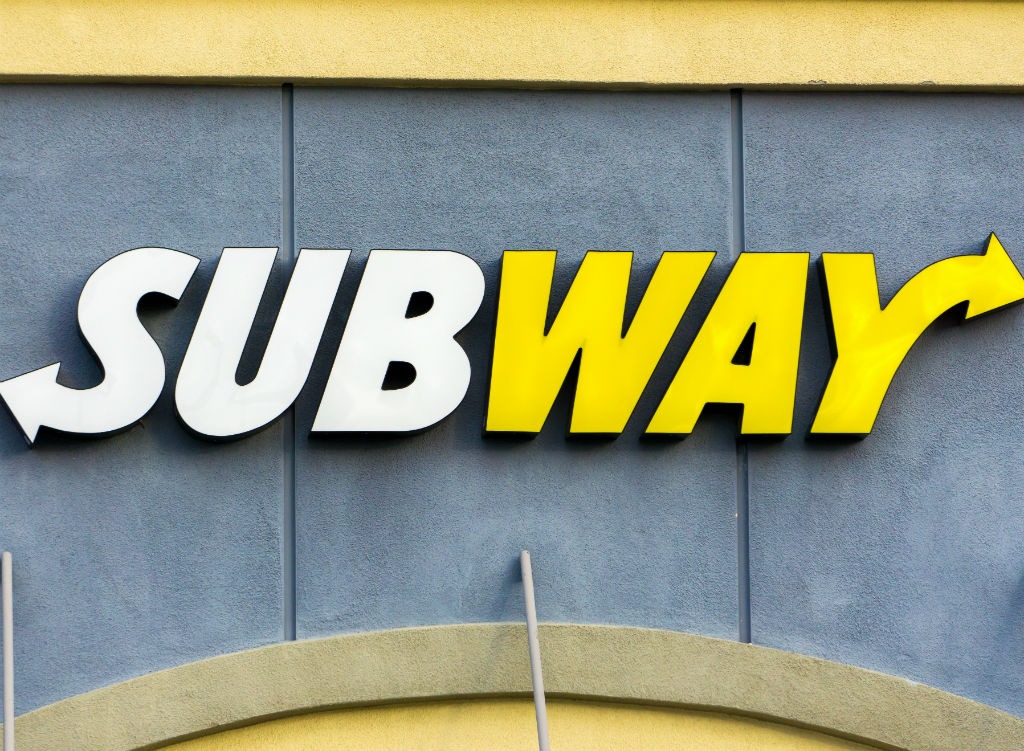 Subway has a new Seuss-inspired sandwich: The Green Eggs and Ham sub features spinach-dyed eggs atop ham and sandwiched in Italian bread with American cheese, guac, spinach, and sliced tomatoes. The sandwich, which is only available in New York and Los Angeles, is a result of a partnership with Netflix, which has a new animated Green Eggs and Ham series.
Chuck E. Cheese Unicorn Churros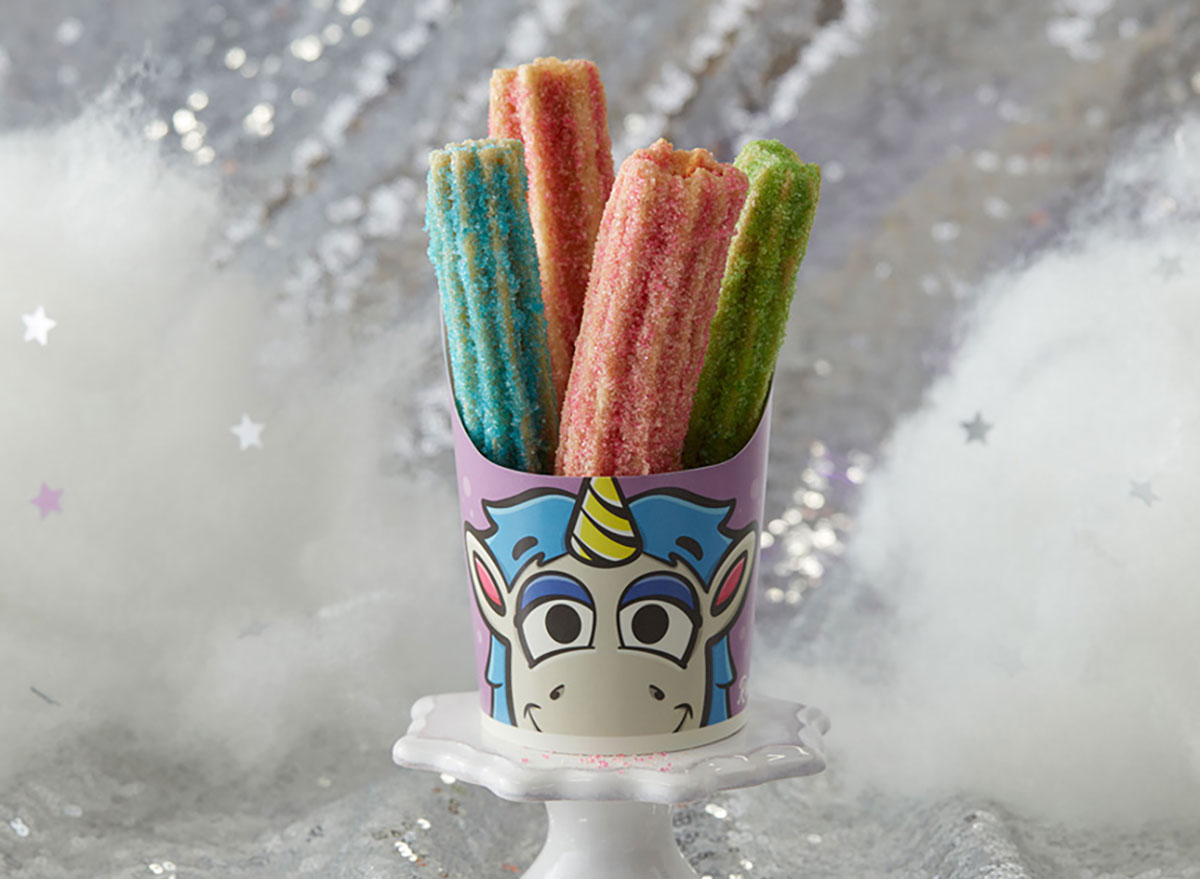 Unicorns have horns, and churros are sort of close to them in shape. Chuck E. Cheese saw the opportunity and ran with it. The Unicorn Churros at the entertainment center and restaurant are dusted in cotton candy, sour apple, and blue raspberry sugar.
IHOP Elf on the Shelf Pancakes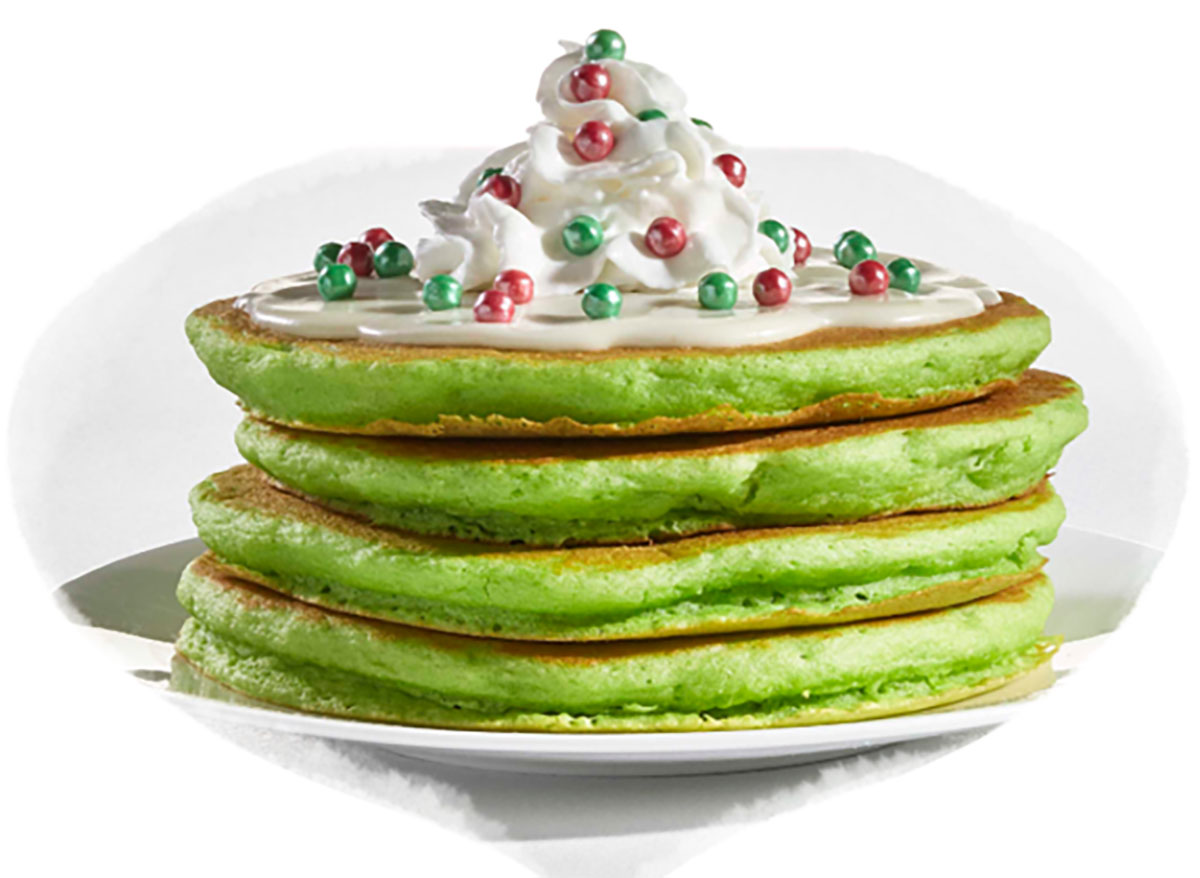 What's that sneaky elf been up to? Making pancakes, apparently. IHOP's 2019 holiday menu includes Jolly Cakes, a stack of four green pancakes that are topped with cream cheese icing, whipped topping, and shimmery sprinkles.
BJs Restaurant and Brewhouse Zucchini Strings
Onion strings, who? BJs Restaurant and Brewhouse put lightly breaded zucchini noodles on its appetizer menu and is serving them with lemon-garlic aioli.
We can't even imagine the wild foods that could be coming in 2020 to top these!