25 Cookie Cutters That Will Blow Your Mind
Want to spice up your holiday baking? Reach for one of these unconventional cookie cutters that make baking fun and exciting.
While gingerbread men and snowflake cookies will always have a special place in our hearts, it's safe to say they are not the most creative dessert options. If you're looking to take your holiday baking to the next level, consider investing in some more unique cookie cutters. Etsy is filled with one-of-a-kind shapes that will transform your baked goods into DNA, celebrity faces, beloved television characters, and more. Take a look at 25 of our favorite cookie cutters, all of which are guaranteed to set your gingerbread apart from the pack.
Curious what kinds of cookies are most popular? Check out our list of 35 Most Popular Cookies in America—Ranked!
This homey dessert set is a great choice for the crafts lover in your life. Created by Print and Flourish, these cookie cutters create house and key-shaped treats that are a great option for holiday festivities and housewarming parties alike.
Customizable Self Portrait Cookie Cutters
Want to personalize your next batch of cookies? Consider trying out these molds by Cookillu, which are made with the help of 3D printing. Send in a portrait of the face you would like your cookies to resemble, and Cookillu will create a personalized cutter in the shape of his or her face.
Wedding Proposal Cookie Cutter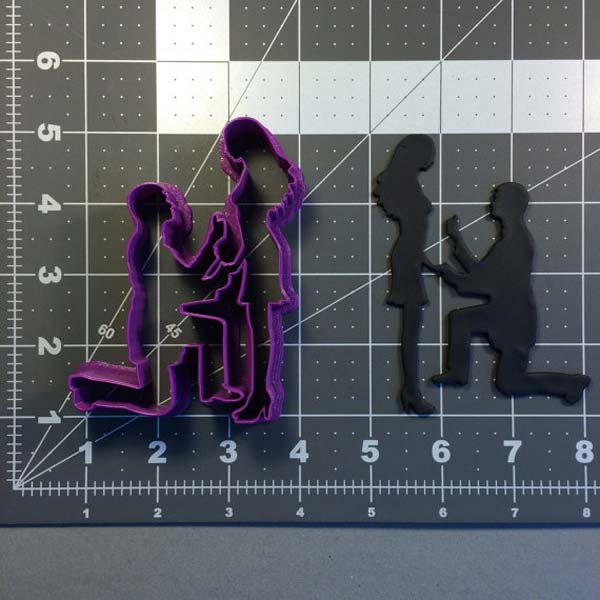 Talk about a sweet way of asking your significant other to marry you! These cookies are designed in the shape of someone getting down on one knee to propose and are a fun way to celebrate a recent engagement, especially around the holidays. If you're looking to make some proposal cookies of your own, check out Kato Baking Supplies' shop on Etsy.
Justin Trudeau Cookie Cutter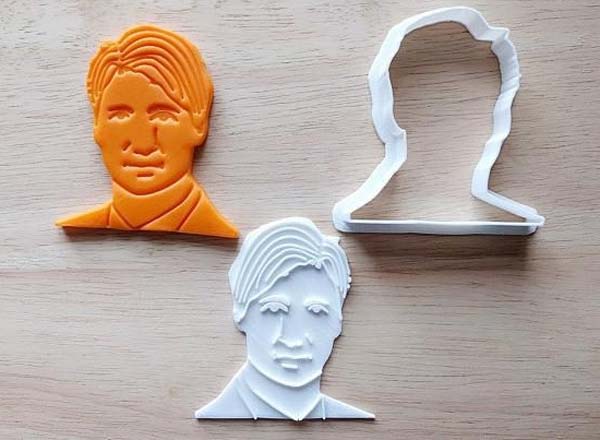 Show your love of Justin Trudeau by buying this quirky cookie cutter, which helps you create holiday treats that bear a strong resemblance to the Canadian politician. Tree Little Tree has a line of non-stick Justin Trudeau cookie cutters that come in multiple sizes, so you can vary how big or small your Canada-centric treats will be.
Television lovers will flock to this cookie cutter set, which has outlines of all of South Park's most memorable characters. With the help of Virtual Mess, you can bring the beloved show along with you to your next holiday party, in the form of these creative cookies.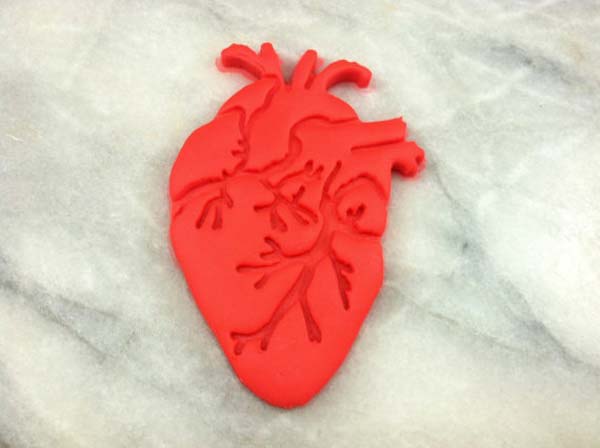 Forget cartoon-heart shaped cookies and try out this design, which is crafted to look like an actual human's heart. Created by The Cookie Cutter Lady, this is a great option for anatomy geeks and aspiring doctors.
Make sure you're keeping your real heart healthy by checking out our list of 10 Foods That Make Your Heart Younger.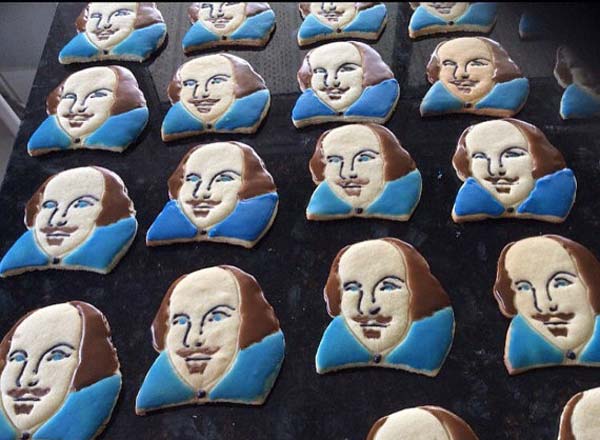 Consider trying out this cookie cutter the next time you want to appear well-read at a holiday party. The molds are made by Boe Tech, and the makers advise using chilled dough, which will not spread during baking, to make sure your cookies resemble the literary genius as much as possible.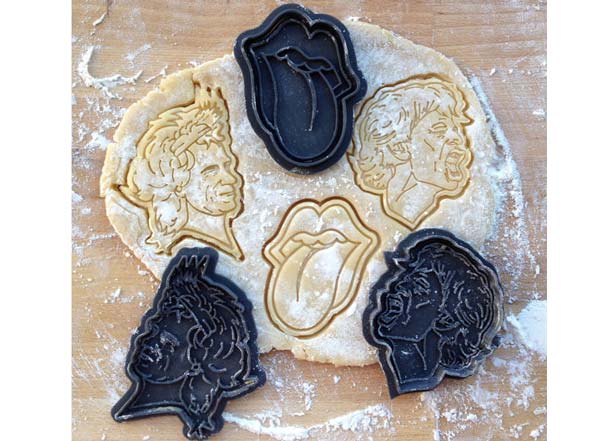 If you can't get enough of their music, consider making these cookies to pay homage to your favorite band. Bake and Cut sells these Rolling Stones-centric molds, which include one of the band's most famous logos as well as the faces of two of their most-known members.
Want to do something special for the pup in your life? Try making him a homemade dog treat and use this mold by Three D Geek to get his name on the bone. All cookie cutters are made to order, so you can pick both the size of your treat and the name that will be inscribed.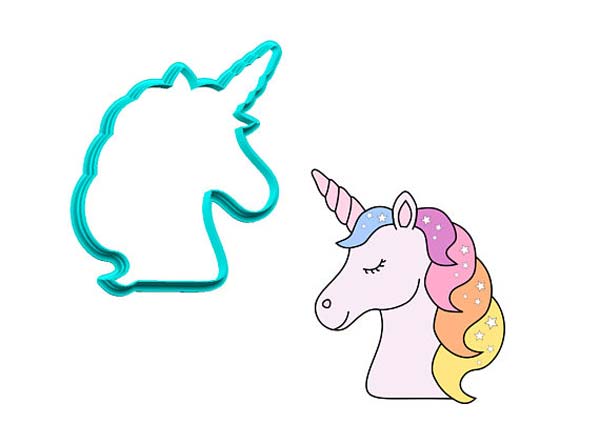 This unicorn-shaped cookie cutter is perfect for a party with kids (or kids at heart). The design was actually created by a 6-year-old girl named Liliana and is sold on her parent's Etsy shop, The Cookie Cutter Club. Check out their page for tips on how to get picture-perfect unicorn cookies.
Trudeau isn't the only famous Justin with a cookie cutter in his honor. Mr. Timberlake also has a mold designed to replicate his face, which is sold at Copy Pastry. If female pop stars are more your thing, the shop also makes cookie cutters that resemble Beyonce and Selena Gomez.6254a4d1642c605c54bf1cab17d50f1e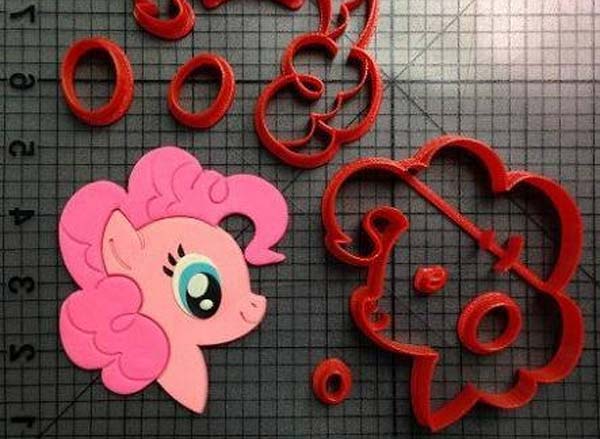 Another kid-friendly favorite, this my Little Pony set is perfect for bakers who love in-depth design patterns. Hendry Craft Art has created 6 different My Little Pony sets, each of which is designed to replicate a unique character. Pick your favorite or get all six for a complete set of the popular ponies.
Need a refresher course on what a human cell looks like? Whip up a batch of your favorite cookie recipe and use this mold to shape the dough into human cells. Created by Bakerlogy, it's the perfect opportunity for an edible science lesson.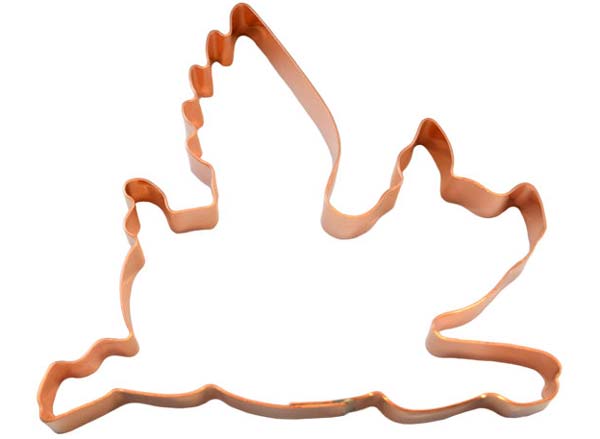 It may be a known fact that pigs can't fly in real life, but there's no reason they can't on your dessert tray. This adorable mold is made by The Fussy Pup and is a fun way to add a sense of humor to your next round of holiday baked goods.
If you throw in the towel and decide to opt for store-bought, read The 30 Worst Supermarket Cookies in America to learn what you should avoid.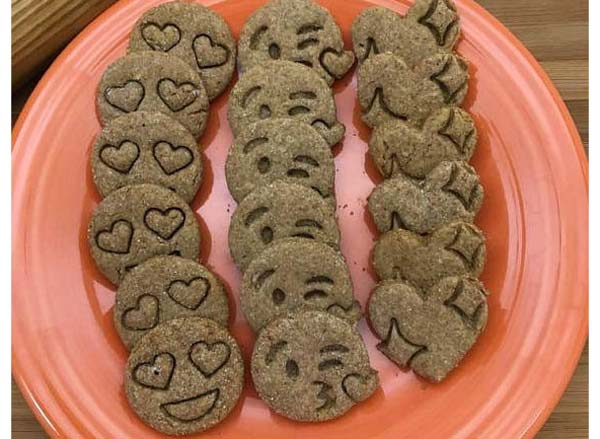 Express yourself with your baking with the help of these emoji cookie cutters created by Francesca 4 Me. The set includes some of the most frequently-used emojis including the winky face, the devil face, poop, and the laughing tears face, making it perfect for every kind of texter and Instagram fiend.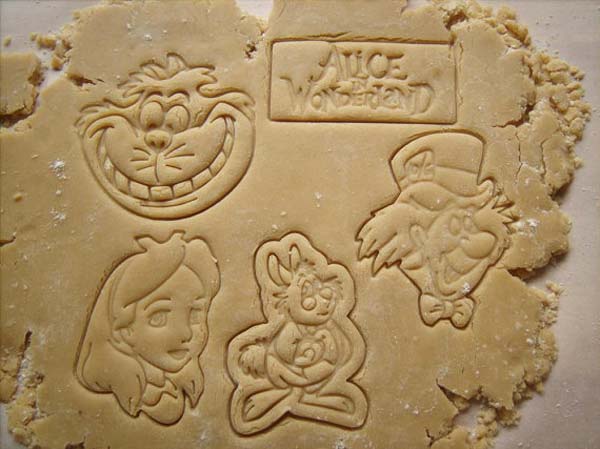 If Alice in Wonderland is your favorite Disney story, it's time to head over to Cookies Geek's page on Etsy, ASAP. The set includes molds of all your favorite characters such as Alice, Chesire Cat, and White Rabbit.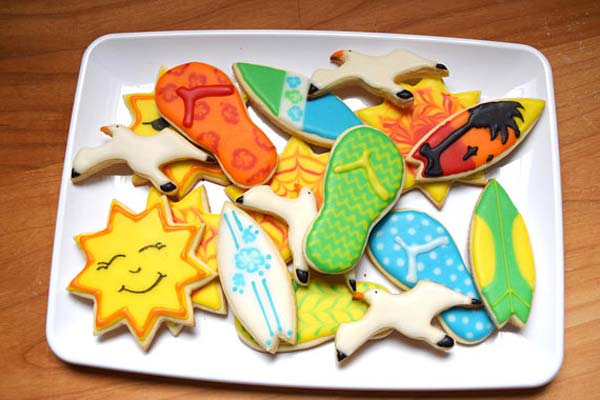 Summer may be months away, but you can get a taste of warmer times now with the help of this cookie cutter set. HB Cookie Cutters has a beach essentials kit that comes with molds in the shape of seagulls, flip flops, surfboards, and the sun. Cookie cutter sizes range from small to jumbo, so pick a set that suits your cookie baking preferences.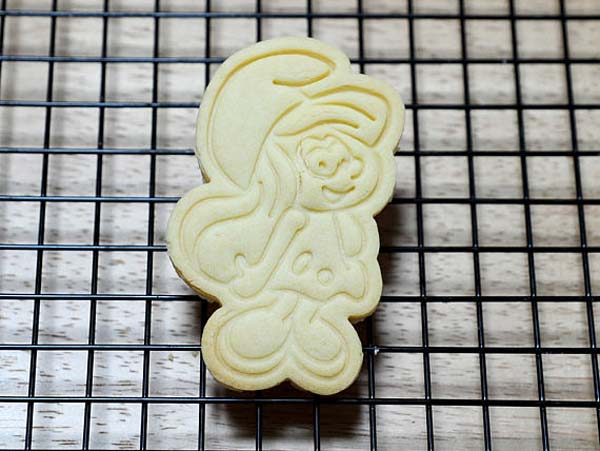 HBCookieCutters/Etsy
Break out the blue dye and get ready to make cute, cartoon cookies with the help of HB Cookie Cutters. The cutters are nonstick and easy to use, meaning you can get realistic-looking, Smurfette cookies with each batch.
Indulge your geeky side with this cookie cutter set designed to resemble your favorite characters from Star Wars. The molds are created by Printing Platform and include images of Darth Vader, R2D2, BB8, and Millennium Falcon.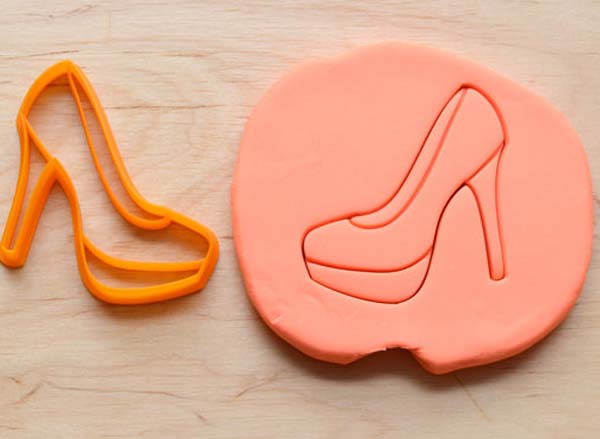 You know you're a real shoe lover if the idea of a cookie in the shape of a high heel excites you. If you're interested, check out the stiletto shape made by Cookie Cutters 4 You for a cute platform heel that is literally good enough to eat.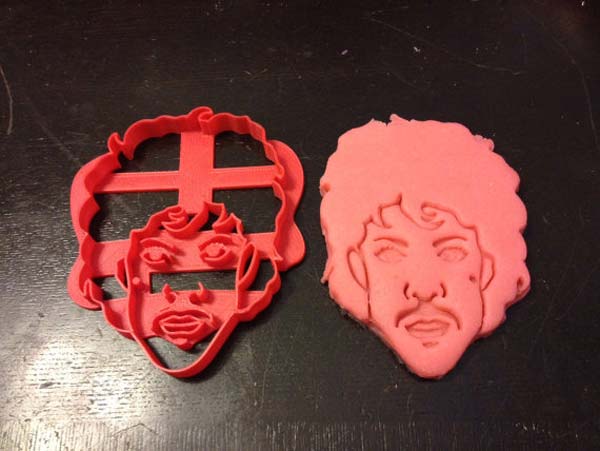 Honor the legacy of this iconic artist by baking up a batch of cookies that resemble him. Homes and Holmes has created a cookie cutter that looks just like Prince, which will give your next batch of sugar cookies a fun, pop culture twist.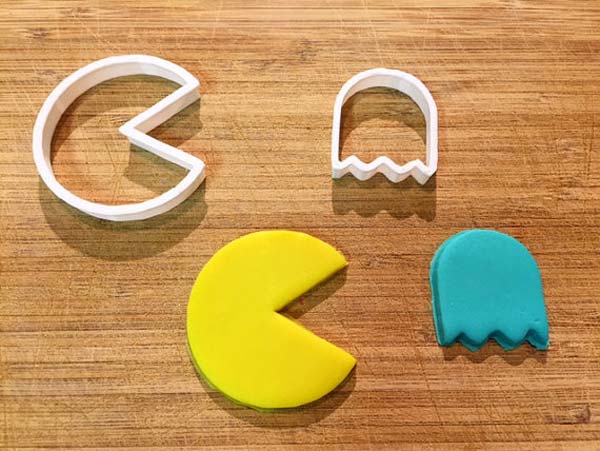 Pac Man has been a staple in arcades for decades. Now, just like how Pac-Man eats those yellow dots and fruit, you can eat Pac-Man! Consider purchasing these fun cookie cutters from 3D Tooling Science for a taste of nostalgia.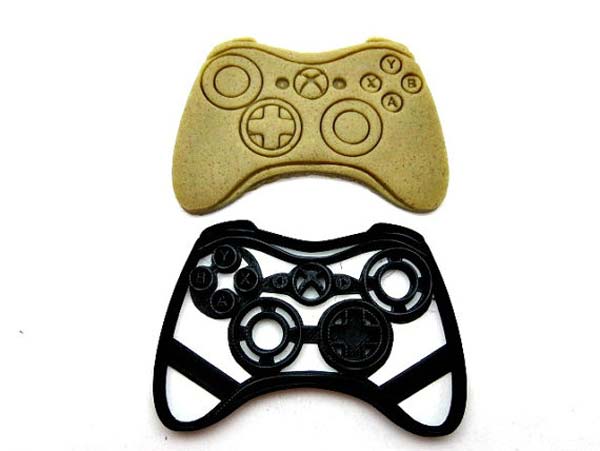 If modern day gaming is more your speed, there's a cookie cutter for you as well. Francesca 4 Me makes this realistic mold, which is perfect for the gamer in your life. The page recommends using this cutter for a thin, non-sticky dough or fondant in order to achieve the best results.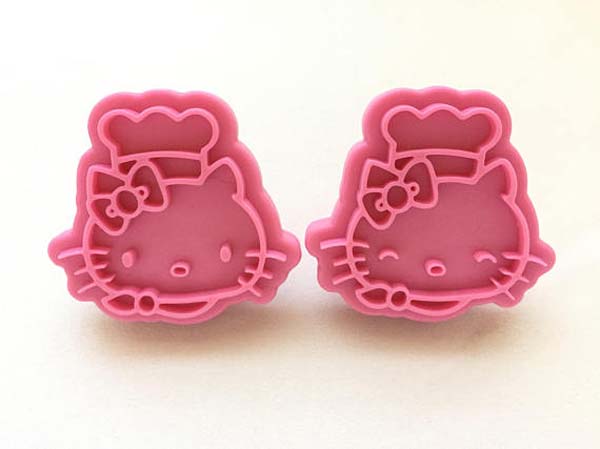 These kitty cookie cutters will make treats that are almost too adorable to eat. Check out Kaz Detash to purchase your own set of adorable cats, which come in both normal and smiling versions.
One more option for all of the science nerds out there, these cookie cutters are designed to shape your dough into DNA. Created by Print and Flourish, the molds create quirky cookies that resemble genetic material.
Want to make sure your holiday treats are not only creative, but also healthy? Check out our list of 20 Healthy Cookie Recipes That Won't Derail Your Diet.