33+ Best Healthy Cookie Recipes for Weight Loss
From oatmeal chocolate chip to peanut butter blossoms, we have all kinds of cookie recipes for you.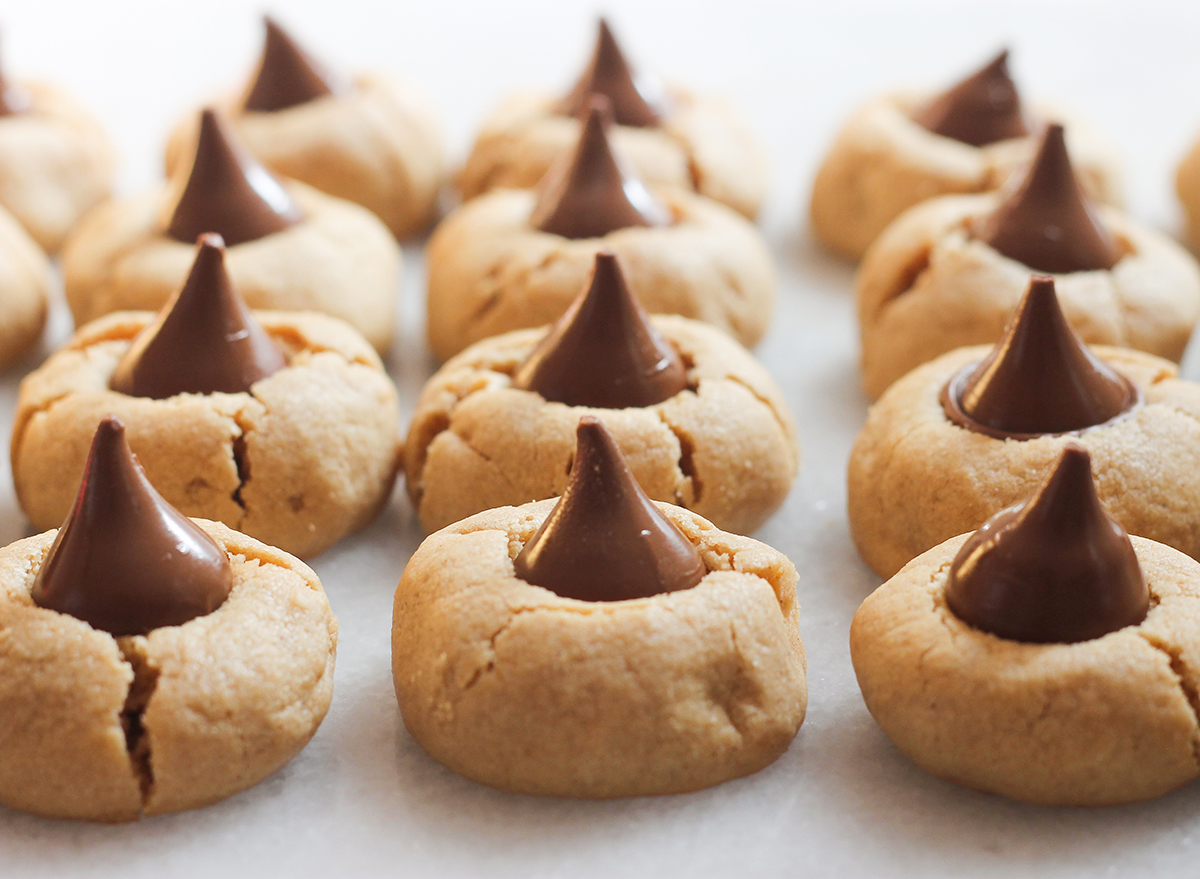 I, the writer, am the first to admit that I can never just have one cookie. However, I definitely don't peddle away in spin class or limp out of the gym of leg day to completely undo my workout with a dessert—which is why I pored over each contender on this list, omitting and modifying until I was confident that each of these healthy cookie recipes fit within the confines of a healthy, balanced diet—and was worth every precious calorie. You're welcome.
And if you love baking, sign up for our newsletter to get daily recipes and food news in your inbox!
Cocoa-Coconut-Oat Cookies With Chocolate Chunks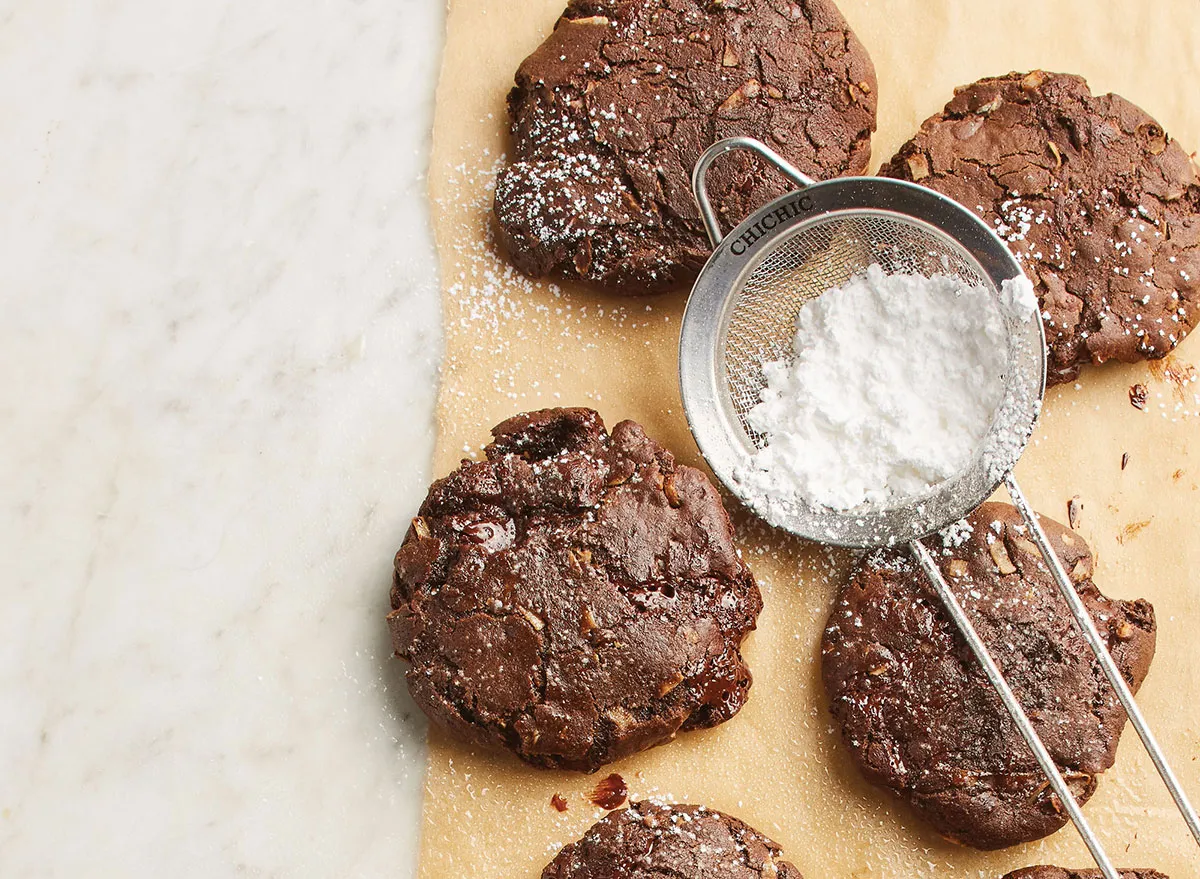 Looking for something sweet and chocolaty to satisfy that craving you have? These cookies will give you all of that and more by packing in some nutritious oats and coconut into the batter.
Get our recipe for Cocoa-Coconut-Oat Cookies With Chocolate Chunks.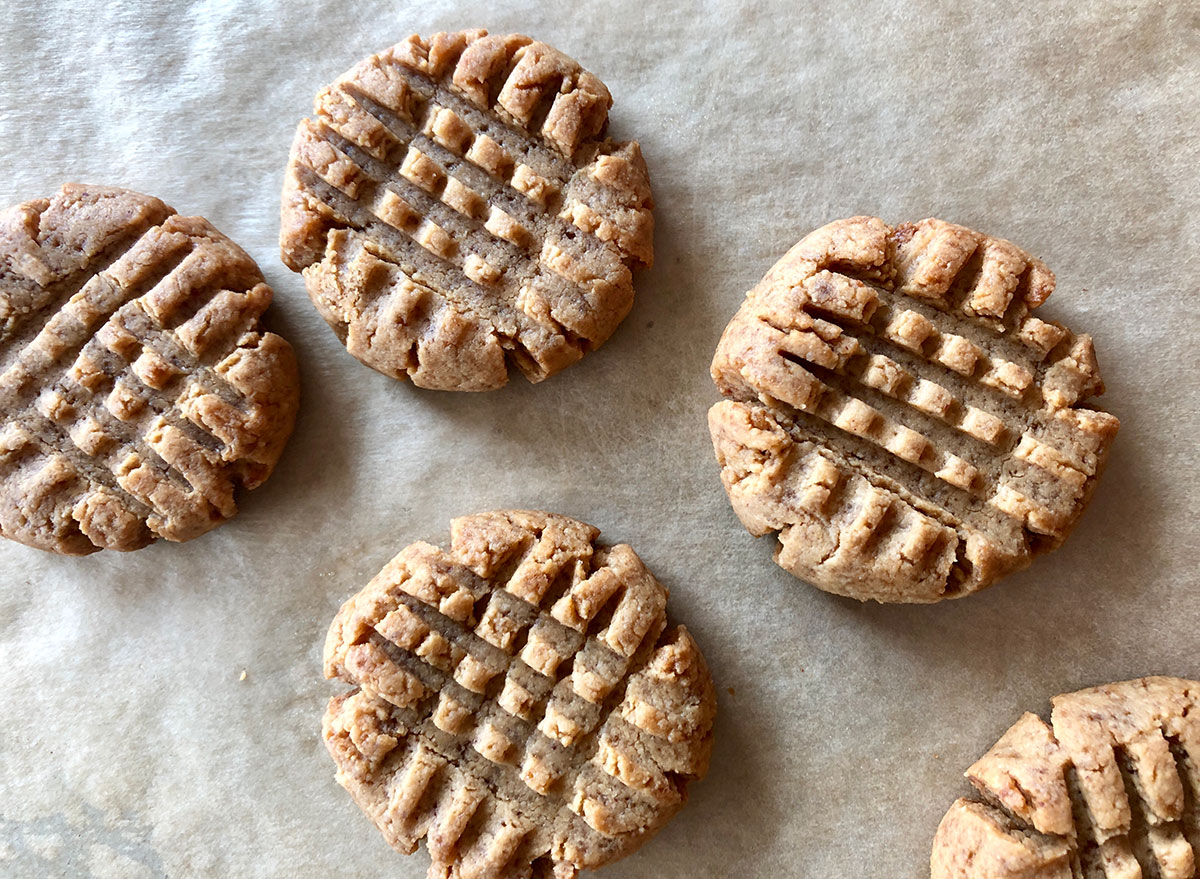 This recipe is gluten-free, sugar-free, and low-carb. So if you're preparing a treat for people who have various food allergies or dietary restrictions, this recipe should satisfy just about everyone.
Get our recipe for Peanut Butter Cookies.
Chocolate & Lemon Cake Cookies
Need to have some kind of dessert ready for guests in a pinch? These easy, four-ingredient cake cookies recipe will come to your rescue! This recipe is incredibly easy to throw together and can even be made with multiple different cookie flavors.
Get our recipe for Chocolate & Lemon Cake Cookies.
Oatmeal Chocolate Chip Cookies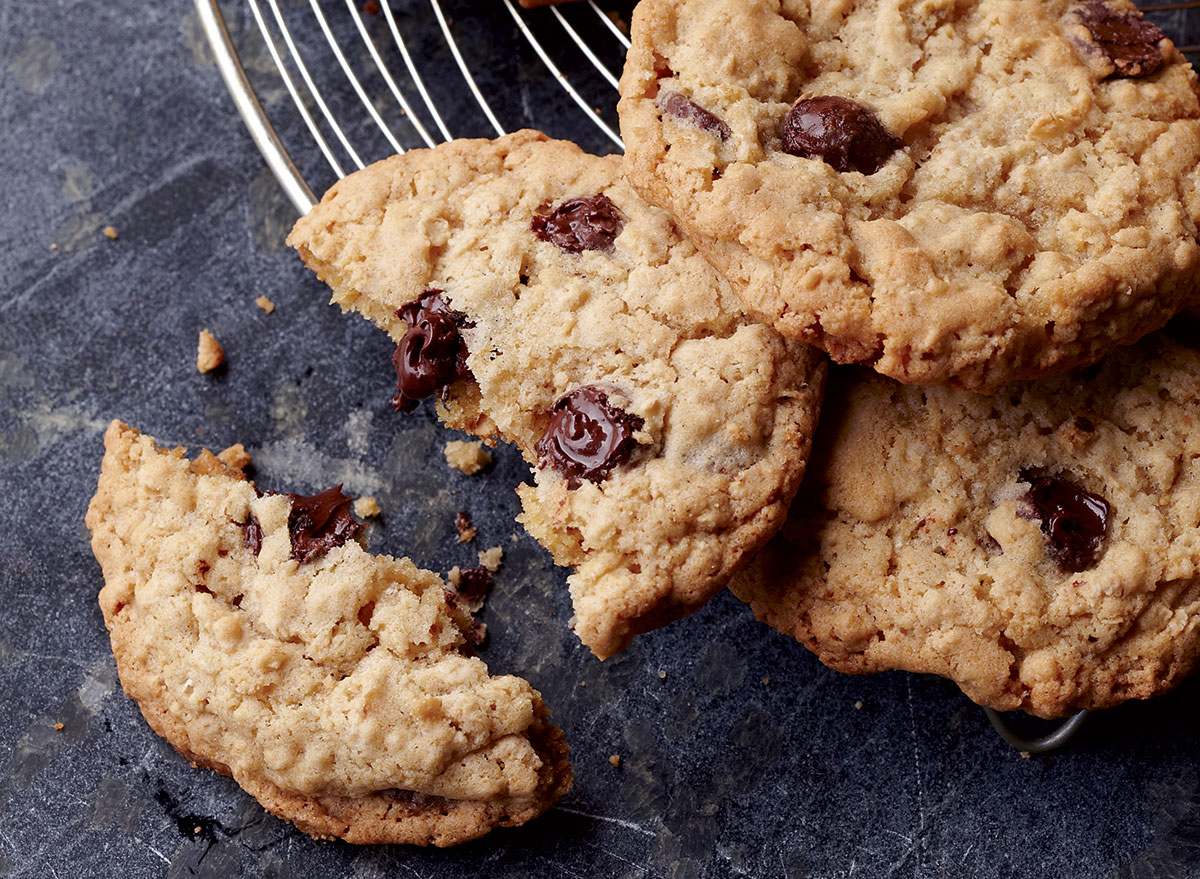 The wonder of oatmeal chocolate chip cookies lies in the texture: a perfectly chewy interplay of butter-softened flour and baked oats, with a surprising jolt of chocolaty goodness. The oatmeal provides a great opportunity to bring a healthier ingredient into a dessert.
Get our recipe for Oatmeal Chocolate Chip Cookies.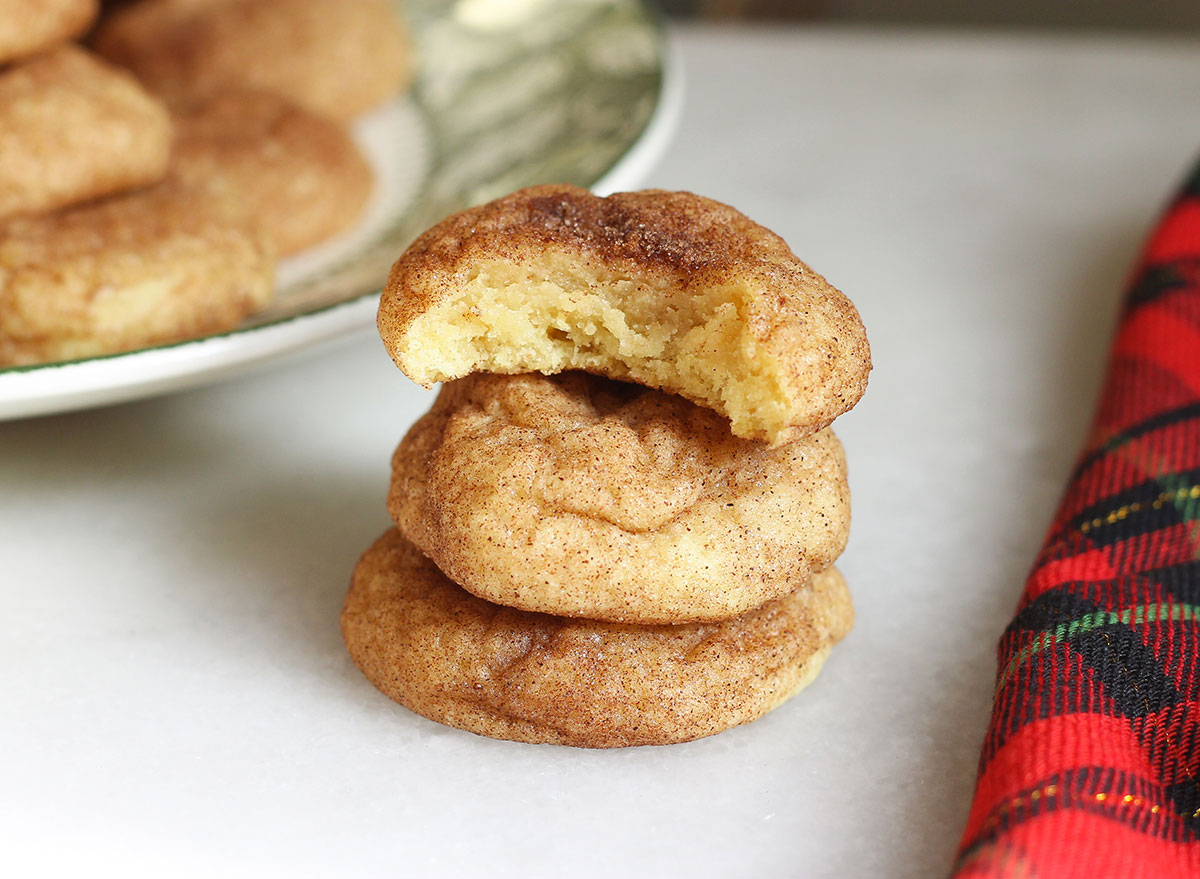 Whether you're in the thick of your holiday baking or you're simply craving a plate of snickerdoodle cookies, this easy recipe will be your favorite go-to cookie to bake.
Get our recipe for Snickerdoodle Cookies.
If you're looking for an easy and versatile sugar cookie recipe, we have it for you right here.
Get our recipe for Sugar Cookies.
These cookies are truly just as good as your usual go-to treat (yes, really!). This is a recipe for deliciously decadent chocolate chip cookies.
Get our recipe for Chocolate Chip Cookies.
Peanut Butter Blossoms Cookies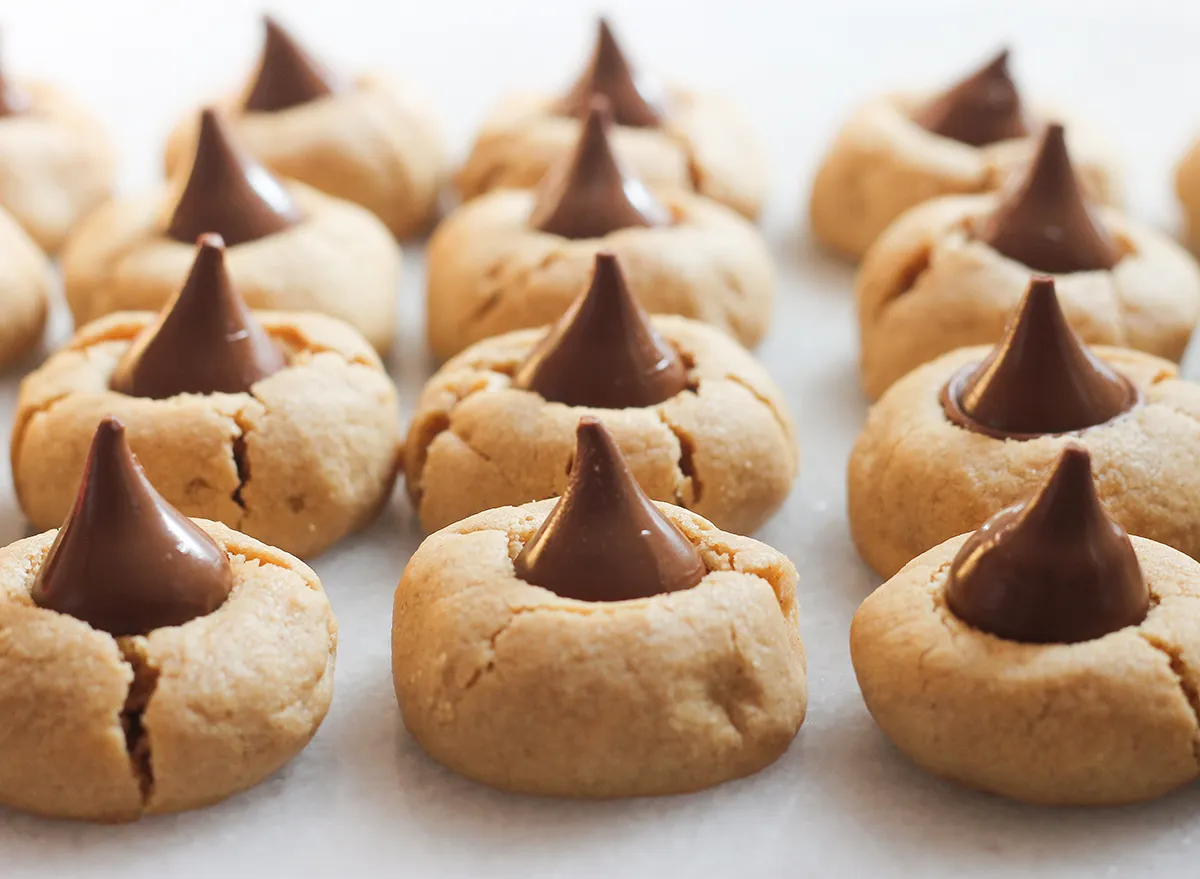 If you have some peanut butter and a bag of Hershey Kisses on hand, you should absolutely make these peanut butter blossoms for the holidays. They're a classic, kid-friendly cookie they'll ask for year after year!
Get our recipe for Peanut Butter Blossoms Cookies.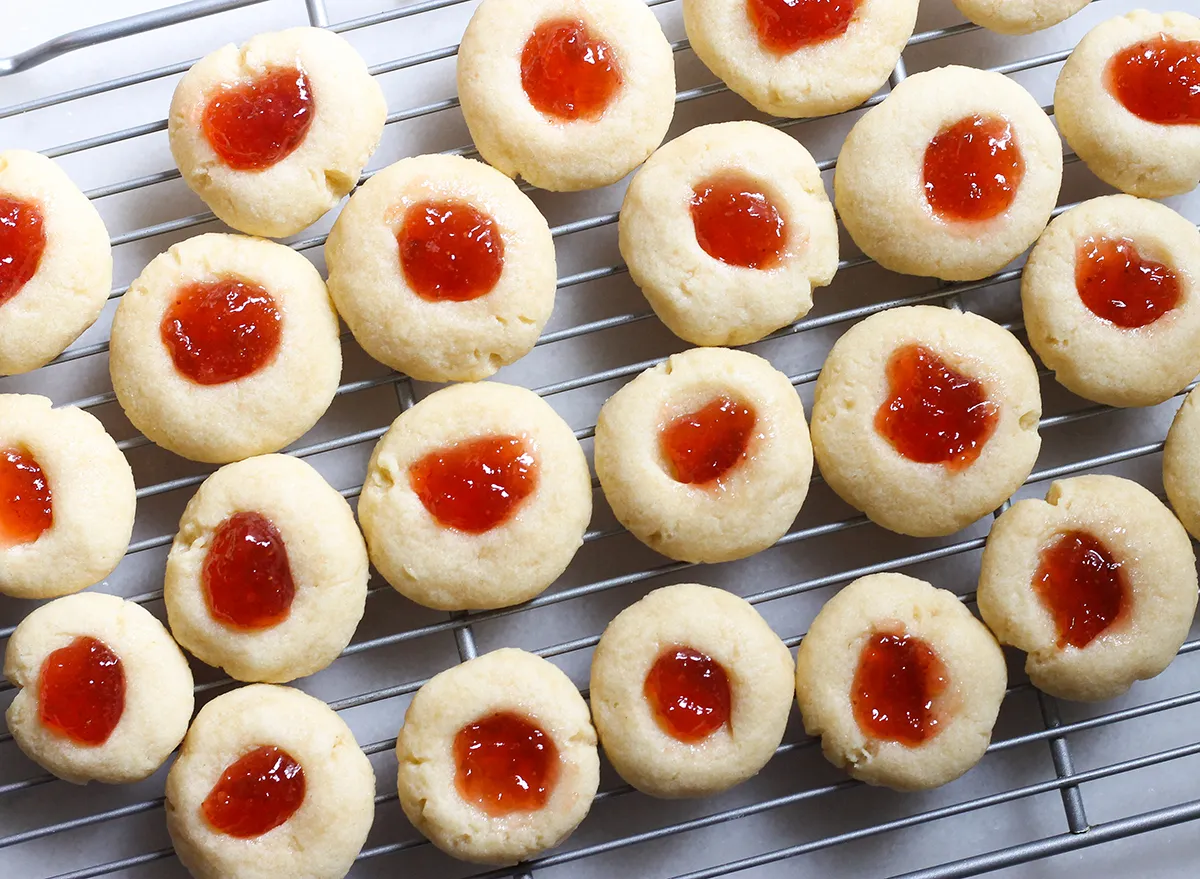 You can use any jam or jelly your heart desires. Use grape, strawberry, apricot, raspberry, peach, or whatever else you have on hand. You don't even have to stick to one type of jam for this entire batch of cookies! Mix it up with different types of jams for some variety.
Get our recipe for Jelly Thumbprint Cookie.
Keto Chocolate Chip Cookies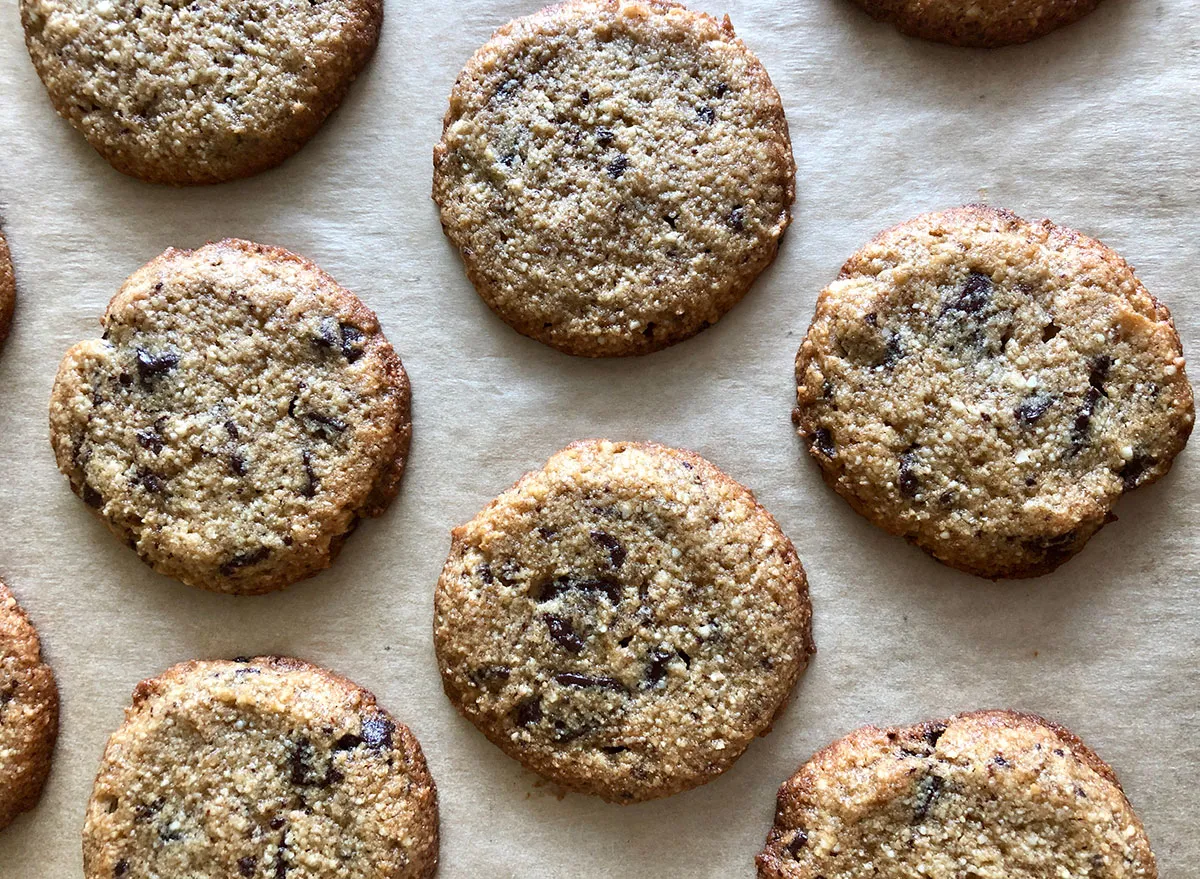 This chocolate chip cookie recipe is so good, you won't even believe it's keto-friendly. This recipe will prove that keto cookies can be just as delicious as traditional cookies.
Get our recipe for Keto Chocolate Chip Cookies.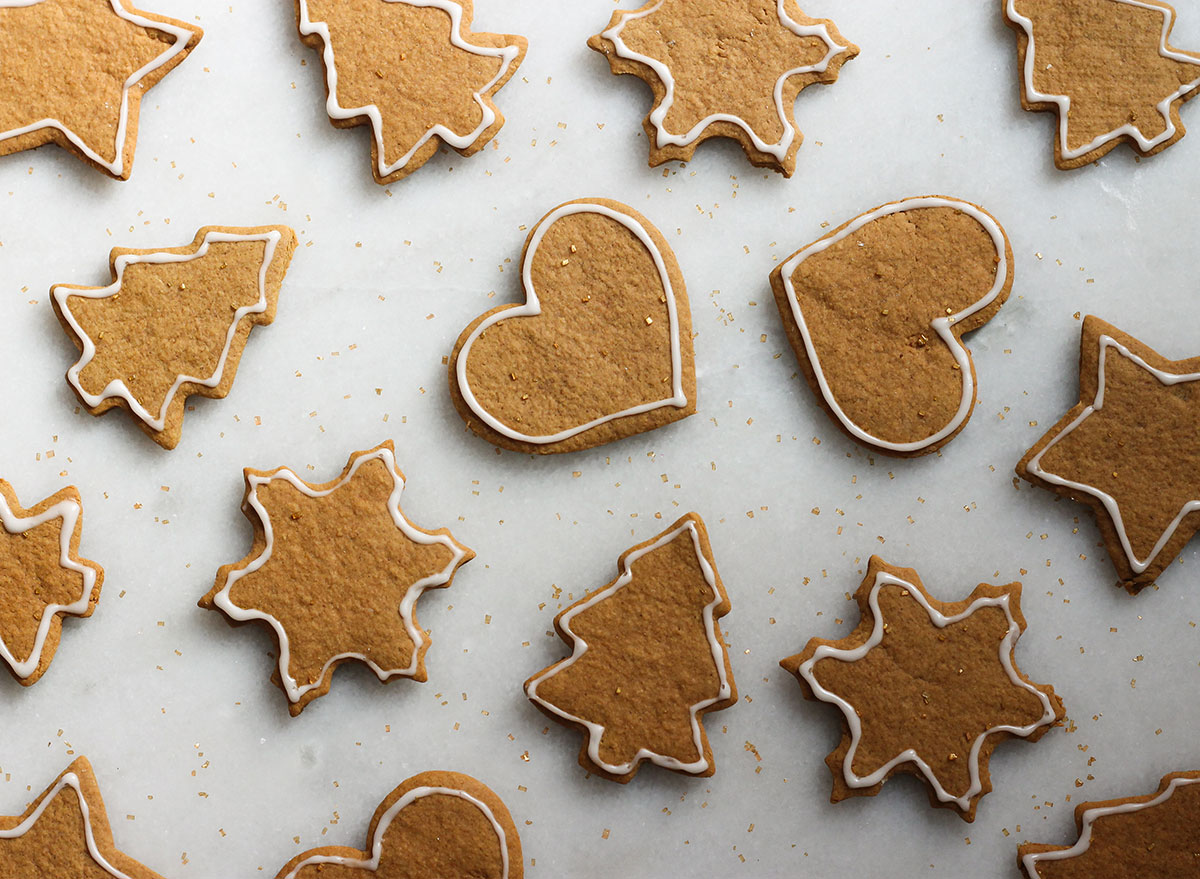 Don't have a fancy piping set to decorate cookies? You don't need one. You can easily ice cookies by using a plastic bag. Simply add the icing to a sandwich bag and cut a very small corner at the bottom. Seal the bag and slowly ice the edges of the cookies!
Get our recipe for Gingerbread Cookies.
Peppermint Chocolate Cookies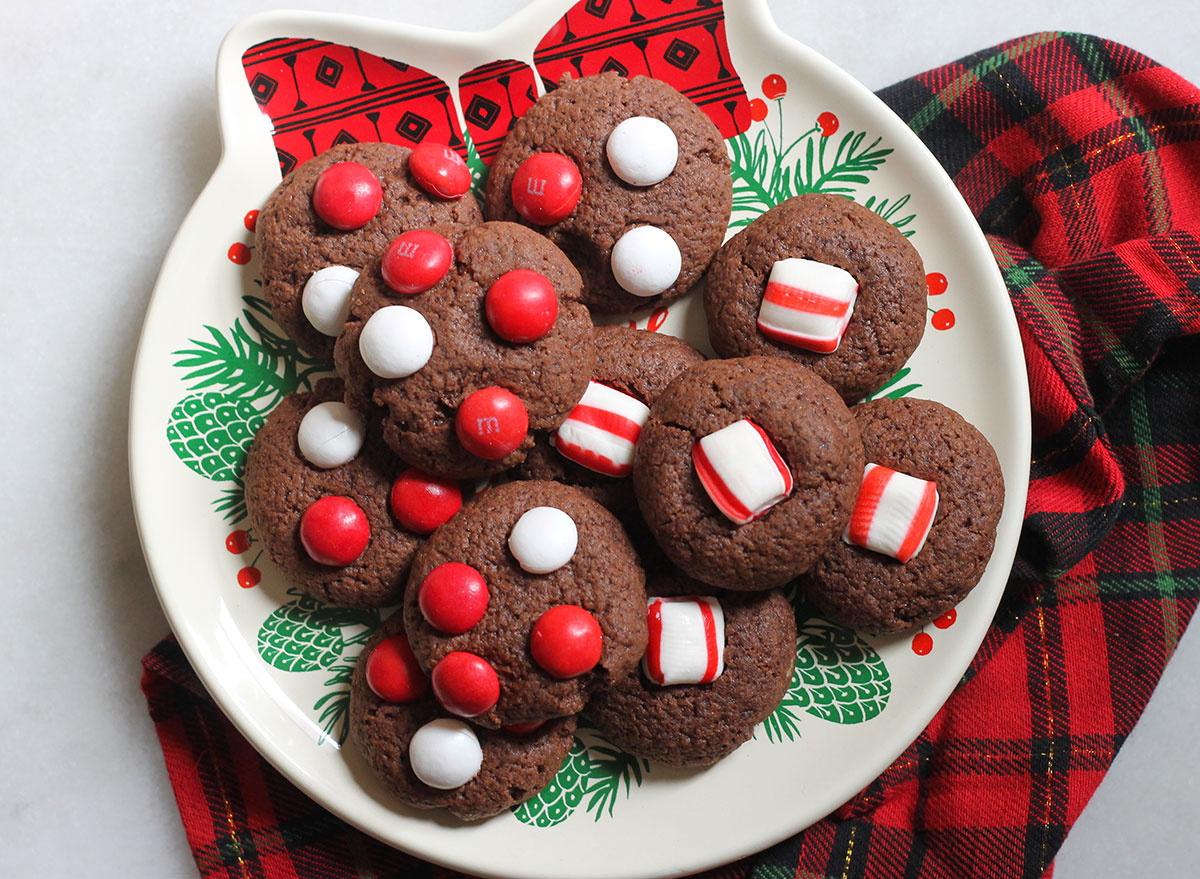 Whether it's the holiday season or not, these peppermint chocolate cookies will always hit the spot—especially when paired with a cup of coffee. Or a glass of red wine—we won't judge.
Get our recipe for Peppermint Chocolate Cookies.
Keto Lemon Cookies With Lemon Frosting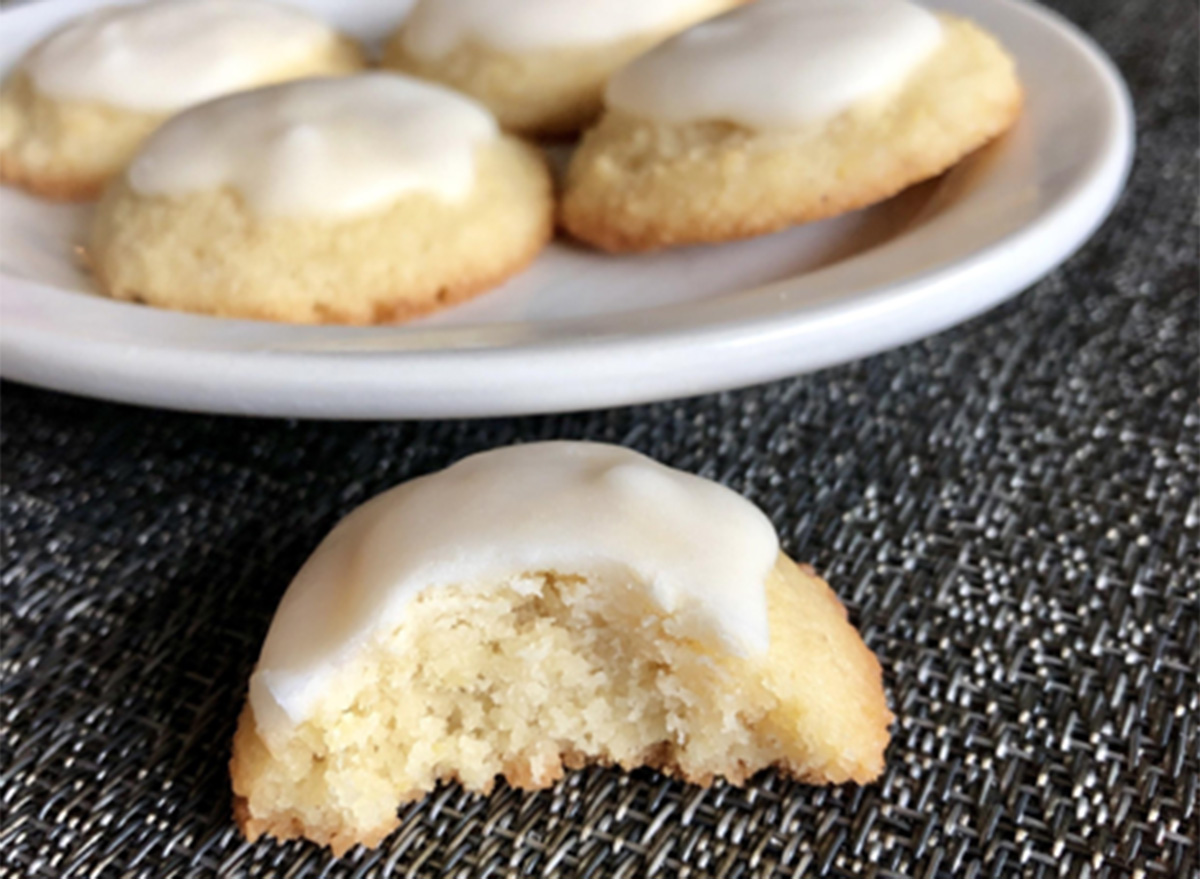 These delicious and fragrant keto lemon cookies get a double dose of lemon flavor. There are zest and juice in the cookie dough, along with some more lemon juice in the frosting and a pinch of salt to really emphasize the zestiness (adding salt is the trick to helping bring out flavor from other ingredients). You'll want to let the lemon aroma fill your kitchen!
Get our recipe for Keto Lemon Cookies With Lemon Frosting.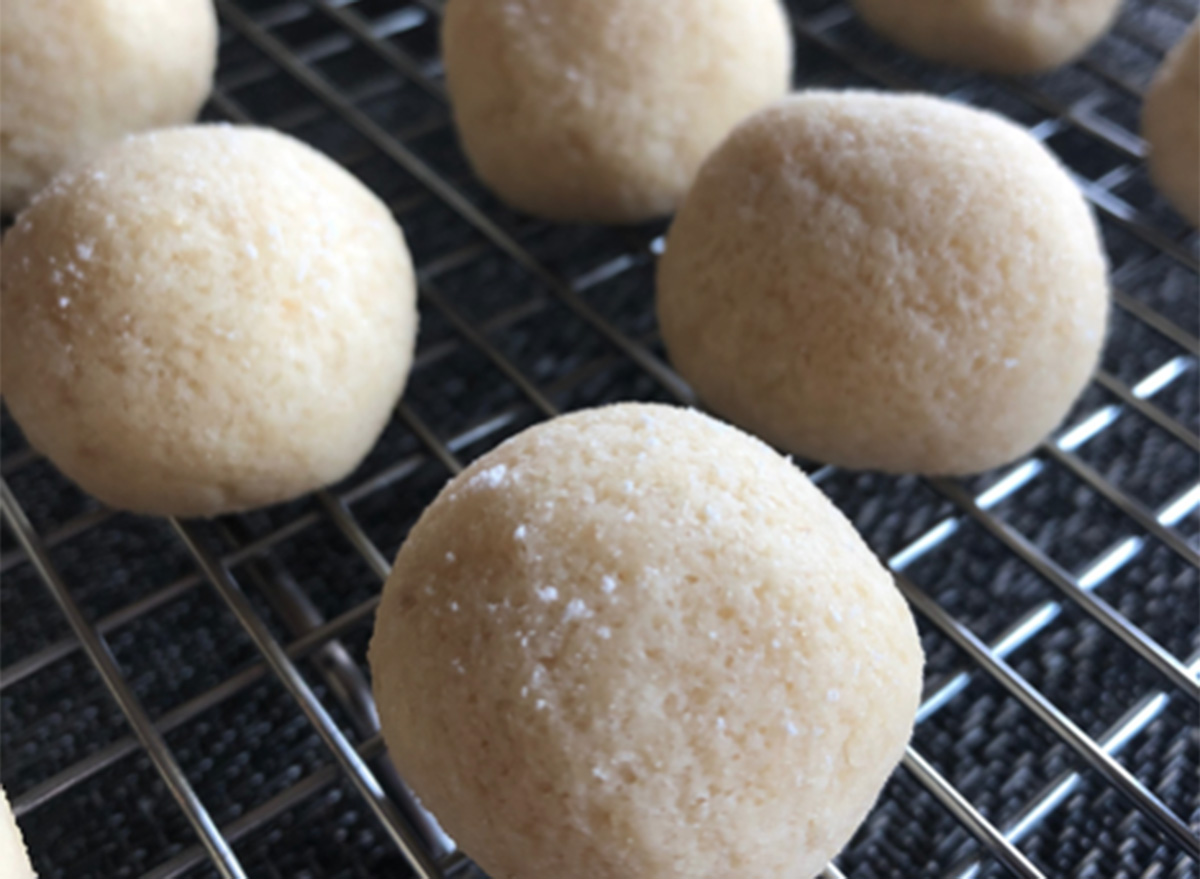 Amaretti cookies are a classic Italian treat, with a feathery light texture and a pale, rustic, unassuming appearance. But don't let their humble looks fool you—these tiny little almond bombs pack a potent aroma that can fill a room with all of its nostalgic might.
Get our recipe for Amaretti Almond Cookies.
Dark Chocolate Avocado Cookies
It's hard to not obsess over avocado recipes, period, let alone one that's actually a dessert. After all, the beloved fruit is a waist-whittling savior. In fact, according to the Journal of Diabetes Care, a diet rich in monounsaturated fat may actually prevent body fat distribution around the belly by downregulating the expression of certain fat genes. And another study published in Nutrition Journal discovered that participants who ate half a fresh avocado with lunch experienced a 40 percent decreased desire to eat for hours afterward.
Get the recipe from Apple of My Eye.
Mint Chip Coconut Protein Cookie Bites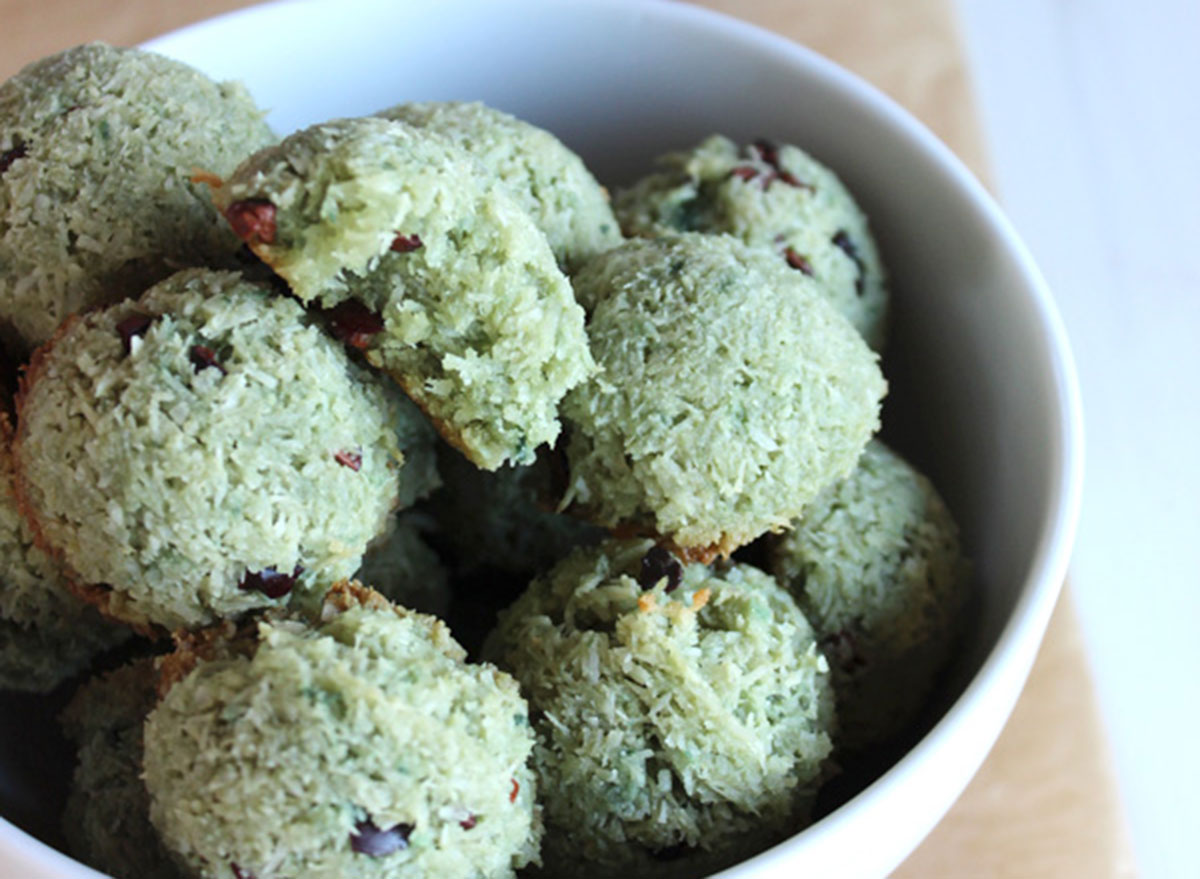 Our favorite thing about these mint chip cookie bites is that there is absolutely no food dye. Instead, they are colored with chlorophyll, the naturally occurring pigment found in plants. It also helps that they are gluten-free, grain-free, egg-free, and nut-free—because everyone deserves dessert.
Get the recipe from Purely Twins.
Skinny Cookie Dough Popsicles
We were smitten by the combo of cookie dough and Popsicles, but then we saw Greek yogurt in the ingredient list and we knew this was going to be an endless love affair. The satiating Greek gift is bursting with bone-strengthening calcium, as well as gut-friendly probiotics that science says improve cognitive function and belly-filling protein.
Get the recipe from Chocolate and Carrots.
Gluten-Free Peanut Butter Cookies
If you're a PB junkie, you don't need much convincing to bite into this one. However, if you're afraid it'll ruin your body goals, you might be more pleasantly surprised. For starters, consuming peanut butter is just more satiating than most other foods—which means you consume less. But imagine cookies that could actually increase your calorie-scorching potential. According to a study in the International Journal of Obesity and Related Metabolic Disorders, peanuts can increase your metabolic furnace. In that study, subjects' metabolic rate jumped by 11 percent when they ate about 500 calories of peanuts daily for 19 weeks.
Get the recipe from Veggie Balance.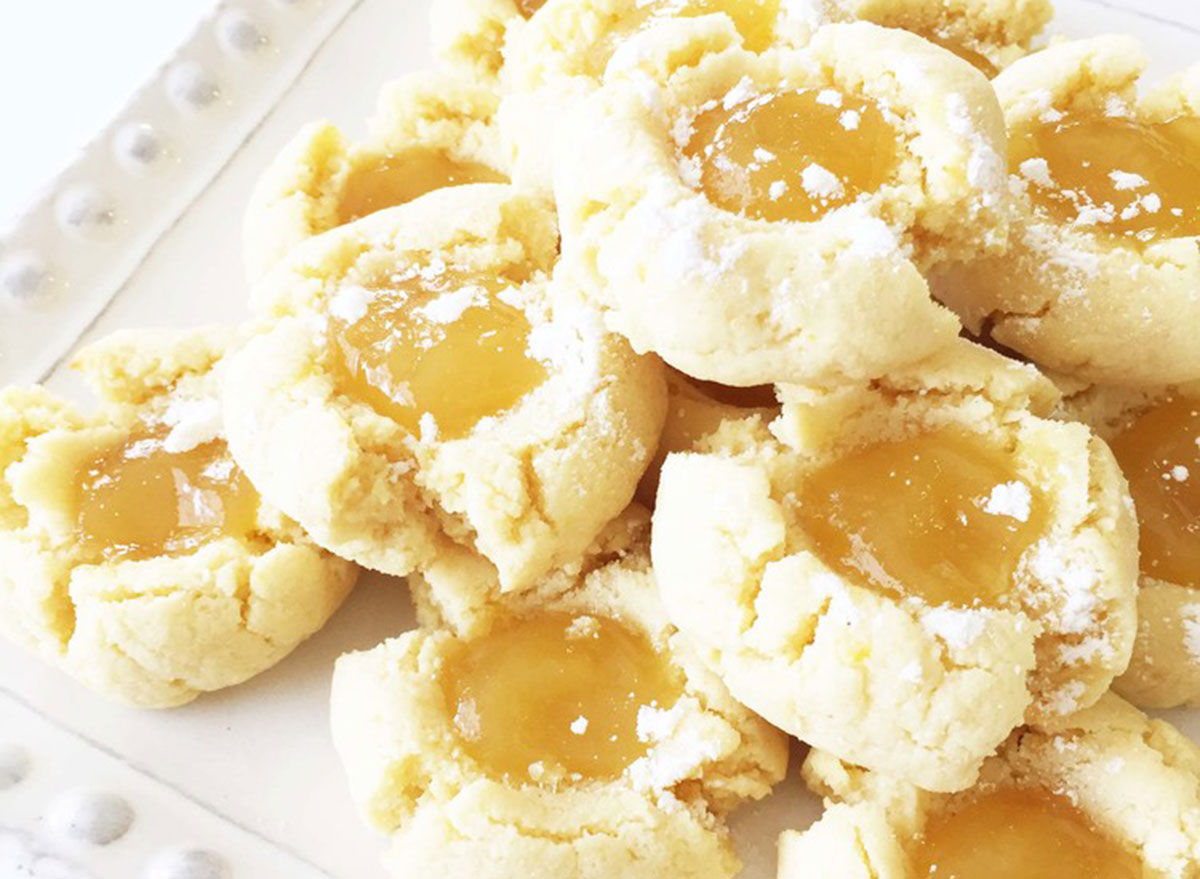 Whether you follow a gluten-free diet because you suffer from celiac disease or you simply avoid gluten because it makes you feel cloudy, these thumbprint cookies are an absolute treat. Rather than being full of fattening fillers, like many gluten-free products flooding grocery store shelves, they contain coconut flour and almond meal in place of regular flour. The rest of the ingredients are wholesome and not manufactured in a lab.
Get the recipe from The Skinny Fork.
Sweet Potato Toddler Cookies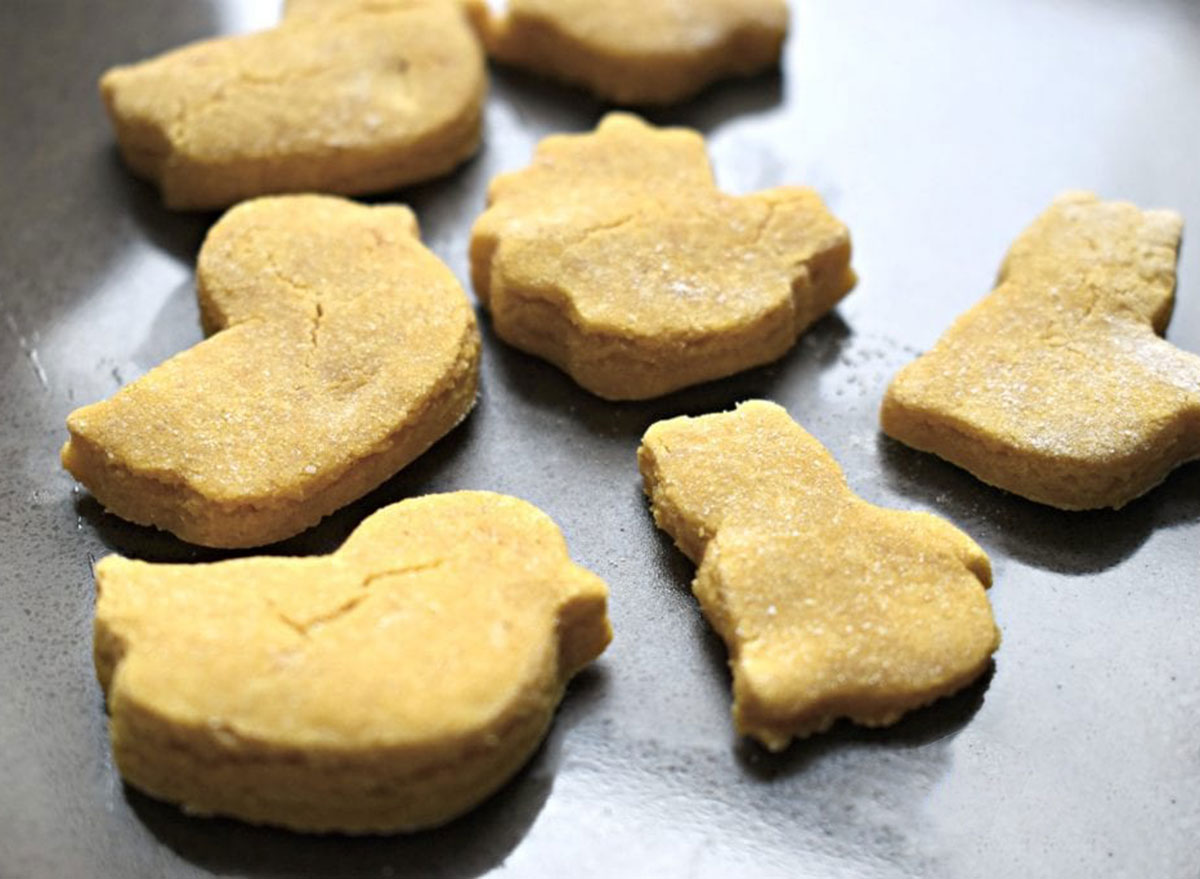 Getting your mini-me to eat more veggies is no small feat, which is why we love recipes like this one, which hides a nutritional superfood inside a toddler-pleasing treat.
Get the recipe from Little House Living.
Gluten-Free Pumpkin Cookies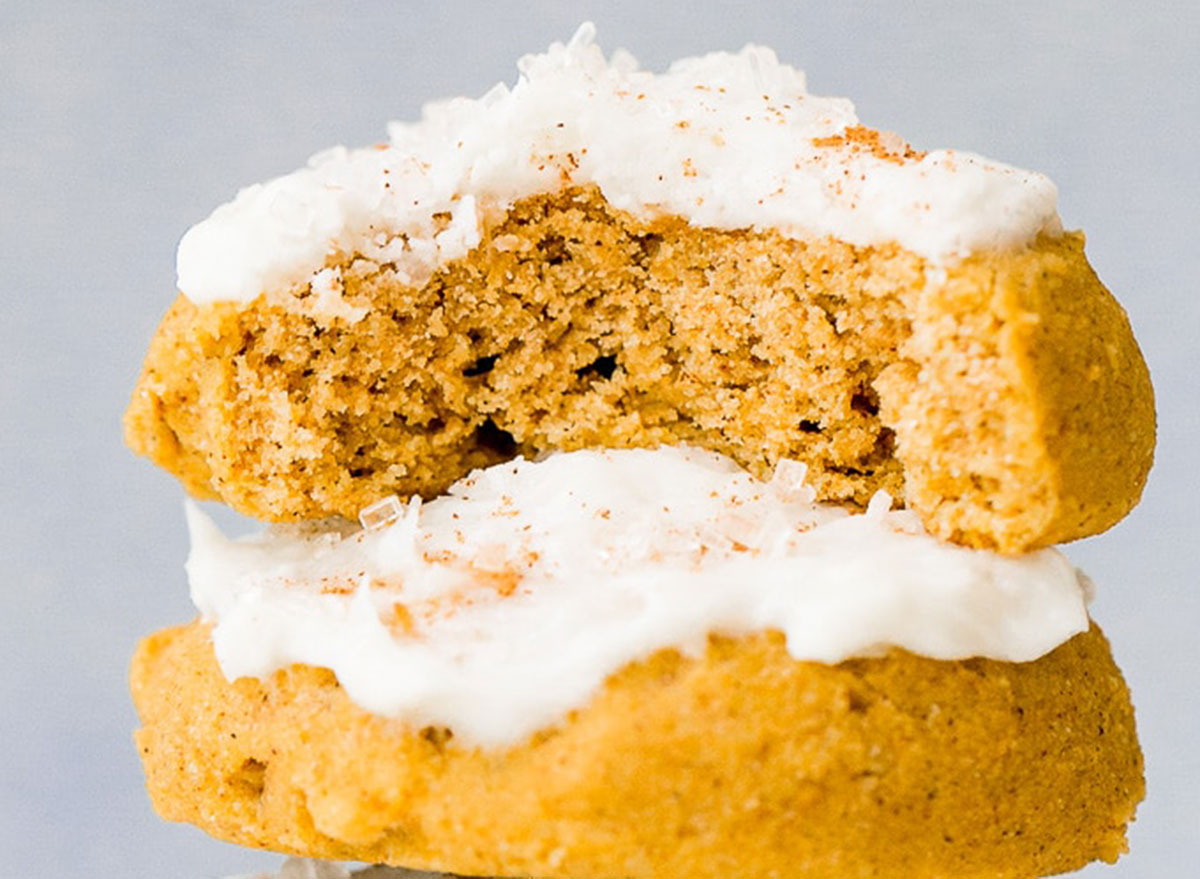 If you're looking for a way to maintain your summer glow, pumpkins are your new BFF, thanks to their fat-soluble pigments called carotenoids. Plus, with more fiber and protein than sugar, the gourd is a natural appetite suppressant. While this is by no means an excuse to go in a batch of these cookies, it's one more way to get your daily pumpkin on and to take advantage of the superfood's surplus of health benefits.
Get the recipe from Amy In The Kitchen.
Oatmeal Chocolate Chip Cookies
Of all the plethora of chocolate chip cookie recipes, we choose this one. Here's why: There's no white flour, no sugar, and just two tablespoons of real butter in the entire batch. Plus, they're made with calorie-scorching cinnamon and belly-slimming oats. This is one cookie that'll nix your cookie monster craving without undermining your body goals.
Get the recipe from The Food Charlatan.
Two-Ingredient Banana Coconut Cookies
Bananas, unsweetened coconut flakes, a food processor, and a baking sheet. It doesn't get much simpler than that.
Get the recipe from Fresh Planet Flavor.
Healthy Cinnamon Carrot Cookies
Carrots are widely known for their vision-protecting reputation, but they actually have a lot more to offer. The orange veggie boosts immunity, promotes vibrant skin, reduces cholesterol, boosts oral health, protects the heart, improves digestion, increases cardiovascular health, and detoxifies the body, thanks to a plethora of vitamins and minerals. It's not that often you can bite into a cookie and feel this good about it.
Get the recipe from Baking Ginger.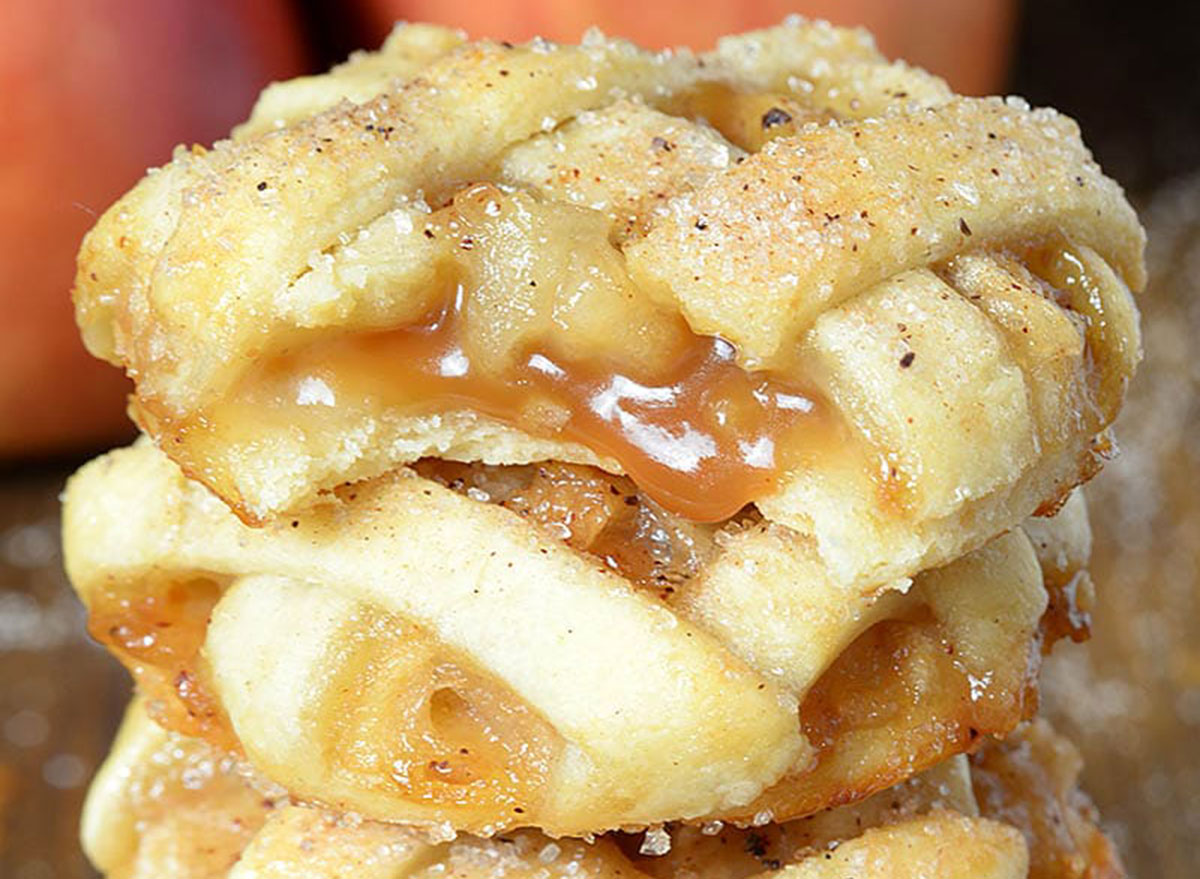 Apples are packed with antioxidants, flavonoids, and phytonutrients that can help ward off everything from cancer and diabetes to heart disease. While America's favorite dessert doesn't have the most slender rep, eating it in cookie form allows for effortless portion control.
Get the recipe from OMG Chocolate Desserts.
Skinny Sugar Cookie Bites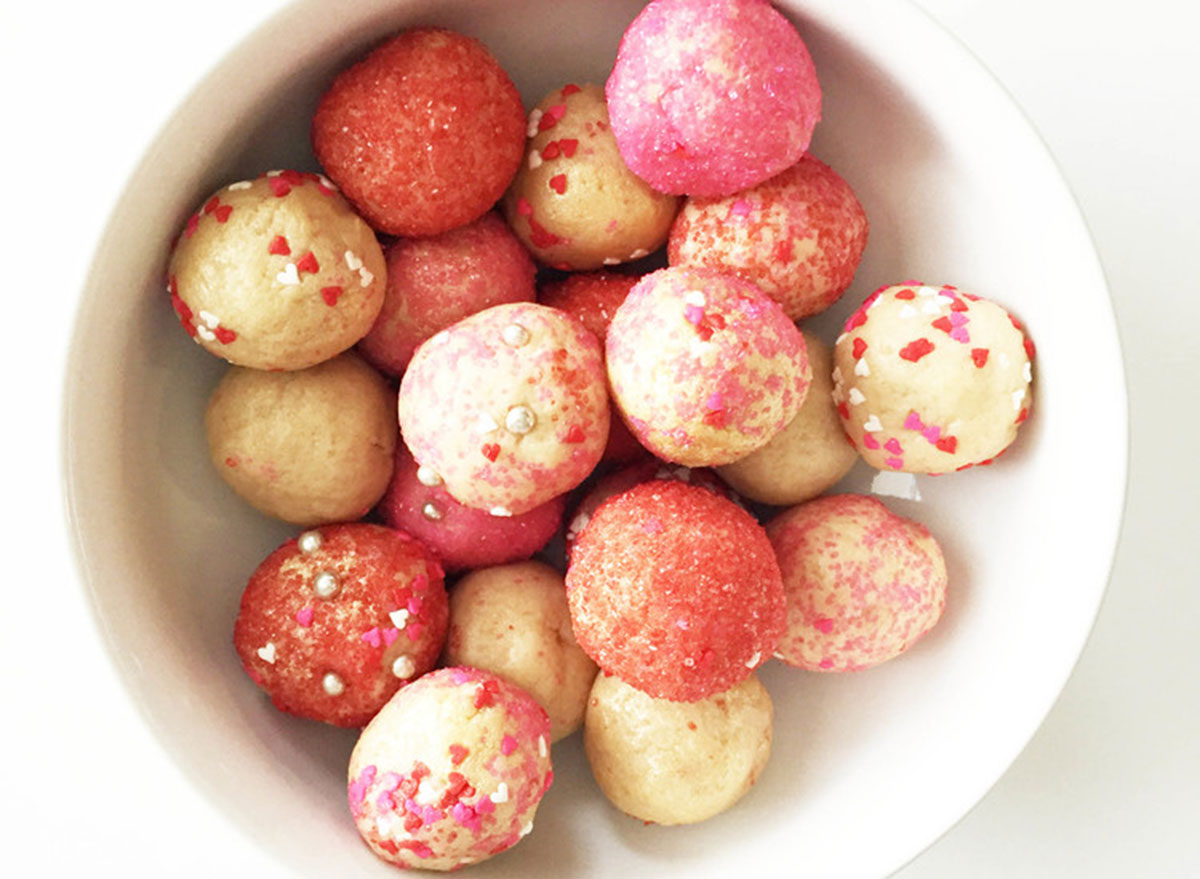 These bite-sized sugar cookies are so fancy and just 78 calories apiece. Now that's a treat you can sink your teeth into.
Get the recipe from The Skinny Fork.
Peanut Butter Chia Breakfast Cookies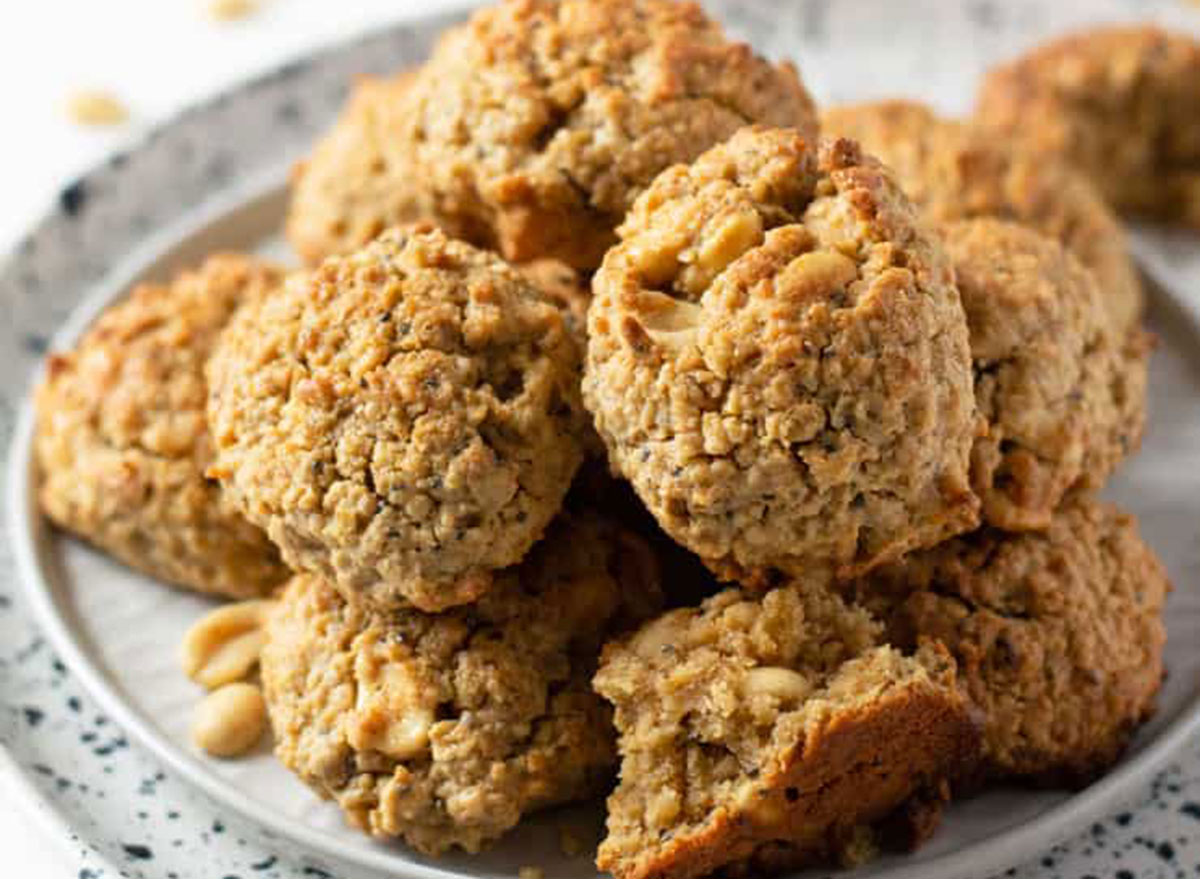 Calling all cardio queens (and kings): Chia seeds are one of the best plant-based sources of omega-3 fatty acids, which fight inflammation in the body. And if you ingest them pre-workout they can help to keep you hydrated and fueled, thanks to their ability to absorb up to 10 times their weight in liquid! Munch on one of these breakfast cookies one to two hours prior to your sweat sesh and you just might get in a better workout.
Get the recipe from Back to The Book Nutrition.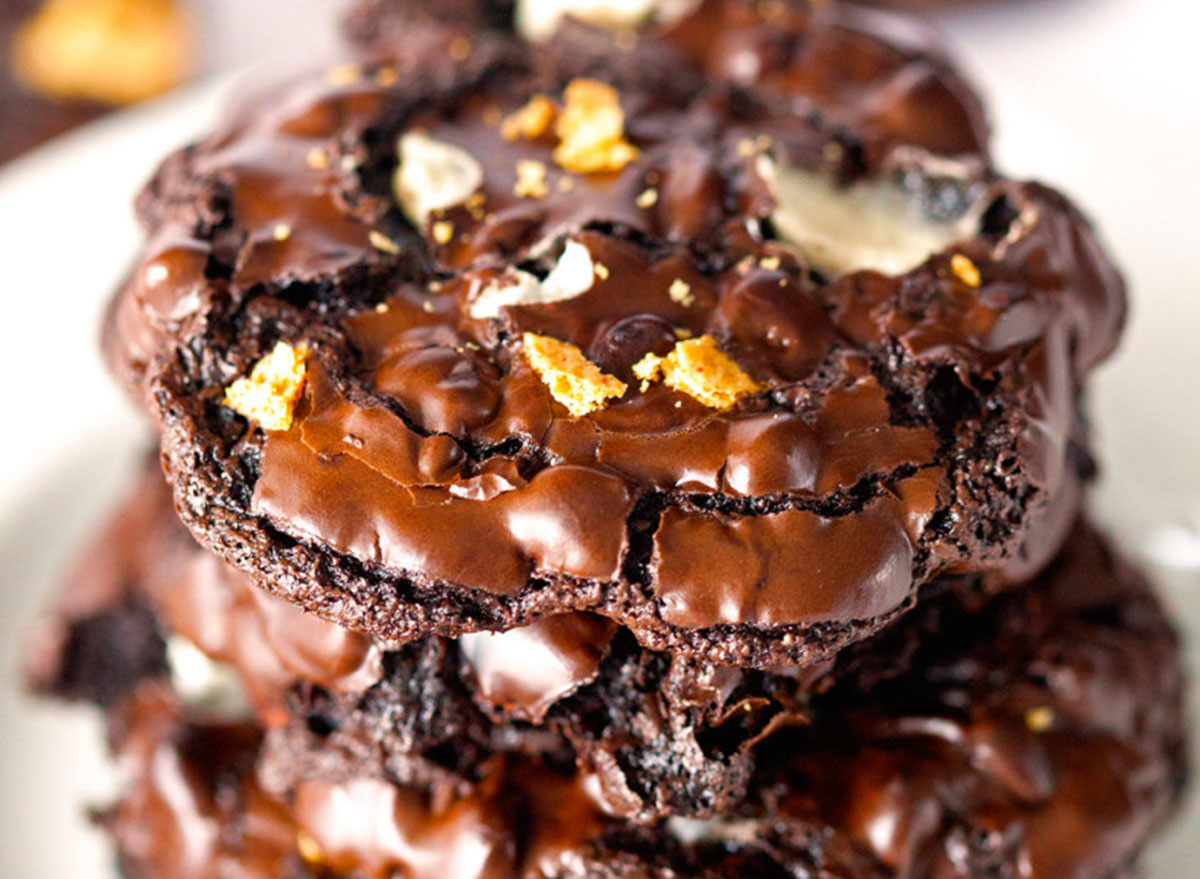 "Fudgy, chocolatey, and super chewy" are screeching alarms to any dieters' ears—except this time. And all it took was six wholesome ingredients to create a dessert that doesn't take any corners and won't unravel your weight loss goals.6254a4d1642c605c54bf1cab17d50f1e
Get the recipe from Deliciously Yum.
Chai Spice Snickerdoodles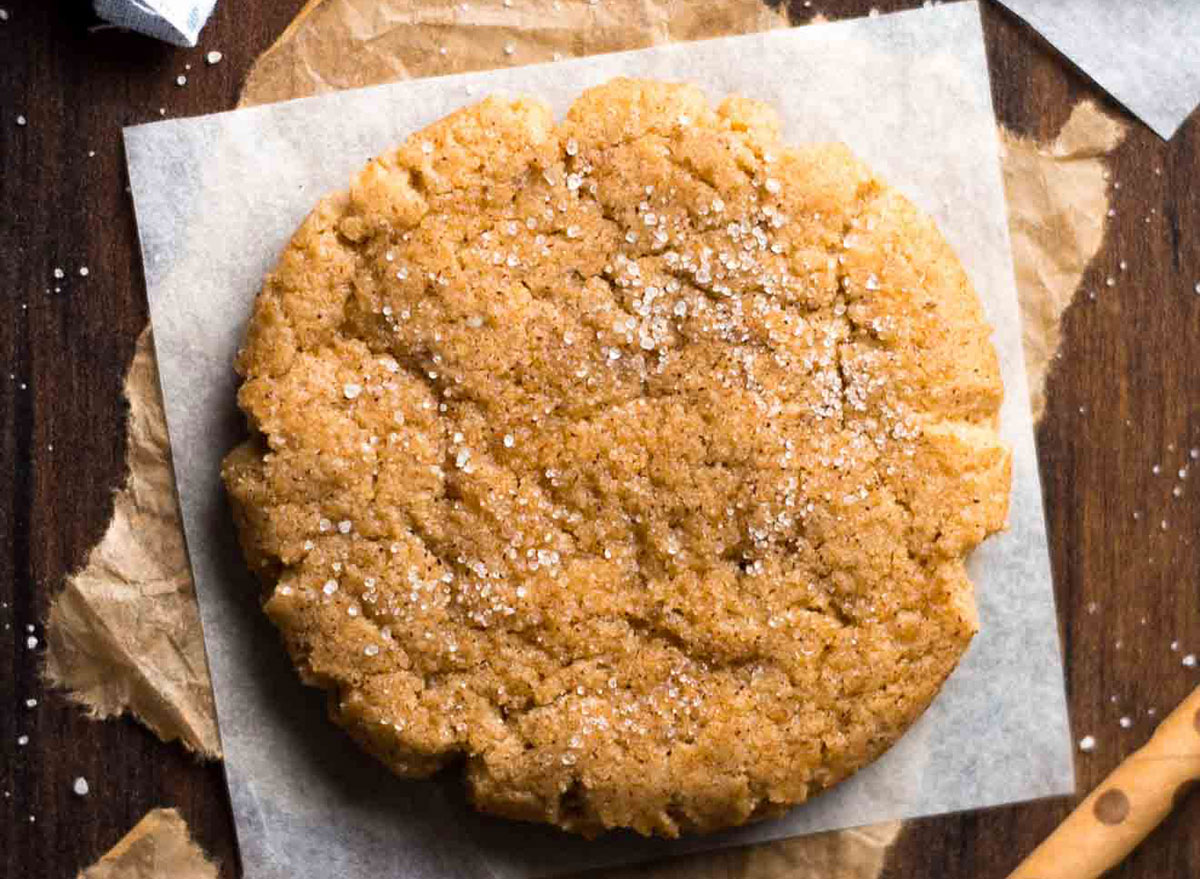 Tummy-calming ginger, inflammation-reducing cloves, gut-friendly cardamom, and cinnamon, which has been shown to speed up metabolism come together to create the perfect chai flavor for these snickerdoodle cookies. And at just 144 calories per two-cookie serving, you can actually enjoy dessert without the lingering guilt.
Get the recipe from Amy's Healthy Baking.
Flourless Dark Chocolate Raspberry Almond Butter Oatmeal Cookies
PB&J in cookie form with dark chocolate—who needs convincing here? This recipe will combat stress, cravings, and hunger, all while whittling your waist. In fact, according to the American Chemical Society's Journal of Agricultural and Food Chemistry, the dark, velvety treat decreases body fat, thanks to flavanols (or plant-based nutrients) in dark chocolate. And because chronic stress causes your body to release hunger-inducing cortisol, you can actually fight its effects by nibbling on the dark stuff regularly, according to a study published in the Journal of Proteome Research. We're in.
Get the recipe from The Baker Mama.
Paleo Coconut Flour Chocolate Chip Cookies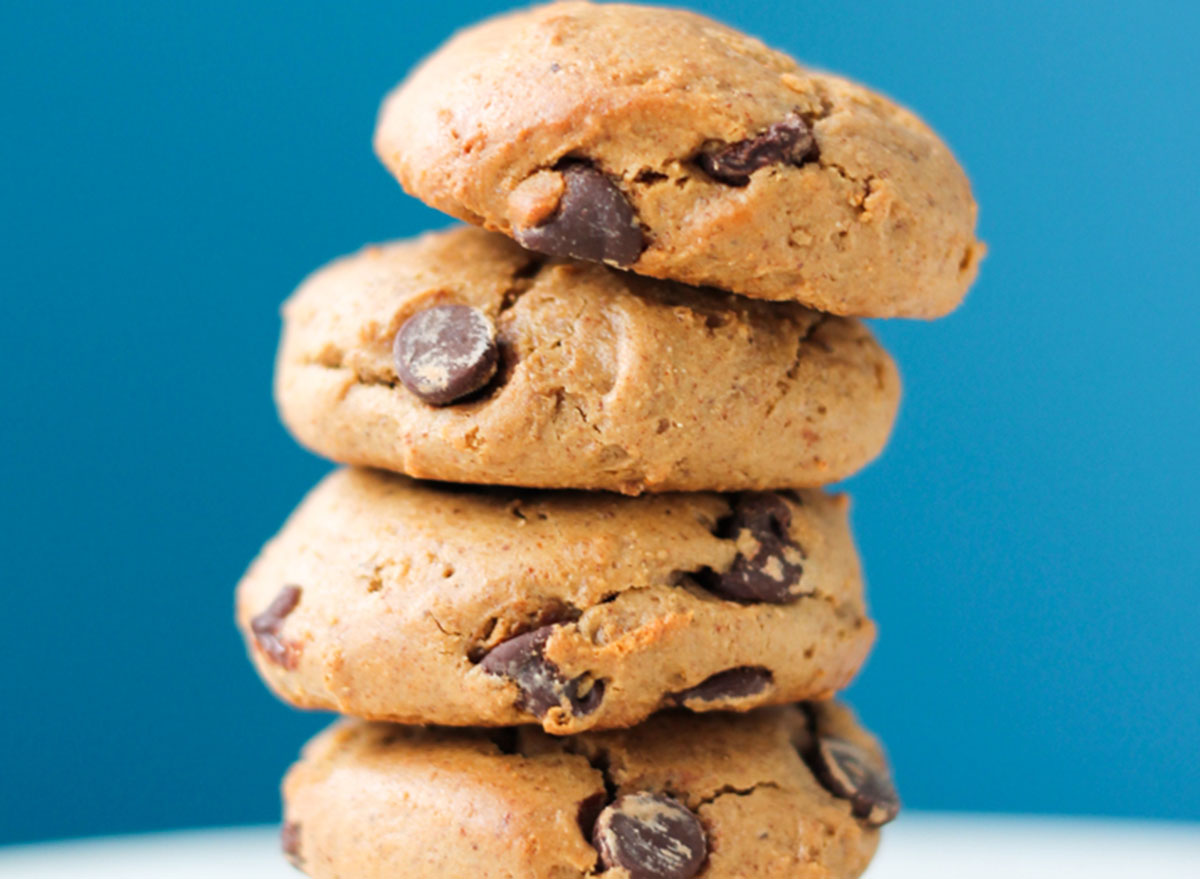 The Paleo diet omits legumes on the belief that Paleolithic people didn't eat them—which means peanuts are out if this is your dietary lifestyle. But when it comes to nut butter, almond butter is the go-to choice. In fact, according to Stephanie Middleberg, MS, RD, CDN of Middleberg Nutrition, "ounce for ounce, almonds are one of the most nutritious nuts."
Get the recipe from Ambitious Kitchen.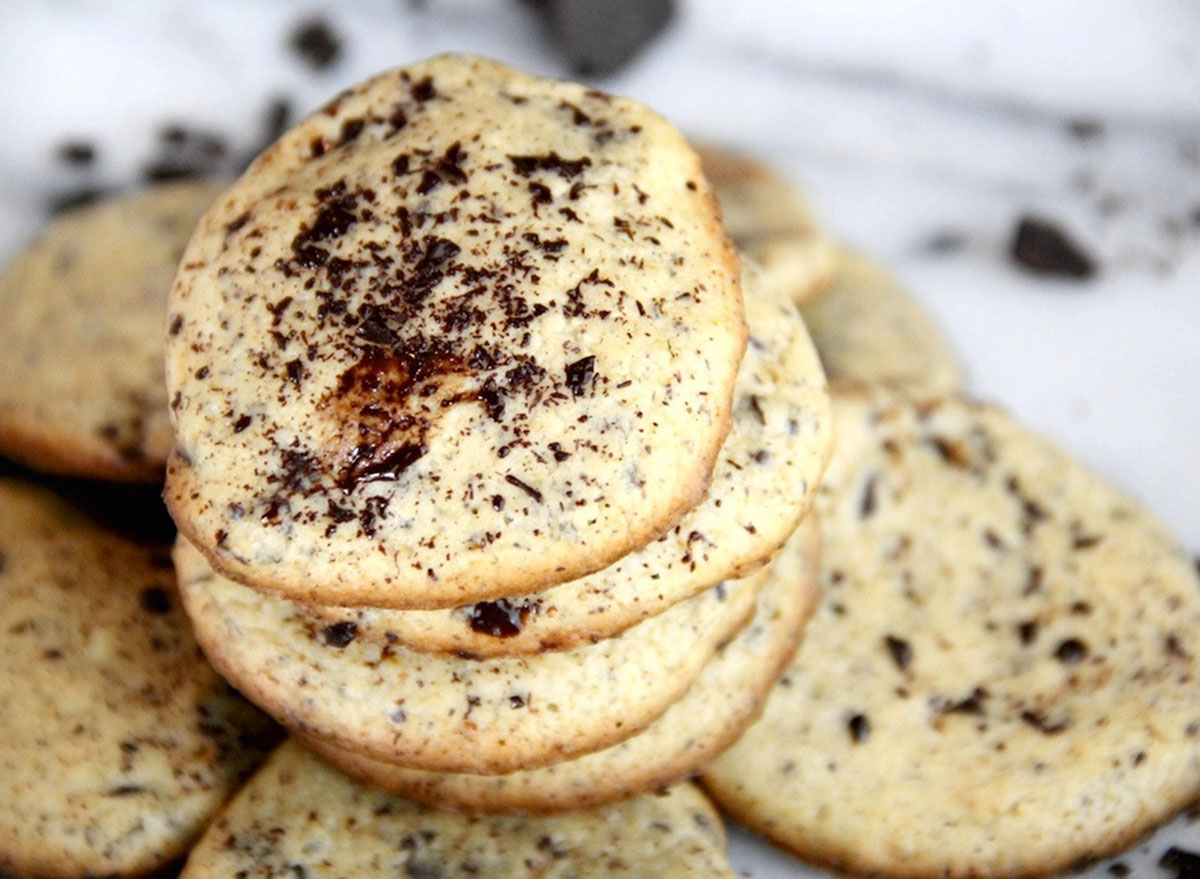 Say "hello" to these beautiful, 35-calorie cookies. Yes, you can have three and still flaunt an admirable six-pack.
Get the recipe from Skinny Girl Standard.
Chunky Monkey Quinoa Breakfast Cookies
If the previous breakfast cookies didn't tickle your fancy or you simply can't fathom eating before you go sweat, this recipe is perfect for a post-workout treat. It still contains hydrating chia seeds, along with muscle-building quinoa, potassium-rich banana, heart-healthy walnuts, and stress-busting dark chocolate.
Get the recipe from Simply Quinoa.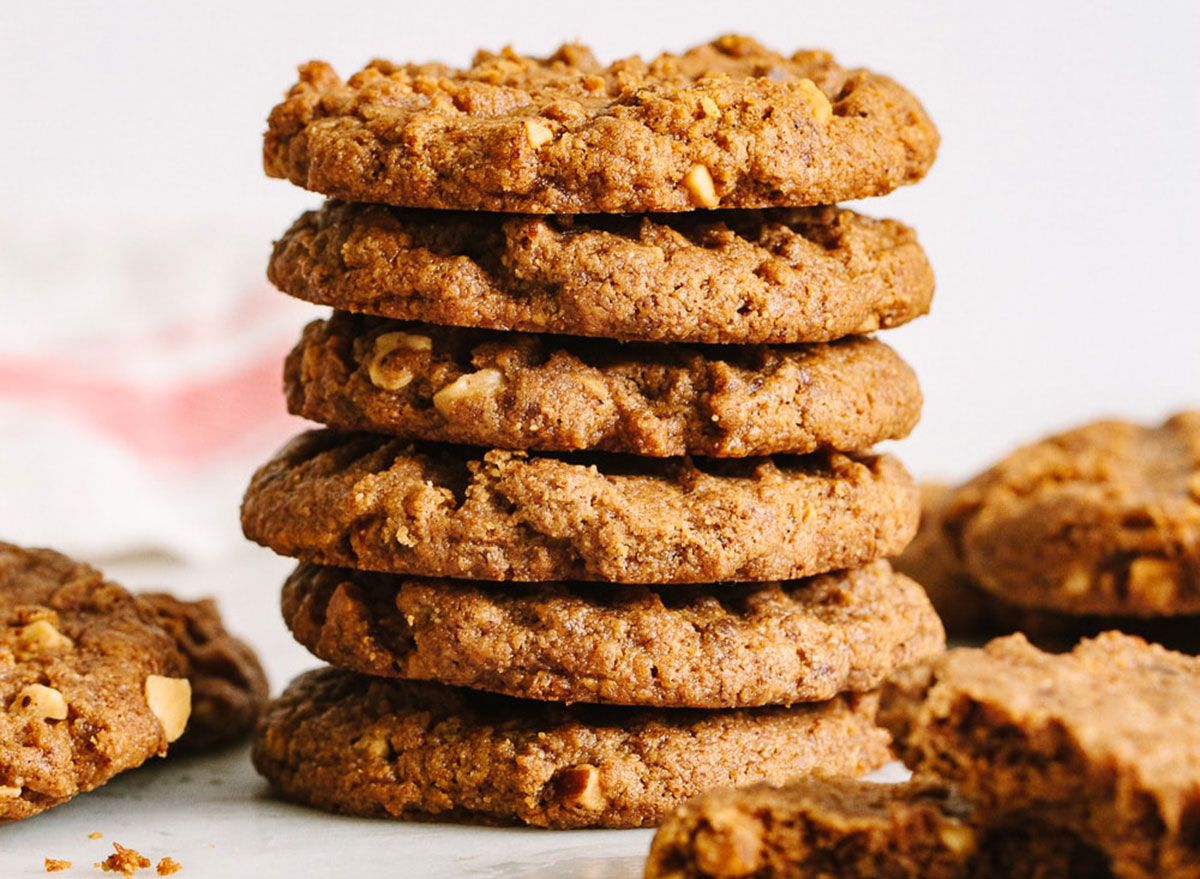 These airy cookies are usually all butter, but this cookie recipe packs them full of protein instead. You'll get your healthy fats from the almond butter, but will mostly just notice how indulgent these taste. Just try to remember to share!
Get the recipe from The Simple Veganista.