A Rich & Hearty Crock-Pot Beef Ragu Recipe
Upgrade your usual spaghetti and meatballs with this beef ragu recipe!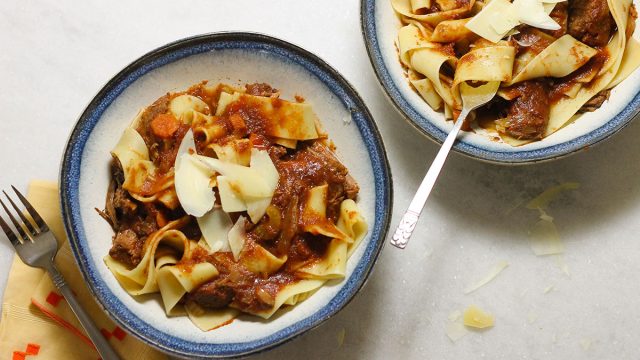 Sick of the usual meat sauce and meatballs on a weeknight? Take your Italian cooking up a notch with this delectable beef ragu recipe. Not only is it easy to make, but this dump-and-go Crock-Pot recipe is perfect to prep and freeze for later!
When this recipe is ready to serve, I personally recommend serving it with pappardelle pasta and shaved parmesan. However, if you can't find pappardelle in the store, fettuccine would be a fine alternative.
Have leftover red wine? Use that!
The original recipe for beef ragu calls for 1 cup of beef stock. However, if you have any leftover red wine sitting in the fridge that needs to be used, use that instead! One cup of red wine will give the beef ragu a richer taste that can't be beat.
However, if you are using the red wine, you won't be getting the extra salt from the beef stock. I recommend sprinkling in some salt (no more than a teaspoon) to give the beef ragu a little bit more flavor.
Makes 4-6 servings
Ingredients
1 lb. beef chuck
1 28 oz. can crushed tomatoes
1 6 oz. can tomato paste
1 cup carrots, peeled and diced
1 cup celery stalks, diced
2 garlic cloves, minced
1 medium onion, diced
1 teaspoon Italian seasoning
1 teaspoon salt
1/2 teaspoon pepper
1 cup of beef stock (or red wine)
1 bag/box of pappardelle pasta
Shaved parmesan
How to Make It
Season the beef with salt and pepper.
Add in seasoned beef, crushed tomatoes, tomato paste, carrots, celery, garlic cloves, onion, and Italian seasoning into a slow cooker.
Pour in the beef stock (or if you have some leftover red wine, use that).
Cook on low for 6 hours (8 hours max). If you cook for longer, the beef will get mushy, so be careful!
Right before serving, cook the pappardelle pasta in boiling water that has been lightly salted. Cook time varies based on packaging instructions.
Take the beef out and shred it with two forks. Place back in the sauce.
Serve beef ragu on prepared pappardelle pasta with shaved parmesan cheese.
Eat This! Tip
Freeze this meal and save it for later! Add the seasoned beef, tomatoes, tomato paste, carrots, celery, garlic cloves, onion, and Italian seasoning into a gallon-size freezer bag. Make sure to defrost the meal in the refrigerator 24 hours before putting it into the slow cooker. Mix ingredients together so they are evenly distributed before turning on the slow cooker. Pour in the beef stock (or red wine) and follow the normal instructions from there.
RELATED: Easy, healthy, 350-calorie recipe ideas you can make at home.
Kiersten Hickman is a senior editor at Eat This, Not That!, with a main focus on food coverage, nutrition, and recipe development.
Read more