Daily Harvest is Now Selling Healthy, Ready-to-Bake Cookie Dough
The frozen food company delivers plant-based, gluten-free, ready-to-bake cookie dough straight to your door.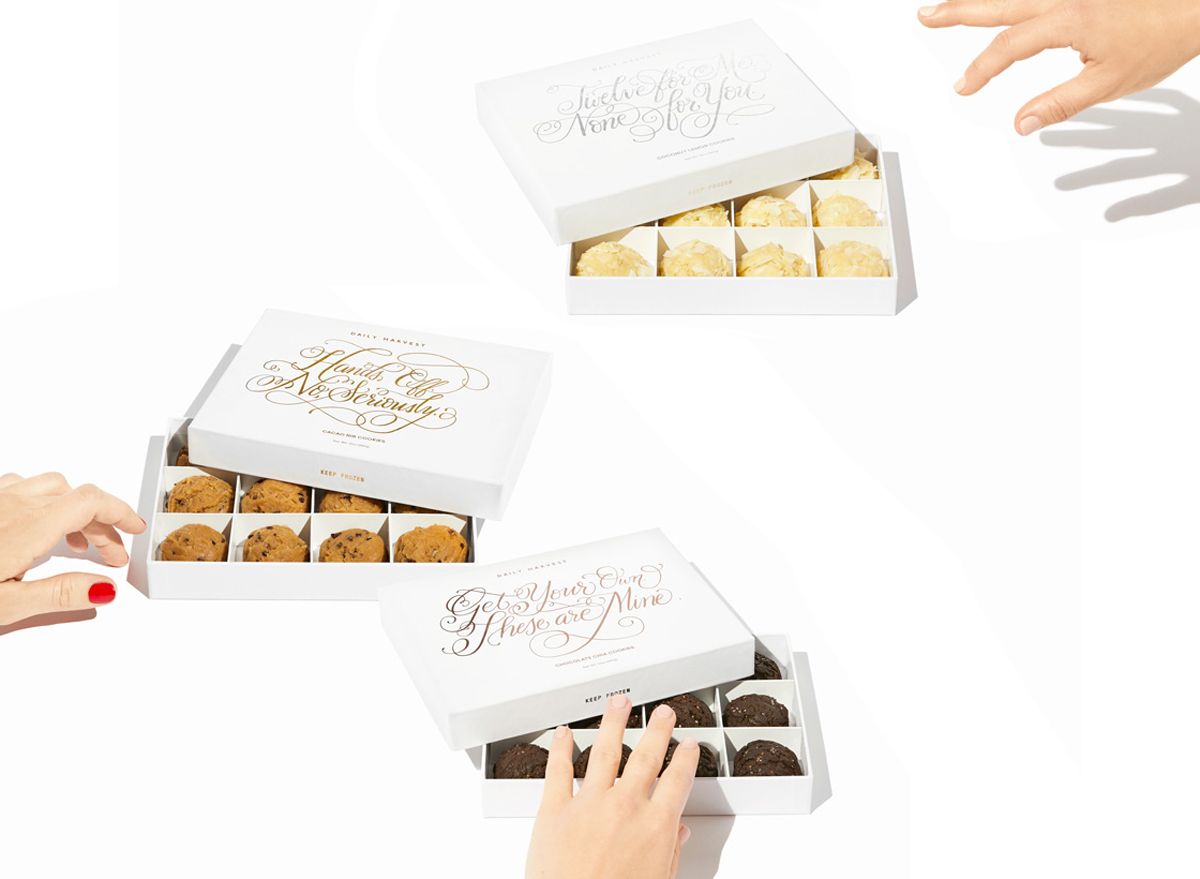 Any sweets fan would admit they hold ready-made cookie dough high in their hearts, no competition. Who can deny the ease of taking those rolled tubes or pre-cut cubes straight out of the fridge and popping them in the oven? We have to admit—there are very few indulgences that rank above eating fresh-baked cookies.
So, don't limit yourself to eating crumbs during the holidays, or cringing at how many calories you devoured after going in on half a batch of cookies. Instead, start with a healthier dough in the first place to curb any cravings guilt before it begins. How can one do that? After longing for a healthy dessert alternative like this, food subscription company Daily Harvest answered our prayers and released a line of healthy frozen cookie dough to the world—and we are never buying yellow tubs of premade, super-sugary cookie dough again.
What flavors do Daily Harvest cookies come in?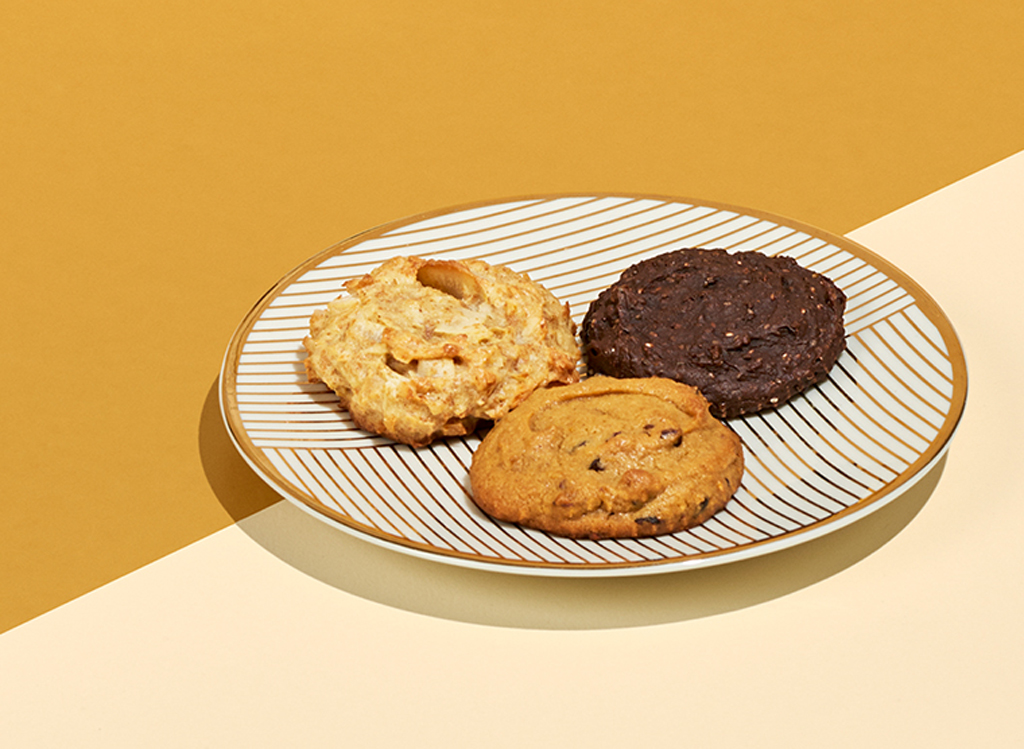 The company that you probably know for its insane smoothies blends, rolled out boxes of break-and-bake cookies this November and we couldn't envision a better stocking stuffer or hostess gift to have on deck this holiday season.
Coming in three plant-based flavors, there's something for every palate and we'll never even suggest heading to the supermarket again to get our cookie fix. The Coconut Lemon is made with a base of cassava flour, coconut, lemon, and flaxseeds. Chocolate Chia is a blend of cashew butter, avocado, and reishi mushrooms. Cacao Nib has sunflower seed butter, pumpkin, cassava flour, cacao, and maca. Not only are all three gluten-free, but each bite is also loaded with protein, so these bad boys could double as your post-gym energy treats.
How healthy is Daily Harvest's frozen cookie dough?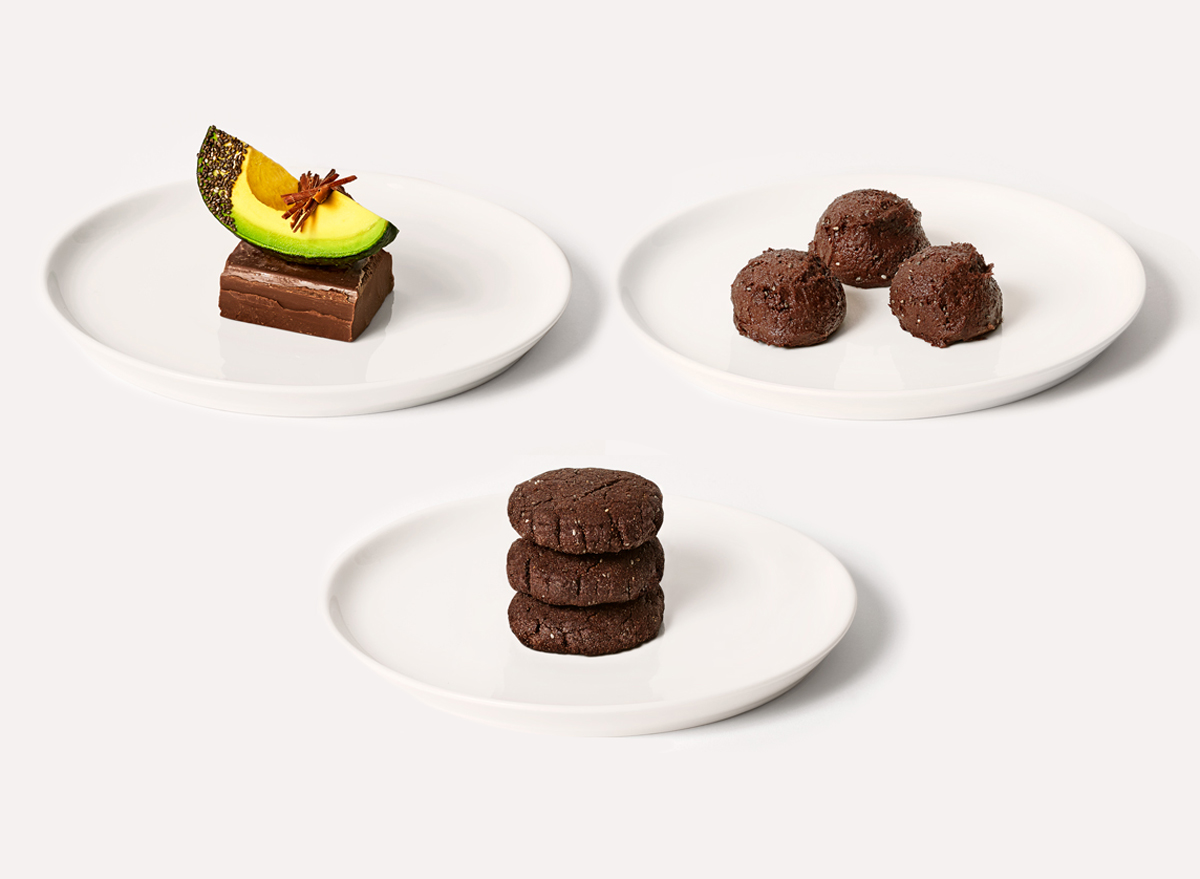 6254a4d1642c605c54bf1cab17d50f1e
Coconut Lemon PER 1 SERVING (1 cookie)
: 100 calories, 7 g fat (6 g saturated fat), 75 mg sodium, 10 g carbs (1 g fiber, 5 g sugar), 1 g protein
Chocolate Chia PER 1 SERVING (1 cookie)
: 100 calories, 6 g fat (1 g saturated fat), 5 mg sodium, 11 g carbs (2 g fiber, 6 g sugar), 3 g protein
Cacao Nib PER 1 SERVING (1 cookie)
: 100 calories, 4.5 g fat (1 g saturated fat), 65 mg sodium, 14 g carbs (1 g fiber, 6 g sugar), 2 g protein
Before getting our hands on a box, we asked Amy Shapiro, MS, RD, CDN of Real Nutrition NYC to weigh in on its make-up.
"I am a huge fan of this brand-new launch by Daily Harvest! I think they are a great alternative to the average holiday cookie as they offer more than just low sugar. They are made from functional ingredients, have no simple sugars, contain many different spices with nutritional benefits and the best part is they taste great."
Unlike traditional ready-to-bake cookie doughs that are made with inflammatory soybean oil, Shapiro tells us these cookie doughs contain heart-healthy fats, like that from chickpeas and avocado. She also loves that the doughs are gluten-free, have protein and "some even have mushrooms, a superfood many people struggle with incorporating into their diet."
Yet another reason we're team Daily Harvest cookies? They're portion control friendly. "I also like how they arrive frozen so you have to cook the amount you want to eat. You don't have to bake the whole box at once, it lives in your freezer and you bake as needed."
If you weren't already sold, you can eat this frozen dough raw, without the stomach ache. We don't blame you if they don't make it onto the baking sheet with that in mind. Maybe next year, Santa.