Every Dairy Queen Blizzard on the Menu—Ranked!
There's a DQ Blizzard out there that doesn't totally rain on your weight loss efforts.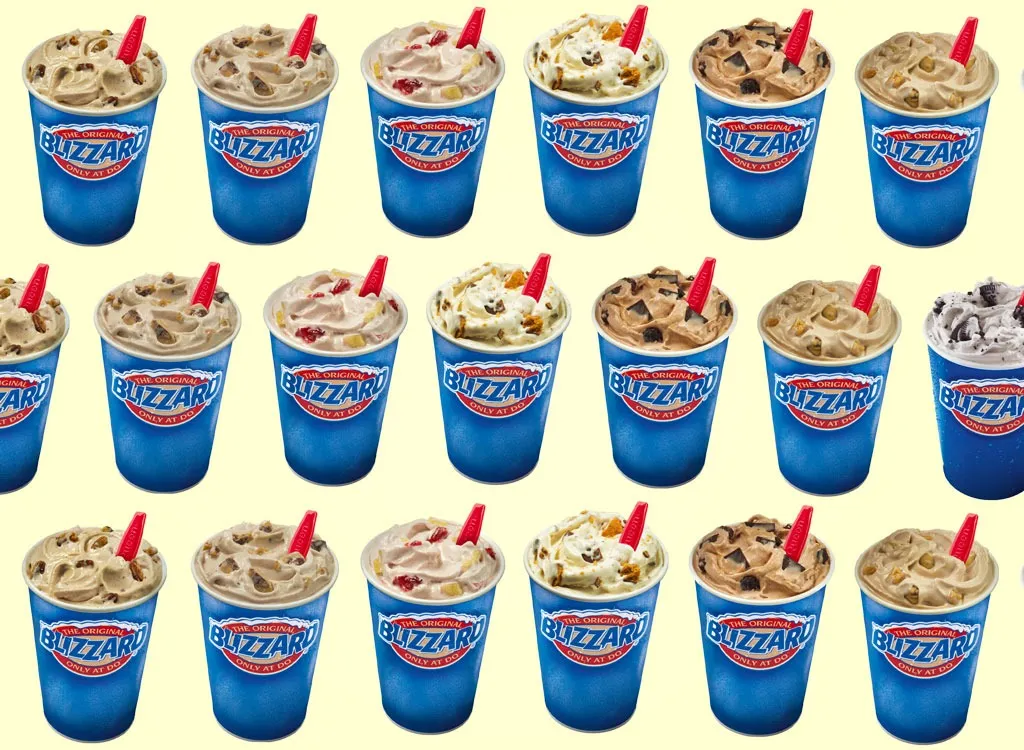 Boasting a rewards club that's 4.3 million people strong, DQ's favorite frozen treat is undeniably wildly popular. But before you pick just any treat off the Dairy Queen Blizzard menu, we have to warn you: Not all cups are fair game if you're looking to keep belly fat at bay.
Thanks to the multitude of chemically-constructed mix-ins, some of these treats boast over a day's worth of fats, saturated fats, and sugars—and we only looked at the 12-ounce small…
What's worse, many have artery-clogging, man-made trans fat hidden in them, an ingredient so harmful it's now banned by the FDA. In fact, every single one of DQ's Blizzards carries a version of the dangerous fat, making it all the more important that you consider them a sometimes-only treat.
Below you'll find out which treats from the Dairy Queen Blizzard menu are the best bets for your health and waistline, and which you're better off saving for a really special occasion.
Methodology for Ranking Every Treat on the Dairy Queen Blizzard Menu
We ranked each Blizzard by primarily looking at calories, fat, saturated fat, sugar, and carbs. Anything with artificial trans fat got sent to the back of the pack. For any nutritional discrepancies, we used nasty additives in the ingredient list to break the ties.
And remember, when you're looking to indulge, keep your calorie count in check and the health-harming trans fats off your spoon by ordering your Blizzard in a small or mini.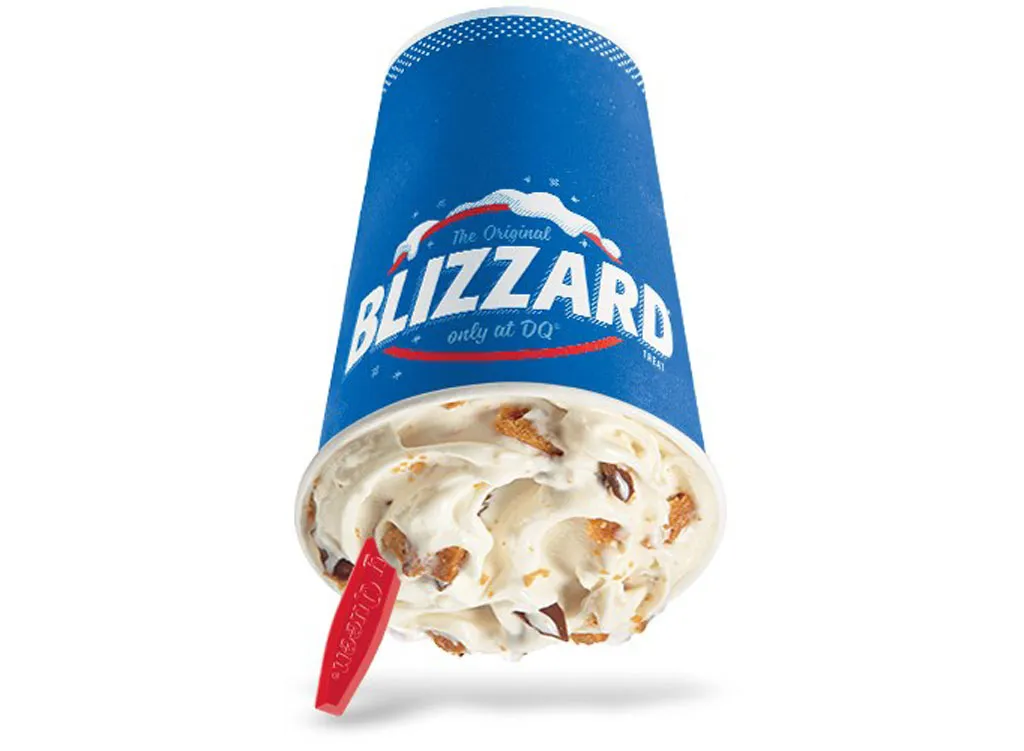 6254a4d1642c605c54bf1cab17d50f1e
Nutrition per small (262 g)
: 520 calories, 18 g fat (11 g saturated fat, 0.5 g trans fat), 210 mg sodium, 78 g carbs (0 g fiber, 57 g sugar), 12 g protein
We get it. The combination of sweet and salty can make anyone go weak at the knees. So if you're on the hunt for a frozen treat packed with some addictively salty-sweetness, grab this one. The Butterfinger Blizzard is not only one of the best varieties for your waistline, but also the safest pick for peanut butter lovers.
Reese's Peanut Butter Cups Blizzard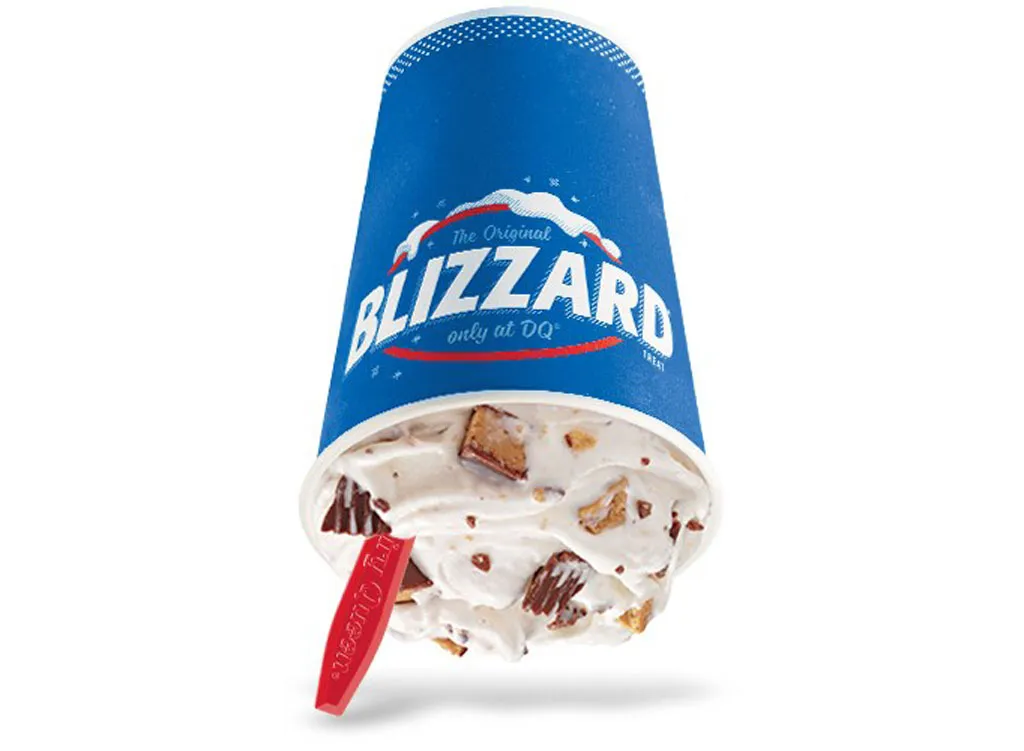 Nutrition per small (287 g)
: 570 calories, 23 g fat (12 g saturated fat, 0.5 g trans fat), 290 mg sodium, 79 g carbs (1 g fiber, 68 g sugar), 15 g protein
It certainly seems like Dairy Queen has a rule that it has to blend all of its Blizzards with copious amounts of fat and sugar. We can't say we're thrilled, but we will say we're less furious that this Reese's-studded treat has only 67 grams, considering that's 20 grams less than our #1 worst Blizzard. That's still over your recommended intake of sugar for the entire day, so if you're going to grab this treat, make sure to make it a mini (with only 43 grams), and pair it with a fiber-rich side salad to help lessen the inevitable spike in your blood sugar. Fiber is an important part of our diet—find out what happens when you don't get enough dietary fiber here!
Choco Brownie Xtreme Blizzard
Nutrition per small (287 g)
: 620 calories, 27 g fat (15 g saturated fat, 0.5 g trans fats), 330 mg sodium, 86 g carbs (3 g fiber, 69 g sugar), 13 g protein
This Blizzard is "xtremely" unhealthy—even for being one of our top picks. It's loaded with palm oil, a source of bad-cholesterol-increasing palmitic acid, chemically-treated bleached flour, blood-sugar spiking sugar), and visceral-fat-inducing fructose. If you want to curb your chocolate cravings, break off a piece of 70 percent dark chocolate for some gut-healthy, heart-protective benefits!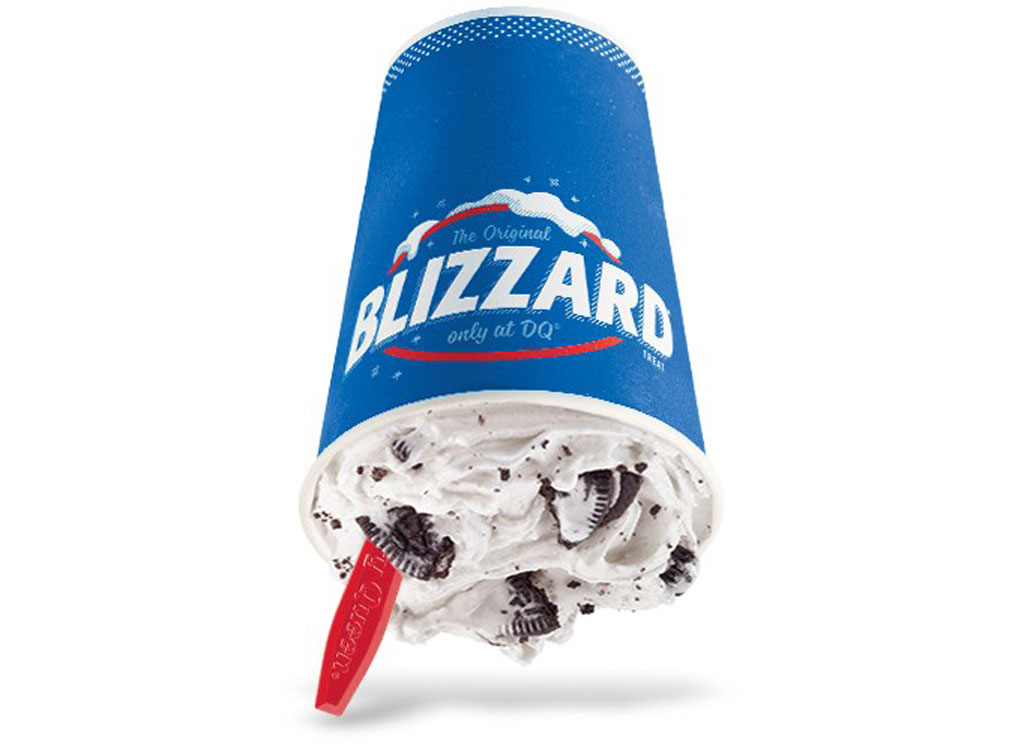 Nutrition per small (298 g)
: 610 calories, 22 g fat (11 g saturated fat, 0.5 g trans fat), 390 mg sodium, 91 g carbs (1 g fiber, 67 g sugar), 12 g protein
The Oreo variety is not only one of the lowest calorie Blizzards, it also contains the fewest ingredients next to the Reese's Blizzard—which is why we were pretty disappointed one of those ingredients is health-harming partially hydrogenated oil. Alas, we would have still had to dock them for their absurd carb and sodium count. In fact, even as a size small, this Blizzard is one of the saltiest restaurant desserts in America.
Turtle Pecan Cluster Blizzard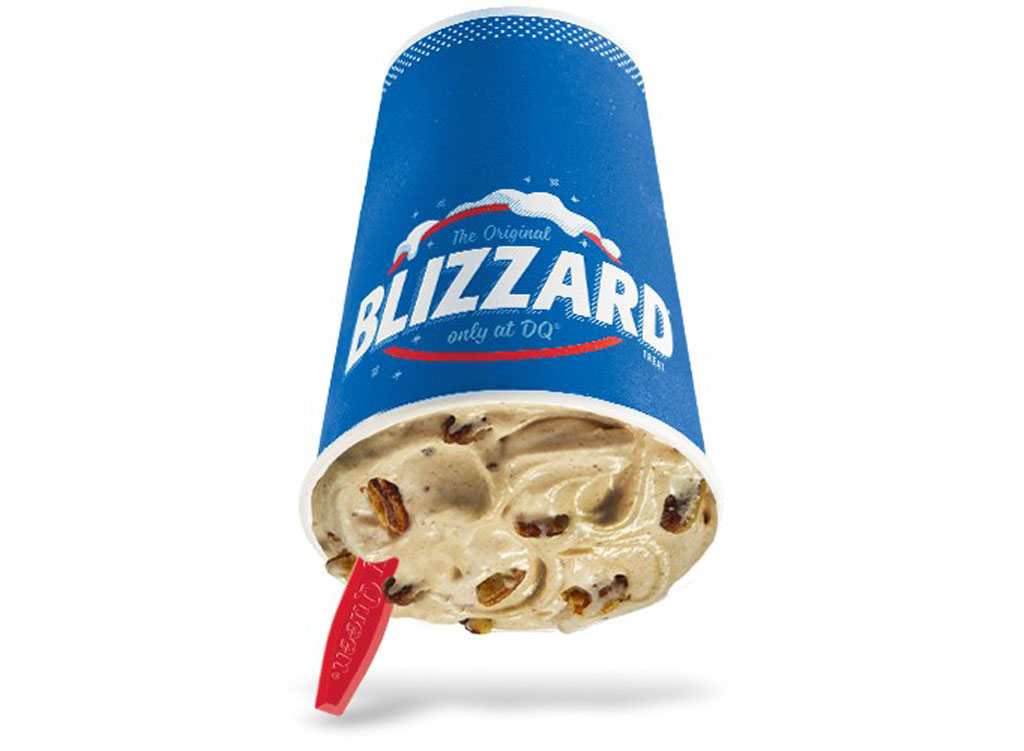 Nutrition per small (325 g)
: 670 calories, 31 g fat (16 g saturated fat, 0.5 g trans fat), 270 mg sodium, 86 g carbs (2 g fiber, 69 g sugar), 13 g protein
Milk chocolate, pecans, and sweet caramel come together in this Turtle Pecan cluster. And if you thought you were being healthy by picking a Blizzard with real nuts in it, think again. The pecans are doused in a mixture of oil, butter, and salt. Yuck. The rest of this ice cream treat? Varying forms of sugar, chocolate, and oil.
Chocolate Chip Cookie Dough Blizzard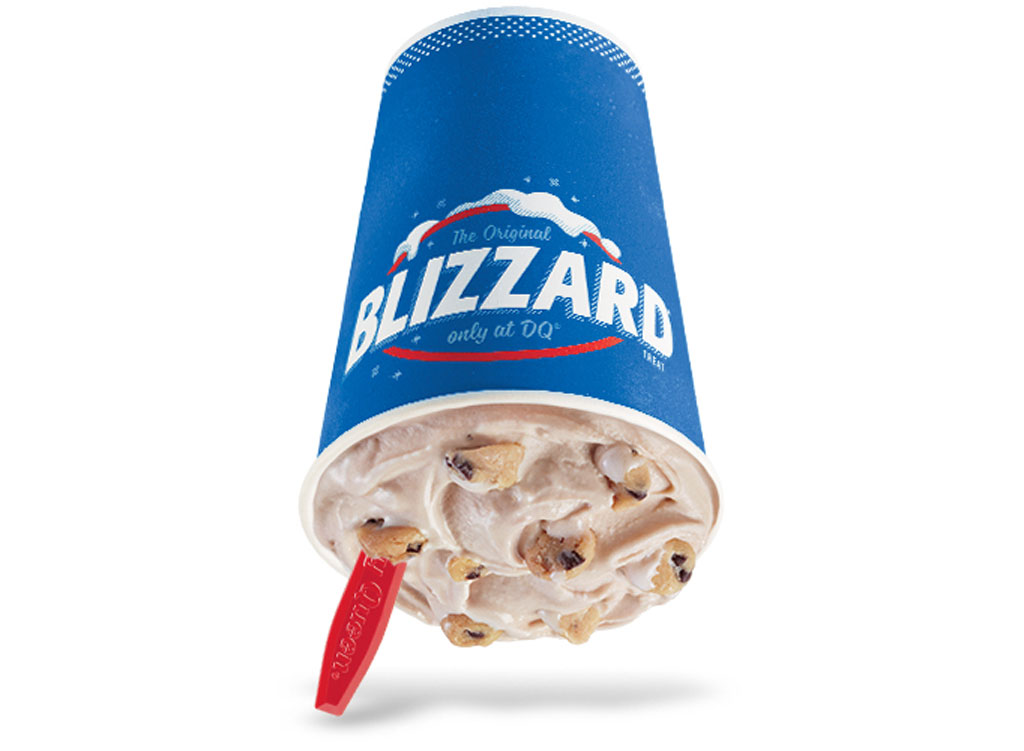 Nutrition per small (319 g)
: 710 calories, 28 g fat (16 g saturated fat, 0.5 g trans fats), 390 mg sodium, 103 g carbs (1 g fiber, 76 g sugar), 12 g protein
The one thing this Blizzard has going for it is that DQ uses actual unenriched, unbleached wheat flour as opposed to the bleached flour used in many other Blizzards. Bleaching adds chemicals to the bread and strips away vital nutrients. However, it all goes downhill again once you keep reading the list of ingredients, which includes the sweetener fructose. Our body turns fructose into fat and inflammatory compounds more easily than it does with glucose, which leads to a host of health problems from belly fat to high cholesterol.
Nutrition per small (290 g)
: 600 calories, 25 g fat (16 g saturated fat, 0.5 g trans fat), 300 mg sodium, 84 g carbs (1 g fiber, 74 g sugar), 11 g protein
Quick question: How many spoonfuls of high-fructose corn syrup did you eat today? Oh, you don't recall slurping down any of the hyper-sweet, belly-fat-inducing corn extract? Well, you did. Because it's the first ingredient in the "fudge" topping that douses this sugary, fatty, scientifically-manufactured concoction. While it doesn't boast as bad of nutritionals as some of the Blizzards above it, because this Heath slurry has a full gram of artery-clogging trans fats, it automatically sent it to the bottom of what was already the bottom of the list.
M&M's Chocolate Candy Blizzard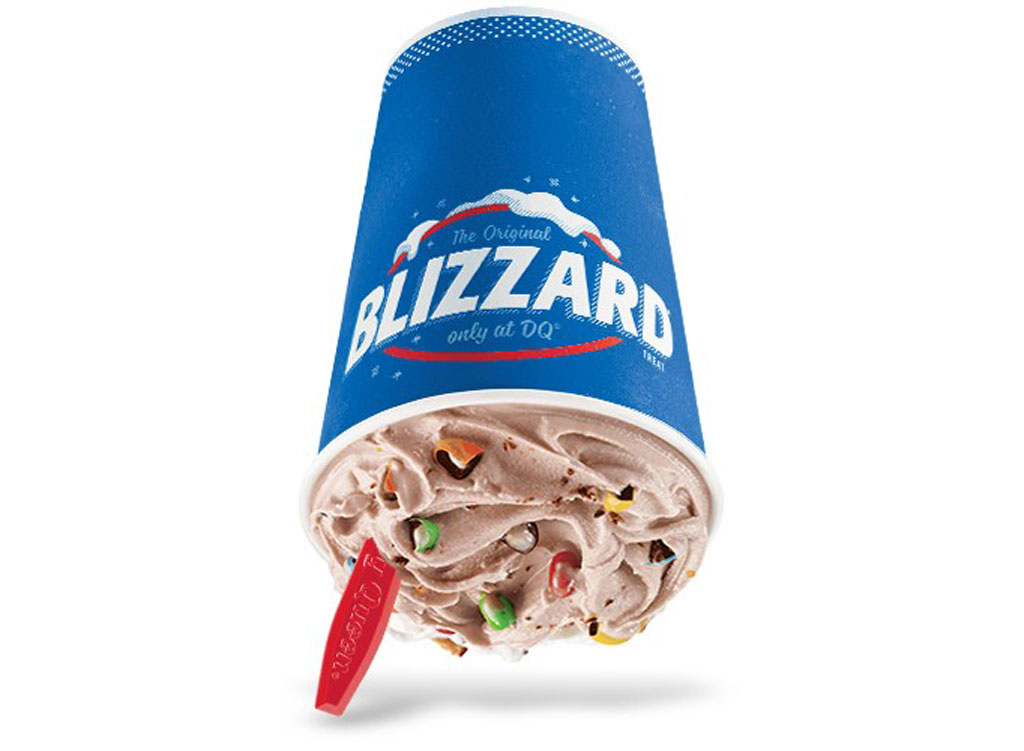 Nutrition per small (326 g)
: 630 calories, 21 g fat (13 g saturated fat, 0.5 g trans fat), 210 mg sodium, 99 g carbs (1 g fiber, 85 g sugar), 13 g protein
You can add not eating a DQ M&M blizzard to the list of Diet Tricks We Learned From M&Ms. This concoction has an outstanding 99 grams of carbs, which is more than what many people on low-carb diets eat in a whole day, and just under half of what many of us should be eating. This large whack of carbs is probably not going to be used up as energy in your body, which means its almost destined to add to that pesky fat on your belly.
Royal New York Cheesecake Blizzard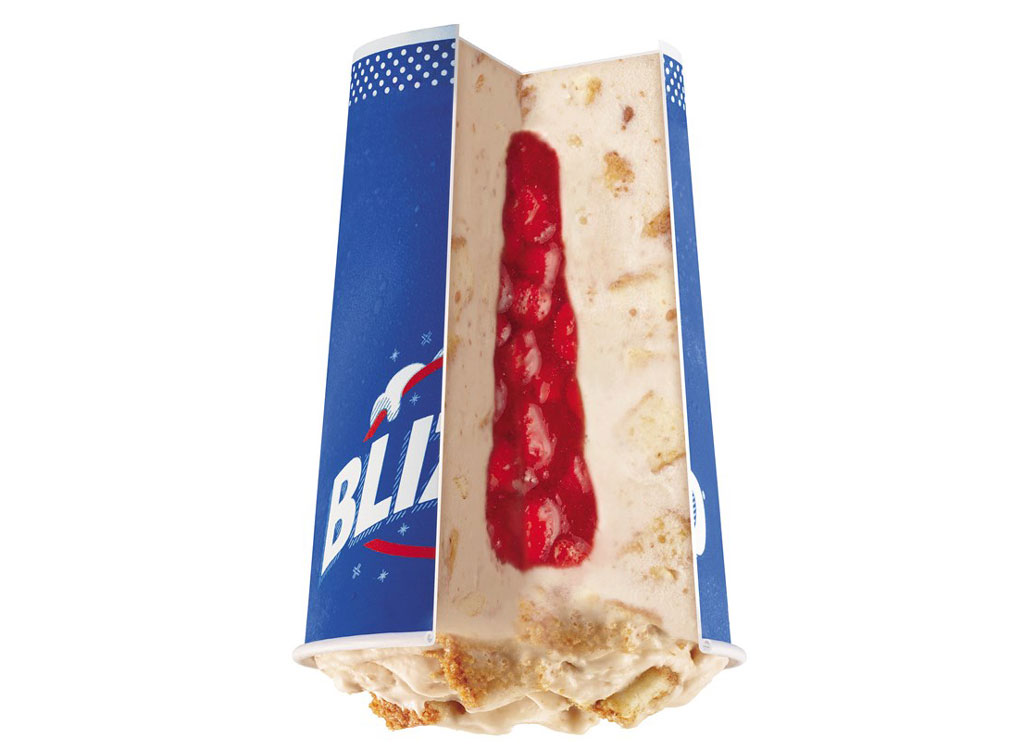 Nutrition per small (386 g)
: 740 calories, 32 g fat (15 g saturated fat, 1 g trans fat), 370 mg sodium, 98 g carbs (1 g fiber, 77 g sugar), 14 g protein
DQ's signature treat certainly got the royal treatment—but we're not sure Queen Elizabeth would want to take back a spoonful of this at her age. Why? Well, how about we start with the massive, heart-stopping amount of fat and sugar, which, according to the FDA is now a day and a half's worth of the sweet stuff. Classic vanilla custard is blended together with cheesecake pieces and Graham, and then it's pumped with a strawberry center core in this "Royal" blizzard. Instead, make this delicious, healthy strawberry smoothie to quell your sugar cravings and blast fat.
Royal Reese's Blizzard Filled with Peanut Butter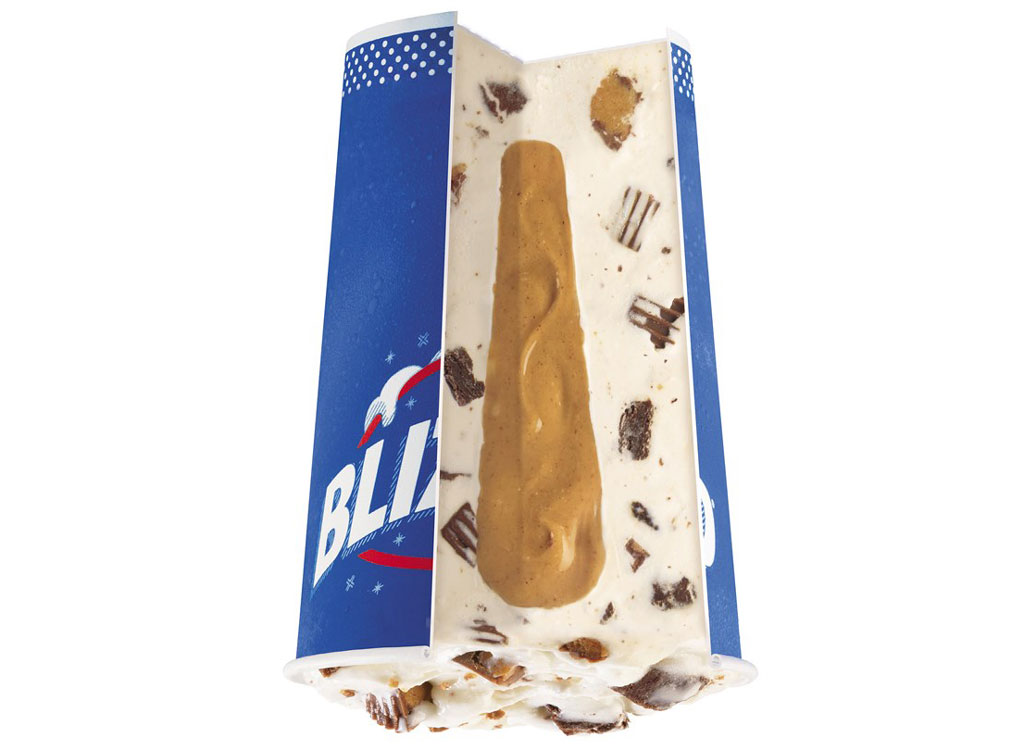 Nutrition per small (361 g)
: 850 calories, 41 g fat (17 g saturated fat, 1 g trans fat), 560 mg sodium, 105 g carbs (3 g fiber, 83 g sugar), 19 g protein
A core of peanut butter displaces some of the creamy, high-sugar ice cream, but it increases the saturated fat, sodium, and fat content to make up for it. And despite this core of nut butter, this still ranks the treat with the second-highest sugar content of the bunch. Oh and highest calorie. In fact, two hours of hiking would barely burn off those calories, which is just about the same as two Double Cheeseburgers at McDonald's. And don't consider the inexplicably high protein count a silver lining if you're about to take down this Royal Rocky Road Brownie Blizzard; the unreasonable amount of carbs, fat, and sugar negate any possible benefits.
Olivia Tarantino
Olivia Tarantino is the Managing Editor of Eat This, Not That!, specializing in nutrition, health, and food product coverage.
Read more about Olivia